Braised Lamb Shanks
These Beer Braised Lamb Shank are fall-off the bone tender, slowly braised with fresh herbs and garlic. Such a classic family dinner! This classic Sunday lunch or dinner recipe full of tender lamb in a rich sauce is the perfect kind of comfort food. The lamb is fork tender and delicious served with mashed potatoes, creamy cauliflower mash, rice or even some crusty bread to soak up all the delicious braising sauce or gravy. This easy recipe requires a quick sear and then it's low and slow cooking stove top or in the oven until its tender. Slow roasting or braising lamb shanks is the best for lamb shanks and this is a pretty fail proof recipe for delicious lamb shanks.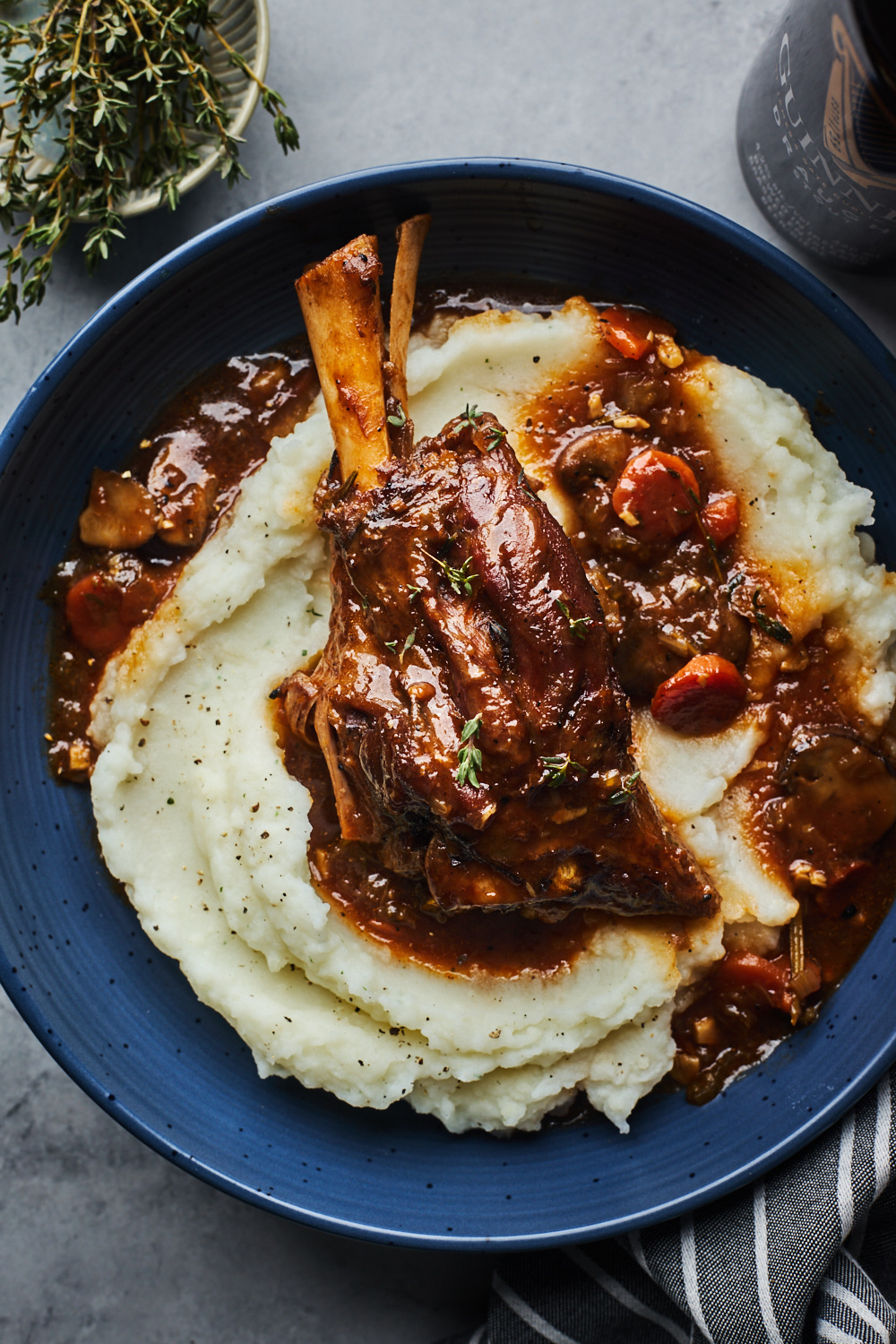 Beer braised Lamb shank Ingredients:
Lamb Shanks - either hindshanks or forehshanks are perfect for this recipe
Shallots or Onions & Garlic - use as little or as much as you like
Vegetables - I love to use carrots, celery and mushrooms
Tomato Paste - adds a rich flavor to the braising liquid
Beer - I love the flavour that a stout beer gives this recipe but you can use any beer you like - if you prefer a less hoppy one that is fine too - you can also use Wine like a dry red wine, pinot noir, Cabernet Sauvignon or a merlot instead or for a non alcohol version you could replace with more broth
Broth - I like the richness beef broth adds to the pan sauce but vegetable broth works well too
Herbs - I like to use thyme, parsley, rosemary and bay leaf - use as much or as little as you prefer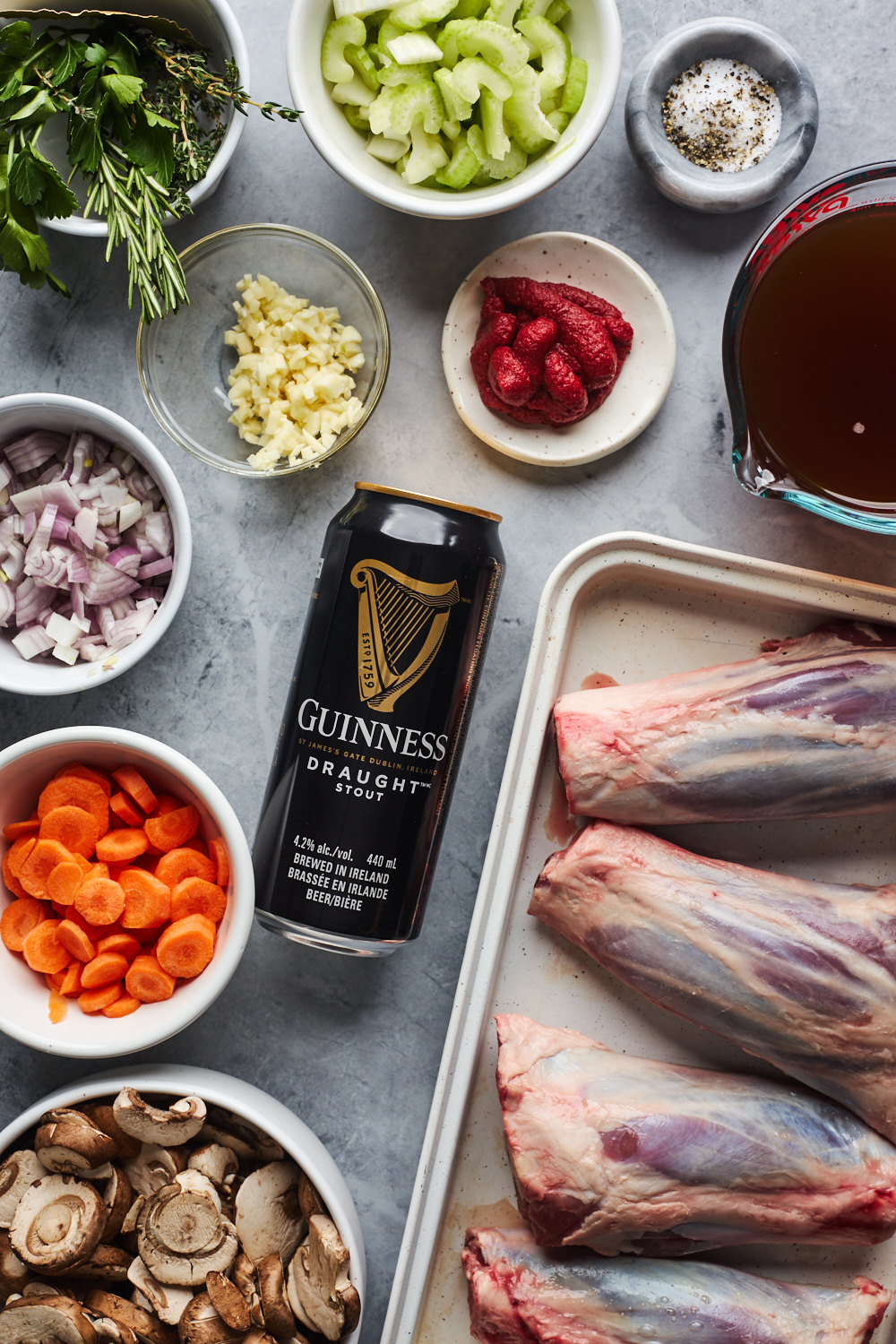 How to make easy Lamb Shanks:
There is no need to be intimidated - this braised lamb shank recipe is quite easy to make and a great set-it-and-forgot-it kind of recipe.
SEAR shanks: You can start by trimming the fat off the lamb shanks if needed then you will brown or sear the lamb shanks in a large dutch oven. Remove and set aside
SAUTE the veggies along with the shallots and garlic, and with the tomato paste. Deglaze the pan with the beer broth
BRAISE Return shanks to pan along with the herbs, bring to a boil, reduce to a simmer, cover and braise for 2-2½ hours stove top or in the oven - crockpot directions in recipe notes
SAUCE - Remove shanks and herbs, skim fat and simmer for about 10 minutes, or until reduced by half. You can add a cornstarch slurry to thicken the sauce further if you prefer! Serve shanks with reduced braising sauce. If you prefer a very thick braising sauce there are suggestions on how to do so in recipe notes.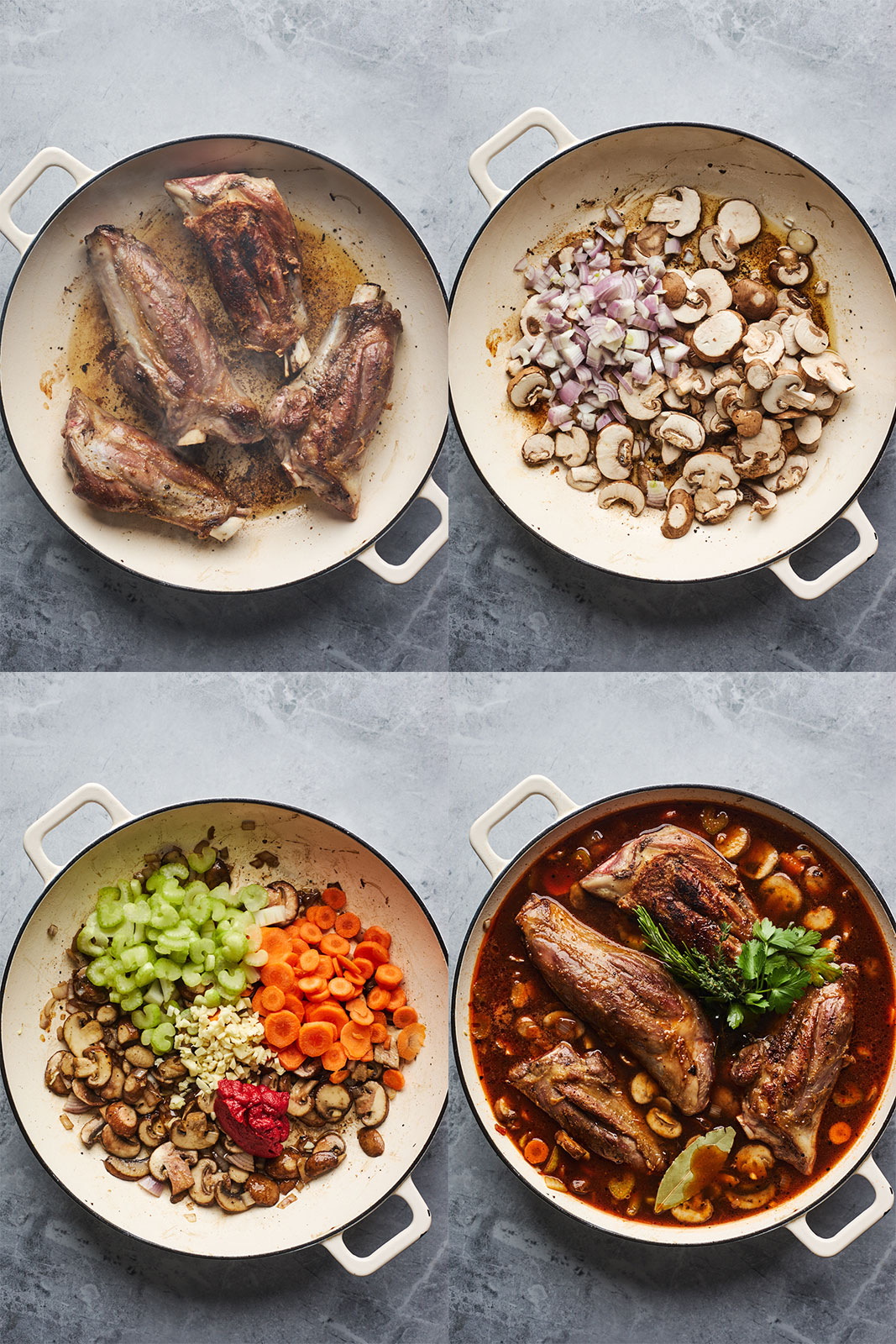 How To Store Leftovers
Cooked lamb will last 3-4 days refrigerated. Keep these shanks in an airtight container with the sauce or separately. Reheat together. You can reheat these lamb shanks in the microwave, or reheat either in a pot over medium heat on the stovetop or you can use an oven-safe pot covered with a lid. Bake at 300 F or about 15-20 minutes.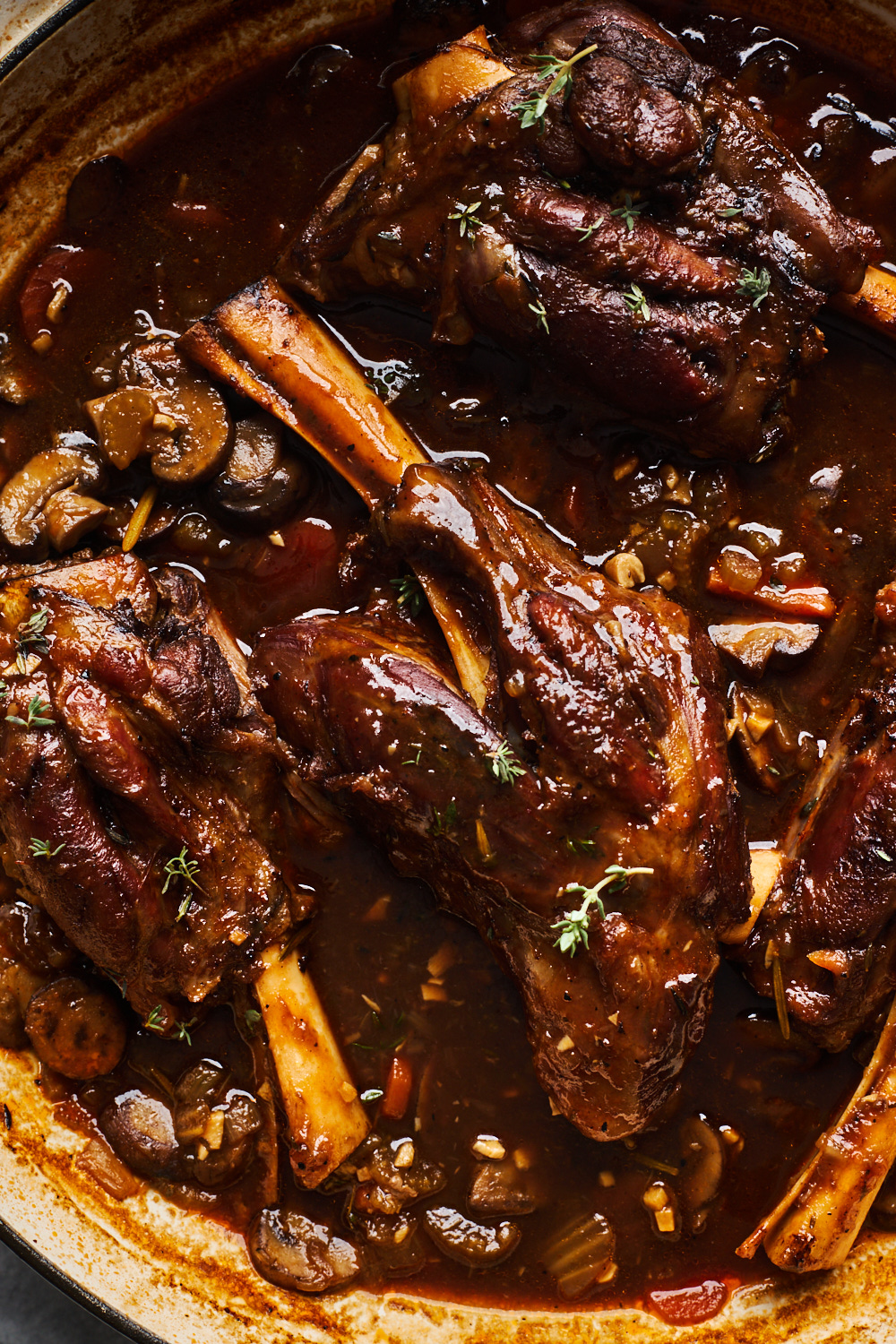 Freezing
You can also freeze these braised lamb shanks up to 4-6 months. Reheat using either the microwave, stovetop, or oven method. It will take about 30-35 minutes in the oven.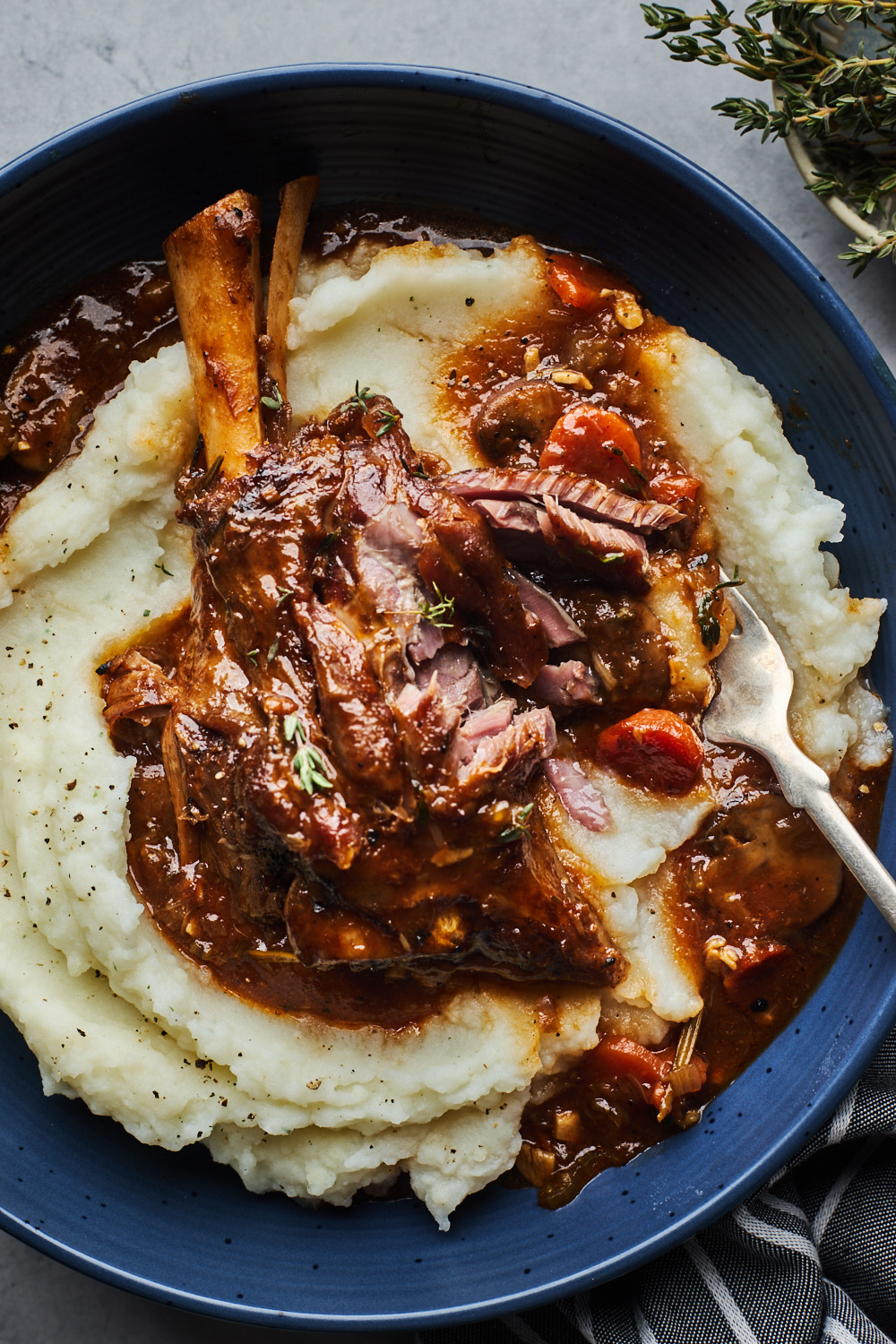 If you liked this recipe you will love these:
Recipe
Prep Time: 15 mins
Cook Time: 3 Hrs
Ingredients
4 lamb shanks

2-3 tbsps extra-virgin olive oil

2 large shallots, peeled and chopped

4 garlic cloves, peeled and minced

2 carrots, chopped

2 celery stalks chopped

8 ounces sliced cremini mushrooms

2 tablespoons tomato paste

1½ cups stout or other dark beer

2 cups beef broth

2 sprigs fresh thyme

2 sprigs fresh parsley

1 sprig fresh rosemary

1 bay leaf

Salt and freshly cracked black pepper, to taste
To serve (optional)
Mashed potato, polenta or pureed cauliflower
Fresh thyme, rosemary or parsley, for garnish
Directions
Season lamb shanks generously with salt and pepper.
Heat the olive oil in a heavy bottomed pot or Dutch oven over medium-high heat. Brown and sear the shanks on all sides in batches, approx 10 minutes. Remove shanks and set aside.
Pour off all but 1-2 tablespoon of the remaining oil and drippings if needed. Add the shallots and mushrooms to the pot and cook until just starting to brown, about 5 minutes. Add the vegetables: garlic, carrots, celery and tomato paste and cook 5 more minutes, stirring occasionally.
Pour in the stout beer in and stir and scrape up all of the brown bits in the bottom of the pot.
Return the shanks to the pot and pour in the beef stock. Turn the heat to high and bring the liquid to a simmer. Tie the herb sprigs into a bundle with twine and add them and the bay leaf to the pot.
Once boiling, lower the heat to medium-low and cover. Cook for 2-2½ hours, turning the shanks halfway through, or until the meat is almost falling off the bone. Remove the shanks and set aside.
Skim off fat from the cooking liquid in pan and discard. Remove the herb bundle and bay leaf and discard. Increase the heat to medium-high and bring the sauce or braising liquid to a boil. Allow to simmer and reduce to preferred consistency. Serve the shanks with sauce or gravy.
For Oven version
Pre-heat the oven 350ºF.
Cover with a lid and instead of braising stove top transfer pot carefully into the oven. Allow to braise slowly for 2-3 hours until the lamb is soft and succulent. Check on the lamb shanks half-way through cooking and add more stock if necessary.
Remove from the oven and serve.
For the Crockpot
Once the shanks are seared and the veggies are pan fried transfer shanks and veggies to large crockpot along with the rest of the ingredients. Cover and cook on low 10-12 hours or on high 5-6 hours.
Recipe Notes
Some recipes call for cooling the lamb shanks after they are cooked then placing them in the fridge until the fat has hardened so its easier to remove the fat. This is a great way to MAKE this braised lamb shanks recipe AHEAD because it only tastes better the next day. Once you remove all the fat just reheat the lamb shanks with the braising liquid until heated through and serve.
Simmering the braising liquid after the lamb shanks are removed from pan help to reduce it to a nice and rich sauce. If you prefer to add corn starch to the braising liquid use 1 tbsp corn starch + 2 tbsp cold water to make a slurry (for gravy) then stir into the pan sauce and simmer until thickened, or you can also make a Beurre Manié - equal parts flour and butter (1 tbsp each usually does the trick) whisked into the pan sauce and then simmer until thickened.