Cheesy Corn Casserole
You all love my Caribbean style corn pie so I thought I would get a Cheesy corn casserole (from scratch no box mix here) on the blog for all you corn pie/corn pudding lovers out there like me. It is simple, hearty, and comforting. What I love about corn pies or corn casseroles is that you can pretty much customize them and add whatever 'extras' you like to them. I also love that they always have a hint of savory sweetness to them (thanks to the corn). This one is a jalapeño bacon cheddar spin and makes for a great side to your turkey dinner, chicken, pork or just about anything or even on its own. It's easy to whip up and a great casserole dish to take along with you to a potluck dinner or cookout. It's way better than jiffy corn casserole and you will find yourself eating this sweet corn casserole straight out of the pan - it will quickly become one of your new favorite side dishes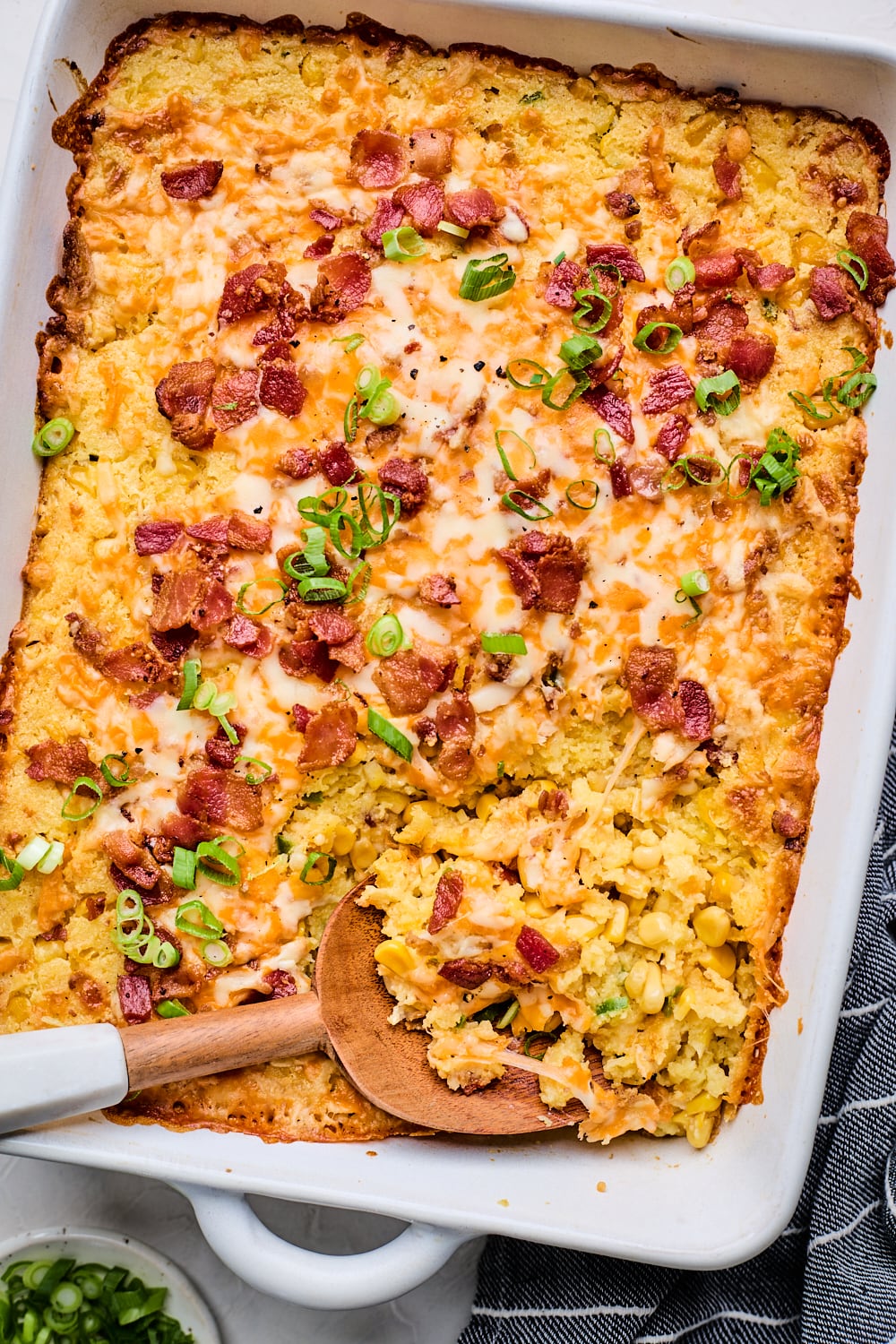 What is Corn Casserole?
Corn casserole is a one-pan baked casserole and popular turkey dinner side dish in the southeastern United States that is traditionally made using store-bought Jiffy cornbread mix. It's a combination of corn bread and corn pudding and you end up with an incredibly moist cornbread with corn kernels, cheese, bacon and aromatics. If you love corn bread you will love this corn casserole - a sweet savoury comforting side dish for any fall dinner or turkey dinner. This version we ditch the cornbread mix and make it from scratch.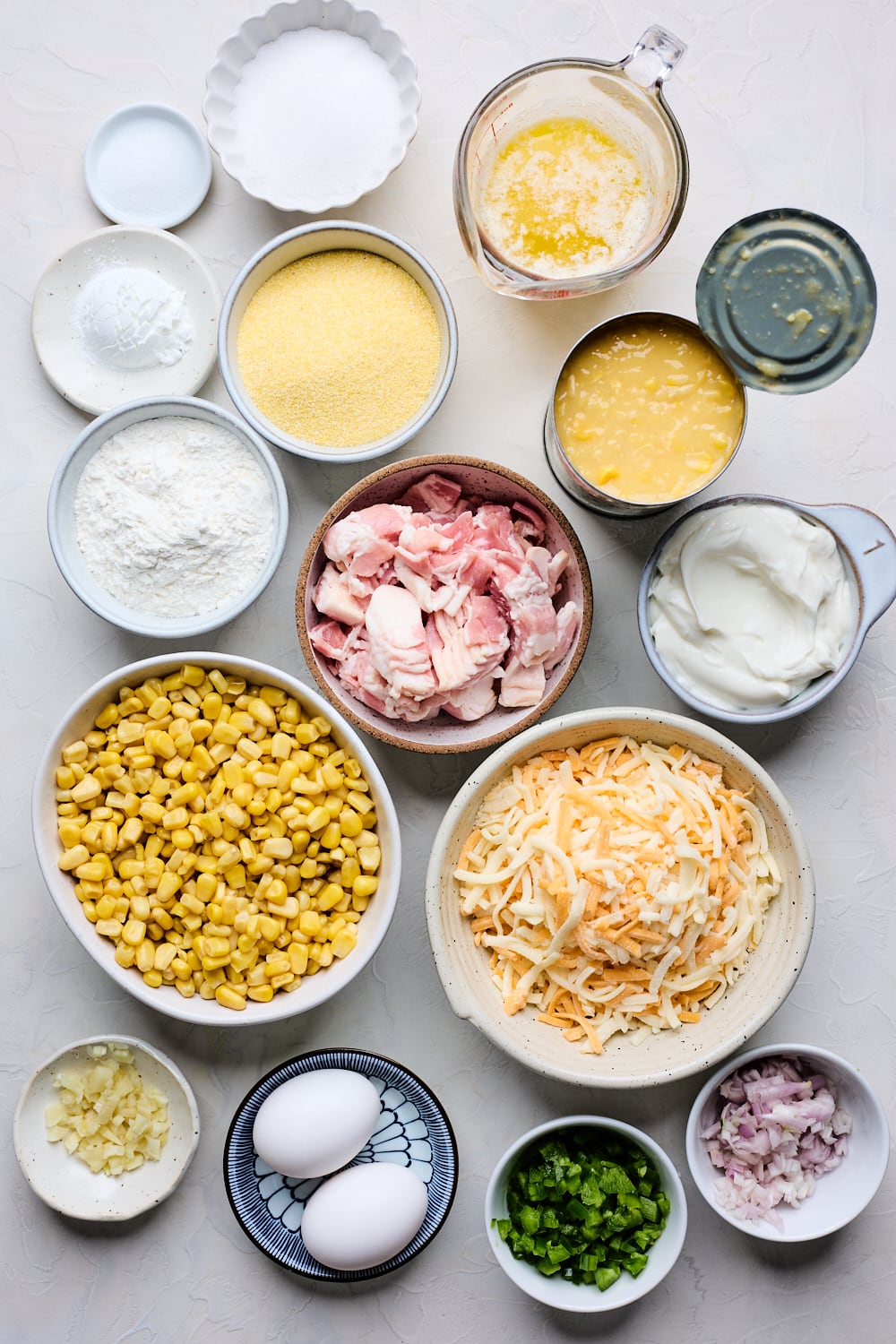 Cream Corn Casserole Recipe Key Ingredients:
BACON: This is optional but recommended to flavour the casserole as the veggies saute in the bacon fat. If you would like to make this casserole without the bacon simply omit and use 2-3 tablespoon of butter or olive oil to saute the garlic onion and jalapeños.
ONION, GARLIC & JALEPENO: This combination of veggies helps really flavour the whole casserole. I used one jalapeño but feel free to use 2-3 for a more pronounced jalapeño flavour and use as much garlic as you prefer too. Feel free to place the jalapeño with any type of sweet bell pepper as well or a poblano.
CORN: You can use a combo of creamed corn and whole corn kernels. I use canned corn all the time but you can even use fresh or frozen corn too for the whole kernel corn amount. I use a 15 ounce can of each
CORNMEAL: (not to be confused with corn flour or cornstarch) I recommend yellow fine cornmeal. This will ensure a nice and smooth consistency not a crumbly texture. No jiffy corn muffin mix /jiffy mix/ jiffy cornbread mix here - we are making this corn casserole from scratch.
ALL PURPOSE FLOUR: Helps to bind casserole.
SUGAR: For a little extra sweetness. There is just a ¼ cup of sugar but feel free to adjust to taste.
BAKING POWDER: It helps give this corn casserole a little lift.
BUTTER: Adds flavor and richness to the casserole. I use unsalted butter and melted butter
SOUR CREAM/GREEK YOGURT: I like the rich moisture adding sour cream or yogurt gives the casserole - usually corn casseroles have milk but I like this variation. Use either or for this recipe - sour cream or Greek yoghurt - full fat for best flavour.
EGGS: You will need 2 eggs at room temperature to help bind the casserole
SEASONINGS: I kept things simple with salt and pepper but feel free to add some Thyme, fresh or dried or spice it up further with some cayenne pepper, chili flakes or any spice blend you might like to add. You can also add chopped fresh parsley too.
SHREDDED CHEESE: I like to use shredded cheddar cheese - usually a blend or white cheddar or old white cheddar and sometimes some grated Parmesan cheese for the topping but feel free to use mozzarella or Monterey or pepper Jack cheese too.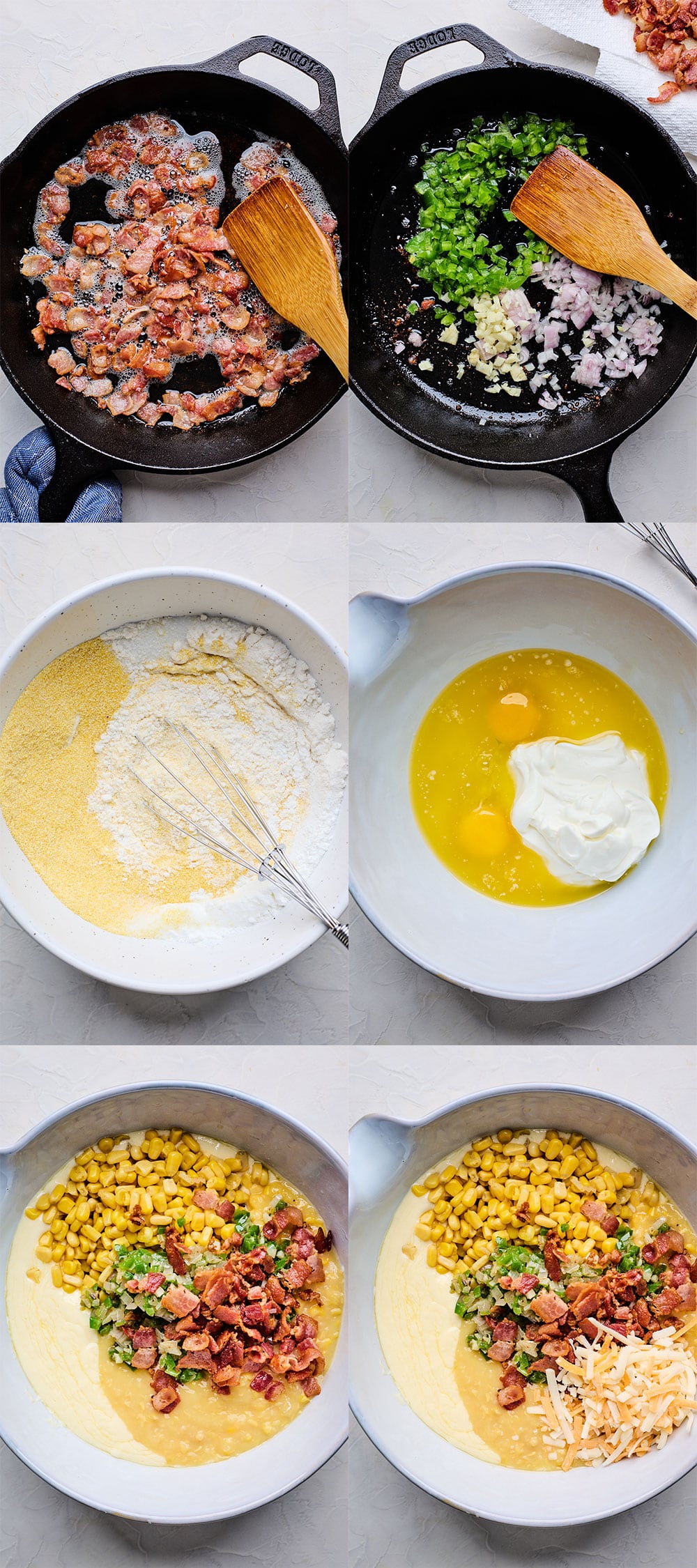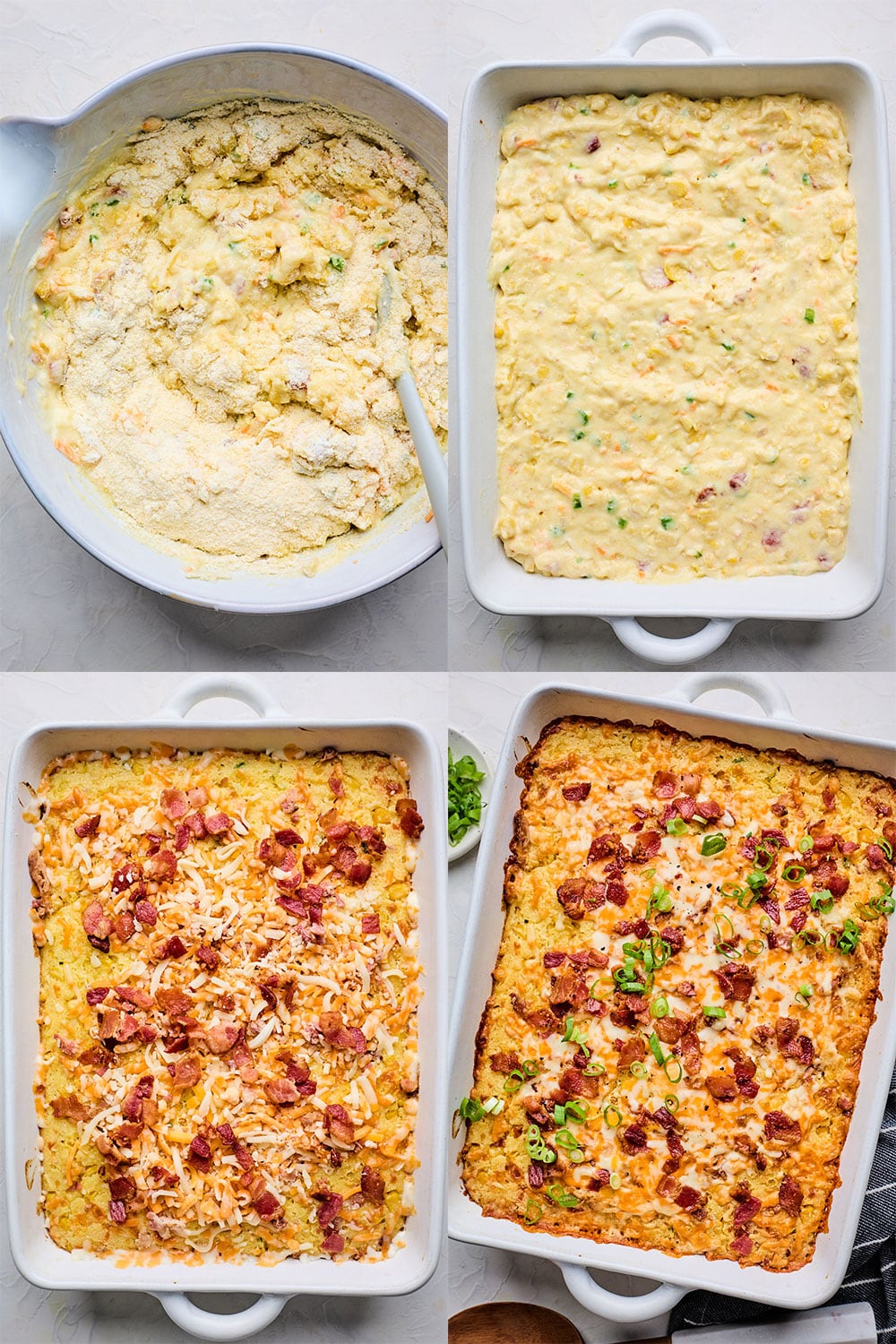 How to make Corn Casserole
Sauté bacon and veggies and season. Allow both to cool
Whisk dry ingredients: flour, cornmeal, sugar, baking powder
Whisk wet ingredients: sour cream, butter and eggs
Stir all the corn, veggies, half the bacon and 3/4 of the cheese to wet ingredients
Stir in the dry ingredients
Transfer mixture to greased casserole dish
Bake for 35 min
Remove from oven carefully and sprinkle with remaining cheese and bacon and bake until cheese is melted and golden brown around the edges
Enjoy warm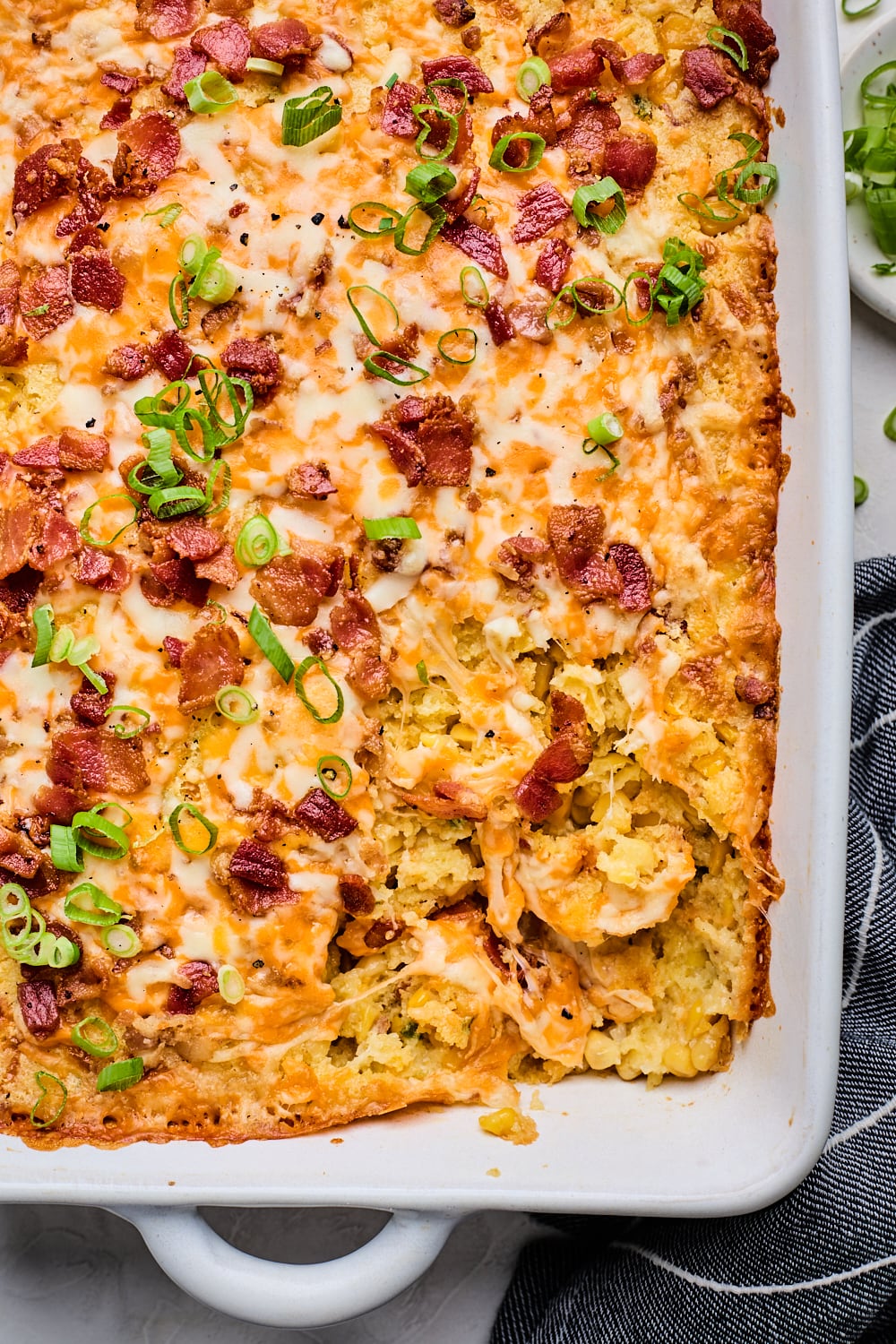 Corn Casserole Make Ahead, Storage & Freezing Recommendations:
MAKE AHEAD: Corn casserole is a great dish to bring to pot luck dinners. It can be baked ahead and reheated and the flavours taste even better the next day so feel free to make this dish up to a day ahead and reheat in the oven. The texture changes a little if you make the whole dish ahead (minus baking), chill it and then bake it the next day - if you don't mind that feel free to put the whole pie together - top with cheese, cover and chill until ready to bake - up to a day ahead of time.
STORAGE: Corn casserole leftovers can keep covered tightly with plastic wrap or foil or stored in an airtight container and refrigerated for up to 4 days. Reheat in the microwave or in the oven.
FREEZING: Freshly made is always best but to freeze the cooked corn pie after it has cooled completely, wrap it tightly in foil and freeze it for up to 1 month. Thaw it in the refrigerator overnight and bake in a preheated 350°F until heated through.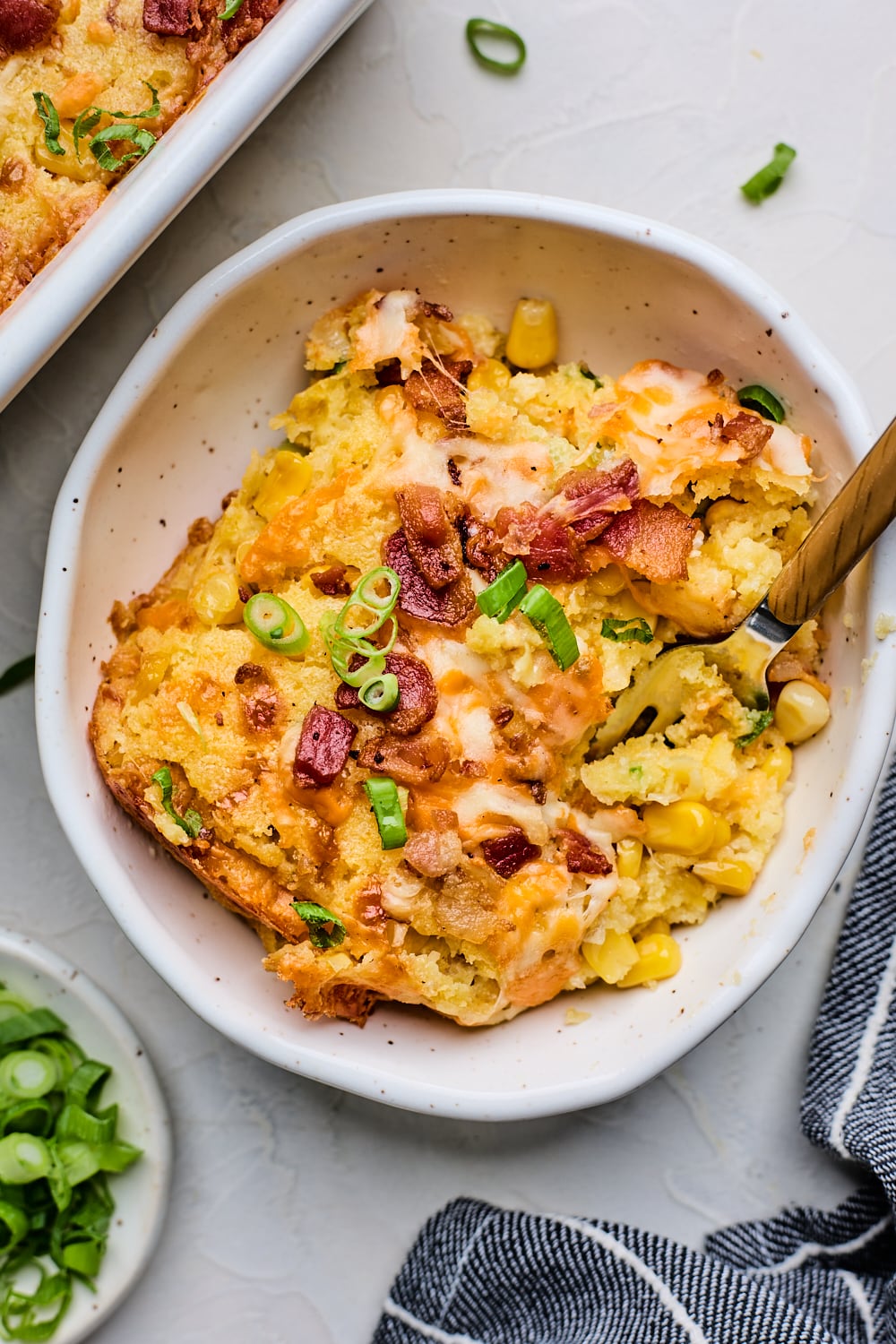 More Side Dishes You Will Love
Recipe
Prep Time: 15 mins
Cook Time: 60 mins
Ingredients
6 slices bacon (or 2-3 tablespoons olive oil or butter)

1 small onion or shallot

2 cloves garlic, minced

1 jalapeño pepper, stem and seeds removed and minced

⅔ cup cornmeal

⅔ cup all purpose flour

¼ cup sugar

1 tablespoon baking powder

½ teaspoon salt

1 cup sour cream or Greek yogurt

½ cup butter, melted

2 eggs, room temperature

one 15-oz can corn, drained

one 15-oz can cream-style corn

2 cups shredded cheddar cheese

Chopped chives/green onions or fresh parsley for serving
Directions
Preheat the oven to 350°F. Grease a 9x13-inch baking dish/baking pan.
In a medium skillet over medium heat cook bacon until fat has rendered and bacon is crispy. Remove bacon with a slotted spoon onto a plate lined with paper towel. Reserve 2 tablespoons bacon grease in skillet
Add the onion and Jalepeno pepper along with the garlic into the skillet and saute until onion is softened 2-3 min. Remove from skillet and allow to cool.
Whisk dry ingredients in a medium size bowl: flour, cornmeal, sugar, baking powder
In a large mixing bowl whisk together wet ingredients: sour cream, butter, sugar and eggs until well combined
Stir in the corn and creamed corn, and the onion, pepper, garlic mixture and half the bacon along with 3/4 of the shredded cheese (approx 1 ½ cups of it).
Stir in the dry ingredients until well combined
Pour mixture into the prepared dish.
Bake in the preheated oven for 35 minutes.
Carefully remove from oven and sprinkle with remaining cheese and bacon. Continue baking until cheese is melted, about 5-10 min
Serve and enjoy warm and feel free to garnish with chopped fresh parsley and or chives or green onions.
Refrigerate any leftovers in an airtight container for up to 4 days.