Manhattan Style Clam and Corn Chowder
This delicious tomato based brothy chowder is not to be mistaken with its creamy counterpart. Clams simmered with bacon, vegetables and potatoes in a savory tomato broth. A lighter way to get your clam chowder fix as opposed to the creamy New England version. All you need is crusty bread or oyster crackers and a tossed salad and you've got dinner. A hearty soup that's easy to make and perfect when served as an appetizer or main course. If you're a seafood lover, you'll adore this Manhattan clam chowder.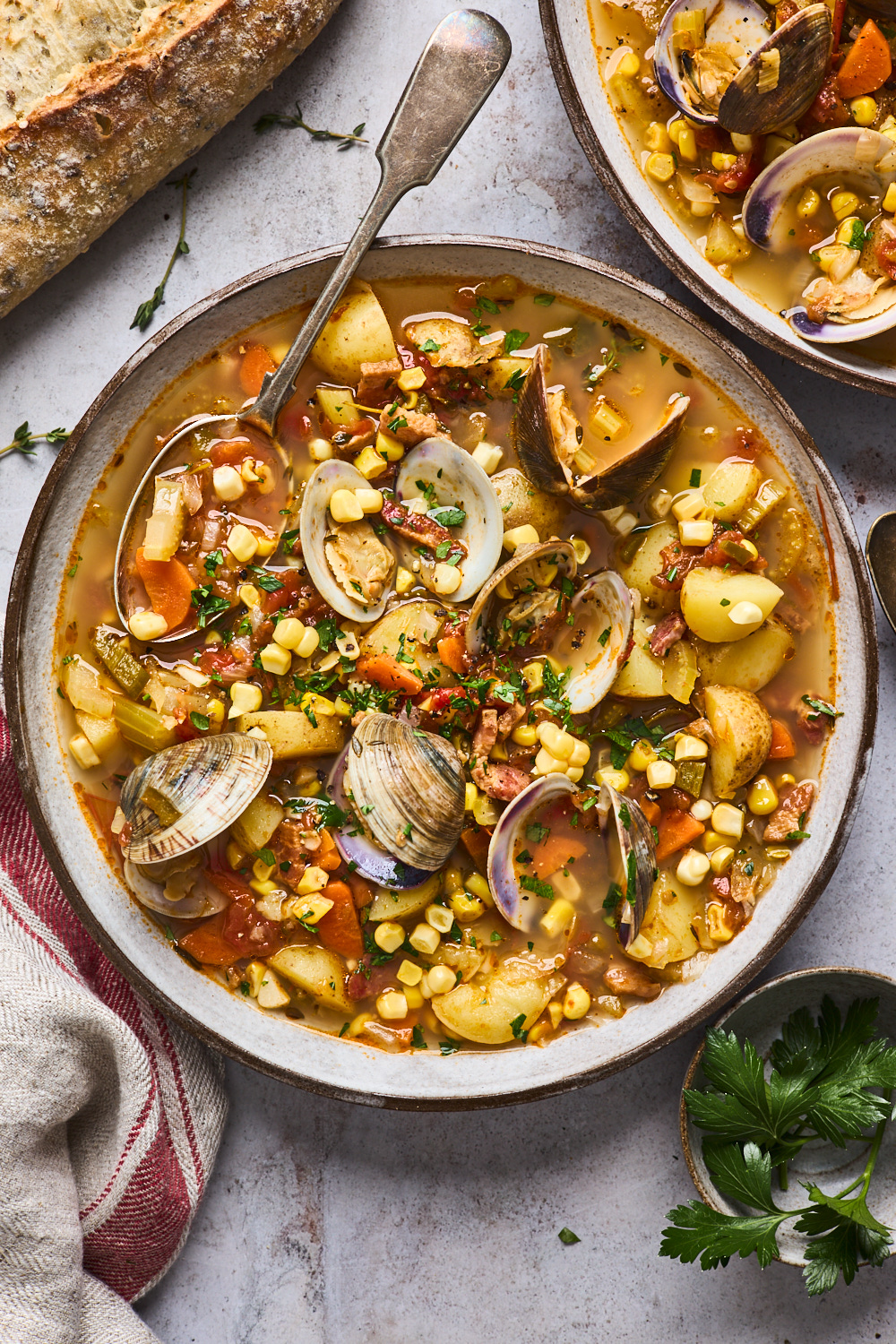 What is the Difference Between Manhattan and New England Clam Chowder?
Manhattan clam chowder has many of the same flavor components of the New England version, such as clams, clam juice if using, onion, celery, bacon and seasonings. The major difference between the two is that Manhattan chowder has a tomato based broth and more vegetables. New England chowder has a creamy soup base without any tomato products involved. This is the "red" one as many term it. If you are used to thick (or thin) cream-based, cracker-riddled, white clam chowder, this Manhattan clam chowder is completely different but just as delicious. The first tomato-based chowders are said to have showed up on menus in New York in the late 1800's possibly said to be influenced by Portuguese immigrants who often put clams together with pork and tomato sauce.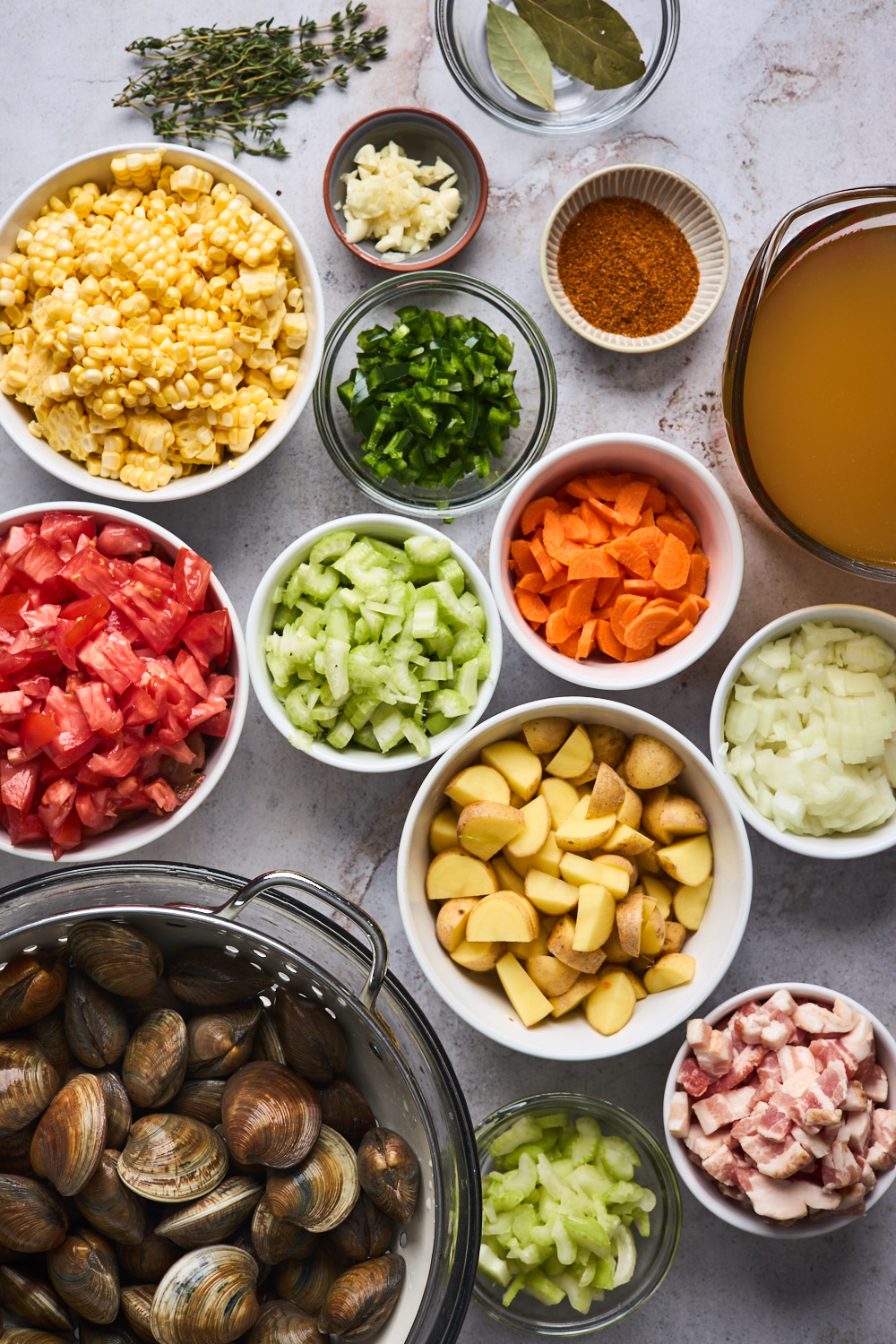 Manhattan Style Clam and Corn Chowder Ingredients:
BACON: It adds a great flavour to the broth
SEASONING - thyme and old bay is what i love to use
HEAT- i like the heat the jalapeños add - they add a medium heat, but red chilies will work too or even red-pepper flakes.
TOMATOES - use fresh or canned and if you like a more richer broth make sure to add some tomato paste too. This broth is a lighter one.
CLAMS - fresh is always best but canned or frozen will work too
STOCK/BROTH - clam juice or vegetable or chicken broth can be used
VEGGIES - i always do carrots, celery, potatoes and corn but you can definitely use a variety of your favourite veggies in this brothy chowder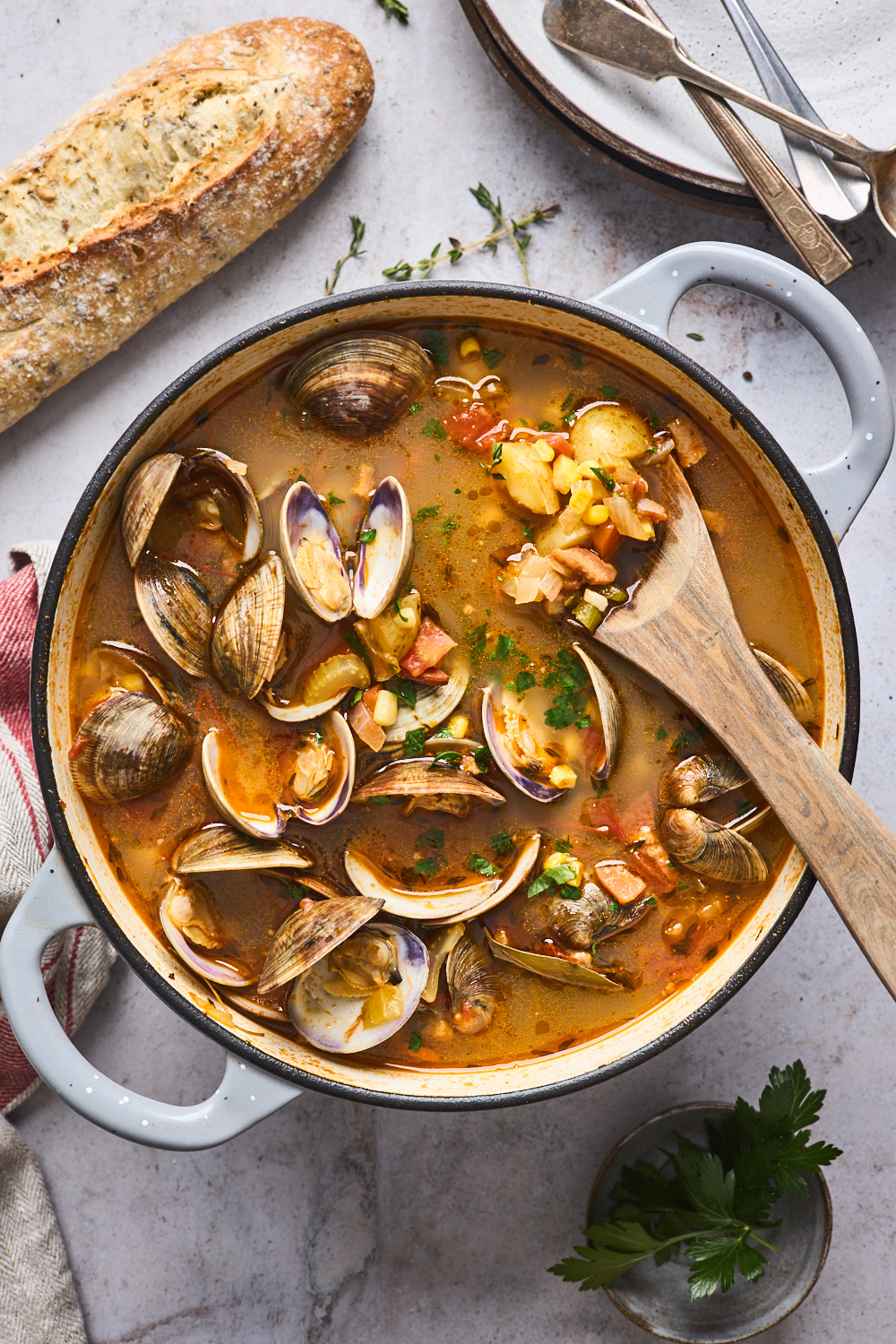 How to make Manhattan Style Clam Chowder
This recipe starts with bacon, which cooks in the pot until it's crispy and browned. Then the vegetables cook in the bacon fat. The next step is to add broth, tomatoes, and bay leaves. Simmer until potatoes are tender, add clams, cover, and increase heat to high. Boil just until clams open. Discard any clams that do not open. Check for seasoning then serve with crusty bread and sprinkle with chopped fresh parsley. There are many variations on how to cook the clams in this style soup - some get steamed right in the soup like this version, others steam the clams separately then they get added to soup and others remove the meat from shells and add the meat back into the soup. I have each of those methods outlined in detail in RECIPE NOTES below.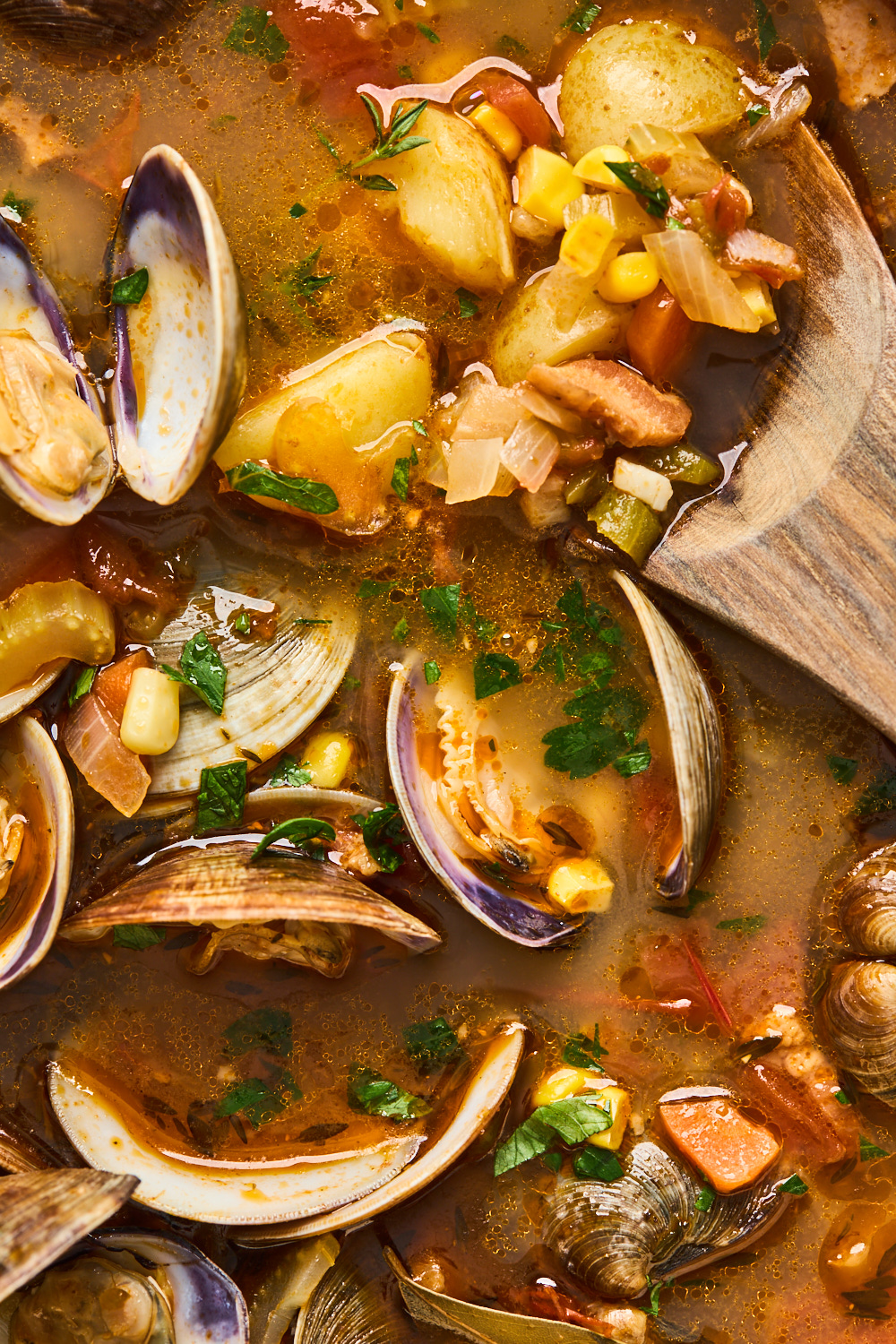 Clam Chowder Variations:
This is a fairly traditional red clam chowder recipe, but you can add other ingredients to customize this dish to your tastes.
Meat: Instead of bacon, try salt pork, pancetta or even diced cubed ham.
Vegetables: Try adding green bell pepper or red pepper, or greens like kale or spinach to add more nutrition to the dish. You can also add some delicious white beans for extra protein too - more on that below in recipe notes.
Seafood: You can turn this into a seafood chowder by adding shrimp, mussels, crab or fish.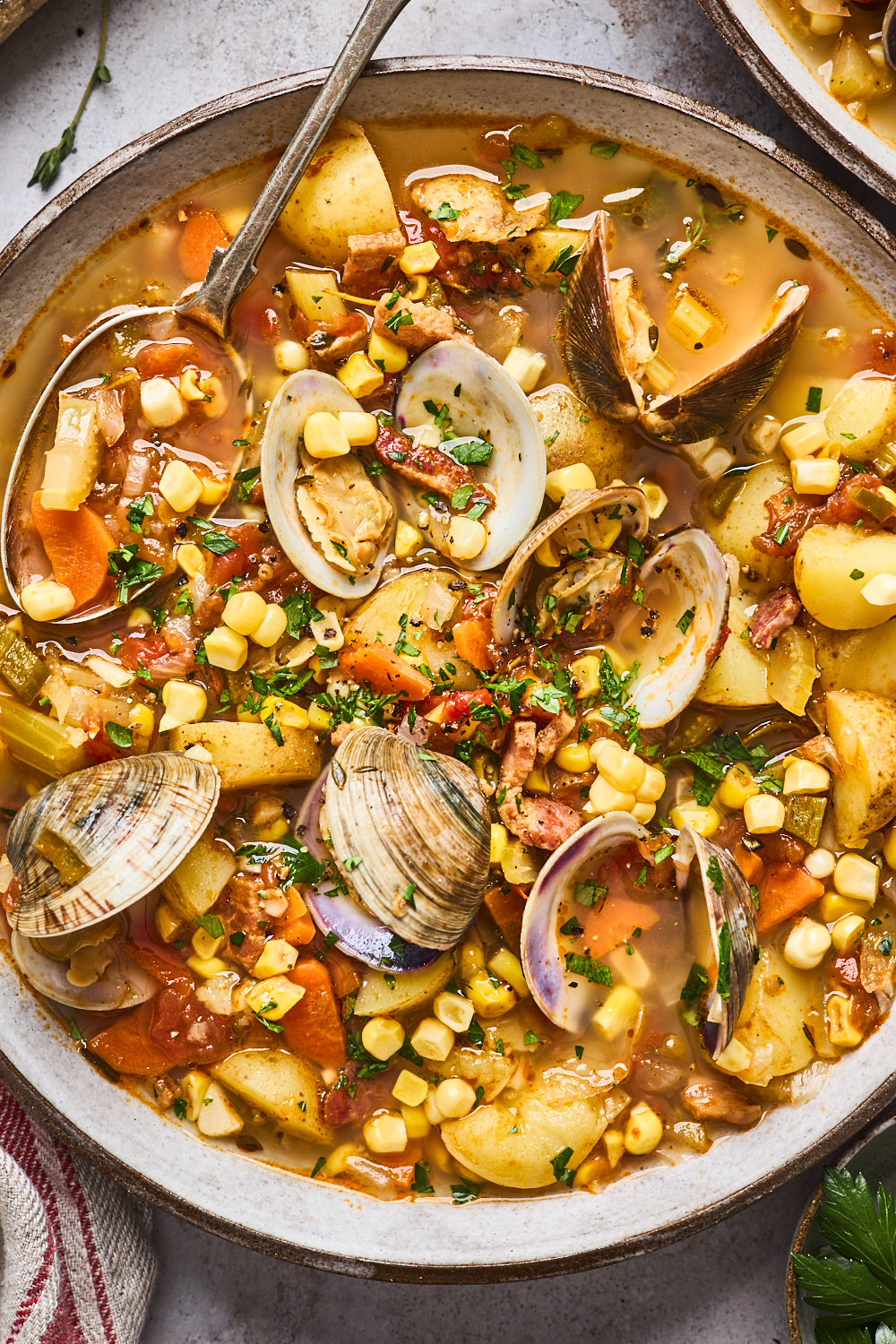 Do I Have to Use Fresh Clams to make Clam Chowder?
No you don't. Frozen clams are also an option. (Use 8-10 ounces of frozen clams in making this soup). And if fresh is not an options there's always canned chopped clams and clam broth. If using canned clams use 2 10-ounce cans of baby clams, drained and stir them in to the pot close to the end of cooking time. You can also do a mix of some canned and some fresh if you like.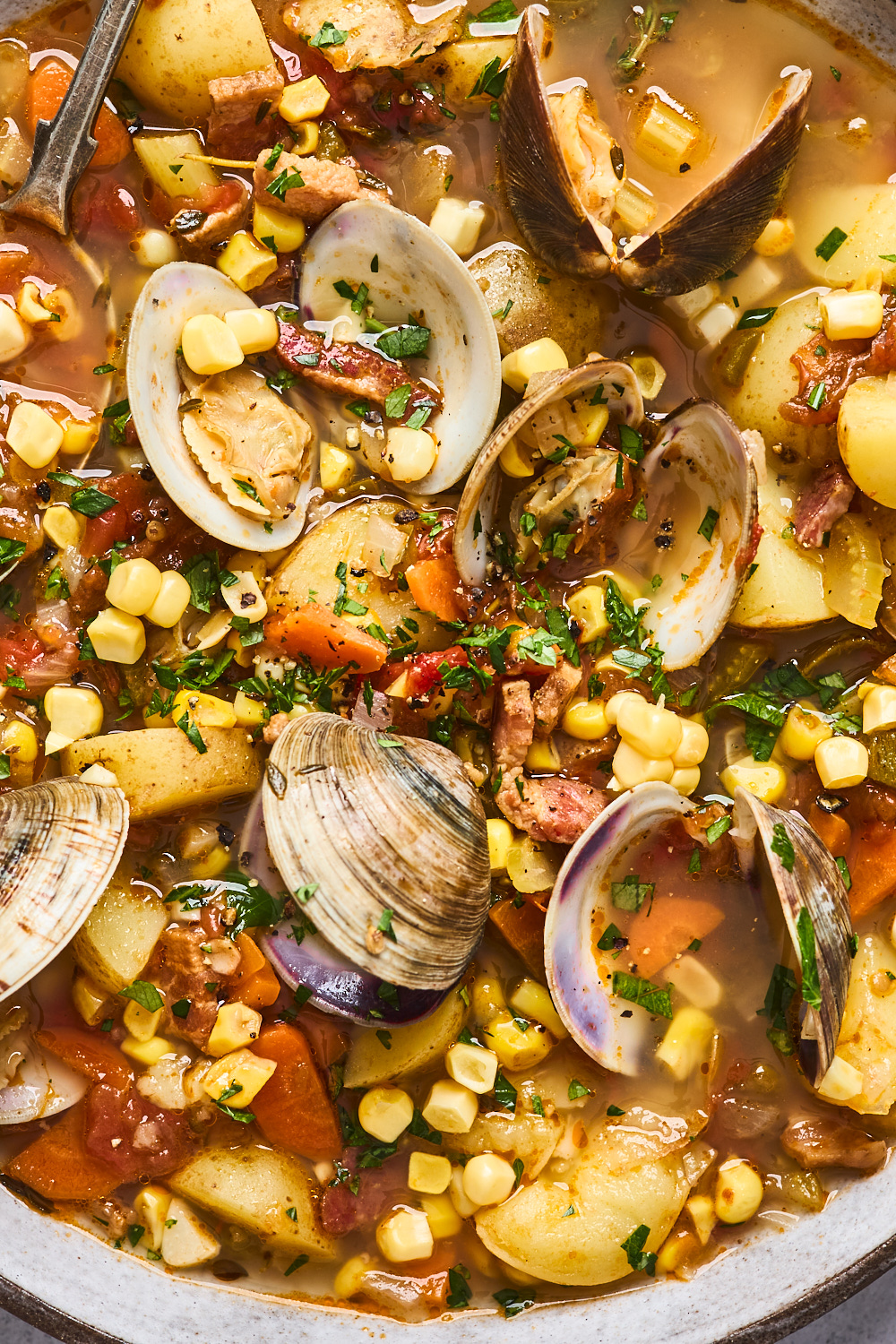 What type of Fresh Hard clams should I use in a Manhattan clam chowder
Fresh clams are always more delicious and it really depends on what you like in your clam chowder. Most fishmongers will carry a variety of them and many supermarket seafood departments also have them. The ones commonly used in chowders are either the Littleneck, Topneck, Cherrystone or if you prefer larger ones you can also use Quahogs. You can use any size for chowder but the larger ones yield larger clam meat and more ideal if you are steaming them separately from the soup, removing them from their shells, chopping them and then adding them to the soup.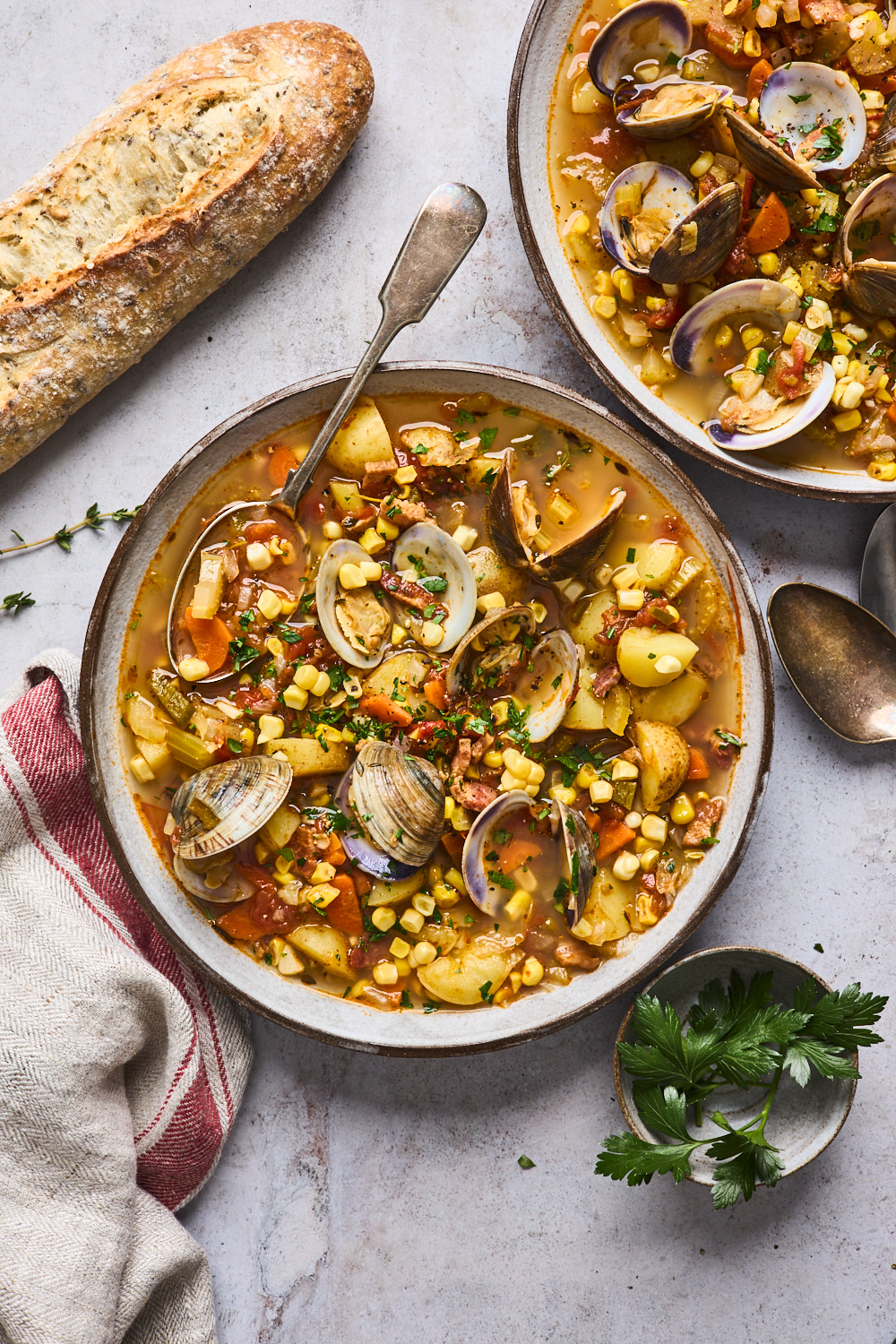 How to prepare and clean fresh clams:
This is really easy and there's no need to stress about cooking and enjoying fresh clams. Here are a few no fail ways to clean and prep them so you can enjoy them in this soup or in any other dish:
First, gently TAP any clams with open shells against the counter top. Discard any clams that do not close their shells within a few minutes or that have cracked or chipped shells.
Soak your clams for 20 min to 1 hour in cold fresh water just before cooking. As the clams breathe they filter water. When the fresh water is filtered, the clam pushes salt water and sand out of their shells. After 20 minutes, the clams will have cleaned themselves of much of the salt and sand they have collected.
When you're ready to cook, lift each clam from the water. SCRUB and RINSE clams under cold running water with a stiff brush to remove debris. And then you are ready to use them.
After they are steamed or cooked make sure to DISCARD any that have not opened.
**** If fresh clams are open, they're dead and you don't want to eat them. I would also be wary if there is a strong odor coming from the clams, while it could just be just one stray clam stinking up the whole bunch, you need to be careful. Its natures way of telling you to find something else to eat.
If you like this recipe you will love these:
Recipe
Prep Time: 15 mins
Cook Time: 40 mins
Ingredients
1 tablespoon olive oil

5 slices bacon, chopped

4 large ears of corn on the cob, kernels cut off (approx 2 cups corn - fresh or frozen)

2 tablespoons seafood seasoning, such as Old Bay

2 tablespoons fresh thyme leaves, finely chopped

4 cloves garlic, peeled and chopped

3 stalks celery, chopped

2 medium size carrots peeled and sliced

2 fresh bay leaves

2 jalapeno chiles, seeds removed and chopped

1 onion, peeled and chopped

½-1 lb potaoes chopped

4 cups chicken stock (or you could use clam juice)

3 to 4 large heirloom tomatoes, chopped (or One 14-½-ounce can of chopped tomatoes)

4 pounds littleneck clams or cherry stone or pasta clams, scrubbed

Salt and black pepper to taste

Chopped fresh Parsley for serving
Directions
In a large soup pot or a Dutch oven, heat olive oil over medium-high heat. Add the bacon and cook until crisp*, about 5 minutes. Add the corn and cook until the kernels are lightly browned at the edges, another 3-5 min
Add onion, carrots, garlic, jalapeños, celery, and potato, thyme, old bay seasoning, stir vegetables, scraping bacon drippings from bottom of pot. Cook, stirring occasionally, until vegetables soften, 10−15 minutes
Add broth, tomatoes, and bay leaves. Bring to boil, then reduce heat to medium-low. Simmer, uncovered, until potatoes are tender, about 15-20 minutes.
Add clams, cover, and increase heat to high. Boil just until clams open, 6−8 minutes. Discard any clams that do not open. Check for seasoning then serve with crusty bread and sprinkle with chopped fresh parsley. (See RECIPE NOTES below for using canned clams or steaming clams separately)
This soup stays fresh in the refrigerator for up to 3 days. You can also freeze your chowder for up to 2 months. Store the frozen chowder in an airtight container in the freezer, then thaw overnight and reheat on the stove top. If freezing I recommend removing clam meat from shells and discarding shells, adding back only the meat to the soup.
Recipe Notes
Feel free to use clam juice instead of stock or broth for more flavour.
BACON: I tend to just leave the bacon in the pot after it has browned because i love the flavour it gives the broth as it cooks along with the rest of the ingredient but if you prefer yours a little crispier - feel free to remove it with a slotted spoon and set it aside on a paper towel lined plate until the soup is done. Then you can add it sort of like a garnish topping each bowl you ladle out or you can stir it in to the soup at the end.
If using CANNED clams: Use 2 10-ounce cans of baby clams, drained and stir them in to the pot close to the end of cooking time.
Adding extra protein: White beans are a delicious addition to seafood soups and add a good amount of fiber and protein. You can add 1 cup of rinsed and drained beans to the soup with the clams.
Cooking/steaming the clams SEPARATELY : Place the clams and either 1 lager beer (approx 1 cup or 250 ml) or wine or even water in a separate large pot with a tight-fitting lid, and season with sea salt and pepper. Cover and bring to a boil, then cook at a rapid simmer until the clams open, 3 to 5 minutes. Discard any unopened clams. Divide the clams and the cooking liquid among 4 shallow bowls. Ladle the corn chowder over top and serve.
Removing the clams from shell before serving: this is yet another option of making this soup. Remove clams from pot once they are all opened, then remove the clams from their shells, discard shells, and place clams back in soup whole or chop them before adding them.
Make Ahead: if you wanted to make this ahead you can make the base separately and steam the clams right before you are ready to serve. You can make the chowder base up to 5 days ahead. Cool and store in the refrigerator, then reheat over a medium flame. Buy the clams within 48 hours of serving and cook them just before you're ready to serve.
Steaming the clams ahead of time: steam clams in liquid as noted above. Don't let the clams cook longer than it takes to steam open.Once the clams have steamed open, remove them from the stove and allow to cool until you can safely handle the clams. Remove the meat from the shells. Chop the clams into small pieces and refrigerate until needed. Discard the shells but make sure to save all the juice from the steamed clams. Cooked clams can be stored in a covered container in the refrigerator up to 4 days.