Hash Brown Breakfast Casserole
This easy breakfast casserole is the perfect make ahead breakfast. A delicious savory breakfast with a shredded potatoes/hashbown and egg base loaded with sausage, bacon, cheese and veggies of course. Feel free to make ahead 2 hours or overnight and bake in the morning - a no fuss breakfast casserole that is perfect for feeding a bunch. I love breakfast casseroles both sweet and savoury flavor for the very reason that I can prep everything the night before and pop it in the oven first thing in the morning as I prepare the rest of food or enjoy my cup of coffee before the rest of the family is up. It is also a great breakfast casserole you can bake and bring to family brunch - everyone will love you for it!!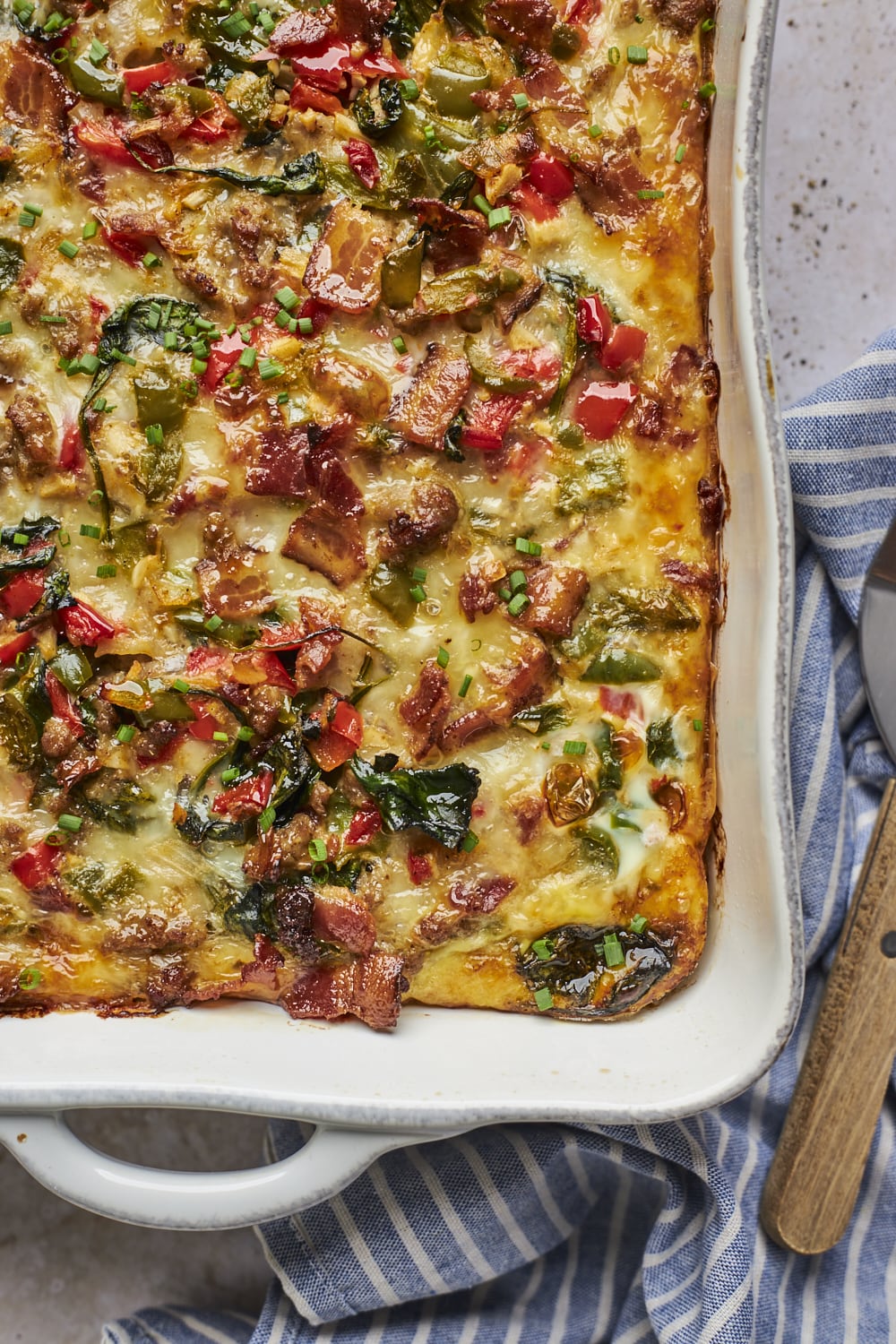 Ingredients for This Breakfast Casserole Recipe:
Sausage — I use pork, or chicken or turkey sausage or any other protein as long as you can break it up and brown it it will work . You can use breakfast sausage like Jimmy Deans but you can also use plain sausage out of its casing - or flavoured - Italian, chorizo or honey garlic
Eggs - you will need a whole dozen - yup you are feeding at least 8-10 people so that is a reasonable amount 
Half and Half - I love the rich flavour and creaminess the half and half gives this breakfast casserole - a good substitute is evaporated milk. Regular milk lacks the richness and you will lose a lot of flavour and it could potentially affect the texture too 
Bacon - cooked cooled and chopped or crumbled or you can use leftover smoked diced ham as well 
Frozen shredded hash browns — Make sure your hash browns are shredded, not cubed, as they won't mix as nicely into the casserole. Do not thaw them - use from frozen. I think the shredded works just a little bit better because the cheese and eggs seem to melt down between the layers of the shredded hash browns. 
Bell peppers - you will need two in your favorite colors - red, orange, yellow, or green.
Red onion - or yellow onion is fine too 
Garlic - use as little or as much as you would like here - or feel free to use garlic powder if you prefer - but add it when you add the rest of the seasoning and the same goes for onion powder if you chose to use that as well 
Baby Spinach - I love to add some green into this casserole but feel free to leave out if you prefer 
Shredded cheddar cheese - or your favorite cheese or cheese blend like Colby Jack, Monterey Jack, Gouda, Muenster, Provolone, Mozzarella, or Pepper Jack.
Spices: paprika, dried sage, salt, and pepper and feel free to use as much or a little of each as you prefer and to switch out the dried herbs with other ones like thyme and Italian seasoning if you prefer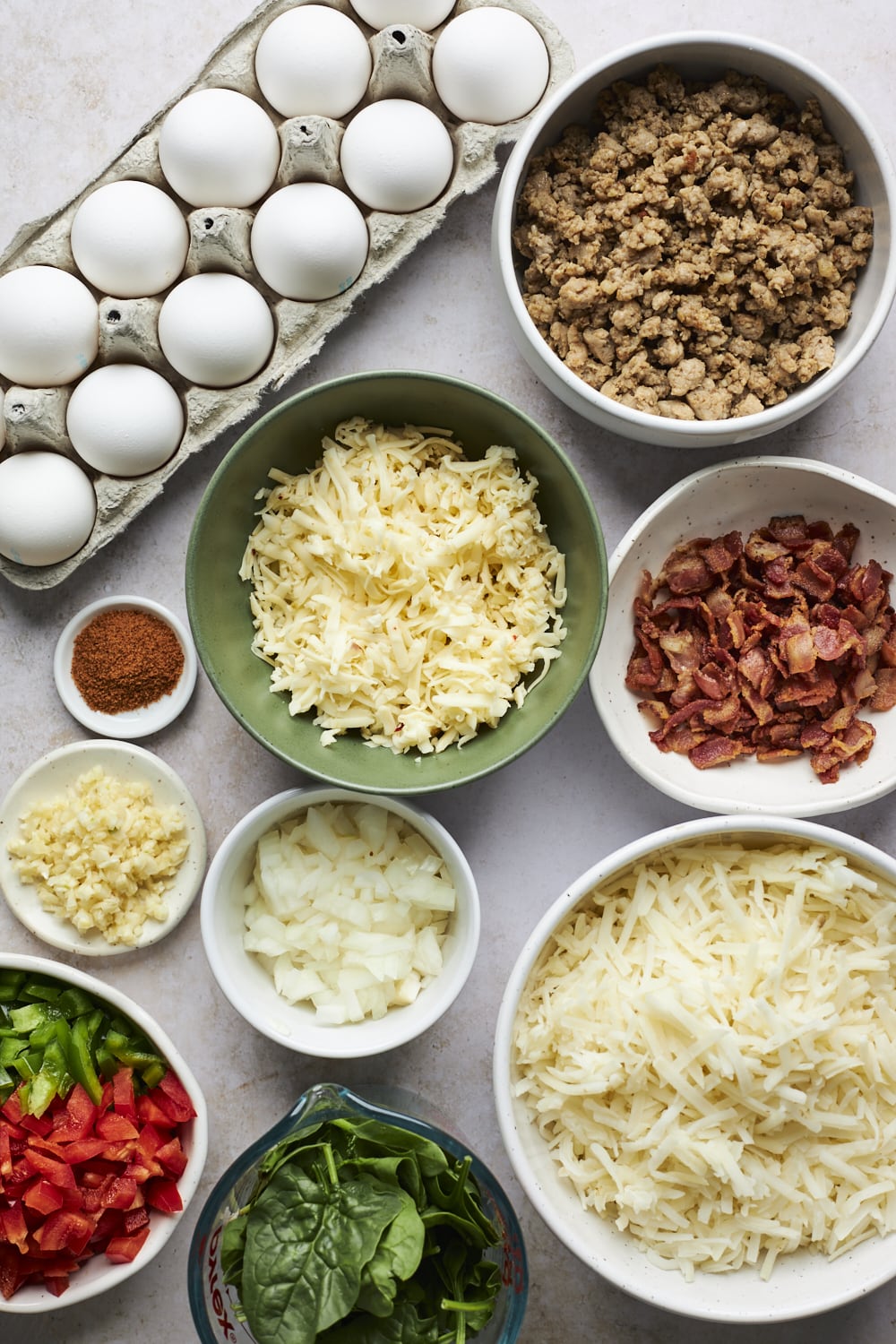 How to Make this Easy Hash brown Casserole:
Cook bacon cool and crumble, set aside 
Cook sausage in the same pan removing all but 1 tablespoon of bacon grease and cook crumbling with wooden spoken until browned 
Add the onions, garlic and peppers to pan and continue to cook until veggies are soften. Add sponch and cook until wilted. Remove from heat and allow to cool. This can be made ahead and cooled and stored in the fridge until ready to assemble - same goes for the bacon. 
In a large bowl whisk together the eggs, half and half, seasoning, cheese, then the cooled bacon, sausage and veggies 
Add frozen shredded hashbowns to the bottom of prepared pan (do not thaw hash browns)
Pour over the egg mixture on top of frozen shredded hash browns 
Cover casserole with plastic wrap and refrigerate for at least 2 hours or best overnight for all the flavours to meld
When ready tot bake remove the casserole from fridge (allow to come to room temperature 15-30 min), remove the plastic wrap and while its coming to room temperature preheat the oven 
Bake uncovered at 350 degrees F for 80-90 min - tenting with foil if it starts to brown too quickly 
Alternate methods same result: If you would like you can mix everything together: the hash browns with the bacon, sausage veggies, egg mixture all in one bowl then place it all in the greased casserole - I like to have the hash browns on the bottom because I love how they almost provide a base. Or you can do layers - hash brown veggies bacon sausage and then the egg cheese cream mixture poured over top. Either way works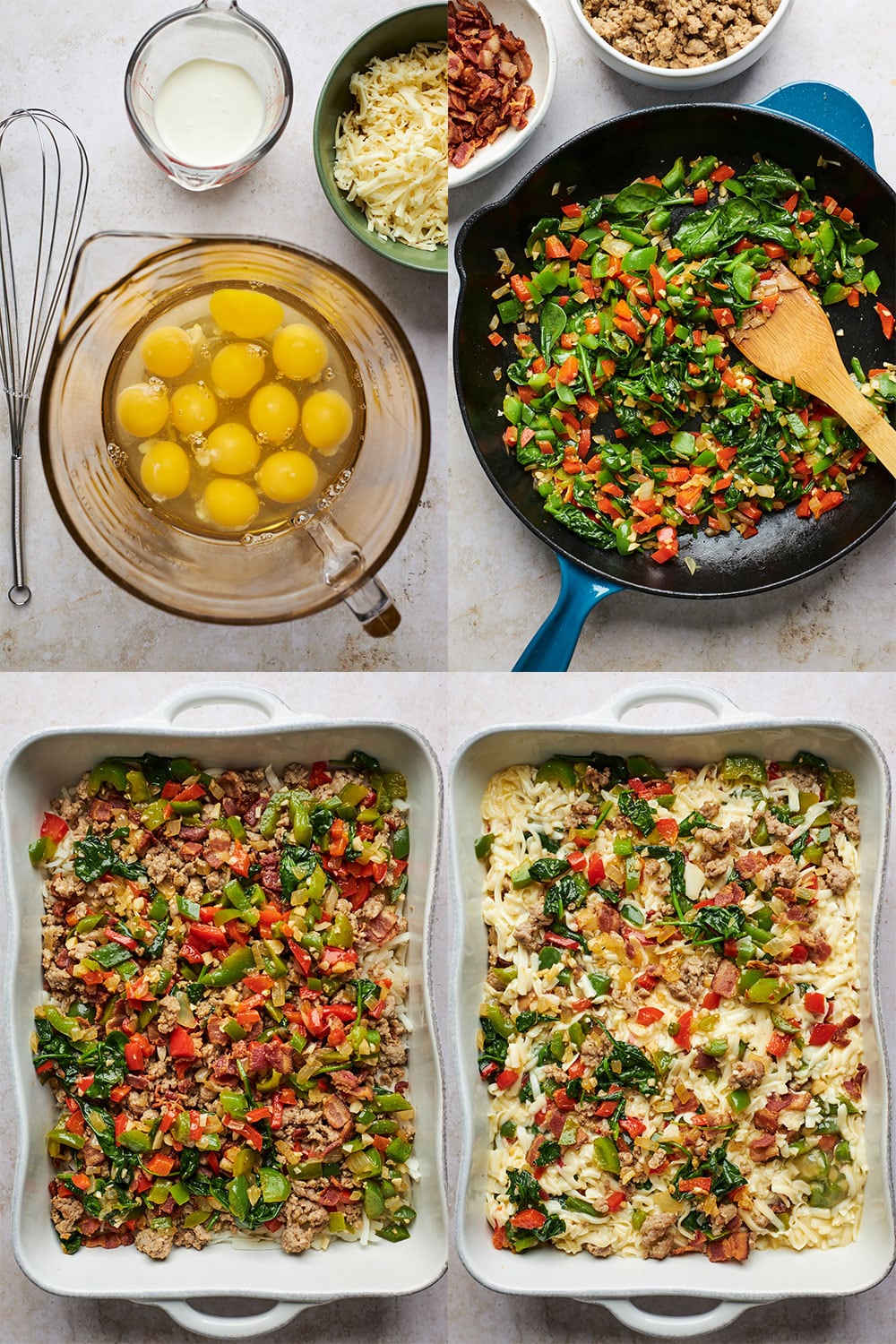 What to Serve With This Breakfast Casserole Dish:
This casserole is such a great Bruch item and can be served with just about anything - toast, toasted bagels, baked sweet fresh toast side salad, fruit salad, sliced or chopped avocado and fresh fruit. I love it garnished with fresh herbs and chopped green onions or chives and even with a dollop of sour cream.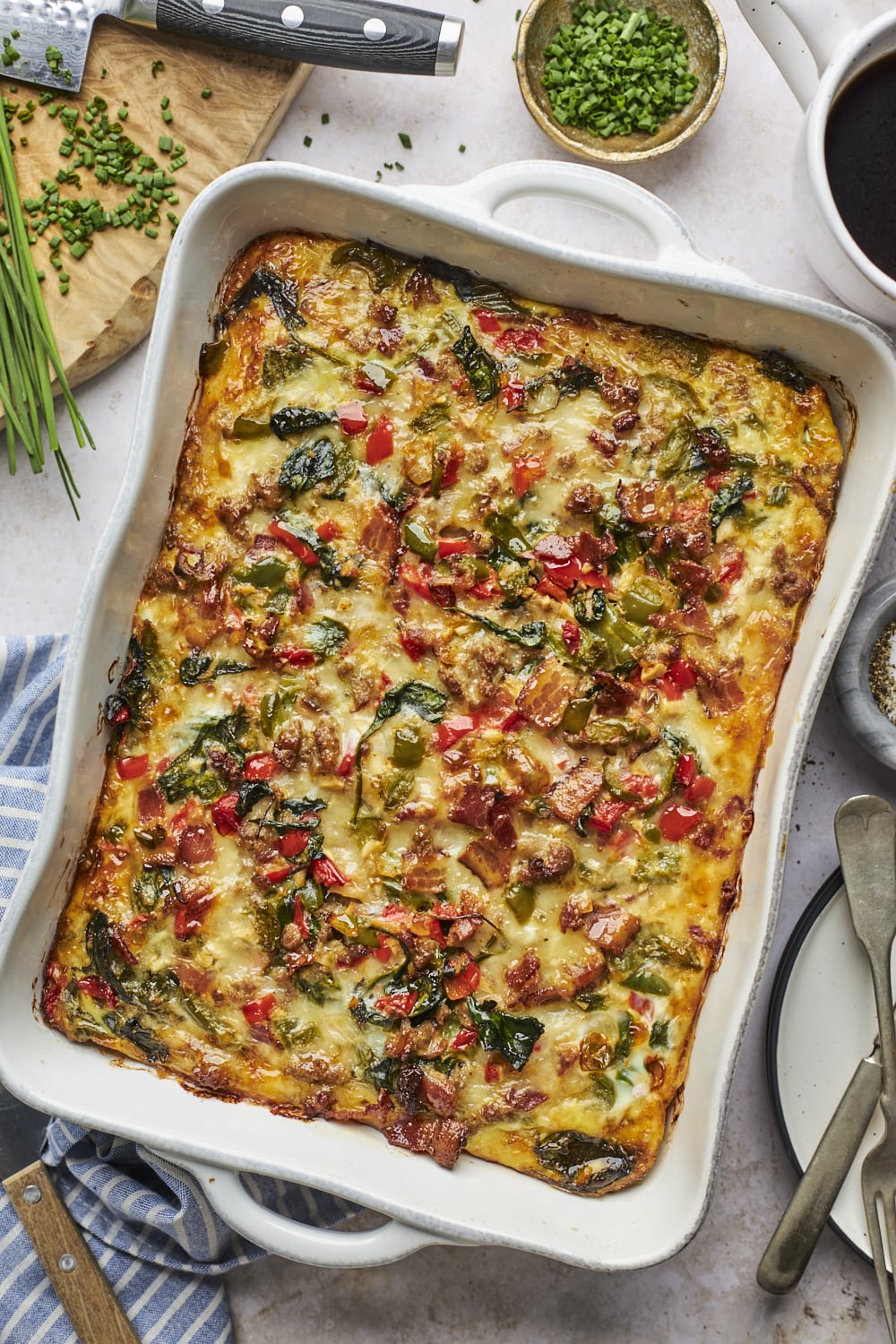 Can I Make This Breakfast Casserole Ahead?
TO MAKE AHEAD - prepare the casserole as directed, cover with plastic wrap and refrigerate overnight or as required (do not exceed 24 hours) and allow it to come to room temperature for 20 minutes before baking. If you're making this for a later brunch, you could prep in the morning, but make sure it rests for at least 2 hours in the refrigerator before baking.
I like that you can also do a lot of the work ahead of time before assembling. The sausage can be cooked, cooled, and stored in the refrigerator a day ahead. So can the bacon - I actually cook the sausage with the veggies and allow them all to cool and store the whole mix in an airtight container until I'm ready to put the casserole together - same day or following day. 
How Do You Store and Reheat Breakfast Casserole?
You can easily store cooked and cooled breakfast casserole or leftovers in the refrigerator for up to 3 days. Reheat individual servings in the microwave or oven as needed. 
Can I Freeze Breakfast Casserole?
Yes. If you plan on doing this it easier to bake it first in a disposable aluminum baking pan. Make sure its cooled after baking it and wrap it tightly with plastic wrap and foil. Baked casserole may be stored in the freezer, up to 2 months. Thaw in refrigerator overnight and bake at 350ºF (177ºC) for about 20 minutes or until fully heated through.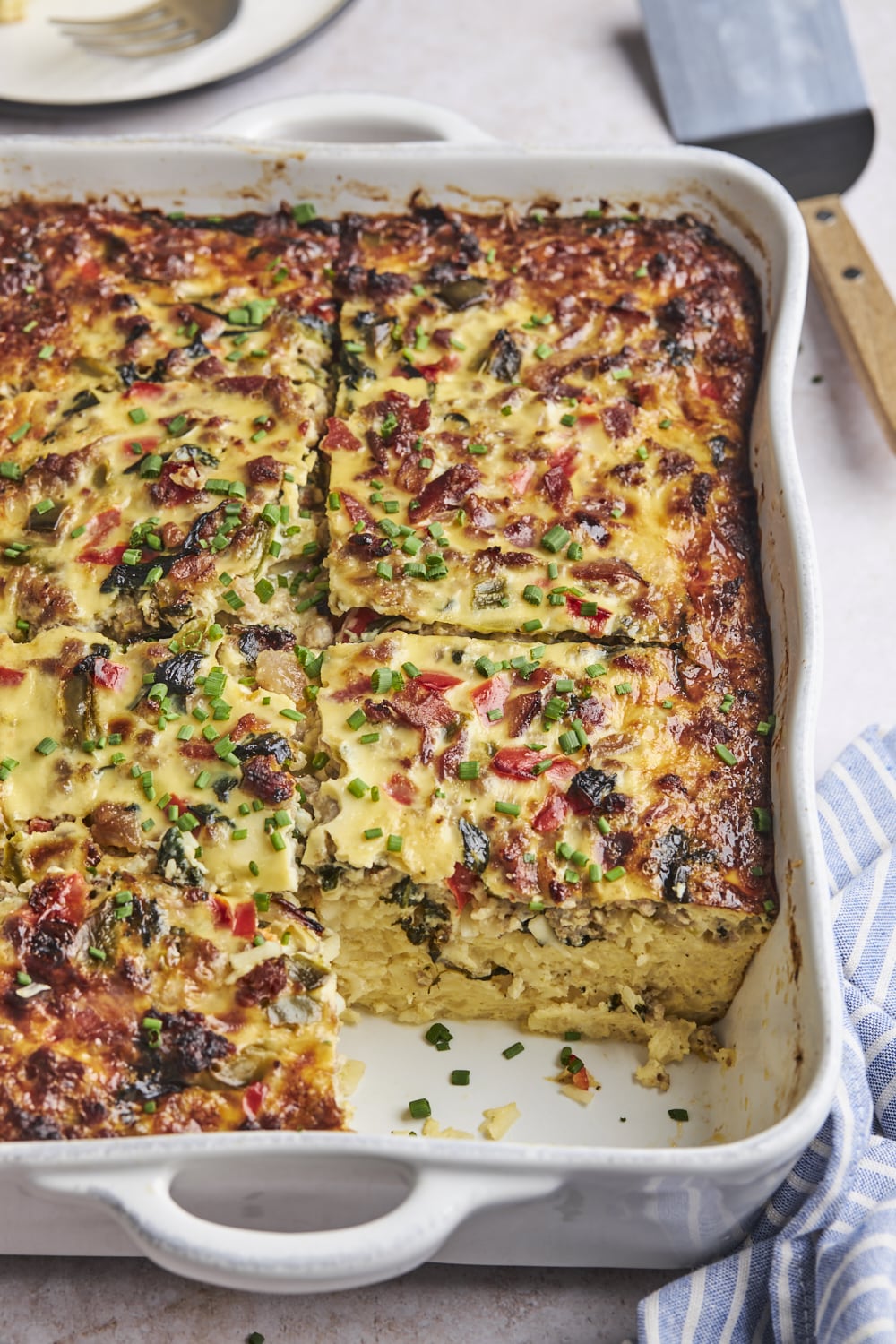 More Breakfast and Brunch Recipes You Will Love:
Recipe
Prep Time: 20 mins
Cook Time: 1 hour 45 min 
Non Active Time: 2 hours or overnight for chilling 
Total Time: 2 hours 5 min 
Ingredients
4-6 slices bacon cooked and chopped 

1 lb of ground breakfast pork sausage, cooked and cooled 

4 cloves of garlic peeled and minced

1 small red or white onion, diced

2 bell peppers, diced

2 cups packed baby spinach, roughly chopped

20-24 ounces frozen shredded hash brown potatoes (do not thaw) 

12 large eggs

2 cups half and half 

½ teaspoon each salt and black pepper

¼ teaspoon paprika 

1 teaspoon dried herbs like Thyme sage or Italian seasoning. 

2 cups shredded cheese 
Directions
In a large skillet cook bacon until golden, remove onto plate lined with paper towels. Allow to cool then chop or crumble and set aside. Remove all but 1 tablespoon of bacon grease from pan if needed. 
In the same skillet over medium heat add the breakfast sausage and sauté until about halfway browned then add the onions, bell pepper, and garlic, and keep cooking until the sausage is browned and the onions are soft. Stir in the spinach and sauté until wilted. Remove from the heat and let it cool. (feel free to make this a day ahead and keep refrigerated until you want to assemble casserole) 
In a large bowl, whisk the eggs together. Then add half and half, spices, shredded cheese and the cooled bacon, sausage and veggies 
Grease a 9x13 inch baking dish/pan with a little melted butter or cooking spray 
Add the frozen and shredded potatoes to the bottom of the pan.* 
Pour over the egg mixture over top of the frozen potatoes. Cover with foil and refrigerate for at least 2-3 hours or overnight.
Remove casserole dish from fridge, remove covering and preheat oven to 350 degrees F while casserole comes to room temperature 
Transfer casserole to oven and bake breakfast casserole uncovered at 350 degrees for 90 minutes until top is golden and eggs are set in the center. Feel free to tent with foil if top is getting dark too quickly.
Let rest for 10 minutes before serving.
Garnish with fresh herbs, and sliced green onions and serve warm with sliced avocado, toast or even a side salad and fruit for a full breakfast or brunch. 
Store leftovers in an airtight container in the fridge for up to 3 days. Reheat in the microwave or oven at a reduced heat level until warmed through 
Recipe Notes 
If you would like you can mix everything together: the hash browns with the bacon, sausage veggies, egg mixture all in one bowl then place it all in the greased casserole - I like to have the has browns on the bottom beae I love how they almost provide a base. Or you can do layers - hash brown veggies bacon sausage and then the egg cheese cream mixture poured over top. Either way works
If the casserole is refrigerated overnight, remove it from the fridge 20-30 minutes before baking while the oven is preheating It may require an extra 10-15 minutes of cooking time.
Your baking dish/vessel matters - when baking in a ceramic casserole dish you will need the full baking time but if using a skillet or cast iron baking dish or even a metal pan it - they all conduct heat differently and at times much more efficiently and quicker so please keep that in mind and do check on your breakfast casserole at the 60 minute mark for doneness
The size of your pan matters as well. Baking this breakfast casserole in a larger pan will create a thinner casserole and less cooking time - the reverse is true if you are using a smaller pan = thicker casserole and longer cooking time