Cherry Cake
This light and delicious fresh Sweet Cherry Almond Cake contains a classic combination of cherries and almonds and is an ideal cake to serve with afternoon tea, as a light dessert and perfect on the brunch table. It's filled with jammy juicy sweet cherries and the cake has a really nice hint of vanilla, almond and lemon flavour. This cherry cake recipe is a simple classic cake that works really well with stone fruit especially cherries since almond flavor is a perfect match with cherry flavor. This almond cake recipe is tender with a light crumb thanks to the combination of all purpose flour and almond flour and a delicious balance of sweet nuttiness. Between the jammy cherries, tender light crumb, crackly top crust from the sliced almonds and coarse sugar - you have the making of one very tasty from scratch cake.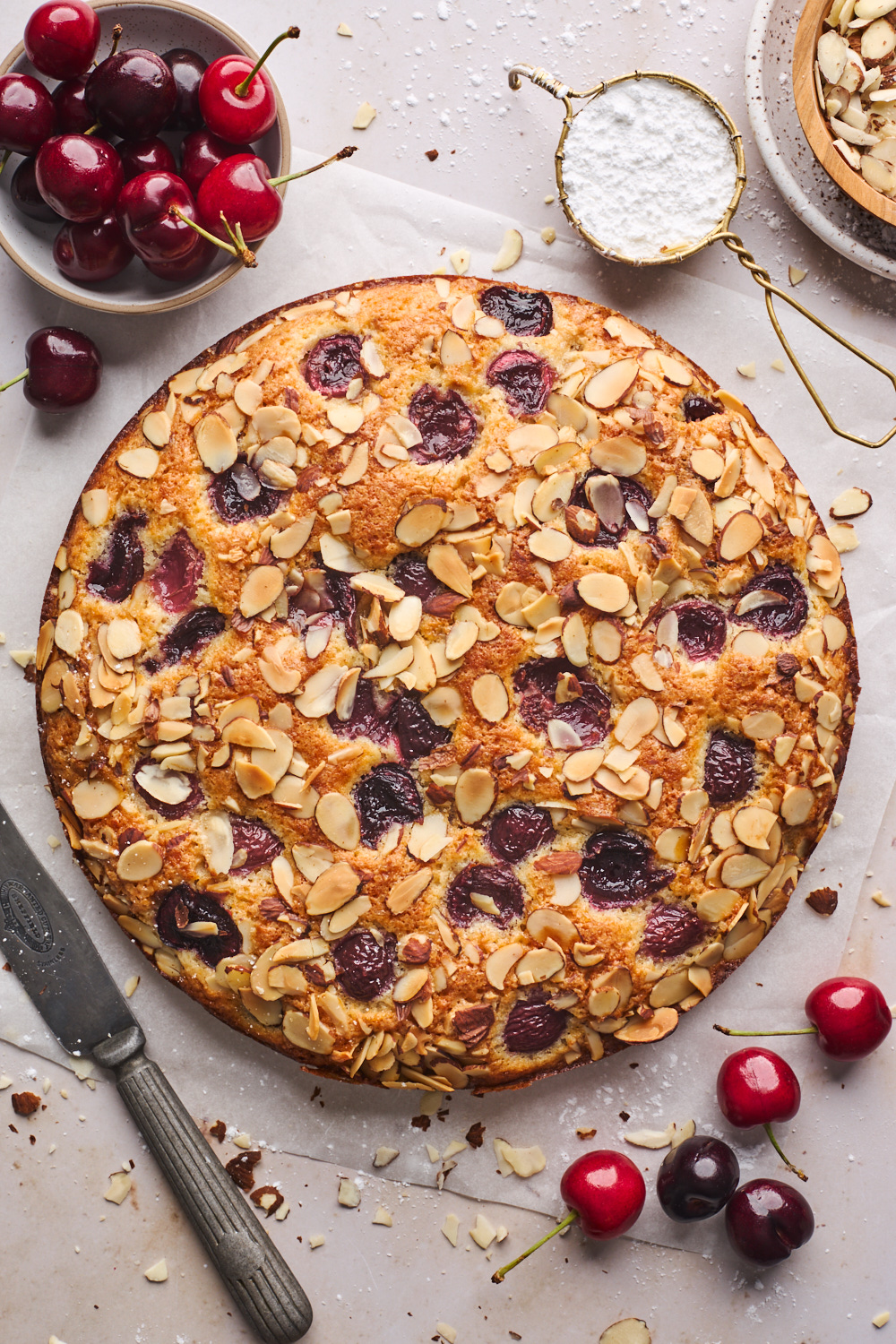 Ingredients for Cherry Cake
All Purpose Flour
Almond Flour - feel free to use all purpose flour instead if you prefer to make this cake without it
Baking Powder and Salt
Granulated Sugar
Unsalted Butter - you can also use vegetable oil if you prefer as well but the buttery flavour is my favourite
Eggs - room temperature
Fresh Sweet Cherries – frozen will work in a pinch too but make sure to toss defrost them and pat dry and toss them in some flour before adding them to the batter
Lemon or Orange Zest - add a delicious flavour to the cake
Almond and Vanilla Extract
Yogurt or Sour cream - adds flavour and moisture to the cake
Sliced Almonds & Turbinado Sugar or Coarse Sugar for sprinkling over cake - optional but add delicious flavour and texture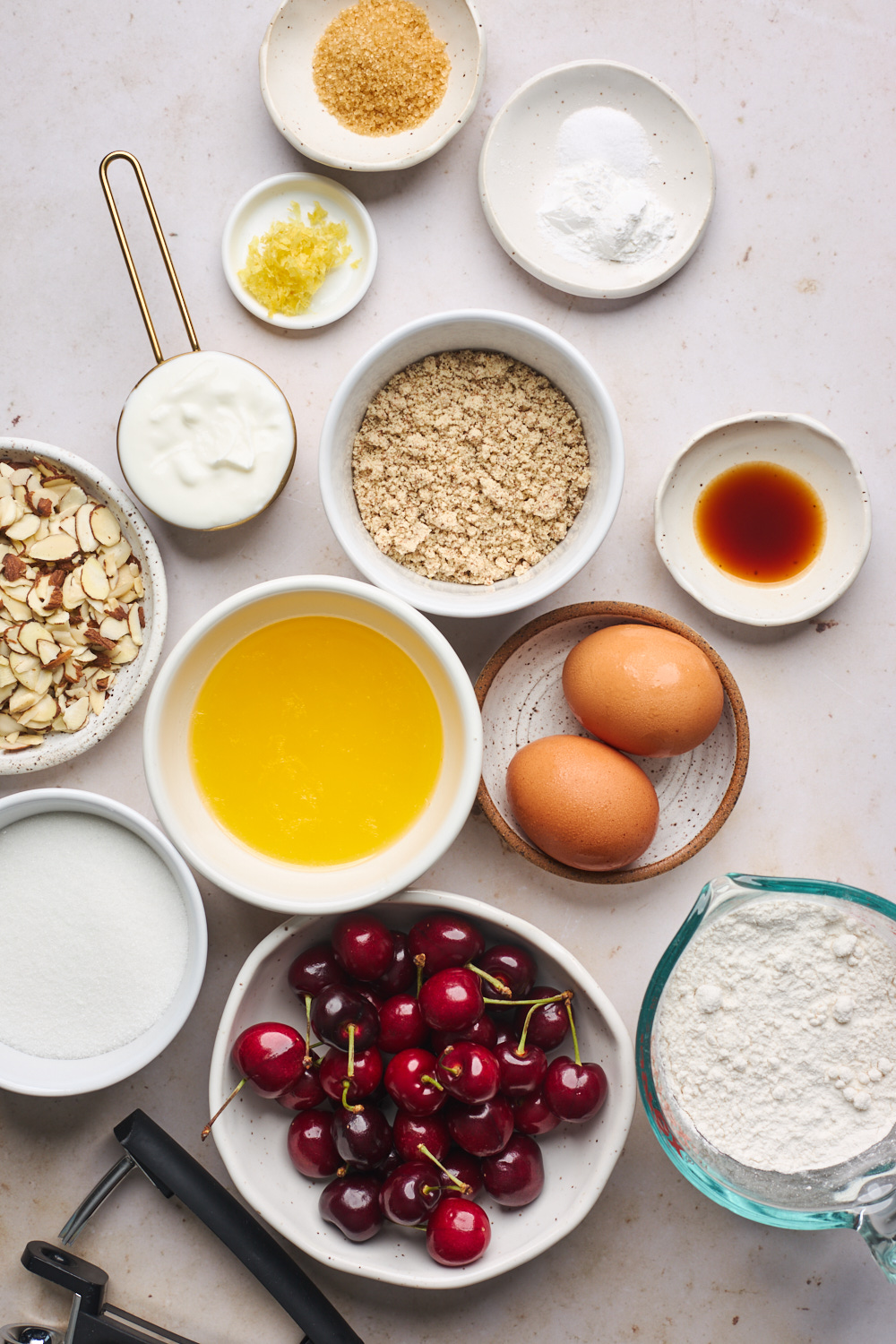 What Kind of Cherries to use in This Cherry Scone Recipe?
I used Fresh Sweet Cherries for the recipe but a blend of sweet cherries and sour cherries would work really nice too. Can I use frozen cherries in this recipe? Frozen cherries will work in a pinch, but they're a little harder to work into the dough, and can cause some red streaking. you can toss them in a little flour before adding to the batter. Dried cherries could also work in this recipe but they won't translate the same way as fresh juicy ones.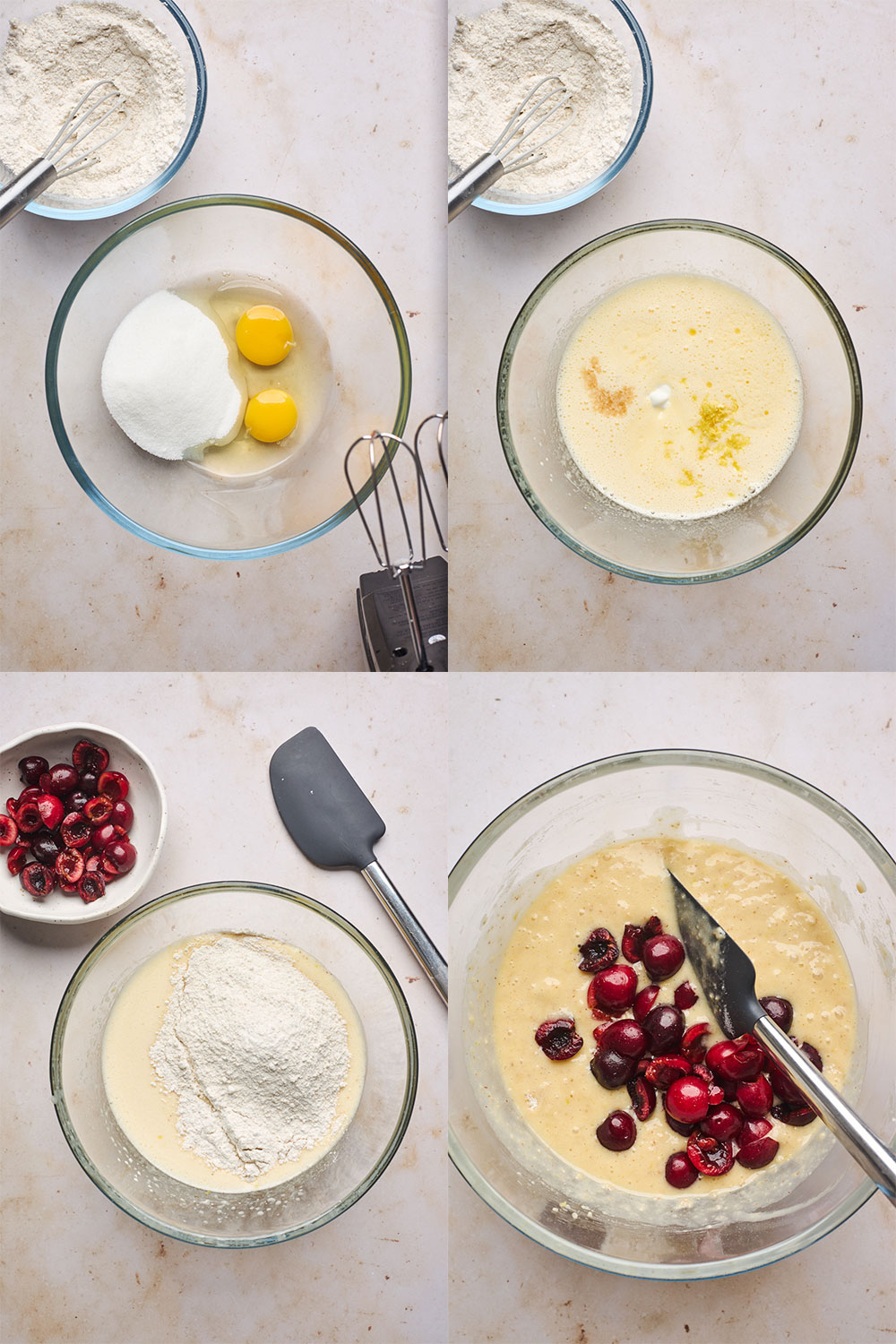 How to Make this Simple Cherry Cake:
Prep the Cherries: pit the cherries and slice most into ¼ pieces, some ½ pieces.
Whisk the dry ingredients together: flours, baking powder and salt
Beat the eggs and Sugar using a mixer until thick and pale, about 3 minutes.
Mix in wet ingredients: melted butter, extracts, and lemon zest
Add the dry Ingredients to the wet and fold/mix until just combined.
Fold in 1 cup of the sliced cherries into cake mix.
Scrape batter into prepared pan
Top cake with cherries and sprinkle with sugar and sliced almonds
Bake until tester comes out clean
Cool in pan 15-20 min then remove ring from pan and allow to cool completely before slicing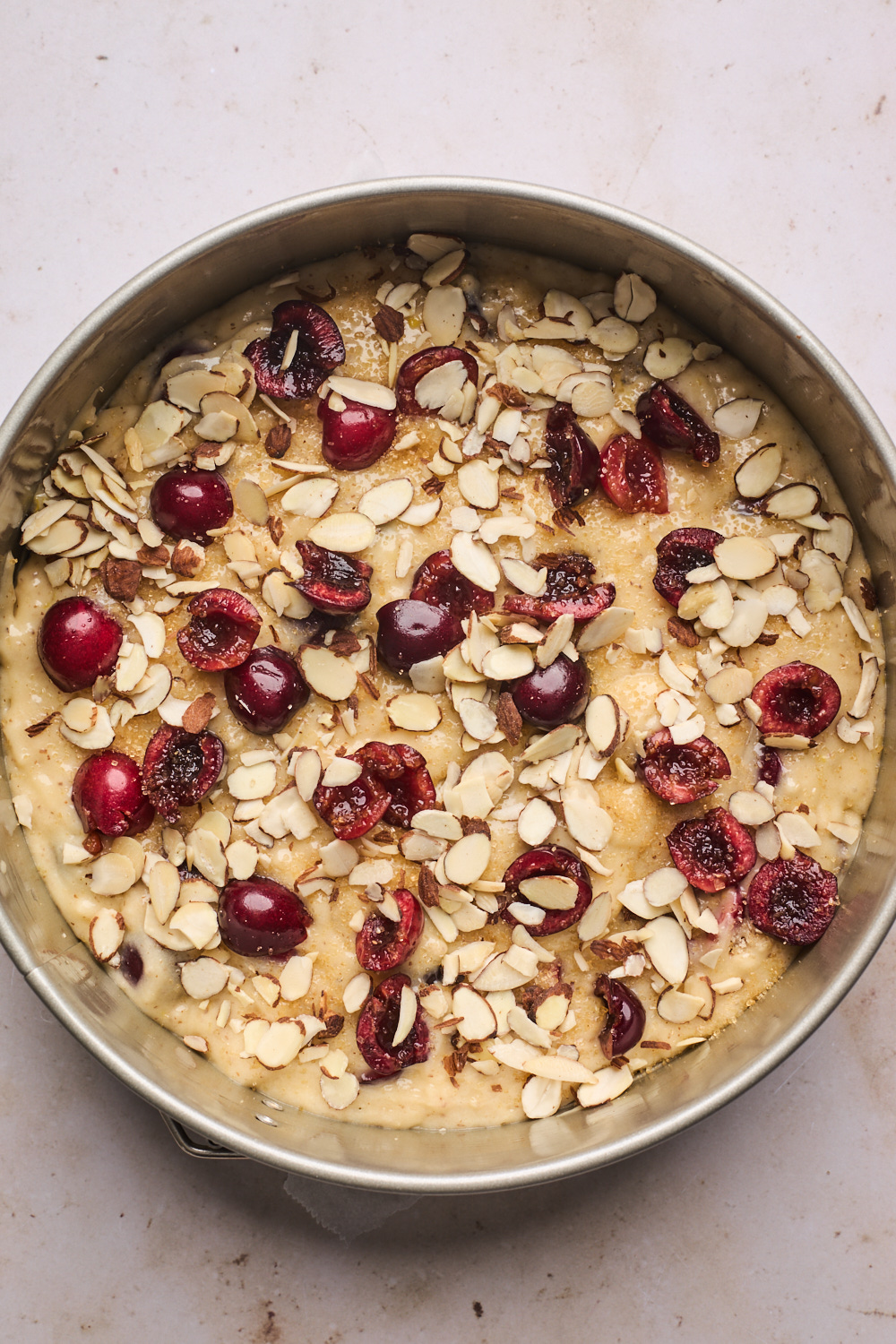 Tips for making a perfect Cherry Cake Every Time:
Ovens and oven temperatures vary so baking time is estimated based on that. Use a toothpick or skewer to test doneness, it should come out with very few crumbs.
Remember that the juicier and riper the fruit the more moisture they could potentially add to the cake batter - so choose firm cherries and stone fruit.
Make sure your ingredients are room temperature i.e. eggs and sour cream so that all the ingredients combine evenly in the batter
Give the cake time to cool completely - first 15-20 min in the pan on rack and then out of the pan. This allows the cake to finish cooking through from the carryover heat from the pan out the oven.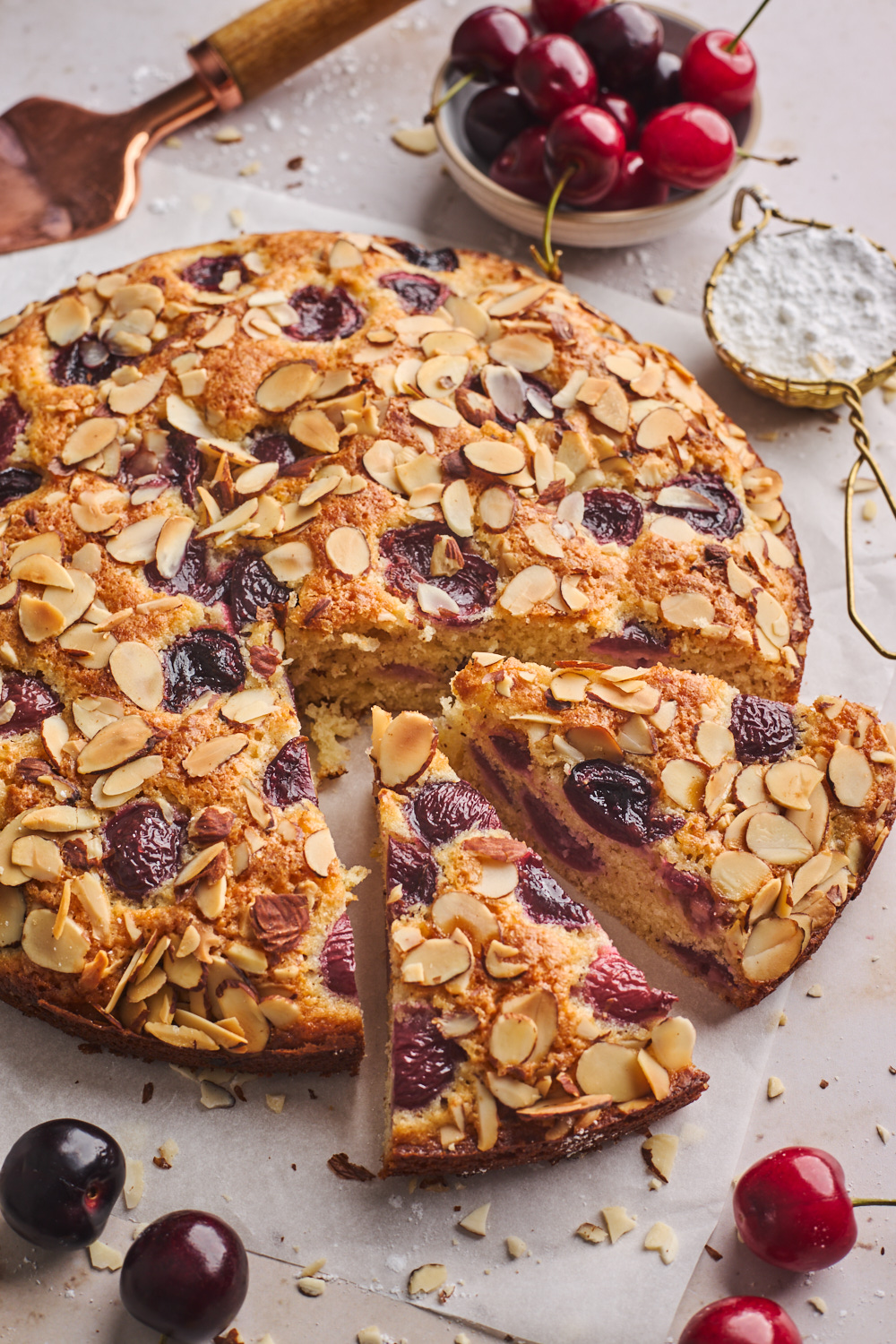 Storage & Freezing
Leftover cake can be lightly wrapped for 1 day at room temperature after that it should be refrigerated for up to 3 days in the refrigerator.
Once completely cool, this Almond Cake freezes well . Wrap tightly in cling wrap then foil, then freeze for up to two weeks. Thaw at room temperature.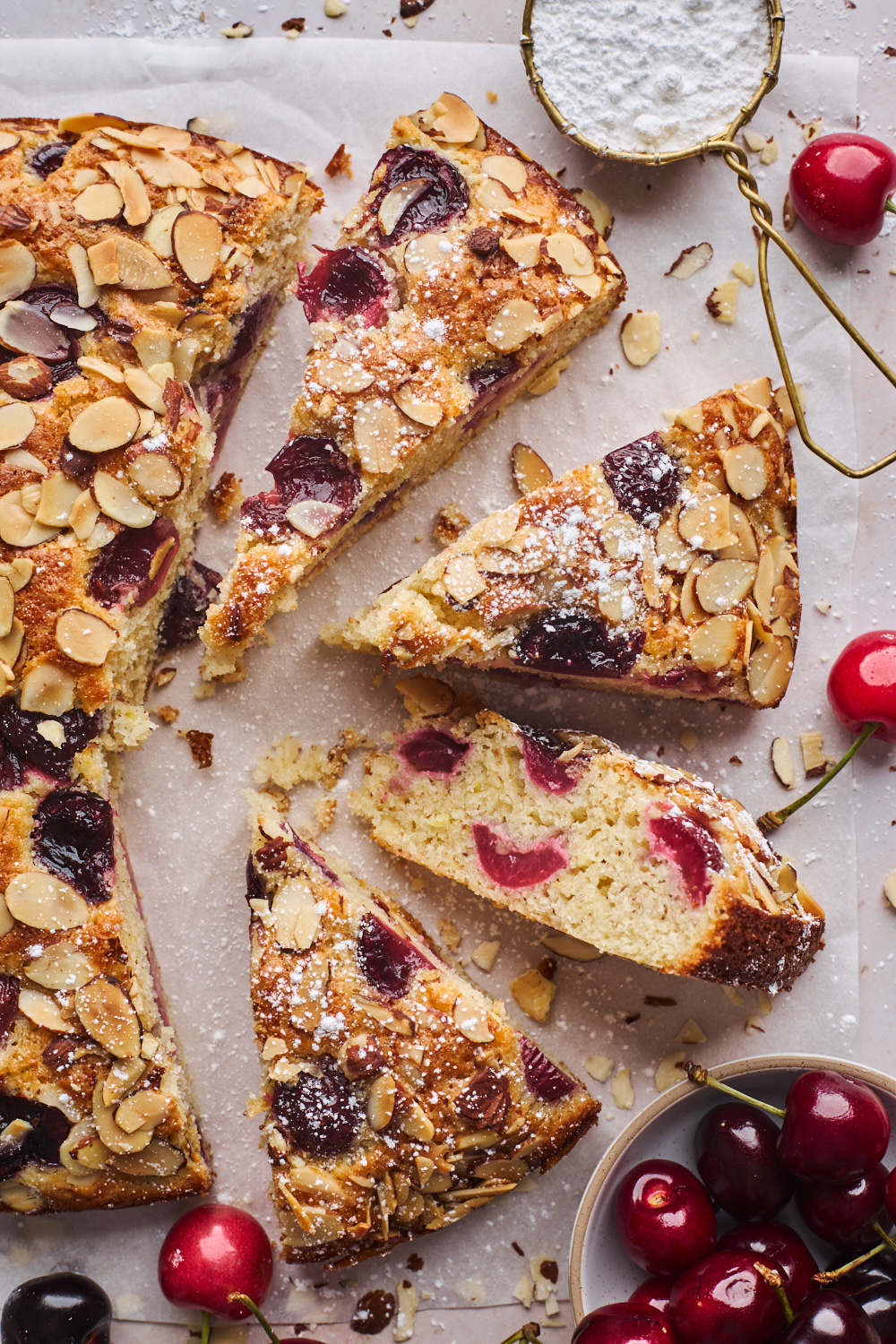 More Cakes I Know You Will Love:
Recipe
Yields: one 9 inch or one 8 inch round cake
Prep Time: 15 mins
Cook Time: 30-45 mins
Ingredients
1 cup (130 grams) all purpose flour

½ cup (55 grams) ground almonds or more all purpose flour

1½ teaspoons (6 grams) baking powder

¼ teaspoon (1 gram) salt

2 large eggs at room temperature

¾ cup (150 grams) granulated white sugar

1 teaspoon (4 grams) pure vanilla extract

¼ teaspoon (1 gram) pure almond extract (optional)

⅓ cup yoghurt, sour cream or milk, at room temperature

1 teaspoon lemon or orange zest

½ cup unsalted butter, melted then brought to room temperature

1½ cups pitted halved cherries, divided

2 tablespoons turbinado sugar

½ cup sliced almonds

Confectioner's sugar, for dusting (optional)
Directions
Preaheat oven to 350°F and Grease a 8 or 9-inch springform baking pan generously with nonstick cooking spray. Line bottom with parchment (optional) and set aside
Melt butter then set aside to cool to room temperature while you prep remaining ingredients
Wash, dry, pit then slice cherries in half. Pat them dry with a paper towel and divide into 1 cup and half cup measures
In a medium bowl whisk and stir the flour, almond flour, baking powder and salt together to combine and set aside.
In a large mixing bowl using a hand mixer on medium high or a stand mixer fitted with paddle attatment beat the eggs and sugar for 2-3 minutes until mixture is thick and pale, then mix in the butter, extracts, sour cream or yogurt and citrus zest until combined.
Add the dry Ingredients to the wet and fold/mix until just combined. Fold in 1 cup of the sliced cherries into cake mix.
Scrape the batter evenly into the pan and sprinkle the remaining half cup cherries on top then with turbinado sugar and sliced almonds.
Bake 9 inch cake for 30-35 min and 8 inch for 40-45 minutes or until golden brown and a toothpick or skewer inserted into the center of the cake comes out clean. Remove the pan from the oven and place on a cooling rack. Let the cake cool in the pan for 15-20 minutes, then carefully remove the sides of the springform pan. Allow to cool on cooling rack completely.
Dust the cake with confectioner's sugar, if desired. Slice and serve alone or with a dollop of whipped cream or vanilla ice cream. Leftover cake can be lightly wrapped for 1 day at room temperature after that it should be refrigerated for up to 3 days in the refrigerator.