Chocolate Bourbon Walnut Pie
A poor mans pecan pie? I should think not. This walnut pie is one ya dream about and definitely stands on its own. Walnuts are much loved by Greeks and others of course (hee hee!) I have got many memories of watching TV and cracking walnuts for my Mom - like bags of them so she can bake us some delicious goodies and so we can eat them as snacks. They are such a great source of good fats, possibly one of the best when it comes to nuts. So this pie is basically a health food! Let's just go with it…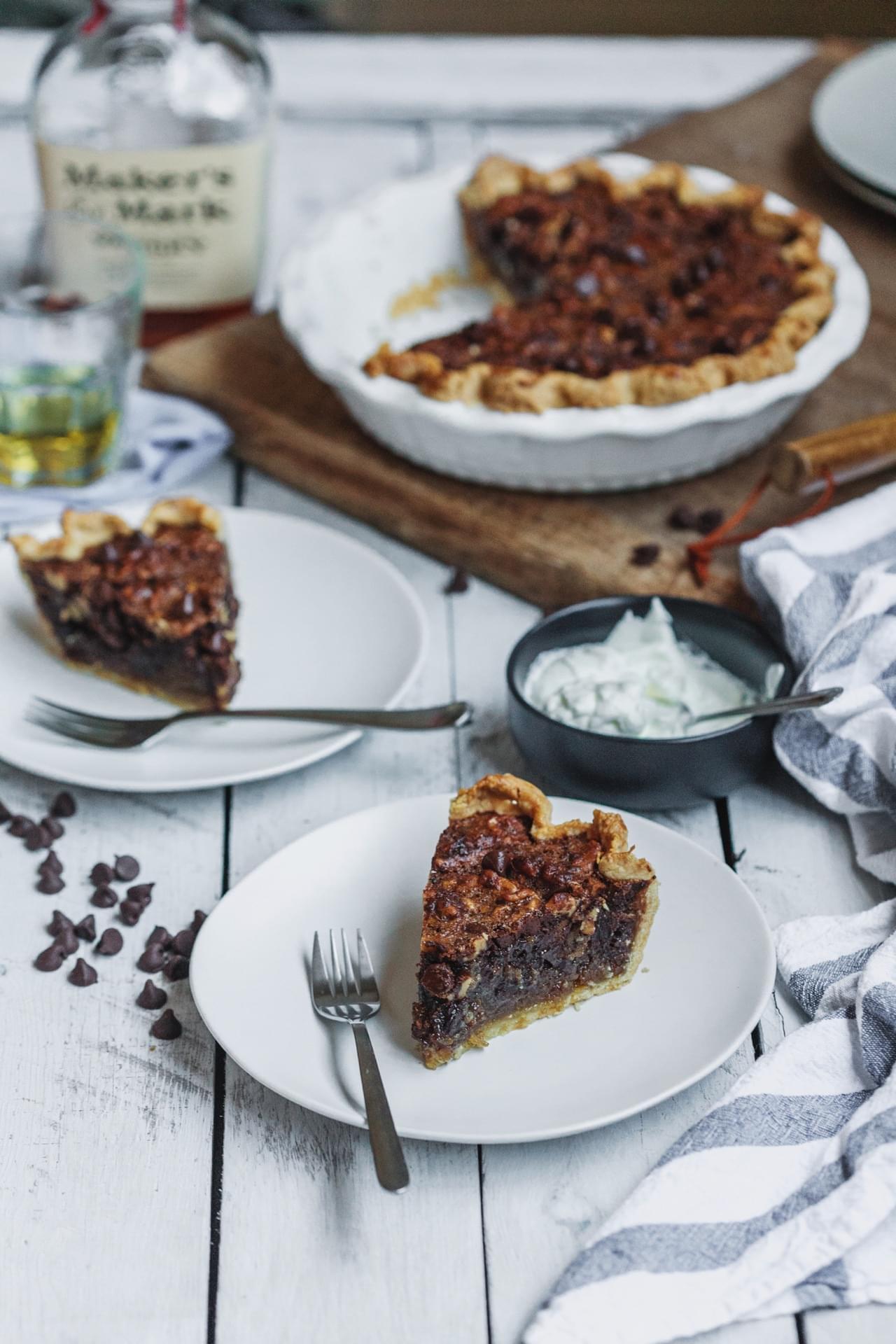 There is a real story behind why I chose to do a walnut pie instead of a pecan one. Laziness and convenience are the real reasons. I was lazy to go to Pricemart (our equivalent to the North America's Costco) and fight the crowds and I had a half bag of walnuts in my freezer – totally convenient. I was excited to use some of my pure sugar cane syrup that I received and knew that a gooey pie needed to be made. Not just any plain old pie (nothing wrong with any plain old pie either) but it needed to be decadent and super rich! This pie is exactly that.


I always wanted to try making a chocolate bourbon one so here was my opportunity! I got to searching and wanted to have a fabulous filling. One that was truly gooey and chocolatey. Not on the drier side like some of the ones I have seen and tasted. So I adapted a pecan one from Baker by Nature, because her stuff always looks amazing. It's not just her photography. Have you seen the quality of her baked goods? They are exactly what you want in a cookie, pie, cake whatever that girl touches.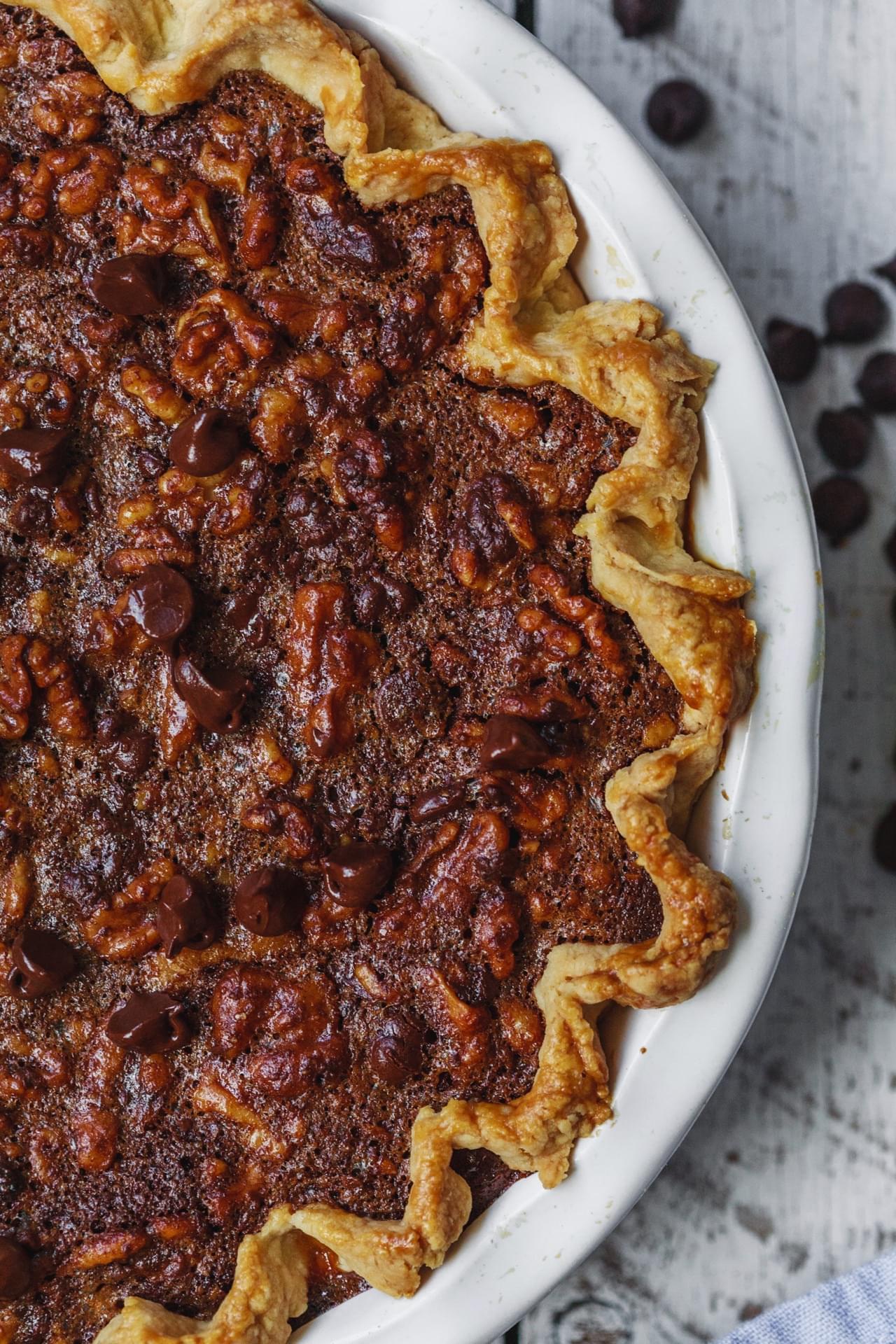 It did not disappoint one bit! Texture was perfect. My husband said he preferred it without so much chocolate, so feel free to reduce the amount of chocolate chips. I'm all about the chocolate so for me it was perfect. I added a few chips on top right after it came out the oven so that they could get a little melty for the pics – that's prob why hubby thought it was chocolate chip overload.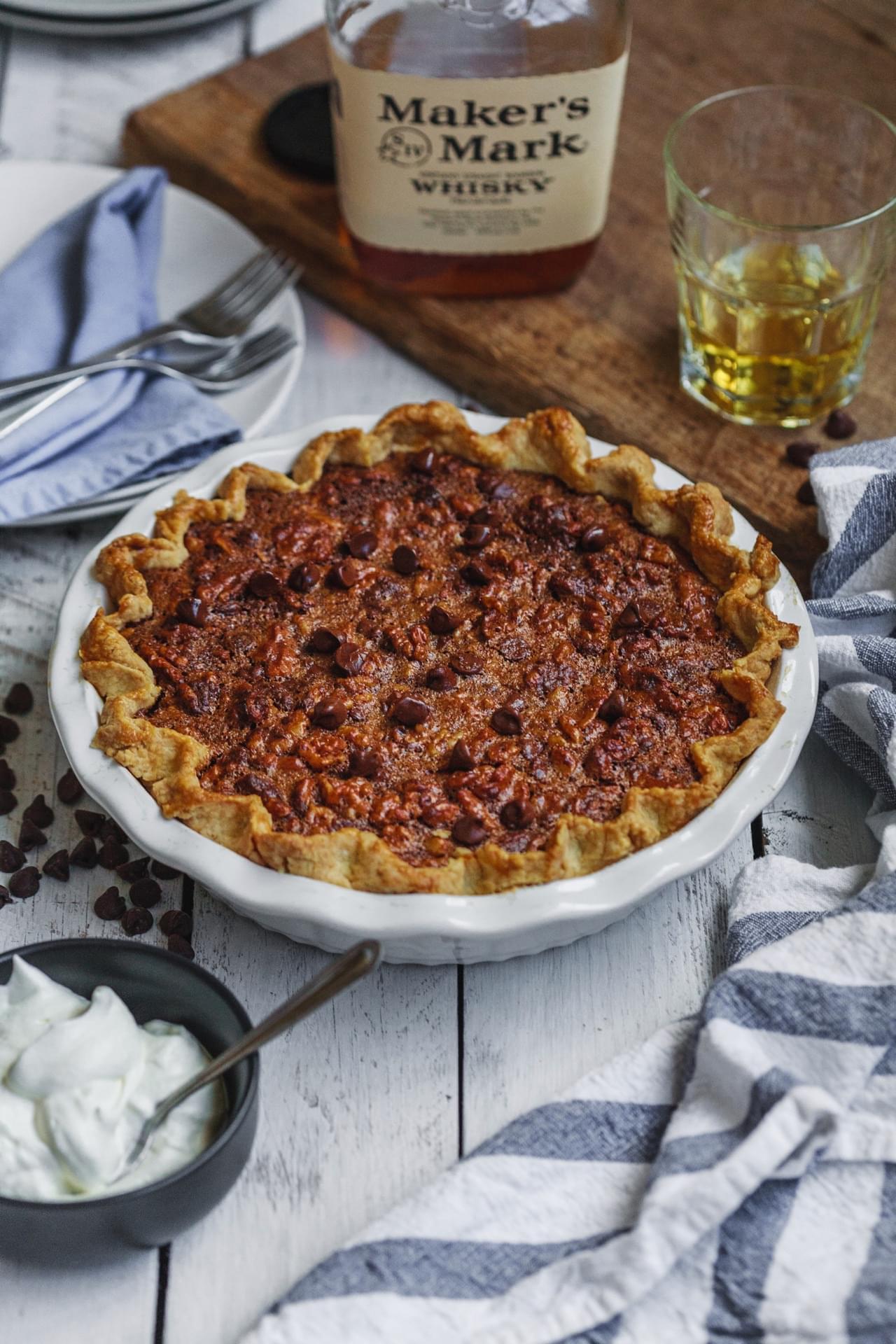 The bourbon's caramelly smokey notes intensify the chocolate and just make baked goods tastes better for having it added to them! Let's talk for a moment about sugar cane syrup. Why and why not corn syrup, which is in a lot of these types of pies? Well why not? Corn syrup has a lot of supposed health risk associated with it. It's highly processed and overall not awesome to be having on a regular basis. That being said – you won't be eating this pie daily so I'm not opposed to using corn syrup if that's all you have available. We have a company that makes pure cane sugar syrup (we have a lot of sugar cane in Trinidad) here and I had heard that it's the perfect substitute for corn syrup in baking and it performs the same texturally as it too. It's a lot less processed than corn syrup which is also a bonus. I was given some and so I had to try it. It was fabulous and if I continue to have it available I will keep using it as a sub for corn syrup.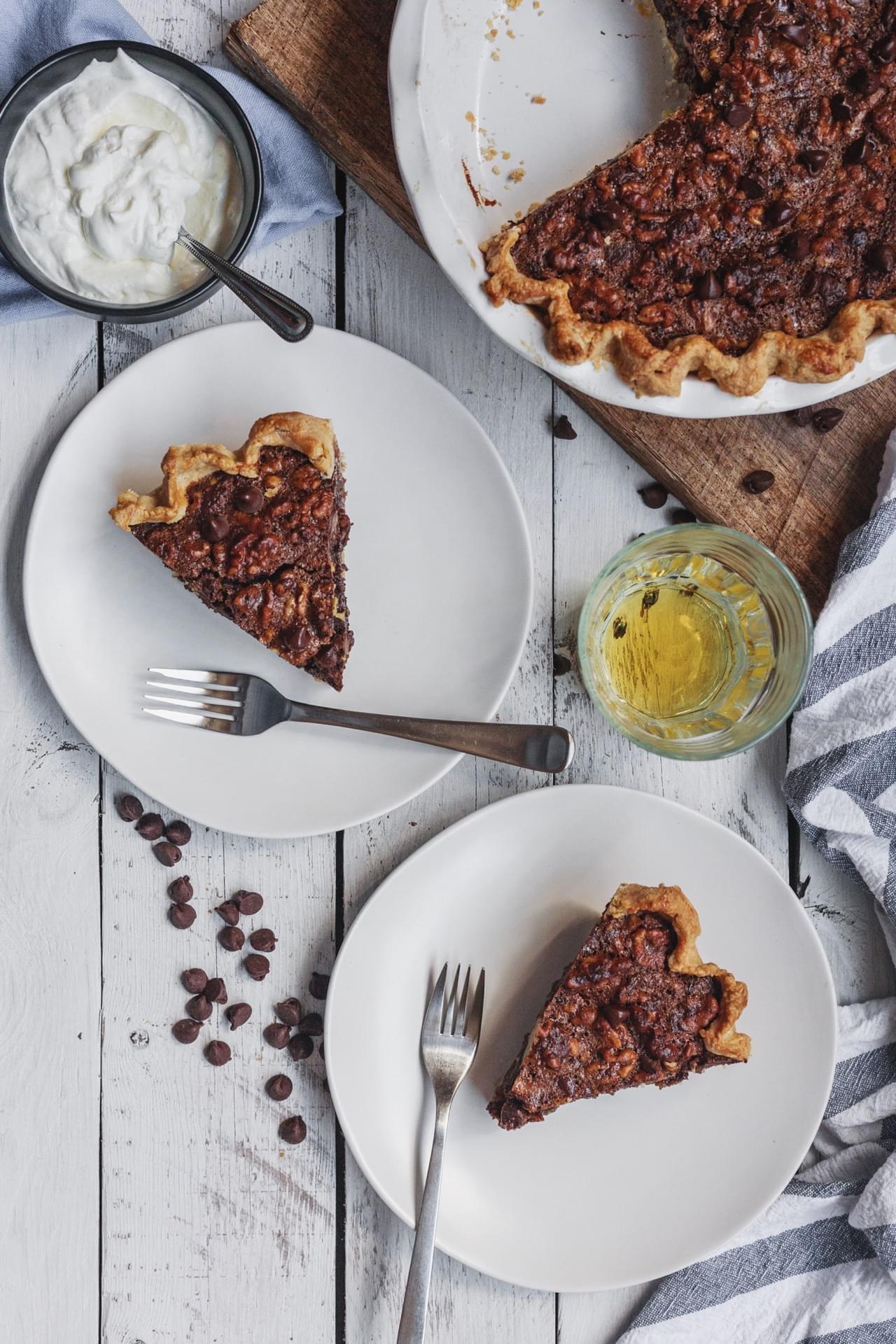 You and your family and friends will love this pie guaranteed!!! The pie crust is super easy to make and we loved it! I will def be making this again. My Dad loves these kind of pies and I promised him one when I see him, so it's definitely going down soon again! Let me know what you guys think of it and definitely tag me or comment below! Let's just say you will be dreaming about this one…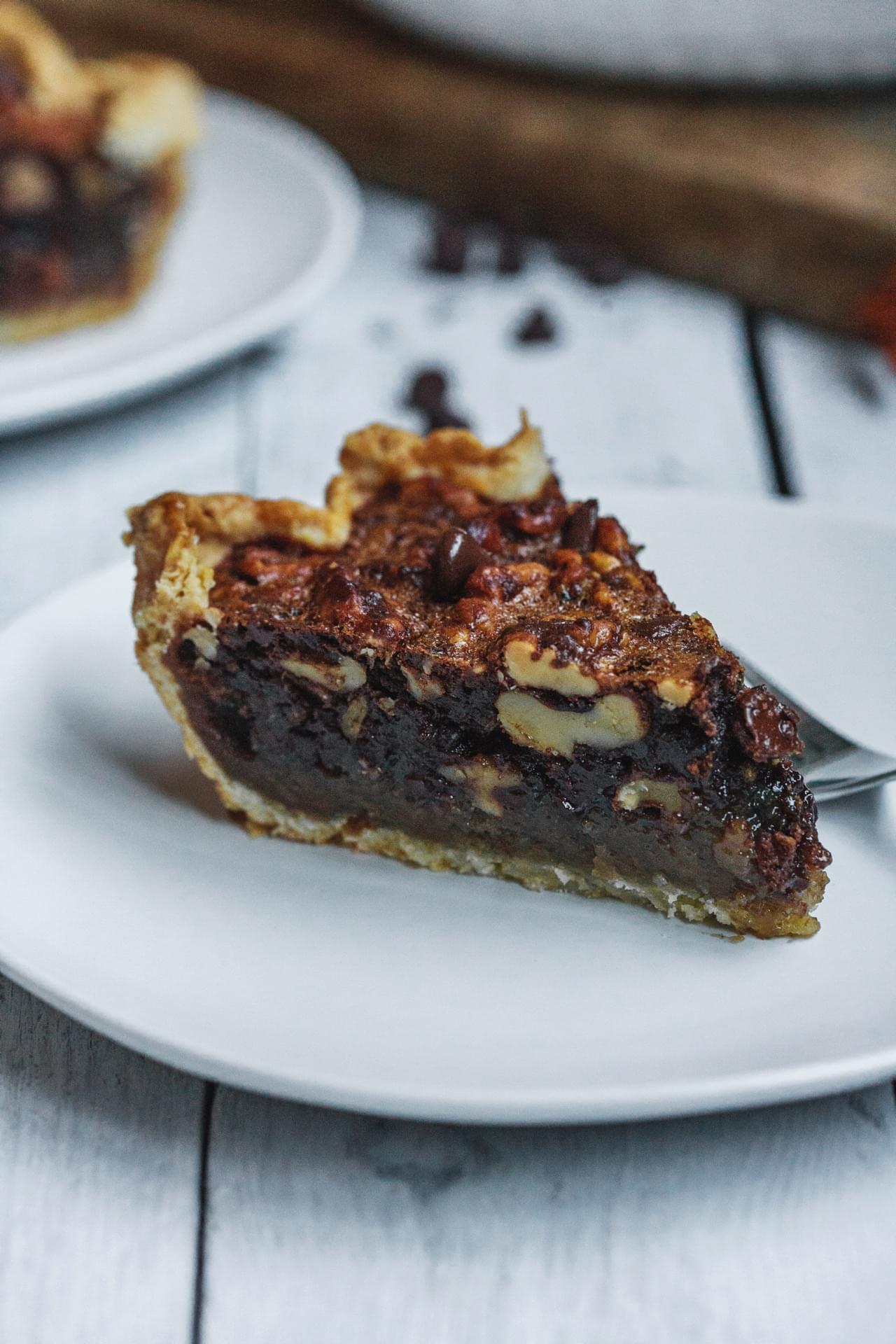 Ingredients
For the pie crust
1½ cups all-purpose flour
1½ teaspoons granulated sugar
1 teaspoon salt
1 stick unsalted very cold butter
4-8 tablespoons ice water, divided
1 large egg, beaten (for egg wash)

For the filling
3.5 ounces bittersweet chocolate
4 large eggs, at room temperature
1 cup coconut or brown sugar, packed
1 cup pure 100% sugarcane syrup (light corn syrup as an alternative)
2½ tbsp unsalted butter melted, and slightly cooled
1½ tbsp good bourbon
½ tsp salt
½ tsp ground cinnamon
2½ tbsp all-purpose flour
2 cups walnuts (chopping them coarsely is optional)
1 cup semi-sweet chocolate chips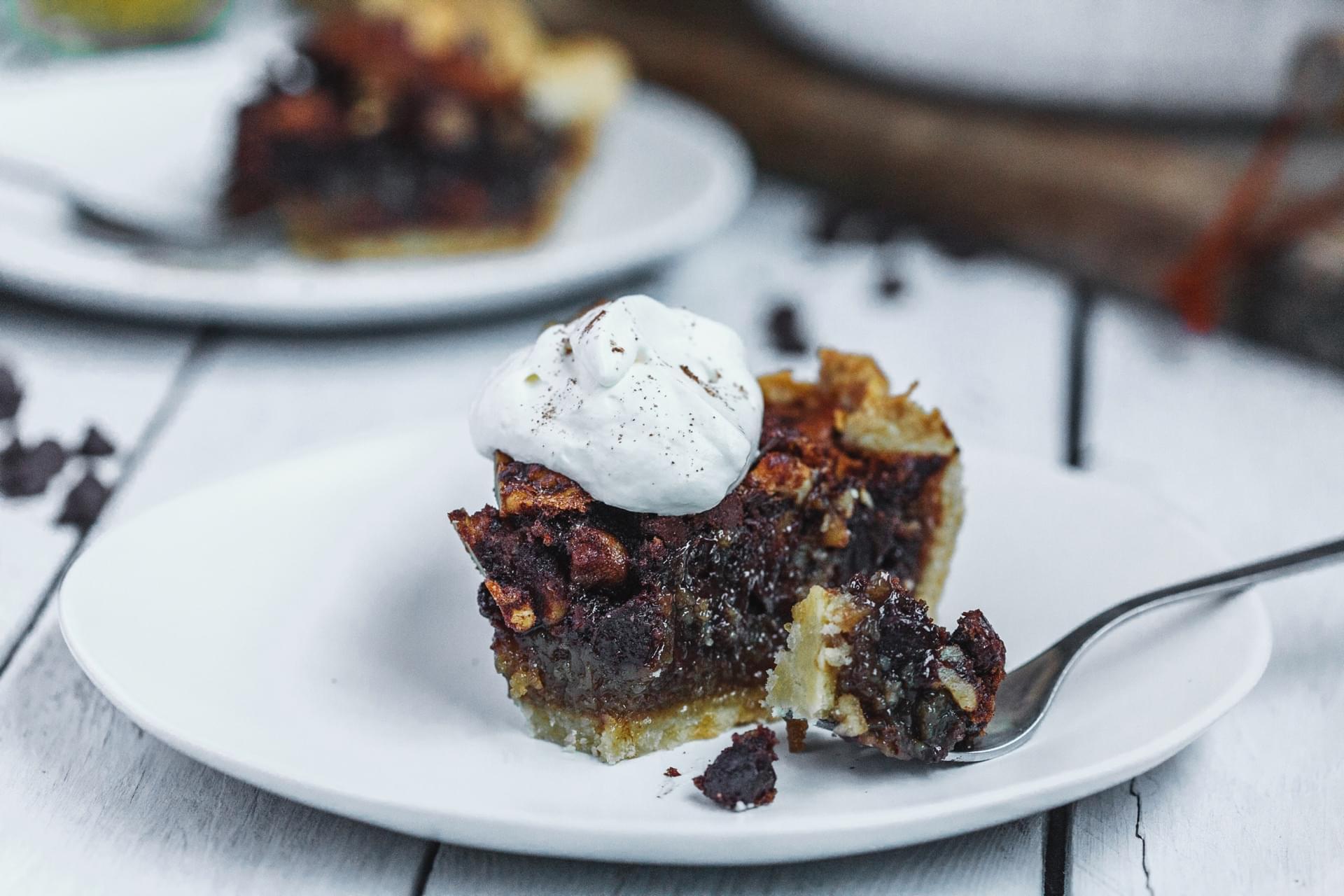 Directions
Combine the flour, sugar and salt in a food processor and pulse a few times to combine. Alternatively, if making crust by hand, whisk the flour and salt together in a mixing bowl.

Remove the butter from the fridge and cut it into several small cubes.

Scatter the cubes of butter over the surface of the flour in the food processor and pulse 15 to 25 times until the mixture resembles cornmeal with pieces of butter no larger than a pea. Alternatively, cut the butter into the flour using a pastry cutter, a fork, or your fingertips but do not overwork.

Sprinkle 4 tablespoons of ice water over the butter-flour mixture. Pulse 4 to 5 times to combine. Check to see if the dough is holding together by squeezing a bit of it in your hand — if it holds together, it's ready; if it breaks apart easily, add a little more water one tbsp at a time. The final dough should not come together in as a typical dough, but you should see no more powdery flour and the dough should just be starting to clump together in large crumbs. Alternatively, sprinkle the water over the flour and use two forks to toss the flour to combine. Test the dough and add more water as described above, handling the dough as little as possible with your hands.

Turn the pie dough out onto a clean work surface. Use your hands to very quickly gather and press the shaggy dough into a thick disk. Wrap in plastic and refrigerate for at least 30 minutes or up to 4 days (or freeze for up to 3 months; defrost in the fridge overnight before using).

When ready to use remove the dough disk from fridge, sprinkle your clean working surface and rolling pin with flour. Unwrap the dough and lay it on top of the flour. Working from the middle of the dough outwards, roll the dough into a circle approx 12 inches in diameter (a few inches larger than your pie pan). Be careful to work the dough as little as possible. If the dough cracks when you first start rolling, let it stand for one minute to warm slightly before rolling again. Use more flour if the dough starts to stick. Use a pastry scraper to lift the pastry from the work surface and make sure it's not sticking.

Lay your rolling pin on one edge of the pie crust and begin gently rolling the pie crust over the rolling pin with the help of dough scraper if needed. When it's all rolled up, move it to the pie pan and gently unroll it into the pie plate and shape or ease it into the plate. Trim the pie dough edges and crimp them using your finger or a fork. Then place the dough in the fridge while you make the filling.

Preheat oven to 350 ° F

Make a double broiler with a pot of just barely boiling water with a metal bowl placed over it and place the chocolate into the bowl and stir continuously until chocolate has melted and is smooth and then remove bowl from the pot and set aside.

In a large mixing bowl, whisk the eggs until very well combined. Then whisk in the brown sugar, breaking up any lumps in the mixture. Whisk in the sugar cane syrup, melted butter, bourbon, salt, cinnamon, and flour.

Fold in the the walnut and chocolate chips with a spatula. And then fold in the melted chocolate until well incorporated.

Pour the filling into the prepared crust and transfer to preheated oven.

Bake for 65 to 75 minutes, or until the centre is puffed, the edges are set, and the centre is just barely jiggly. If the top of your pie is getting too brown, loosely tent a piece of tin foil on top.

Once done remove from oven and cool on a wire rack until completely cool for approx 3 hours. Then transfer to fridge for another 3 hours so that it's completely set and easy to cut. (You can eat it before but the filling may be a little messy and gooey and will be hard to cut perfect slices)

Store pie, covered in the refrigerator, for up to 5 days. Serve cold, or bring back to room temperature before serving. Serve with whipped cream or ice cream and enjoy.

Adapted the dough recipe from A Cozy Kitchen, and basic one from thekitchn. And the filling is inspired by Baker by Nature
![Chocolate Bourbon Walnut Pie](/images/uploads/2017_12_22_chocolate_bourbon_walnut_pie_9.jpg)