Chocolate Fig Spice Cake
Updated 19th October 2023
This no fuss chocolate fig spice cake is quite decadent but light and not overly sweet. The figs and coffee really deepen the flavors of the cocoa and the hints of orange and spices really warm it up making this the perfect cake to enjoy with something hot, mulled or boozy to drink. It's drizzled with a decadent chocolate glaze that is optional but I definitely recommend it. I have never been a fan of fruit cake. I like the idea of them but I don't like the density and sweetness of most of them but I do love the spices in them and some of the boozy fruit - not the red and green dyed stuff though. This cake takes takes the delicious elements of a fruit cake that I love in a delicious decadent light, tender crumbed chocolatey bundt cake.
Why use dried figs?
Dried figs are delicious and nutritious! They're rich in dietary fiber, which is essential to healthy digestion. Plus, they have a natural sweetness, slight acidity, and chewy texture that's great for baking with! I used California figs in these cookies. California actually produces 100% of the dried and 98% of the figs grown commercially in the US. Nearly 50% of the fresh ones are exported to Canada. I teamed up with California Figs to create some tasty recipes using both their fresh figs and their dried ones. My Skillet Balsamic Chicken with Fresh California Figs is a favourite and so are my Italian Style Fig Cookie Bundles (cucidati). I know you will love this tasty cake too! This recipe is for you if:
You love dried figs like I do!
You are looking for a delicious dried fig cake recipe.
You want to make an easy cake with dried fig.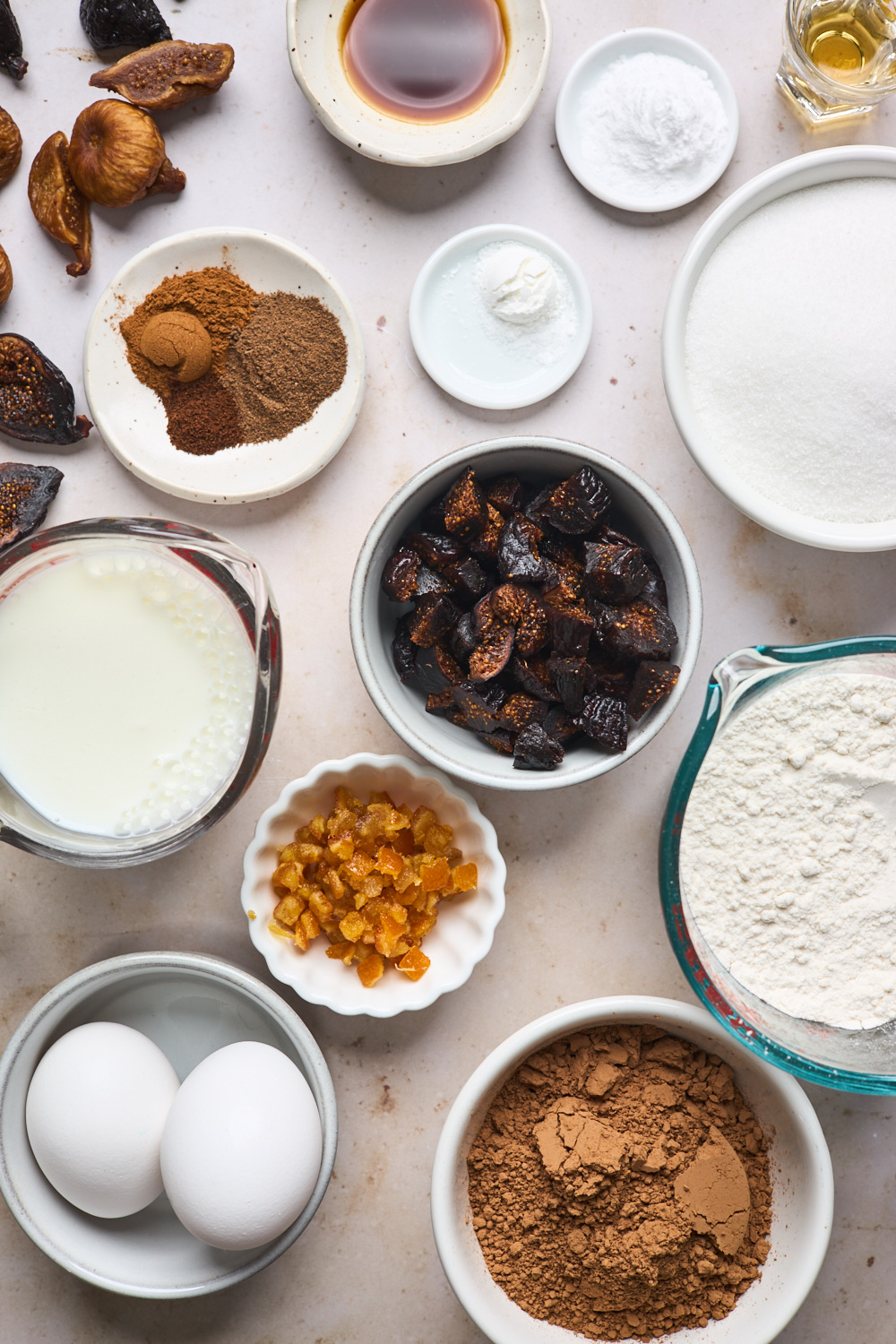 Ingredients for this Chocolate Fig Spice Cake
FIGS: Because of course this is a fig chocolate cake! I used dried California figs in this recipe and they are so good at adding sweetness, texture, and moisture to this cake
COFFEE: Brewed coffee is in this mix!It's not only the soaking liquid for the figs but it also adds a really rich flavour to the cake. Your cake will NOT taste like coffee though…and if you hate the idea of coffee, then just use really hot water instead. I have also used hot orange juice too which is also delicious like in my Chocolate orange cake.
BUTTERMILK: This will keep the cake rich and moist!
COCOA POWDER: Cocoa powder is an unsweetened chocolate product which adds deep chocolate flavor to desserts and beverages. Use a good quality cocoa powder, not the kind we used to stir into milk as kids!
CINNAMON, ALLSPICE & CLOVES: These are the 'spices' in the Chocolate Spice Cake and they're SO good combined with chocolate. It just gives it a slight hint and makes a not-so-ordinary chocolate cake.
BUTTER: Make sure your butter is at room temperature! I used unsalted butter
SUGAR: Sugar will caramelize when baked, which always helps with the crumb texture and flavour. I used granulated in this cake
EGGS: Whenever you set out to bake, make sure your eggs are at room temperature too – just like your butter!
FLOUR: No need for anything special. Just use regular all-purpose flour. I have not tried this recipe with any other type of flour but it will definitely work well with a good quality gluten free 1-1 all purpose flour.
SALT: This is a common ingredient in baking and cooking. In baking it helps to enhance and balance sweetness.
BAKING SODA & BAKING POWDER: Both used for leaving
ORANGE ZEST & CANDIED ORANGE: I love the combination of chocolate and orange - it's always so full of winter flavours. I use freshly grated zest and the candied orange adds a nice touch - it's optional though. You can use orange extract too for even more orange infusion
BRANDY OR WHISKY: Totally optional but they add a delicious flavour to the Cake and glaze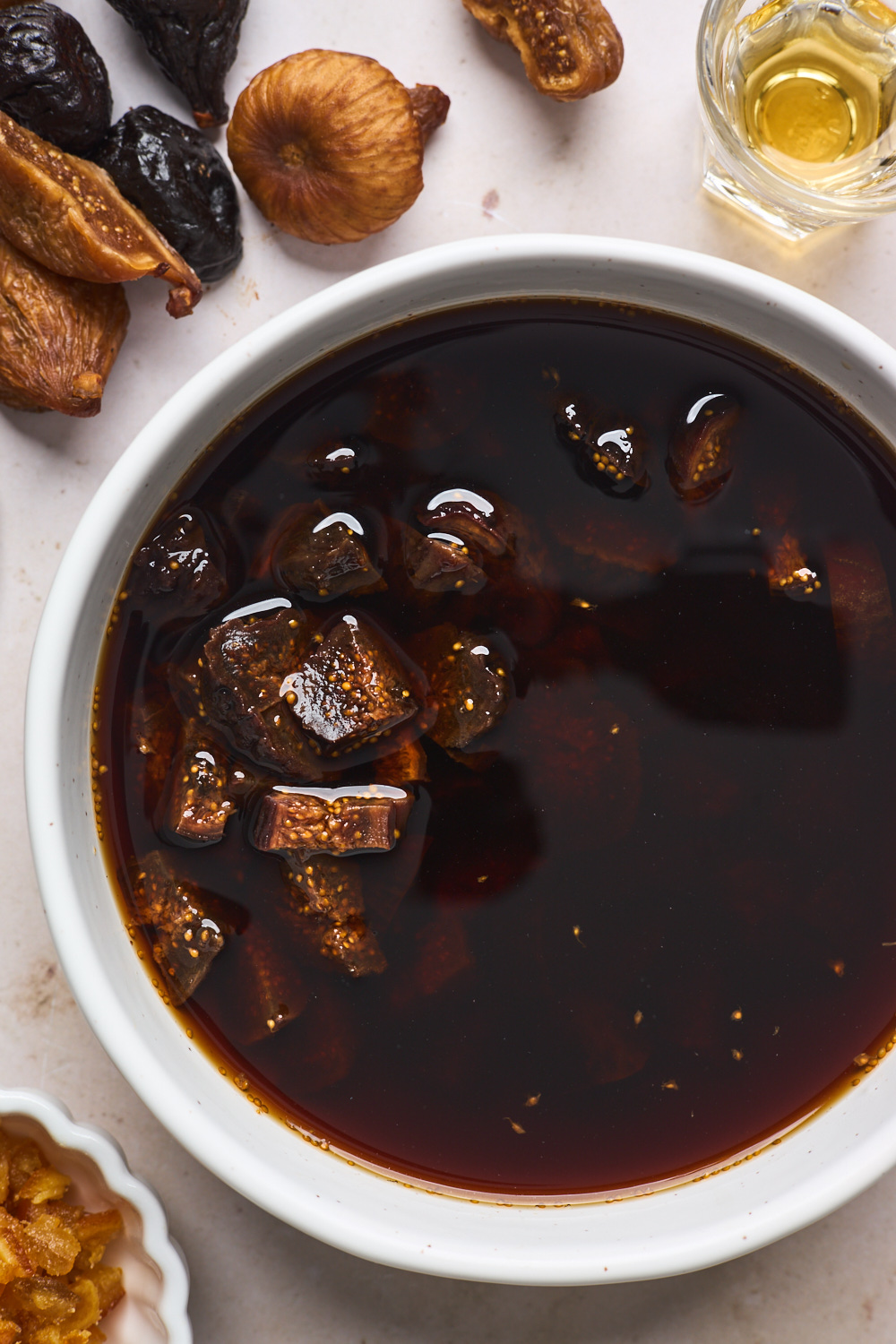 How to make this decadent chocolate fig cake (detailed instructions below):
Prepare pan and preheat oven
Whisk together flour, cocoa, spices, baking soda, salt, and baking powder
Soak figs in hot coffee (or water, juice or tea - see below)
Cream butter & sugar then add eggs, vanilla, whisky or brandy if using orange zest and buttermilk
Mix in the dry ingredients
Remove figs from coffee and pour coffee into batter and mix - pour into prepared pan
Pat figs dry and toss them and the candied oranges in a bit of cocoa powder - sprinkle over batter and use a skewer to swirl them through it
Bake then allow to cool
Make glaze and drizzle it all over the cake - slice and serve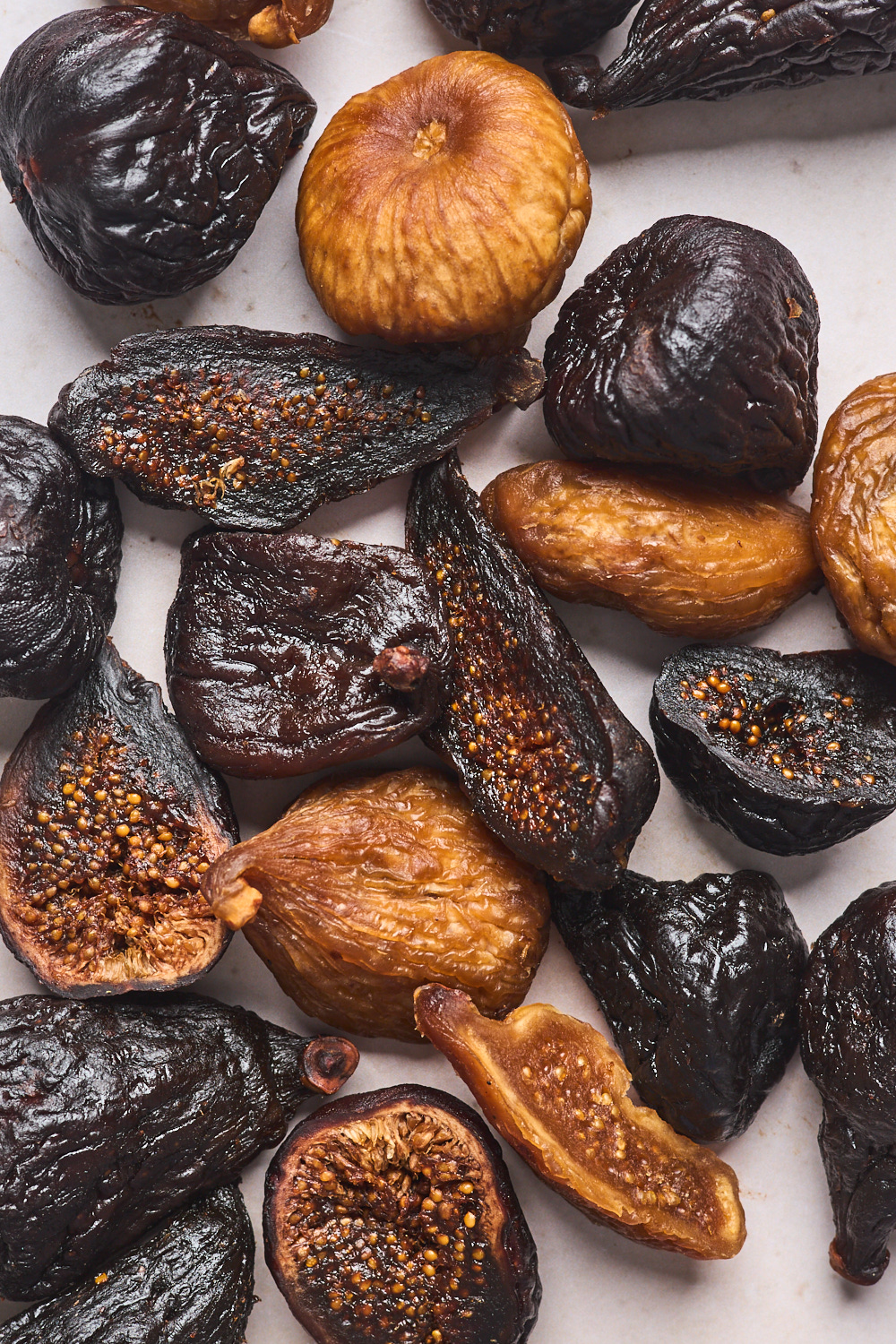 Bundt Pan Sizes
This cake batter makes quite a bit of batter! The recipe has been written to support a 10 or 12 cup bundt pan. Whenever baking a bundt cake, you should never fill the pan more than 3/4 full. If that means you have too much batter and happen to have some leftover, don't fret! If you have a smaller bundt pan you could use the extra cake batter up by making a few cupcakes. Be sure to cut back on the baking time if you decide to make cupcakes. 15-20 min of baking time usually does it for cupcakes. Or you could make it into a layer cake using two 9 inch pans as I mention below.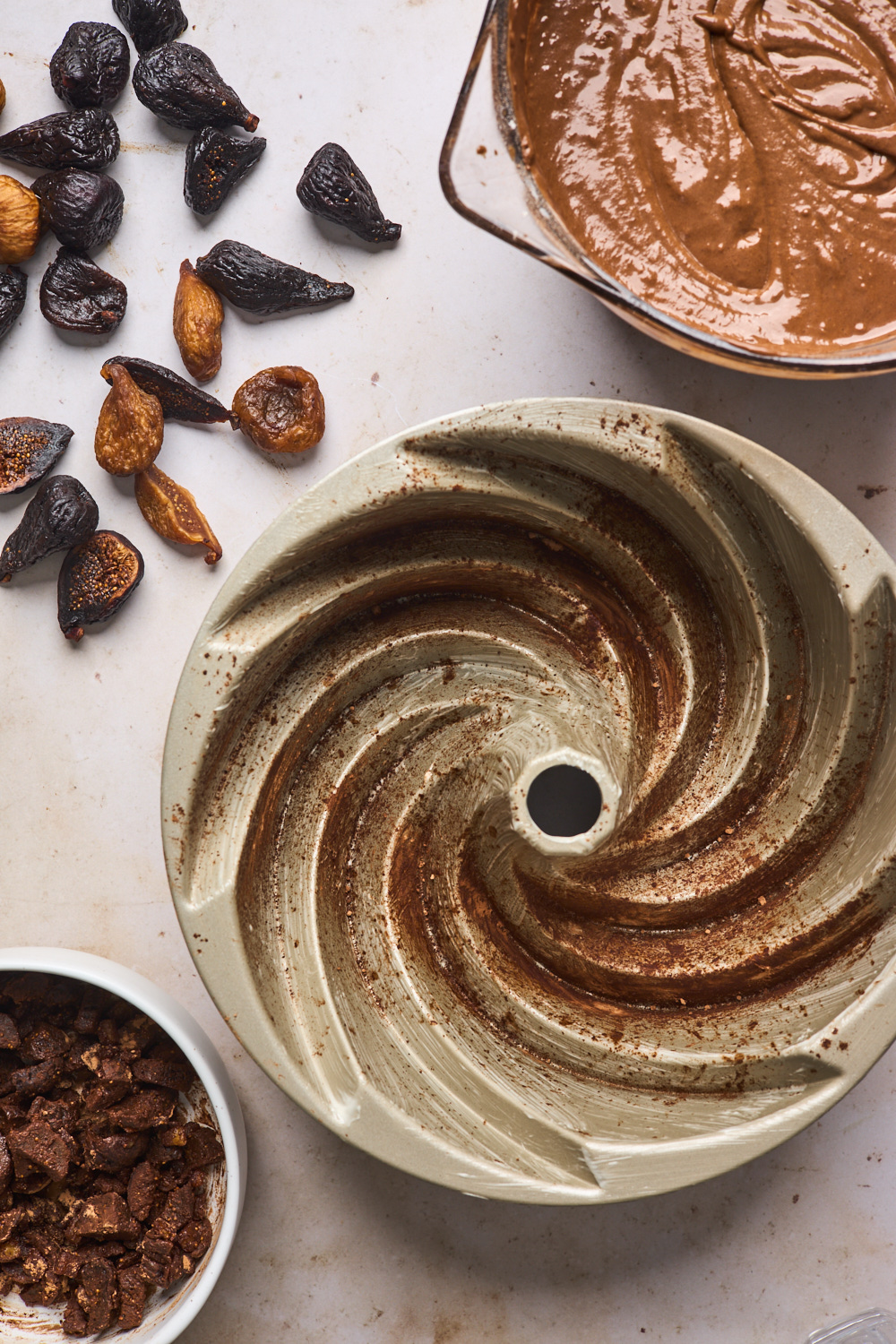 Make it a bundt cake or a layer cake:
You have two fine options for this cake: you can either bake it in a 12-cup Bundt cake pan OR you can make it a layer cake instead. The recipe will make two 9-inch round layers.
If you make the bundt cake, I recommend you serve it with the rich chocolate glaze
If you go for the layer option, I recommend this Maple Cream Cheese Frosting for the cake, and I would definitely go for the glaze too - over the top but delicious!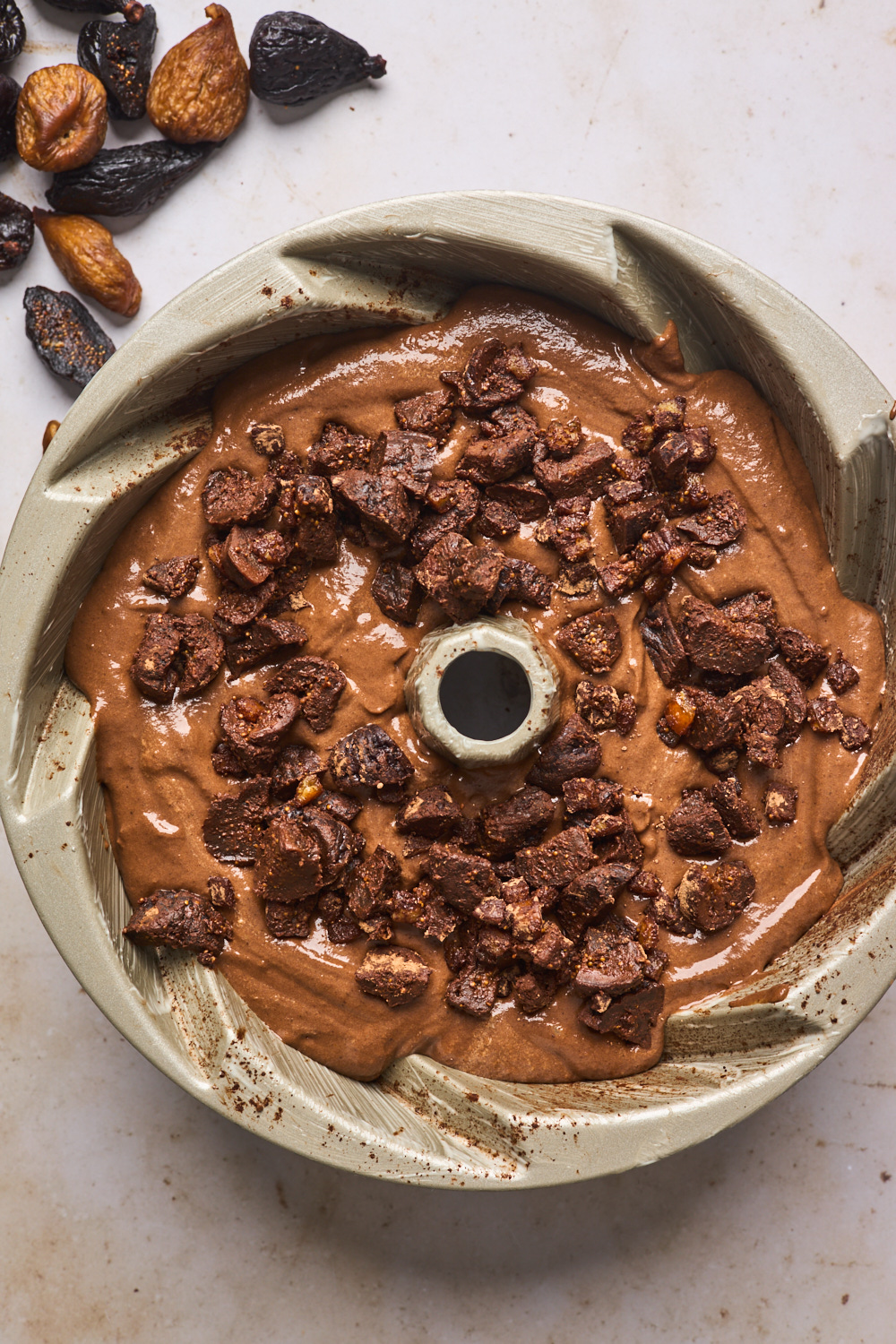 Do I have to use the hot coffee?
Using coffee really brings out the chocolate flavor and spices in the cake and it does not make your cake taste like coffee. If you don't have any coffee, or you hate the idea of using it, you can use very hot water instead, but do not omit the liquid. I have also used hot orange juice in its place like in my chocolate orange cake. You can even use a spiced tea for the soaking liquid. Cardamom, chai or even ginger tea would be lovely.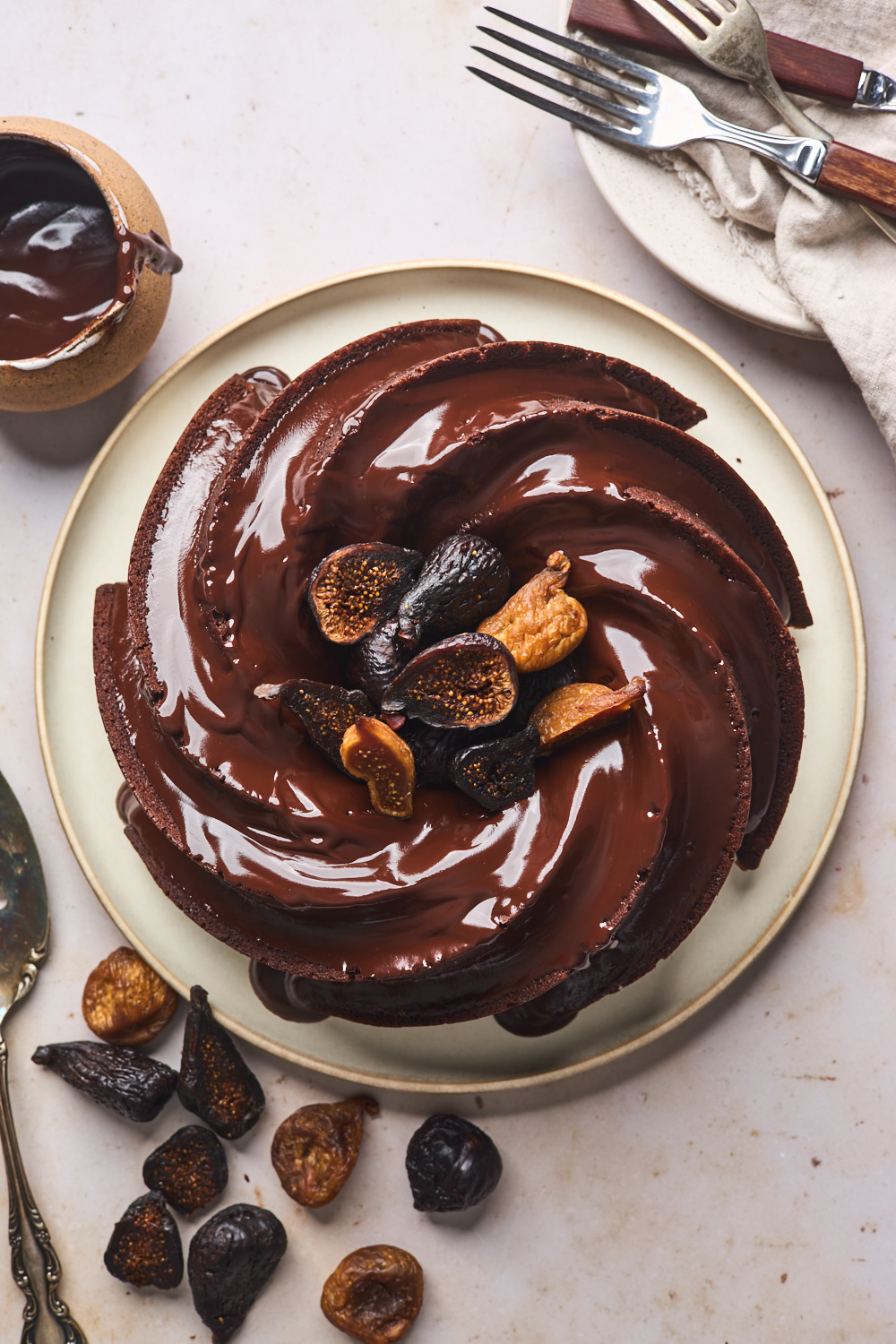 Top tip: removing a bundt from its tin
Many people I have spoken to have said how difficult it can be to get a bundt out of the tin without it breaking apart, but with a few simple tricks it should come out of the tin easily:
Grease and flour pan: Butter the tin generously, making sure you go into all of the crevices – melted butter is excellent to get right into the crevices. Add a couple of tablespoons of flour or cocoa powder and rotate the tin backwards and forwards so that it coats all of the butter. Invert the tin so the excess flour drops out. As the cake bakes, the flour will form a very thin layer between the cake and the tin, that helps it turn out easily.
Give the pan a few hard raps against the counter and this will help all the air bubbles come up but it will also ensure batter reaches all the nooks and crannies too so you have an even cake.
Once the cake has baked, leave it in the tin for about 10-15 minutes before turning it out onto a wire rack: the cake sets further and shrinks a little as it cools. It is easier placing the rack on the top of the cake and inverting both together. It might need a gentle shake to help it on its way.(optional - I like to use a knife or metal spatula along all the edges of the pan to release them before inverting so there are no unfortunate tears)
Storing, Packing & Freezing
When it comes to most cakes, they taste best at room temperature, but they don't hold up well to being left out on your counter-top for long periods of time. Cakes will stay fresh in a covered cake stand or food-safe container with a lid for 3-5 days if left to sit on your kitchen counter-top. You can store them in a food-safe container in your fridge. When you want to serve the cake, take it out of the fridge and let it sit at room temperature for 30-60 minutes.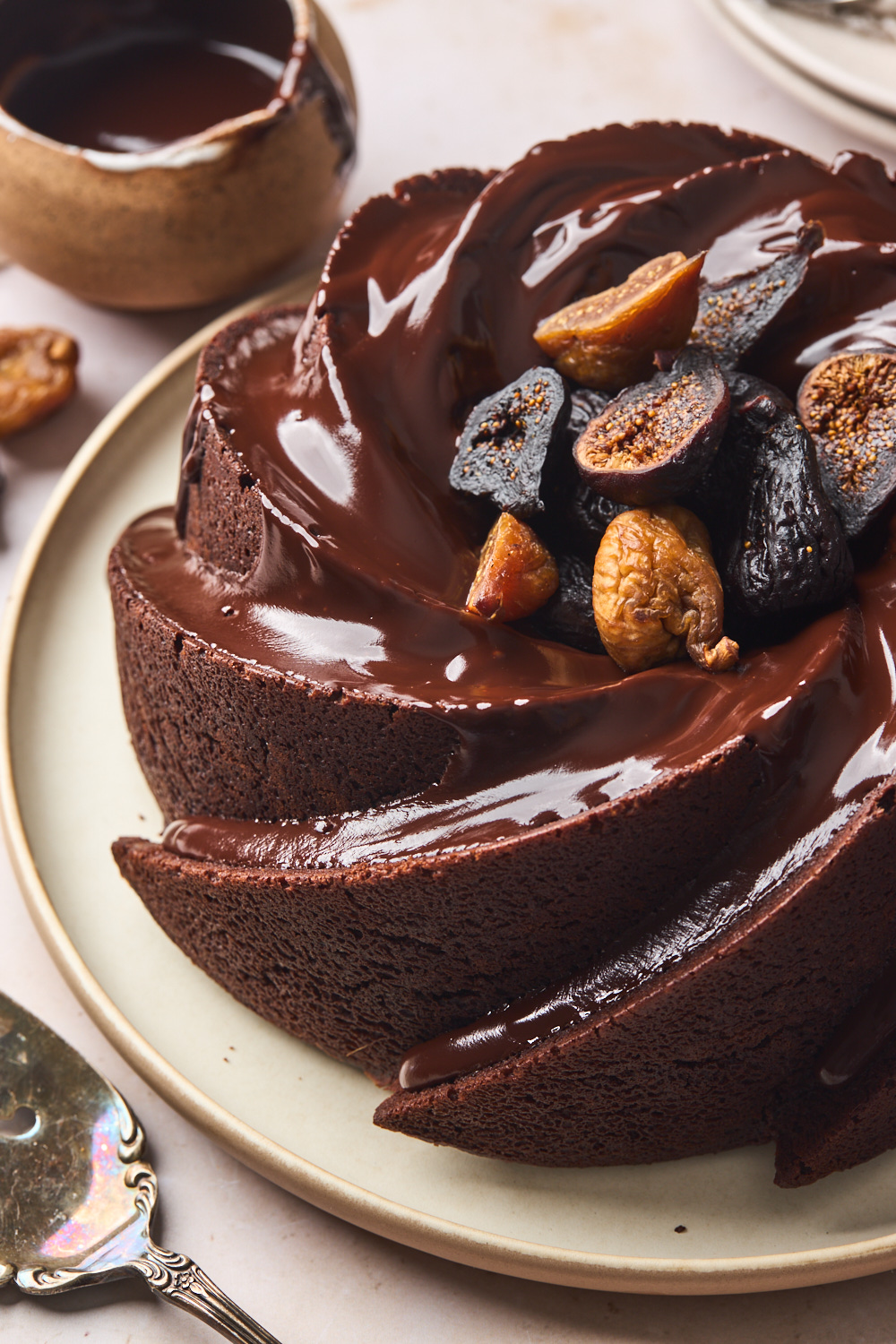 More cake recipes you will love:
Recipe
Yields: one 10-12 cup bundt
Prep Time: 10-15 mins
Cook Time: 40-50 mins
Total Time: 1 hour 15 mins
Ingredients
For the Cake
1 cup chopped dried California black mission figs

1 cup hot brewed coffee (or hot water)

1 cup butter, softened

1 cup granulated sugar

2 large eggs, room temperature

2 teaspoons vanilla extract

1 tablespoon whisky or brandy (optional)

1 cup buttermilk, room temperature

1 teaspoon orange zest

1¾ cups all-purpose flour

¾ cup cocoa powder, unsweetened

1½ teaspoon ground cinnamon

1 teaspoon ground allspice

¼ teaspoon ground cloves

1½ teaspoons baking soda

½ teaspoon baking powder

¼ teaspoon salt

¼ cup chopped candied orange (optional)

1 tablespoon cocoa powder for dusting figs with and extra for dusting pan with

Fig slices for garnish/decoration if desired
For the dark chocolate glaze
⅔ cup semisweet chocolate chips or chopped chocolate (or dark chocolate)

¼ cup heavy cream

1½ tbsp of whisky or brandy (optional)

¼ tsp of vanilla extract

1 tsp of espresso powder of instant coffee powder (optional)
Directions
For the Cake
Prepare pan: Heat oven to 350°F. Spray or grease a heavy nonstick 10-12 cup fluted tube/bundt pan with cooking spray or butter. Dust lightly with cocoa powder
__Whisk dry ingredients:__In a medium size bowl whisk together 1¾ cups flour, cocoa, spices, salt, baking soda, and baking powder
Soak Figs: In medium bowl, stir chopped figs and coffee; set aside.
Cream butter & sugar: In large bowl, beat butter and sugar with electric mixer or stand mixer on medium speed until smooth and creamy.
Beat in Eggs & aromatics: Beat in eggs, vanilla and whisky or brandy (if using). Slowly add buttermilk and then add the orange zest (do not worry if the mixture gets a little curdled)
Add Dry Ingredients: Beat in flour mixture on low speed until just combined.
Drain Figs & add coffee to batter: Remove figs from and set aside, reserving coffee. Slowly mix in reserved coffee only into batter.
Transfer batter to pan: Pour batter into prepared pan, even top out with the back of a spoon or an offset spatula.
Add fruit to batter: Pat figs dry with paper towels. Sprinkle them and the candied orange with 1 tablespoon cocoa powder and toss to coat. Sprinkle the figs and the candied orange over batter in pan. Pull knife or skewer through batter to distribute fruit
Bake: Bake 40 to 50 minutes or until toothpick inserted in center comes out clean. Cool in pan 10-15 minutes on cooling rack. Invert onto plate or rack and cool completely, about 1 hour.
For the glaze
In a small sauce pan over low heat melt the chocolate chips and whisk together with the cream, coffee and vanilla extract.
Once it's smooth take off the heat and stir in the rum.
Allow to cool for a few minutes before pouring it over the cake so that it has a thicker consistency and is easier to pour.
Generously drizzle the glaze over the cooled cake, allowing it to drip down the sides. Cut into pieces and serve.
Recipe Notes
Make Ahead Instructions: You can make the entire cake ahead of time (before topping with glaze or icing). Cover cooled cake and refrigerate for up to 2 days. Bring to room temperature before glazing and serving. Baked cake can be frozen up to 3 months. Allow to thaw overnight in the refrigerator and bring to room temperature before icing and serving.