Creamed Spinach Trinidadian Style
I love creamed spinach but the best creamed spinach recipe to me is a Caribbean style or Trinidadian style creamed spinach - its such an easy creamed spinach recipe, no need to make a roux and this spinach recipe is actually vegan and dairy free. That means no cream cheese, mozzarella cheese, parmesan cheese or heavy cream in this recipe but that doesn't mean it is lacking in flavor. It's one of may favorite side dishes but I can actually eat this as the main with rice any day but feel free to serve it up with chicken or beef or rice and veggies as well. In Trinidad this creamy spinach is usually served with rice and dhal - a tasty vegetarian meal that is so comforting and always hits the spot. Its also eaten with roti as well. Although this Caribbean style creamed spinach is not typically served with steak like classic creamed spinach is - it will still work. It is the perfect way to use up any dying spinach but worth going and buying fresh spinach for this tasty dish. The creaminess will turn anyone into a fan of leafy greens.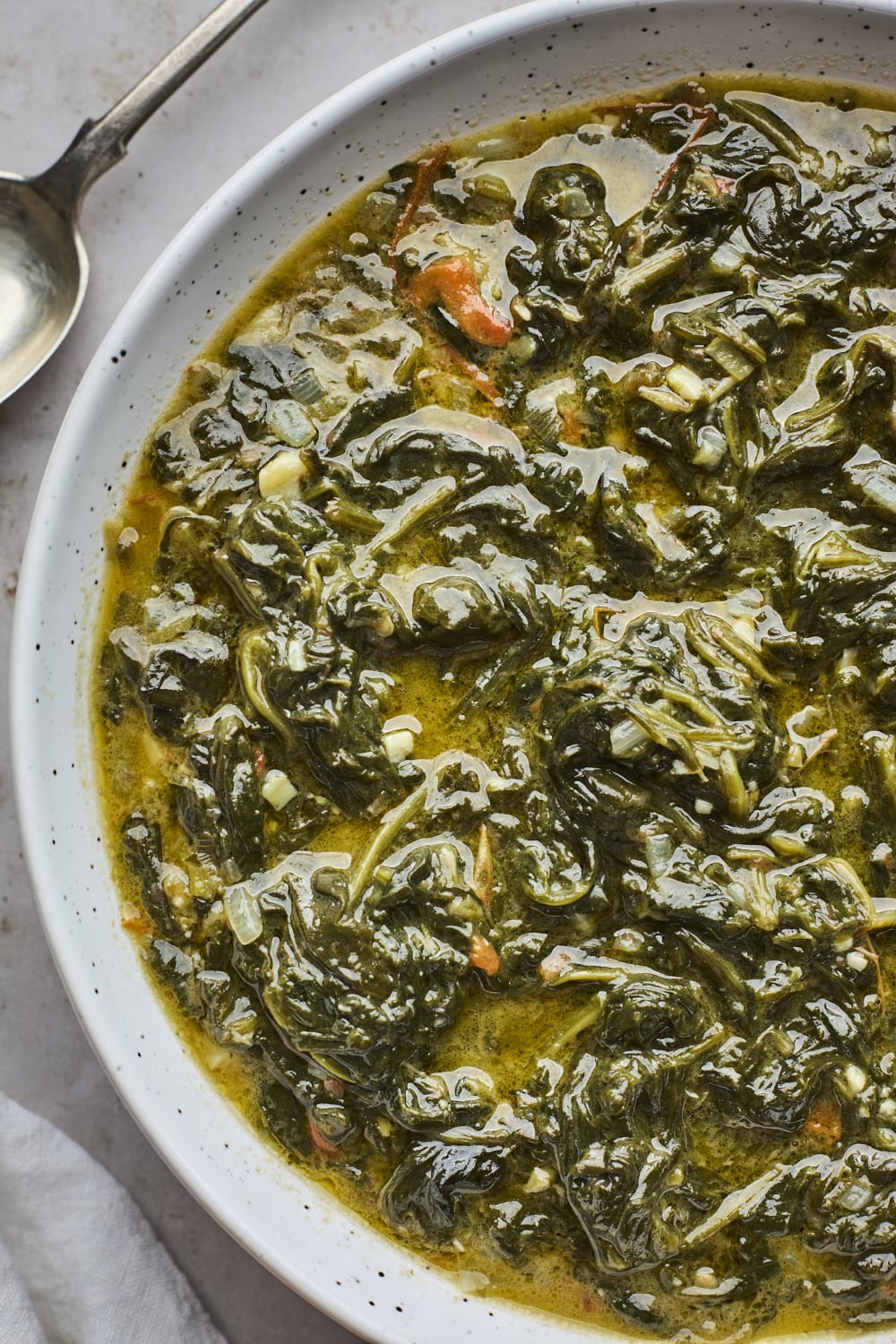 What Makes this Creamed Spinach Caribbean-style 
This creamed spinach is quite different than your typical North American creamed spinach that is absolutely delicious and cheesy and creamy. This creamed spinach is a lot lighter and as I mentioned above is dairy free and their is no need to whisk flour and milk to create a roux. It is loaded with flavour and creaminess and in Trinidad we (I say 'we' as an honorary Trini being married to a Trini and living there for 6 years) just call it Bhaji - basically spinach with coconut cream that is stewed down to a creamy consistency. The cream sauce comes from a non dairy source - coconut milk or coconut cream (I often use powdered coconut milk too). Now in Trinidad when you make bhaji you don't normally use spinach - its a vegetarian dish using dasheen bush or callaloo bush (because it is primarily used for making callaloo another greens forward delicious meal I have a version I love to make as a soup), which is the leaves that grow at the top of the dasheen/taro root vegetable. Taro leaves are also quite a nutrient packed leafy green similar to spinach, commonly grown in subtropical and tropical regions. They're rich in several important micronutrients, such as vitamin C, vitamin A, folate, and calcium, as well as antioxidants. The the most common ingredient I would use when I lived in Trinidad though was choraiya bhaji - or also known as amaranth leaves. They are also a very nutritious green leafy vegetable. Full of Vitamin C and Iron, it is not just delicious but super healthy. I can't always get dashheen 'bush" or amaranth (except when I visit my folks house in the summer - they grow it) here so the next best thing to use is spinach which I love. Let's talk about what you will need to make this very delicious Caribbean style creamed spinach.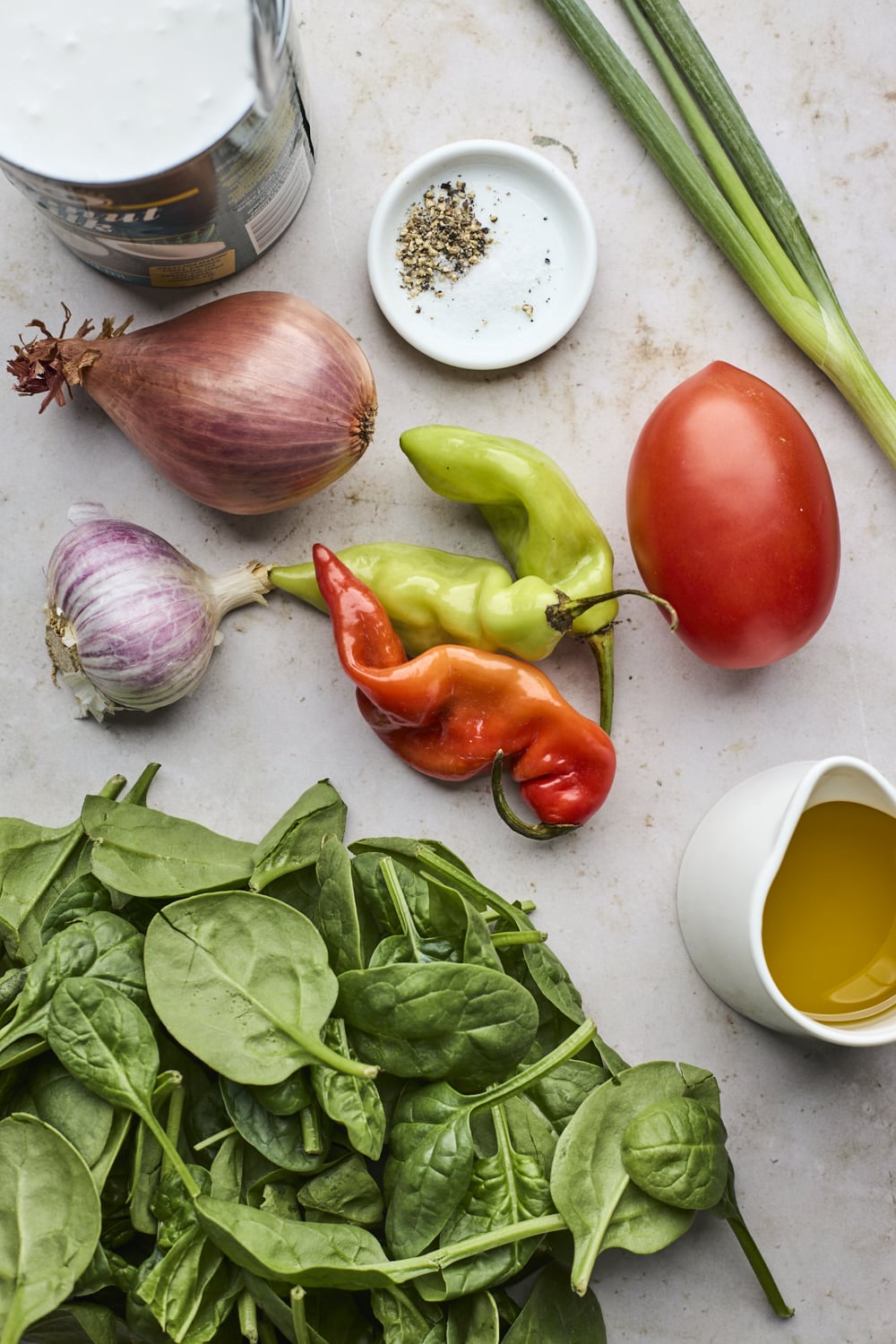 Caribbean Style Creamed Spinach Recipe Ingredients
Spinach - fresh spinach leaves ( I tend to use baby spinach leaves) always works best in this recipe but you can use frozen spinach in a pinch just make sure to thaw and squeeze out any extra moisture before adding it to the pan. 
Shallot - or a small yellow onion sliced or chopped 
Garlic - will give this creamed spinach loads of flavor - I alway recommend fresh garlic over garlic powder because the garlic gets cooked in the oil to really flavour the oil and the whole dish 
Spices - I simply use salt and pepper and for some heat I will usually add a small piece of scotch bonnet pepper or a good substitute is habanero pepper - (some creamed spinach recipes call for a dash of nutmeg or a pinch of cayenne pepper but I usually don't add it with these flavours) 
Pimento peppers - Caribbean Pimento peppers can be found at any Caribbean grocery store - they are not spicy (although you might get a surprise spicy one in a batch sometimes) but add the most delicious flavour - feel free to substitute them with shishitos or a small cubanelle or any small sweet pepper or leave them out if desired
Green Onion/Scallion/Chive - adds extra flavour to the creamed spinach - all you need is one 
Coconut Milk - or coconut cream - I always use full fat for the best flavour 
Tomato - this is optional but I love that it adds a bit of a acidity and also cuts through the creamy richness too 
Can I substitute frozen spinach?
Definitely. Frozen spinach is a great alternative, especially if you're on a budget. Cook the spinach in the microwave for 4-5 minutes or until just thawed. Or leave it to thaw overnight in the fridge. Transfer spinach to a colander lined with cheese cloth or a clean dish towel and squeeze as much water as possible out of the spinach.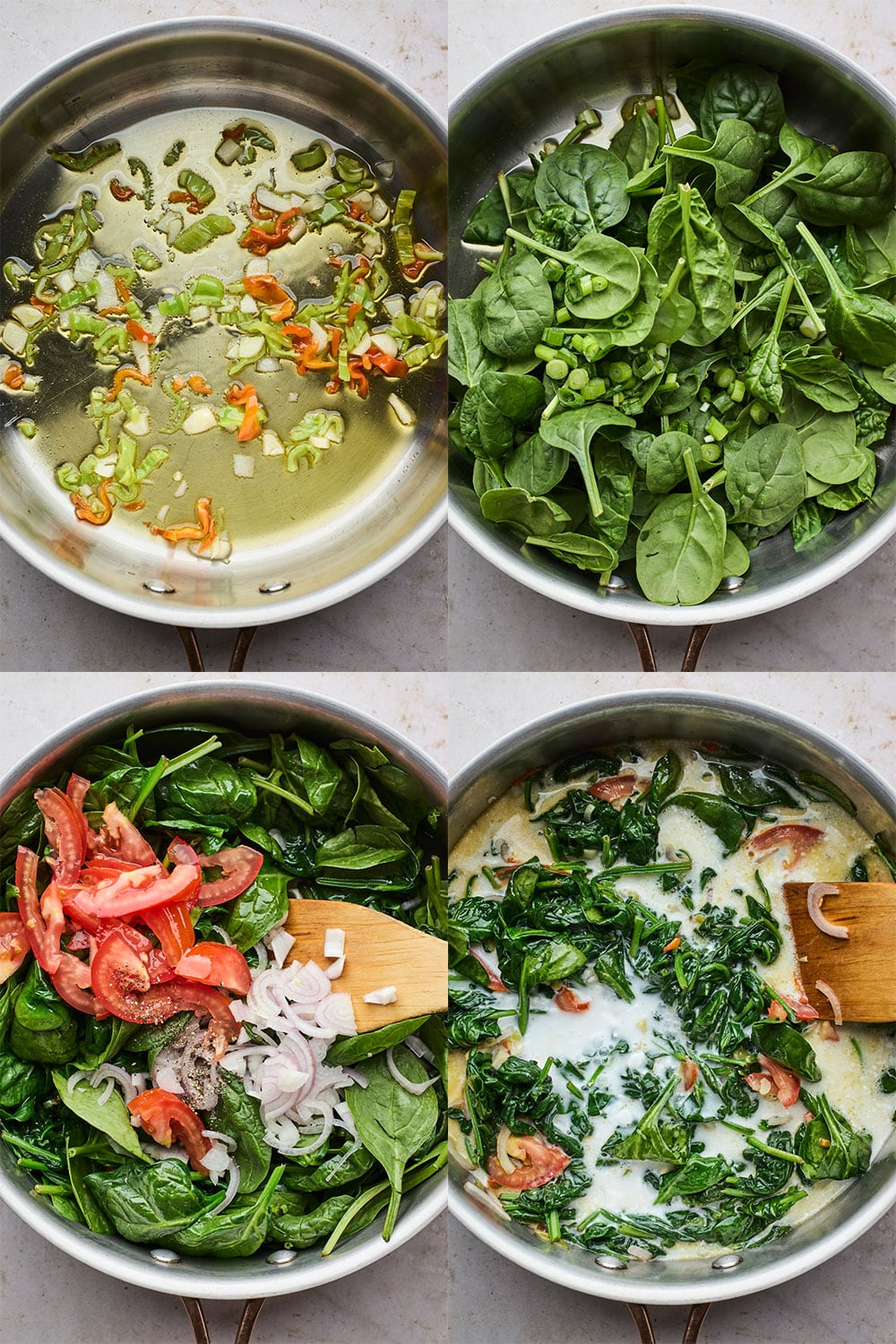 How to make this Caribbean style creamed spinach recipe:
Creamed spinach is easy to make with simple and basic ingredients, yet the end result tastes rich and creamy without being heavy. Here are the easy instructions 
Prep and chop or slice the pimentos, onion and garlic. Make sure you wash and drain your spinach and feel free to give it a rough chop but that is optional 
In a large skillet or dutch oven Sauté the garlic and the pimento until garlic starts to get a little golden around the edges - do not allow it to burn 
Then, add fresh baby spinach in handfuls, stirring after each. It will look like way too much spinach but trust me it will cook down and the whole amount will fit into the pan. Sometimes I'll suggest using frozen spinach, but fresh spinach is superior in flavor and texture in this case.
Once all the spinach is in the pan and starting to wilt, add the thinly sliced onion or shallot, green onion, hot pepper if using, sliced tomatoes and pinch of salt and pepper and sauté until spinach has wilted
Once spinach has wilted add coconut milk bring to low simmer, cover the pan or pot and gently simmer 20 min, the onion and tomatoes will be very tender and the spinach will have released a lot of liquid
Remove lid and increase the temperature to med or medium high and simmer the spinach until liquid from spinach and coconut milk has reduced and cooked off to your liking - some like it super dry with loads of texture and some like it wetter or saucier like I do (perfect over rice) Timing will depend on your preference. It's best not to walk too far away from the pan as it can reduce quite quickly and the spinach could start sticking to the bottom of the pan - keep an eye on it 
Season with salt and pepper until the flavors are to your liking. You're done - serve warm and enjoy!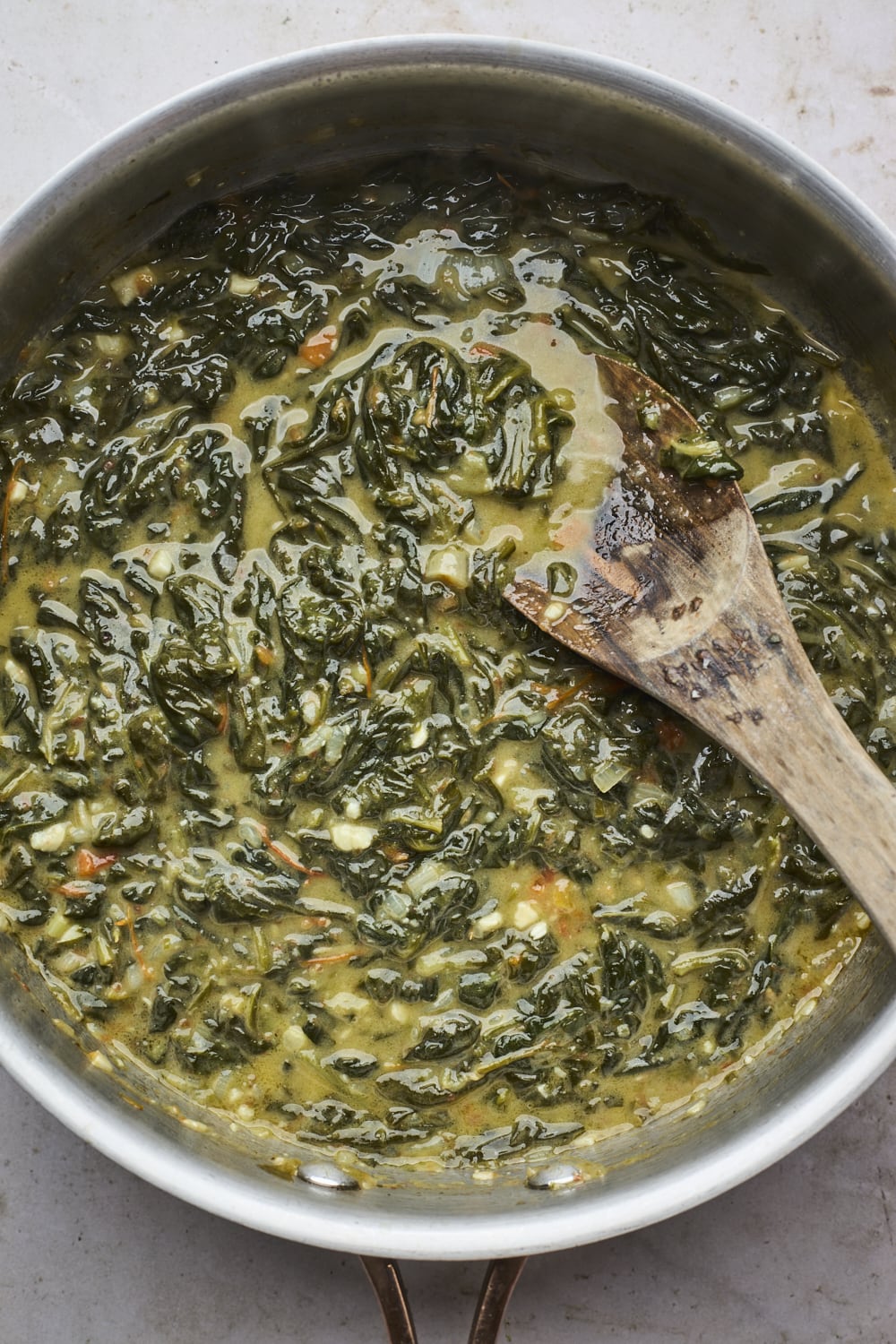 Storage & Freezing
Storage
This is best fresh and hot off the skillet but leftovers can be reheated in the microwave or stove top whisking in some water if needed. Leftovers can be stored in an airtight container in the fridge for a couple of days
Can I freeze creamed spinach?
Yes but keep in mind that the texture of the cream will change slightly. When the creamed spinach has cooled completely, store it in an airtight freezer safe plastic bag or container for up to 3 months. 
How to reheat frozen creamed spinach?
Let spinach thaw overnight in the refrigerator and reheat in a saucepan over low heat until warmed through. Microwaving in increments is fine too for smaller quantities.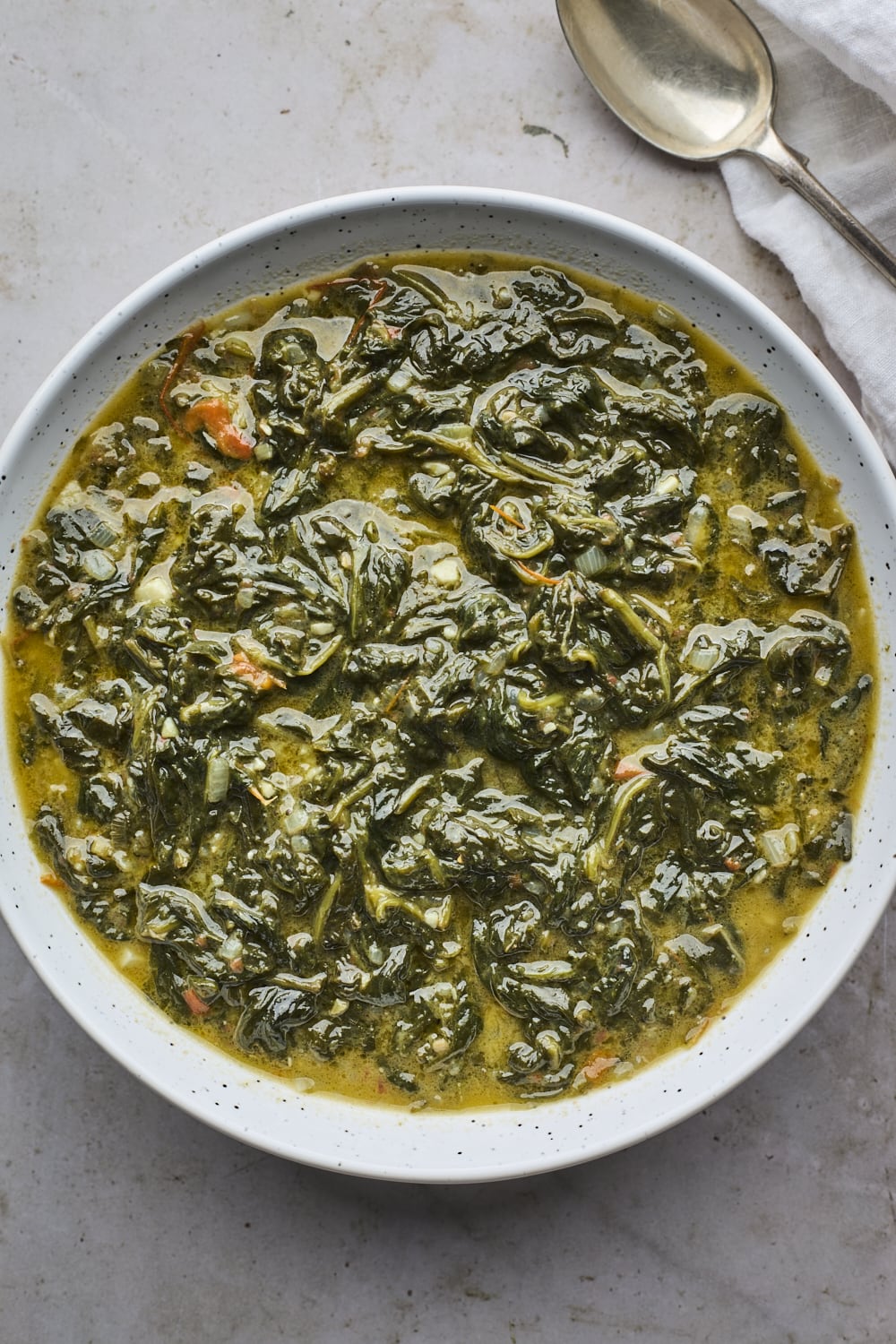 More Spinach Recipes You Will Love:
More Sides You Will Love
Recipe
Prep Time: 10 mins
Cook Time: 30-45 mins
Ingredients
2-3 tablespoons of olive oil or coconut oil 

16 oz baby spinach, pre washed and drained (or dasheen bush, or amaranth leaves)

1 medium onion or shallot, peeled and sliced thin

3 cloves garlic, peeled and sliced

¼ hot pepper (optional) Scotch bonnet or habanero, minced 

2-3 pimento peppers or a very small sweet pepper, seeds and stems removed and thinly sliced 

1 green onion, washed, trimmed and sliced 

1 Roma tomato, sliced

Salt and black pepper to taste

1 can coconut milk (400 ml)
Directions
Heat oil in a large skillet or pan with lid over medium heat 
Add garlic and pimentos and sauté until edges of garlic start to turn slightly golden - you don't want to burn it (1-2min) 
Add the spinach in large handfuls at a time and stir and allow to cook down a few minutes - it seems like loads of spinach but it will cook down and wilt and the whole amount will fit into pan (2-3 min) 
Then add the thinly sliced onion or shallot, green onion, hot pepper if using, sliced tomatoes and pinch of salt and pepper and sauté until spinach has wilted (2-3 min) 
Then add coconut milk bring to low simmer cover the pan and gently simmer. (20 min)
Remove lid and increase heat to medium or medium-high heat and allow to simmer and sauté until most of the liquid is evaporated or cooked down - leave it as wet or allow to simmer and dry out more if that is was you prefer (7-10 min) 
Recipe Note
The cook time is an estimate - it may take a few minutes longer or shorter depending on how quickly the excess moisture cooks off or the moisture level you prefer - some like their creamed spinach super dry with loads of texture and some like it wetter or saucier like I do (perfect over rice)