Creamy Hot Artichoke Dip
This hot artichoke dip recipe is a total crowd-pleaser. No Joke, everyone usually huddles around it and just keeps on dipping. It's the perfect dip, spread and appetizer - it's sort of like a cousin to the ever popular spinach artichoke dip. No spinach in this one but it is full of amazing flavours and a rich creaminess and cheesiness like no other. I first tried this at a friends house and she called it her hot mayo dip - because you guessed it - its got some mayo in it (ok maybe a bit more then some mayo) - no one will ever know it though - you will have them guessing and wondering what is in this most irrisistible dip, and like me you will very quickly be asking for the recipe after your first bite. My friend sent me the recipe and its a bon appetit recipe and with some tweaking I made some adjustments for a bit of a richer creamier texture and one I wanted to share with you guys. I know you will absolutely love it - so hurry up and try it and let me know!! This makes a hefty amount enough to feed 12 but you can easily halve the recipe for a smaller batch. Enjoy!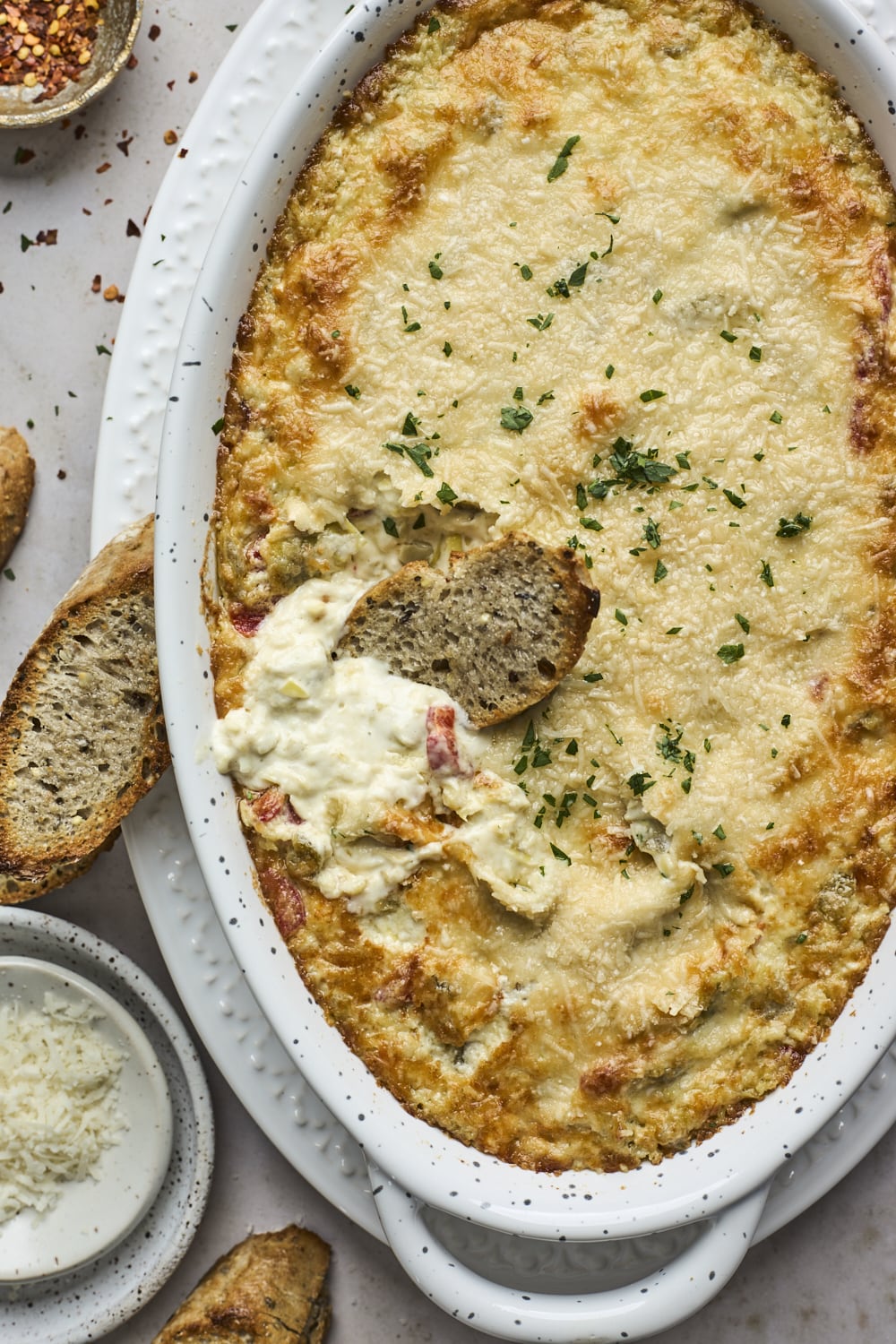 Ingredients for This Simple Artichoke Dip:
There are not too many ingredients required for this dip but the combination of these ingredients creates a fabulous combination of flavor and textures in this dip
Artichokes - you will need canned or jarred artichoke hearts - whole, quartered, or sliced - I process half of them then roughly chop the other half (feel free house frozen artichoke too but make sure they are thawed and drained well) 
Mayonnaise - yes mayonnaise and there's loads of it in this recipe - 2 cups - trust me on this - although there is a hefty amount its not all you taste - in fact most are surprised that there's mayonnaise in it. I use an olive oil based real mayo - choose one that you love (make sure to use real mayo not miracle whip) 
Cream Cheese - cream cheese adds some delicious creamy texture, richness and a bit of tanginess to the dip ( the original recipe has no cream cheese so technically its optional but I recommend it for added richness to this dip) 
Garlic - two cloves is what I used but feel free to add more to taste if you like your dip super garlicky 
Green Chilies - love them in this dip. Canned green chiles have a mild, slightly sweet flavor with a hint of heat.
Pimentos - or pimiento peppers are small red peppers that are not at all spicy. Pimento peppers are even more mild than red bell peppers. You might recognize them as the little red peppers stuffed inside green olives. They are usually sold in a jar or can - they add a nice flavour to the dip but they are optional and the dip will still be delicious without them if you are finding it difficult to locate them 
Parmesan Cheese - This adds loads of flavour to the dip especially since parmesan cheese has such a distinct savoury flavour. Freshly grated is always best 
Chili Flakes - for a little heat - feel free to adjust amounts to taste 
Salt and Pepper - adjust to taste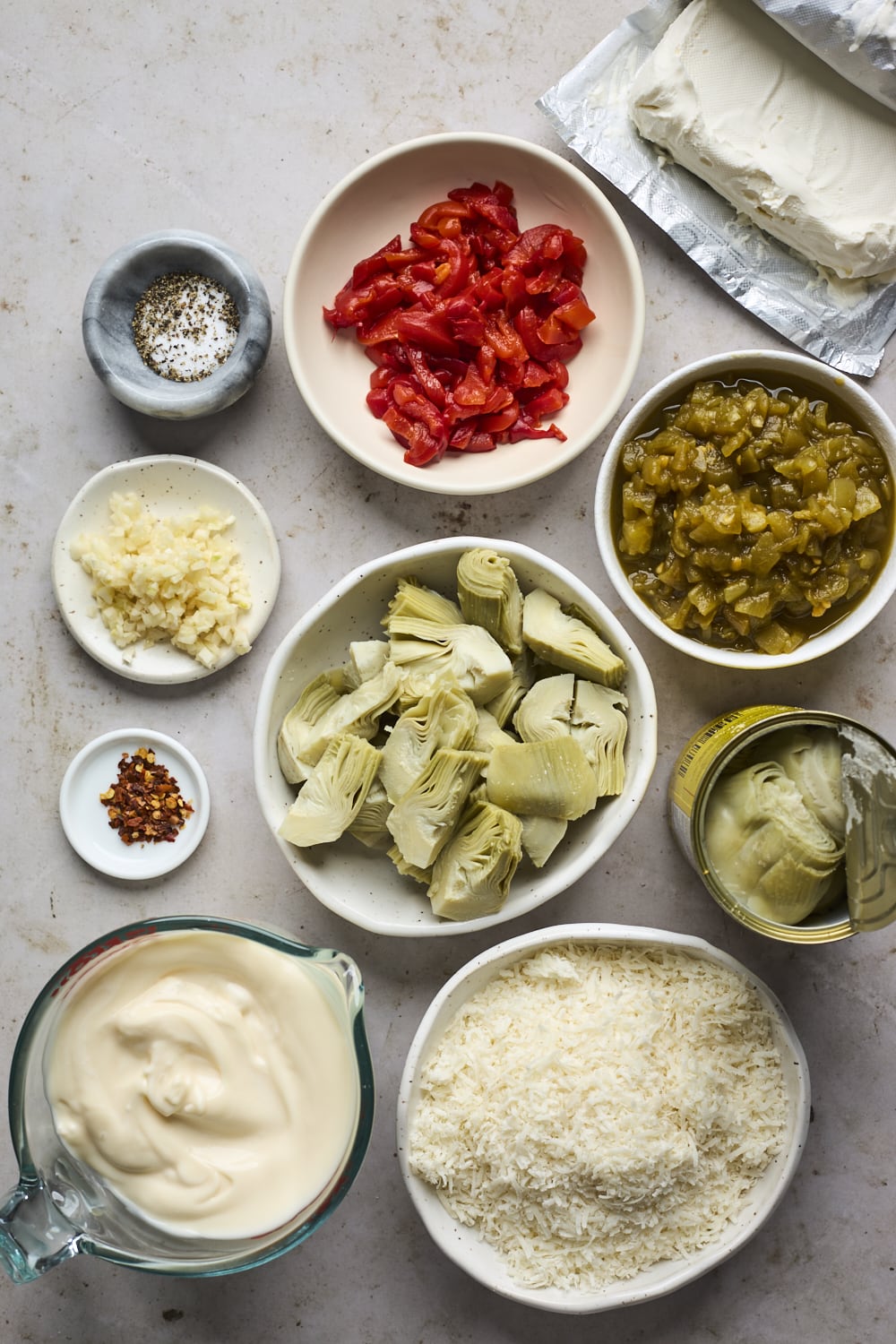 How to Make This Delicious Hot Artichoke Dip
This dip doesn't require too much effort but the result is spectacular. Here are the simple instructions for making it
In a food processor or blender, blend half of the artichoke Hearts with 1 cup of parmesan cheese, mayo, cream cheese, and garlic and blend until well combined. (This step is actually optional - I like blending it so that the base is creamy with some added texture with the other half of the artichoke, green chilies and pimientos. Feel free to just mix everything together in a bowl if you prefer not blending half of it)
Empty mixture into a bowl if blending and stir in the remaining ingredients 
Empty out into a baking dish or skillet 
Sprinkle with remaining parmesan cheese and bake until bubbling and golden 
Serve warm with whatever you like - for suggestions read on below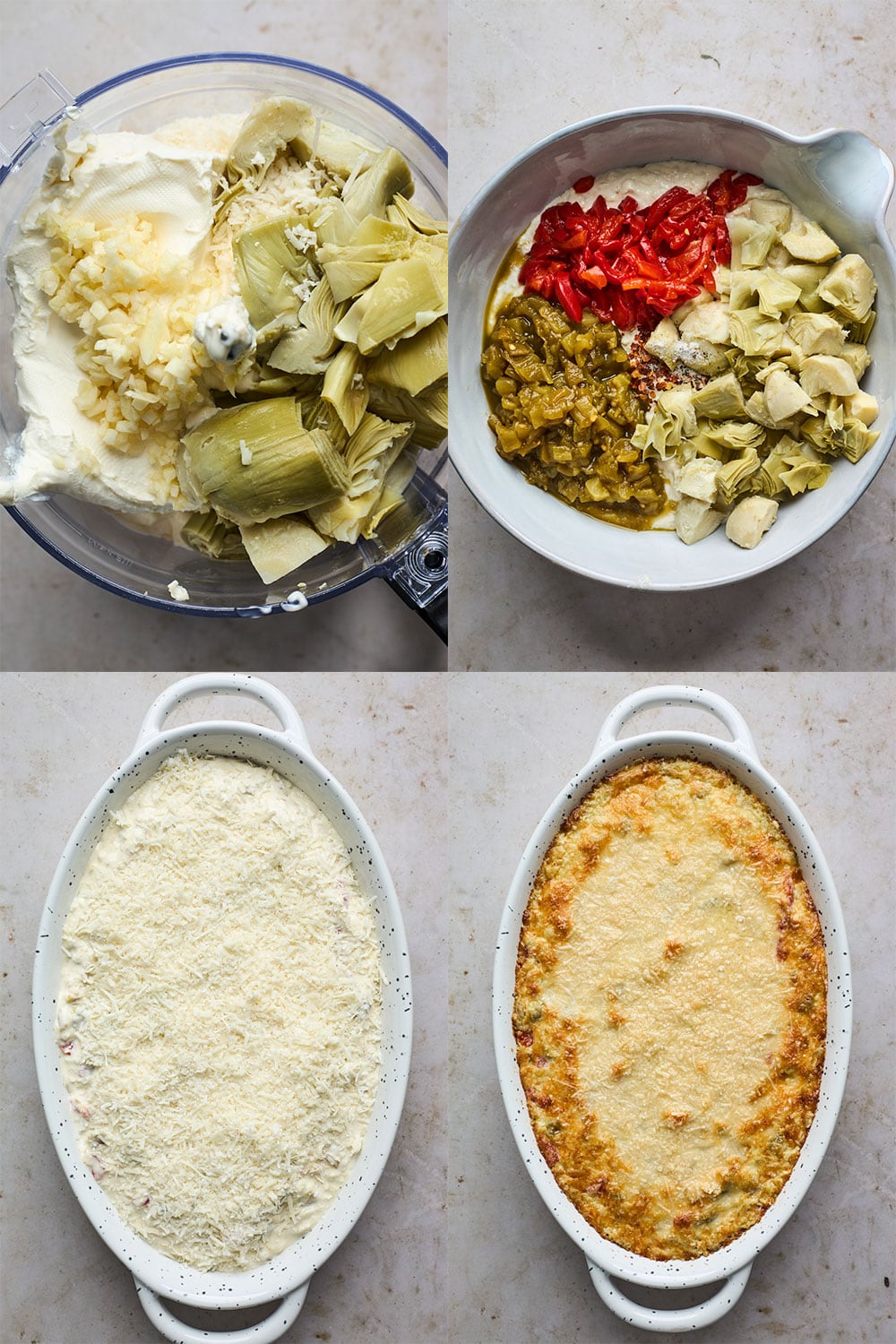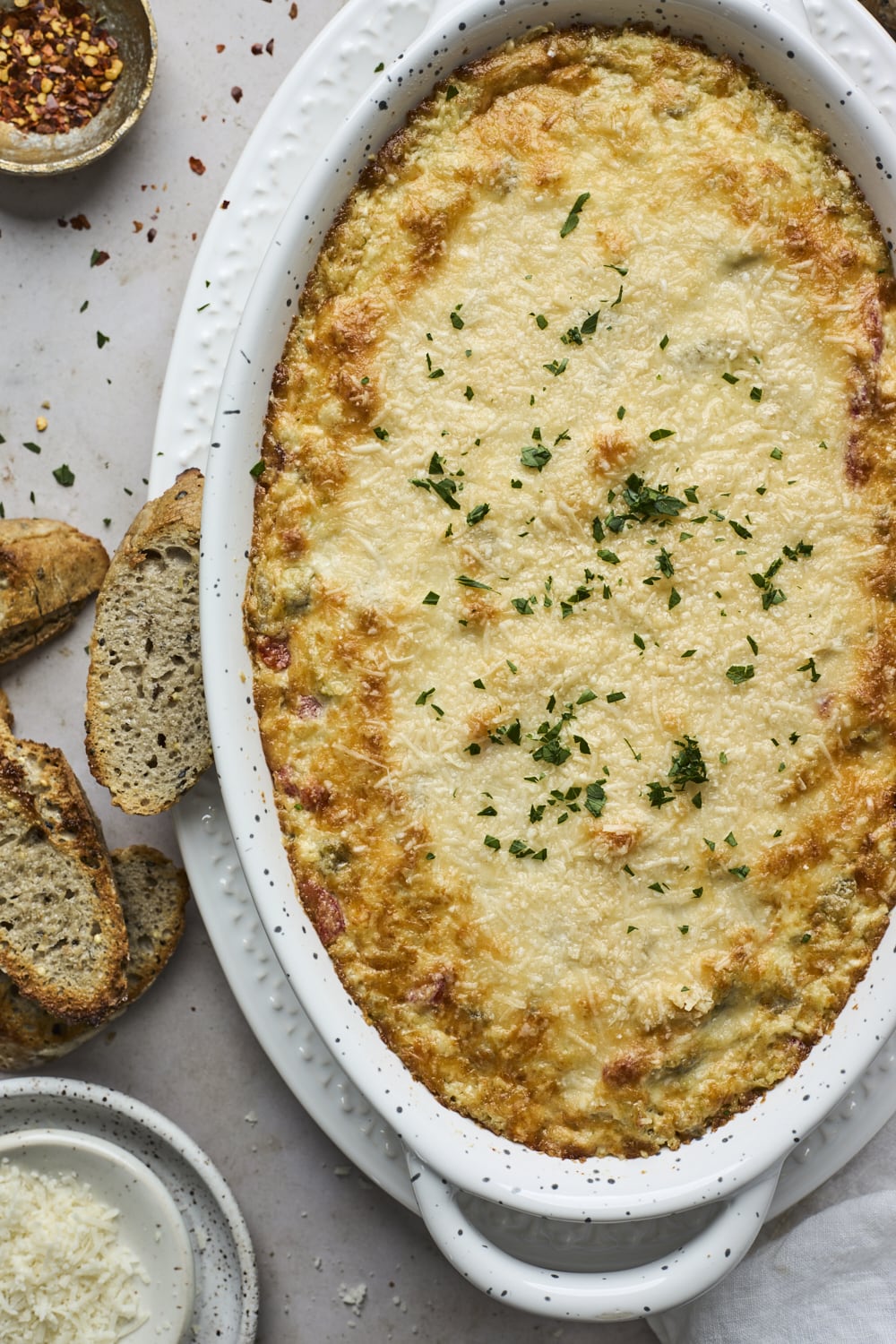 What to Serve This Artichoke Dip With
This dip is so good with just about anything - anything crispy or crunchy that allows you to scoop the dip from the dish to your mouth. Here are a few great options:
French bread or any crusty bread
Tortilla chips  
Baguette slices/crostini 
Pita chips 
Crackers 
Chips 
Sliced veggies like carrots, celery, cucumbers , bell peppers
Anything else you might want to dip into this lovely dish.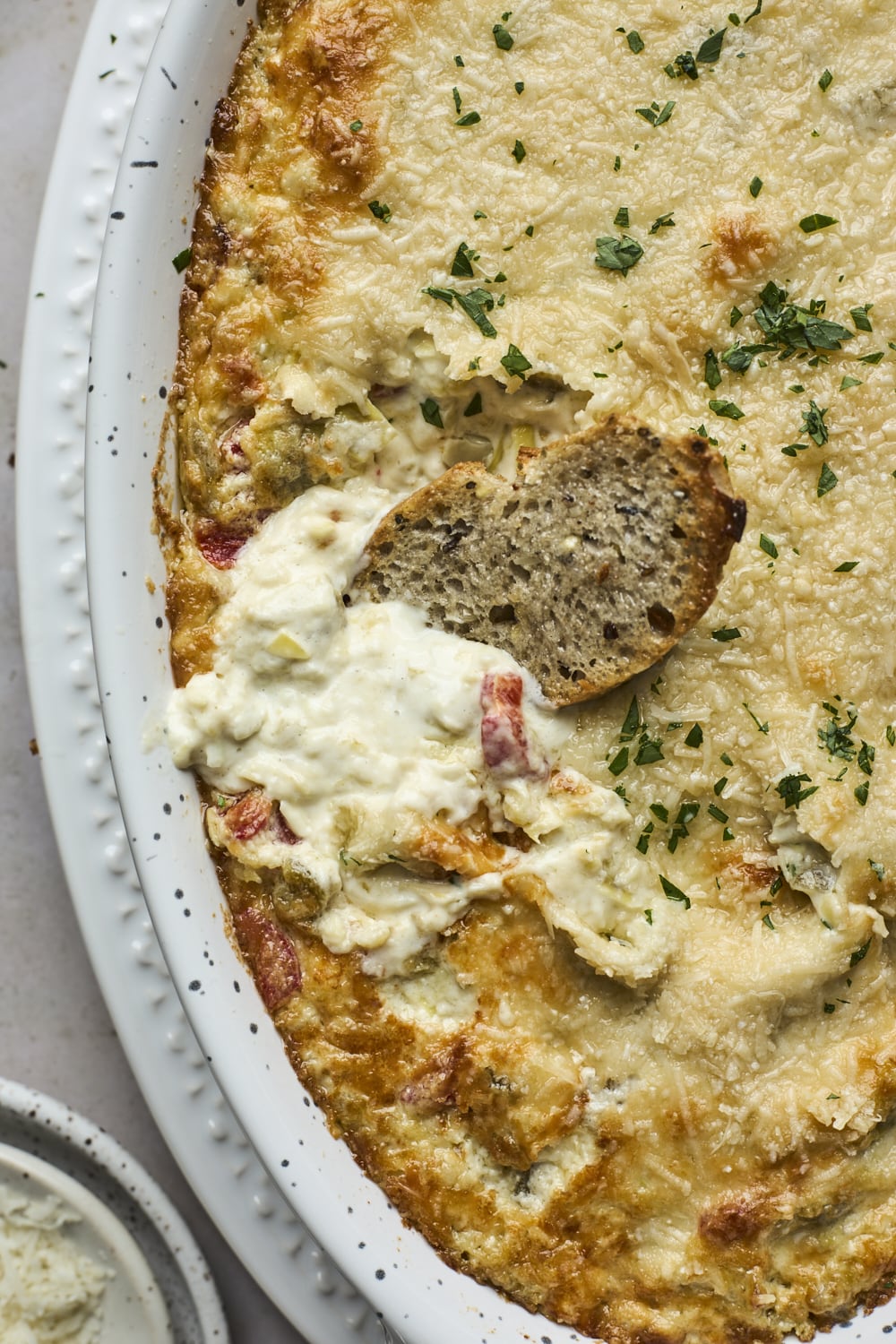 Ways To Adapt This Recipe
Want to dress up this basic recipe? Feel fret add in a protein or extra seasoning or spices too. Here are a few suggestions:
Chopped fresh chiles or jalapeños
Sour cream for some of the mayo
Lemon zest 
Dash of Worcestershire sauce or soya sauce for extra flavour 
Shredded crab meat - or even cooked and shredded chicken 
Cajun seasoning or other seasoning to flavour the dip 
Sliced green onions chives or chopped fresh herbs 
Swap all or some of the parmesan for another hard cheese, like asiago, mozzarella cheese or Monterey Jack cheese or do a combo of your favourites 
Crumbled bacon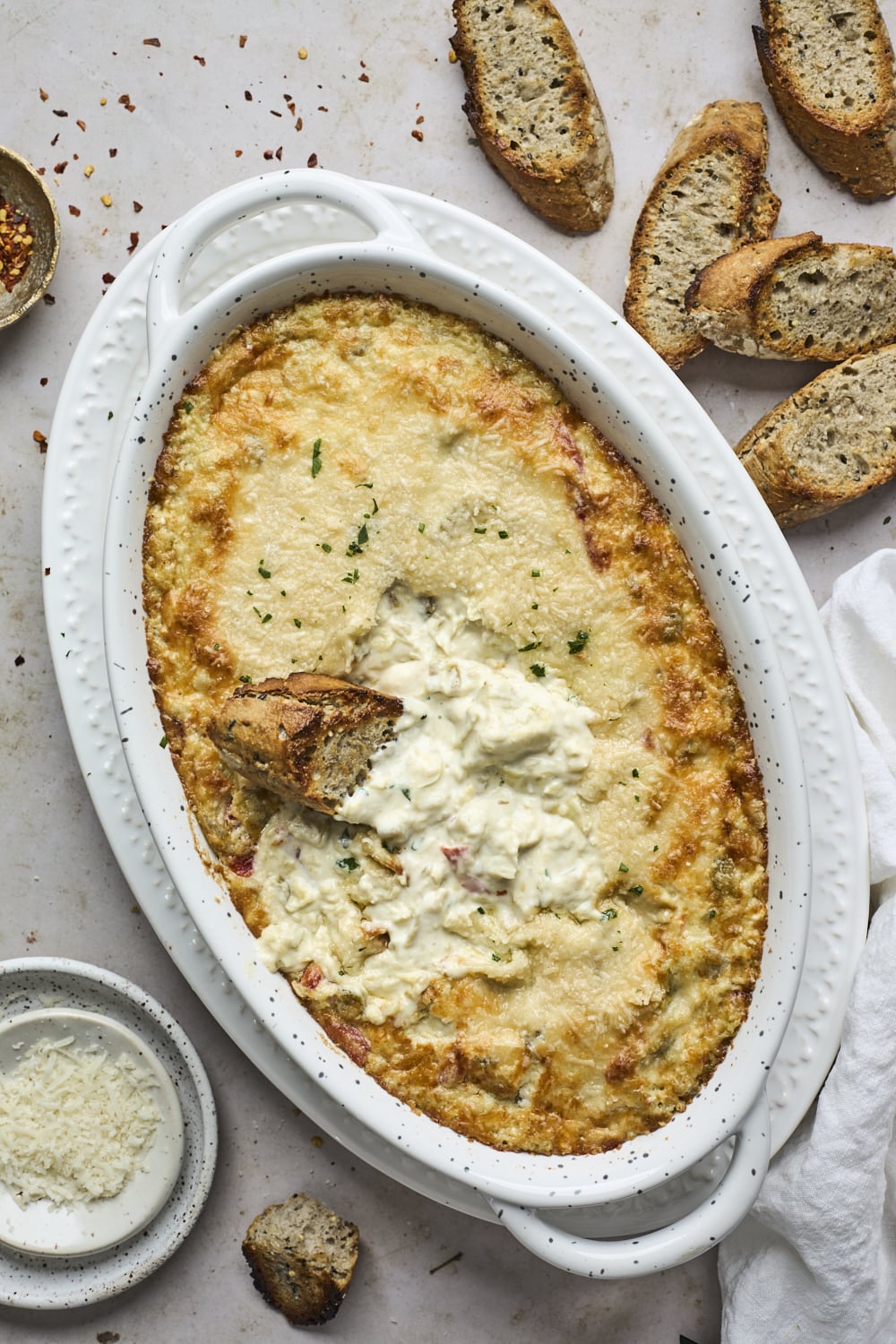 More Dips and Appetizers You Will Love: 
Recipe
Servings:
12 (recipe is easy to halve)
Prep Time: 15 mins
Cook Time: 30-45 mins
Ingredients
Two 14 oz cans sliced artichokes, drained of excess liquid and pat dry (if whole drain and slice or rough chop)

2 cups mayonnaise 

One 8 oz block of cream cheese room temperature 

2 cloves of garlic minced or grated 

2 cans of green chilies 

One 4 oz jar of sliced pimientos - drained and chopped (approx ½ cup) 

1½ cups grated Parmesan cheese, divided 

½ teaspoon chili flakes 

Salt and pepper to taste 
Directions
Pre-heat the oven to 350ºF.
Place half of the artichoke hearts in a food processor along with 1 cup Parmesan cheese, mayo, cream cheese, and garlic and blend until well combined.
Empty out into a medium bowl. 
Fold in and stir the remaining sliced/chopped artichoke hearts into the cheese mixture along with the green chilies, chili flakes, and pimientos - season with salt as needed
Pour the mixture into ramekins or a shallow medium-large baking dish /casserole dish or 9-10 inch skillet. 
Sprinkle over remaining Parmesan cheese 
Bake for 30-45 minutes in a preheated oven or until the top of the dip is golden brown and dip is bubbling 
Serve warm with French bread, tortilla chips, baguette slices, pita chips, crackers, veggies or chips.
Leftover baked Artichoke Dip will last about 4-5 days in the refrigerator in an airtight container. Reheat in microwave or in the oven