Creamy Tuscan Tortellini Soup
Updated 21st August 2023
This Tuscan tortellini soup is a comforting one-pot meal that's perfect for a chilly winter day. A family favourite. It's so easy to make and so hearty and delicious. Filled with Italian sausage, cheese tortellini, Tuscan kale, white beans and a Parmesan cheese infused broth - which can easily be made thicker by using less broth and swapping out the chopped tomatoes for crushed tomatoes. This one-pot wonder takes just a few easy steps and can be ready in about 30 minutes. This luscious, brothy tortellini soup is full of hearty ingredients and is sure to fill your belly and warm your soul. I absolutely love a soup like this that's full of flavour but doesn't require hours of simmering. If you are a fan of warm bowls of comfort like we are then this soup is for you!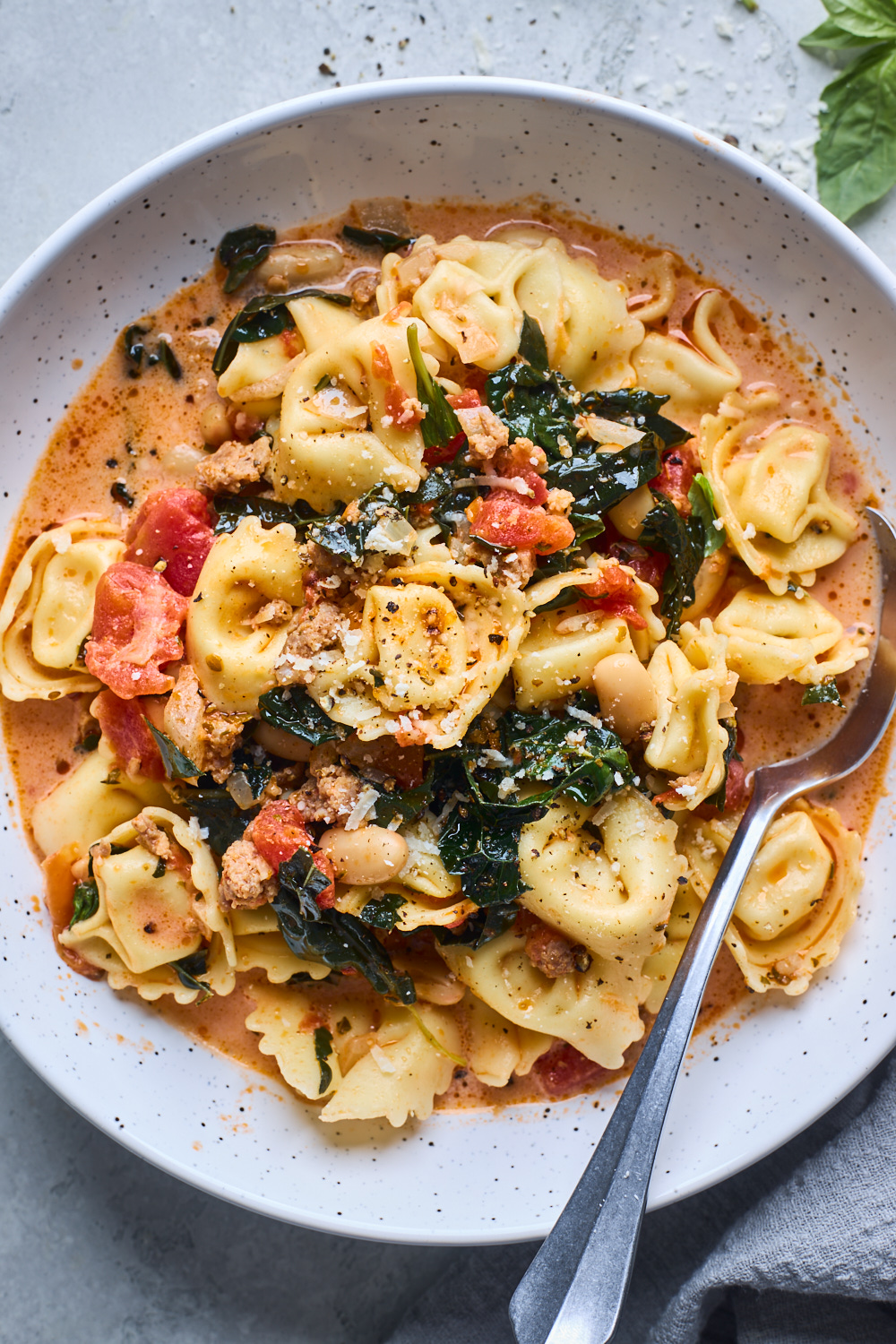 What makes tortellini soup so good?
The broth gets its flavour from the sausage and of course the other fresh and dried aromatics. The beans and tortellini give the soup body and make it reminiscent of a minestrone. The added greens give it extra colour and that extra boost in greens that we all need and that I love. We loved it served with an extra drizzle of olive oil plus a sprinkling of extra Parmesan cheese, and fresh basil.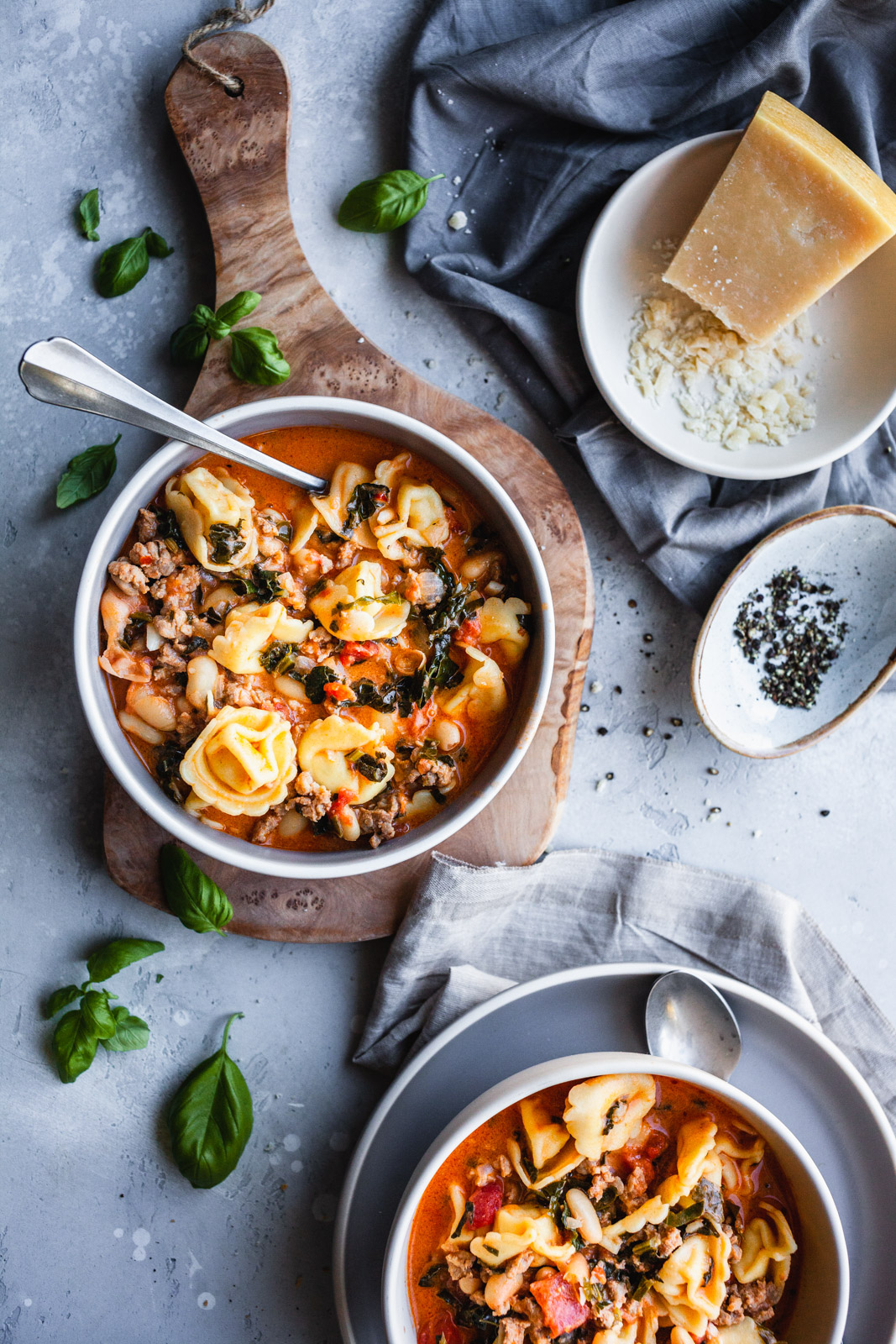 I'm a big fan of recipes that are simple with minimal ingredients but have amazing flavor and texture. This Tuscan Tortellini Pasta Soup is just that! It's a good one! Everyone knows how good tortellini is. It's my hubby's favourite and he is always asking why I don't have more tortellini recipes on the blog. A few of our other favorite tortellini recipes include my Easy Tortellini Amatriciana, and you might also enjoy my tasty one pot Creamy Tuscan Tortellini. Tortellini only get better as you add to their tastiness by adding all the rest of the ingredients in this and other tortellini dishes.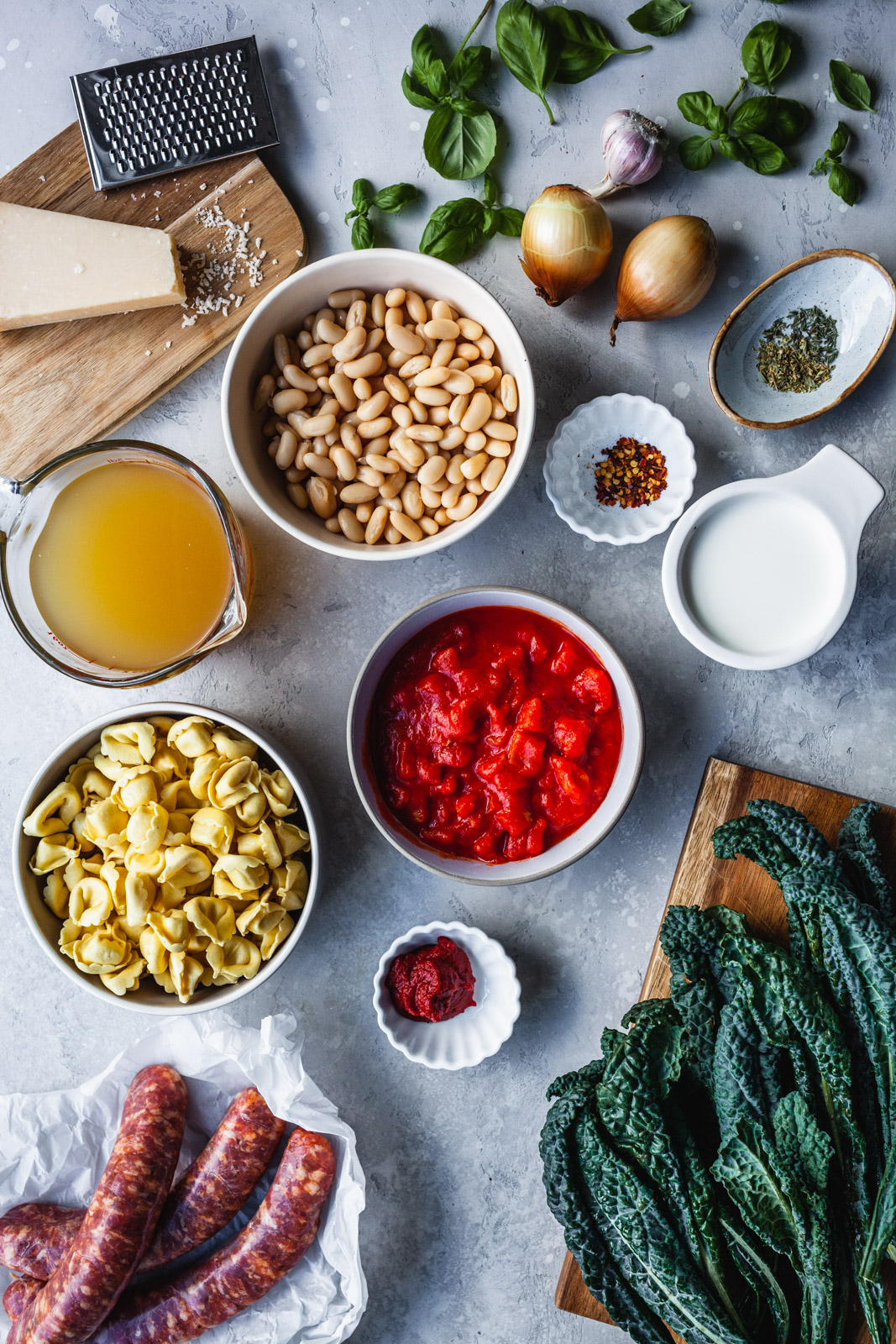 Creamy Tuscan Tortellini Soup Recipe Ingredients
This is one of those meals that saves the day. It doesn't requires extraordinary ingredients - mostly pantry ingredients and as I said before, it can be whipped up in no time. It's filling and the flavourful broth is just the kind of comfort you need on a cold evening. Here is what you will need:
Tortellini: I like to use fresh refrigerated tortellini but you can use frozen ones too - feel free to use any filling you like
Tuscan Kale or Spinach: I love Tuscan kale or dinosaur kale or lacinato kale but regular green kale or any type of greens like spinach will work too
Spicy Italian Sausage: I like using spicy Italian sausage - pork sausage but feel free to use any type of sausage or ground meat
White beans: I use canned white beans or cannellini beans making this soup super easy and quick to make - but feel free to cook your own if you wish
Chopped/Diced Tomatoes: I like to use diced or chopped canned tomatoes - for a thicker soup feel free to use crushed tomatoes instead
Broth: I usually use chicken broth or vegetable broth but feel free to use water broth or stock you prefer and homemade is even better
Herbs and Spices: My fav combo for this soup is dried thyme, dried oregano and red chili flakes, but you can add whatever you like - rosemary or Italian seasoning would work well here too. Adjust amounts to taste
Fresh Basil: Finish off the soup with fresh chopped basil for a wonderful flavour to your soup
Freshly grated Parmesan Cheese: Freshly grated and stirred into the soup adds so much flavour and I like to serve mine with extra on the side. Optional but delicious
Heavy Cream: Swirling in some cream creates a rich and creamy broth in this soup - this too is optional but delicious. Feel free to use a dairy free cream for a dairy free version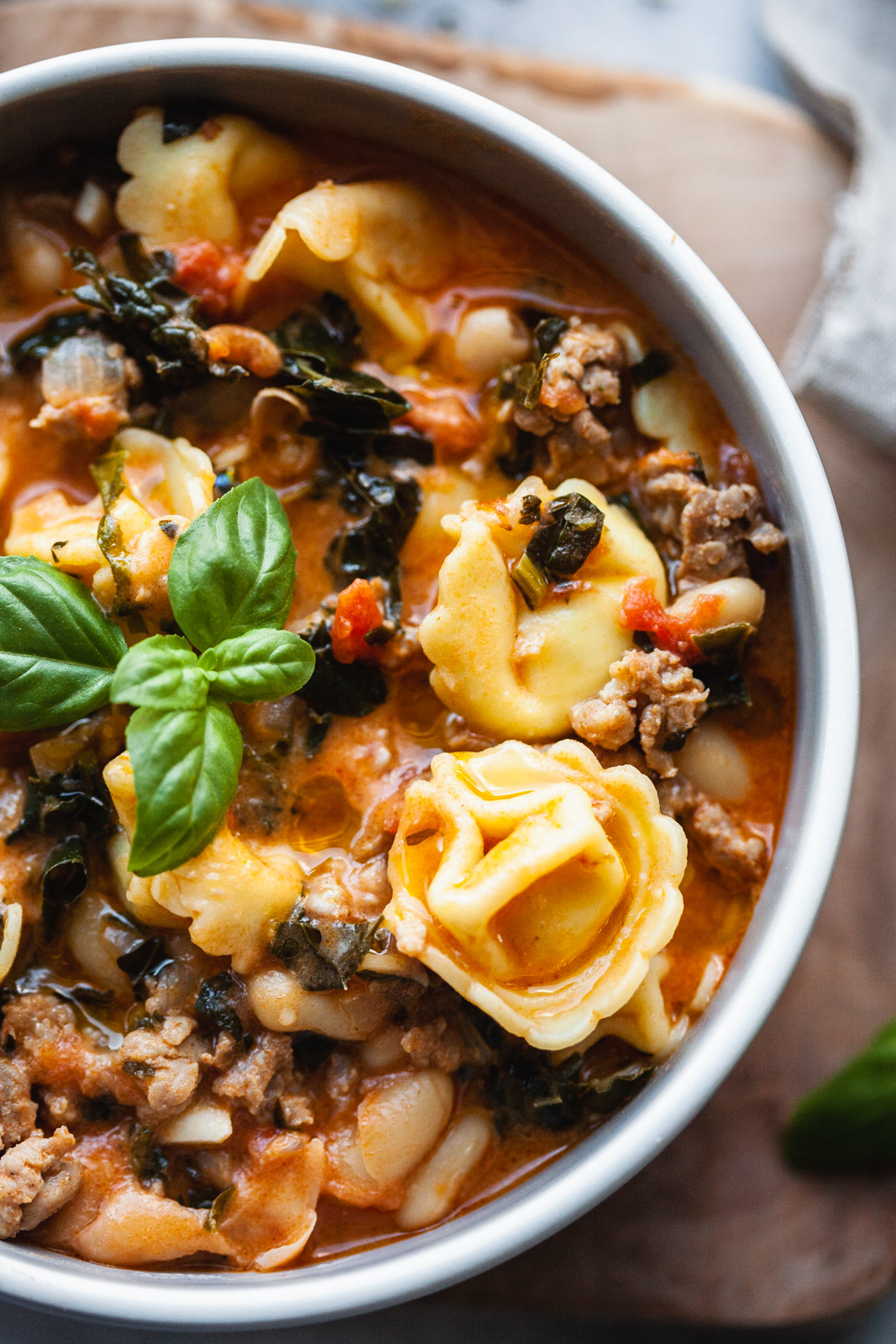 About the tortellini, Use good quality Tortellini!
Although the dry packaged kind will work and so will the frozen for this recipe, I just don't think they taste as good. The refrigerated kind only take a few minutes to cook once your water is boiling and they're much better tasting. Use tortellini with any filling you like. I'm a fan of plain cheese ones but feel free to use whatever brand and one you like. Tortellini also comes in a gluten free form which is great for those who have sensitivities. They are a total life saver on busy days when you just don't have the time to invent a meal. We always have a pack in the freezer just for days like that
Variations
Switch the protein: ground or shredded chicken or rotisserie chicken for a chicken tortellini soup version, ground beef, ground turkey, tofu, or shrimp
Incorporate other veggies and ingredients you like or already have on hand like roasted red peppers, sun dried tomatoes, or chopped bell peppers. Add some carrots and celery creating a bit of a mirepoix sautéed with the onion and sausage
Adjust fresh and dried herbs: Use any ones you like and add some extra heat by including extra chili flakes or adding some ground chili pepper or cayenne
Make it richer and creamier by swapping out the chopped tomatoes for crushed tomatoes and reduce the amount of broth.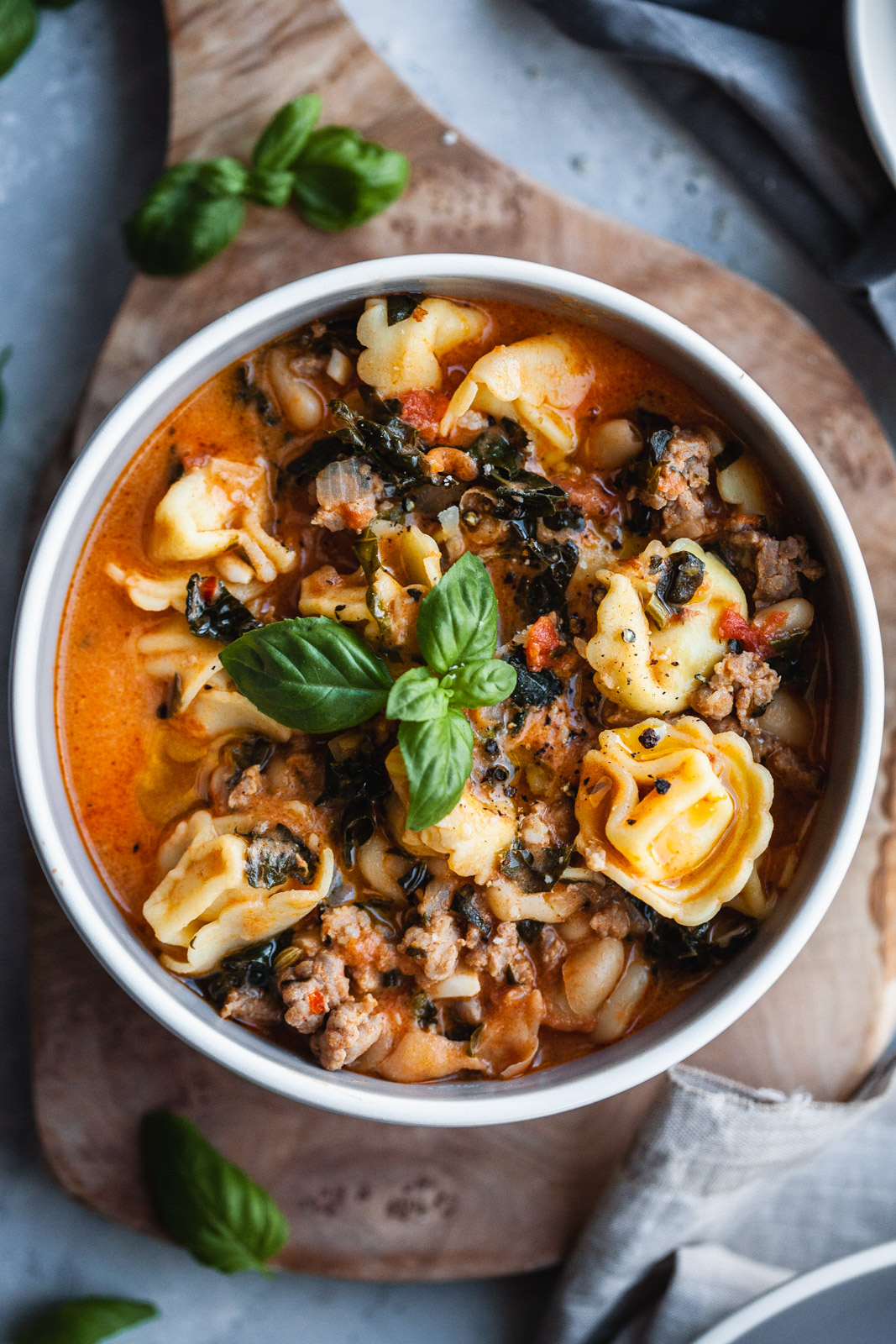 How do you make tortellini soup?
Cook sausage and onion
Season with tomato paste, garlic, herbs and chili flakes
Add tomatoes, beans, tortellini, kale and broth; simmer
Stir in parmesan cheese then cream
Stir in basil and serve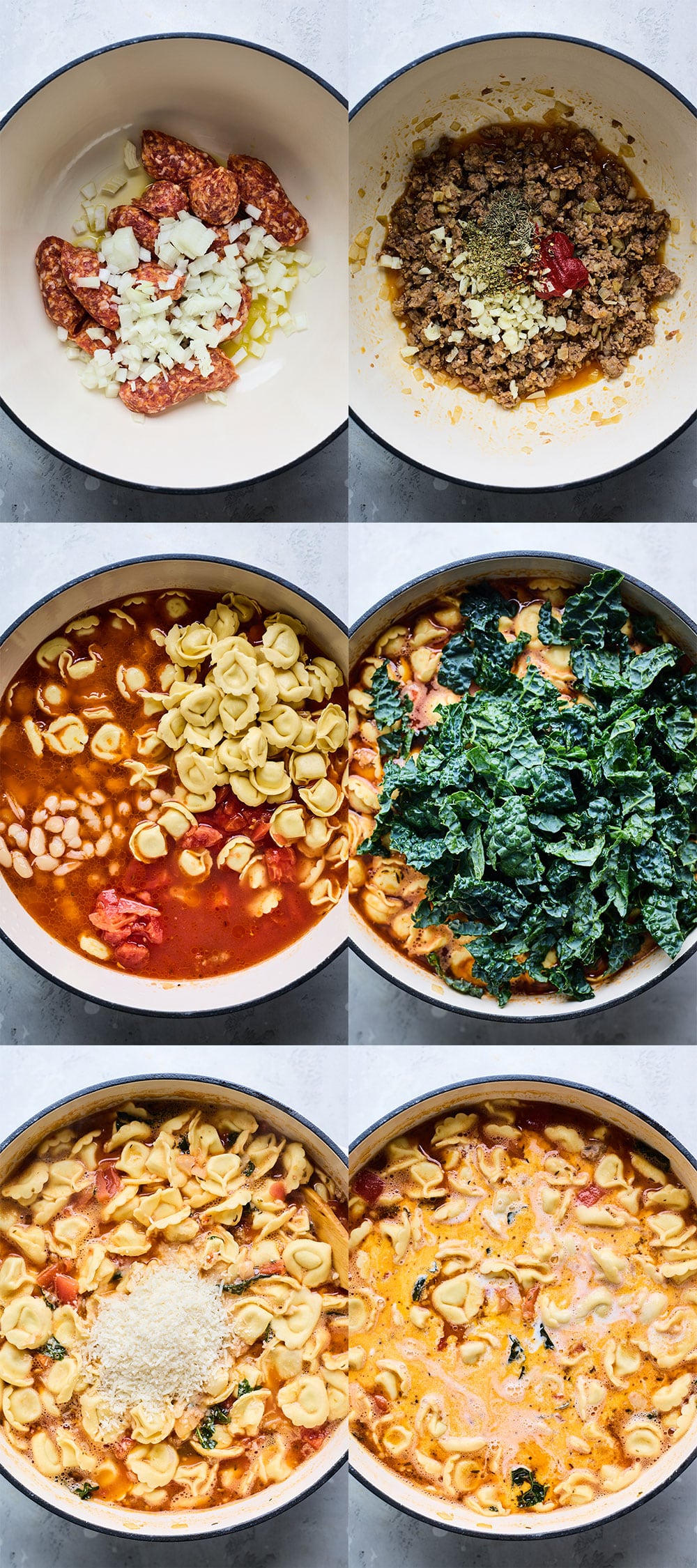 How do you store tortellini soup?
Store in an airtight container and refrigerate, the soup will last for 3-5 days if stored properly.
Tips for making this Tuscan tortellini soup
Use a heavy bottom pot.
I prefer refrigerated tortellini, it is just my personal preference but I like the consistency in the pasta. Use frozen or dry tortellini for a more budget friendly option
To adjust the consistency of the soup to make it a little thicker us more or less chicken broth, blend some of the white beans if you wish and/or use crushed tomatoes instead of diced, swirl in heavy cream at the end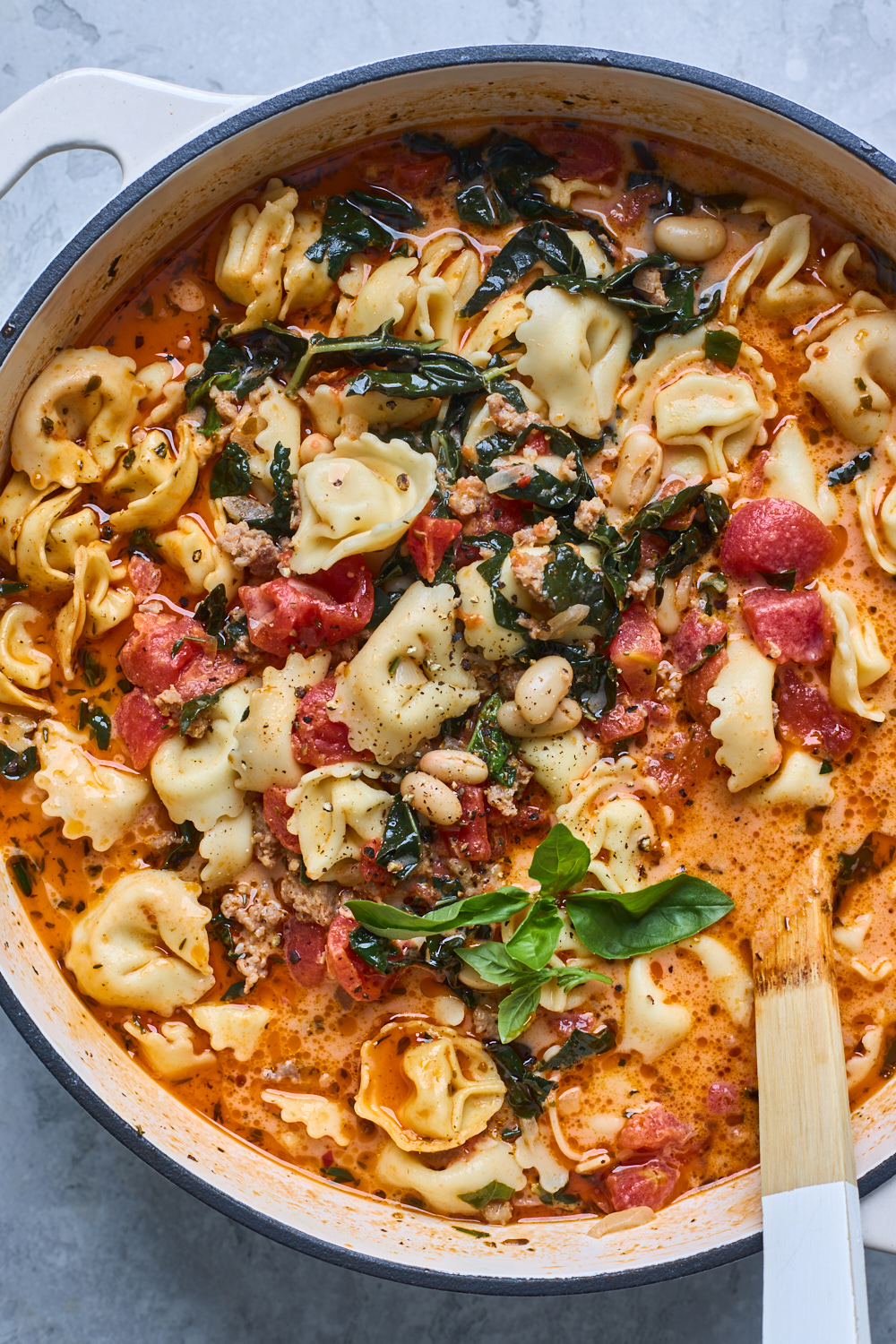 Other cozy recipes you will love:
Recipe
Prep Time: 5 mins
Cook Time: 25 mins
Ingredients
2 tablespoons olive oil

1 lb of Italian sausage, casings removed

1 large onion or two smaller ones, peeled and diced

4 cloves garlic, peeled and chopped

2 tablespoons tomato paste

1 teaspoon dried oregano

1 teaspoon dried thyme

1 pinch of red pepper flakes

6 cups chicken broth or chicken stock

1 (28 ounce) can diced tomatoes

1 (15-19 ounce) can of white beans, drained and rinsed

1 pound cheese tortellini

½ cup Parmigiano Reggiano (Parmesan), finely grated, plus more for serving

2-3 cups chopped Tuscan kale or spinach alternatively, hard stems removed and coarsely chopped

Salt and pepper to taste

½-1 cup heavy cream, room temperature

¼ cup basil, chopped plus more to garnish
Directions
Heat the oil in a large sauce pan or dutch oven over medium-high heat stove top, add the sausage and onions and cook, breaking the sausage up with a spoon until the sausage is cooked through and onions are tender, about 8-10 minutes. (feel free to drain off some of the fat if desired)
Add the tomato paste, garlic, herbs and chili flakes if using and cook for approx 1 minute.
Add the broth, tomatoes, tortellini, and beans and bring to a boil, then reduce the heat add the kale and simmer until the tortellini is cooked, about 7-10 minutes or according to package.
Add the cheese and cook until the cheese has melted into the broth and then season with salt and pepper to taste.
Gently stir in the cream and allow it to heat through for a minute then remove from heat and stir in the basil and serve hot and enjoy!
Recipe Notes
Store leftovers in an airtight container and refrigerate, the soup will last for 3-5 days if stored properly. Remember that pasta continues to absorb liquid so the soup will thicken and tortellini with swell and soften as it sits.
This is a brothy soup for a richer thicker soup use crushed tomatoes instead of chopped and use less broth