Easy Lemon Almond Madeleines With a Raspberry Glaze
These foolproof delicately sweet lemony French style madeleines are so simple to make and will have you baking them like a pro with a few easy tips that can be applied to whatever madeleine recipe you chose to make. Madeleines are classified as cookies but they taste more like irresistible delicate mini cakes. It's love at first bite if you have never tried them before.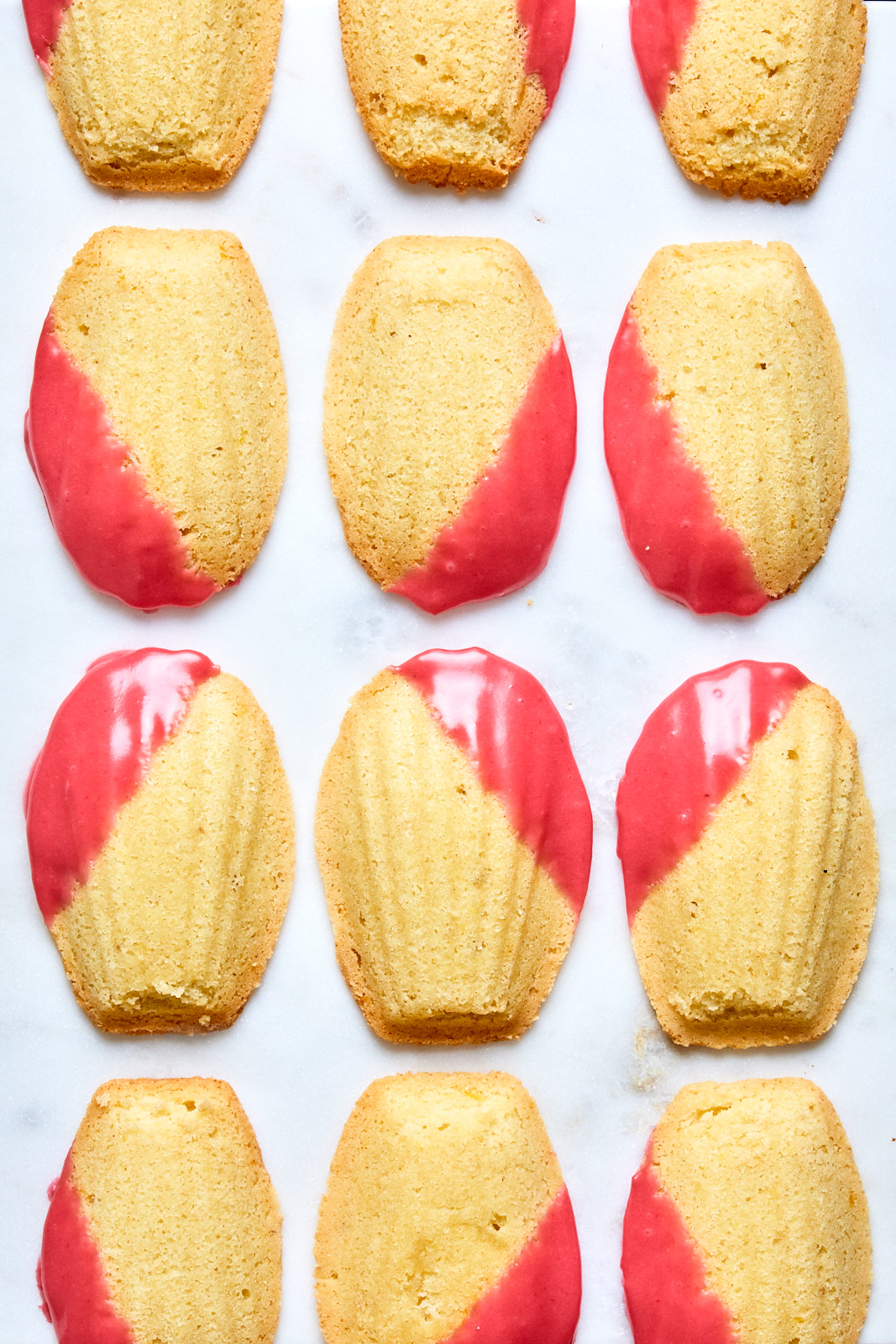 I love all baked goods with a touch of citrus in them and when it comes to madeleines, lemony ones are my favorite. I developed this recipe in partnership with Bob's Red Mill and their Almond flour and decided to make a Spring treat (these madeleines) using a mixture of almond flour and Bob's Red Mill Organic all purpose flour. I thought I would add the almond flavour I love in cookies and a nice texture to these madeleines. I amped up the almond flavour in these madeleines by using almond extract but they would be just as delicious with vanilla extract. I used lemon zest to give these a lovely hint of lemony flavours but feel free to add some lemon juice to the melted butter for a more intense citrus flavour.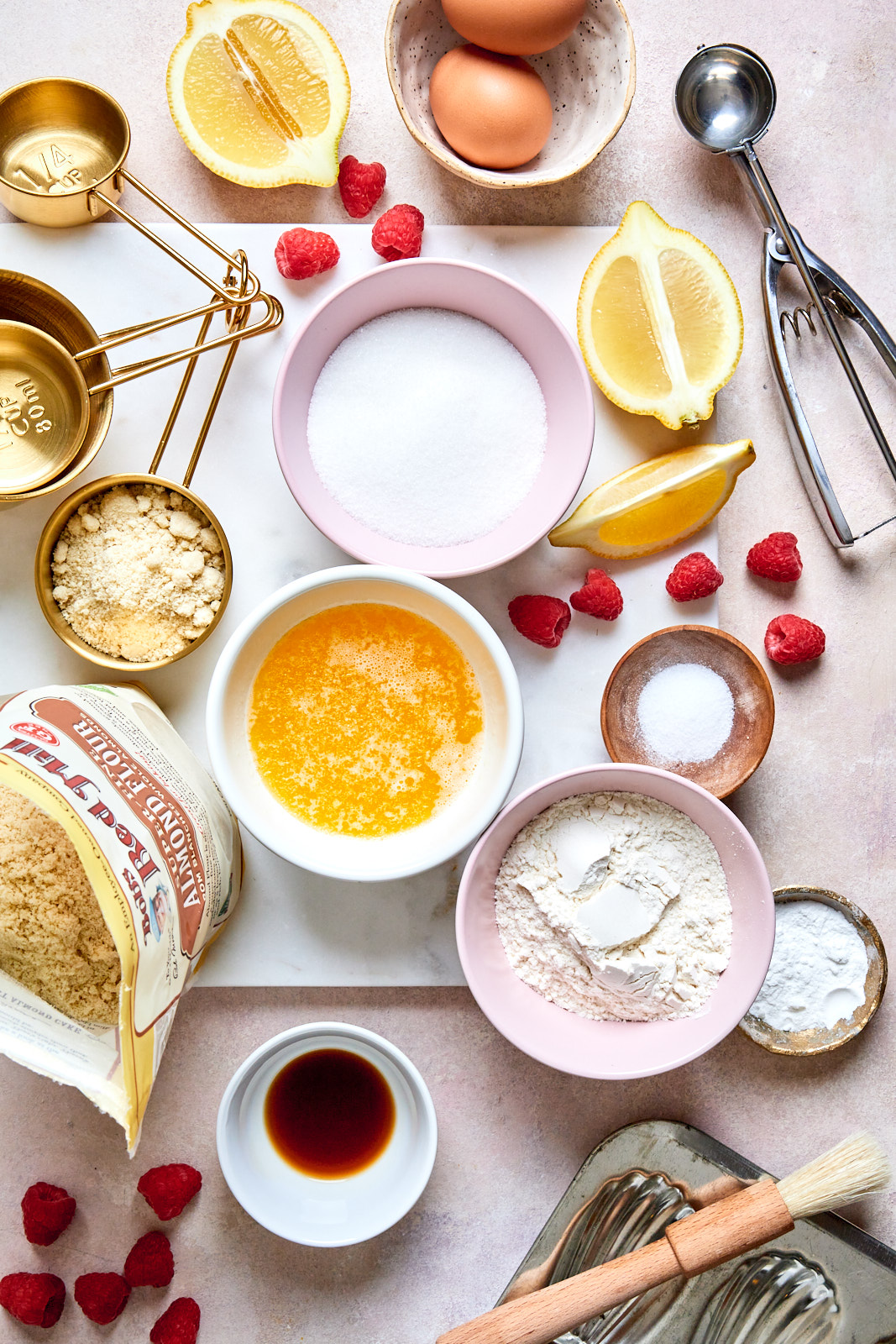 Bob's Red Mill Super Fine Almond flour is made from California grown almonds, great for gluten free baking and perfect for paleo and grain free baking recipes as well. The texture it gives things is always pleasing and I also love the slight nuttiness if adds to anything you bake with it include in the French-style Madeleines. I always have it stocked and with what is going on right now with all the flour hoarding it's the key ingredient in a lot of my baking. Actually it's the most available thing right now along with Bob's Red Mill All Purpose Flour at my local grocery store. Bob's Red Mill has all the products you need for all your baking needs while catering to those in your family who have specific food allergies. Their flours come in stone-ground, whole grain, organic, gluten free, paleo, and vegan options, perfect for any spring recipes.  This is the second of two recipes I shared using this fabulous flour in my Spring baking series for Bob's Red Mill. The first was a very delicious asparagus tart.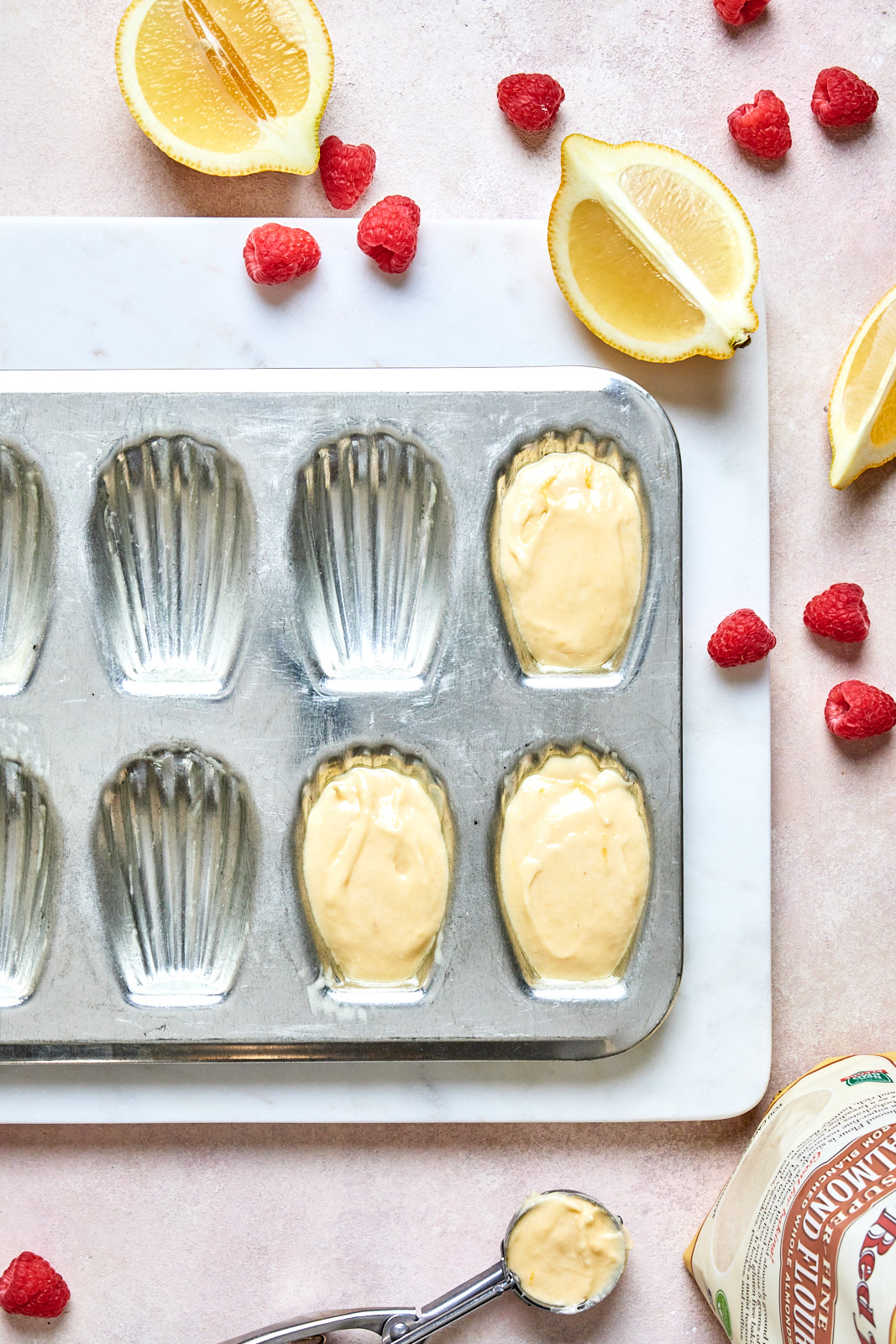 How to make foolproof French style madeleines
The first thing is whisking your eggs and sugar very well. It's doesn't matter if your use a standing mixer or a hand mixer or by hand. Just make sure your attachment is a whisk  to really get that sugar whipped into the eggs well. The mixture should be a light pale yellow with a thickened consistency. This will take approx 3-4 minutes if whisking. Adding a little bit of honey to the sugar egg mixture gives the Madeleines a very distinct texture to them - a bouncy texture.  Next, make sure you incorporate the dry ingredients into the batter well but slow things down as soon as you start to drizzle in the melted butter and do not over mix at this point. Just mix until the butter is fully incorporated. The next part is the hardest tip to apply because you just want to bake these off ASAP but just like cookie batter, French style Madeleine batter needs some time to rest too to get those signature madeleine humps on them. If you don't care about that feel free to bake them off right away. The batter though can be made up to two days before and left refrigerated until you bake them off. I usually let these rest for ½ hour - but 1-2 hours or even overnight is even better. The last thing is make sure to butter/grease your Madeleine pan really well. Ideally you want to use a non stick pan but if you don't have one greasing it well is even more crucial. I love to use non stick spray and then use a pasty brush to ensure that all the crevices are well greased.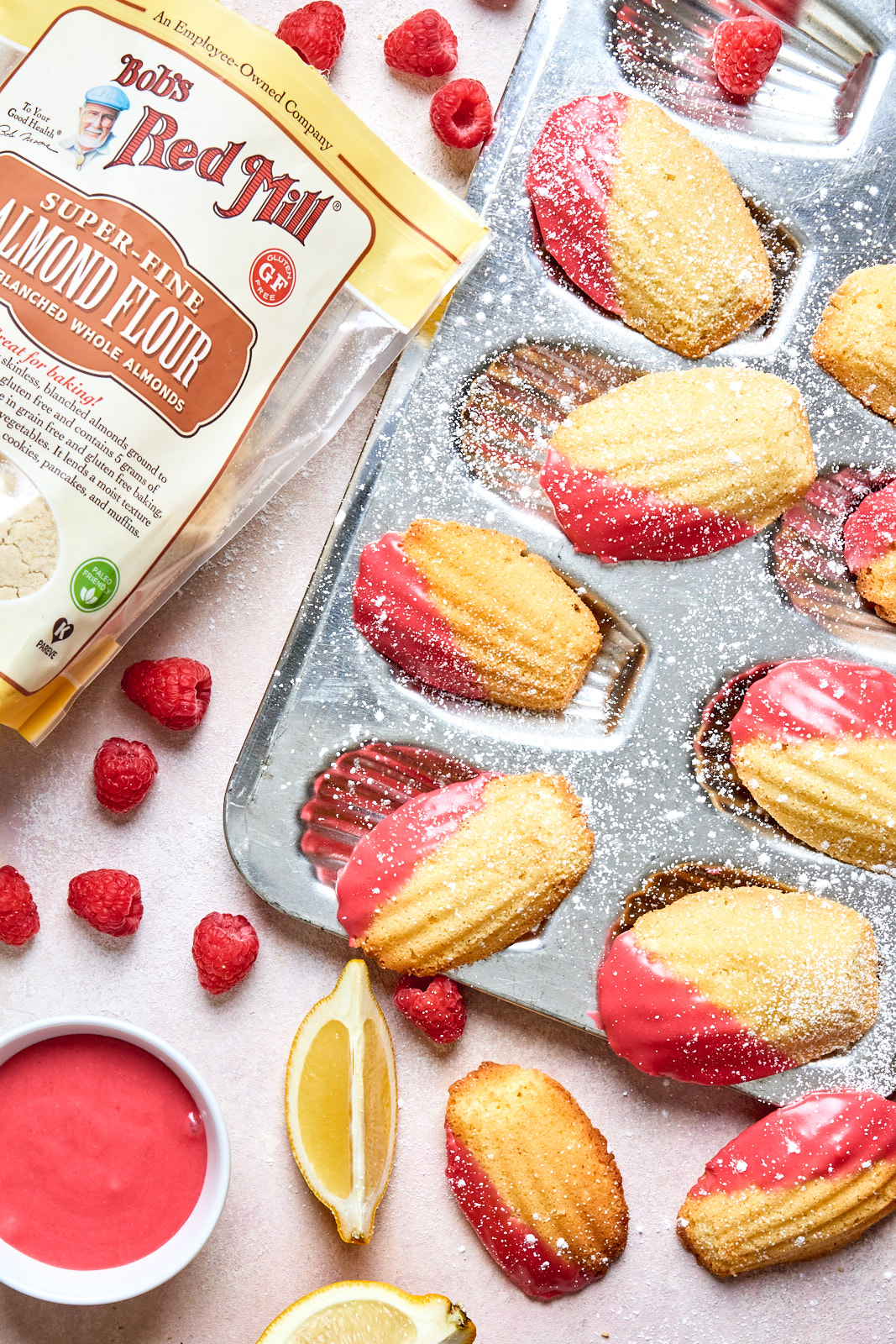 These are irresistible right out of the oven but give them a couple of minutes to cool, they will release much easier. They are perfect every time and are fabulous with a simple dusting of powdered sugar but if you would like to add a pretty glaze we loved this raspberry one. A simple lemon juice and powdered sugar one would work just as well - we just felt like bringing a bit of joy into Monday with this naturally coloured pink raspberry glaze. Whatever you decide to do I know you will love them.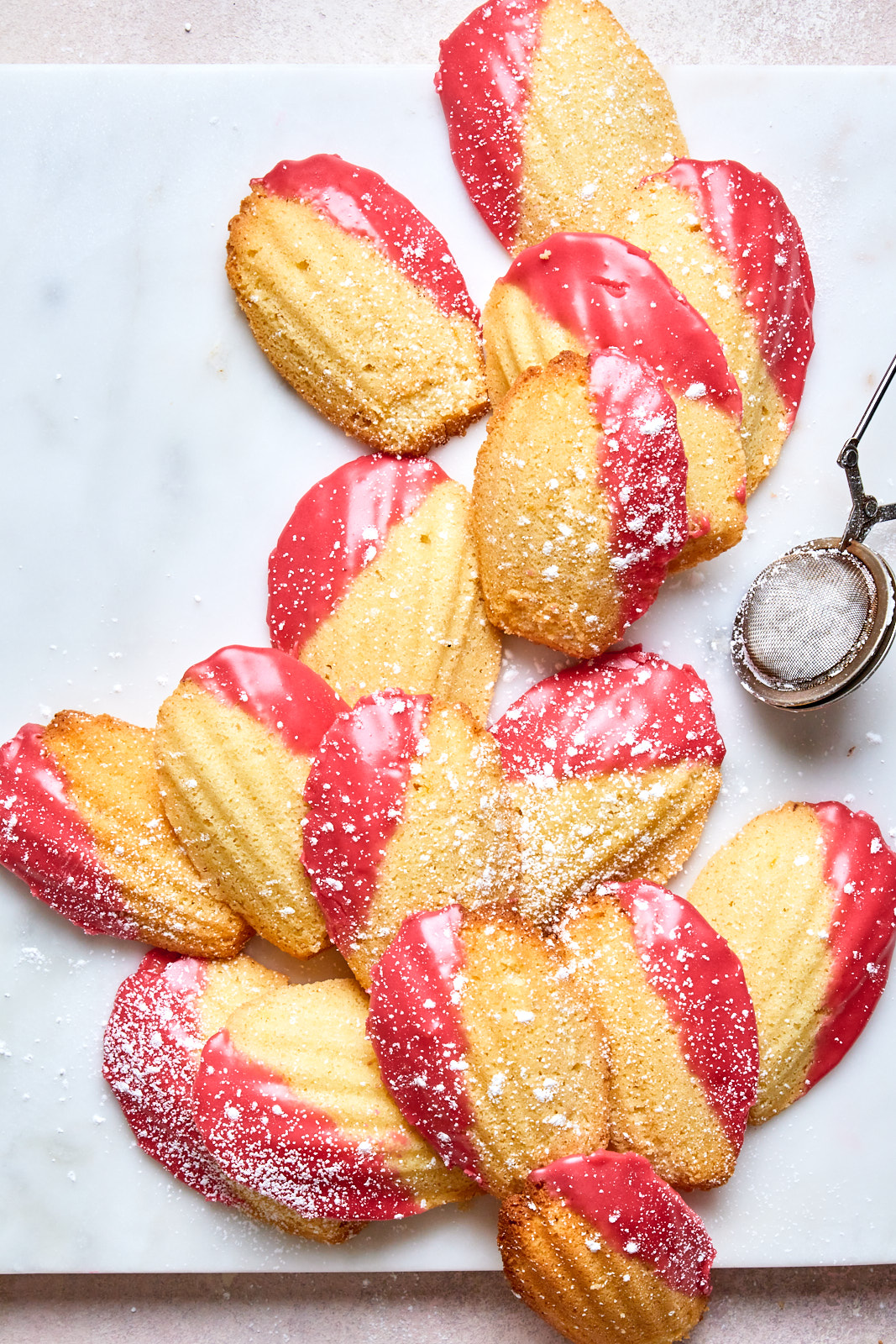 I have partnered up with Bob's Red Mill to bring you this fabulous recipe, but all opinions are my own. Thank you for supporting Olive & Mango.

If you can not play the video Checkout our Youtube channel.

Basic Ingredients

Substitutions & additions
Substitute All purpose flour for GF All Purpose flour
Lemon zest for any citrus zest
Use Vanilla extract for Almond extract
Add a little squeeze of fresh lemon juice to your melted butter for a little extra lemony flavour
Instead of glazing them - just finish these off with a dusting of powdered sugar before serving
Recipe
Servings:
Makes 2 dozen Madeleines
Prep Time: 10-15 mins
Resting Time: 15-60 mins for batter to rest
Bake Time: 7-10 mins
Ingredients
For the Madeleines
2 large eggs

½ cup granulated sugar

1 tsp of honey

¼ teaspoon almond extract (can also use vanilla)

½ teaspoon finely grated lemon zest, optional

½ cup all-purpose flour

¼ teaspoon salt

¼ teaspoon baking powder

1 stick (½ cup) unsalted butter, melted
For the Raspberry glaze
2 cups frozen raspberries

2 tbsp. granulated sugar

¼ cup water

1¼ cups powdered sugar plus more if needed
Directions
Spray two 12-mold madeleine pans with nonstick cooking spray using a party brush to get into al the crevices and set aside.
In the bowl of a standing mixer fitted with the whisk attachment (can also use hand mixer or whisk by hand), cream together the eggs and granulated sugar on high speed for 1 minute then add the honey and continue whisking for another 3 minutes or until the mixture thickens and develops a light pale color
Beat in the almond or vanilla extract, and lemon zest.
In a separate bowl whisk together the flour, almond meal, salt and baking powder. Mix those into the egg batter then turn the mixer down to low speed and slowly pour in the melted butter. Mix until just incorporated - do not over mix.
Cover bowl with plastic wrap and allow it to rest in the refrigerator for 15 minutes to 1 hour.
Preheat oven to 350°F. Divide the batter evenly between the molds using a small (1¼) cookie scoop. Bake until lightly golden around the edges, about 7-8 minutes.
Let the madeleines cool for about 2 minutes in the pan, and then invert them onto a cooling rack to cool completely. If they don't come out very easily use a very flexible small spatula to help slide the out of mold. Simply dust with powdered sugar and serve or allow them to cook fully and drizzle or dip them into glaze.
For the glaze
Place frozen raspberries, sugar, and water in a small saucepan. Heat over medium-low heat until the raspberries soften and the sugar dissolves completely 5-7 minutes. Cool slightly and then transfer to a blender or food processor; puree until smooth. Strain through a fine-mesh strainer to remove seeds. Set aside to cool completely.
Whisk together powdered sugar and raspberry puree until smooth. Immediately dip each Madeleine into the glaze and set back on wire rack. Or drizzle glaze over them on the rack. Let the glaze set for 5 minutes before serving.
Recipe Note
You'll need a madeleine pan to make true madeleines, but you can also use a mini muffin pan or regular sized muffin pan to bake these; you'll still have a delicious treat. Baking times might be longer or shorter depending on the size of the muffin cups, so keep an eye on them.