Easy Spicy Italian Sausage and Peppers Pasta Bake
Nothing beats an easy cheese pasta bake recipe and this one really delivers the flavour without a lot of fuss. This spicy Italian sausage pasta bake recipe is simple, flavorful, satisfying, quick and uses minimal ingredients. It's the perfect weeknight dinner that tastes like it came from a restaurant! I've always loved the combination of sweet bell peppers and hot Italian sausage. It's that sweet/spicy combination that makes a perfect pasta dish. The same reason I love my recipe for Burst Cherry Tomato Pasta.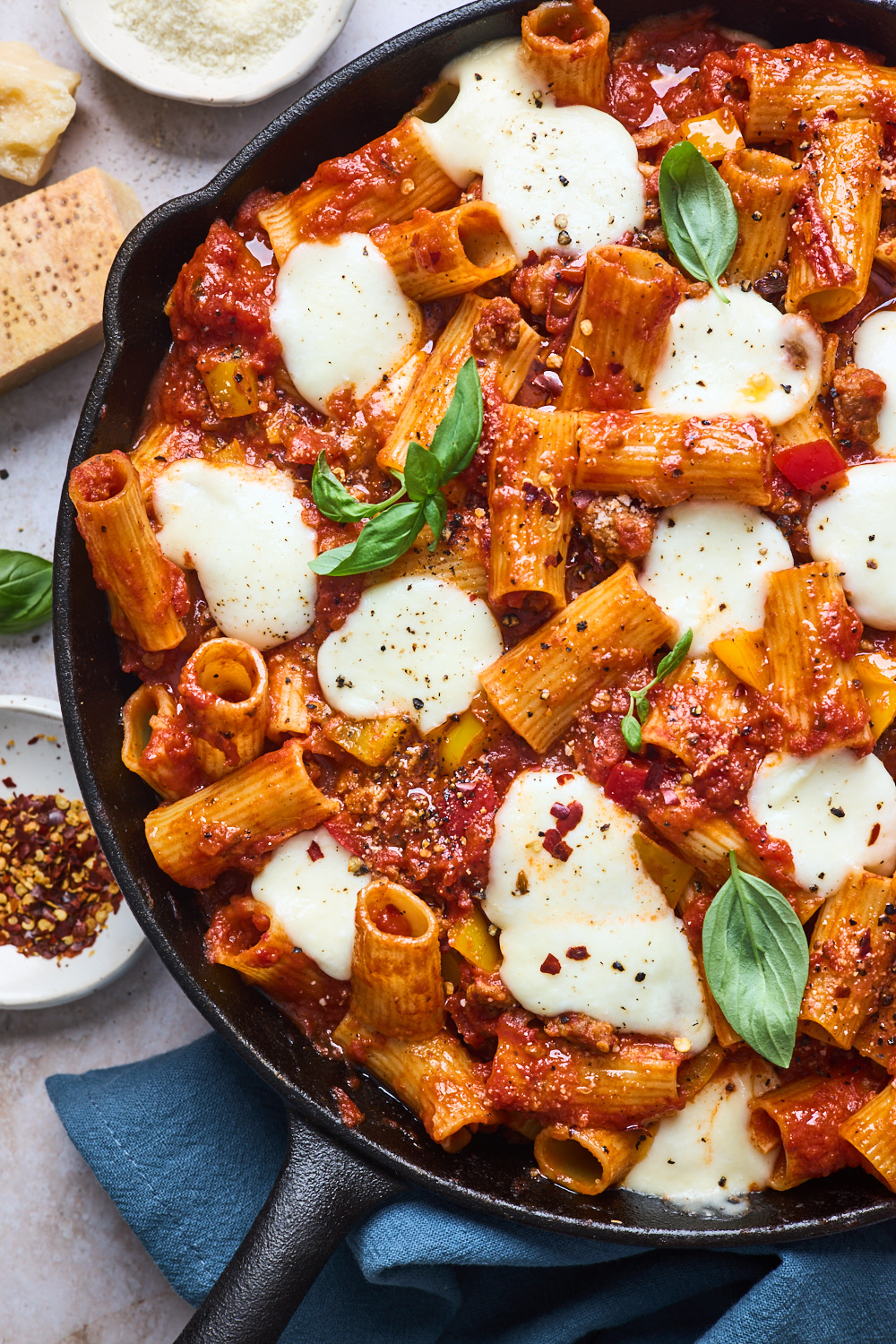 Why you are going to love this pasta bake:
Simple: Its made with simple and minimal Ingredients most of which you may already have on hand. Store-bought or homemade sauce can be used.
Flavorful: everything (except boiling the pasta of course) is done in one pan - from the browning of the sausage to the sautéing of the aromatics. This all builds so much flavour in the suace and in turn the whole dish. So much delicious flavour in this dish and it takes no time to make.
Satisfying: It's the perfect kind of comfort food, because PASTA + saucy, meaty and cheesy always = comfort!
Quick: Dinner's on the table in 45 minutes or less, which means it can work for a simple weeknight meal.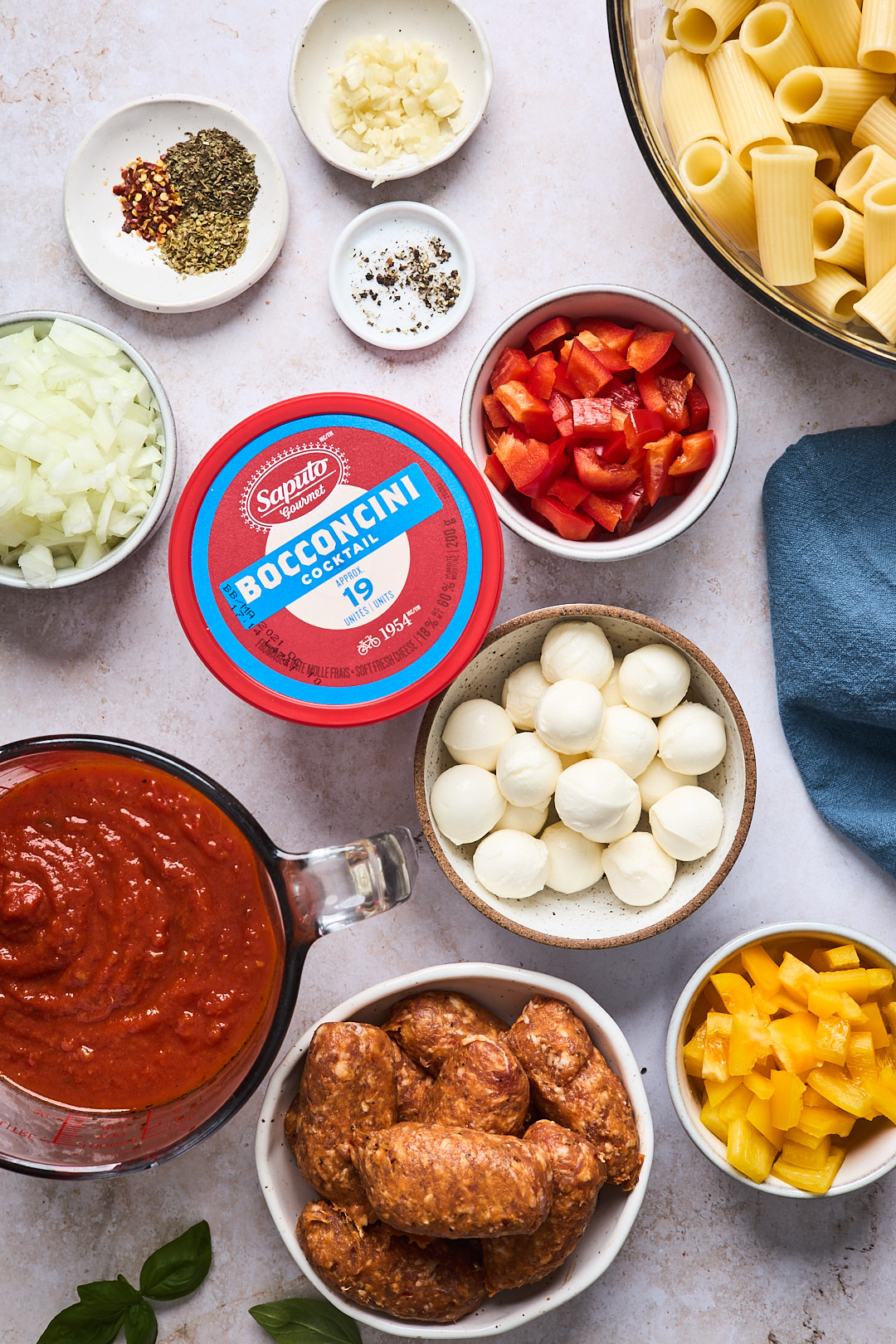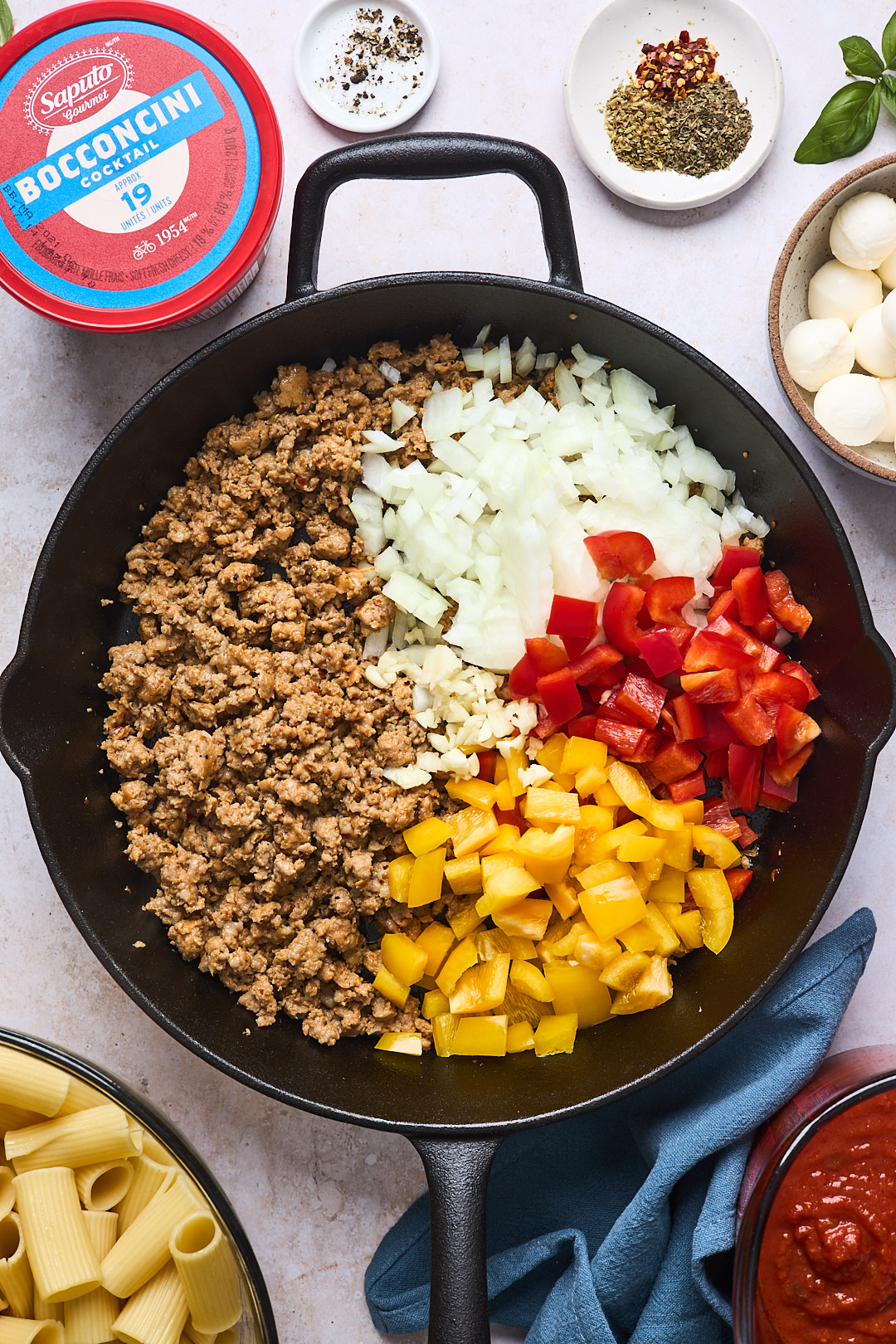 Italian Sausage and Peppers Pasta Bake Ingredients:
This pasta bake is made with simple and mostly pantry ingredients making this a go to for a quick and delicious dinner. Here is what you will need.  
Rigatoni: You can use any kind of pasta shape you like for this recipe but I like using rigatoni it's the perfect size and shape for pasta baked and is perfect for chunkier sauces. Any short pasta shape  will work though - penne pasta would make a good alternative. A gluten free one will also work.
Italian sausage: I like to get the spicy Italian sausages. You can either get the meat itself or remove the meat from the casings. Sweet sausage would also work here for a less spicy version. If you wanted to use a plant based Swiss you absolutely can do that as well.
Peppers: My favourite ones to use are sweet bell peppers - either red orange or yellow ones or a combo of a them.
Onions & garlic: they sauté nicely with the sausage making up a great base flavour for the sauce and pasta bake
Tomato Sauce: I like to use marinara sauce but any of your favourite  tomato sauces will work - homemade or store bought.
Wine: Red or white wine adds a nice richness to the flavour of the sauce. It's optional but recommend.
Cheese: you can't have a pasta bake without cheese! I used baby bocconcini in mine because my hubby absolutely loves them but feel free to use shredded mozzarella cheese or any cheese you like to use in your pasta bakes.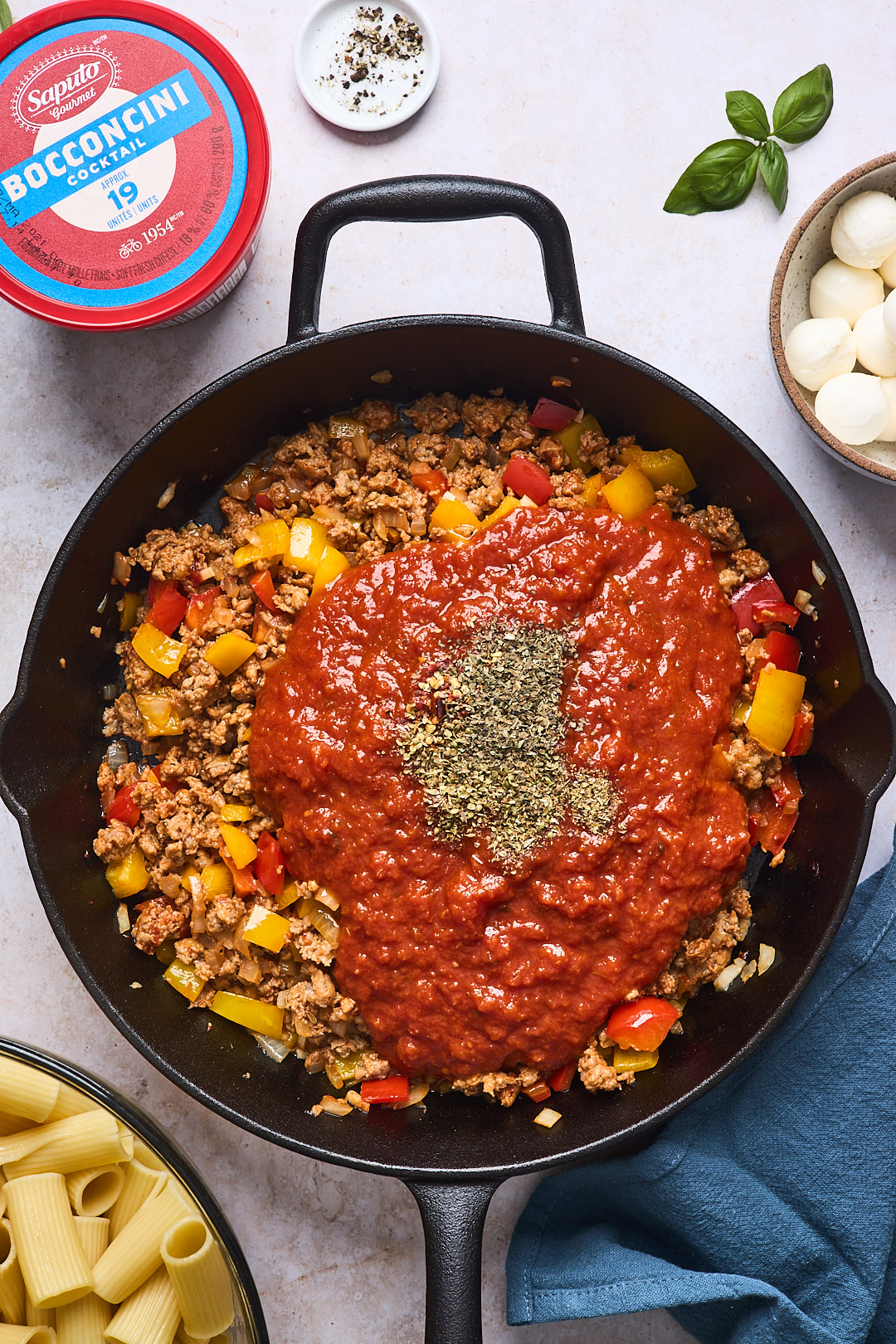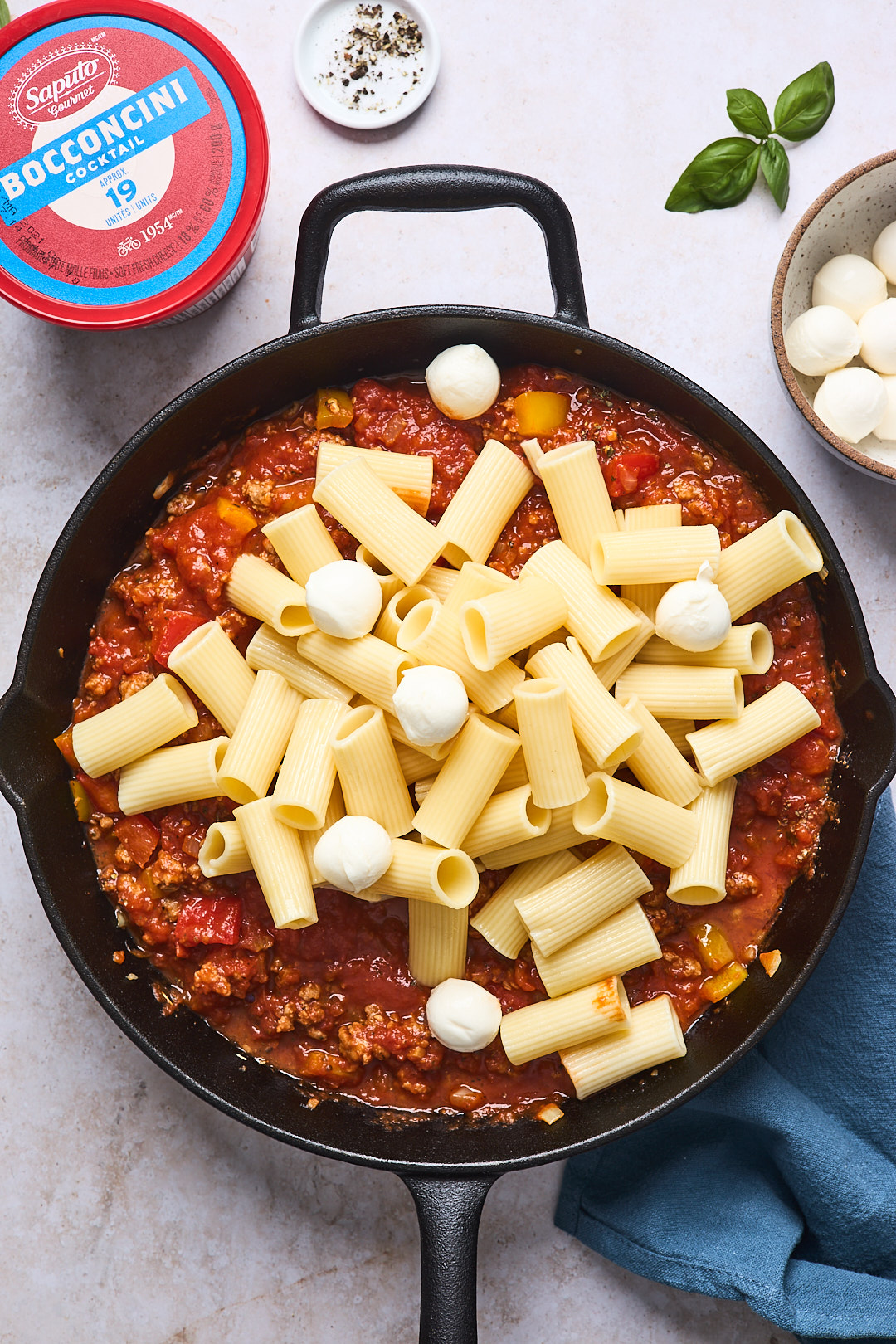 How to Make Italian Sausage and Peppers Pasta Bake
This is the easiest and quickest pasta bake to make. Here are the simple steps to making it:
Boil the pasta: Boil the pasta until al dente remembering that it will likely continue to cook in the sauce while it bakes. The last thing you want is a smushy pasta bake.
Brown the sausage & veggies: The veggies cook along with the sausage and in the sausage fat which helps them develop a whole lot of flavour lending to a delicious sauce and pasta bake
Add the tomato sauce: stir in the tomato paste, deglaze pan with the wine and add in the marinara sauce
Toss in the pasta and cheese: Toss in the pasta a lot with half of the cheese until combined.
Bake: Top paste with remaining cheese and bake until cheese is melty and delicious.
Serve: serve warm topped with grated Parmesan cheese , extra chili flakes or chili sauce and with loads of fresh Basil if you wish. Crusty bread and a side salad are also recommend and maybe a glass of vino too if you aren't opposed.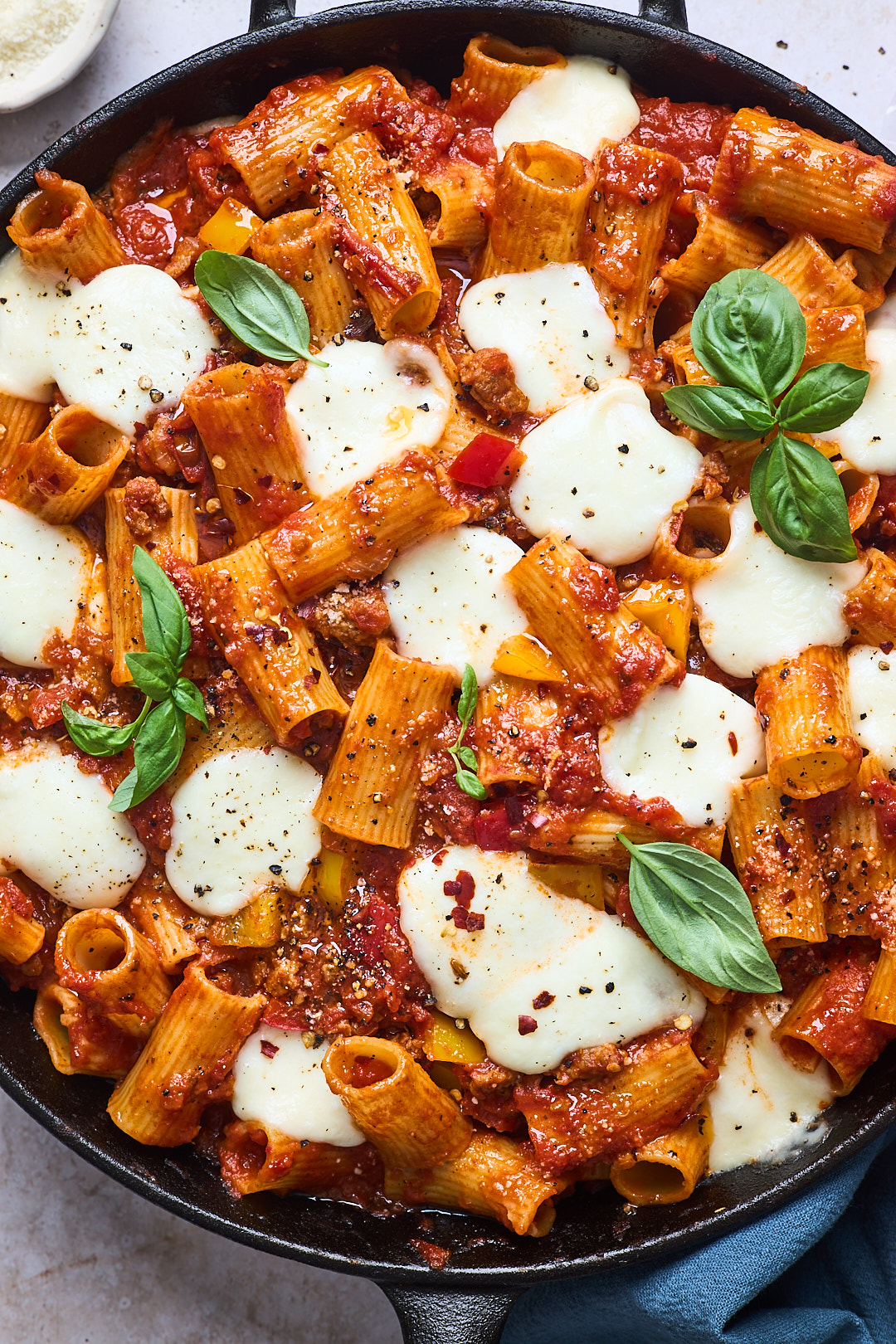 Swaps and add ins:
Adjust the spice: use sweet sausage over spicy for less heat and omit the chili flakes.
For a creamier sauce: Feel free to add a bit of heavy cream to your sauce before tossing with the pasta for a richer pasta bake.
If you are swapping the sausage:if yo wanted to swap it out for a different kind of sausage like a vegan or a turkey or chicken sausage you can but be sure to add some extra olive oil to the pan while browsing it as those types of sausages do not render as much fat. That definitely goes for the vegan type sausages too and  also If you do a vegetarian version with mushrooms or veggies only.
Want to add more veggies: this is the type of recipe where you can add extra veggies to - like most pasta bakes. Feel free to add some greens like kale or spinach to the sauce or suave some mushrooms with the veggies as well.  Feel free to experiment with the veggies you add to it.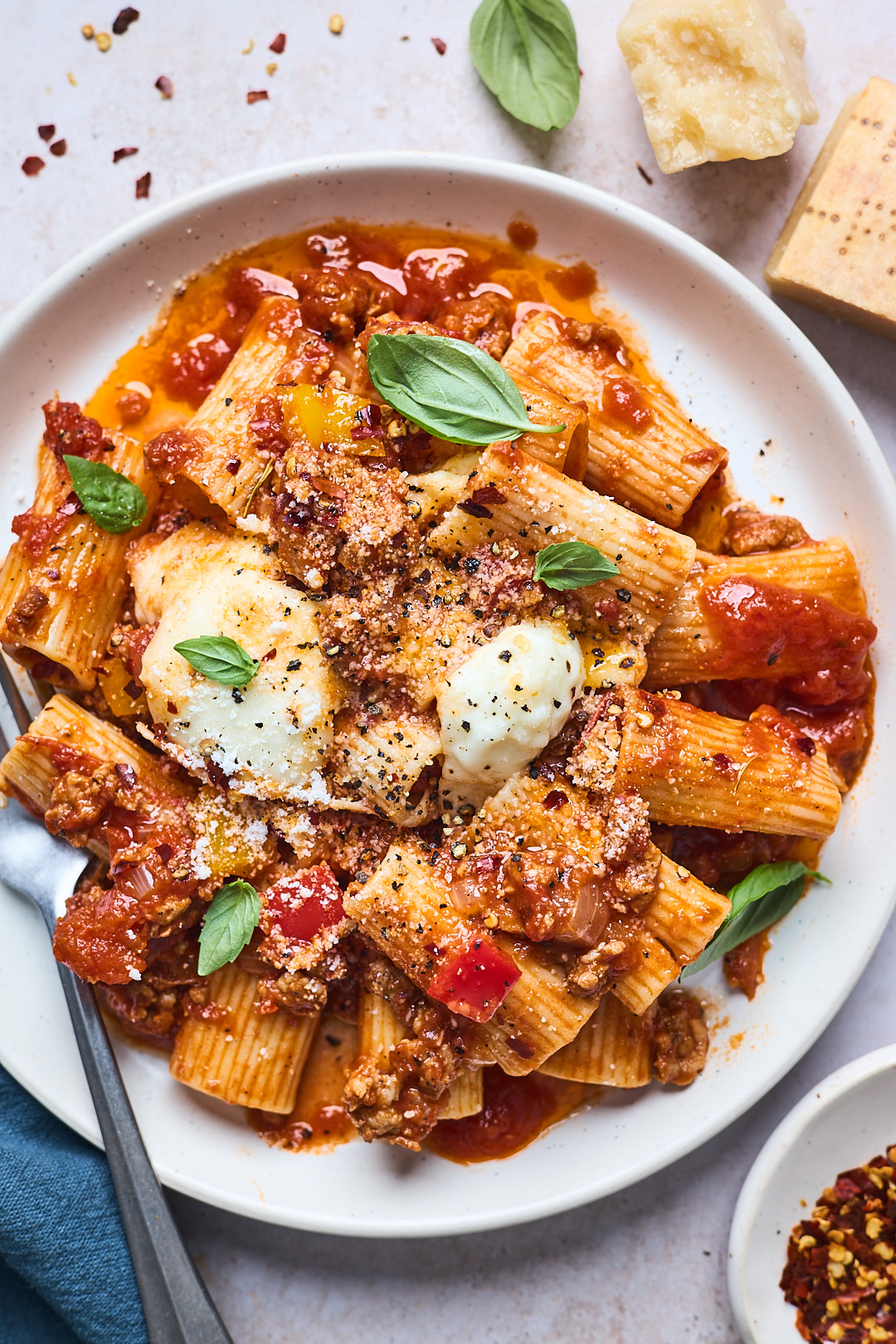 If you like this pasta dish you will love these:
Recipe
Prep Time: 10 mins
Cook Time: 30-35 mins
Ingredients
2 Tablespoons of olive oil

1 lb spicy Italian sausages, squeezed out of casings

1 onion, peeled and diced

3 cloves of garlic, peeled and diced

2 bell peppers, seeds and stems removed and sliced (I like to use red, yellow or Orange)

1 Tablespoon tomato paste

¼ cup white or red wine (optional)

½ Teaspoon dried Basil

¼ Teaspoon oregano

¼ Teaspoon chili flakes

4 cups marinara sauce, store bought or homemade

10-12 oz/ounces rigatoni pasta

8 ounces small fresh mozzarella balls or fresh shredded mozzarella, divided (plus more if you like yours super cheesy)
For Serving
Parmesan cheese, grated
Fresh basil
Black pepper
Chili flakes
Directions
Preheat oven to 350°F. Cook pasta in a large pot of salted boiling water, until tender. Then drain and set aside.
Heat an oven-proof large skillet over medium-high heat. Add olive oil, cook sausage for 5 minutes,then add the peppers onions and garlic and cook another 5 minutes.
Stir in the tomato pasta and cook 30 seconds then deglaze the pan with the wine if using. Cook another minute until wine has reduced.
Stir in the marinara sauce and spices. Simmer for a few minutes stirring and scraping up any brown bites from bottom of pan.
Stir in cooked pasta and allow to everything to heat up. Stir in ½ the bocconcini or shredded mozzarella then top with the remaining cheese.
Transfer hot pan into the oven and bake just until cheese is melted and edges start to brown. (Approx 10 min) Feel free to broil for a few minutes for crispy edges and golden cheese. Remove from oven and serve hot with more cheese and chopped fresh herbs.
Recipe Notes
STOVETOP VERSION: If you prefer to make this all on the stove top - simply place a lid on the skillet after adding the cheese or cover with a sheet of greased foil, and let it heat over medium-low until the cheese is melted. If you want the cheese to brown a bit, place it under your oven's broiler (without a lid) and watch closely until it develops a few browned spots.
MORE CHEESE: If you want to add some dollops of fresh ricotta cheese to the pasta bake before baking feel free too or some like to stir in 1-2 tablespoons of grated Parmesan cheese to the sauce and pasta before adding the shredded mozzarella.
If you prefer to bake pasta in a casserole dish just transfer the pasta and sauce over to a greased baking dish after you have tossed it with the cheese. Top with the remaining cheese and bake as suggested in the recipe.
How to store cooked pasta bakes
Once cool cover whole dish with plastic wrap. Or you can dish out leftovers into containers. Seal well in an airtight container.
Store in the fridge for 3 to 5 days.
Can you freeze pasta bakes
Once pasta is cool, be sure to cover it really well. Whole casseroles can be covered with plastic wrap. Or you can dish out leftovers into containers. Again, be sure to seal really well.
According to most sources you can store in the freezer for up to 1-2 months. How to reheat
If reheating in the microwave always add extra water or sauce. This is true for almost any food.
Reheating in the oven is easy too. Preheat the oven to 350°F. Cover the casserole dish with aluminum foil and bake for about 15  to 20 minutes. Remove the foil and bake for about 10 to 15 minutes longer.
I highly recommend adding about ¼ cup of water or extra sauce to pasta bake before reheating. You can also add extra cheese if desired.