Greek Style Apple Cinnamon Cake (Milopita)
Updated 19th October 2023
Milopita is a Greek apple cake made with apples, olive oil and yogurt. It's generously spiced with cinnamon, not overly sweet and perfect with your morning coffee, your afternoon tea and perfect for dessert. It's so simple to make - bowl and spoon or spatula is all you need. It may seem quite unassuming but the smell of it baking fills the house with fall aromas and you literally can't wait for it to come out of the oven! It's a simple yet elegant dessert perfect for weekday baking or weekend entertaining.
The term milopita, which is written mηλόπιτα in Greek, means "apple cake" - pita means cake or pie. You will find a variety of pastries that will end with this suffix, such as the fanouropita (a cake with spices and nuts), vasilopita (the traditional Greek yogurt cake) or the karydopita/karithopita (the traditional Greek nut cake soaked in syrup). Pita can also be in pie form too - and on the savory side like spanakopita (Greek spinach pie). You get the idea.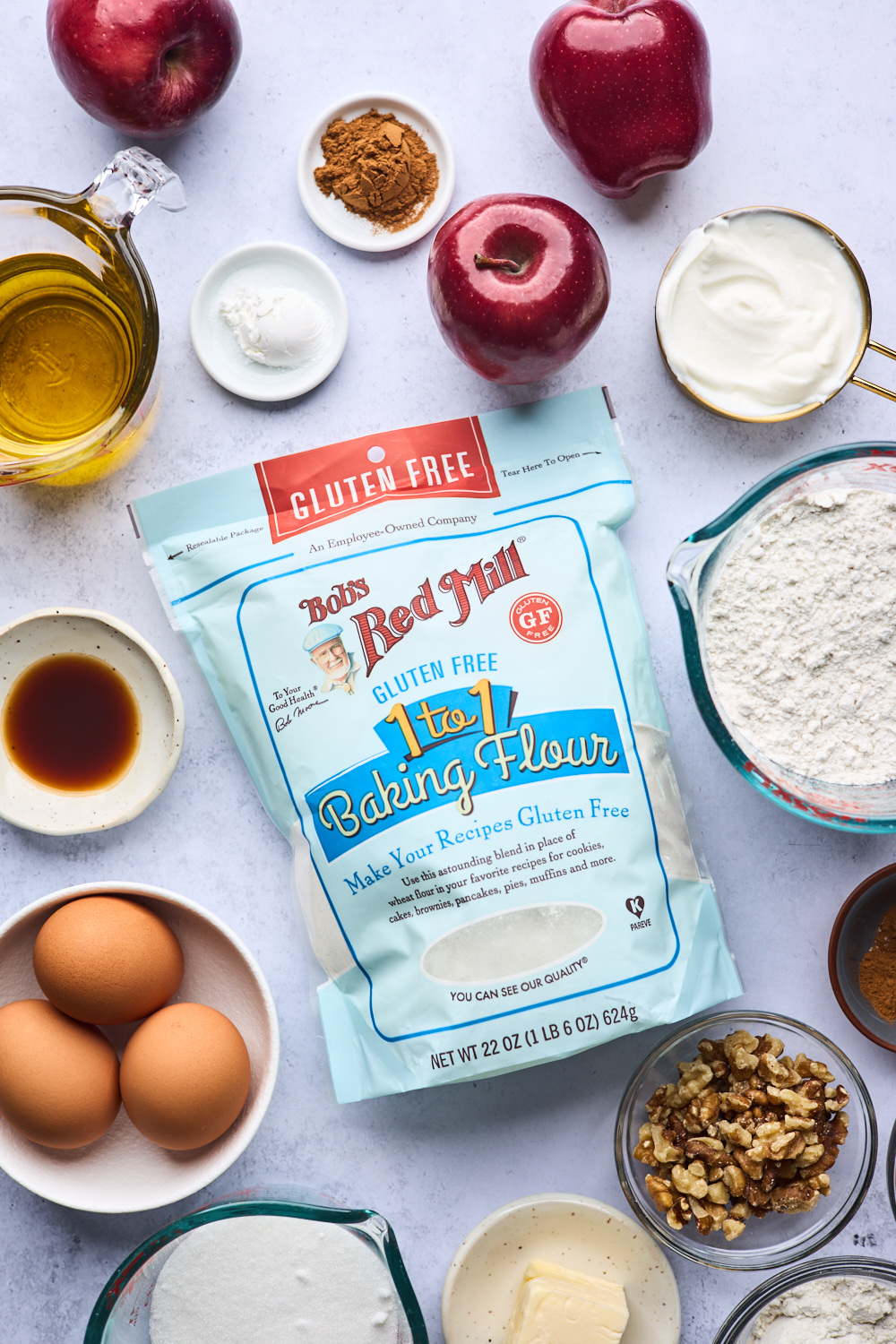 Milopita usually contains eggs, sugar cinnamon, apples and flour. There are so many variations out there. I have tried many and had many flops. Either they end up too dry - not sweet enough, not spiced enough so they end up bland or too soggy that they almost taste under-cooked because of the amount of apples in the cake. I was on a mission to share a simple basic cake that is anything but that when it comes to flavour. It's takes no time to make this cake and it's made with pretty basic pantry ingredients. The streusel or crumble topping is optional but I recommend it as it add sa bit of extra crunch to every bite.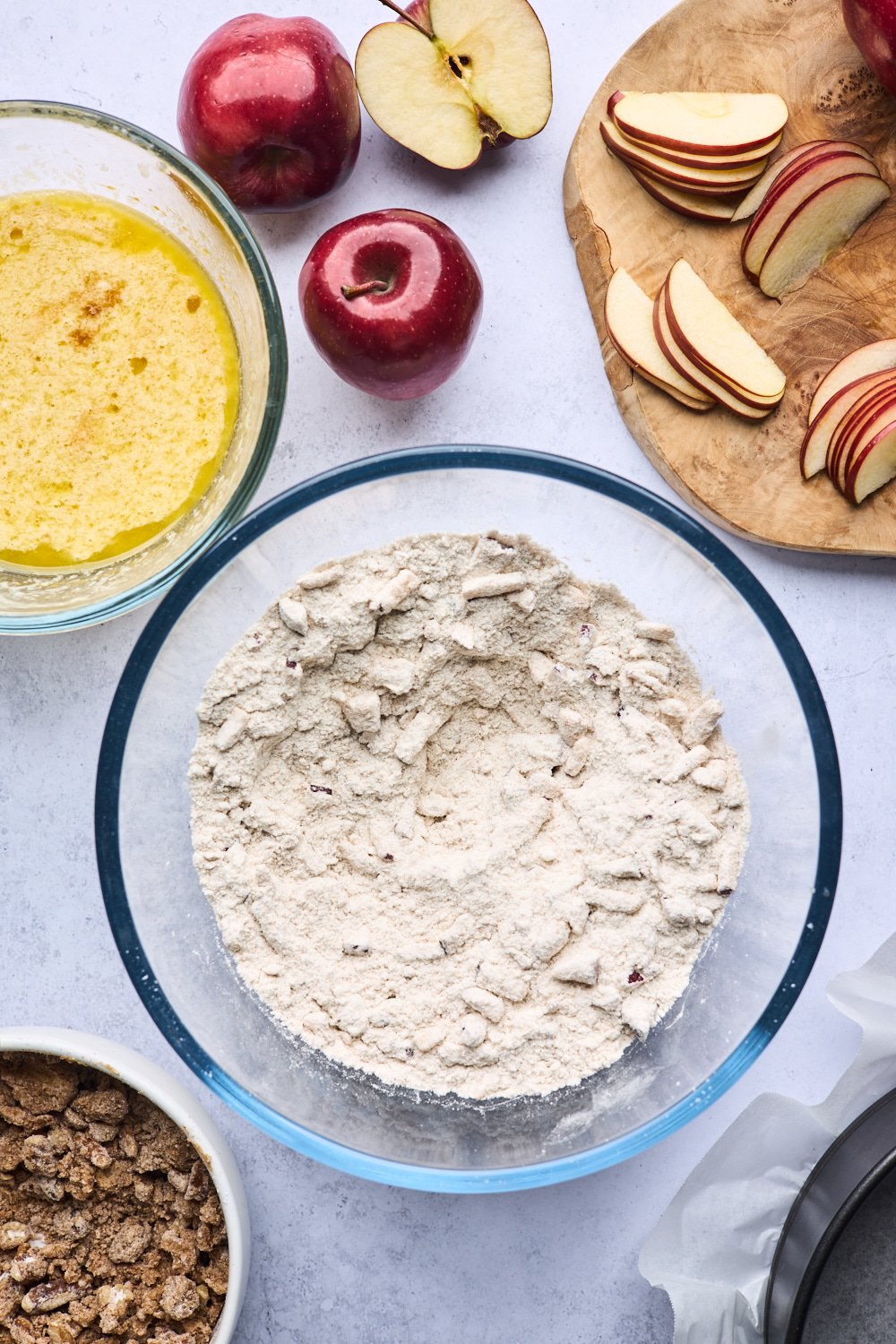 I used olive oil and Greek yoghurt in the apple spice cake because I always have them on hand and I love baking with olive - my vegan chocolate cake is made with olive oil and so is the icing, can't forget my lemon olive oil cake or my orange olive oil cake - both citrus cakes are moist and delicious. I even use olive oil to bake my Salted Olive Oil Chocolate Chunk Cookies and my Vegan Chocolate Chip Cookie Cups. It's definitely not reserved for savoury foods alone.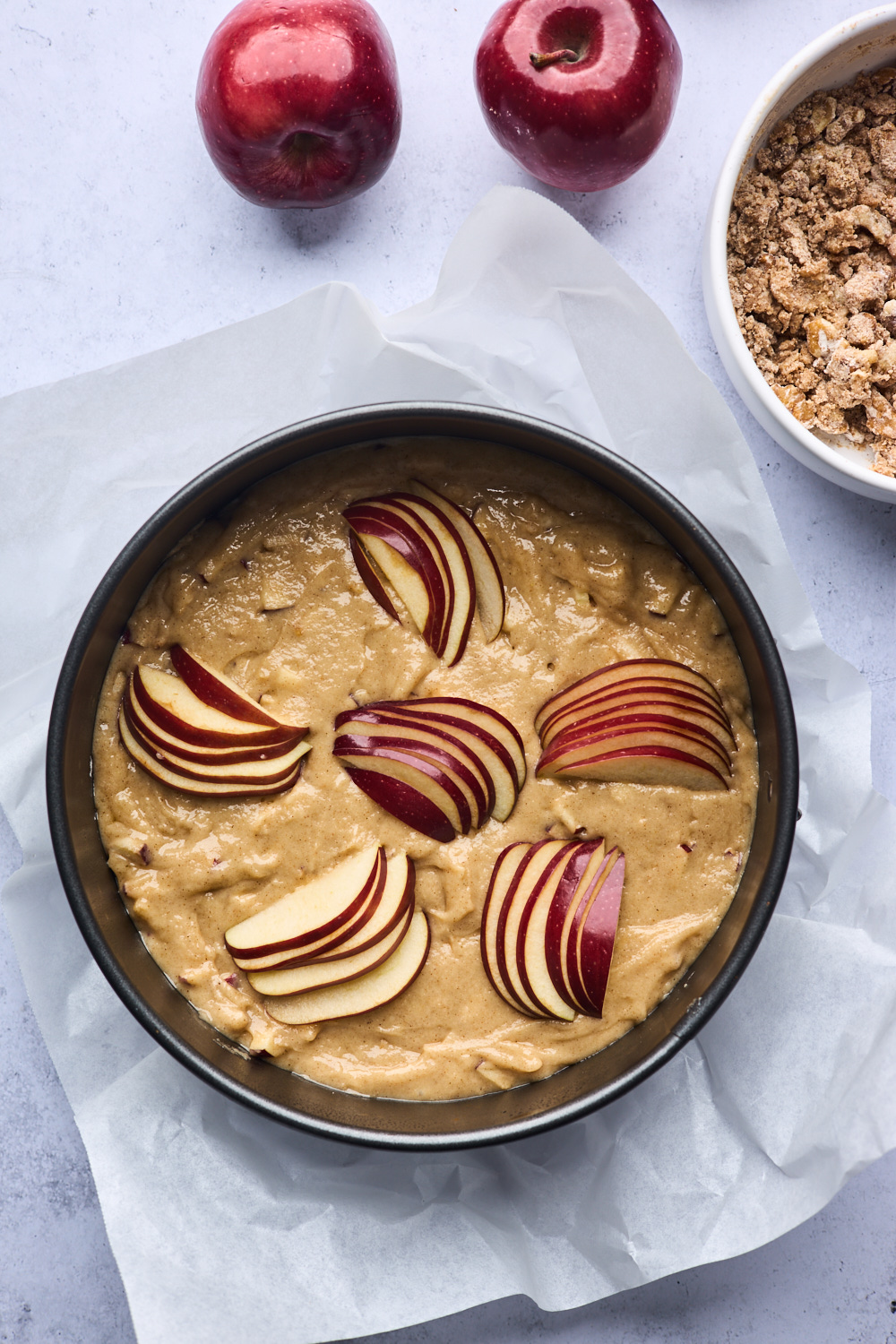 Greek apple cake ingredients
FLOUR: Plain all purpose flour is great here but I made this cake gluten free by simply using Bob's Red Mill Gluten Free 1-1 all purpose flour in its place. I love it and it's my staple go to for converting simple baked goods into gluten free ones. This gluten free all-purpose flour blend/mix is perfectly formulated to create baked goods with terrific taste and texture—no additional specialty ingredients or custom recipes required, making it one of the best flours for gluten free baking. This flour is ideal for cookies, cakes, brownies, muffins and more! Bob's has a whole variety of products for all sorts of dietary needs.
BAKING POWDER: Is the leavening agent in this cake
CINNAMON: I like a good bit of it in my cake but feel free to adjust the amounts accordingly - you can even add more spices to this cake that complement apples like cardamom, nutmeg, or a touch ground cloves. Warming spices work the best in this cake.
SUGAR: Brown or granulated sugar- either work in this cake
APPLES: For apples with a crisp texture and sweet flavour choose from these apple varieties: Gala, Granny Smith apples, Honeycrisp or Golden Delicious apples.
EGGS: Eggs add structure, leavening, color, and flavour to cakes in general this cake included
VANILLA EXTRACT: Basically the perfect back note to every cake or baked good I think - other milopita recipes also call for Greek liquor, usually ouzo, rum or Cognac. Feel free to add a splash if you like for more flavour.
OLIVE OIL: Extra virgin olive oil is quite common in Greek baking but if you want to substitute it you can with any neutral vegetable oil
GREEK YOGHURT: Always a great way to add to a tender most crumb - feel free to substitute it with regular yogurt or sour cream
ADD INS: If you would like to add chopped walnuts or pecan to the batter you can - up to ½ cup chopped.
To Serve (Optional)
Cream
Vanilla Ice Cream
Custard
Greek Yoghurt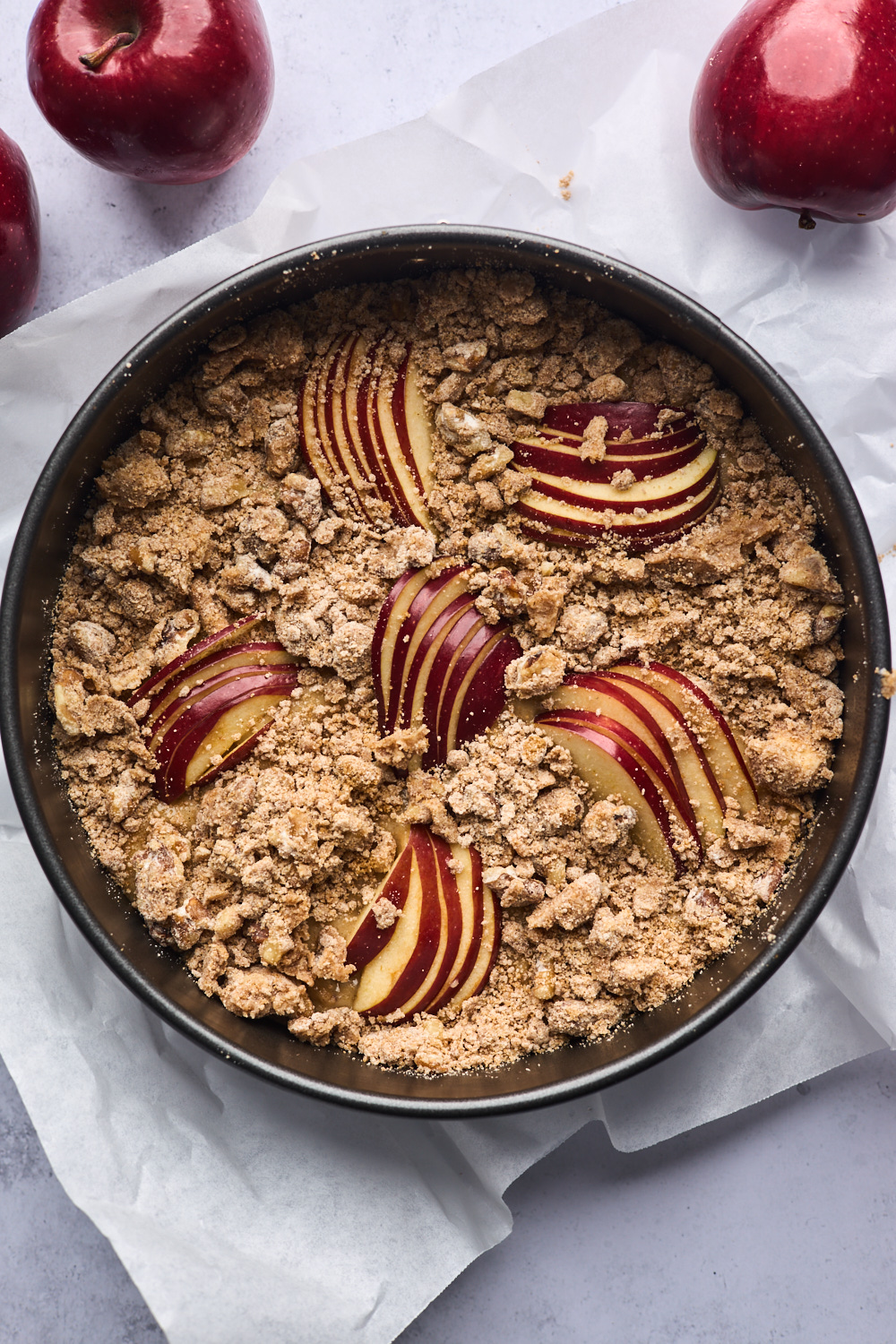 Tips for Making this Greek style Apple Cake (full recipe instructions in recipe below)
This Cinnamon Apple Cake is incredibly easy to make. You only need a bowl and spoon – no need for an electric mixer.
You can use any kind of apple you like, I use red Royal Gala apples. You'll need to peel and then chop your apple into small pieces - I like to slice it into small match sticks – discarding the core.
Mix the dry ingredients with the wet ingredient until combined – try not to over mix.
Use some sliced apples to decorate the top of cake if you wish
The crumble is made using sugar, walnuts or pecans (nuts are optional) and cinnamon. Mix together using softened butter until it clumps like sand. Sprinkle over the top of your cake batter – no need to be perfect here.
Bake until golden and a skewer inserted in the middle comes out clean.
The final touch? Just a simple dusting of powdered sugar. Enjoy!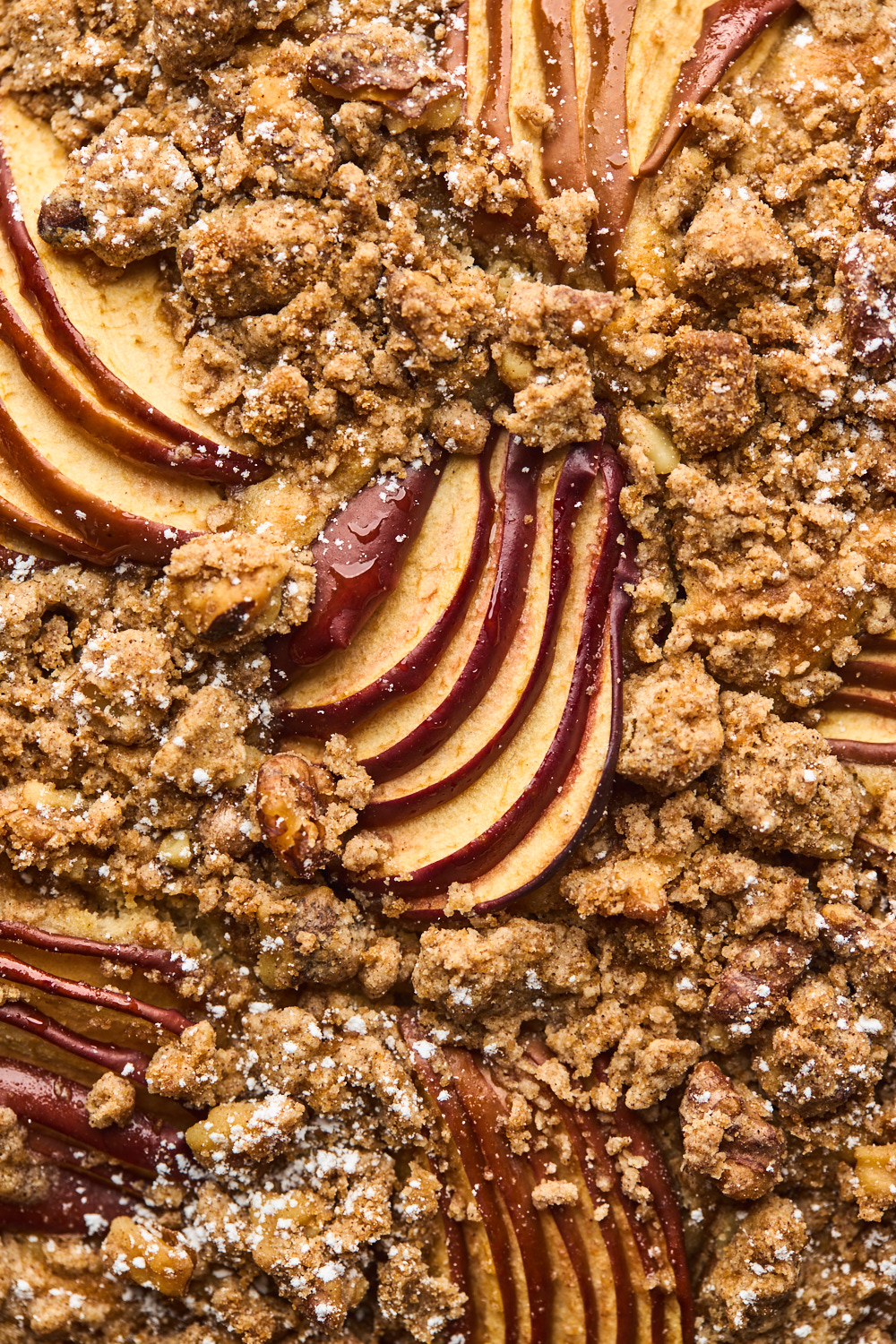 Here are some other apple desserts you might love: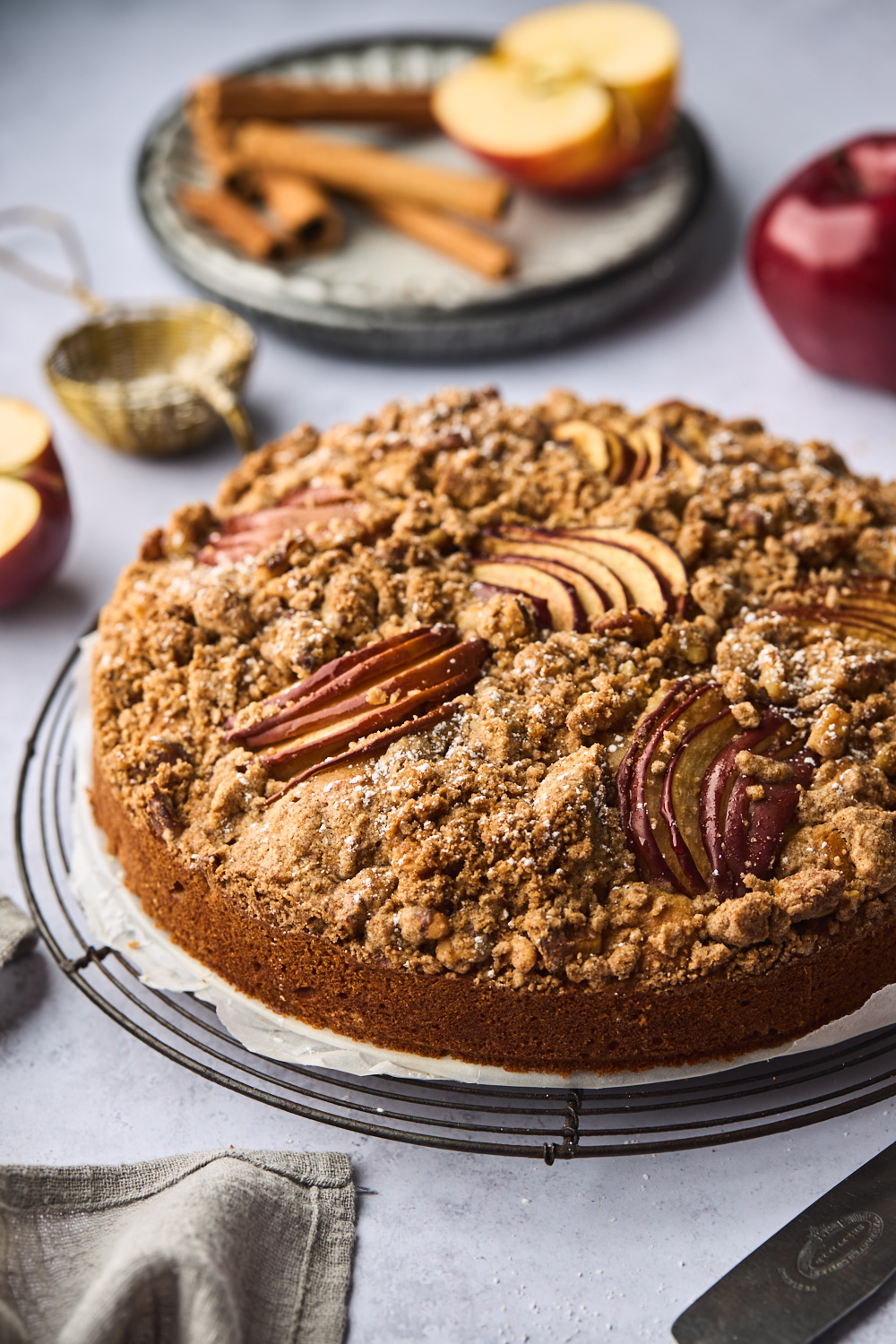 I have partnered up with Bob's Red Mill to bring you this fabulous recipe, but all opinions are my own. Thank you for supporting Olive & Mango.
Recipe
Prep Time: 15-20 mins
Cook Time: 35-65 mins
Apple cake
1½ cups (approx 210 grams) Bob's Red Mill Gluten Free 1-1 all purpose flour, or plain all purpose flour

1 teaspoon baking powder

1 teaspoon cinnamon

Pinch of salt

¾ cup (approx 150 grams) granulated sugar

1 cup (approximately 1 large) apple, chopped fine - peeled or unpeeled is fine

3 large eggs

1 teaspoon vanilla extract

½ cup (120 ml) olive oil or any neutral vegetable oil

½ cup (120 ml) Greek yogurt
Crumble topping
⅓ cup (35g) walnuts or pecans

¼ cup (30g) gluten-free all purpose flour or plain all purpose flour

2 tablespoons (30g) butter, softened

2 tablespoons (20g) brown sugar

½ teaspoon ground cinnamon

1 medium-size apple, sliced thinly
To serve (optional)
powdered sugar for dusting
Directions
Preheat oven to 350°F and grease and line an 8 or 9 inch round cake tin/baking pan or 1 loaf pan with parchment paper.
To prepare the crumble topping
In a medium bowl, add all the crumble ingredients.
Mix with a spoon or your fingertips until combined and there are no more pockets of butter or flour and you have pea size crumbles.
To make the cake
Add all the dry ingredients to a large mixing bowl and whisk until there are no lumps. Add apples and toss to combine.
Add all of the wet ingredients to a large bowl and whisk enough to combine.
Add the wet ingredients to the dry mixture and mix or fold until combined - do not over mix. The batter should be thick but still pourable.
Pour the cake batter into prepared pan and smooth the top with back end of a spoon or spatula.
To assemble and bake
Arrange the thinly sliced apple on the top of the cake in 'fan' shapes or as desired. Scatter the crumble in the gaps on top of the cake.
Bake the cake in the oven for 30-35 minutes for 9 inch cake and 40-50 min for 8 inch pan, or 60-70 min in a loaf pan or until a skewer can be inserted into the middle and there is no wet batter on it. The cake is very moist and there might be some crumbs on the skewer which is fine. If the cake is browning too quickly at any point, cover it with a piece of aluminum foil.
Allow the cake cool in pan for 5-10 minutes. Remove the cake from the tin and dust with powered sugar if desired. Serve and enjoy!
The cake can be kept at room temperature for 1 day or in an airtight container in the fridge for 3 days.
Recipe Notes
This cake can also be baked in a standard loaf pan but be sure to bake it longer. It usually takes 60-70 min in a loaf pan - I would check it close to the 1 hour mark as ovens vary.
When combining the wet and dry ingredients stir just until no traces of flour are visible. A few lumps are normal, avoid over stirring in order to ensure the best texture.
The crumb of this cake is very moist, this is normal.
Other types of oil may be used in place of olive oil, like canola oil, coconut, vegetable or sunflower oil.
Feel free to double the amount of cinnamon for a more pronounced cinnamon flavour. Or add nutmeg cardamom or even clove for a more spiced flavour.
Try adding a handful of chopped nuts such as pecans or walnuts right into the batter for crunchy texture.