Greek Style Green Bean Salad
This Greek Greek bean salad with tomatoes feta, olives and fresh herbs tossed in a Greek style dressing is a flavorful addition to your dinner or BBQ. It comes together with just a handful of ingredients and so quickly. Bright fresh flavours are perfect with fresh green beans but can also be made with frozen if that is all you have. Makes a great side and the salad itself holds up well after it's dressed, making it perfect for lunch boxes a picnic or potluck too.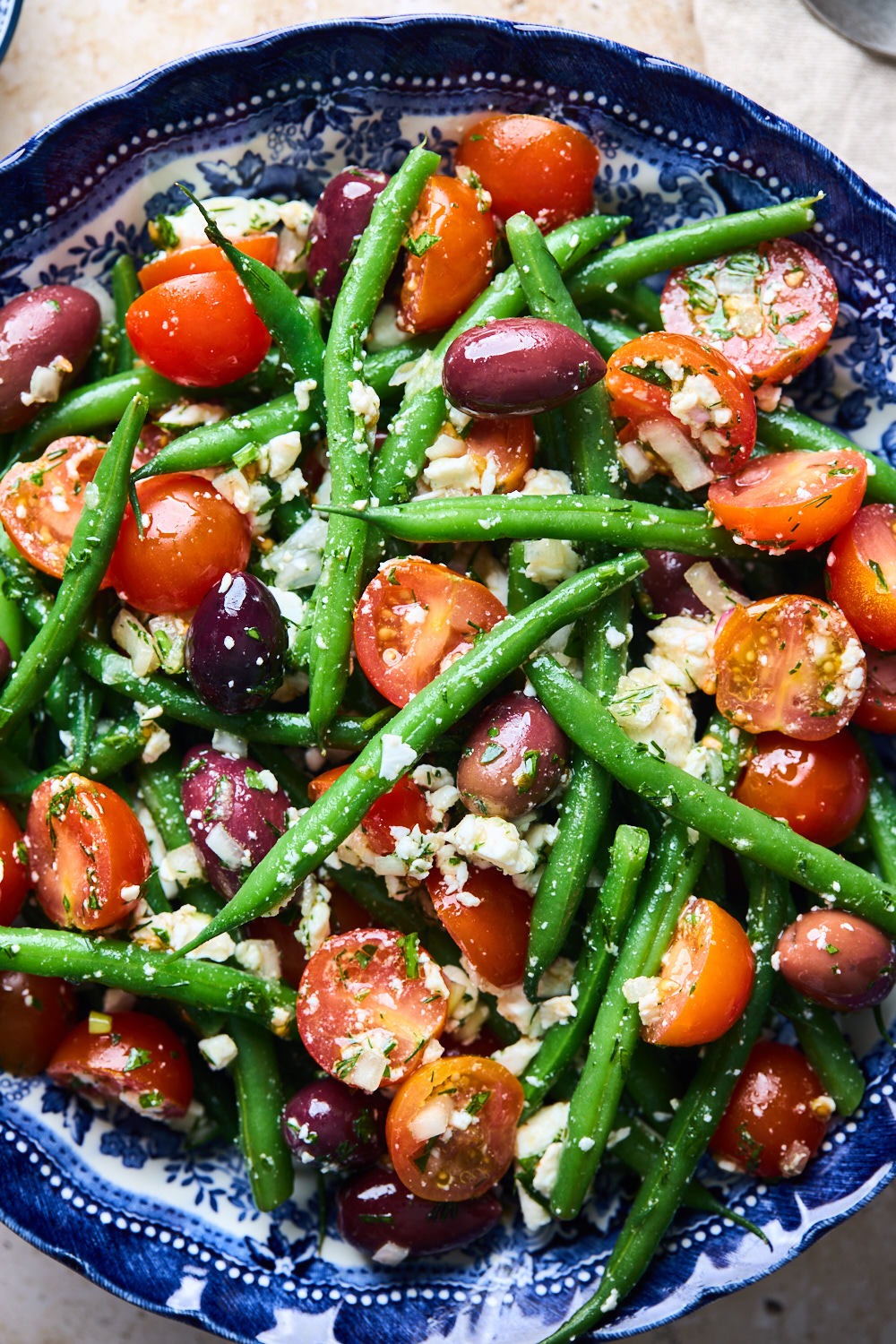 Greek green bean salad ingredients
This salad is made up of a very tasty combination of textures and flavours. Tender crisp green beans, juicy cherry tomatoes, salty  olives, sprinkling of shallots and creamy tangy of feta, tossed with a classic lemon salad dressing. Let's break it down:
Green Beans: fresh is always best. Make sure to wash them and trim the ends as needed.  You can definitely use frozen if that is all you have available - see recipe notes for details about that. I like to keep mine whole but feel free to chop them up into bite size pieces.
Tomatoes: I love to use cherry or grape tomatoes for this recipe but really you can use any variety you like. Just slice them into bite size pieces.
Olives: I love a classic Kalamata but any variety works well here. You can use pitted or unpitted it's up to you - clearly pitted makes for easier eating. You can slice them in half or leave them whole.
Shallots: I love shallots in salads. They are so much more milder and sweeter tasting than regular onions. If you would like an alternative I would suggest red onions.
Feta: I love the tangy creamy flavour it adds to this salad but you could omit if you want a plant based version or use a vegan one if you prefer.
Fresh Herbs: Fresh herbs do wonders to just about any salad and I love the dill and parsley combo it adds a nice freshness to the salad that I think you will love.  Feel free to sub them out for different ones if you prefer.
Lemon juice: Freshly squeezed is always best. But you can also use red wine vinegar, apple cider or balsamic.
Extra add ins: Feel free to add some toasted almonds or Pepitas for some extra crunch or even some chopped green peppers or greens like baby kale or spinach for added veggies.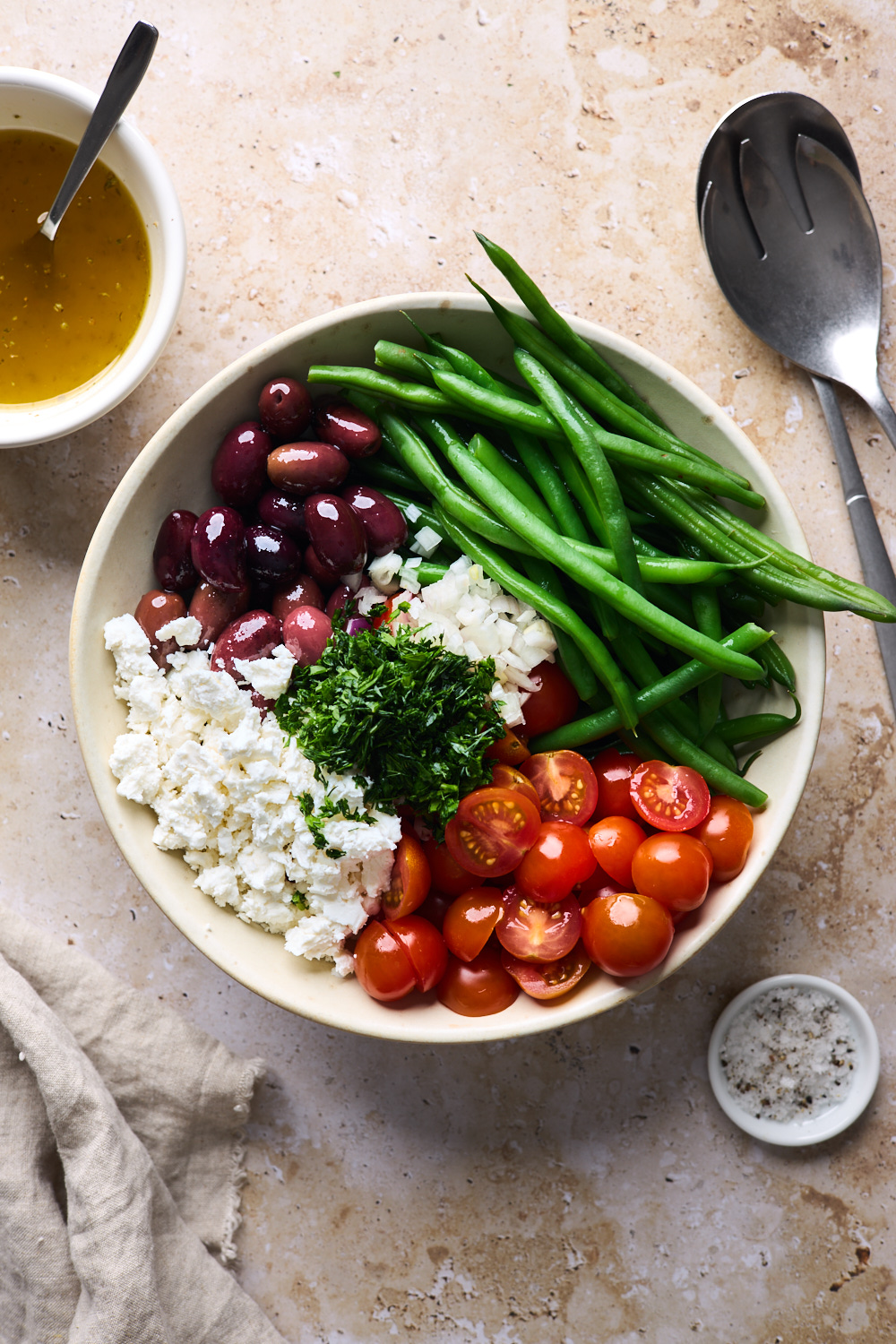 How do you make green bean salad?
This is such an easy and satisfying salad to make - it will definitely be on repeat. Start by blanching the green beans. The combine the green beans with thinly sliced shallots, cherry tomatoes, feta cheese, olives and herbs. Then a homemade Greek dressing goes over the top and tossed into the salad. And that is it. It takes only minutes to make and can even be made ahead - see recipe notes below about that.
How to blanch green beans
What is blanching? It's a heat-and-cool process that plunges a vegetable into boiling water for a short amount of time before transferring it to an ice bath, which quickly stops the cooking. This blanching technique gives you beans that are their absolute brightest, without the slightest bit of wrinkling or mushiness. The hot water brings out the vibrant green hue while the icy cold water shocks the beans and halts their cooking process. Why this works for this salad is that you want the green beans partially cooked but to remain crisp to hold up to the dressing.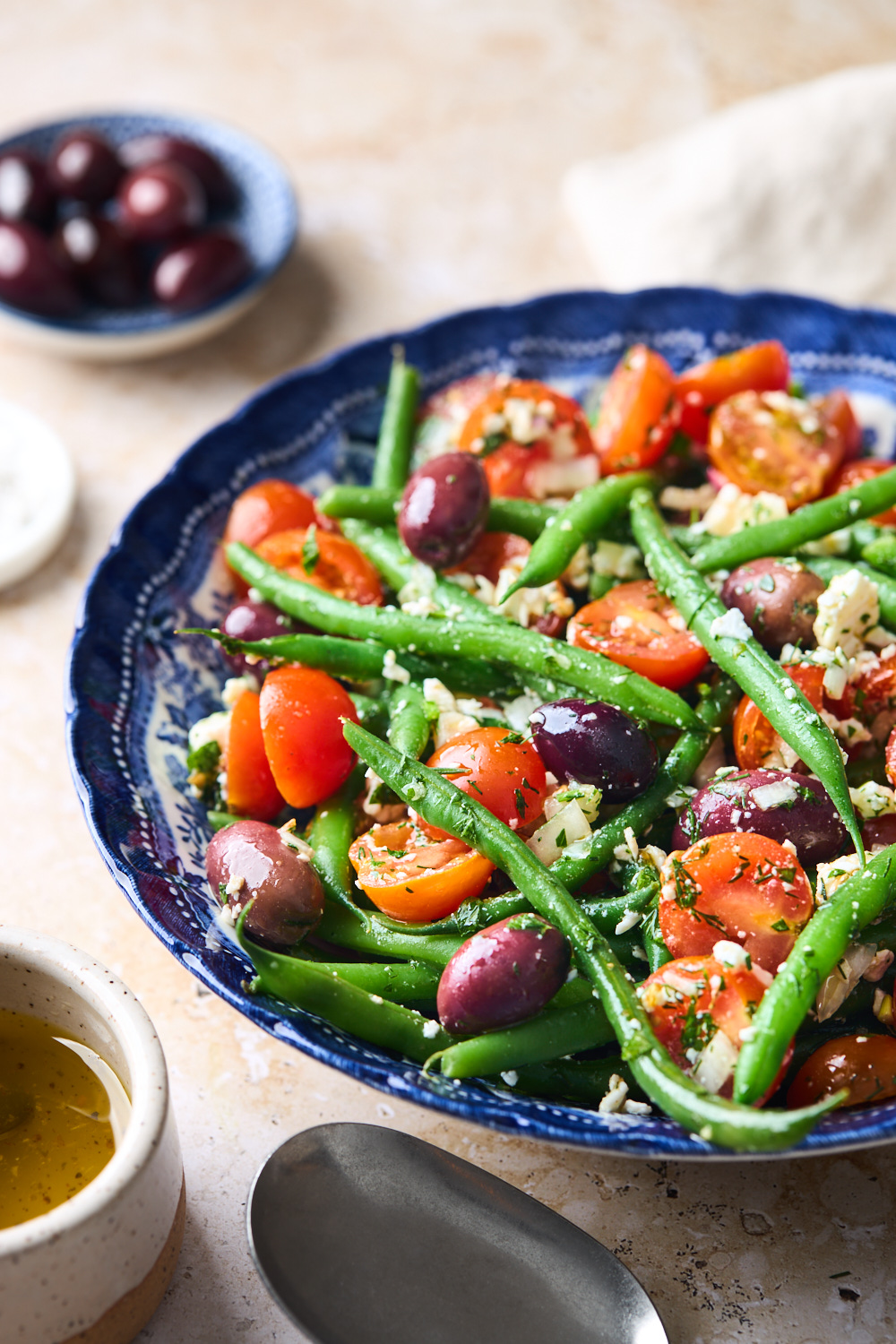 If you like this recipe you will want to check out these ones as well:
Recipe
Prep Time: 10 mins
Cook Time: 5 mins
Ingredients
For the Salad
1 lb green beans trimmed and blanched (I leave them whole but feel free to chop them)

½ lb grape or cherry tomatoes slice din half  (feel free to use any type of tomatoes you like)

½ cup Kalamata olives

1 shallot peeled and minced

¼ cup combination of chopped fresh dill and parsley

¼ cup feta crumbled
For the Dressing
¼ cup olive oil

1 teaspoon Dijon mustard

2-3 Tablespoons of lemon juice

1 clove of garlic peeled and grated

Salt and pepper to taste

½ Teaspoon honey or maple syrup (optional)

¼ Teaspoon oregano
Directions
Bring a large pot of lightly salted water to boil and cook beans for just a few minutes then drain them and place them in a ice water bath to stop the cooking process immediately. You want them tender crisp
Drain and pat dry and add to a bowl. Add the tomatoes, shallots, feta, olives and fresh herbs to the bowl.
Mix the dressing ingredients together and pour over the salad and toss well to combine and coat.  
Serve and enjoy!
Recipe Notes
Make Ahead directions: The green beans, feta, shallots and olives can be marinated ahead of time for up to 24 hours before serving. The tomatoes and herbs should be added just before serving. Leftover salad can be kept in the fridge for up to 24 hours. Note though that the tomatoes will become a little soft and mushy if kept for longer than that. The dressing can be made up to 5 days ahead and stored in the fridge is a sealed container.
Using Frozen green beans: If you plan on using frozen green beans just blanch or cook them for a little extra time to make sure they are tender enough. And because frozen ones can get a little water logged make sure to drain and pat them dry well.