Greek Style Grilled Chicken Wings
Time to fire up the grill and toss on these simple Greek grilled chicken wings marinated in lemon, garlic and oregano. A shareable and simple recipe that is perfect for backyard bbqs and cookouts. I'm using the basic flavours you'd find in my classic chicken souvlaki  but in wing form. They are marinated then grilled to perfection and served with a simple tzatziki sauce - I strongly recommend my easy homemade made version, extra lemon wedges and sprinkled with feta and fresh chopped herbs. No grill - no problem! I have you covered with grill pan or oven broiled directions below.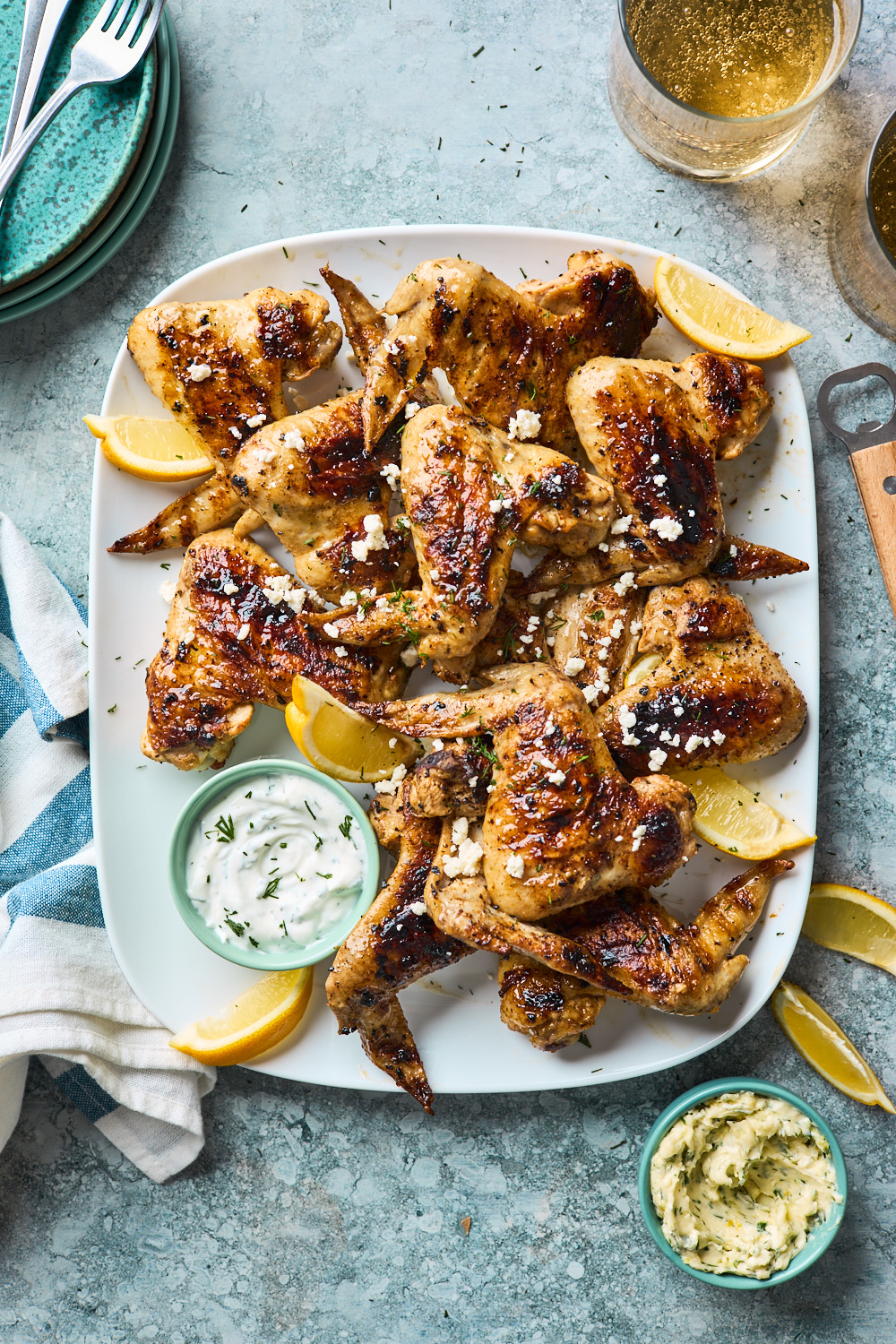 I also serve mine with a tasty Greek Style compound butter. You might ask - why the compound butter? Well I saw it used In a recent Food & Drink issue and thought it would be perfect with wings - Giving them extra flavour and savoury richness. If you have even made my Grilled Party Wings With Cholula Butter or my Lemon Garlic Parmesan Baked Chicken Wings you will notice that in both of those recipes, the wings get finished off tossed in a garlic herb butter. Are you starting to see the connection?!? Yes the compound butter is a bit extra but I promise you that you will love it and if you do make it you will love using any leftovers with so many other things - all the delicious ways to use it are listed in recipe notes below.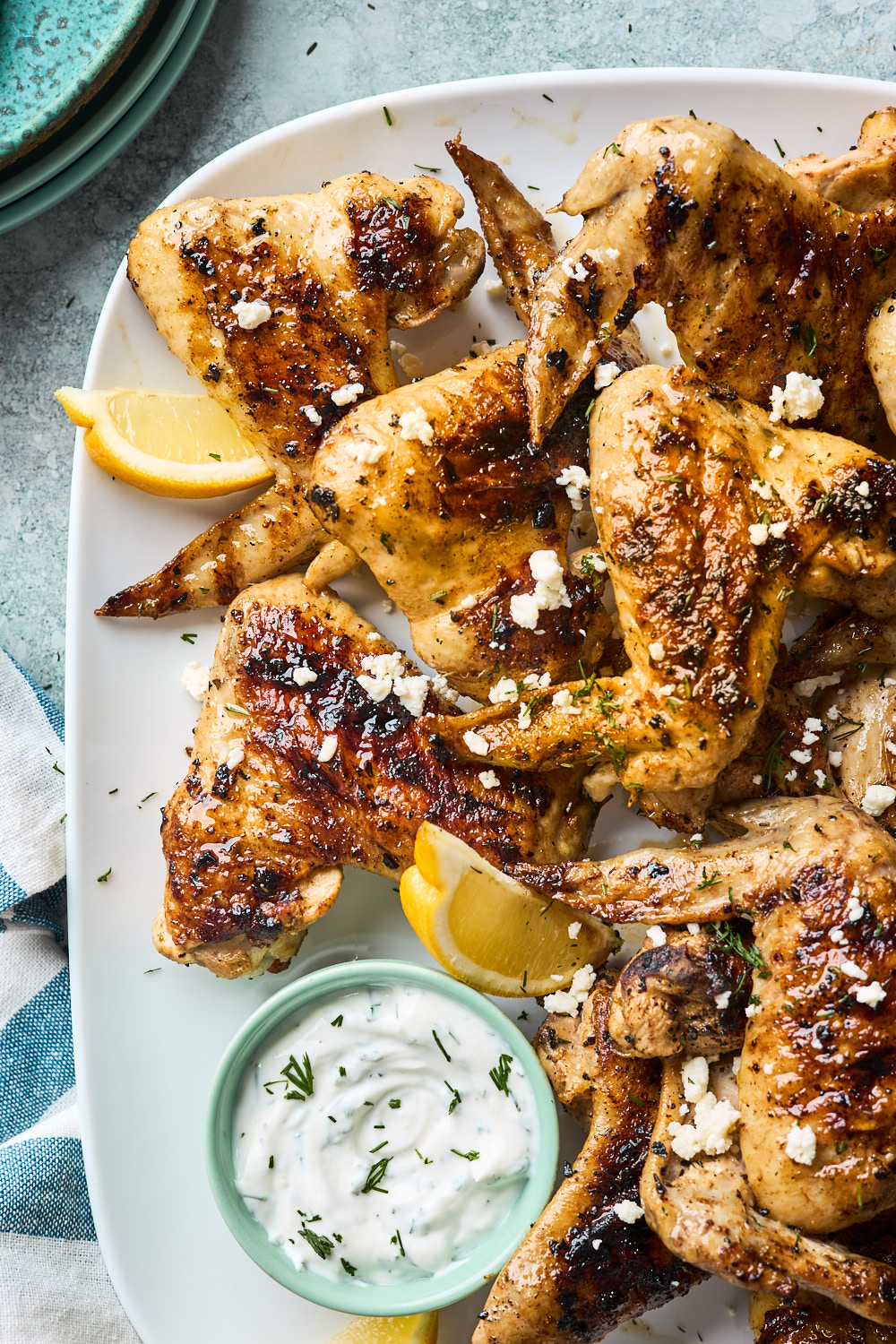 How to grill the tastiest wings:
Get the low-down on how to grill wings. It's super-easy and they are so totally delicious. Here are 4 basic steps to grilling the tastiest wings:
Step 1 - Marinate - get beautifully flavored and infused wings by marinating them.  I usually prep mine and marinate them overnight but even 1 hour of marinating will help add loads of flavour.
Step 2 - Once ready to grill, preheat grill to Med-high heat and grease grates. Place wings on hot spot or over direct heat turning wings often to evenly brown and sear them. If you are using a grill pan do this with the pan uncovered. Your whole pan will be hot so it's all good grilling real estate.
Step 3 - Once browned on all sides, move the wings over to the cool side of the grill (or off direct heat) to finish cooking them through. Place the lid on the grill and let them cook until the wings reach a safe internal temperature of 165°F. Usually it takes an extra 10-15 minutes longer after you have seared them to cook them through. With the grill pan I usually lower the heat to medium and use a stainless steal dome shaped bowl to cover them or just a stainless steel lid to cover  them - the bowl is a cool idea I got from this excellent article from Epicurious - How to Grill Indoors With a Cast-Iron Grill Pan
Step 4 - Enjoy hot off the grill with a dipping sauce or toss them in some softened compound herb butter before serving or do both.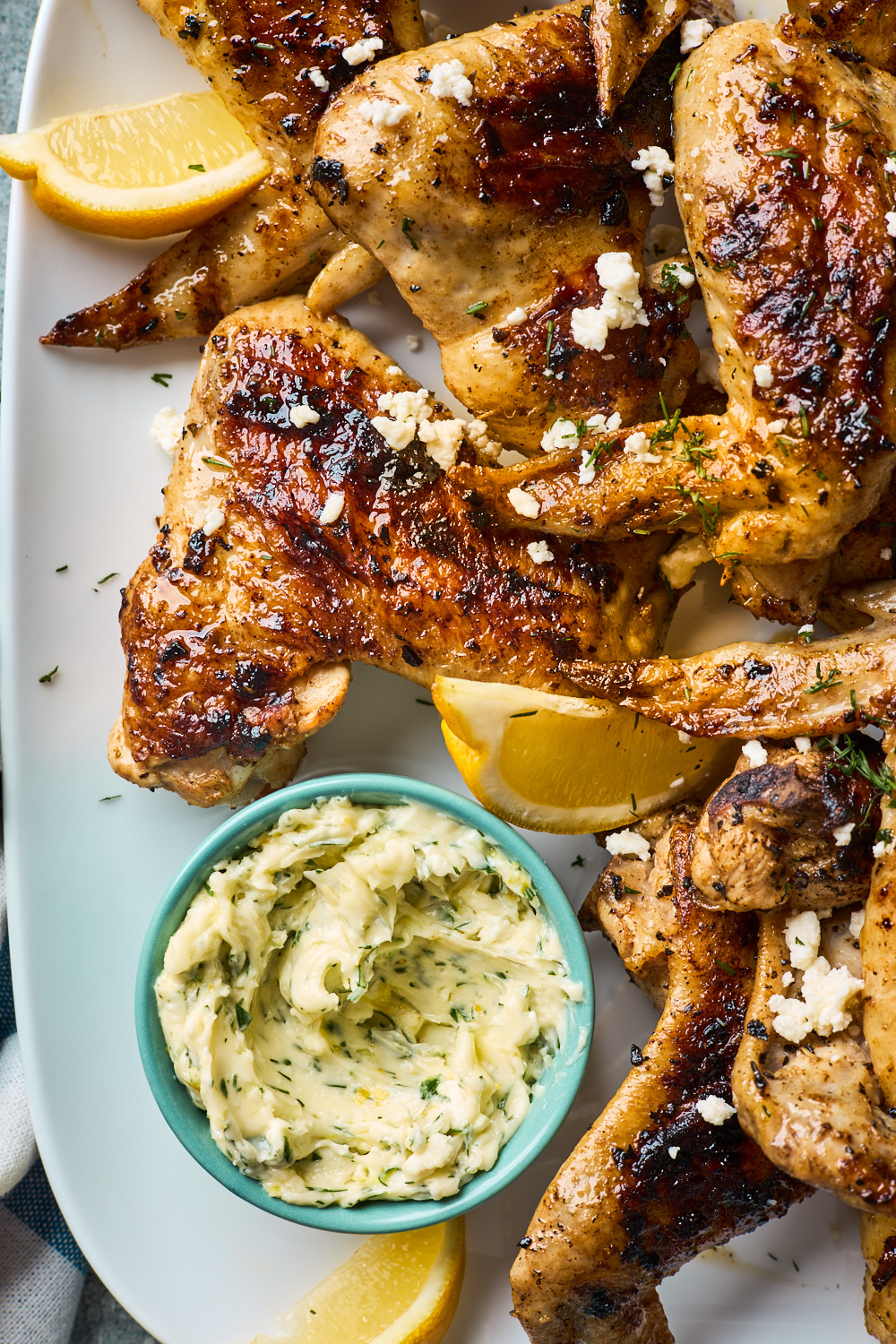 If you liked this wing recipe you will love these recipes too:
Recipe
Prep Time: 10 mins
Grill Time: 25 mins
Non Active time: 1-2 hours or more for marinating
Ingredients
Juice and zest of 1 large lemon, plus more lemon wedges for serving

3 cloves of garlic, peeled

1 small shallot peeled and roughly chopped

3 tablespoons extra-virgin olive oil

3 tablespoons red wine vinegar

1 teaspoon paprika

1½ tablespoons dried oregano

2 lbs whole chicken wings

Salt and pepper to taste

Vegetable oil, for oiling the grill grates
For the Greek compound butter (optional)
½ cup butter softened
1 teaspoon Lemon zest
1 clove of garlic peeled and minced
2 tablespoons chopped fresh Dill
For serving
Tzatziki (my Easy homemade recipe is so tasty - I strongly recommend)
Crumbled feta
Fresh chopped herbs - parsley, mint, or dill or combo of all of them
Directions
Make Greek style compound butter if using: Mix all the ingredients to combine,  place in plastic wrap and roll and twist ends to make sausage and then store in the fridge. I like to toss my wings hot off the grill in 1-2 tablespoons of softened compound butter before serving but that is optional. More uses for it in recipe notes below.
Make marinade: Combine the lemon juice, zest garlic and Shallot in a blender or mini chopper and blend until smooth. Add the olive oil, red wine vinegar, oregano, salt and pepper and blend until evenly combined. Pour the marinade into a large bowl or sealable bag and add the chicken wings. Toss to coat evenly, then cover with plastic wrap or seal and refrigerate for at least 1 hour or up to overnight.
Grill: Preheat grill or grill pan to medium heat. Lightly brush the grill grates or pan with vegetable oil, then grill the chicken wings, turning often to prevent burning, until golden brown, lightly charred at the edges and cooked through, about 25 minutes.
Transfer the wings to a serving platter (or toss with 1-2 tablespoons of softened compound butter first if using) and sprinkle with crumbled feta and fresh herbs. Serve immediately with tzatziki and with lemon wedges on the side.
Recipe Notes
No grill grilled chicken wings: No grill or grill pan - no problem!! Here is a great way to get that grilled flavour but in the oven by simply broiling your chicken wings. Season and marinate wings as stated in recipe above then place wings on greased baking sheet or greased foil lined baking sheet and place under the broiler (not too close to the broiler, otherwise the wings will burn - typically your rack should be 1 or 2 down from the top!) Broil the wings for about 20 to 25 minutes, turning occasionally, until the skin is crisp and juices run clear. Remove the wings from the oven once done, let them rest for about 10 minutes and serve.
Compound butter uses. The compound butter is amazing for tossing your wings in after they are grilled but it's also so delicious with so many other things too! It's great for rubbing onto meats before they roast (thick roasted chicken with this Robbie's over and under its skin) or patting a knob of it on after they are grilled (think juicy steak finished off in butter sauce or with some of it served on top of it when it's plated). It's also great with veggies!! Tossing green beans in it is wonderful or smearing it all over grilled corn is amazing too. It's great for garlic bread and in mashed potatoes or tossing your grilled potatoes in it - or roasting them with it too! Simply serving it with dinner rolls works too! You see -  the possibilities are endless and delicious!!