Green Chile Chicken Enchiladas
Updated 15th October 2023
These green chili chicken enchiladas are creamy, cheesy and full of flavor! This green Chile Chicken Enchiladas recipe is very easy to put together, they are full of flavour and super satisfyingly rich, cheesy, and creamy. This recipe is an absolute favorite on our list and is requested by anyone who tries it and its always a hit with kids too. The tortillas stuffed with chicken, cheese, green chiles, corn, and spinach topped with a delicious Chile cream sauce and cheese! There are many variations out there of these white green Chile Chicken Enchiladas many use salsa verde or green Chile enchilada sauce but this recipe keeps things simple with a creamy white sauce infused with green chilies and cream to make these delicious enchiladas.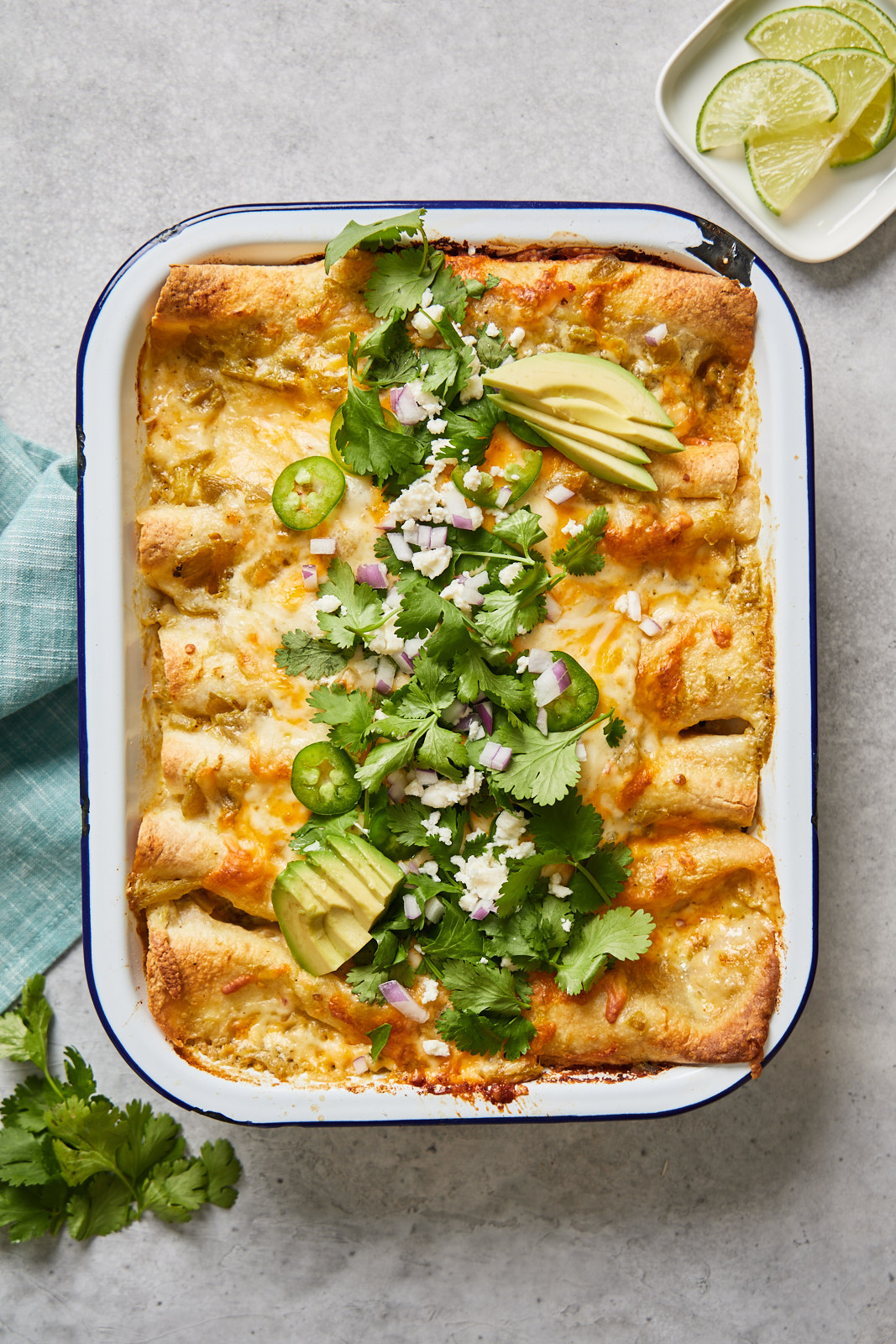 Green Chile Chicken Enchilada Ingredients:
This recipe only calls for a few ingredients, including ( full measurements and details in recipe card below):
TORTILLAS: My personal preference is flour tortillas for this recipe but corn tortillas will work just be sure to heat them up either pan fry on a dry pan or with oil to soften them up so they don't fall apart or tear
CHICKEN: I usually use ground chicken or ground turkey is what I usually use but you can also use or chopped/cubed chicken thighs or chicken breast - or for an even quicker version feel free to use pre shredded chicken leftover cooked and shredded chicken or shredded rotisserie chicken which is always perfect for a quick enchilada casserole. If you prefer to use ground beef as your protein you can use that instead as well.
HEAVY CREAM: I usually use heavy cream, or half and half -this helps create a really rich sauce that thickens up well - evaporated milk will work too but the sauce will not be as rich or creamy. Many recipes call for adding cream of chicken soup for the creaminess but I prefer the texture and flavour the heavy cream adds to this dish.
ONION & GARLIC: I like to cook the chicken with fresh chopped onion or shallots and garlic but feel free to use onion powder or garlic powder if you are in a pinch just toss them in with the taco seasoning
GREEN CHILES/CHILIES: You will need two cans 4.5 oz cans - feel free to use half green chilies and half salsa verde for an extra tangy version. The green chilies and the cream make your creamy dreamy green enchilada sauce.
CHEESE: Any shredded cheddar cheese you prefer to use in your enchiladas like Monterey Jack cheese, pepper jack cheese, or Tex Mex mix- shred your own for best flavor and texture
TACO SEASONING: A homemade blend can be used (recipe below) or feel free to use a store-bought packet of taco seasoning or your own blend
CORN & SPINACH: I love to add some veggies to my enchiladas and corn and spinach is my favourite combo - use fresh or frozen or canned corn and for the spinach I tend to use frozen chopped spinach that has been thawed and drain well.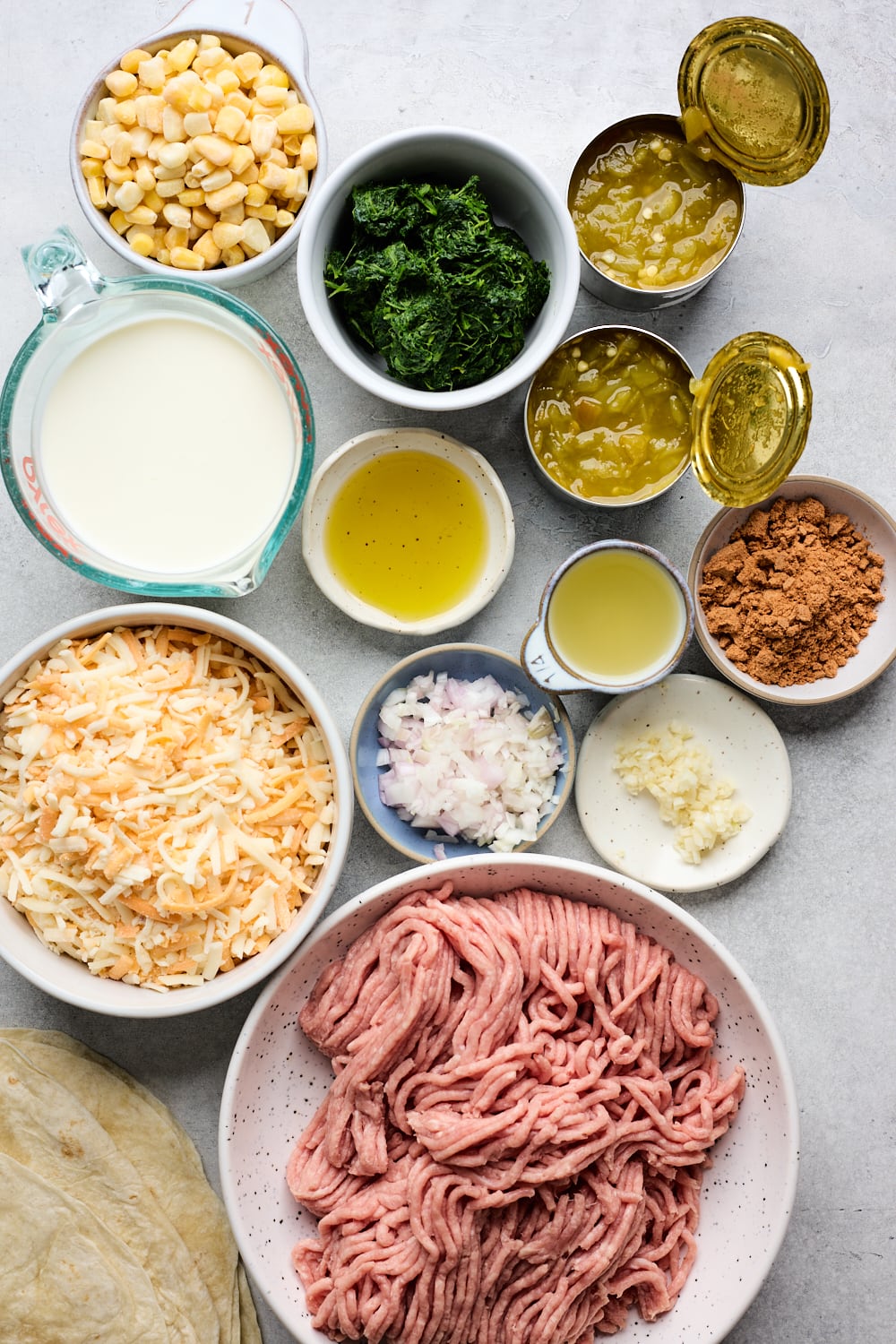 Green Chili Chicken Enchiladas Variations
I love these creamy Enchiladas simple with chicken and cheese and veggies, but you can customize them in SO many different ways:
add black beans, white beans or re-fried beans
add plain rice or cilantro lime rice or sweet potatoes - for a burrito style enchilada
add olives or fire roasted tomatoes
vary the veggies - adding zucchini or another variety of greens, chopped seed peppers etc
use more or less cheese
use flour or corn tortillas
top with all or some of your favs such as sour cream (highly recommend), cilantro, jalapenos, avocados, tomatoes, black olives
add hot sauce to your enchiladas once their baked. I suggest this after-cooking addition so everyone can customize the heat of their own enchiladas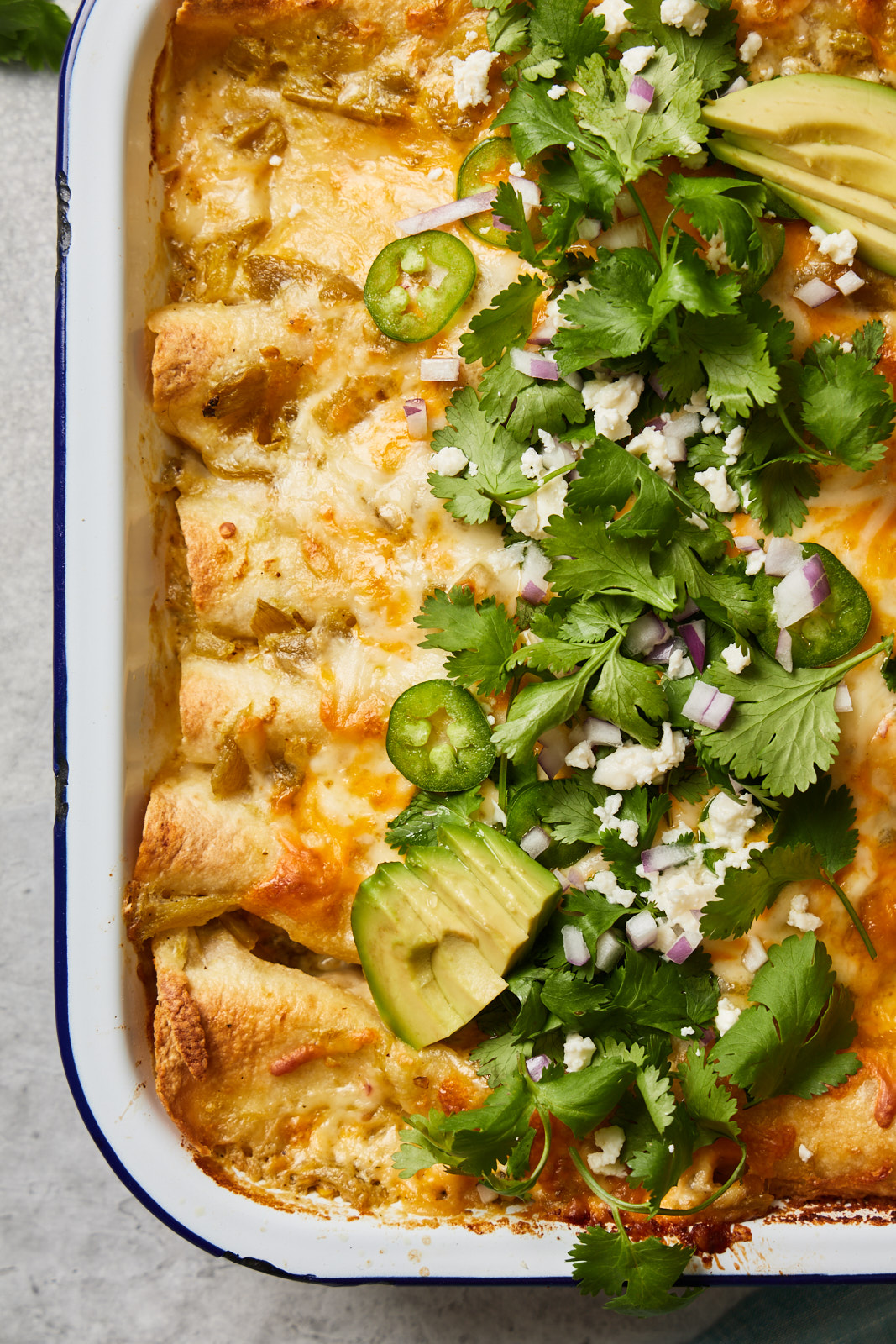 Toppings for Creamy Green Chile Enchiladas
Finish off these creamy green Chile enchiladas with any of the delicious toppings below. I love to add some fresh cilantro and an extra squeeze of lime juice for more flavor. It tastes so fresh and delicious!
Chopped cilantro
Sour cream
Sliced or chopped Avocado
Jalapenos
Squeeze of lime juice
Black olives
Cotija cheese or extra shredded cheese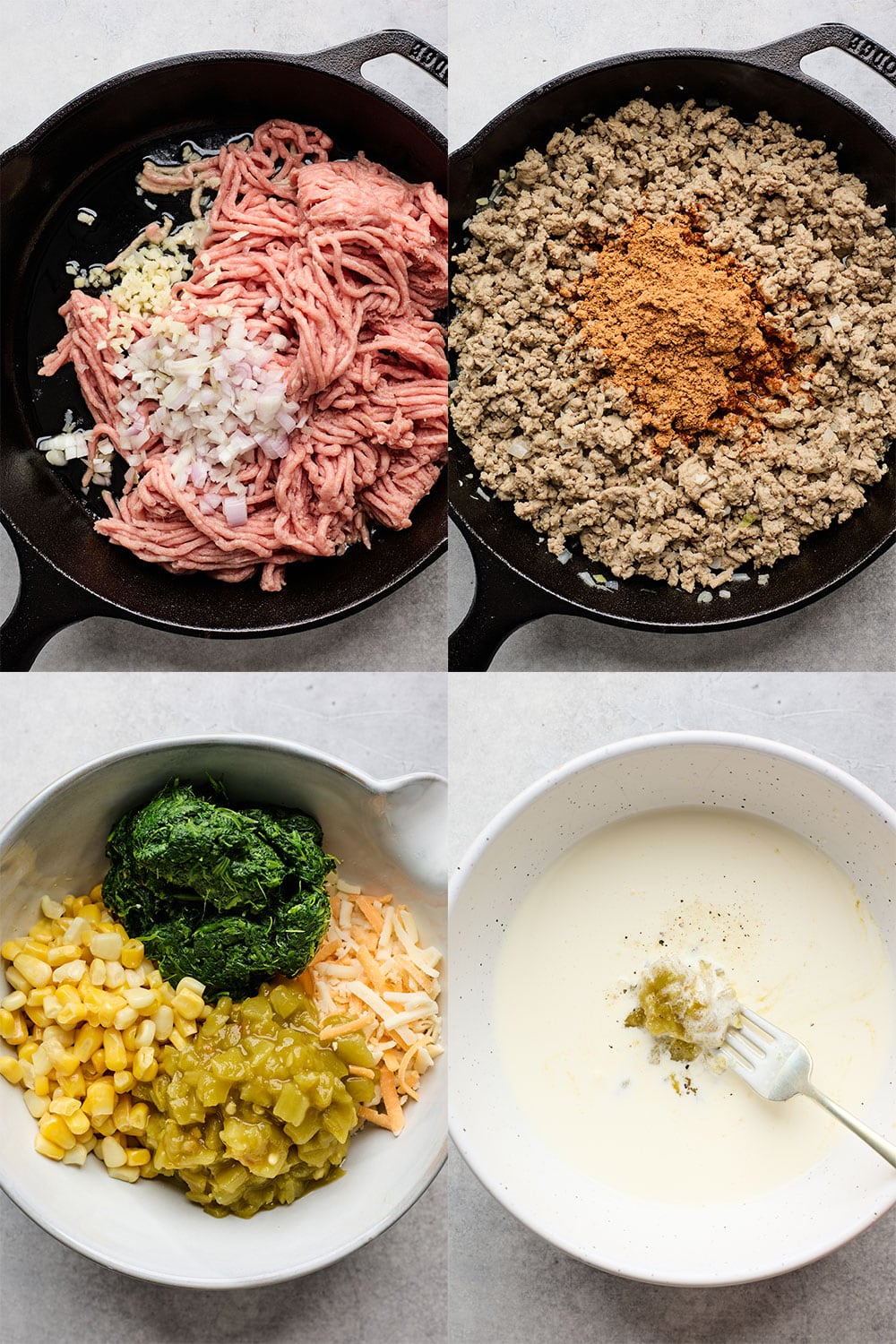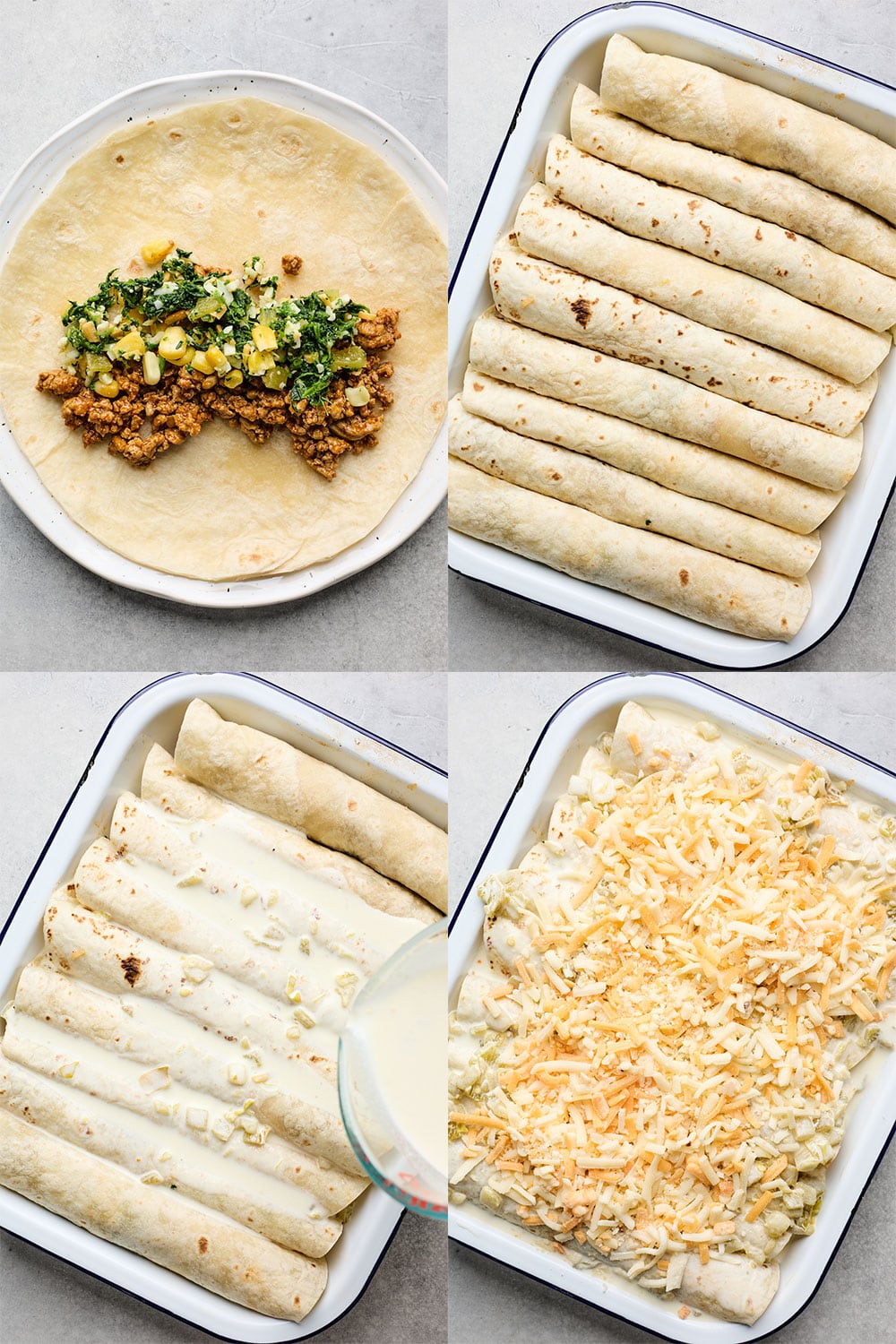 How to Make These Creamy Enchiladas:
I've tried to make these White Green Chile Chicken Enchiladas as simple as possible with both my methods and ingredients so they come together super quickly. Here are the basic steps - full details in recipe card below:
CHICKEN: Cook ground chicken or ground turkey, onion and garlic until cooked through then add the seasonings (if using precooked shredded chicken - add to skillet after the onion and garlic is cooked through and heat through with taco seasoning and water)
VEGGIES: Combine the corn, spinach, 1 cup of the shredded cheese and 1 can of the green chiles
CHILI CREAM SAUCE: combine the heavy cream with reamaining can of green chiles and salt and pepper to taste
TORTILLAS: If using corn tortillas only - Warm the corn tortillas either in a skillet or in microwave to help them soften so they don't tear or fall apart when filling and rolling - if using flour tortillas this is NOT necessary just optional
FILL & ROLL: fill each tortilla each with approx ¼ cup each of the chicken mixture and the veggie mixture then roll place seam facing down into the baking dish
ASSEMBLE: Pour cream sauce over top of the enchiladas top with remaining cheese, adding more to taste
BAKE: cover with foil and bake for about 20 minutes uncover and continue baking 10-15 more minutes until tops are golden and cheese is bubbling
NOTE: Don't overfill. You want the enchiladas to have just enough filling so that they're thick and delicious, but not too much filling. Overfilling the enchiladas can cause the tortilla to burst or the filling to fall out of the sides. Stick to about ¼ cup or 3 Tablespoons of filling per tortilla.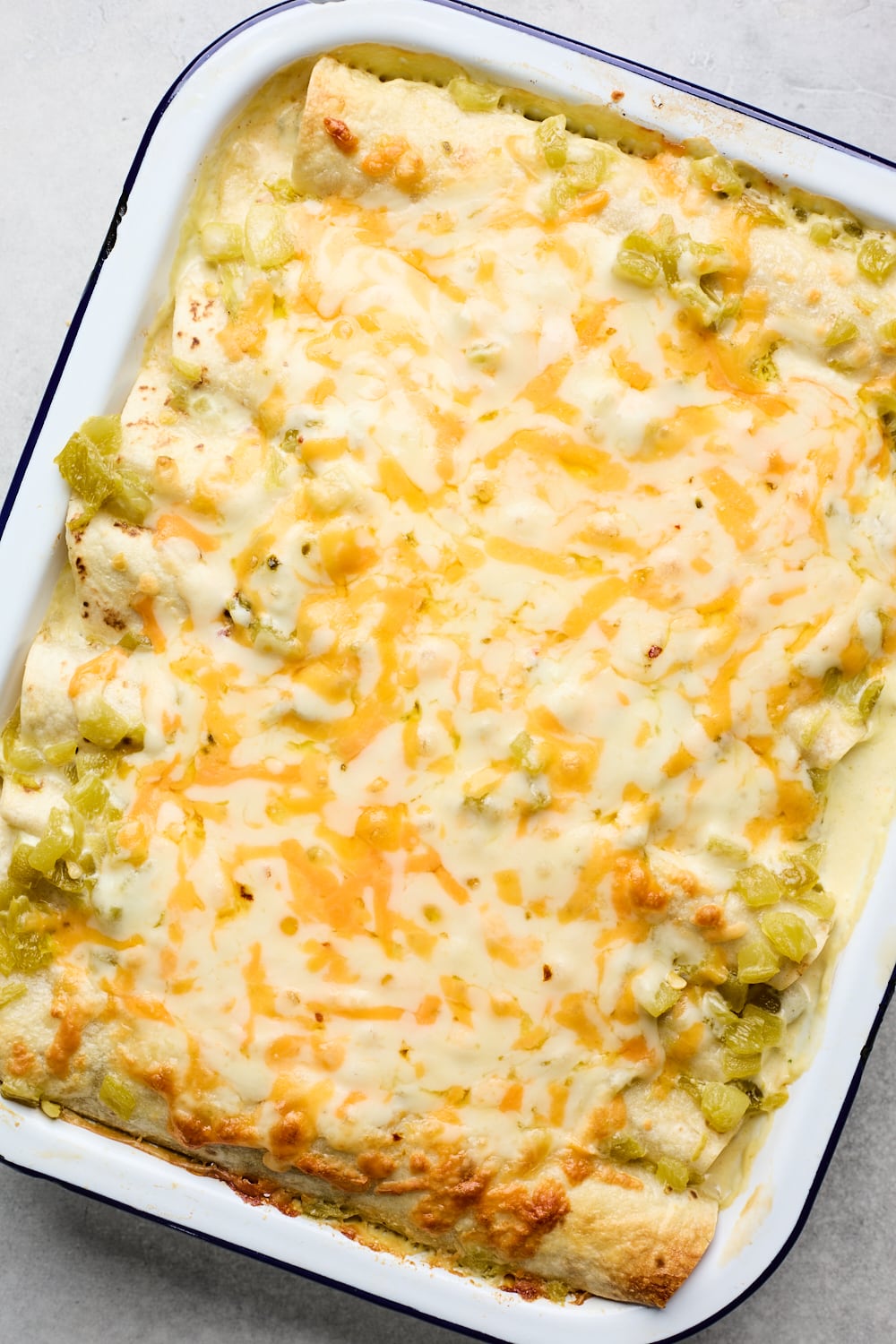 Make Ahead, Storage & Freezing
FREEZING Instructions: Enchiladas always make great freezer meals. It's the perfect dish to make in advance for a busy weeknight. Simply prepare the enchiladas in the pan as directed, however hold off on pouring the sauce over them and the cheese and on baking. Cover tightly with foil or a lid and store in the freezer for up to 2 months. The night before enjoying, remove from the freezer and place in the fridge overnight to thaw. Make the sauce and pour over and sprinkle with cheese then they are ready to bake as directed in the recipe.
__MAKE AHEA__D: Just make the enchiladas as instructed and cover with foil or saran wrap and place in the fridge for up to 24 hours in advance. If you want these to be even better, we suggest not adding the sauce and placing in an air-tight container and pouring this on and along with the cheese before baking.
REHEATING: If stored properly, enchiladas can last in the fridge in an airtight container for up to 2-4 days. Reheat them in the microwave or reheat on a low heat in the oven.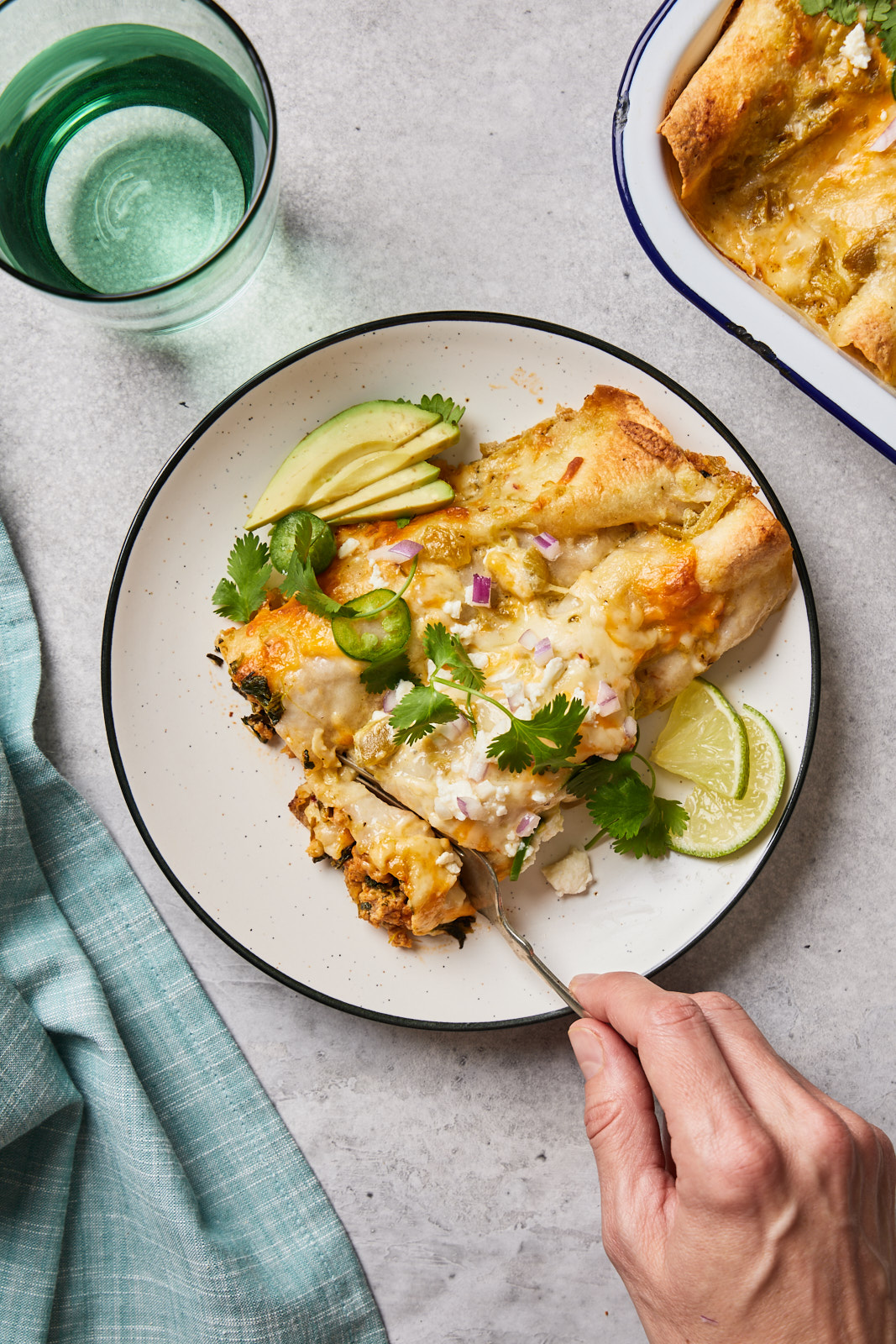 More Enchilada Recipes You Will Love:
Recipe
Yields: 6-8 Enchiladas
Prep Time: 10-15 mins
Cook Time: 40-50 mins
Total Time: 1 hour
Ingredients
1-1½ lb of ground chicken or ground turkey or beef (or even shredded rotisserie chicken - approx 3 cups shredded chicken)

2 tablespoons olive oil

1 small red onion, peeled and chopped

2 garlic cloves, peeled and minced

1 packet of taco seasoning or approx 2 tablespoons (28 grams/0.1 oz) or homemade taco seasoning -recipe below

2 tablespoons water or chicken broth

10-ounce (approx 280 g) package of frozen spinach, thawed, drained and squeezed dry and chopped coarsely if needed

1 cup corn, fresh or frozen and thawed

2 cups grated cheese (like Monterey Jack, pepper jack cheese, tex mex mix)

1 cup heavy cream

Two 4.5oz small cans of chopped green chillies, divided

Salt and pepper to taste

6-8 flour tortillas or corn tortillas, 6-8 inches (softened in the oven or microwave before assembling if needed - to make rolling easier)
Toppings
Sour cream
Fresh Cilantro
Sliced or chopped avocado
Sliced fresh or pickled jalepnos
Lime weges
Black olives
Directions
Preheat oven to 350°F. Grease casserole dish.
In a medium sized skillet heat oil over medium - high heat and cook chicken breaking it apart with the wooden spoon along with the onion and garlic for 5-10 minutes until chicken is lightly brown and fully cooked
Add the taco seasoning and chicken broth or water and continue to sauté chicken for another few minutes until the liquid has completely reduced and then take off the heat and set aside
In a medium size bowl mix together the spinach, corn, 1 can of chillies, and 1 cup of cheese
In a separate bowl or medium size measuring cup whisk together the heavy cream, the second can of chillies and salt and pepper to taste (I usually do approx ½ tsp of each)
Now it's time to assemble the enchiladas. Get your shallow baking dish ready (I usually use and 8x10) and start assembling.
Lay out your corn tortilla on a plate and fill along the lower third to centre of the tortilla with approx ¼ cup of ingredients half being the chicken and the other half the corn and spinach mixture. Roll the tortilla and place seam side down into the baking dish
Do the same with the rest of the tortillas trying to divide the filling evenly.
Pour over the heavy cream mixture evenly over the enchiladas, sprinkle the rest of the cheese over them too and cover dish with foil (spray foil with baking spray to prevent cheese from sticking to it) and bake for 20 minutes until bubbling
Remove foil and bake uncovered for another 10-15 minutes or until golden brown and bubbling.
Homemade Taco Seasoning by the Pioneer Woman
Ingredients
2 teaspoons Chilli Powder
1½ teaspoon Ground Cumin
½ teaspoon Paprika
½ teaspoon Crushed Red Pepper
½ teaspoon Salt
¼ teaspoon Garlic Powder
¼ teaspoon Onion Powder
¼ teaspoon Dried Oregano
¼ teaspoon Black Pepper
Directions
Mix all spices together and that's basically equivalent to a store-bought taco seasoning packet
Recipe Note
If you would like to combine the veggie chili cheese mixture with the cooked seasoned ground chicken mixture you can- then spoon it into tortillas all together