Vegetarian Black Bean Enchiladas
These Black Bean Enchiladas are saucy, cheesy, filling, cozy, and packed with roasted butternut squash, corn, black beans and a sweet pepper/onion medley - but can easily be made with any veggies you want. They are deliciously versatile and easy to make and full of veggies protein and fresh flavours. Your family will love these and will definitely not miss the meat.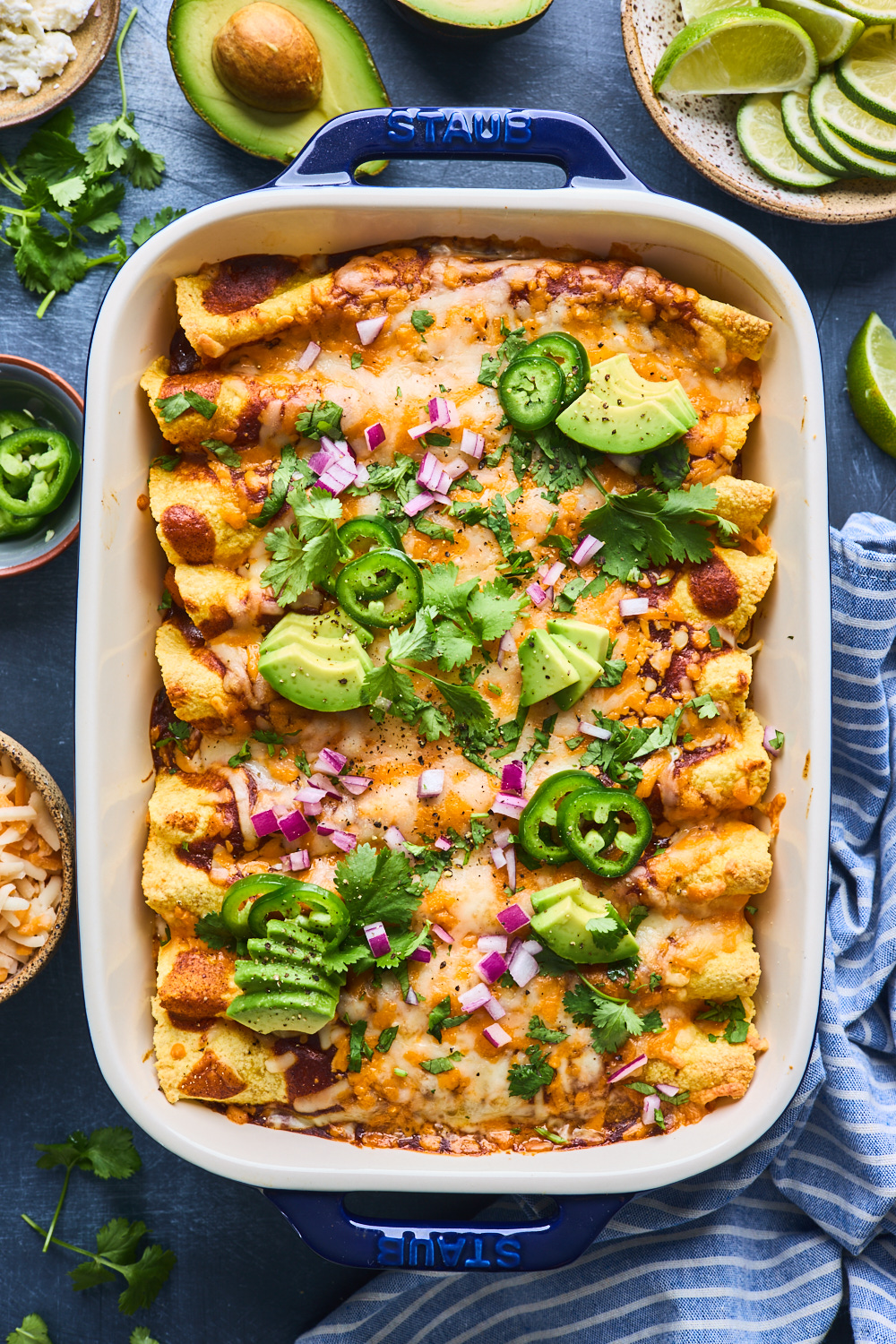 Why you will love these vegetarian enchiladas:
What is better or more cozy than pulling out saucy, cheesy bubbling enchiladas straight out of the oven?!? This is a great recipe I know you will love all year round and especially in the fall when we are all craving all the squash and pumpkin comfort food recipes. Here is why:
They are easy to put together - I love a recipe like this that I can whip up in no time and can work for a midweek meal or for company.
They are loaded with veggies and protein - Including: Butternut Squash, Bell Peppers, Onions, Corn (fresh or frozen) And really, just about any other veggies you could want. Spinach, mushrooms, poblano peppers, sweet potatoes, cauliflower… literally all of the above can work. The black beans add great texture and protein.
You won't miss the meat - They have just the right amount of flavour, and heartiness to be filling enough even without the meat.
Its an Adaptable Recipe - not only can you use any veggies you like but if you would like to add meat to the dish feel free to add in some ground beef, ground Turkey or shredded chicken. Brown the ground meat before sautéing the veggies. If using shredded chicken just add it to the veggies when you add the butternut squash.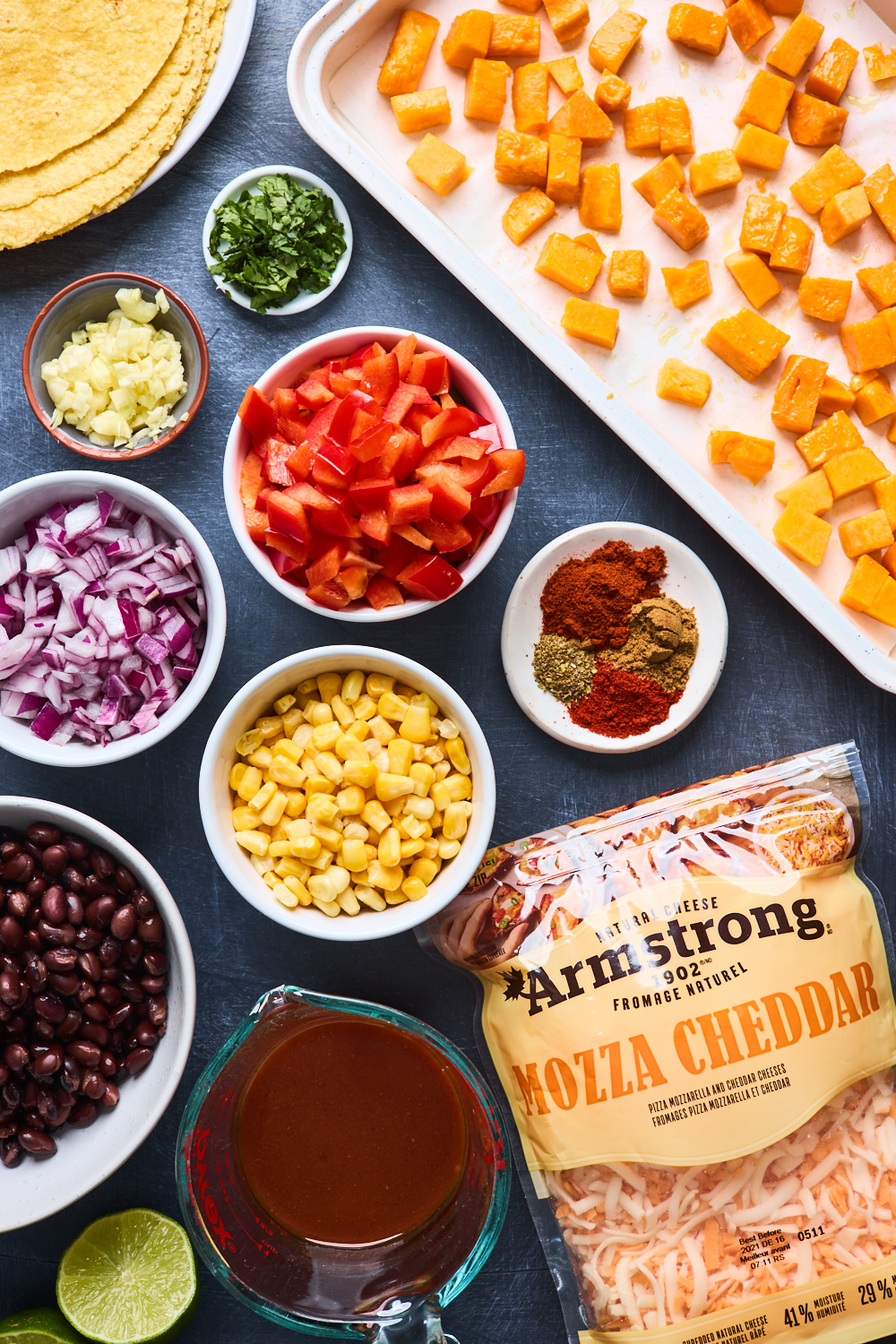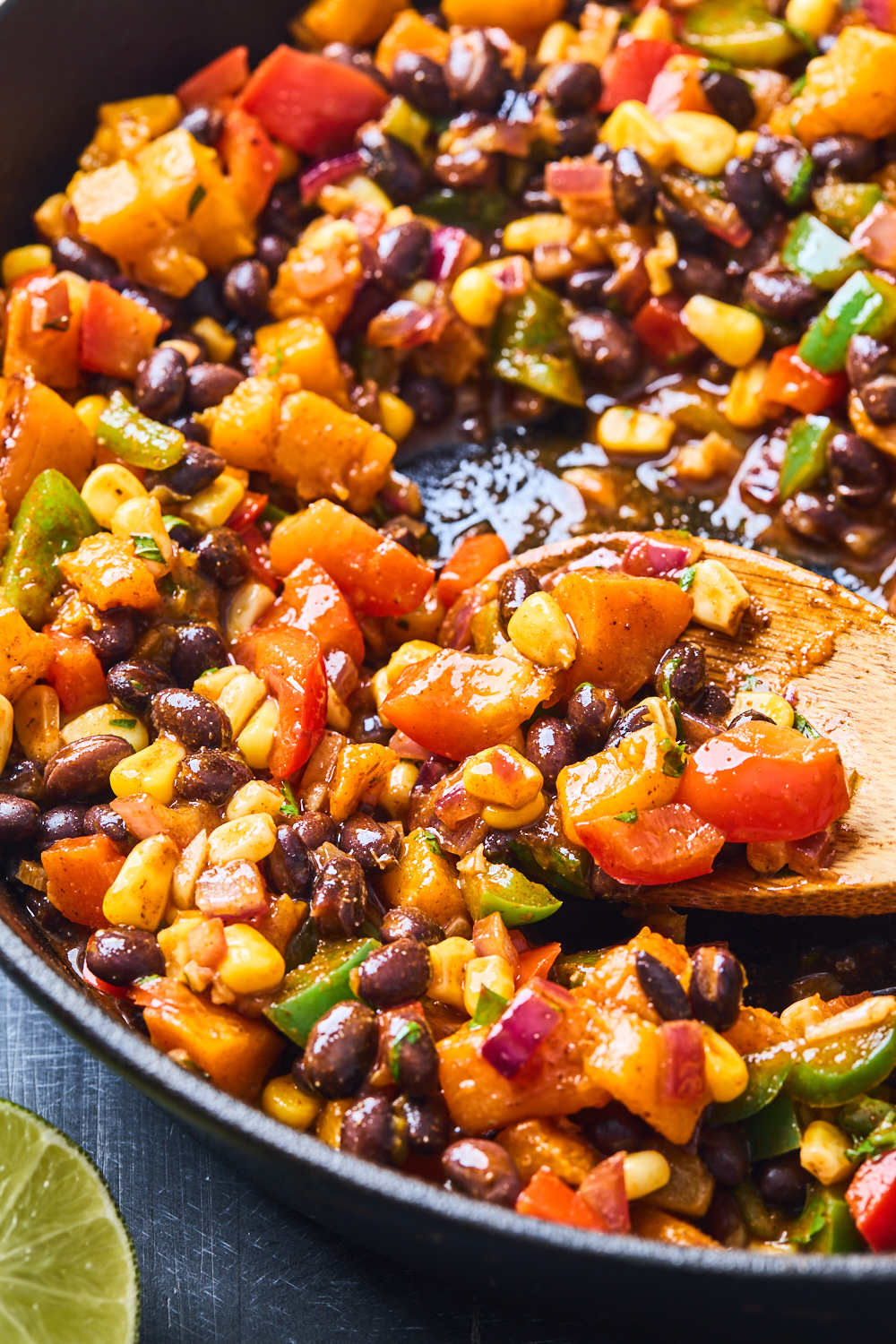 Vegetarian Black Bean Enchilada Ingredients:
Tortillas - feel free to use corn for a gluten free dish, flour or whole wheat tortillas. Corn tortillas may need to be heated or pan fried for a few seconds before filling them- check packaging for instructions.
Black beans - canned is just fine but if you would like to cook your own from dry feel free to. I love to add them for extra protein in this recipe
Vegetables - I used a blend of butternut squash, corn, and sweet bell peppers. It's a delicious blend of veggies that go great with the spices and create a delicious hearty filling. You could use any veggies you like. Spinach, mushrooms, poblano peppers, sweet potatoes, cauliflower, zucchini - the list can go on.
Enchilada Sauce - I use red enchilada sauce in this recipe. Store bought enchilada sauce or homemade enchilada sauce works well in this recipe
Cheese - I used a blend of mozzarella and cheddar and it was perfect inside and over these enchiladas. Feel free to use a Tex Mex blend or any cheese blend you would like. You can use a vegan cheese to make these fully plant based.
Spices - there are some tasty store bought enchilada spice blends out there but I think the Blend of spices in the recipe below is perfect in these enchiladas - ground Paprika, ground cumin, dried oregano, and chipotle chili powder. Feel free to add some chili flakes or chopped fresh or canned green chiles or jalapeños for more heat.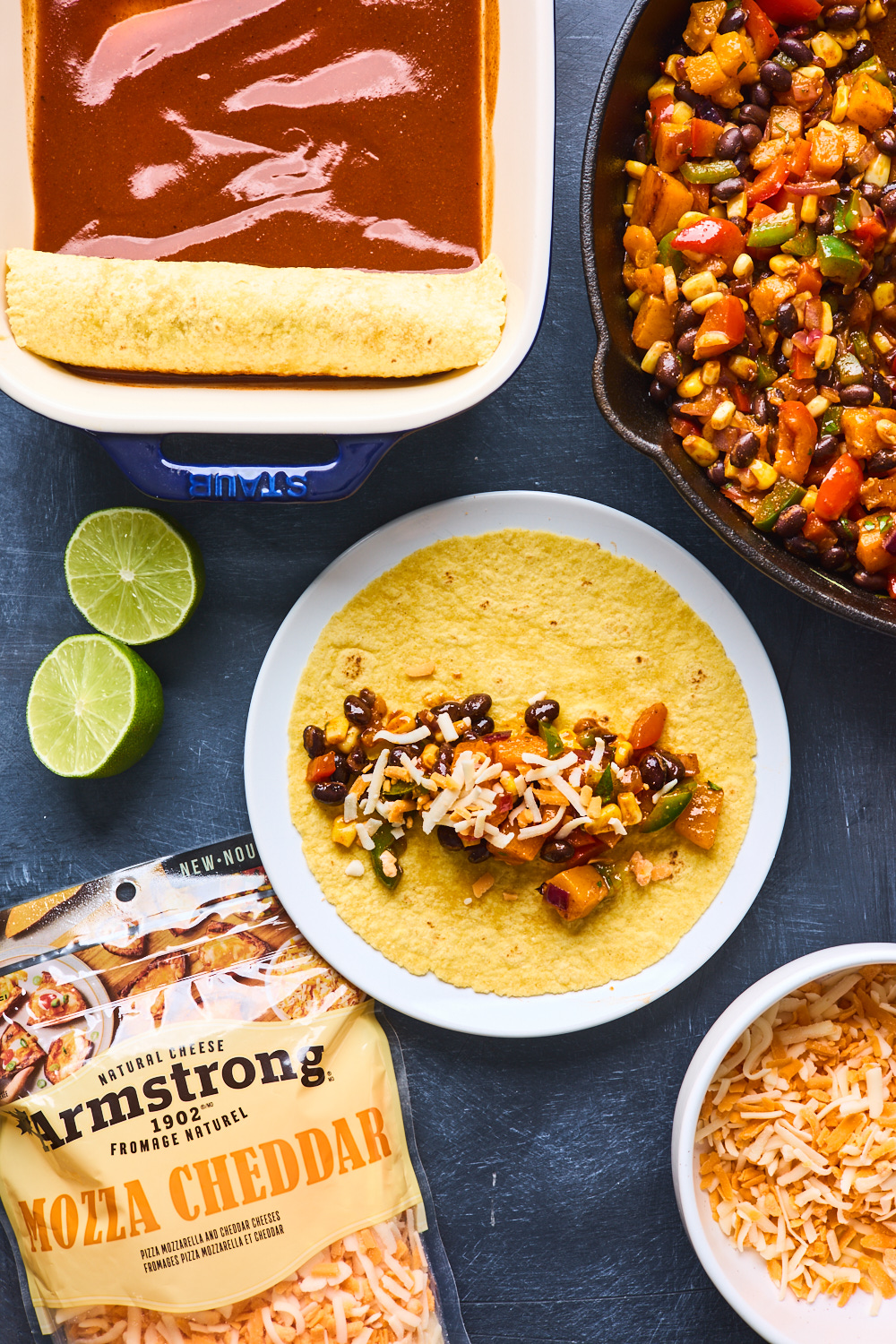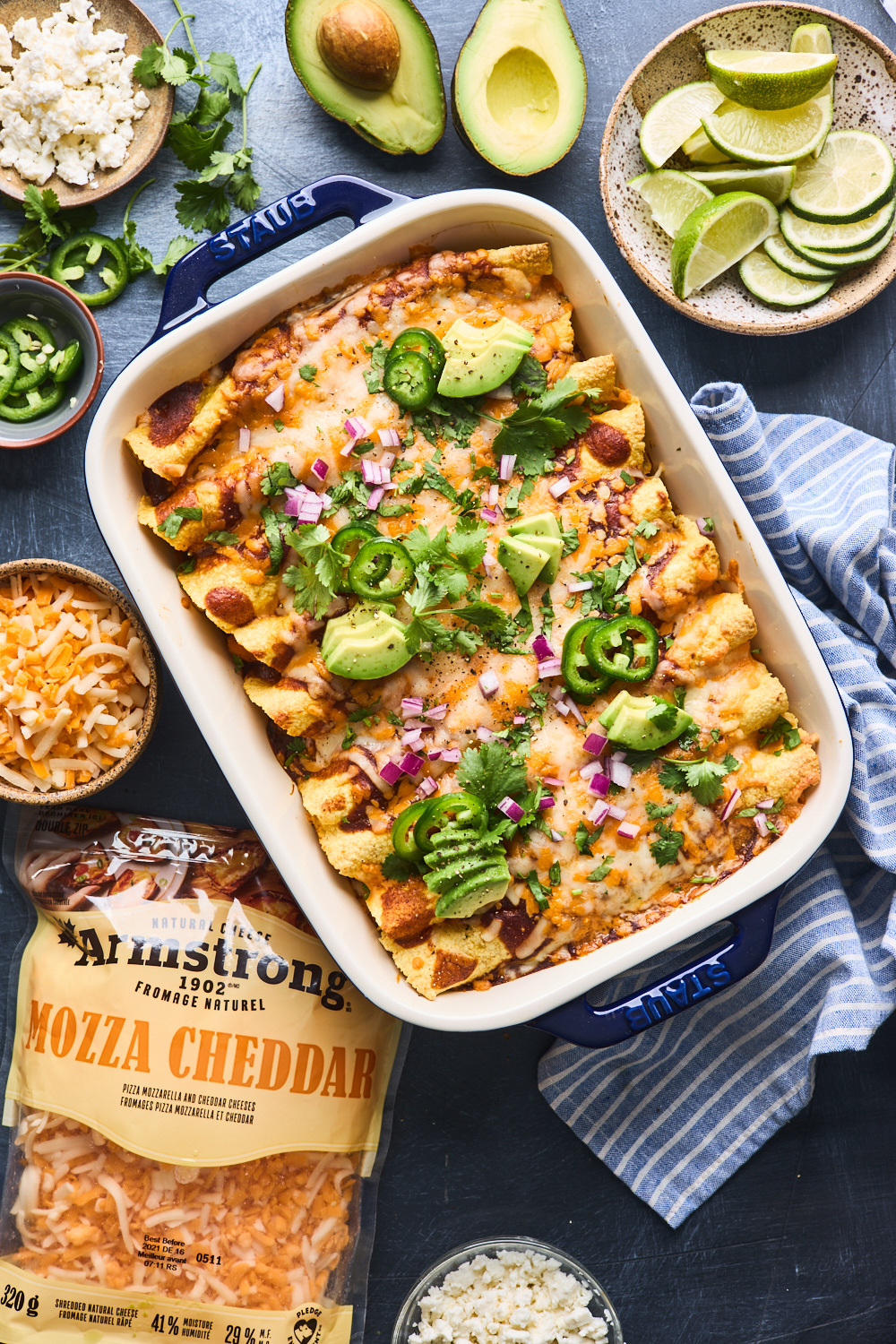 How to make Vegetarian Black bean Enchiladas:
Enchiladas always make for a delicious meal. These vegetarian ones always hit the spot and are quite easy to make:
Start by ROASTING the butternut squash
SAUTÉ the onions and sweet bell peppers over medium heat until tender and then add in the garlic and spices along with the corn, beans, cilantro, lime juice and some of the enchilada sauce. Fold in the butternut squash when it's out of the oven.
ASSEMBLE - fill the tortillas up with ½ cup of the filling then sprinkle with cheese and roll up and place in prepared baking dish with a thin layer of sauce at the bottom of it.
POUR remaining enchilada sauce over the filled tortillas and sprinkle with remaining cheese.
BAKE until cheese is bubbling and golden.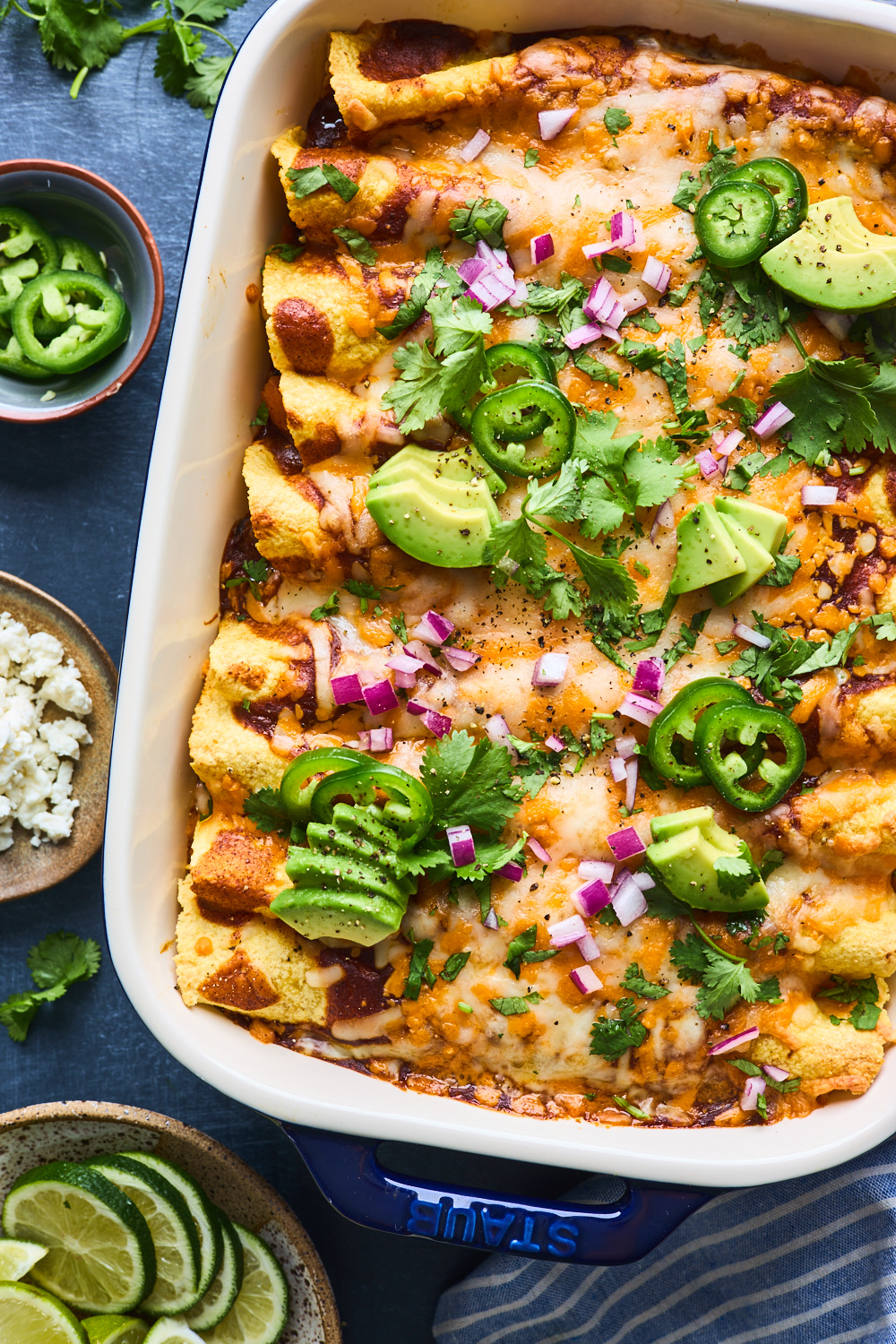 If you like this recipe you will love these:
Recipe
Servings:
4 (yields 8-10 enchiladas)
Prep Time: 15 mins
Cook Time: 45 mins
Ingredients
3 tablespoon tablespoon olive oil, divided

2 cups butternut squash, diced

1 small red onion, peeled and diced

2 small bell pepper seeds and stems removed, diced

Salt and pepper to taste

3 cloves garlic, finely minced

1 teaspoon sweet or smoked paprika

1 teaspoons ground cumin

¼ teaspoon dried oregano

1 ½ teaspoon ground chili powder

1 cup fresh or frozen corn

1 can (15 ounces) black beans, drained and rinsed

2 tablespoons chopped fresh cilantro

1 and ½ cups red enchilada sauce, divided (homemade or storebought)

1 tablespoon freshly squeezed lime juice

8 -10 (8 inch) corn or flour tortillas

2 cups grated cheese, divided (pepper jack, Mexican blend, mozzarella)
For topping (optional)
Chopped cilantro, sliced avocado, sliced jalapeños, chopped red onion, sour cream, salsa, pico de gallo, guacamole or whatever you prefer
Directions
For the Filling
Preheat oven 425°F. And line a baking sheet with parchment paper
Toss the squash with the olive oil and salt, and arrange in a single layer on a rimmed baking sheet. Roast until tender and caramelized, 20 to 25 minutes, stirring once halfway through. Remove from oven and set aside. REDUCE oven temperature to 350°F.
In a large skillet, add remaining 2 tablespoon olive oil and heat over medium. Add red onion and bell peppers and saute for 4-6 minutes, or until onion is translucent and tender.
Add garlic and spices and saute for 1-2 more minutes.
Stir in corn, black beans, cilantro, ½ cup enchilada sauce, and fresh lime juice and gently stir in the butternut squash.
Assembly
Spread ½ cup enchilada sauce along the bottom of a greased 9x13 inch baking dish or casserole dish.
Add approximately ½ cup of the filling and 2 tablespoons freshly cheese to each tortilla and roll up tightly.
Place the enchilada seam side down in the baking dish. Repeat until you've used up all the veggie filling and cheese (which should evenly fill 8-10 tortillas).
Spread the remaining ½ cup enchilada sauce over the top of the enchiladas.
Sprinkle remaining cheese over top and bake, uncovered for 15-18 minutes, or until the cheese is melted and bubbling.
Remove and serve immediately with diced avocado, cilantro, sliced jalapeños, diced onions and sliced limes or whatever topping you desire.
Recipe Notes
Make ahead: The squash can be roasted up to 1 day in advance. The rest of the filling can also be made a day ahead, sealed and chilled.
Storage: Leftovers can be stored in an airtight container for up to 3 days in the refrigerator.
You can use flour or corn tortillas for these black bean enchiladas or even a blend. If you use flour tortillas, you can just roll the enchiladas without prepping the tortillas at all. If you are using corn tortillas, you will need to fry them in just a bit of vegetable oil before rolling the enchiladas up. Or at least what them before filling and rolling them.  
Don't overstuff the enchiladas. ½ a cup of filling is definitely enough filling in each enchilada but it's not spilling out all over. Especially important if using corn tortillas as they will tear apart if overfilled.