Greek-Style Potato Salad
This Greek potato salad is so easy and simple and made with only a few ingredients and packed with flavor. It's bursting with fresh herbs and flavored with olive oil and lemon juice. Easy to make and lighter to eat, this healthy no-mayo vegan potato salad with fresh herbs and an easy olive oil dressing is the perfect side dish or refreshing lunch or dinner and speaks to the ever popular Mediterranean Diet. Since it is mayo-less this delicious salad is perfect for outdoors and can stay at room temperature for a few hours and still taste perfect. Think: tangy potatoes, drenched in a naturally creamy sauce made with olive oil and lemon juice, punchy fresh herbs, shallots .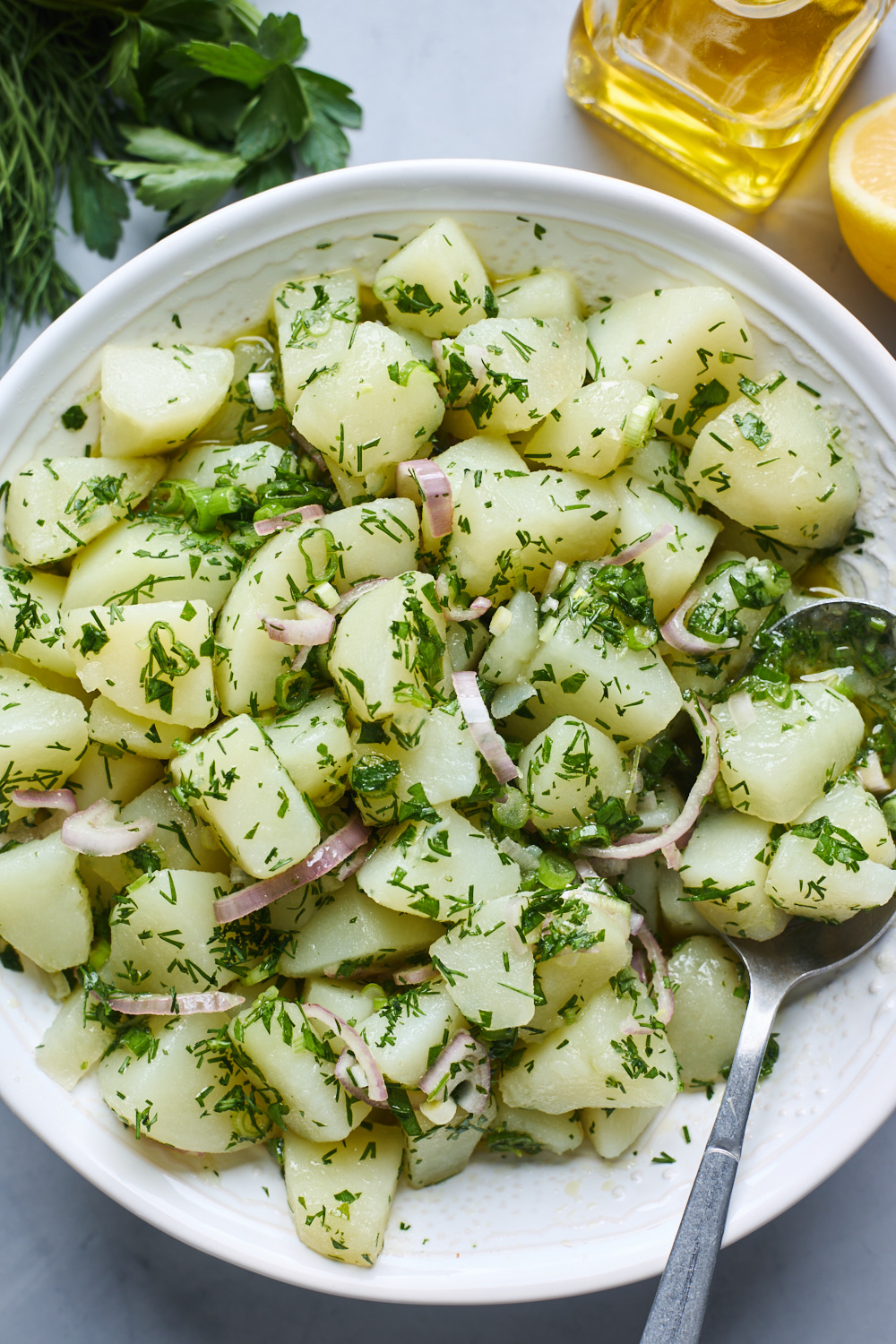 What is Greek Potato Salad?
If you're looking for a simple and tasty–no-mayonnaise–best potato salad…here it is! This Greek potato salad with fork tender potatoes tossed with lots of fresh parsley, dill, shallots or red onion in a dressing made with lemon juice and olive oil. As a lighter potato salad, the dressing relies on a high-quality extra virgin olive oil, a little lemon juice, to create a tasty summer salad, one that's perfect for summer BBQs and picnics. Like the German potato, or French Style potatoes salad and Bulgarian potato salad, this Greek dill potato salad has no dairy to speak of, making it vegan and plant-based too. And is so flavorful! It disappeared very quickly at our house and favourite at any bbq. We actually make it all year round and can't get enough.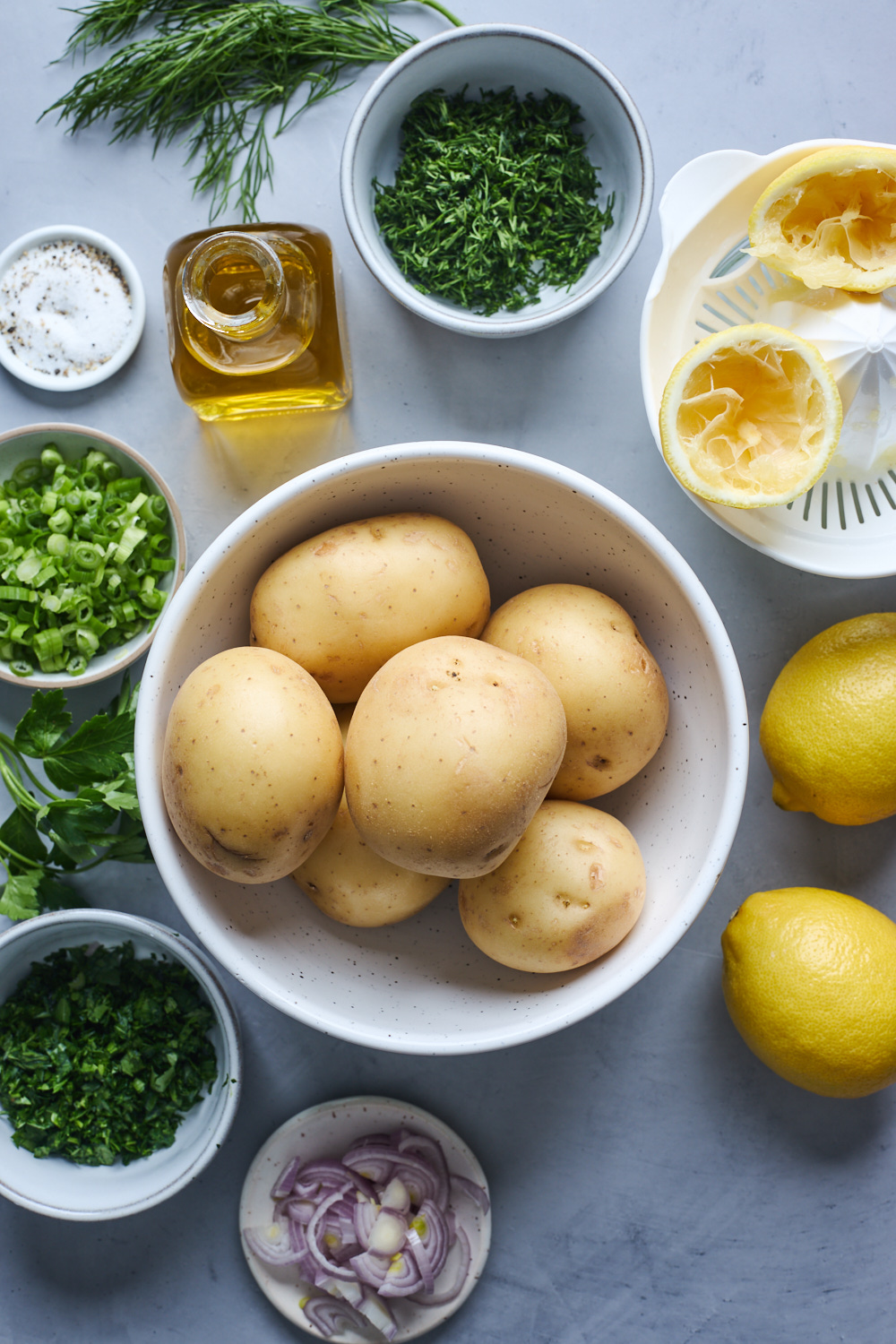 Healthy Potato Salad
There are times when a mayo-free potato salad is exactly what's needed. Like those backyard barbecues where mayonnaise and summer's heat don't quite go together. Or a potluck party buffet table with creamy salads with hard boiled eggs that hang out at room temperature all day or night long at the party. This one has really fresh flavours and ingredients without mayo, sour cream or creamy add ins yet it still has a tasty richness thanks to the olive oil based dressing.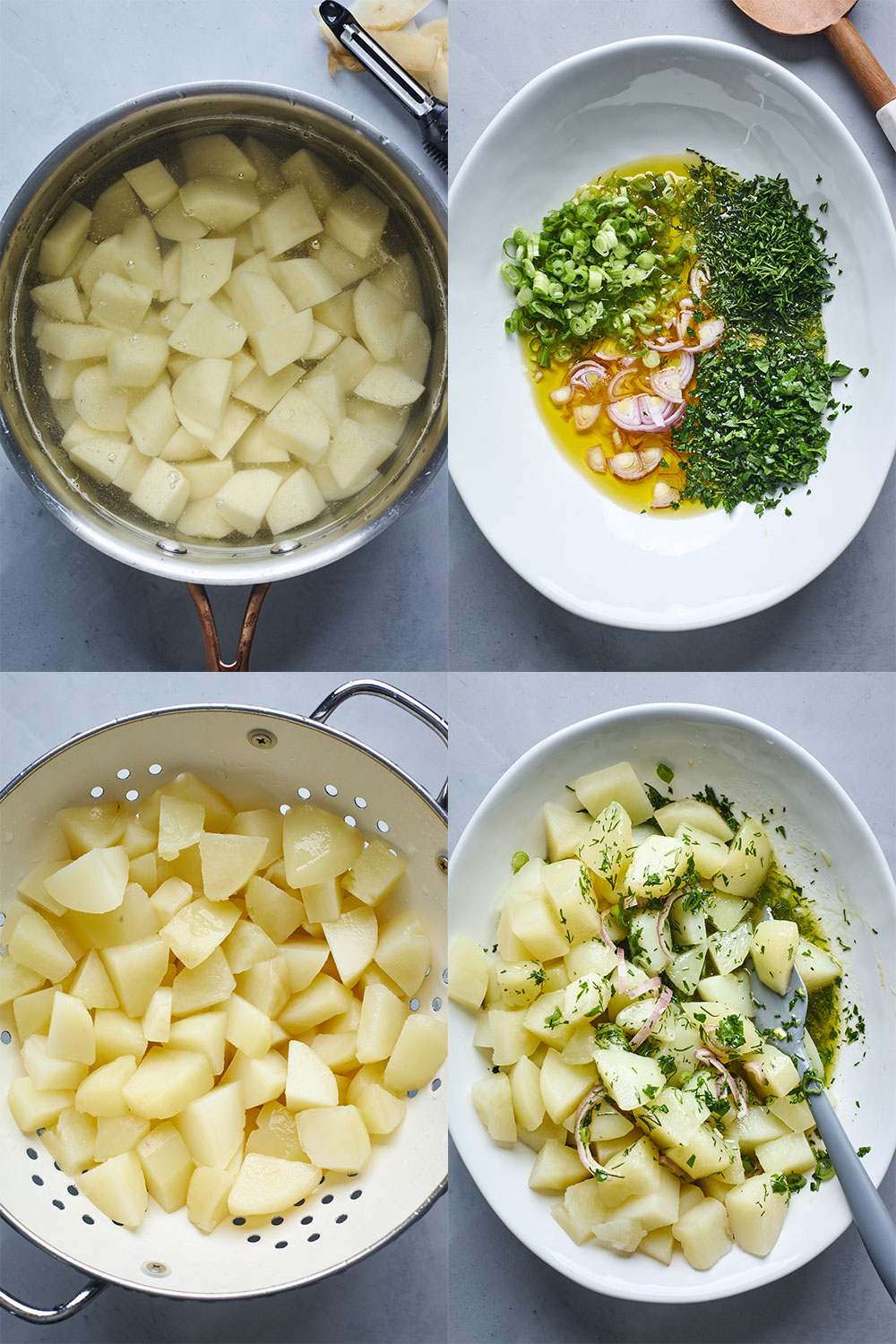 What's in No Mayo Potato Salad?
As a lighter potato salad, it relies on a high-quality extra virgin olive oil, fresh lemon juice, and fresh herbs. All you'll need to make this Greek herbed potato salad is:
Potatoes: I like to use Yukon gold potatoes or red skin potatoes but any waxy potatoes will work well. I like to peel and chop mine before hand because its faster but you can boil them whole and allow them to cool and peel and chop them after they have cooled. Feel free to use baby potatoes, new potatoes or baby fingerling potatoes - unpeeled and halved is how I prep new potatoes for this potato salad
Shallots & Green Onions: Add nice flavor to the salad and goes so well with the dressing. Feel free to use red or white onion instead of the shallots and chives instead of the green onions.
Herbs: I used parsley and dill for this recipe. However, you can add other herbs or herbs of your choice like cilantro, basil, mint or tarragon as well.
Oil: You may choose the oil based on personal preference. I love to use extra virgin olive oil for the best flavour. A good olive oil goes a long way in Greek recipes like this one
Lemon Juice: Freshly squeezed Lemon juice is what I prefer to use but feel free to use white vinegar or apple cider vinegar instead.
Can you put feta cheese In potato salad? Absolutely! you can also add Kalamata olives to the salad, plus capers and even a little dijon mustard or grainy mustard to the dressing.
How to Make Greek Potato Salad
Start by washing the potatoes and if you're using baby potatoes, simply cut them in half. If using larger potatoes peel and cut them into 6-8 pieces.
Cook them in salty water and drain. Pour some cold water over the potatoes to stop the cooking process, drain and allow to cool while making dressing.
In a large bowl whisk together the olive oil, lemon juice and herbs, sliced shallot or red onion, and green onions.
Add the warm potatoes and gently toss to combine. Taste test for salt and adjust if needed.
Serve warm or cover the bowl with a plastic wrap and refrigerate or chill for 30 minutes before serving.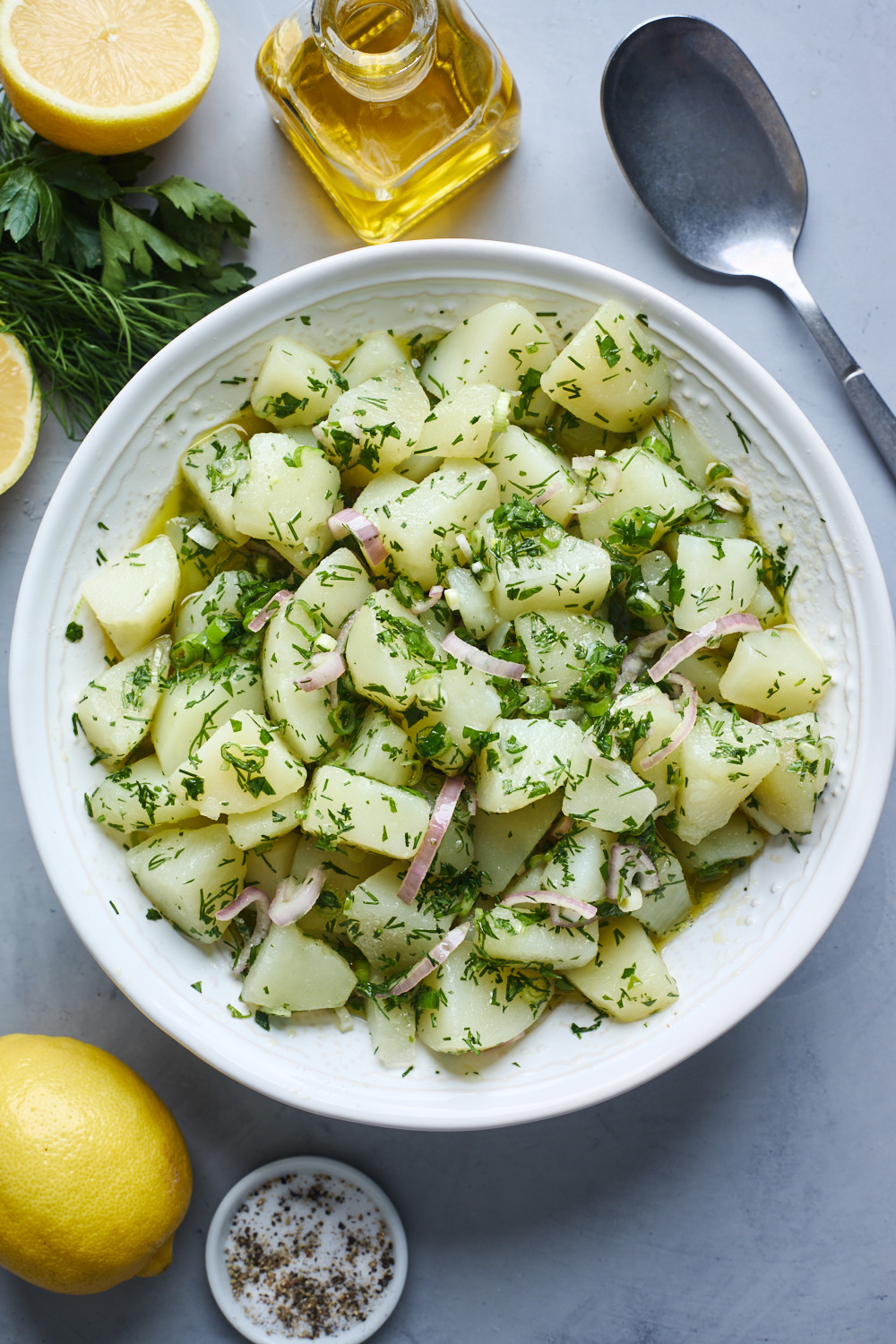 What type of potatoes to use for the best potato salad
You want waxy potatoes which hold their shape when they're cooked and keep their firm texture in the salad when you chop them up and toss them with dressing. My favorites are any variety of new potatoes, Yukon gold, red skin potatoes, or fingerling potatoes. You can definitely us baby potatoes, new potatoes or fingerling potatoes too. For these I tend to leave the skin on and just halve them before boiling them.
How Long to Boil Red Potatoes for Potato Salad
Depending on their size, boil the potatoes for 15-20 minutes or until the tines of a fork easily slide out of the potato when pierced. Also if you are keeping skins on look for the skins to begin to slightly crack and break away.
Tips for a perfect Greek potato salad
Toss the potatoes with the dressing while they are still warm. This infuses the potatoes with flavor. And if you let them sit for a few minutes this also gives the potatoes a chance to soak up the flavor. Once the potatoes cool the structure of their starch changes which also prevents them from soaking up as much of the dressing.
Cook potatoes starting in a pot of cold water for even cooking and prevent mushy potatoes. Choose a nice waxy potato over a starchy one, as they tend to fall apart.
Make sure the potatoes have not sprouted and are not wrinkly, green or old. You have to use fresh, ripe, waxy potatoes.
Smaller or medium size potatoes work well for this recipe
Don't overcook the potatoes, as they will fall up apart and become mushy with the dressing.
This potato salad gets even better the second day after it's been made.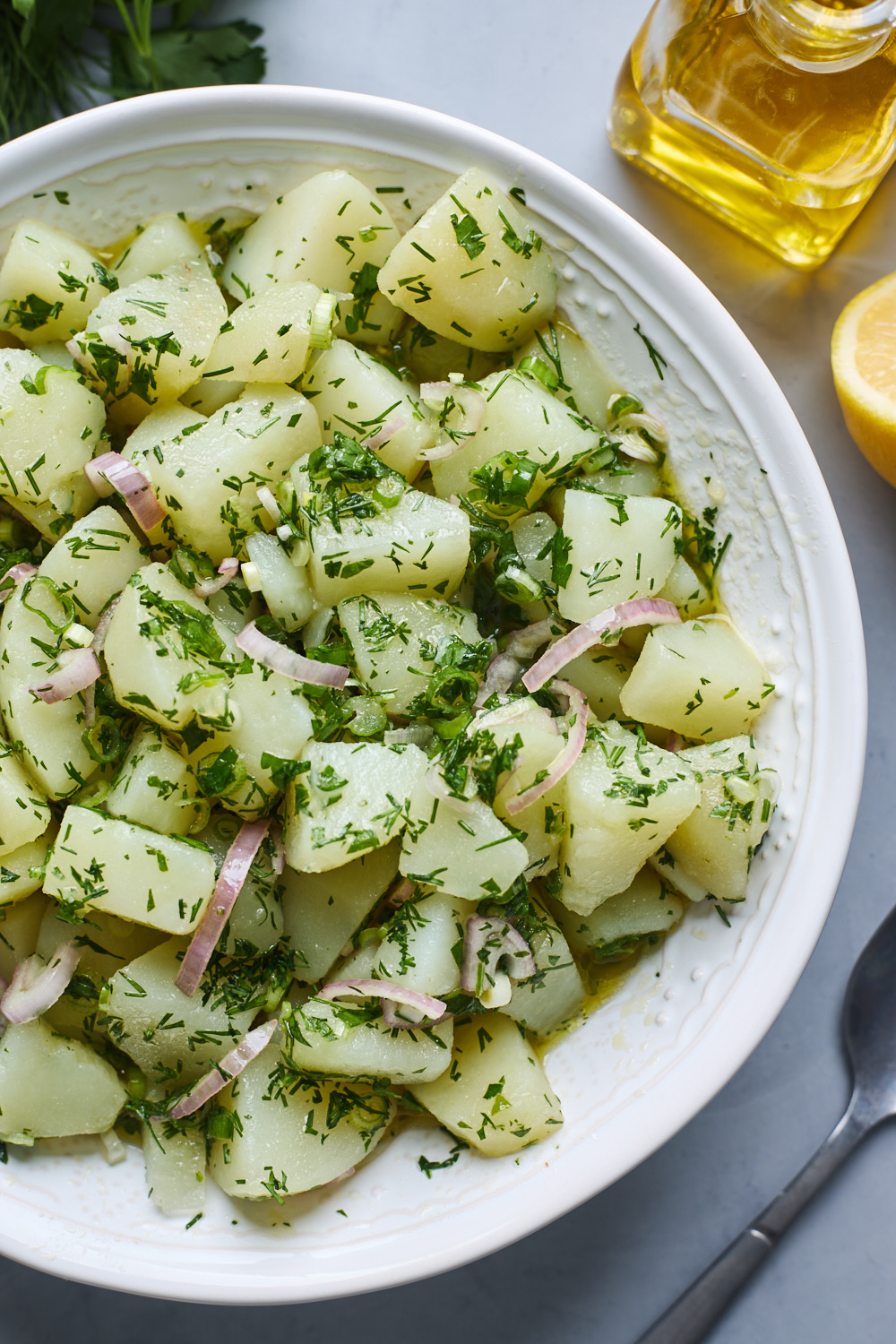 What to serve with this Greek potato salad
I love to enjoy this mayo-less Potato Salad with a side of green asparagus or green beans grilled vegetable skewers, grilled or roasted chicken, meat or fish. Here are some recommendations: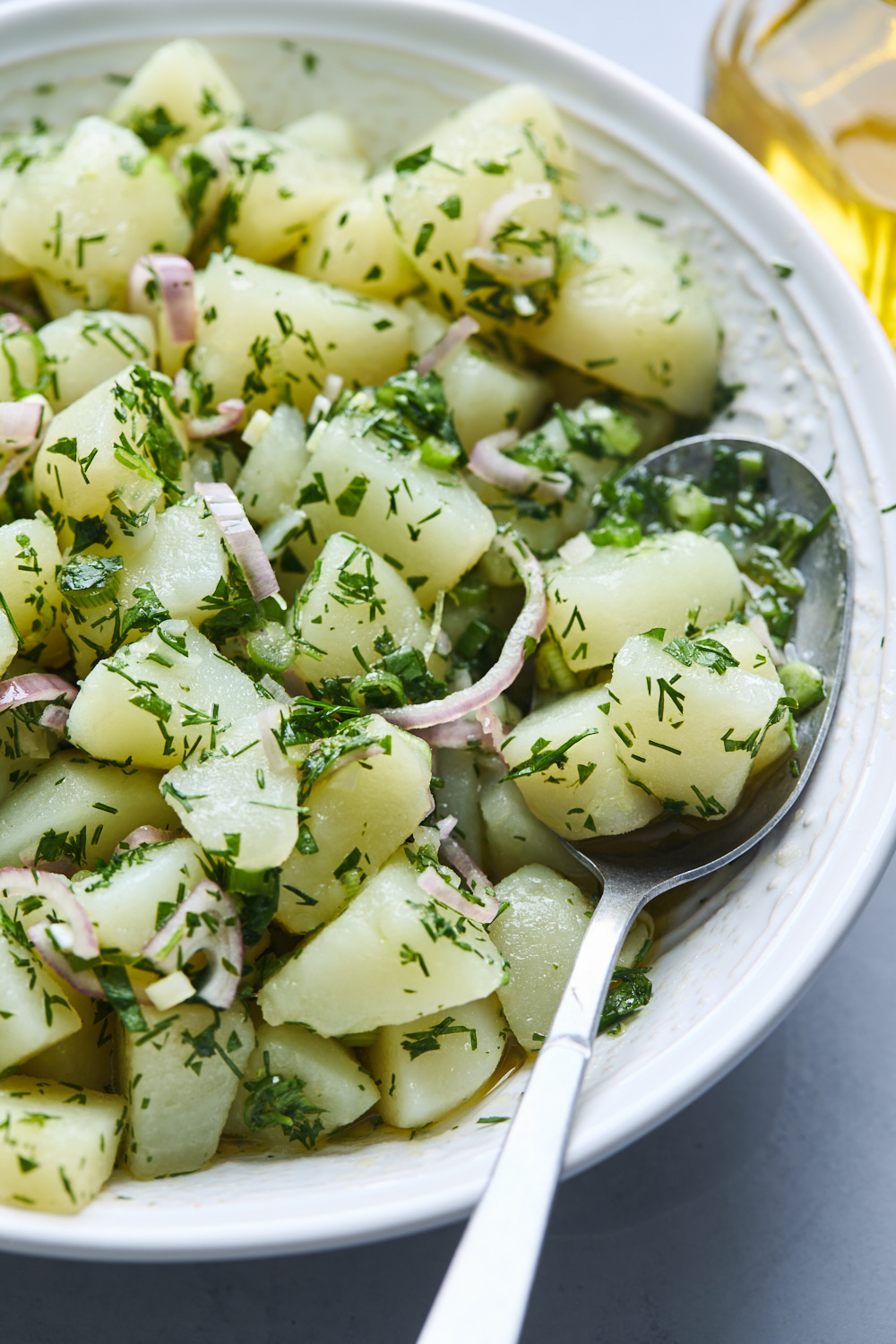 Storage & Make Ahead
This salad refrigerates great for up to 3-4 days. You can also make it ahead. Boil the potatoes and put in an airtight container or cover with plastic wrap and refrigerate for 3-4 days. You can take them out and use them when you are ready to make them. Whisk the dressing ingredients in a small bowl and pour over potatoes and toss to coat and enjoy. I would not recommend freezing the salad with the dressing on it as it will get soggy and it will get even mushier after thawing. Make this potato salad and eat it warm, refrigerate for an hour and enjoy it chilled, or get a head start and make it the day before to make things even easier. Enjoy the leftovers over a bowl of fresh spring greens with grilled salmon or grilled chicken
More delicious Sides dishes you will love:
Recipe
Prep Time: 15 mins
Cook Time: 10-15 mins
Ingredients
1½ lbs peeled, washed, and quartered

1 small shallot or red onion, peeled and sliced

3 scallions finely sliced

½ cup extra virgin olive oil

2 tablespoons fresh lemon juice plus more to taste

¼ cups fresh parsley chopped

¼ cup fresh dill chopped

Pinch of dried oregano (optional)

Salt and black pepper
Optional Add Ins
Crumbled feta cheese for serving (optional)
1-2 teaspoons Capers
Kalamata olives
A little dijon mustard in the dressing
Directions
Place potatoes in a large pot and bring to a boil and allow to simmer until the potatoes are done. This should take about 15 minutes. The potatoes should be fork tender.
Drain and run the potatoes and also potatoes to cool a little.
In a medium bowl add the olive oil, lemon juice, shallots, scallions, salt, pepper, dill, parsley and oregano if using and whisk to combine
Add still warm potatoes to bowl and toss with the dressing and herbs. Test for seasoning and adjust to taste. Sprinkle with crumbled feta if you wish and serve room temperature or cold.
Recipe Notes
Storage & Make Ahead: This salad refrigerates great for up to 3-4 days. You can also make it ahead. Boil the potatoes and put in an airtight container or cover with plastic wrap and refrigerate for 3-4 days. You can take them out and use them when you are ready to make them. I would not recommend freezing the salad with the dressing on it as it will get soggy and it will get even mushier after thawing