Lemon Pasta - Pasta al Limone
This lemon butter garlic pasta is the quickest, most delicious side dish or dinner to try any day of the week. Bursting with lemon flavour, this pasta al limone as it's called in Italian, is also garlicky and naturally creamy at the same time! If you've been looking for a recipe for lemon pasta recipe without heavy cream, this is one of the best to try. Pasta al limone doesn't need any cream because it's naturally because this lemon cream sauce is created from the starch. You only need a handful of ingredients to make it, and I bet you may already have them all or most in the house. This is my go to recipe for a delicious pasta dish adapted from Ina Garten. It's perfect and I hope you guys love it!!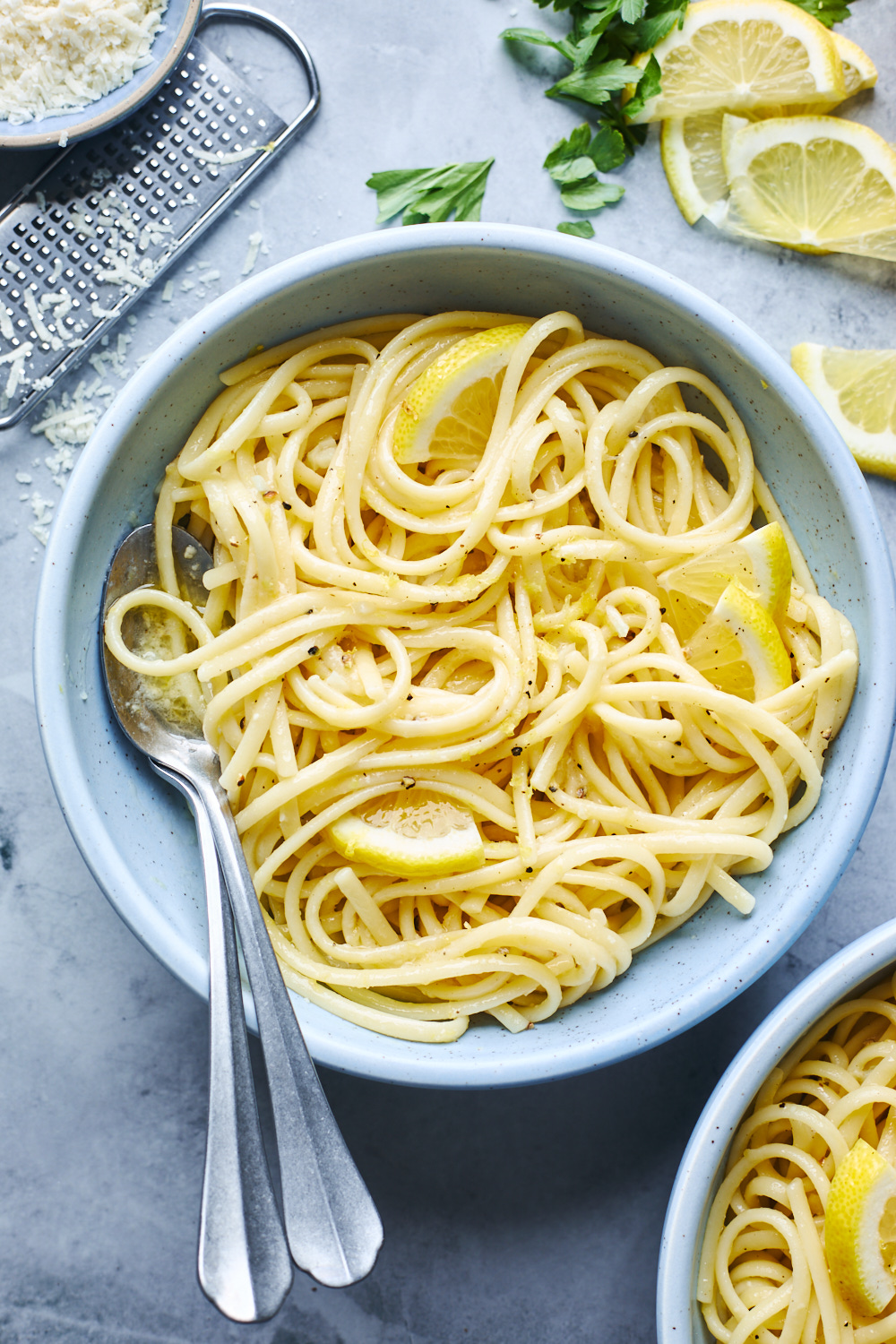 Why you will love this lemon butter garlic pasta sauce
It's ready in under 30 minutes. You can have a bowl of delicious garlic lemon butter pasta in your hands super fast. Perfect when you are pressed for time and want and quick meal.
It's super versatile. This creamy lemon butter garlic pasta sauce is great on its own but also perfect with shrimp, roasted chicken or grilled chicken or salmon.
It's loaded with flavour. Lemon, butter and garlic are an amazing flavour combo just perfect for a no-frills super tasty pasta dish.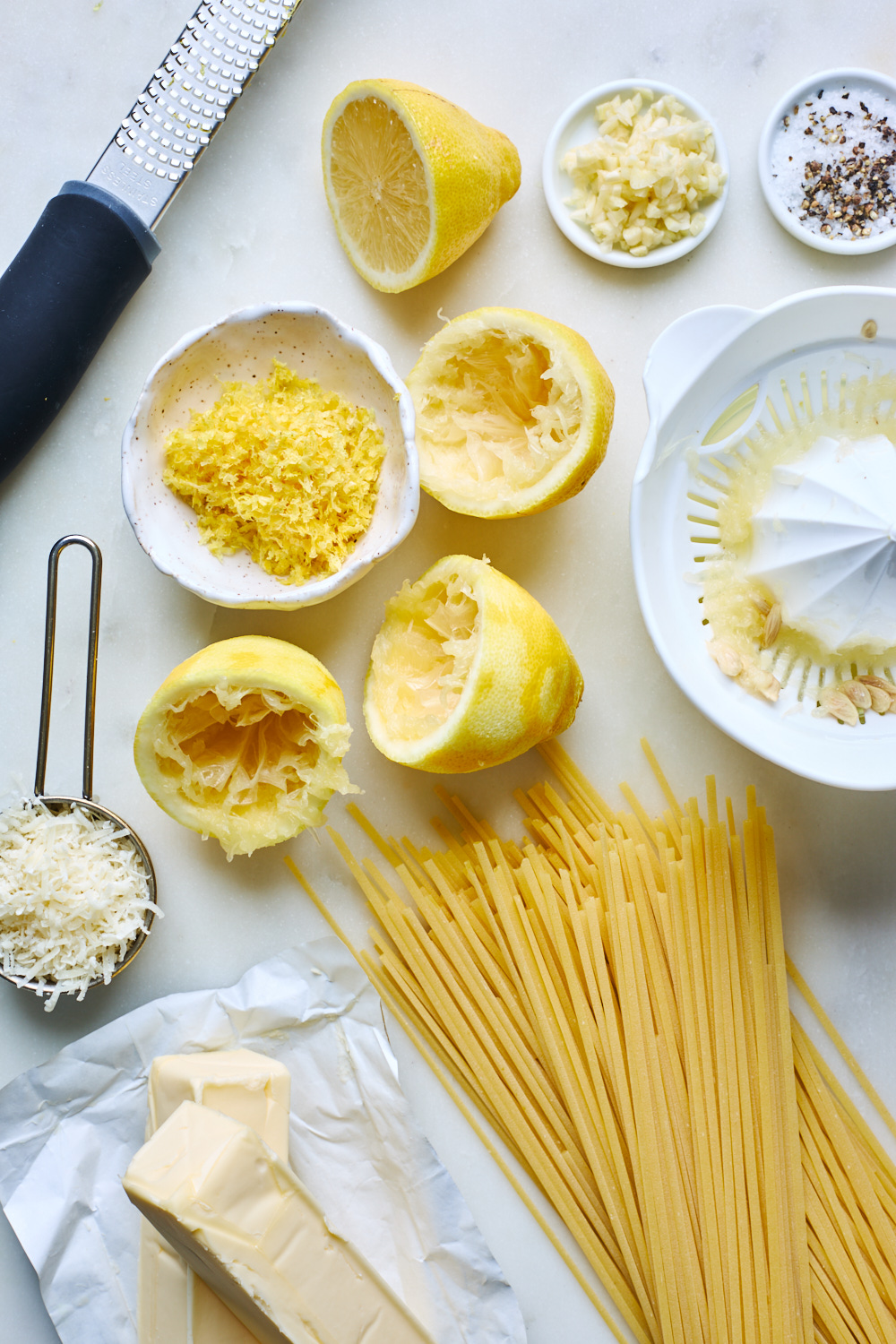 Lemon Pasta Ingredients
Butter — Unsalted butter is best for this garlic lemon butter pasta sauce. if you use salted butter, you may not need to add any extra seasoning. It seems like we are using a lot of butter here but remember your making a BUTTER sauce for 1 lb of pasta which is 4 huge portion of pasta - I usually get 6 servings from 1 lb of pasta. For a smaller portion just cut recipe in half.
Garlic — Optional but delicious. It's in some classic recipes but not others; personally, I love the way it tastes with pasta al limone, but don't stress if you don't have any on hand. Feel free to add as much garlic as you like. Fresh garlic is always best in a past dish like this
Lemon — Bright flavor from both juice and zest of 2 medium lemon. Try to use an unwaxed or organic lemon to avoid any chemical protective layers. And fresh lemon juice is a must for this recipe - bottled will not taste good.
Parmesan Cheese — If you're a vegetarian, make sure you use a hard Italian cheese that's labelled as safe for vegetarians. Parmiggiano Reggiano is not vegetarian because it's made with animal renne - its optional but adds so much delicious flavour to the pasta. Make sure to buy the real-deal, and grate it yourself right off of the block. Because this recipe contains so few ingredients, their quality really counts.
Pasta - Spaghetti is the classic pasta shape for pasta al limone,but I love using linguine. Really and truly any pasta will work but long noodle such as fettuccine, tagliatelle, and spaghetti works too. Shorter noodles do not work as well because the silky sauce forms from the long noodles can be dragged and tossed through the liquid.
Salt & Pepper - feel free to adjust according to taste
Fresh Herbs - I love to sprinkle the pasta with fresh parsley chopped fine for colour and extra flavour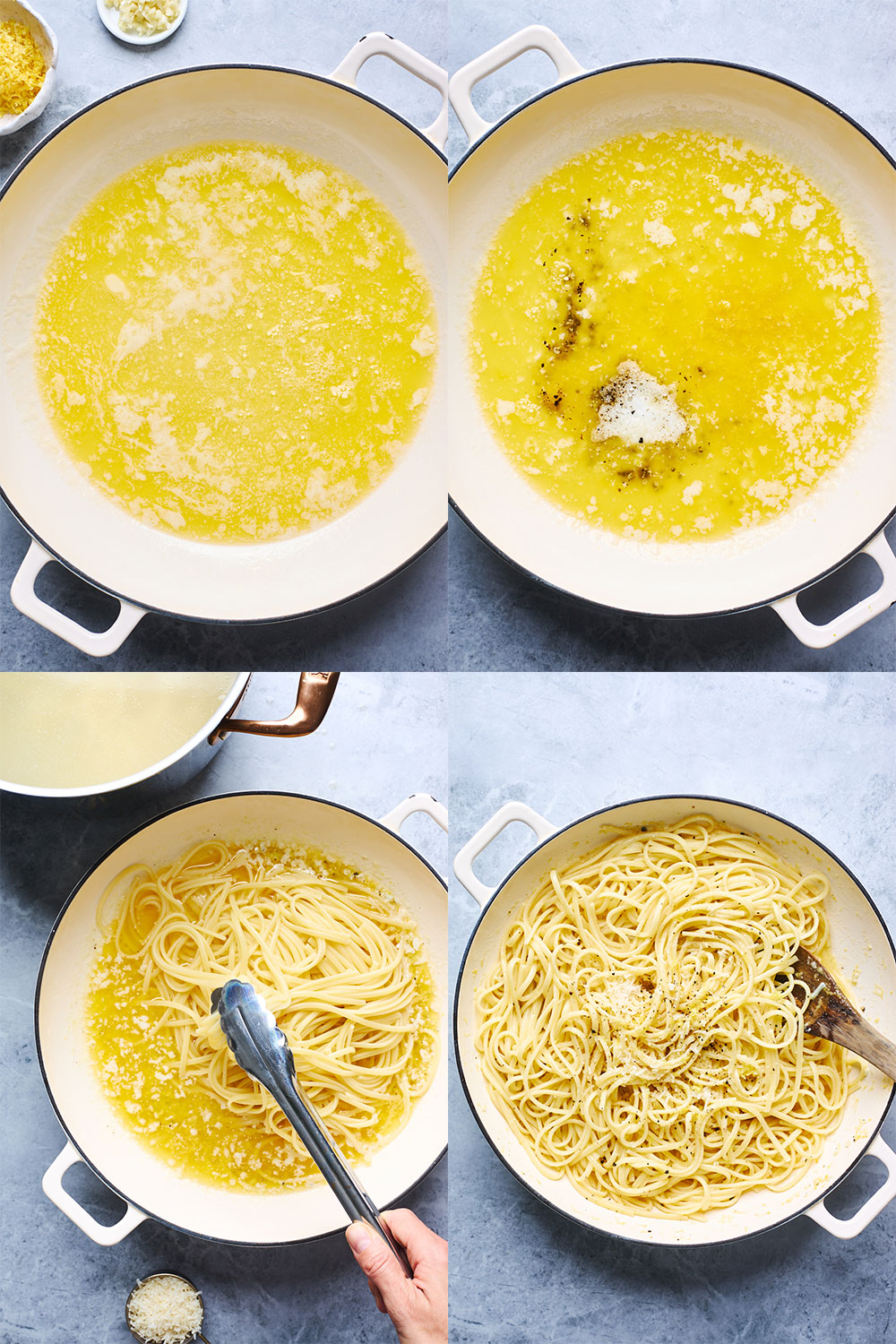 Possible lemon pasta variatons:
As I mentioned above, this creamy lemon pasta stands well on its own or could be customized with any number of add-ins or variations that you might want to try. For example, feel free to…
Add a protein: Top or stir through some grilled, sautéed, roasted or leftover shredded Chicken, shrimp, sausage, salmon, or scallops would all be some delicious proteins that you could add to this pasta or serve alongside it.
Add veggies: You could also sauté or roast some of your favorite veggies to add in, such as asparagus, green beans, broccoli, mushrooms, or toss in some halved cherry tomatoes
Add crushed red pepper flakes: this adds some wonderful smoky flavour to any pasta sauce or dish
Add white wine: This butter sauce would also be delicious with a generous swirl of dry white wine.
Use less butter: We have also made this recipe using less butter, and while it's definitely not as rich, it is still delicious and is a great option if you would like to make this sauce a bit healthier. You will likely have to add more starchy pasta water
Make it gluten-free: And of course, if you would like to make this recipe gluten-free, just use your favorite certified gluten-free pasta. Cooking time will vary between brand of pasta
Brown the the butter: Cook the butter in the pan over medium-high heat until the butter has melted and begins to foam, stirring frequently to ensure that the butter cooks evenly - cook until it starts to turn golden brown and smells toasty. (Keep a very close eye on the butter so that it does not burn; it can go from golden to burnt very quickly!) then add garlic and remaining sauce ingredients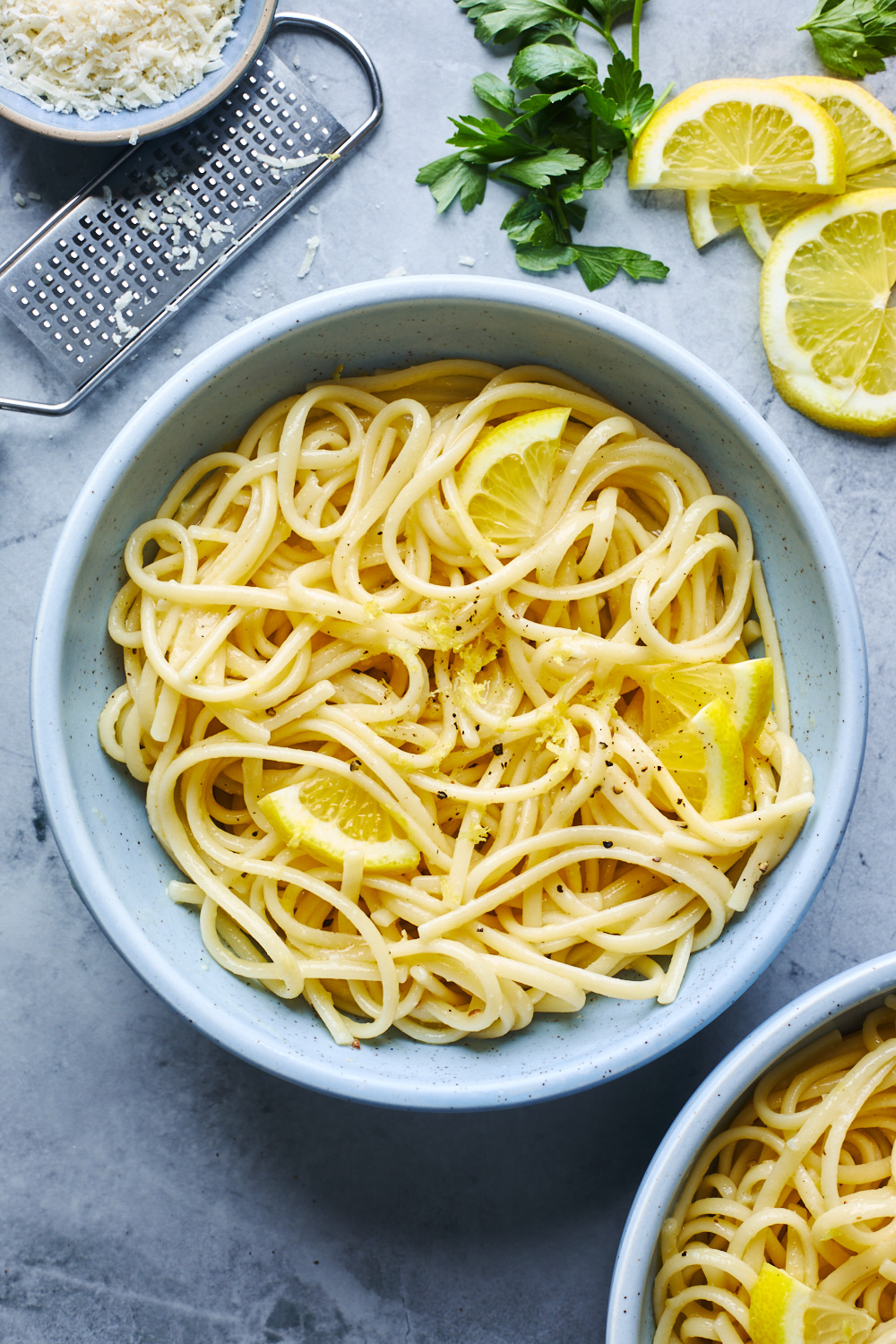 More pasta recipes you will want to try:
Recipe
Servings:
6 (easy to half for smaller portion)
Prep Time: 5 mins
Cook Time: 15-20 mins
Total Time: 20-25 mins
Ingredients
Salt and freshly ground black pepper

1 pound dried linguine

½ pound (2 sticks) unsalted butter

2 cloves garlic peeled and minced

Zest and Juice of 2 large lemons

¼-½cup Parmigiano-Reggiano, plus more for serving (optional)

2 cups Reserved pasta cooking water divided

1 lemon for garnish

Chopped fresh Parley or fresh basil for serving
Directions
Cook pasta: Add 2 tablespoons of salt to a large pot boiling water. Add the liguine and boil/cook until just al dente in large pot of salted water.
Make lemon butter sauce: Meanwhile, heat a large (12-inch) saute pan or skillet over medium heat , add the butter allow it to melt. Then add the garlic and cook 30-60 seconds.
Stir in the lemon zest and fresh lemon juice. Add 2 teaspoons salt and 1 teaspoon pepper
As soon as the pasta is cooked, remove and lift the pasta out of the water with tongs, allowing most but not all of the water or cooking liquid to drain back into the pot, and add all the pasta to the sauce along with the parmesan cheese. Cook for one minute, tossing constantly adding pasta water to the sauce with a ladle a little at a time just enough to keep the pasta moist and get the pasta coated in a shiny silky lemon sauce or to your desired consistency.
Transfer the pasta to a serving platter or individual plates.
Garnish with more lemon zest, grated Parmesan, black pepper, and squeeze a little lemon juice on top and some chopped fresh parsley.
Recipe Note
Naturally occurring sulfur in the garlic interacts with those enzymes, occasionally turning it slightly green or blue. Sometimes the color change happens, sometimes it doesn't. Shifts in temperature, pH, and the age of the garlic can also come into play, so heating it or mixing it with acid like a lot of lemon juice might have some affect. It's completely safe to eat it it's just a reaction it has to the acidic component added to it. So if your garlic turns colour in the lemon butter sauce - have no fear!