Paloma Cocktail
If you are looking for a refreshing, easy drinking and simple to make cocktail for the summer this Paloma is where it's at. Made with fresh grapefruit and lime juices, tequila, and sparkling water. Serve it over ice in a salt-rimmed glass, and you've got yourself an awesome thirst-quenching citrusy tequila cocktail! I'm not a mixologist by any means but I do love citrus based cocktails so much - and this is a simple one to add to your cocktail menu. It's similar to a margarita, but this drink gives the starring role to fresh grapefruit juice.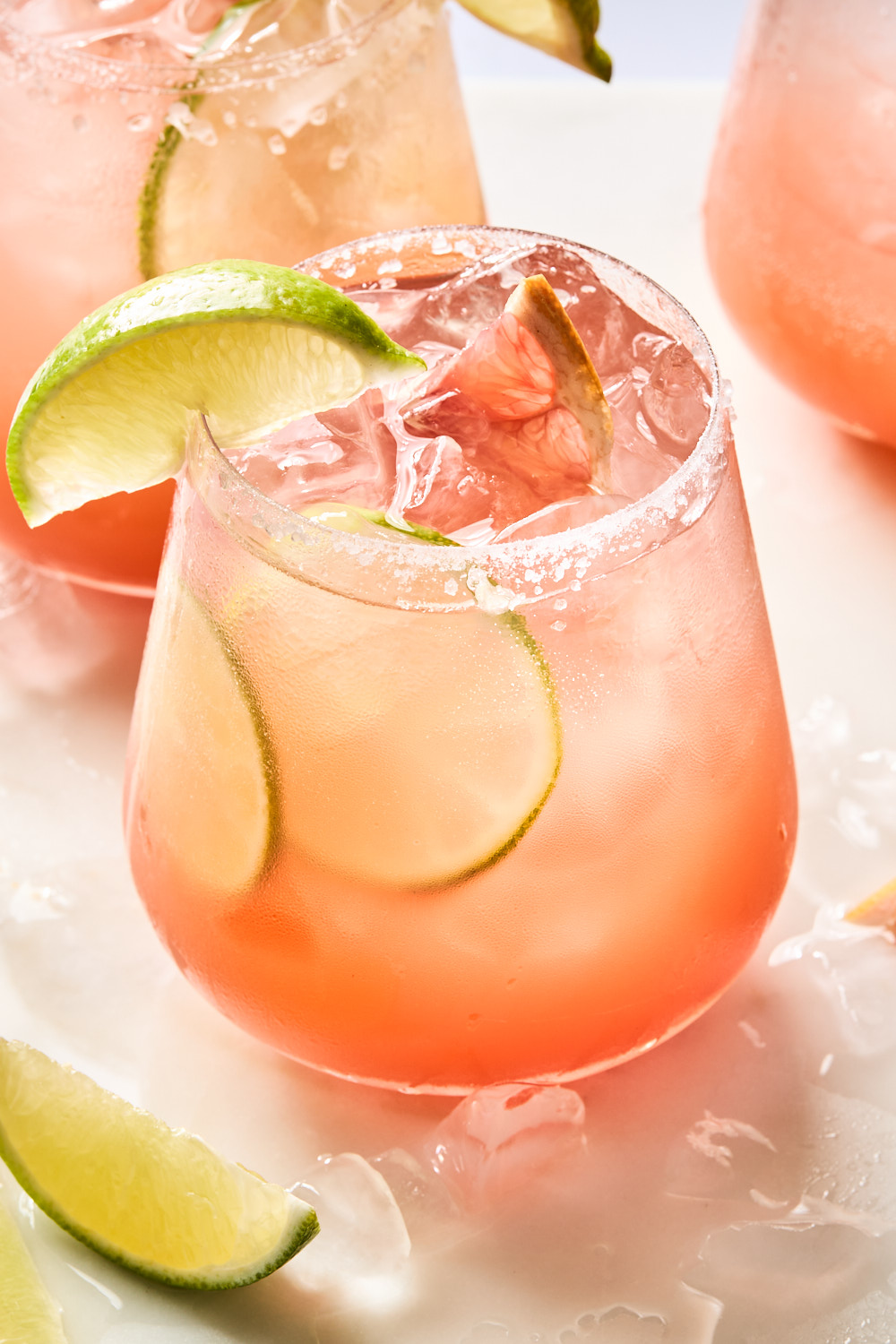 What is a Paloma?
The paloma is a refreshing tequila cocktail from Mexico. Many people think that paloma means "grapefruit" in Spanish since this is a grapefruit based drink, but that is not the case. Paloma is the Spanish word for "dove". There are many different variations to a Paloma, but two elements are essential in any paloma recipe: tequila and grapefruit. It's a great combination, especially with a tart lime accent and a little fizz or sparkling water. Traditionally, grapefruit soda is used, but I chose fresh ingredients like grapefruit juice instead mixed with soda water.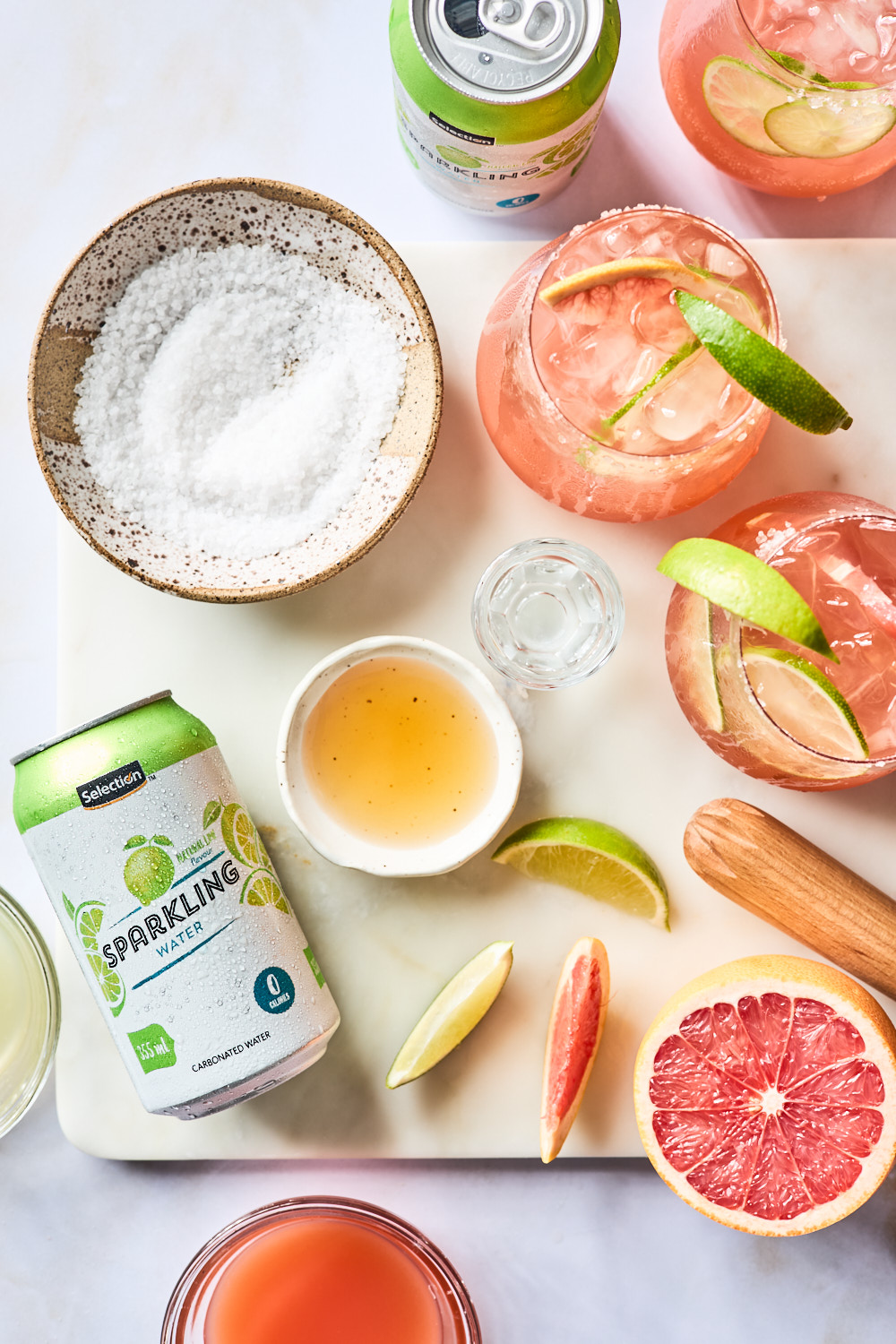 Paloma Ingredients
This is quite a simple cocktail to make with mostly freshly squeezed ingredients going into it. Here's what you'll need:
Blanco Tequila –Grab a good quality blanco (or "silver") tequila for the best palomas. This type is not aged and will give your cocktail a clean, fresh taste.
Grapefruit juice – Freshly squeezed is always best but store bought 100% grapefruit juice "not from concentrate" will work too.
Lime Juice  – Again freshly squeezed is always best.
Sparkling water – I used Selection Lime Sparkling water which adds a bit more lime flavour to this Paloma - and I loved it. Not only is it a great mixer, it's also refreshing and great on its own. Any sparkling water will work here though.
Agave or simple syrup – Because I don't use the traditional sweet grapefruit soda in this recipe, I balance the sour/tart flavor of the grapefruit and lime with something sweet. Add as little or as much as you like.
Lime wedge, grapefruit wedges & coarse salt – For rimming the glass. And then drop the citrus wedges in for garnish right before serving
Ice –A paloma cocktail is always better on the rocks. Cool and refreshing is what we are going for here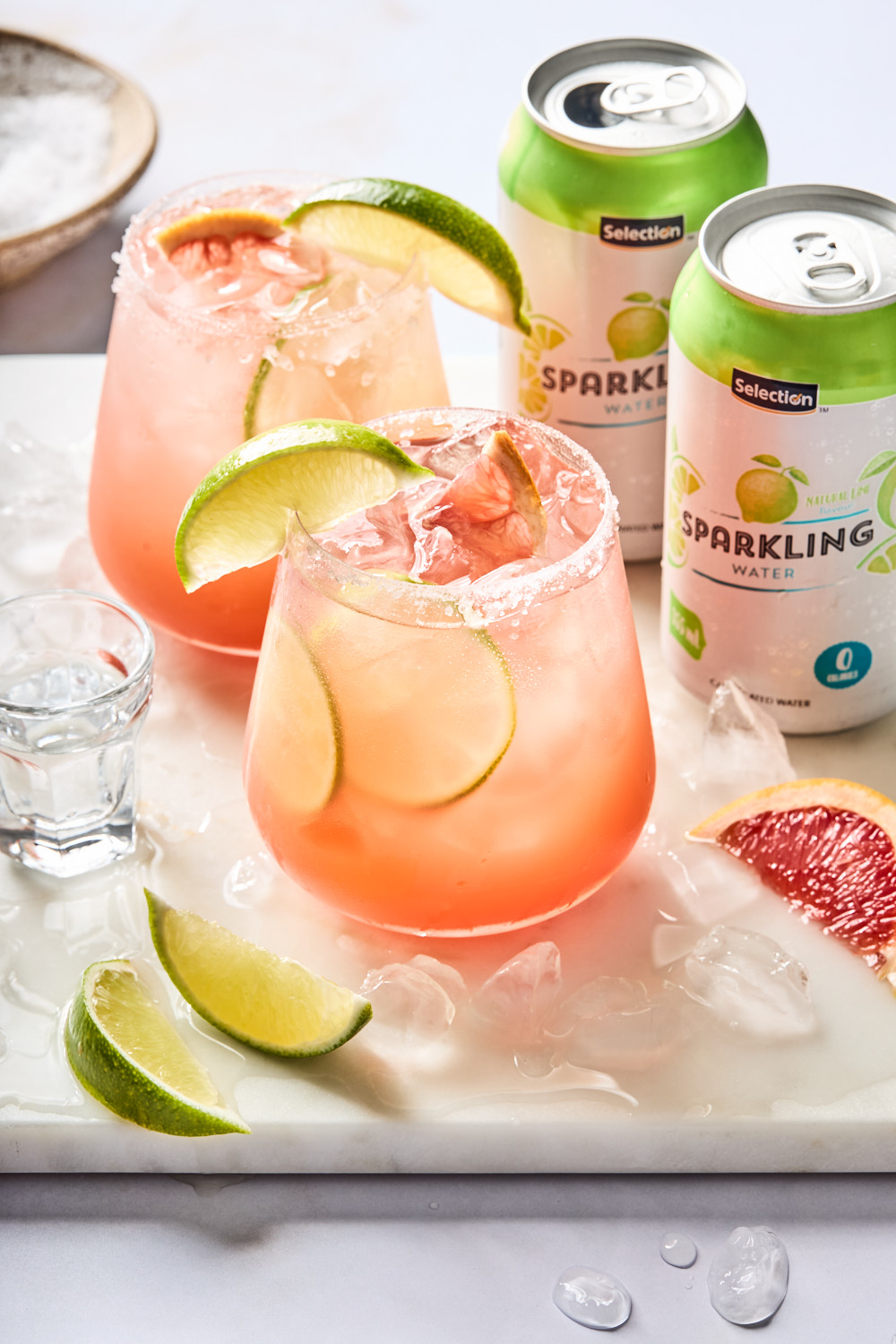 How to make a Paloma
This is a really easy cocktail to mix and make at home. It's so refreshing and perfect to sip on especially on a hot day and great for entertaining! Here's how it's done:
Salt the rim of a glass - Rub the rim of a glass with a grapefruit or lime wedge, and dip it in a small plate of salt. I like to use coarse salt.
Add the tequila, grapefruit juice, lime juice, sparkling water, and simple syrup or agave.
Fill the remainder of the glass with ice and stir to combine
Garnish with lime and grapefruit wedges
Enjoy!!
More great cocktails:
Recipe
Prep Time: 5 mins
Ingredients
2 ounces ruby red grapefruit freshly squeezed or store-bought

1 ounce lime juice, freshly squeezed

1½ ounces tequila

¼-½ ounce agave nectar or honey plus more depending on taste

Selection Lime Sparkling Water

Crushed ice for serving

Coarse salt for rimming glass (optional)

Sliced limes for garnish

Sliced grapefruit for garnish
Directions
Salt the rim of the glass by rubbing a grapefruit or lime wedge around the edge and dipping it onto a small plate of coarse salt.
Mix the tequila, grapefruit juice, lime juice, and agave nectar into glass. Fill the remainder of the glass with ice. Top up with sparkling water. Adjust sweetness to taste. Garnish with grapefruit and lime wedge.