Pumpkin Cream Cheese Muffins
This isn't your average cumin muffing recipe. These pumpkin muffins have a sweet cream cheese filling that is baked into the pumpkin muffin batter and topped with a streusel toppings for some extra texture and flavor. They are perfectly moist with a crisp topping and the perfect amount of pumpkin pie spice - a really great fall treat you are going to love! It nots quite your Starbucks copycat because I layer the batter with the cram cheese insta of piping into the batter but you most definitely can do that and if you prefer no streusel topping like the Starbucks version you can go sans streusel and top with them instead with pumpkin seeds. I like this version better - it is easier and I can never resist a streusel topping!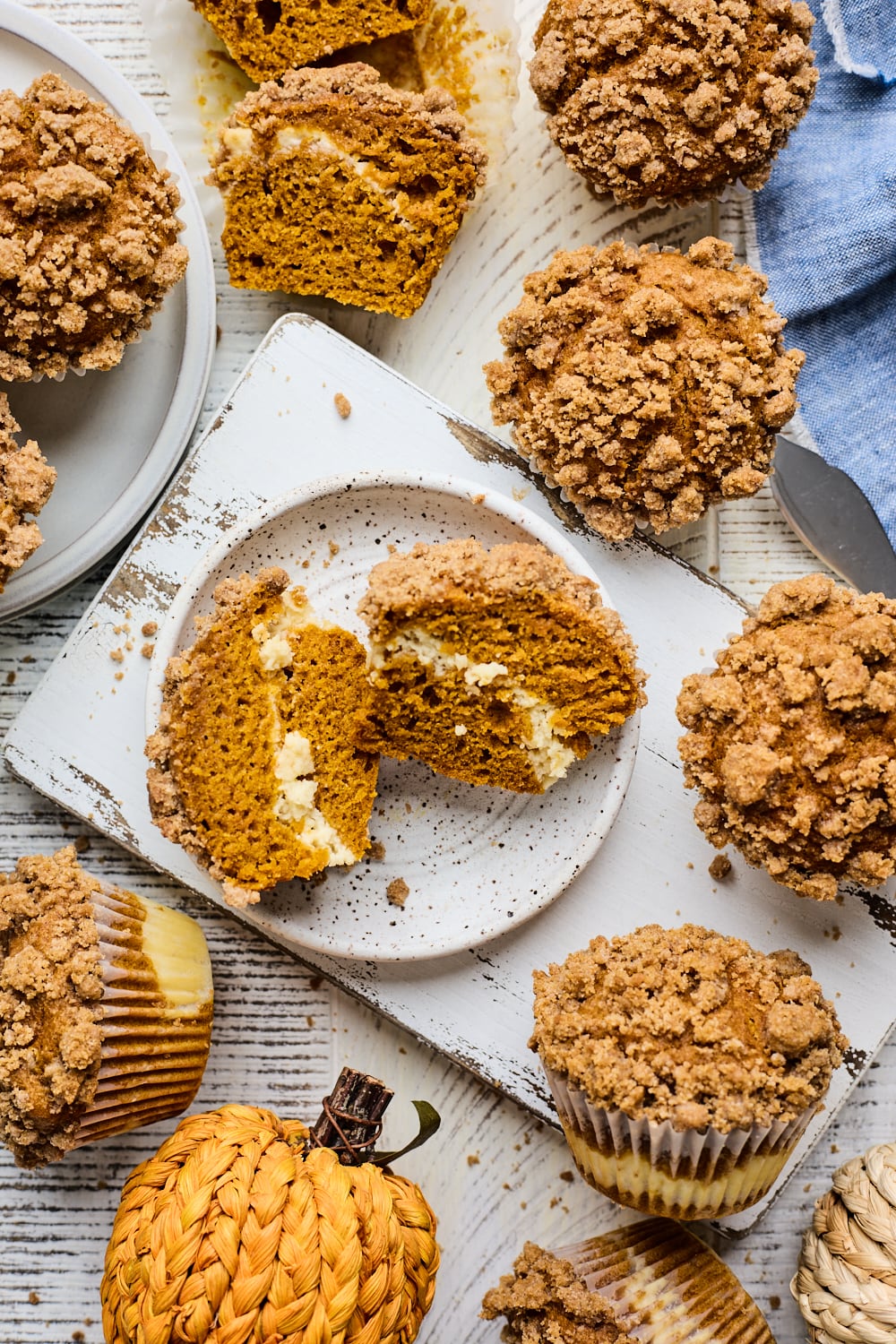 Pumpkin Cream cheese Muffin Ingredients
FLOUR: Regular all-purpose flour will yield the best texture.
SUGARS: This recipe uses a combination of granulated sugar and brown sugar for a wonderful depth of flavor and a tender crumb.
SPICES: A blend of pumpkin pie spice and ground cinnamon gives these that warm, cozy, fall flavor we want in pumpkin baked goods. If you don't have pumpkin pie spice, you can use a blend of ½ teaspoon each: ground Ginger, Cloves, Allspice & Nutmeg
BAKING SODA & BAKING POWDER: For lift and leavening
SALT: It always balances out all of the delicious flavors.
EGGS: Two eggs is what you will need and room temp for texture and structure
PUMPKIN PUREE: Use 100% pure canned pumpkin (or homemade), not pumpkin pie filling, which has added spices and sugar.
OIL: Gives these extra moisture. Feel free to vegetable oil, melted coconut oil, canola oil or even a light olive oil.
CREAM CHEESE FILLING: A mixture of cream cheese, sugar and vanilla extract plus a yolk so that the filling has some structure.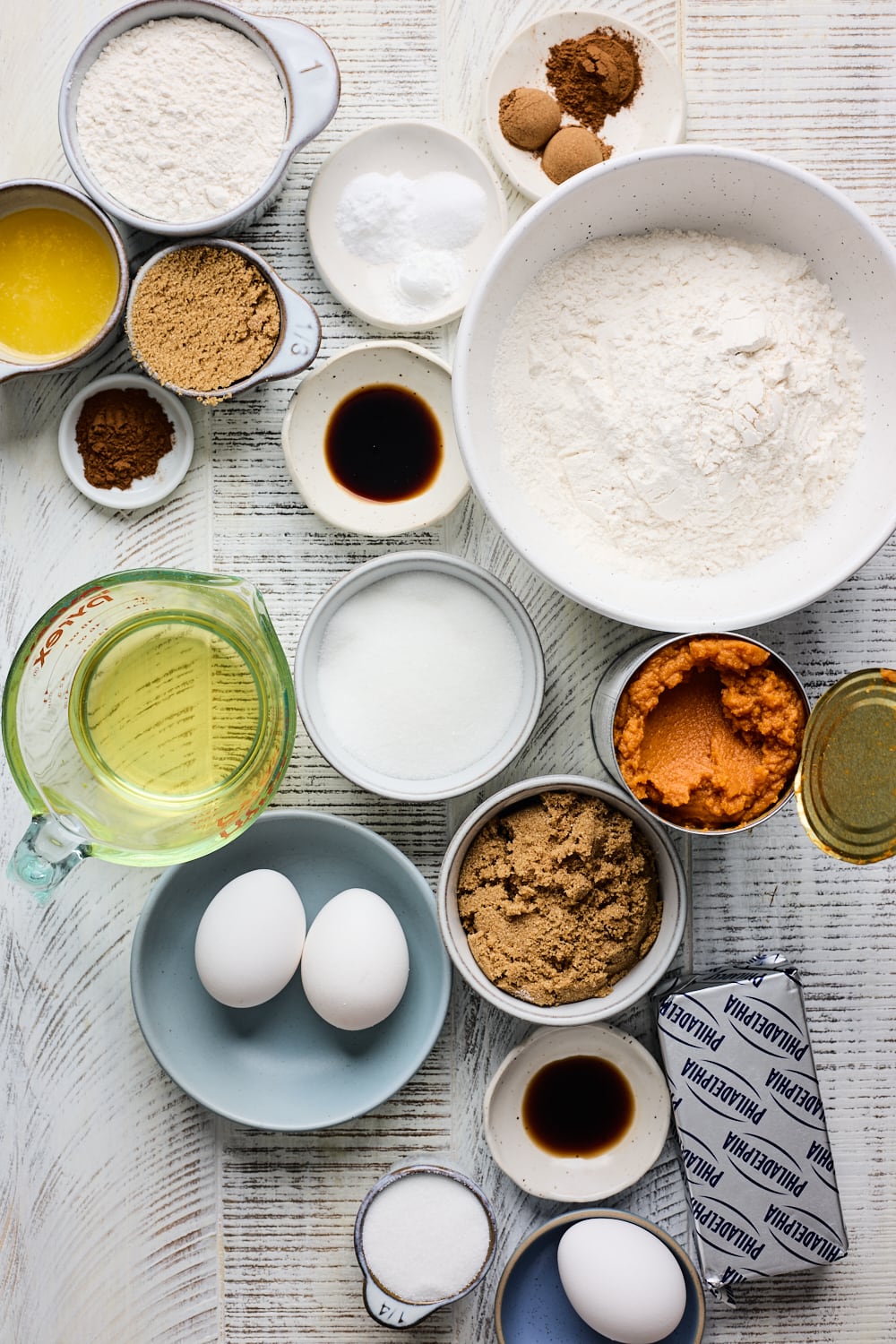 How To Make Pumpkin Muffins with Cream Cheese
Prepare muffin tin and preheat oven: Grease and line pan and preheat oven INITIALLY at 425 ° F
Prepare streusel topping: whisk together dry ingredients, stir in melted butter and combine to form pea sized clumps
Prepare muffin batter: whisk together dry ingredients minus sugars, in a seperate bowl whisk together the wet ingredients with the sugars then combine the dry ingredients with the pumpkin mixture
Prepare cream cheese batter: Beat all ingredients together until smooth
Assemble muffins: Spoon 1 tablespoon of batter into pan followed by a dollop of the cram cheese then fill the rest with remains batter. Sprinkle over streusel
Bake: Reduce oven temperature to 350°F (initial high blast of heat will help these beauties rise and puff up really nicely). Bake 18-22 min the cool and enjoy!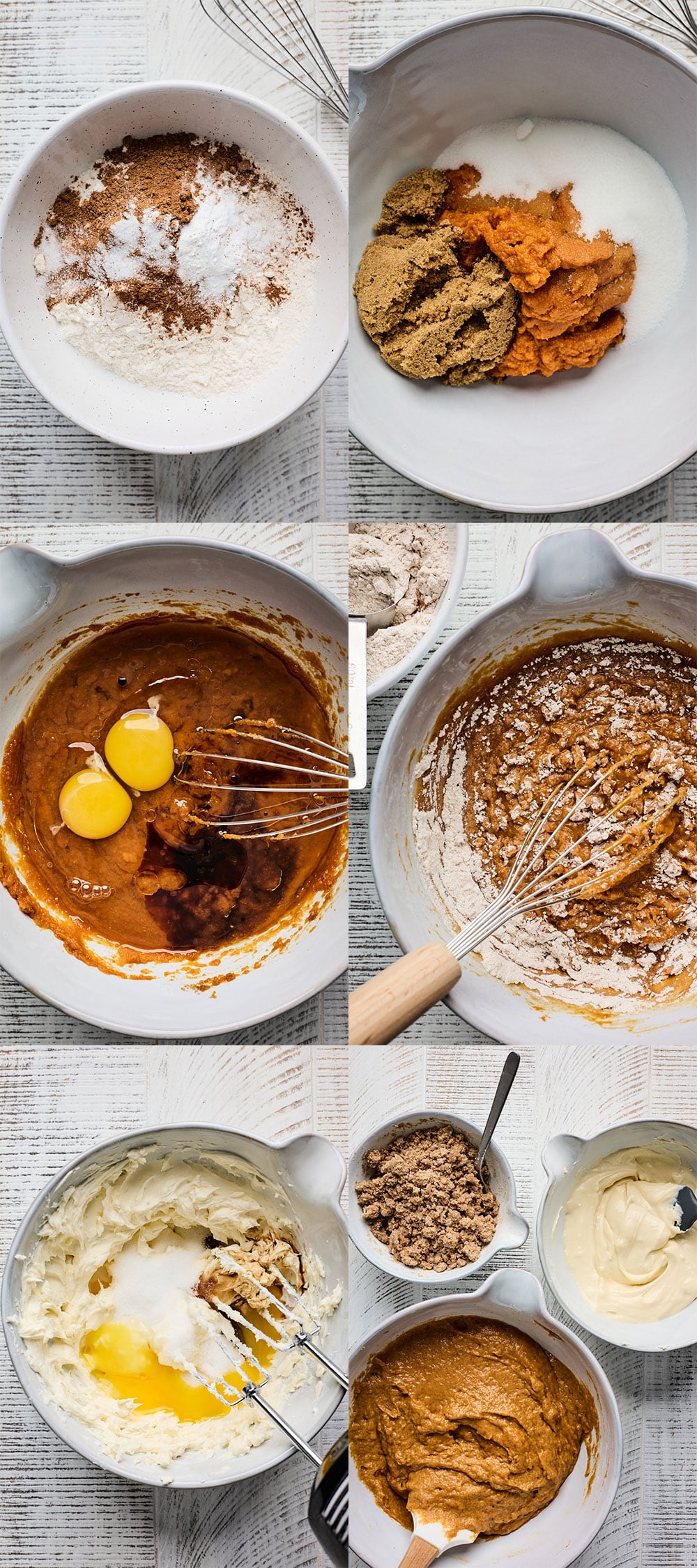 How To Make These Into The Starbucks Copycat version
To make these into the starbusk copy cat version is quite simple. As I mentioned above the Starbucks version has no streusel so you can ski that part and then the only difference is ho you add the cream cheese filling. For the Starbucks version: Divide batter evenly into each muffin well. Fill a pastry bag or large ziplock bag with the cream cheese mixture and cut the corner off. Pipe cream cheese into each muffin (sticking the tip right into the batter or make large indentations into the middle of the batter with the back of a spoon) until it begins to pour out of the top of the muffin. Then instead of a streusel topping, top muffins with pumpkin seeds if desired.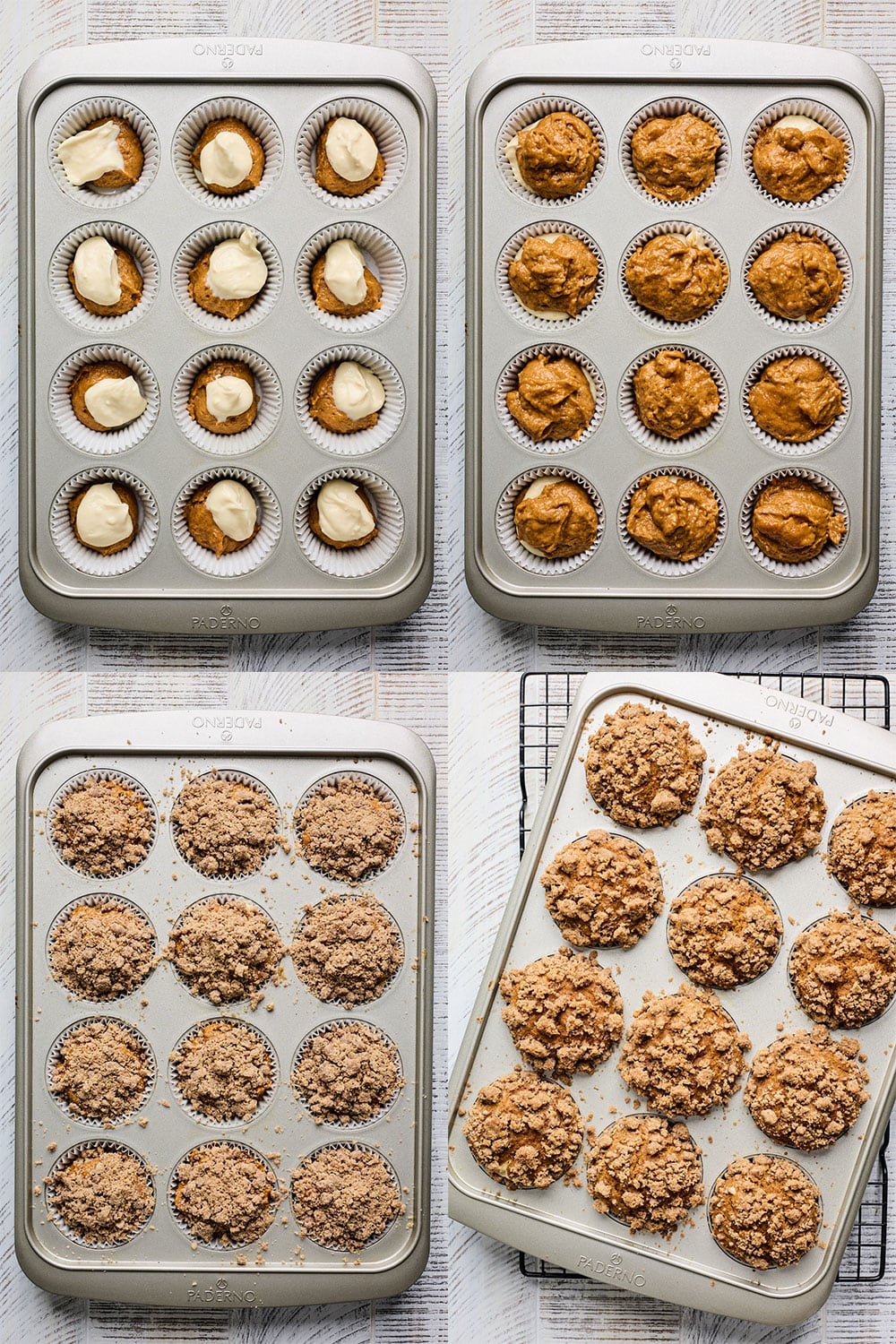 Pumpkin Cream Cheese Muffins Storage & Freezing
STORAGE: It's best to store these pumpkin cream cheese muffins in the fridge because of the cream cheese filling. They should keep fresh for up to about 5 days. Warm up in the oven or microwave if desired.
FREEZING: Cooled muffins can be wrapped individually and stored in and airtight container or bag and frozen for up to 3 months. Thaw overnight in the refrigerator, then warm them up in the microwave, if desired.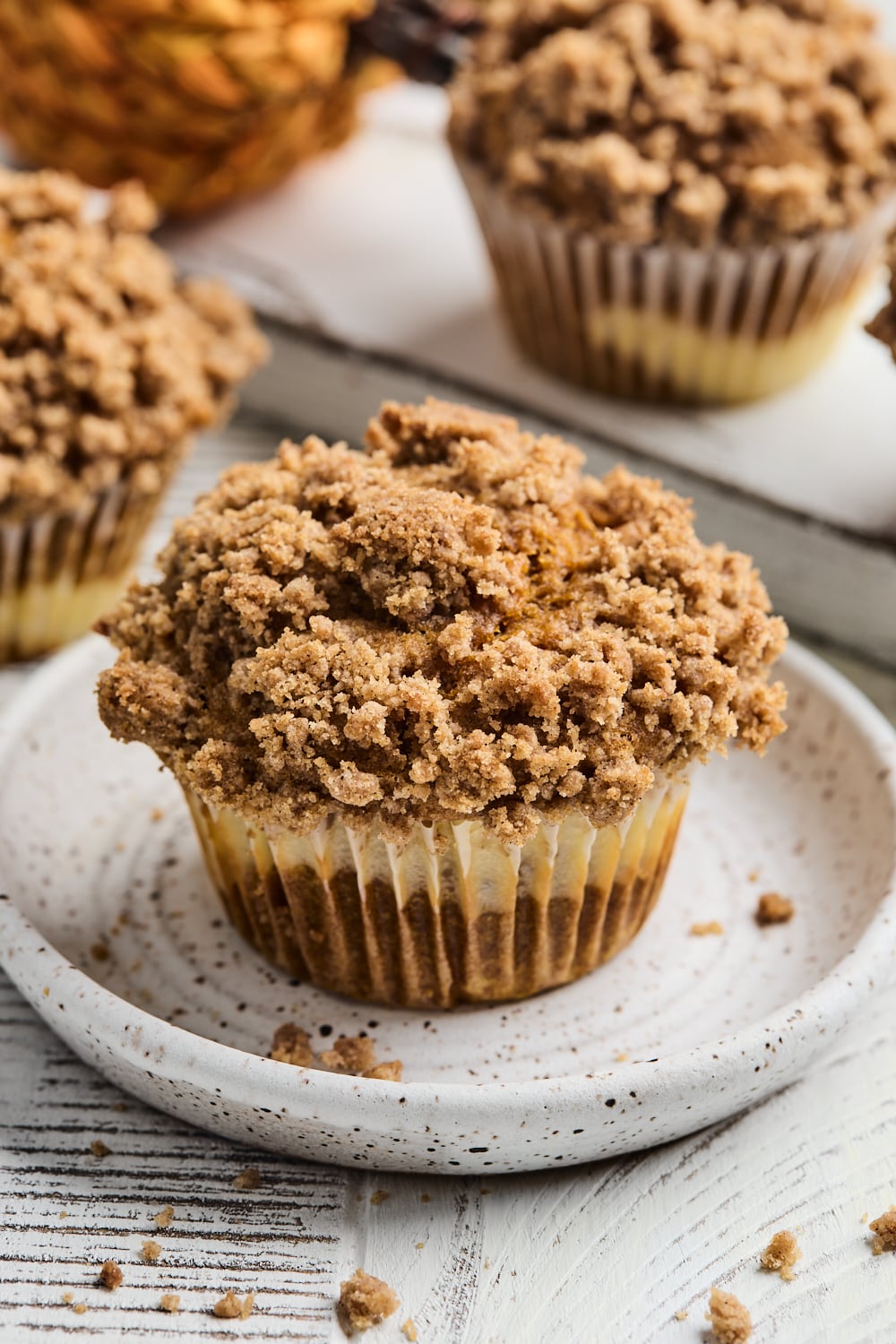 More Pumpkin Recipes You Will Love:
Recipe
Prep Time: 10 mins
Bake Time: 18-22 mins
Total Time: 28-32 min
Ingredients
For the Crumb Topping
⅓ cup packed light or dark brown sugar

1 teaspoon ground cinnamon

¼ cup unsalted butter, melted

⅔ cup (84g) all-purpose flour
For the Muffins
1¾ cups all purpose flour

1 teaspoon cinnamon

2 teaspoons pumpin pie spice

1 teaspoon baking soda

½ teaspoon baking powder

½ teaspoon salt

One (15 oz) can pumpkin (pure pumpkin puree)

½ cup granulated sugar

½ cup packed brown sugar

2 large eggs

½ cup vegetable oil

1 teaspoon vanilla extract
For the Cream Cheese Filling
8 oz cream cheese

¼ cup granulated sugar

1 large egg yolk

1 teaspoons vanilla extract
Directions
Preheat oven to 425°F. Spray a 12-count muffin pan with nonstick spray or line with cupcake paper liners. This recipe makes 12-14 muffins, so you may need a 2nd muffin pan or bake this recipe in batches.
For the Topping: Stir together the brown sugar, cinnamon and salt in a medium bowl until combined. Drizzle in the melted butter and mix with a fork until just combined. Add the flour and mix with the fork until evenly distributed and small, pea-size clumps form. Do not overmix or it will turn into a paste. Set aside at room temperature.
Muffin Batter: In a medium bowl, whisk dry ingredients: flour, pumpkin spice, baking soda and salt until well combined. Set aside.
In large bowl, whisk together pumpkin puree, sugar and brown sugar.
Beat in vegetable oil, eggs and vanilla extract.
Slowly whisk in the flour mixture, until there are no lumps.
Cream cheese batter: In a medium bowl, beat cream cheese until smooth using a mixer. Add in sugar, egg yolk and vanilla extract and beat until well combined.
Assemble: Spoon 1 heaping Tablespoon of pumpkin muffin batter into the muffin cups. Layer with about 1 spoonful of cheesecake filling, then another heaping Tablespoon of muffin batter– or however much batter is needed to fill the cups all the way to the top. (Any leftover cream cheese batter can be distributed on top of muffins and swirled in if there is any left)
Sprinkle crumb topping onto each, then press it down into the tops of the muffins to help prevent it from falling off as the muffins bake.
Place muffins in oven and immediately REDUCE OVEN TEMPERATURE to 350°F and bake 18-22 minutes or until the crumb topping is golden brown and a toothpick inserted into the muffin comes out clean (avoid the cream cheese filling when testing with a toothpick if you can)
Let the muffins cool in the pan on cooling rack for 10 minutes, then carefully remove to a wire rack to cool completely. Store muffins fridge.
Recipe Notes
Can I make these muffins without the cream cheese filling? Yes you definitely can - just omit and fill the muffins tins with pumpkin batter and add the streusel to tops of each muffin and bake. It a great pumpkin muffin recipe with or without the cream cheese.
If you don't have pumpkin pie spice, you can use a blend of ½ teaspoon each: ground Ginger, Cloves, Allspice & Nutmeg