Puttanesca - One Pot Baked Orzo
This One Pot Orzo Puttanesca is a fabulous one pot meal. There is no need to boil pasta separately for this recipe as it all cooks in one pot - the reason one pot dishes are always my favourite. Instead of spaghetti in this recipe we are using orzo for this pasta puttanesca. The puttanesca sauce is flavor packed and loaded with all of the traditional flavours of this Italian dish originally created in Naples. It's a really easy recipes loaded with pantry staples like tuna, diced tomatoes, olives, capers, anchovies, and dried short pasta - orzo is perfect for this one pot dish. It tastes wonderful with all the classic ingredients in it and also preserved lemon - a fabulous add in that Ottolenghi's recipe includes for extra flavour. It starts on the stove top and finishes off in the oven and I have to say I love the crispy edges on the side (best part of baked pasta dishes I always say) it sort of finishes like a Spanish style paella or fideu. One pot dishes are not only easy and delicious but they are great for serving right out of the pan just like a paella - served family style. Enjoy this flavour packed one!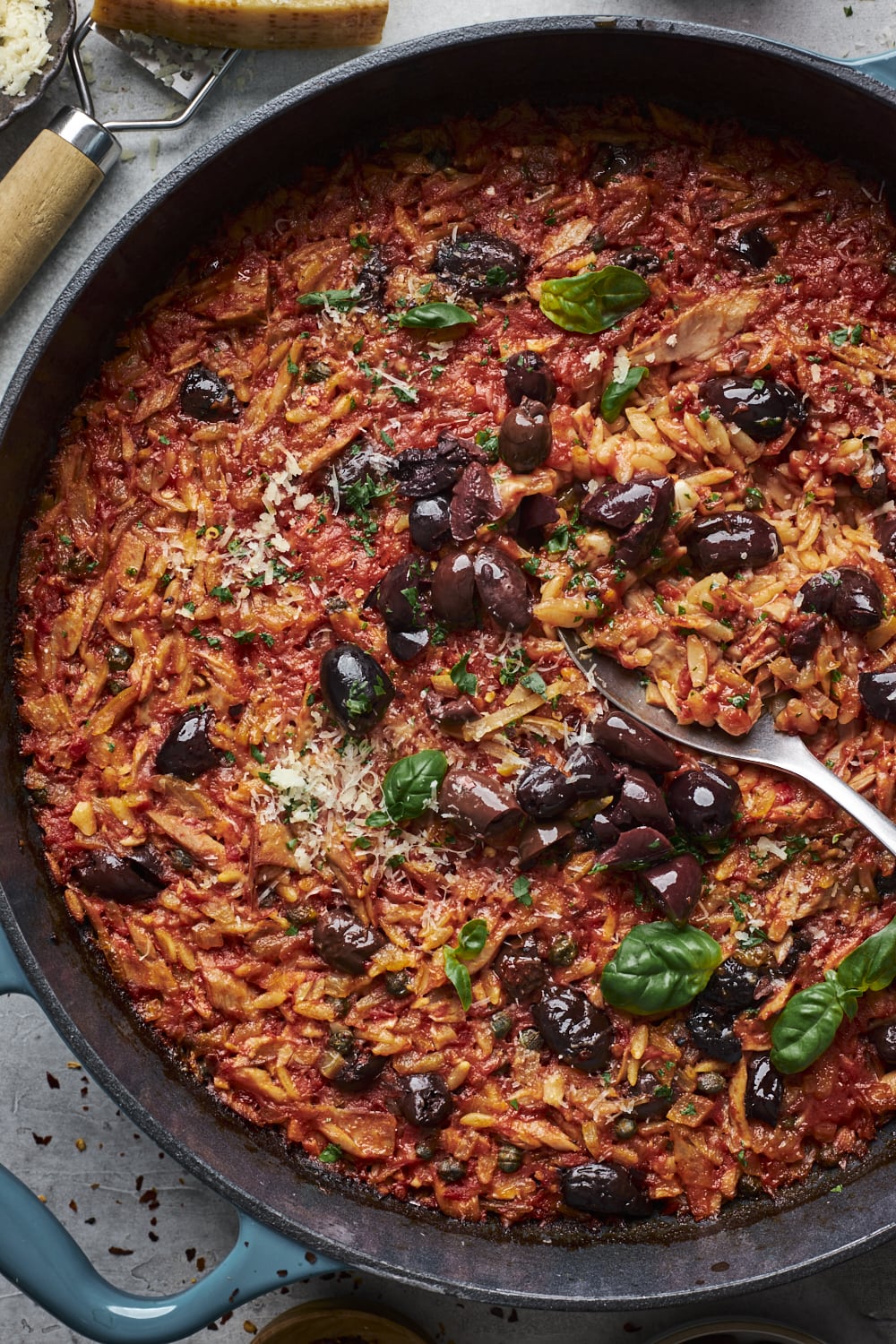 More About Ottolenghi's Test Kitchen - Shelve Love Cookbook
Ottolenghi's Test Kitchen - Shelve Love is the first of Ottolenghi's test kitchen series by Noor Murad & Yotam Ottolenghi. I was fortunate enough to receive both as gifts from Appetite by Random House. 2020, the most momentous years, brought about the start of the series with this book - originally suppose to be called "stripped"with the thought of stripping down shelves, pantries, fridges, freezers -getting rid of old and making way for the new. Instead Shelf Love was chosen and well fitting - as the book is intended to provide recipes to unlock the secrets of your pantry, fridge and freezer. It helps teach its readers how to cleverly utilize your kitchen finds while putting a delicious meal on the table. From fridge fridge to pantry to one-dish bakes and sweet endings - all with an "Ottolenghi" twist - the book has it all. I love the names of each chapter or category they basically describe which shelf you will be raiding: That one shelf in the back of your pantry, Your veg box, Who does the dishes, Fridge raid, The freezer is your friend and At the very end. Shelf love will help its readers develop skills to use up humble ingredients and possibly ones from the the deep corners of your fridge, freezer or pantry and transforming them into a full meal or something delicious. And the pull out chart helps you find recipes to serve or make with certain meals with categories for each area of your pantry and fridge: cans & jars, spices, legumes & grains, baking, veg box, meat, seafood & dairy, and nuts & seeds. It's a great concept for a book and for a series - love it! Grab your copy of any of Ottolenghi's books here.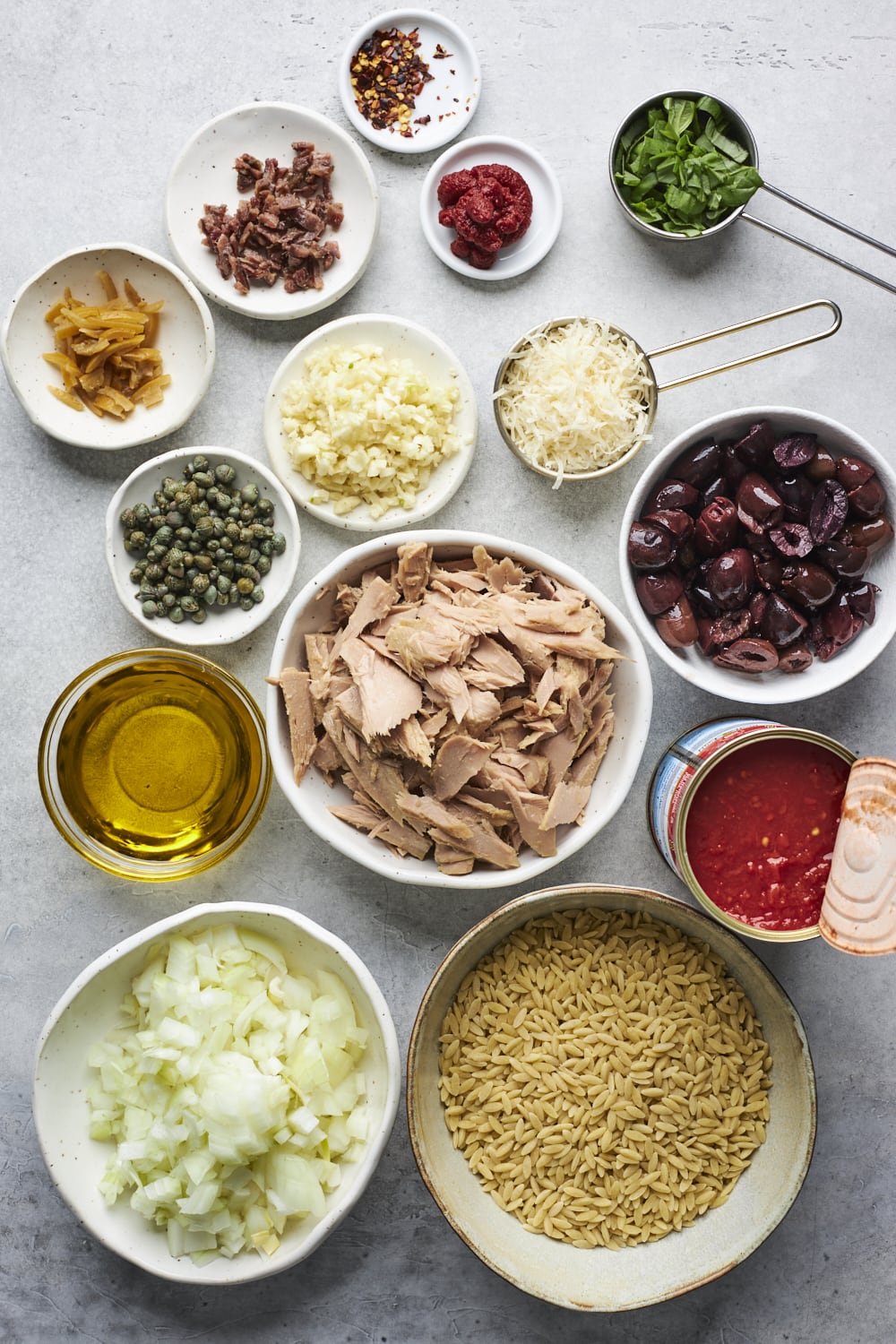 Ingredients For This One Pot Baked Orzo Puttanesca
Extra virgin olive oil
Onion - yellow or red works in this recipe
Garlic - 6 cloves of garlic - I love that Ottolenghi never shies away from garlic - of course feel free to adjust amounts to taste
Anchovies - a classic in puttanesca which adds loads of flavour not fishy'ness - but feel free to leave out if you prefer
Capers - adds nice brininess and unique flavour to the dish
Preserved Lemons - not something everyone has on hand in their pantry but if you do please add them for extra flavour otherwise just omit - they add a certain deeply flavourful tangy funk to any dish
Kalamata Olives - adds nice salty briny flavour and texture to the dish
Tuna - good quality packed in oil is preferred - I like to use the kind in a jar but any one you prefer will work
Tomato paste & Diced Tomatoes - I try to use good quality canned finely diced tomatoes
Orzo - dried orzo is easy to find but any small pasta will work in this recipe if you prefer it over orzo
Parmesan Cheese - freshly grated is best for in the dish and for garnish
Fresh Basil
Spices - salt and black pepper to taste, chilli flakes - use as much or as little as you prefer - and feel free to add in a pinch of dried oregano or other dried herbs that you prefer
Alternatives - Lose the fish: swap out the canned tuna for jarred artichoke hearts and the anchovies for more capers.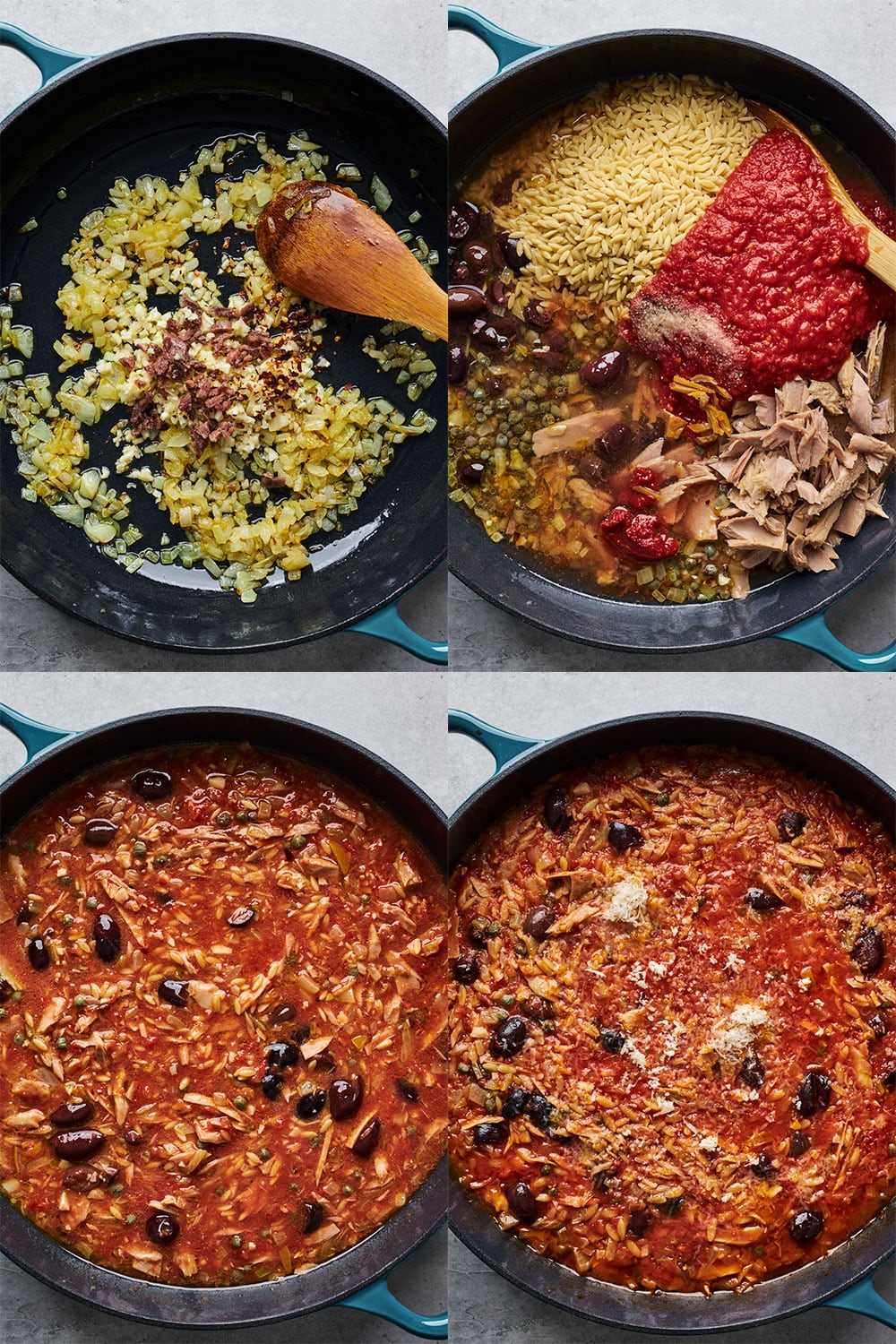 How to Make This One Pot Orzo Puttanesca
Sauté onion in large oven proof skillet until softened and golden
Add garlic, Chile flakes and anchovies and cook 1 min
Stir in the capers, half of the chopped preserved lemons, third of the olives, tuna, tomato paste and canned tomatoes, orzo, water, salt and black pepper
Simmer then cover with lid and transfer to oven and bake for 20 min or until orzo is cooked through
Remove from oven and remove lid, top with slices tomatoes (if using) and the cheese or cheese alone and bake until browned
Remove from oven an sprinkle over remaining preserved lemon, olives and garnish with fresh basil and a drizzle of olive oil and dig in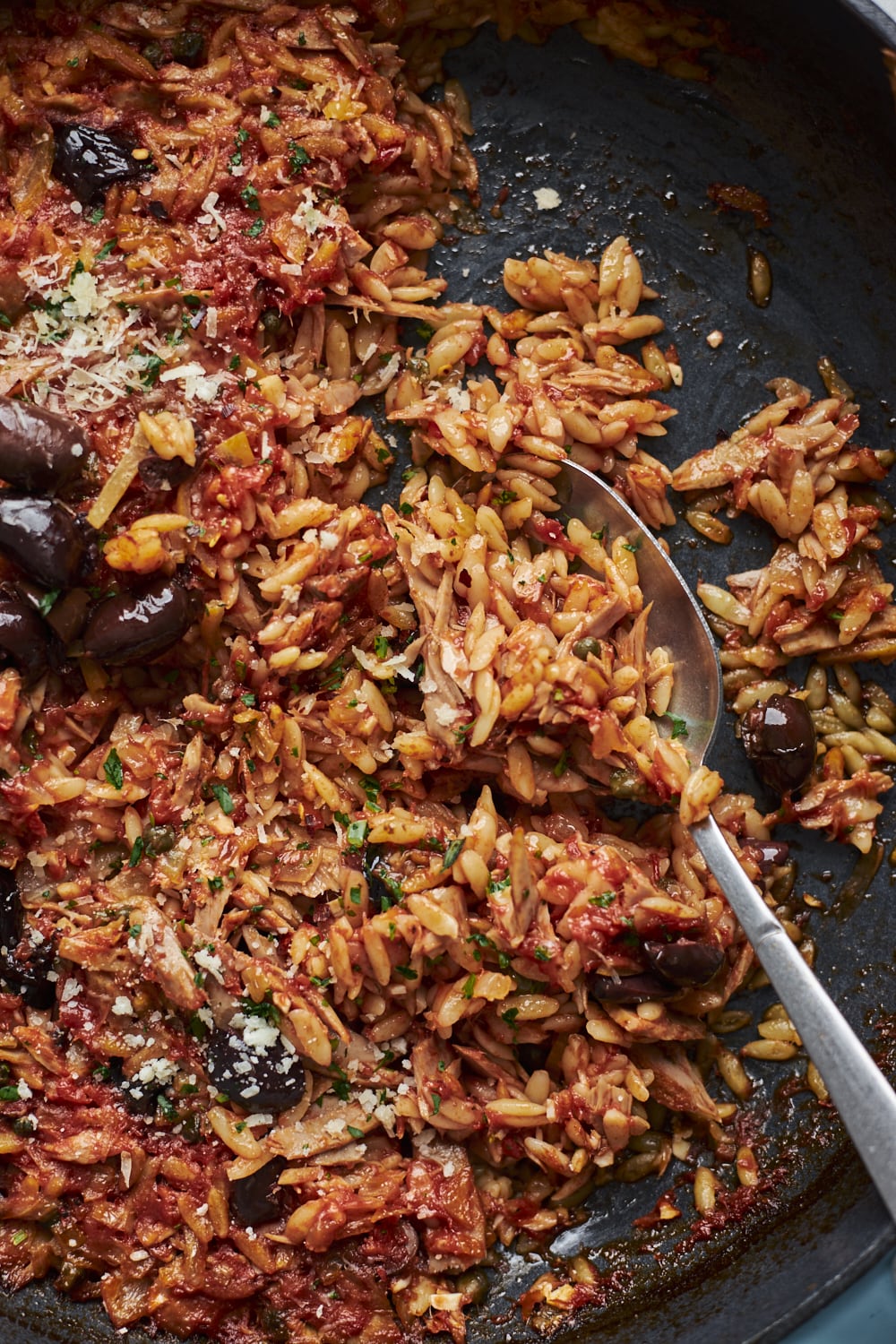 Storage
Leftovers can be refrigerated in an airtight container up to 4 days. Add a little water or broth to loosen when reheating because like any other pasta dish the pasts will continue to absorb any liquids as it sits and overall dish will thicken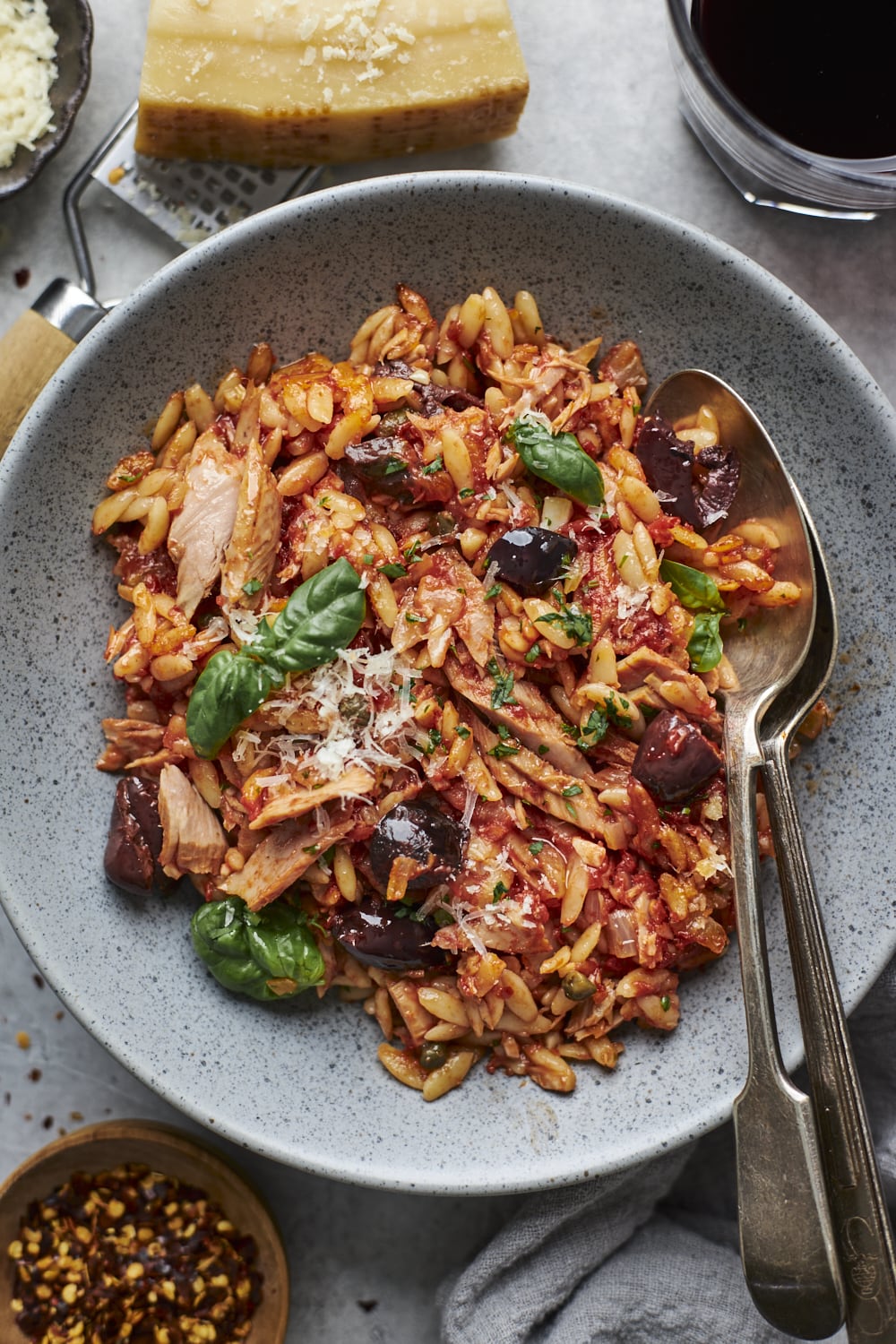 More One Pot Pasta Dishes You Will Love
Recipe
Prep Time: 15 mins
Cook Time: 50 mins
Ingredients
4 tbsp/60ml extra-virgin olive oil

1 onion, finely chopped (1 cup/150g)

6 garlic cloves, peeled and minced

½ teaspoon red pepper flakes/chile flakes

3 anchovy fillets in oil, drained and roughly chopped

2 tablespoons capers

1 oz/30g preserved lemon, inner parts discarded and skin thinly sliced into strips (1 tbsp)

½ cup/70g pitted Kalamata olives (black olives), roughly torn in half

2 (5-oz/140g) cans of good-quality tuna in olive oil, drained and roughly flaked

1 tablespoon tomato paste

1 (14 oz/400g) can of diced tomatoes

1⅓ cups/250g dried orzo

1-2 plum tomatoes (6½ oz/180g), cored and cut into ¼-inch/½cm-thick rounds

⅓ cup/40g finely grated Parmesan cheese

¼ cup/5g basil leaves, roughly torn or fresh parsley

Salt and Black pepper
Directions
Preheat the oven to 425°F.
Put 3 tablespoons of oil into a large, oven-safe sauté pan or large skillet, for which you have a lid, on medium heat to medium-high heat. Add the onion and cook for 8 minutes, stirring occasionally, until softened and browned.
Add the garlic, Chile flakes, and anchovies and cook for 1 minute more, until fragrant.
Stir in the capers, half the preserved lemon, ⅓ cup/45g of olives, the tuna, tomato paste, canned tomatoes, orzo, 1¾ cups/450ml of water, 1 teaspoon of salt, and a generous grind of pepper.
Bring to a simmer, then cover with the lid and bake for 20 minutes, until the orzo is cooked through.
Turn the oven temperature up to 475°F. Remove the lid, top with the sliced tomatoes, sprinkle with the cheese, and bake for 10-12 minutes more, until lightly browned. Let sit for 10 minutes.
Top with the remaining olives and preserved lemon, garnish with the basil leaves, and the remaining 1 tablespoon of oil.
Recipe notes
The mixture will thicken as it cools as the pasta will continue to absorb any of the sauce - feel free to add some broth or water when reheating
If you would like use chicken breast or any other cut of chicken in this recipe you can just ensure to adjust the cooking time while you are BROWNING the meat at the start. Larger cuts of meat will require longer cooking times while browning. The time in the oven should stay the same (25-30min). Longer cooking times while in the oven will overcook and possibly burn the orzo.
It is optional to slice the tomatoes and place them on top - I didn't because I didn't have any at the time but it's totally optional and it is quite pretty if you decide to place them on top
Storage: Leftovers can be refrigerated in an airtight container up to 4 days. Add a little water or broth to loosen when reheating