Skillet Stuffing With Sausage Sage and Apples
This delicious stuffing recipe is a flavorful medley of herbs, sweet apples, Italian sausage and mushrooms, and sour dough bread. Dressing aka stuffing, or whatever you like to call it usually makes it on the side list of a turkey dinner but really never shines as a main but if you are a carb lover like I am you know that this could easily be the main dish. I'm pretty sure that many of you crave the sides over the turkey.  The sides and all the carbs are arguably some of the best parts of a turkey dinner. This dressing is so tasty that it can be the STAR all on its own and should be made year round, not just with your big turkey dinner. I love cooking stuffing/dressing, on the side, not inside the turkey or chicken. This delicious sausage, apple and mushroom sourdough dressing is packed with flavour, gets extra crisp in the cast iron skillet and you get a lot more of it to enjoy.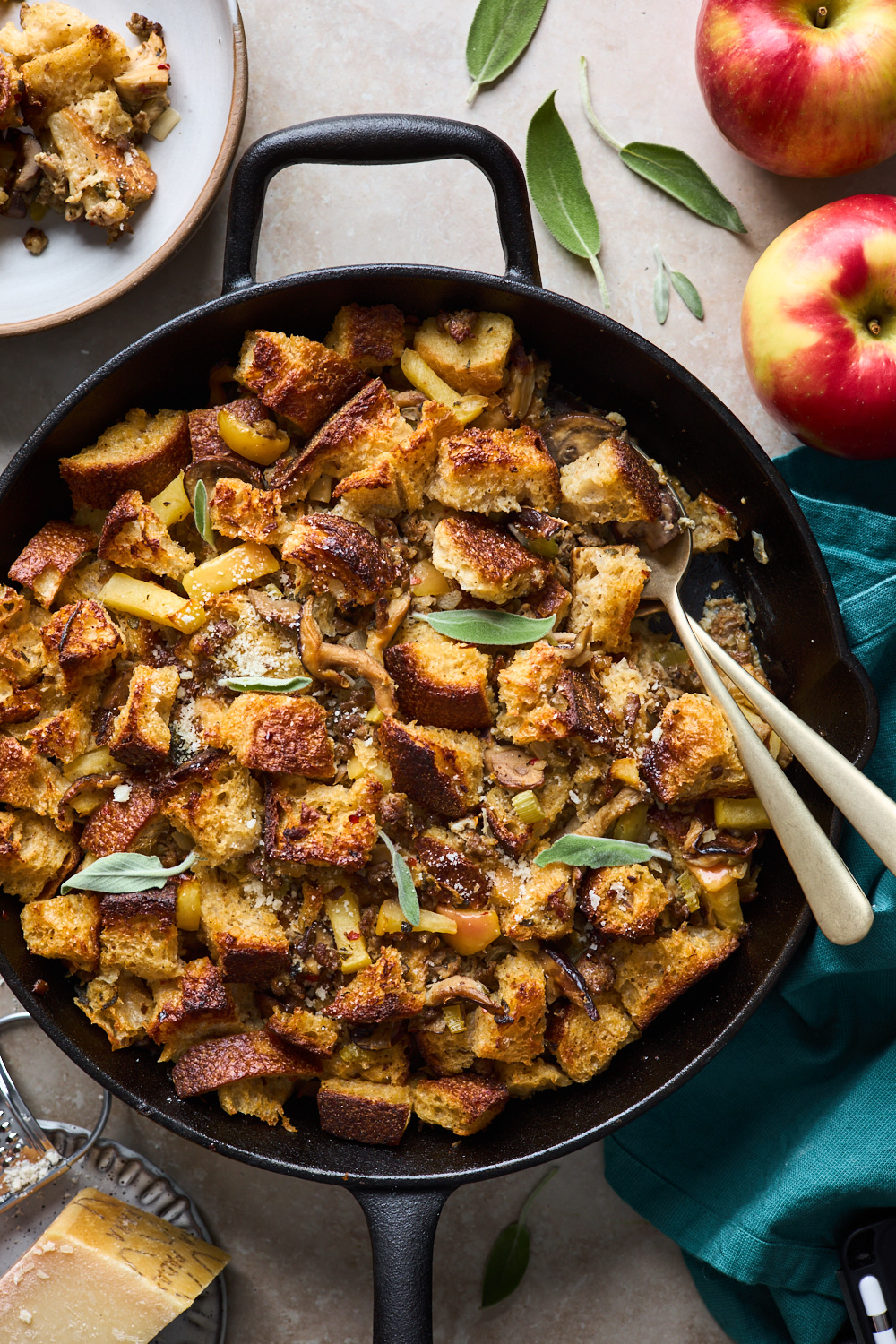 Stuffing cooked separately from the turkey or chicken - does this even work? YES and I got to say I actually prefer it this way because I'm not a fan of eating anything that comes out of the carcass of either. I remove the herbs from the carcass before serving so I naturally don't stuff my turkey with dressing. I find that stuffing in the turkey is almost always mushy and not my favourite texture. Baking it separately will give it more surface area and the dressing will be perfectly golden and crisp on top and porous and moist inside just the way I like it. Making it n the skillet is optional but I love how crispy the edges get when its made in a cast iron skillet. It will be just as delicious baked in a casserole dish though too so feel free to use what you have. This is a cold-weather staple that you will love, full of herby comforting flavors, contrasting textures, and loads of meaty mushrooms, crispy bread, sweet or spicy sausage, and warm apples. All of this baked together in your most favourite casserole dish or skillet, then finished with a sprinkling of extra fresh herbs and extra grated Parmesan cheese if you like - I definitely like and recommend.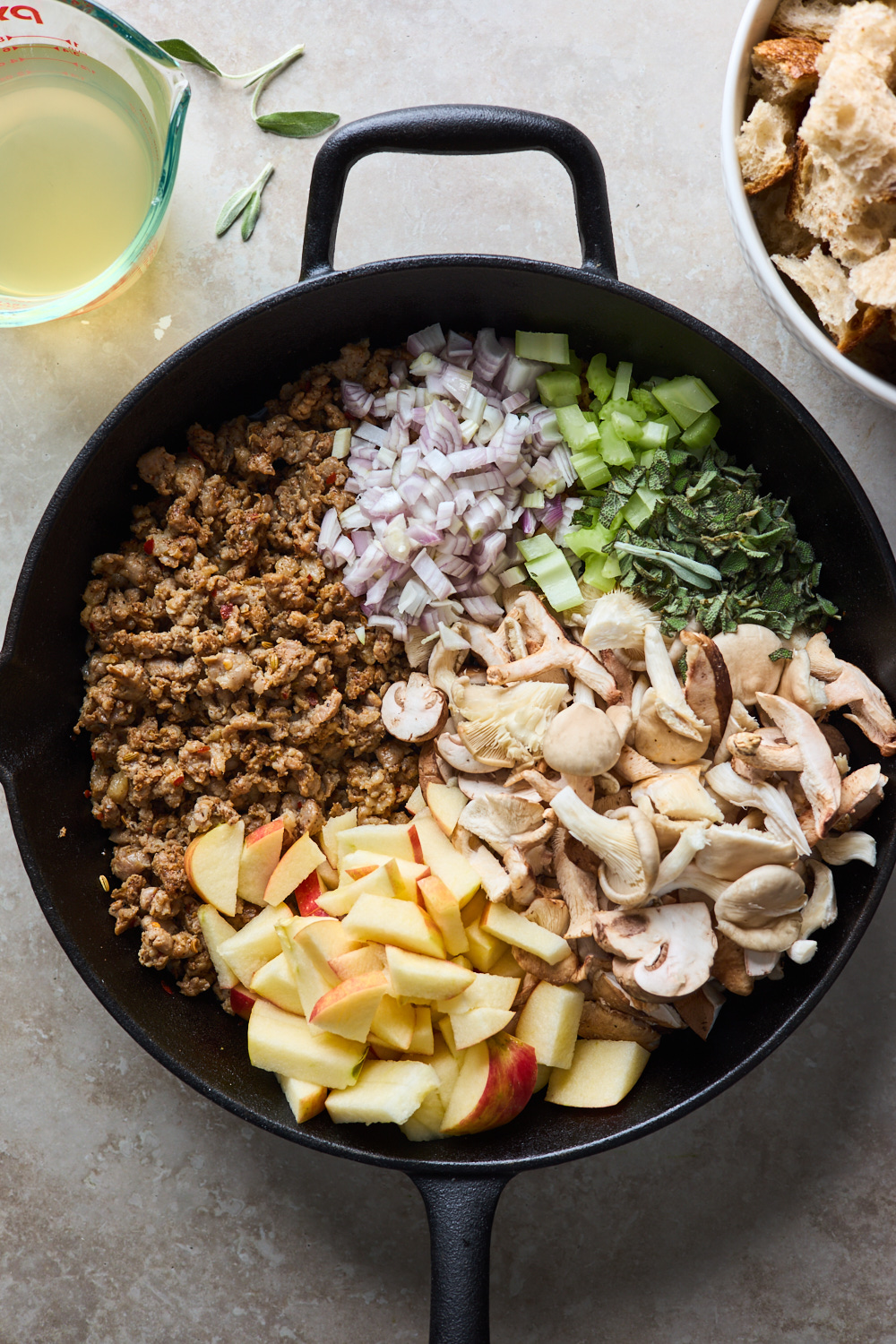 What Kind Bread Can Be Used For the Stuffing/Dressing?
I use sourdough bread for this recipe, but you can use almost any kind of bread, or a combination As I already mentioned earlier, you can start saving slices of bread way in advance and store them in the freezer. You can use a combination of many different kinds of bread, not just sourdough. You can also toast the bread in the oven a few days in advance, to make it easier on yourself for Thanksgiving.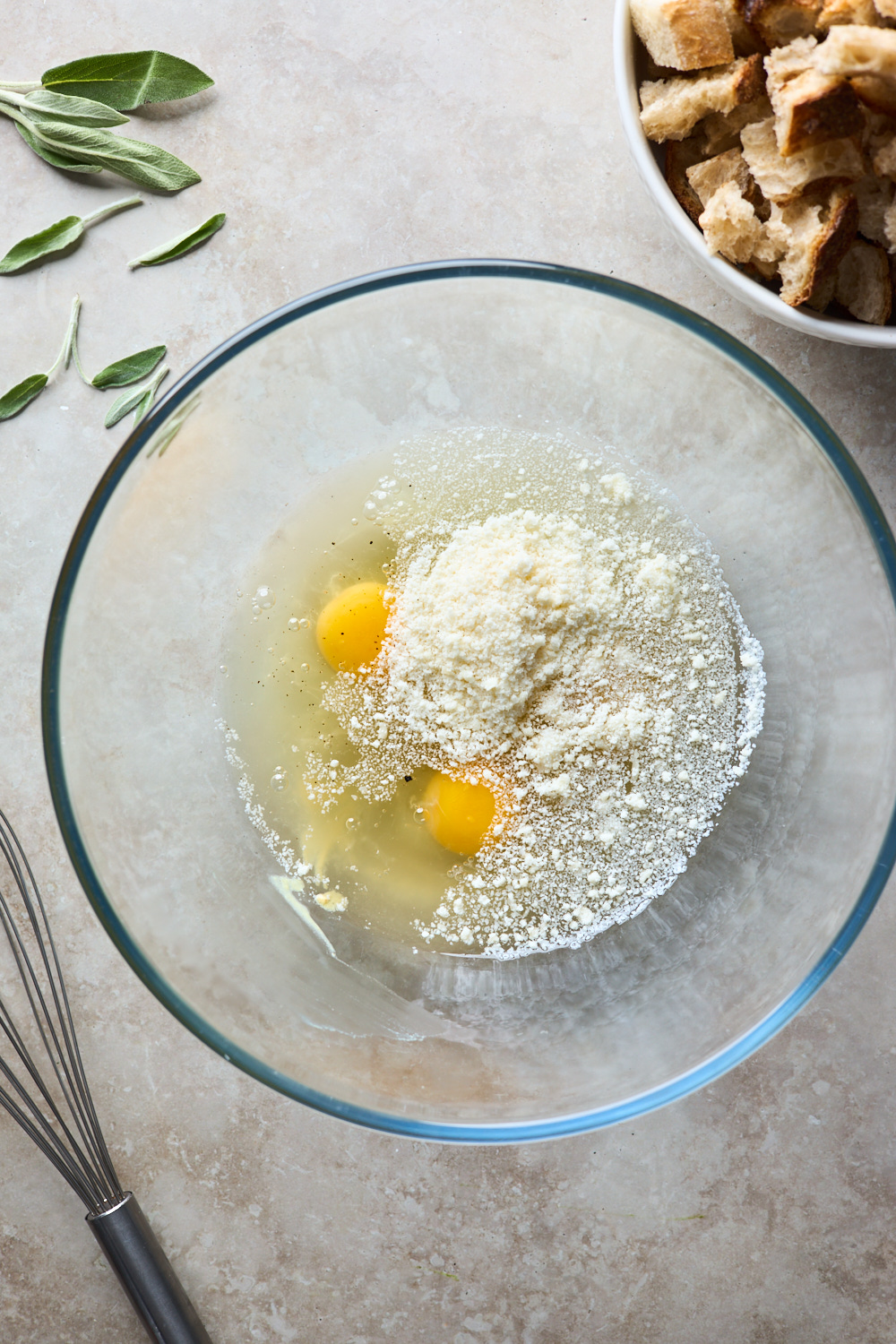 Prep Work That Can Be Done In Advance
If you're making this dressing for a big turkey dinner it a good idea to get everything prepped in advance – dry the bread, sauté the sausage, mushrooms and vegetables and store both separately. Right before baking the dressing, mix the custard ingredients, mix all three of those together and bake after you take the turkey out of the oven and set it aside to rest. If you have a huge oven (I'm jealous) you can bake it along with any other side you might have planned to make - may I suggest you take a scale below to check out some of my all time favourite sides.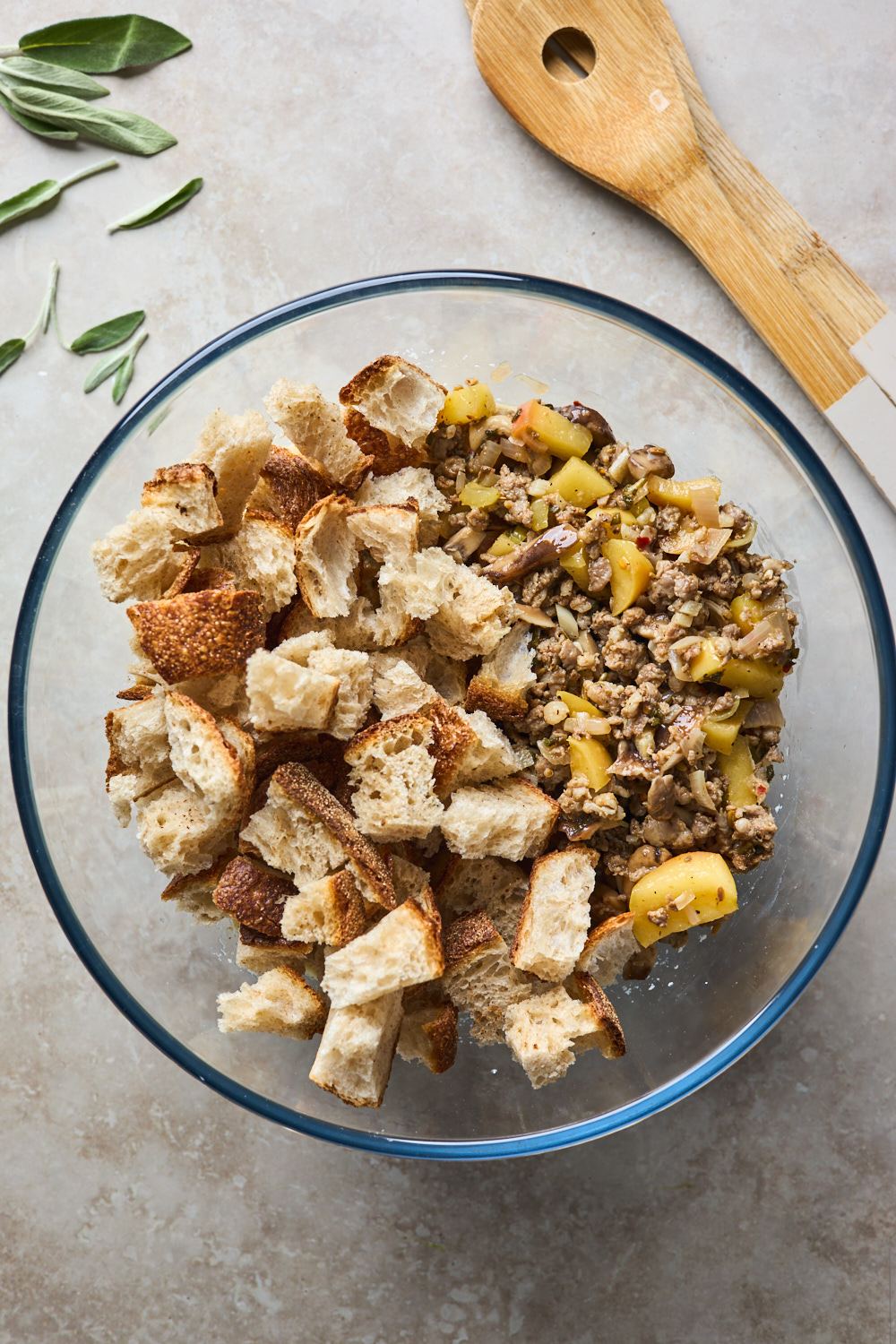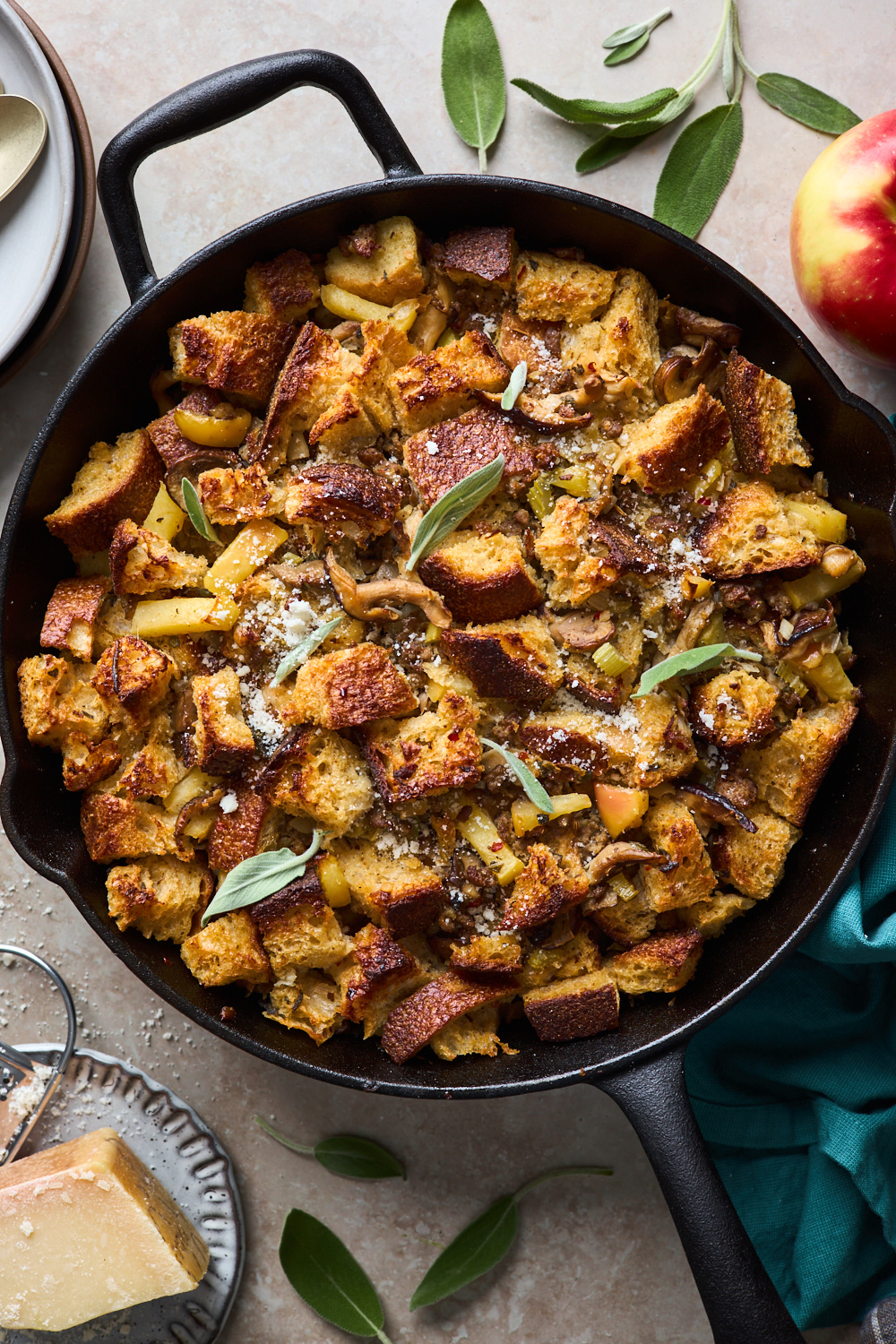 Easy and Delicious Skillet Stuffing Ingredients & Substitutions:
This is not your average, bland, mushy stuffing! This stuffing is savoury from the sausage, crunchy from the bread cubes, and  sweet from the apples. Here is the break down of the ingredients:
Pork Sausage – sage, sweet Italian, and hot pork sausage are all good. Use your favourite!
Shallots, Mushroom, and Celery – the classic stuffing veggie blend. I like to use shallots over yellow onions but either will work. I used wild mushrooms for this recipe but any mushrooms will be delicious.
Bread Cubes – I like to use sour dough or any bread I might have leftover that is on the drier side. I usually bake the cubed bread so that its extra dry so that it doesn't get mushy. Feel free to use store-bought as well if you prefer a shortcut.
Apples – I use red-delicious or gala apples. They're mild and sweet, but use whatever your favourite sweet apple is.
Unsalted Butter and Olive Oil  – they both add warmth, moisture, and a rich, flavour. You could use all butter in this recipe or all olive oil too for cooking the sausage and brushing over stuffing before it bakes.
Chicken Broth – provides the stuffing with moisture and even more delicious flavour.
Dried Sage, Salt, and Pepper – a simple but effective seasoning blend. Feel free to adjust the amounts to suit your taste. Feel free to replace or add in any other dried herbs or fresh herbs you like.  
Eggs - these help make the custard part that adds moisture and helps bind the stuffing.
Parmesan cheese - this is perfect for adding extra flavour and richness. Feel free to use any cheese you like and even add extra on top or serve with extra to top
Extra add ins- raisins, sultanas, chopped dried figs or dates for extra sweetness and even cranberries or nuts for some extra texture.
Mustard and wine - these are optional but definitely amp the flavours in this recipe.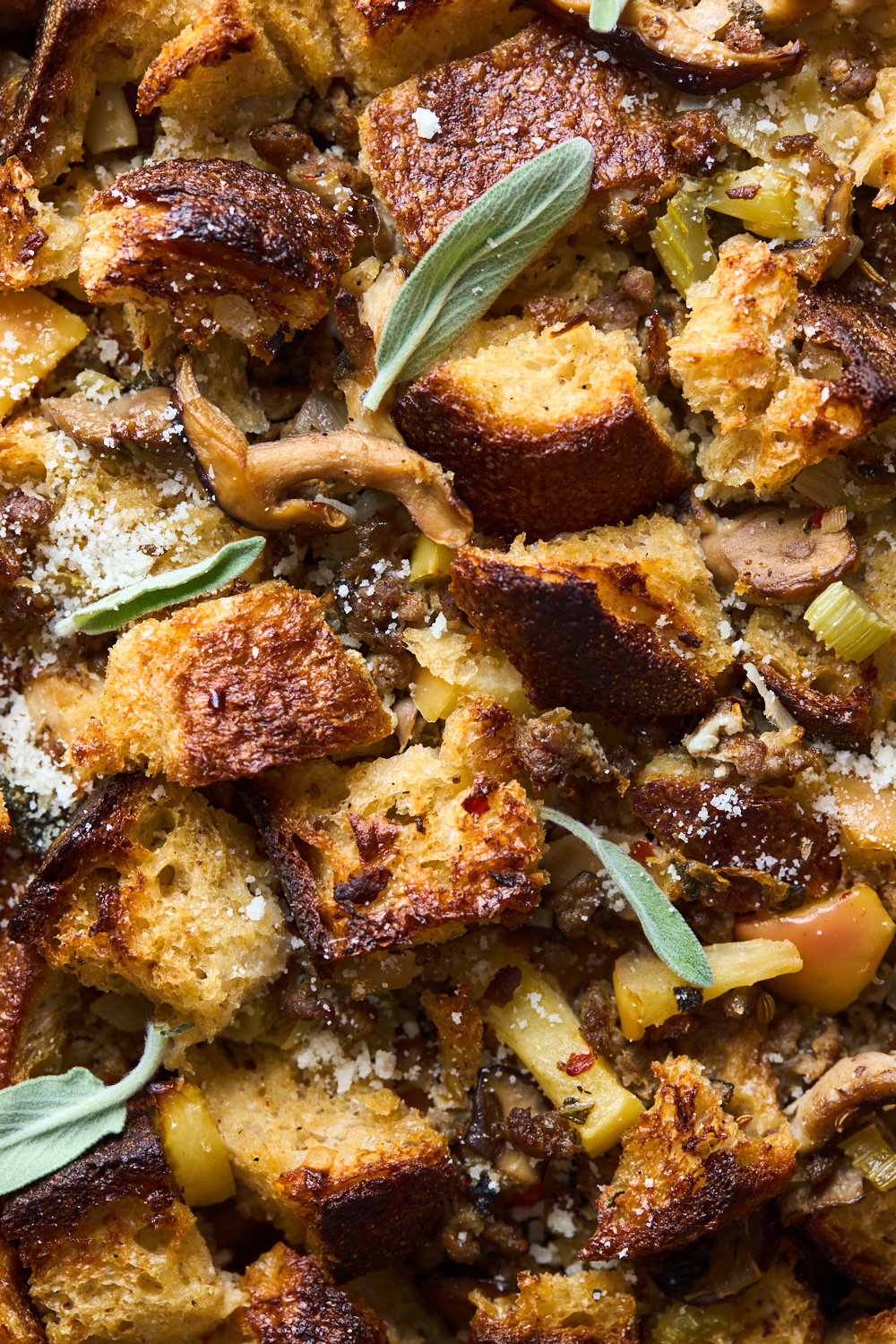 More Turkey Dinner Sides You'll Love:
Recipe
Prep Time: 15-20 mins
Cook Time: 20-30 mins
Ingredients
2 crusty white demi baguettes or sourdough  (about 10½ ounces), roughly chopped into 3/4" cubes (about 8-10 cups cubes)

2 tablespoons extra-virgin olive oil, divided

½ pound hot or sweet Italian sausage, casings removed

2 shallots, peeled and chopped

2 cloves of garlic peeled and chopped

8 ounces wild mushrooms, cut into large pieces

1 Apple cored and diced

1 stalk of celery sliced

2 tablespoons finely chopped fresh sage

1 cup dry white wine

2 large eggs

1¼ cups low-sodium chicken broth

1 ½ ounces finely grated Parmesan or Pecorino (about ½ cup)

1 tablespoon Dijon mustard

1¼ teaspoons kosher salt

1 teaspoon freshly ground black pepper

2 Tbsp butter melted for brushing before baking
Directions
Preheat oven to 425°F. Toast bread on a rimmed baking sheet until dry, about 10 minutes. Let cool. (skip this step if bread is already day old and very dry) Reduce oven temperature to 375°F.
Heat  1 Tbsp. oil in a 12" cast-iron skillet over medium-high. Add sausage and cook, breaking into pieces until browned, about 7 minutes. Add shallots, apple, garlic, celery, mushrooms, and sage and cook, stirring occasionally, until well browned, 8–10 minutes. Add wine and cook, stirring occasionally, until reduced by half. Let cool slightly.
Whisk eggs, broth, cheese, mustard, salt, and pepper in a large bowl. Add sausage mixture from skillet, and bread and toss to combine. Let bread mixture sit 5 minutes, toss again, then pack back into skillet.
Brush or drizzle melted butter over it and then bake stuffing until golden brown on top and cooked through, approx 20-30 minutes depending our your oven.
Serve warm. Garnish with fresh herbs before serving and even extra parmesan cheese. Cover leftovers tightly and store in the refrigerator for up to 5 days. Reheat in the microwave.
Recipe Notes
If using to stuff a turkey, allow to cool completely before stuffing.
Make Ahead Instructions:  I don't recommend making the recipe ahead without baking it. the bread will get soggy. Here is how I make this recipe ahead. You can toast the bread in the oven a few days in advance, and store the cooled crisp bread cubes at room temperature in a sealed bag. I also cook the sausage and veggies and allow them to cool then store them in a sealed container in the refrigerator overnight. when you are ready to bake it just combine the ingredients to make the custard (eggs, cheese, broth) with bread and the sausage mixture then continue with recipe as written.
Freezing Instructions: For long storage, freeze the baked stuffing up to 3 months. Thaw overnight in the refrigerator, allow to come to room temperature, then reheat it in a 350°F (177°C) oven for 20-25 minutes, or until warmed through, before serving.