Snickerdoodle and Peach Ice Cream Sandwiches
Caramelized Peach Ice Cream Sandwiched between soft and chewy snickerdoodle cookies - perfect for peach season. This brown sugar caramelized no churn peach ice cream is easy to make and it's the best all summer treat. This flavour combo is more traditional and one that really accentuates the peaches and celebrates peach season. Because lets be honest, enjoying local fresh fruit and ice cream are really some of the best parts of summer.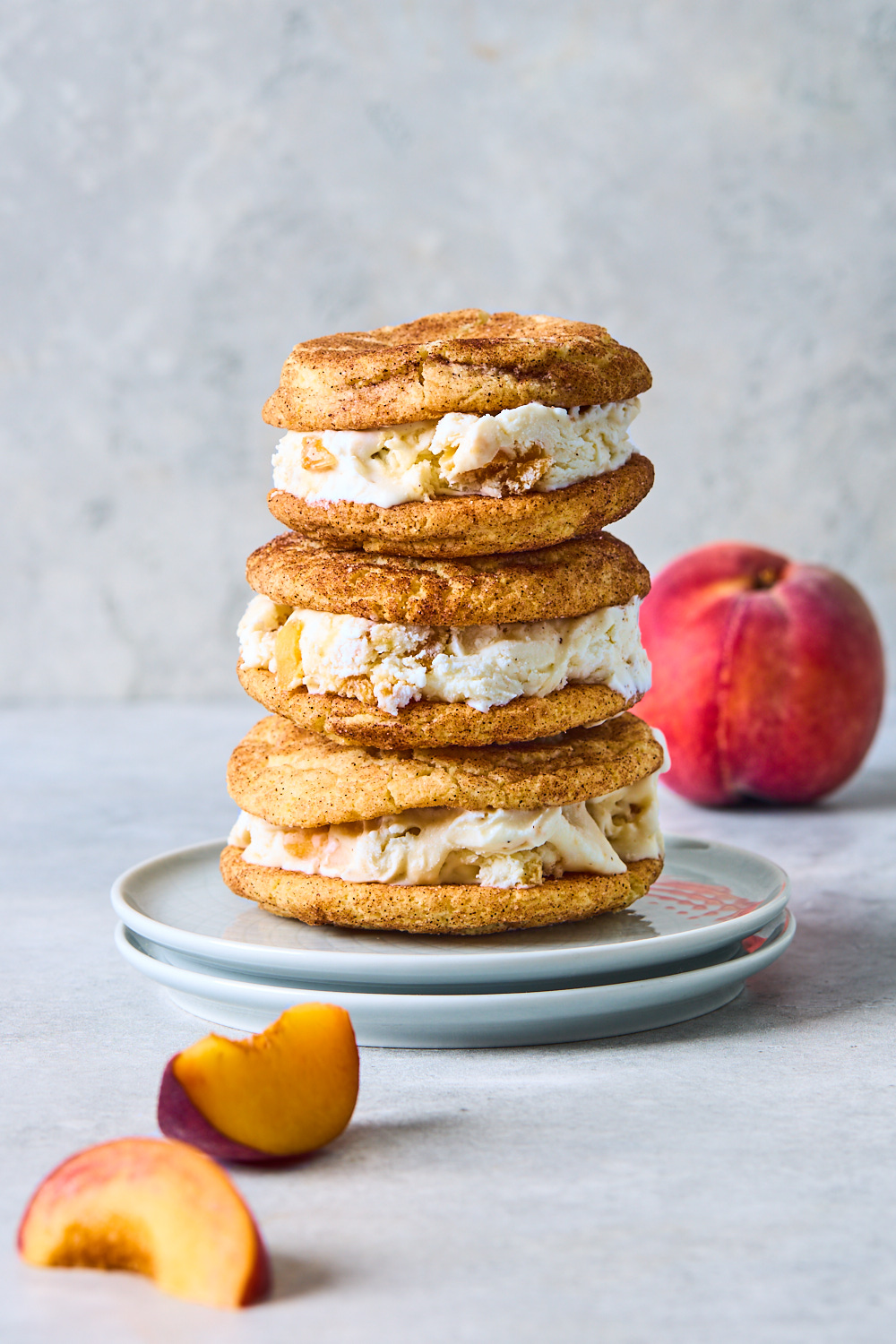 Let's talk about this caramelized peach ice cream. The base recipe for it is my favourite simple go to recipes for no churn vanilla ice cream. Its based off a Martha Stewart recipe that is a no fail recipe and you can add anything you like to it.  This no churn ice cream is so velvety and rich… full of sweet vanilla flavor with the subtle warm kiss of the Bourbon.  I purposely didn't add too much Bourbon, as I wanted it to be a rich backnote of flavor.  I also chose to add the peaches. The caramelized peaches really do add quite a bit of a flavor boost to this already amazing vanilla ice cream and sandwiched between snickerdoodle cookies, you've got yourself one heavenly treat. The peaches are caramelized stovetop with butter, brown sugar and warm spices. Then once they cool they are swirled through the vanilla bourbon infused ice cream. The ice cream is easy to make – it's No Churn so you don't need an ice cream maker and you may have all the ingredients in your fridge and pantry right now! Its simply heavy cream, condensed milk and the vanilla and bourbon. Whipped together and then layered and swirled with the caramelized peaches. Couldn't be easier or more delicious.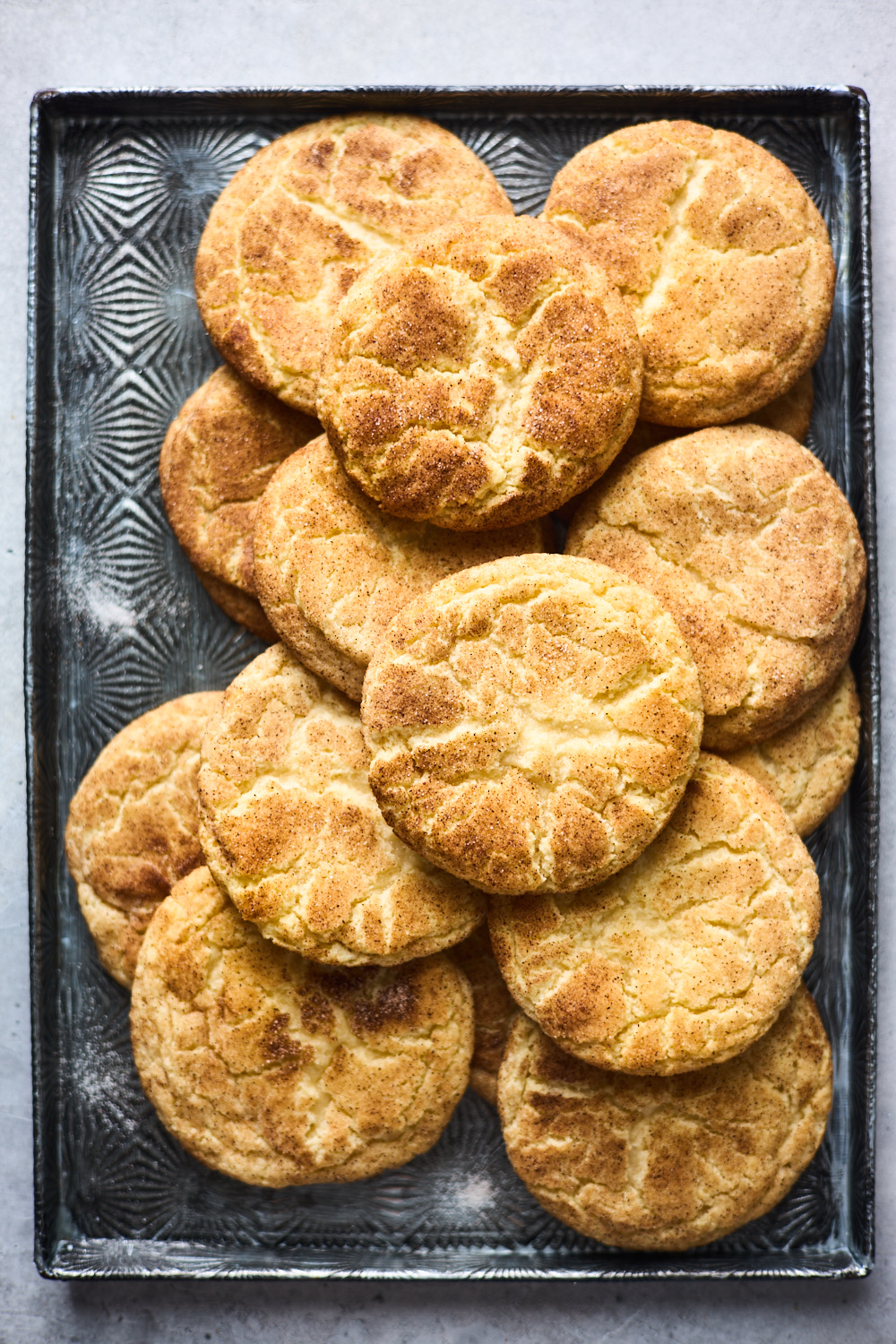 I know there are varying opinions on whether to use soft chewy cookies or crunchy crisp ones when making ice cream sandwiches. I love them both but I definitely favour soft and chewy for mine like Ginger Spiced Molasses Cookies, Double Chocolate Brownie Cookies, Classic Oatmeal Cookies, or Chocolate Caramel Spelt Oatmeal Cookies. I thought that snicherdoodles would be the perfect cookie to hold all the peachy goodness, because there is nothing like these cinnamon-sugar soft and chewy sugar cookies with their cracked tops and just a whisper of tang.  They are the perfect match for the fresh, tangy-sweet, juicy peaches in season right now.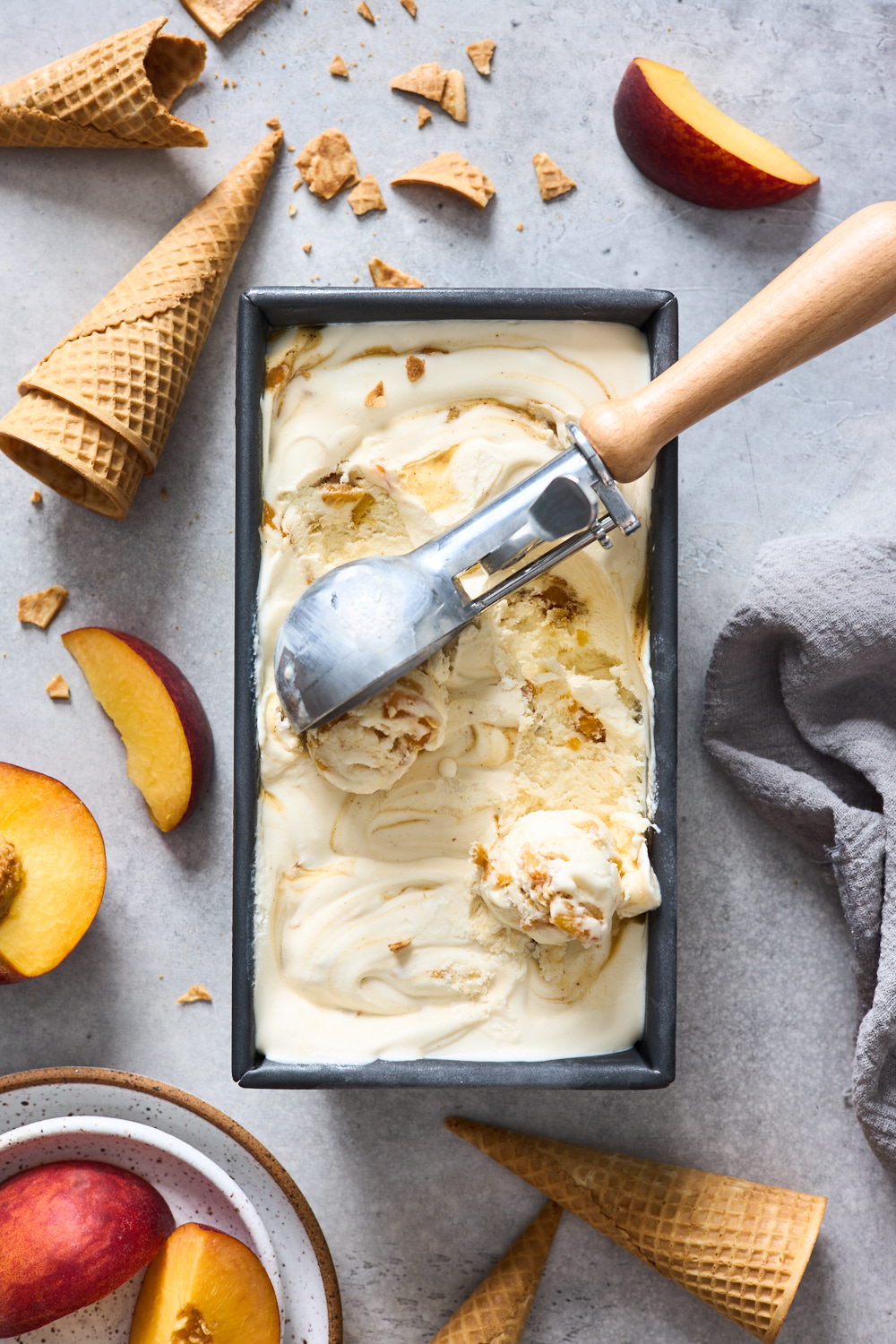 Snickerdoodle & Peach ice-cream sandwich Main Ingredients:
Heavy Whipping Cream – a really important component to ice cream and I would recommend heavy whipping cream over regular whipping cream as it will whip up better
Cream of Tartar – this acts as a leavening agent for baked goods in general and also gives snickerdoodle cookies their signature slight tang.
Fresh Peaches – For best flavor, be sure to use ripe peaches. They will be the sweetest and will breakdown nicely while caramelizing. Frozen or canned can work as well if you don't have fresh peaches.
Brown Sugar and Butter – the most perfect combination for caramelizing the peaches
Sweetened Condensed Milk – it provides all the sweetness this ice cream base needs. Condensed Coconut Milk can also work but it will add a bit of coconut  flavour to the ice cream.
Cinnamon & All Spice – they are both complementary flavors for peaches and you can't have snickerdoodles without cinnamon. If you prefer to pair the peaches with other spices by all means substitute them for these two.
Vanilla Extract & Bourbon – I always use pure Vanilla Extract for the best flavor. The bourbon is optional but I love the subtle warm note of flavour it's adds to this ice cream and it really goes so well with the peaches too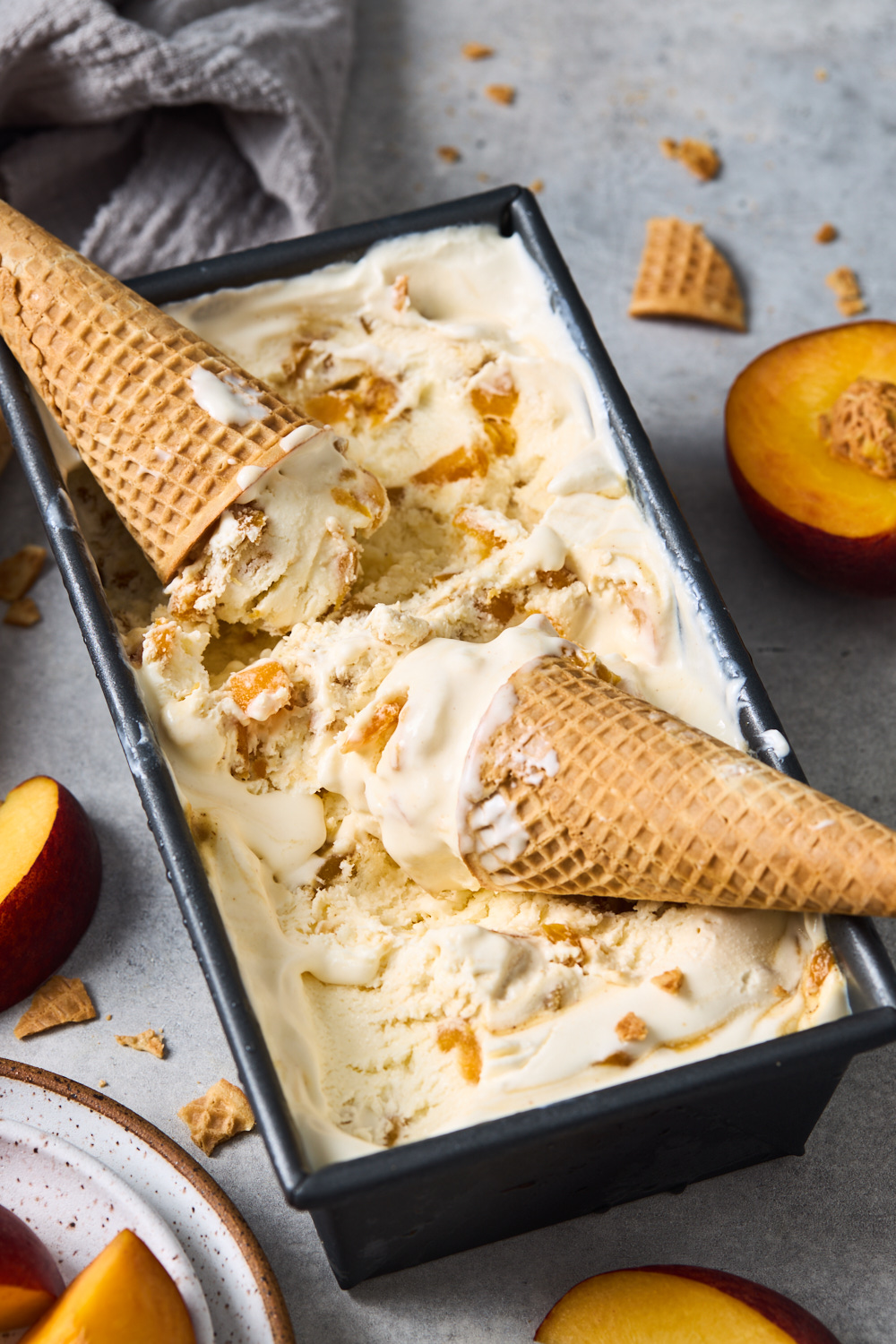 Step-by-step Instructions for Snickerdoodle & Peach ice-cream sandwiches:
Caramelize the peaches in butter brown sugar and spices then set aside to cool
Make vanilla ice-cream base - Whip the cream until stiff peaks. Combine the Sweetened Condensed Milk with the bourbon and vanilla then fold it into the whipped cream.
Add the peaches – layer the cream mixture and caramelized peaches in a ice cream container or a bread pan like i use and then swirl the peaches around.
Freeze – Cover with plastic wrap or cover if using container and freeze until serving time. I recommend at least 4 hours freeze time but I usually make and freeze it overnight.
Make the Snickerdoodle cookies - simply whisk your dry ingredients first. Cream the butter and sugar until light and fluffy then mix eggs and vanilla, then mix in the flour until combined. Scoop out cookie dough and roll int ball. Roll dough balls in cinnamon sugar, bake until just golden and the cool completely
Assemble the ice-cream sandwiches - Scoop ice cream out and place on top of the flat part of a cookie place another cookie overtop flat side down and then enjoy if serving right away otherwise wrap the ice cream sandwiches tightly with plastic warm and then freeze until ready to serve.
If you like this recipe you will love these:
Recipe
Yields: 18-20 cookies, 1½ quarts of ice-cream and 9-10 ice cream sandwiches
Prep Time: 30 mins
Bake Time: 20 mins
Non active time: 6-10 hours for chilling
Ingredients
For the Peach Ice Cream
1 tablespoon butter

1 cup finely chopped peeled ripe peaches (from about 2 large)

2 tablespoons brown sugar

½ teaspoon cinnamon 

¼ teaspoon ground allspice

1 can (14 ounces) sweetened condensed milk 

2 teaspoons pure vanilla extract 

2 tablespoons bourbon (optional) 

2 cups cold heavy cream
For the Snickerdoodle Cookies:
2 ½ cups all-purpose flour

2 teaspoons cream of tartar 

1 teaspoon baking soda 

¾ teaspoon kosher salt 

2 sticks (1 cup) unsalted butter, softened 

1¾ cups granulated sugar

½ teaspoon vanilla 

2 large eggs 

1 tablespoon ground cinnamon 
Directions
For the ice cream
In a nonstick skillet, melt the butter over medium-high. Add the peaches, brown sugar, and spices. Cook, stirring occasionally, until the peaches soften, 3 to 5 minutes. Remove from heat and cool completely. 
In a medium bowl, stir together condensed milk, vanilla, and bourbon. In a large bowl, using an electric mixer, beat cream on high until stiff peaks form, 3 minutes.
With a rubber spatula, gently fold whipped cream into condensed milk mixture. Pour half into a loaf pan, top with half of the peach mixture and swirl into the cream then repeat with remaining cream and peach mixture.
Cover and freeze until firm, 6-8 hours
For the cookies
Preheat the oven to 400°F and line 2 large baking sheets with parchment paper.
In a large bowl, whisk together the flour, cream of tartar, baking soda and salt. Set aside 
In the bowl of an electric mixer, cream the butter and 1½ cups of the sugar together until light and fluffy, 3 to 5 minutes. Then beat in the eggs and vanilla and scrape the bowl. 1. Turn the mixer to low and slowly add the flour mixture until well combined.
Mix the remaining ¼ cup sugar and cinnamon together in a small bowl. Use a 1½- tablespoon cookie scoop to measure out the dough balls. Roll each ball in your hands to even out, then roll in the cinnamon sugar to thoroughly coat.
Place the balls on the prepared baking sheets, 2½ inches apart. Bake until just golden around the edges, 8 to 9 minutes. Cool completely on rack. 
Assembly
Scoop ⅓ cup of ice cream onto the flat side of 1 cookie. Top with another cookie, flat-side down. Press down to adhere. Repeat with the remaining cookies and ice cream, freezing the ice cream sandwiches as you make them. Freeze until firm, about 4 hours.