Spanakopita Dip
This hot spinach dip is a blend of cooked spinach, three types of cheese and fresh herbs and seasonings, all baked together to melted cheesy perfection. An easy make-ahead party snack that's sure to be a crowd pleaser. For a lighter, healthier take on the creamy, cheesy classic, try this updated and delicious spinach ricotta dip. The savory spread makes an excellent snack, party food or appetizer. Spinach dip is such a classic recipe, and there are so many different ways to serve it! I've seen hot spinach dip, cold dip, dip in a bread bowl, no matter what it's always a hit at a party. This cheesy greek spanakopita version is my favourite out of the bunch, it takes just minutes to put together and will be the first thing eaten at your next gathering.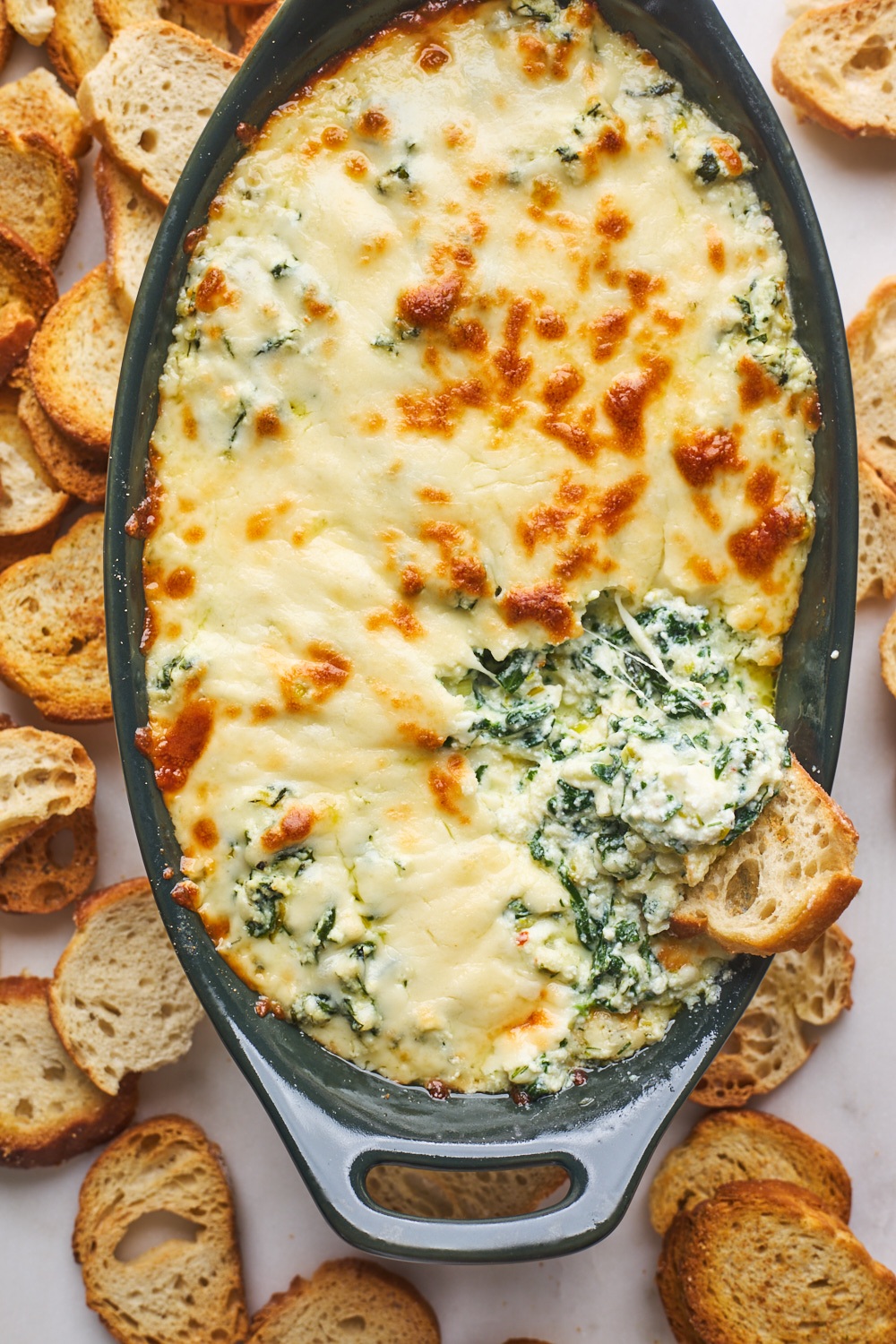 What is spanakopita?
Spanakopita(Greek spinach pie) is a Greek savoury phyllo pastry stuffed with spinach and cheese. There are many variations of this delicious Greek pie but the authentic style one I grew up knowing and eating is made using homemade phyllo and loaded with fresh herbs like dill parsley and mint and the spinach is sautéed with garlic and onion and leeks as well, then mixed with feta cheese, ricotta cheese and egg for binding. This spanakopita dip recipe is loaded with the same traditional flavours in spanakopita minus the egg for an absolutely irresistible cheesy and delicious Greek spinach dip.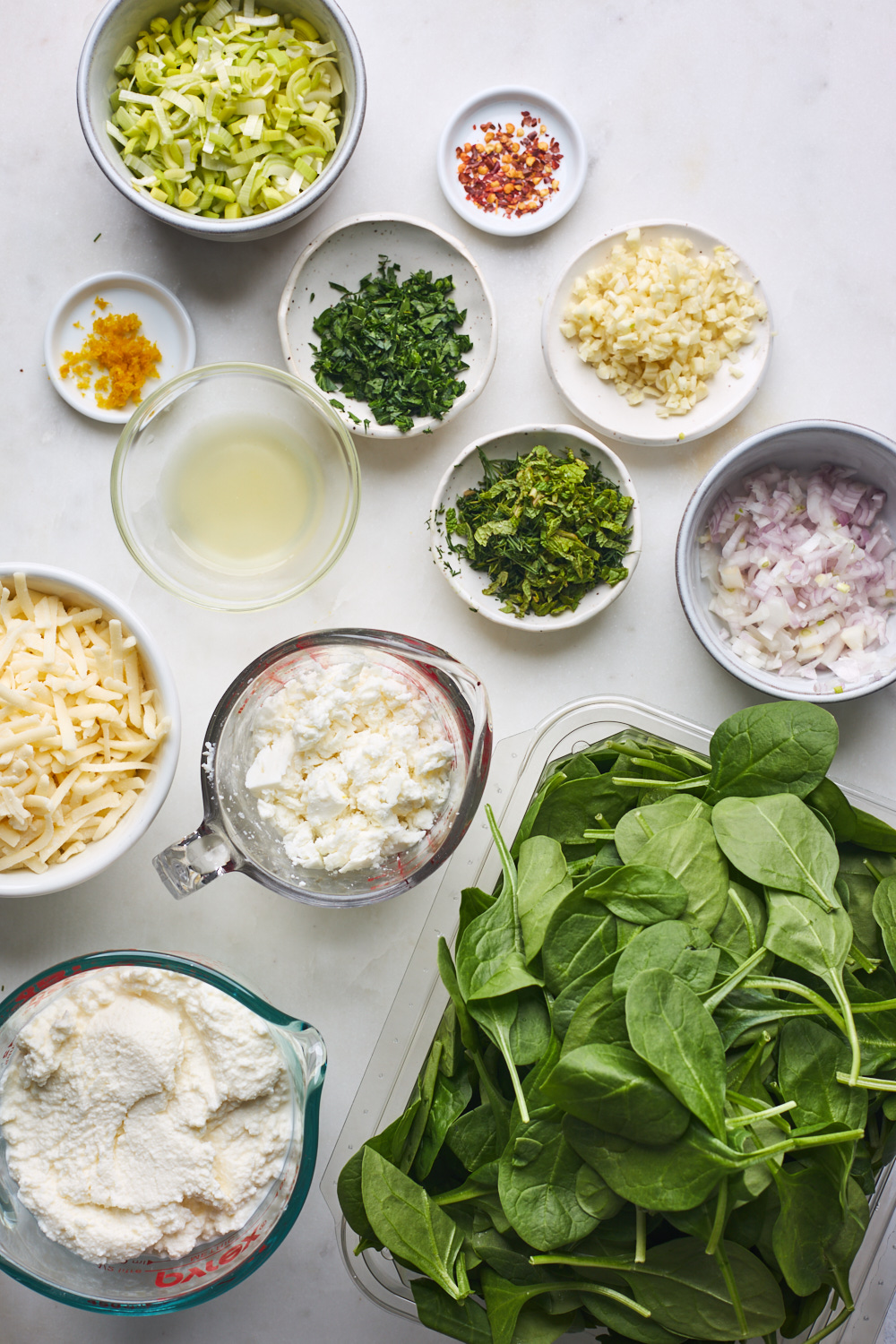 Spanakopita dip ingredients:
Most dips are made with mayo, cream cheese or other heavy cheeses. This one gets its creaminess from the ricotta which I love and all the flavour from the fresh herbs and seasonings. Plus with the exception of the eggs and mozzarella this spanakopita dip has the exact ingredients in it as a homemade spanakopita. The mozzarella adds extra gooeyness to the dip and gives it a nice golden gooey layer over top of it too. Here is what you will need:
Spinach - fresh spinach is always best as it lends to better flavour than frozen and is less waterlogged. If frozen is all you have that is ok just make sure to thaw it and try and squeeze out as much of the liquids from it as possible before sauteing to remove any excess moisture.
Leeks, shallot, & garlic - leeks add so much sweetness and flavour but feel free to use green onions in place of the leeks if needed. You can use a small yellow onion in place of the shallot and use as much or as little garlic as you like
Chii flakes, salt & pepper - use as little or as much as you like according to taste
Ricotta - a good quality creamy rich one is recommended as it will add the best flavour to the dip. I recommend straining it over a cheesecloth or paper towel lined metal sieve for a few minutes while you prep the rest of the ingredients to remove any excess moisture. I don't usually use a light or low fat one but feel free to if you wish.
Feta Cheese - use one you love - I like using a rich soft one like a good Bulgarian one for its meltability but you can use your favourite kind. Feta of course is salty so I recommend seasoning with salt only after you have added the feta to the dip so you can taste it without adding too much - each feta is different in saltiness and texture.
Mozzarella - half gets mixed into the dip and the rest gets sprinkled over top for a nice golden gooey layer. I don't usually use low fat but feel free to if you wish
Lemon juice and zest - fresh is always best
Herbs - fresh is alway best but dried could work in a pinch too. I always use a blend of dill and parsley and I even add some mint too. Mint isn't everyone's favourite so I didn't include it in the recipe below but I always add a bit of it so feel free to add a teaspoon of fresh chopped mint to the mix if you would like. You could even add a pinch of oregano too if you like too.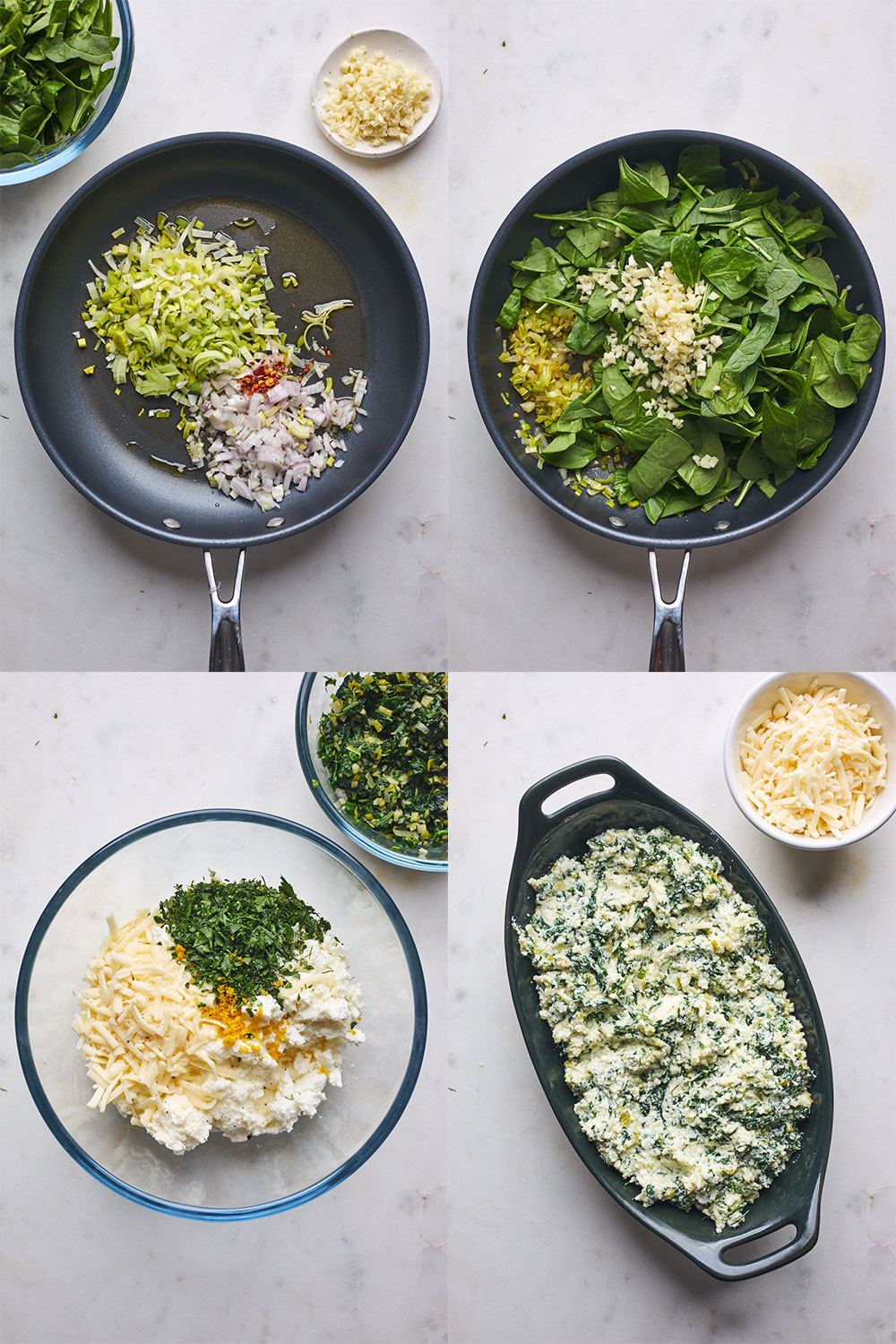 How to make spinach dip
This quick and easy spinach ricotta dip needs no food processor to make it or blender. Its simple to make and only requires a bit of chopping and sauteeig for a few minutes. This spanakopita dip is a mix of cooked spinach, garlic,shallot, leeks, feta cheese, mozzarella cheese, fresh herbs and lemon zest and juice. All of the ingredients get stirred together and spread into a baking dish or skillet. The finishing touch is another layer of mozzarella cheese. Bake your dip until it's hot and melted, then serve with pita chips, tortilla chips, crackers, fresh veggies, crusty bread or sliced baguette and enjoy! All the flavours of spanakopita with very little fuss and in dip form - yummm!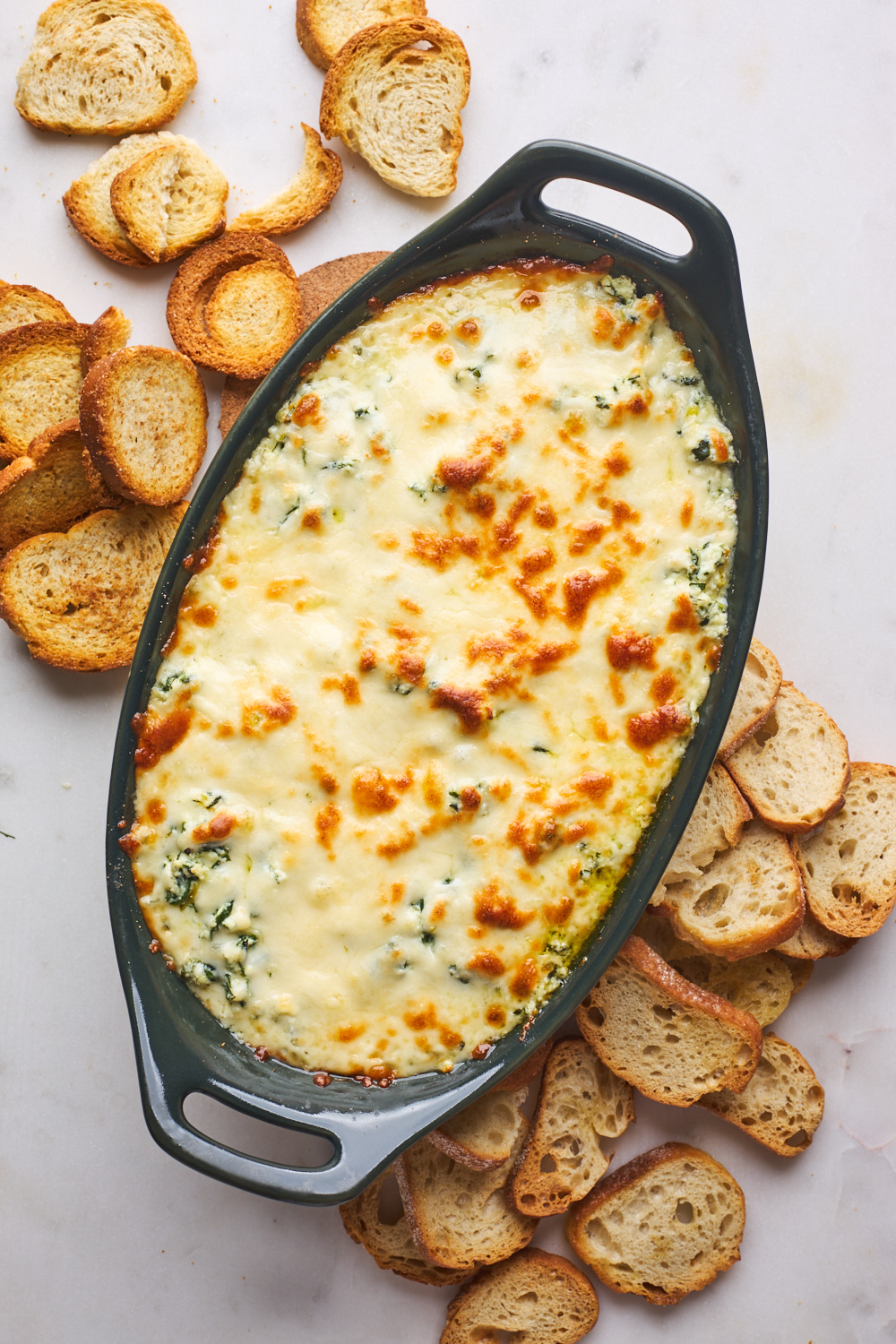 Tips for spinach dip
The most important part of making this recipe is to be sure all of the water is removed from your spinach. that is why I like using fresh spinach over frozen and sauteing it helps cook off a lot of its moisture.
I prefer to use freshly cooked spinach for this dip. You can use frozen spinach in a pinch, but I find that frozen spinach has a stringier texture and less flavour.
I use a blend of salty briny feta cheese, creamy sweet ricotta and mozzarella cheeses to flavour the dip.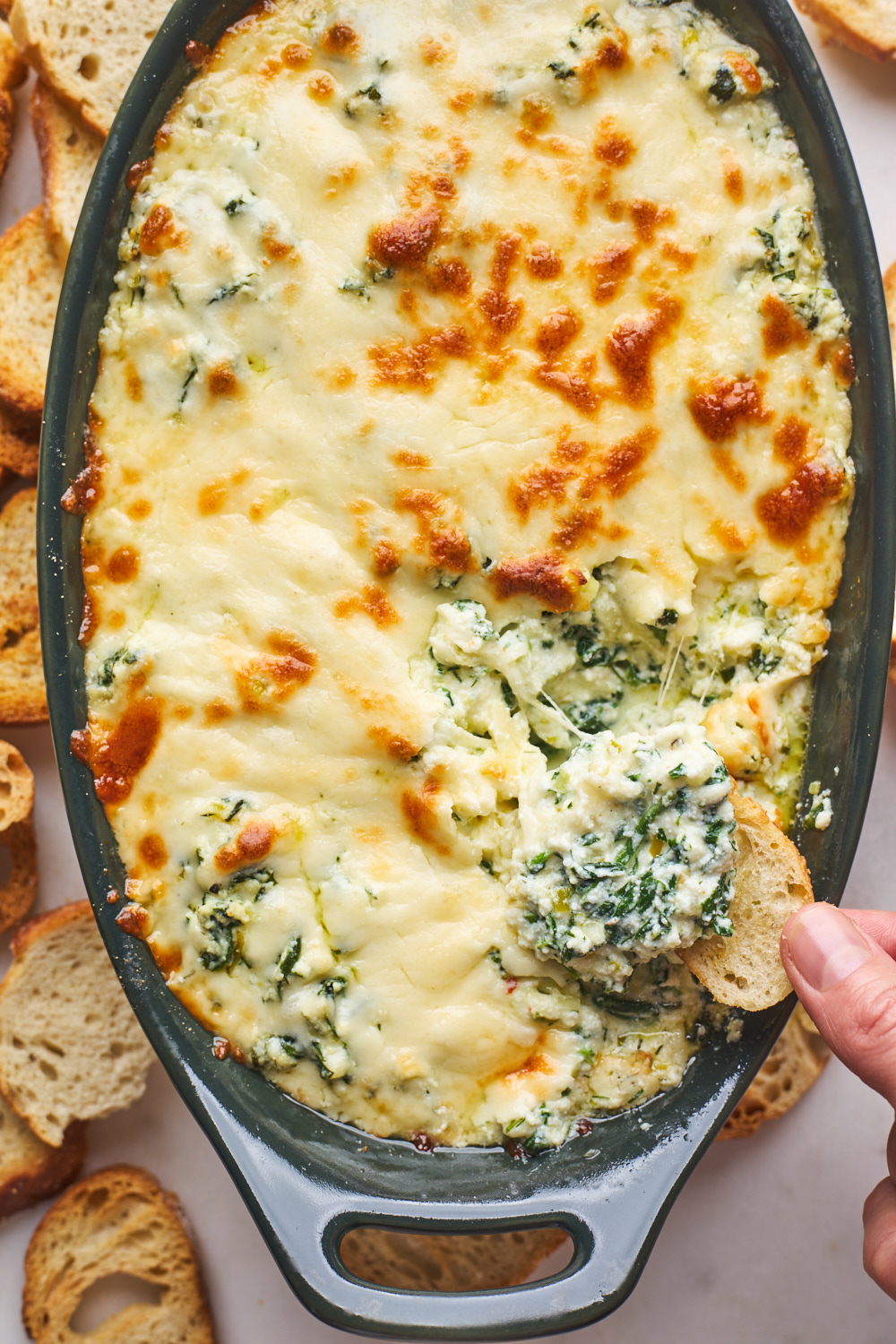 Can you make spinach dip in advance?
You can assemble this dip up to 8 hours before you plan to bake it. Simply store it loosely covered in the fridge until you're ready to heat it up. You may need to add a few more minutes to the baking time to compensate for starting with a cold dip. Leftover spinach dip can be tightly covered and refrigerated for up to 2-3 days.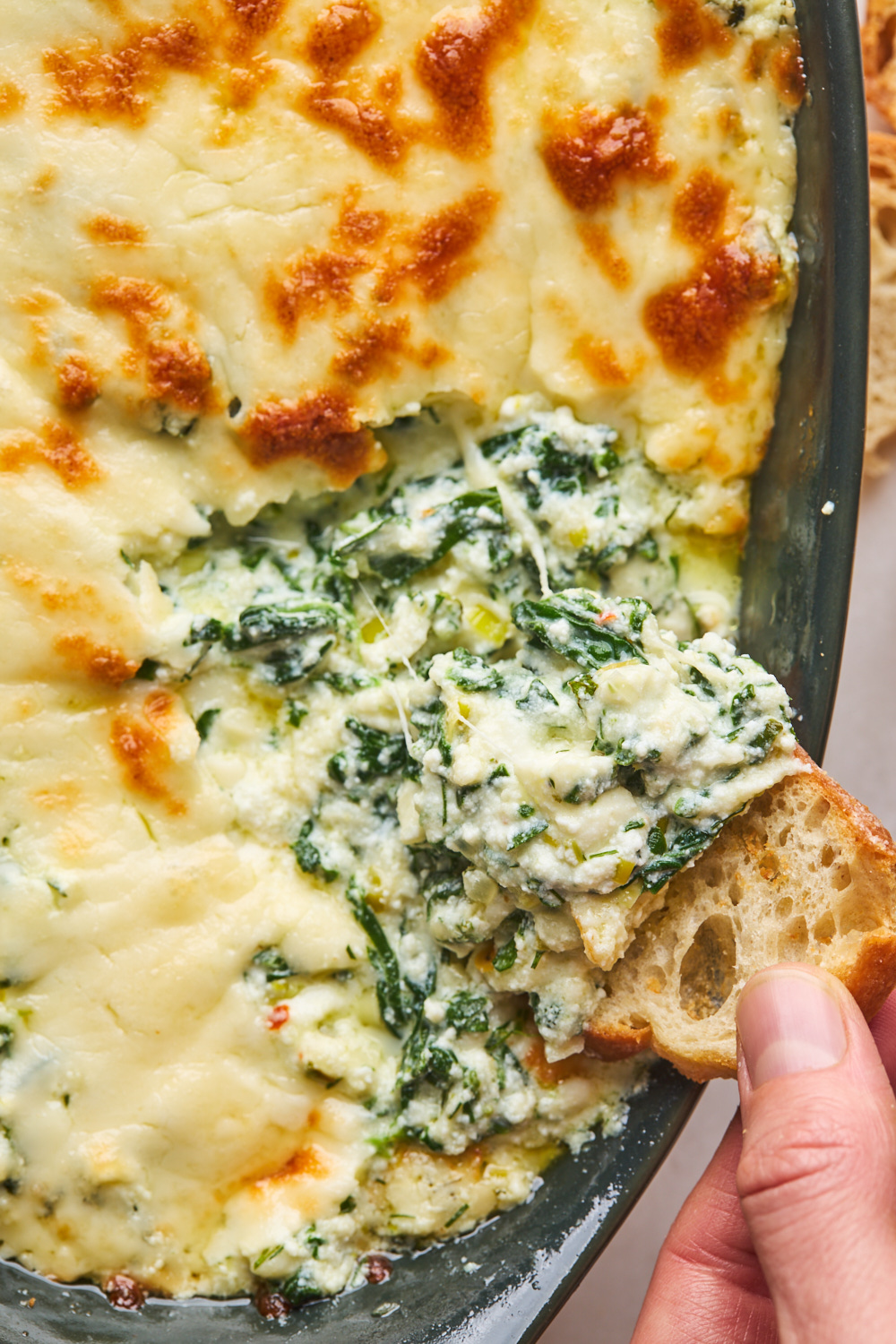 Spinach dip variations and add ins:
This is a classic Greek style version of this recipe, but you can absolutely make it your own and add other ingredients into the mix to customize the flavors.
Artichokes: Add ½ cup chopped marinated artichoke hearts.
Bacon: Add ½ cup cooked and crumbled bacon.
Sun Dried Tomatoes or Roasted Red peppers: Add ¼ cup chopped oil-packed sun dried tomatoes.
Mushrooms: Add ½ cup chopped cooked mushrooms. Everyone loves a good cheesy appetizer option, and this dip is no exception. Whip up a batch and watch the rave reviews roll in!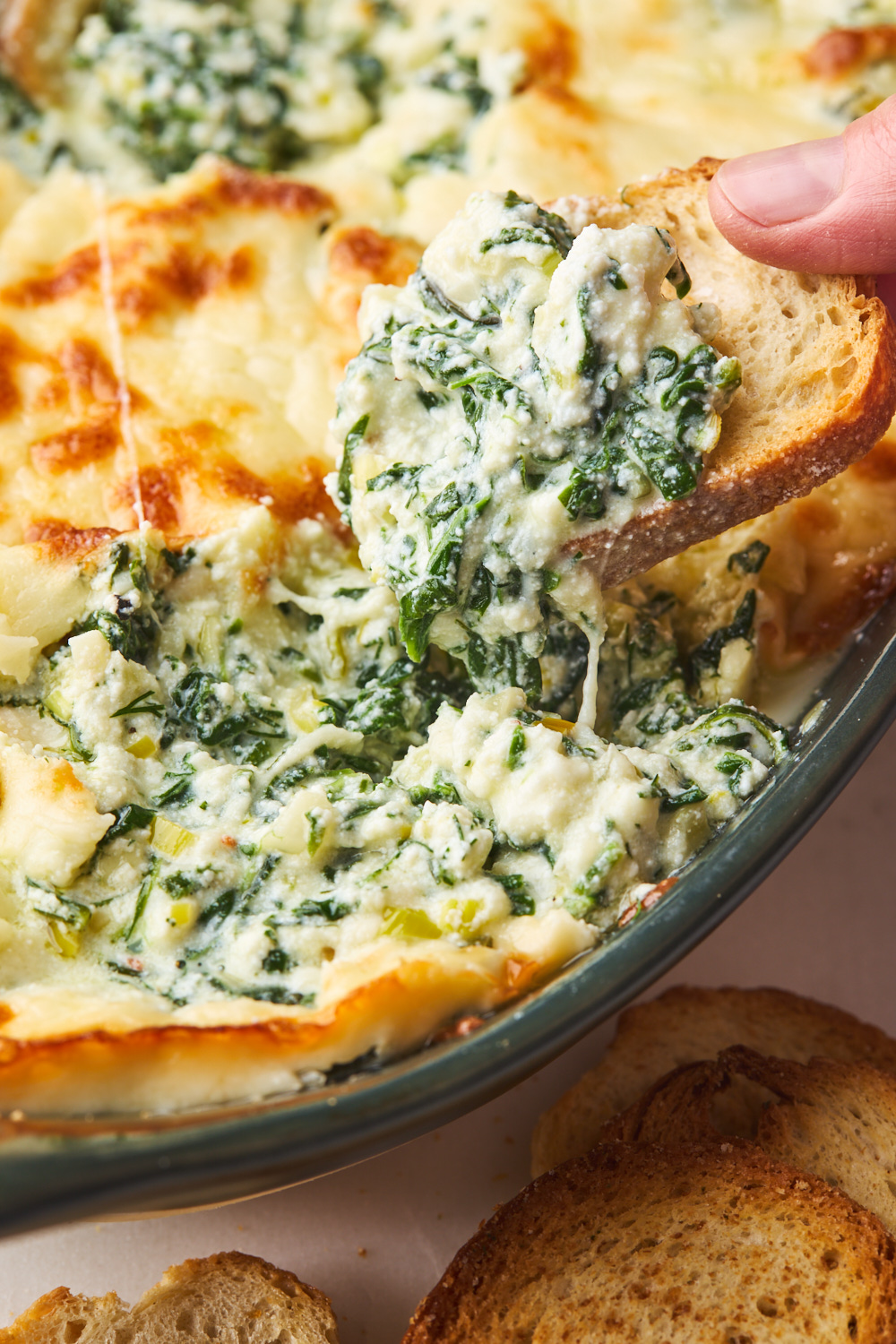 More party dips:
Recipe
Prep Time: 10 mins
Cook Time: 15 mins
Ingredients
1 tablespoon extra virgin olive oil plus more for drizzling

8 oz. fresh baby spinach chopped

¼ cup thinly sliced leeks or green onions

1 shallot or small yellow onion peeled and chopped

3 garlic cloves, peeled and minced

¼ teaspoon chili flakes

2 cups good quality creamy ricotta cheese, strained*

¾ cup crumbled feta cheese

1 cup mozzarella shredded, divided

2 teaspoons fresh lemon juice

1 teaspoon lemon zest

2 tablespoons chopped fresh parsley

1 tablespoon chopped fresh dill

Salt and pepper to taste
Directions
Preheat oven to 425°F
Using a large non-stick pan, heat olive oil over medium heat. Add leeks, shallots, chili flakes and cook until softened approx 2-3 min, then add the garlic and chopped spinach 1 heaping cup full at time and saute until spinach is just wilted and releases most of its natural juices. Remove pan from heat and set aside
In a large bowl, combine and stir together the ricotta, spinach mixture, lemon juice, lemon zest, herbs, half the mozzarella and all of the feta. Once combined season with salt and pepper according to taste.
Transfer mixture into a greased baking dish (I used a 23 cm/9 inch oval baking dish), drizzle with a little olive oil and sprinkle with remaining Mozzarella cheese. Bake for 15-20 minutes or until bubbly and golden brown
Let stand a couple of minutes once out the oven then serve while still warm with veggies, crackers, crusty baguette, crostini, pita chips or regular chips.
Recipe Notes
Straining the ricotta is optional but I recommend straining it over a cheesecloth or paper towel lined metal sieve even just for a few minutes while your prep the rest of the ingredients to help reduce the moisture in it which will help your dip from becoming watery. Choose a rich and creamy one.
Make ahead & Storage: You can assemble this dip up to 8 hours before you plan to bake it. Simply store it loosely covered in the fridge until you're ready to heat it up. You may need to add a few more minutes to the baking time to compensate for starting with a cold dip. Leftover spinach dip can be tightly covered and refrigerated for up to 2-3 day