Vegan Spring Pasta Bake
I have teamed up again with GoGo Quinoa to bring you a tasty pasta bake full of spring flavours.  With sweet asparagus, bright basil, and dollops of lemon zest spiked vegan ricotta, every bite tastes like spring!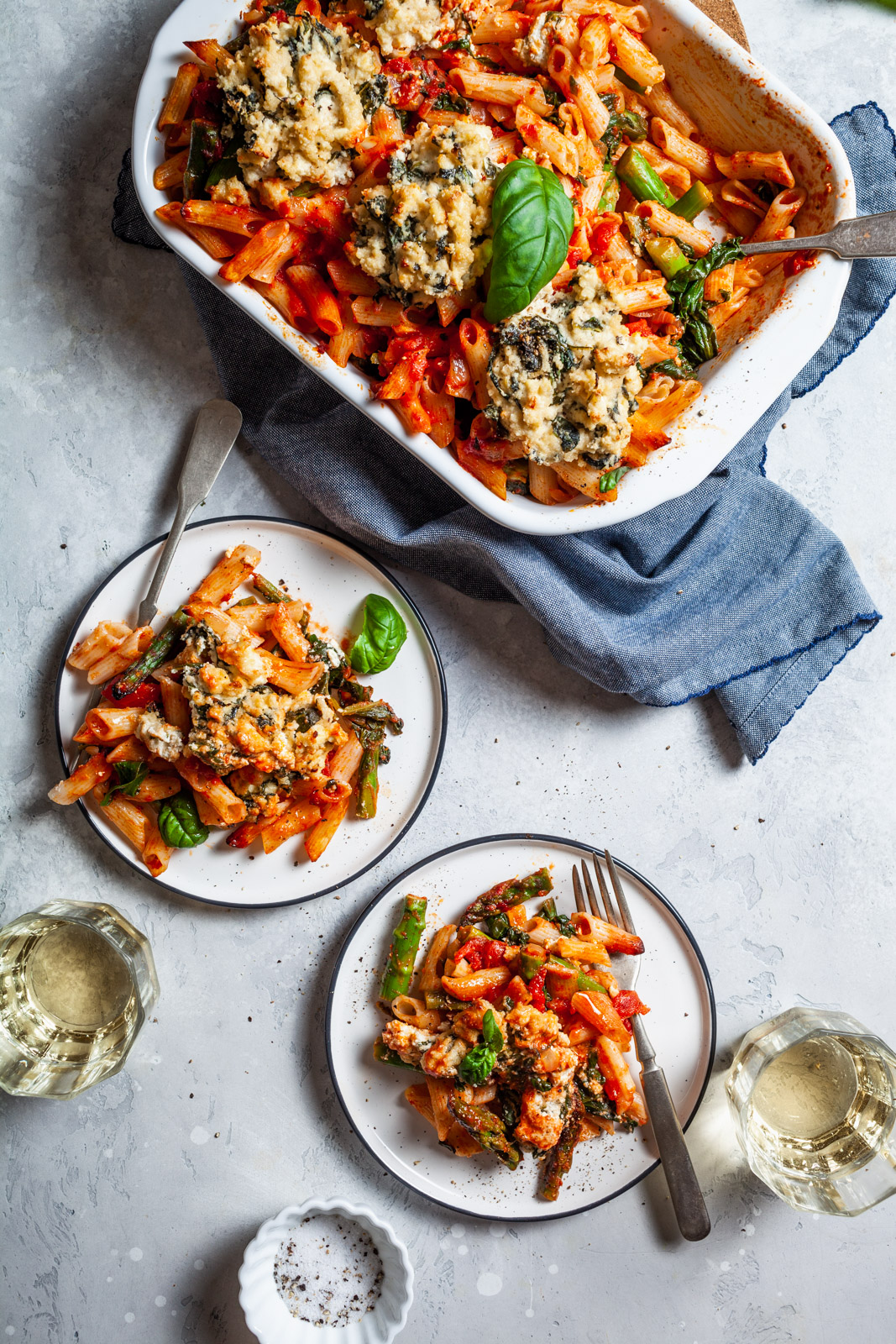 When it comes to gluten free pastas GoGo Quinoa has quite the selection from quinoa to cauliflower and red lentil pasta.  I appreciate the unique texture of each one and I love that they maintain the same lovely 'al dente' texture as wheat pasta. They can also be used with all the ways you would use wheat pasta, this pasta bake included. For me personally GF pasta that has a blend of organic white rice in it is closest to the texture of wheat pasta. This rice and amaranth blended pasta is included in that category. It's one of my hubby's favorite as it taste close in texture to wheat pasta. I use to make separate pots of pasta for each of us but eventually he just started eating mine so we are down to one pot and he was quite happy with this particular pasta.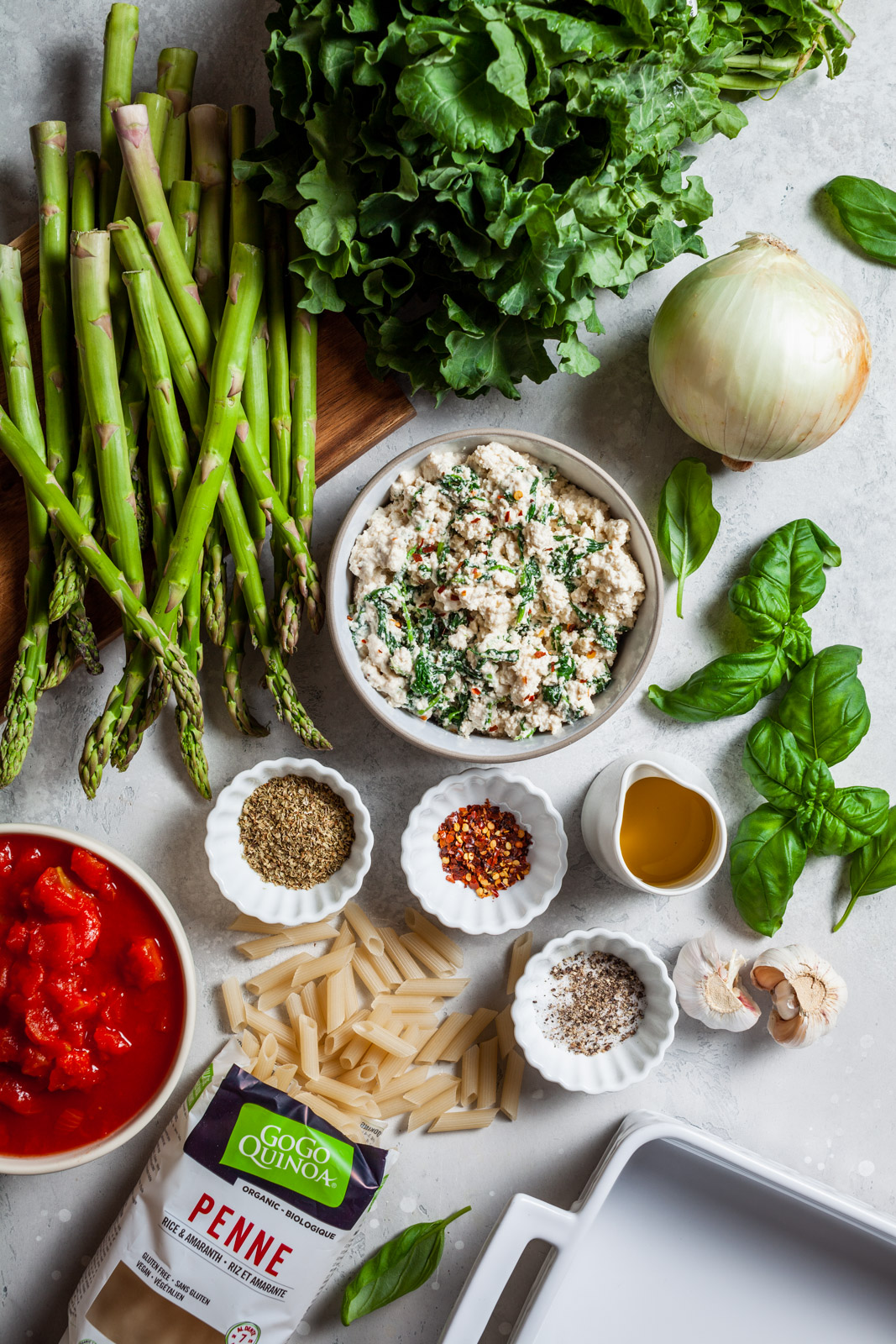 The pasta itself is great but even better in this pasta with a delicious sauce, loads of greens and veggies and a very delicious and flavourful vegan ricotta. Speaking of the ricotta - this is my first time making one with a blend of tofu and cashews. I love it and from now on this is my go to vegan ricotta recipe when I need ricotta in a recipe. It's a recipe from Love & Lemons Everyday. I just reviewed the book and shared a recipe from it recently and came across this vegan ricotta that I knew would be perfect in this pasta bake.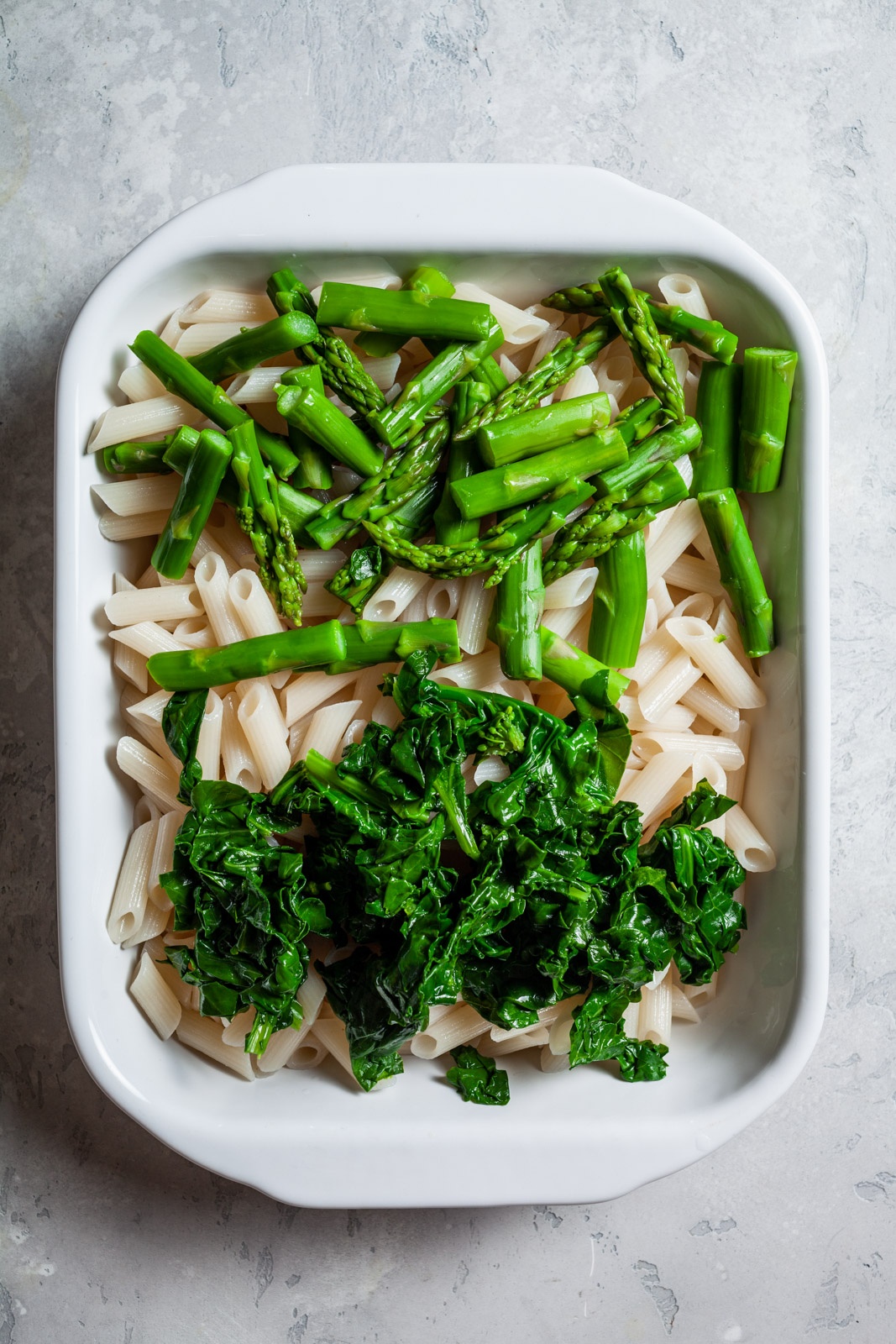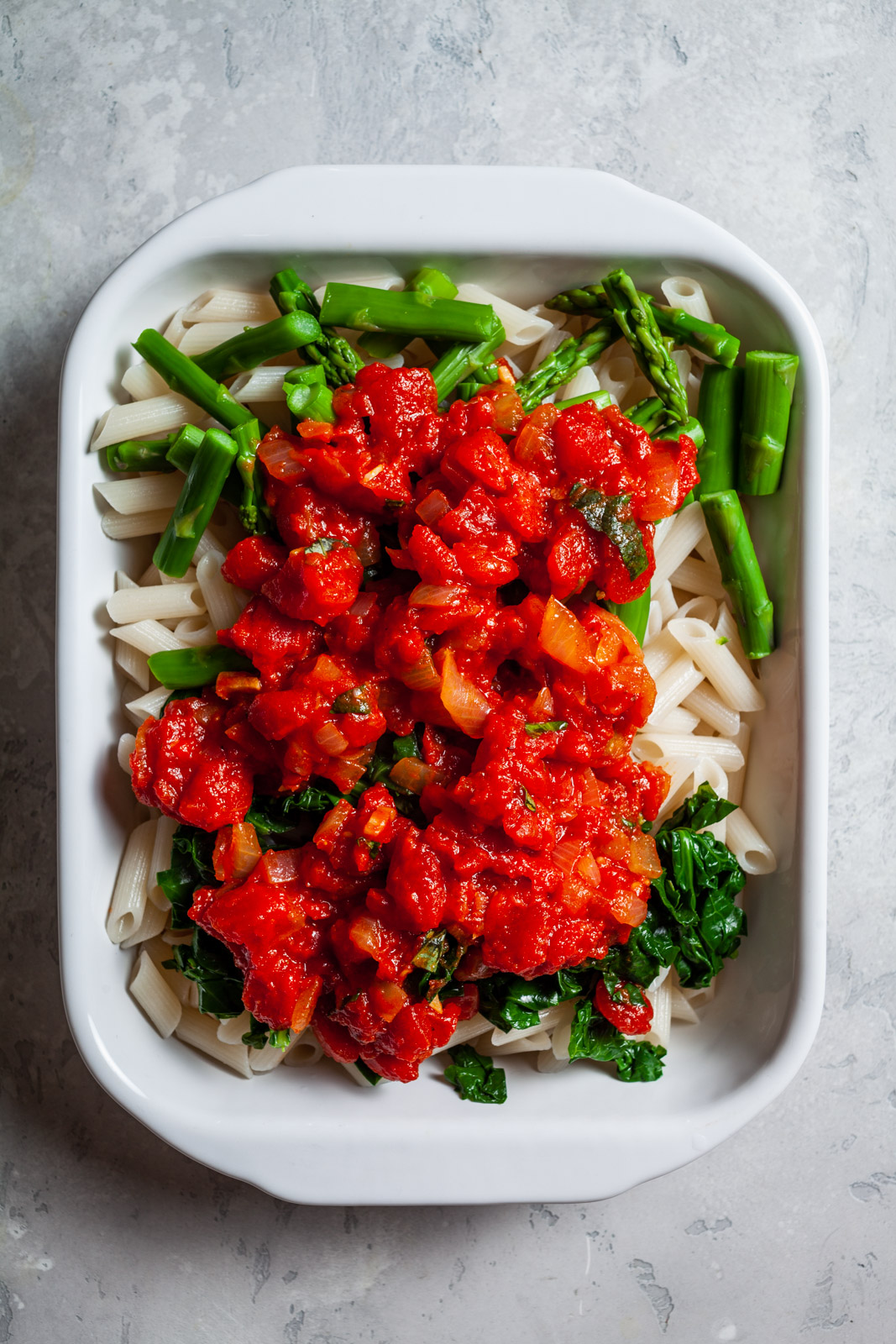 The only thing I did was add some heat to it with a bit of harissa seasoning otherwise it's unchanged. The texture is great on it and it's loaded with flavour. My father had some of the dish and loved it and didn't bat an eye. Even if if you don't think it tastes like ricotta I dare you to try it and not like it.  If you would rather use ricotta in this recipe feel free to and add some Parmesan cheese on the pasta bake while you are at it. You can use vegan Parmesan to sprinkle onto it but I'm not into vegan parm so much or I haven't found a blend I liked yet - if you have one you love let me know.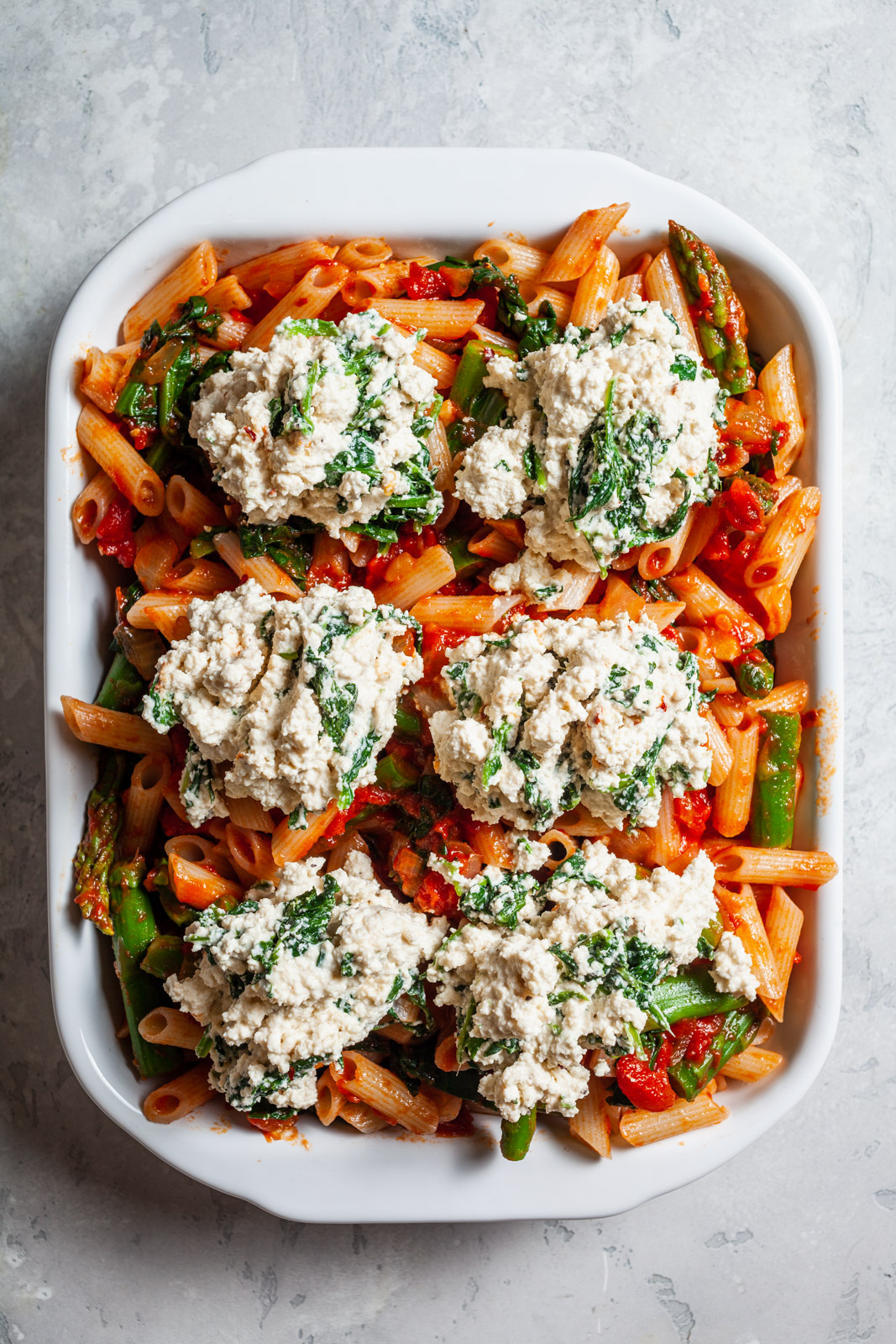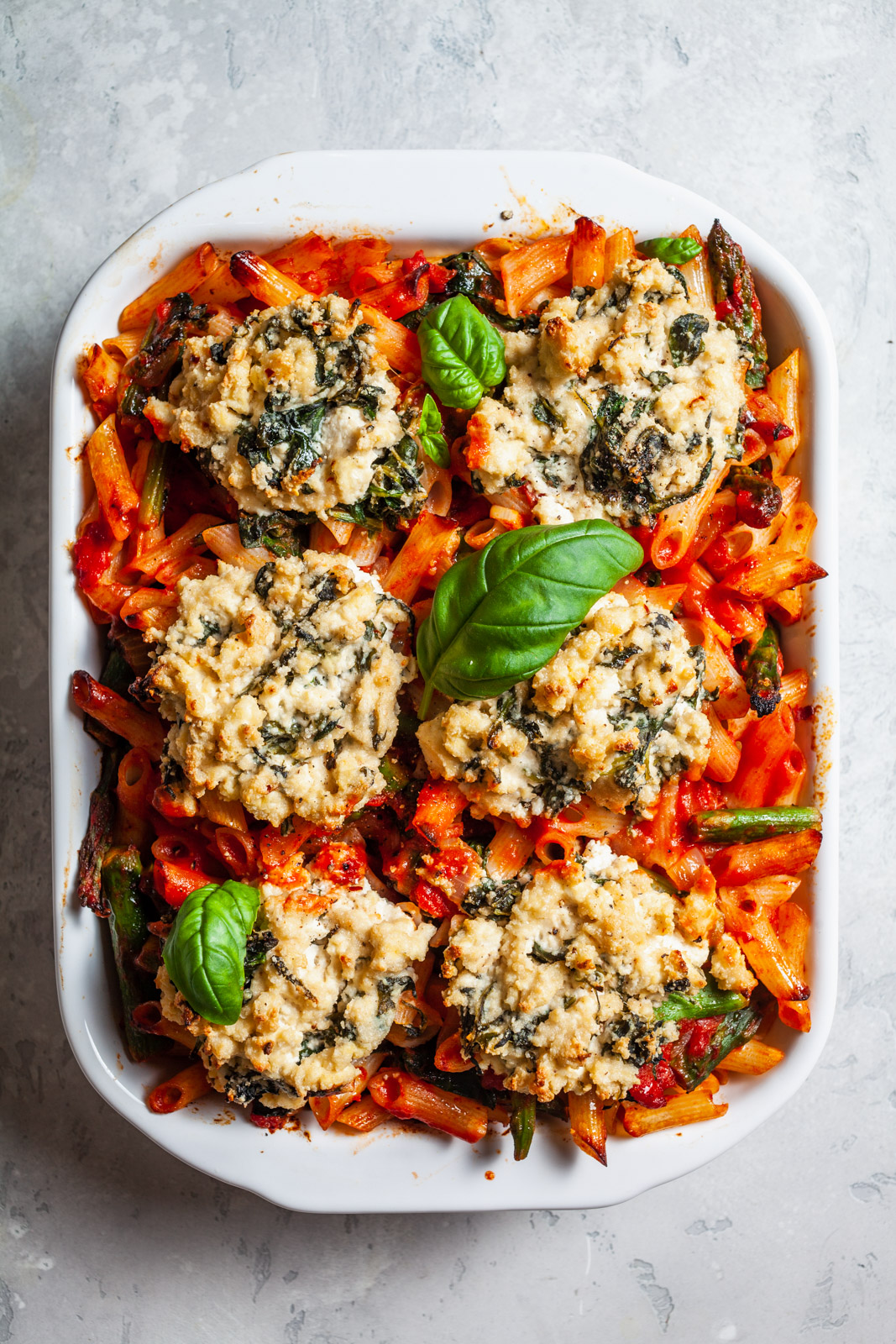 This pasta bake includes some greens which I love and asparagus. What says spring more than asparagus?  You will love it! It's a lightened up version of a more traditional pasta bake loaded with cheeses and creams. It's just as comforting but without all the extra dairy and calories - a fresher lighter version. It's a great addition to your meatless Monday or meatless one day a week lineup that will not disappoint.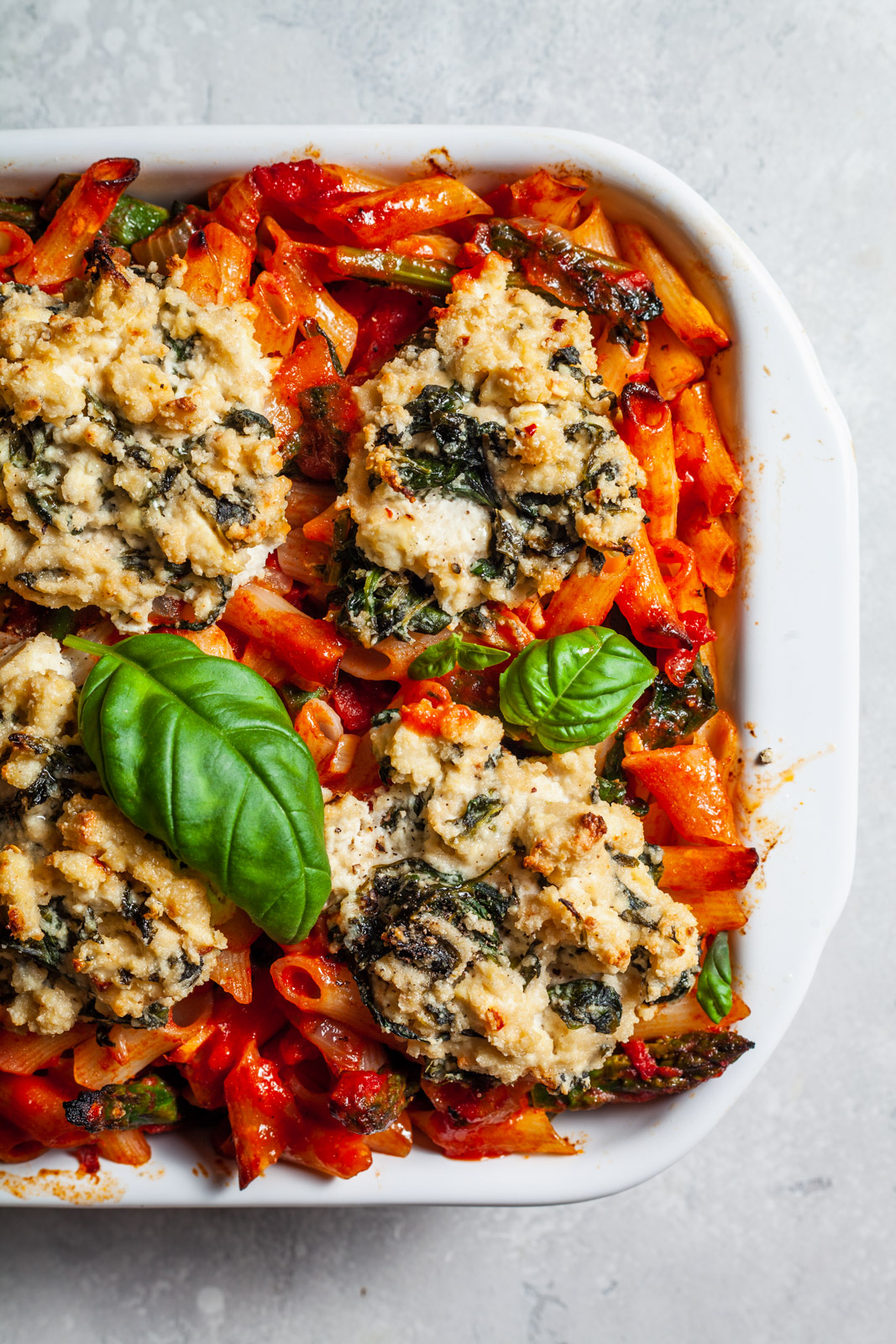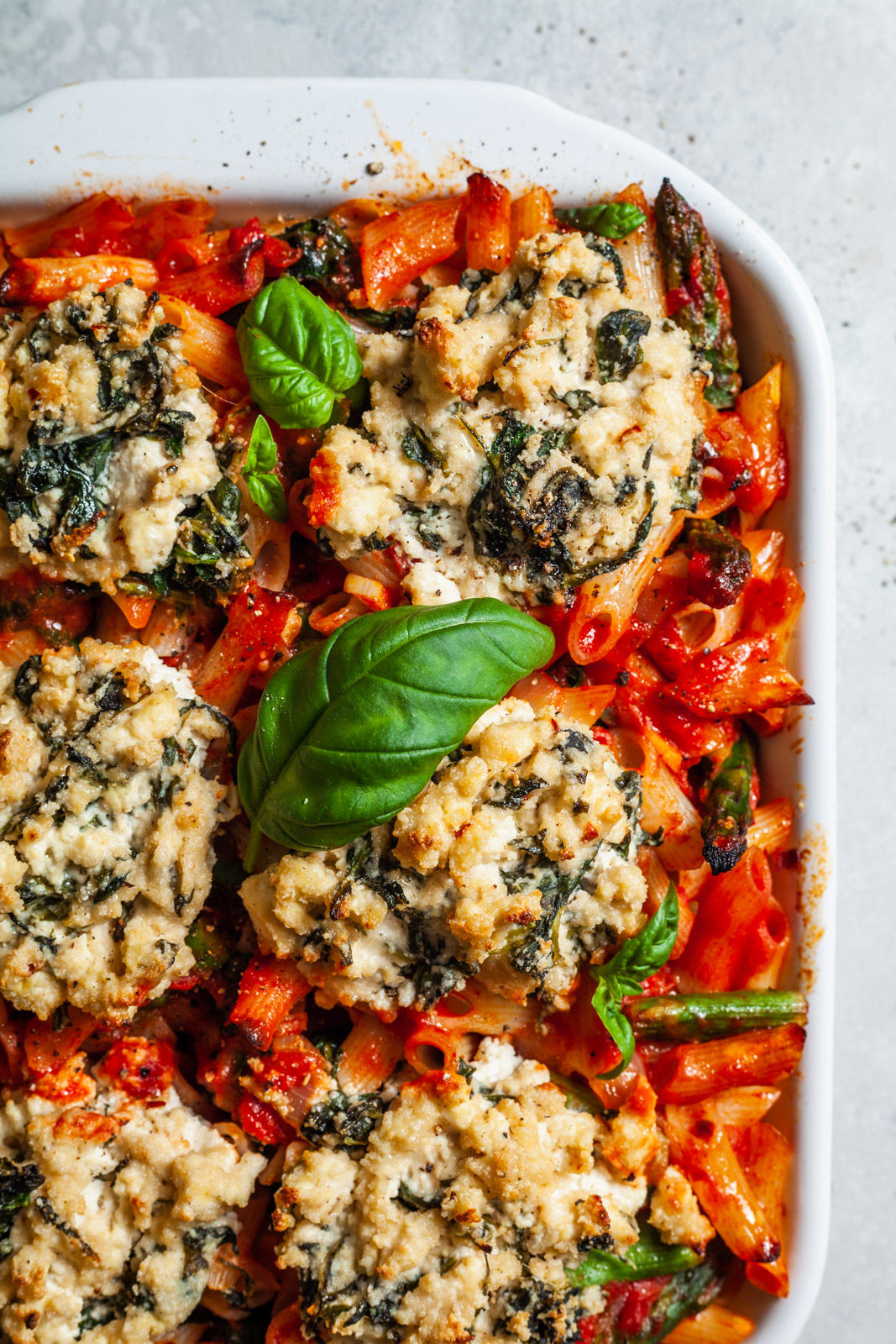 I have partnered up with GoGo Quinoa to bring you this fabulous recipe, but all opinions are my own. Thank you for supporting Olive & Mango.
Recipe
Prep Time: 30 mins
Cook Time: 30 mins
Ingredients
12 ounces (1½ packs) of GoGo Quinoa Rice & Amaranth Penne

2 tablespoons extra-virgin olive oil

1 onion, peeled and chopped

4 garlic cloves, peeled and minced

1 28-ounce can low-sodium diced tomatoes

1 tbsp tomato paste

¾ teaspoon salt

¼ teaspoon freshly ground black pepper

1 tsp oregano

¼ tsp chili flakes

½ cup chopped fresh basil

4 cups of kale,rinsed and chopped and thick stems removed

2 cups asparagus, rinsed, woody ends snapped off, chopped into 1-inch pieces

1.5 cups of vegan ricotta (recipe below)
Directions
Preheat oven to 400°F.
Bring a large pot of water to a boil. Add pasta and cook until slightly underdone approximately 5 minutes with this pasta. Drain and place cooked pasta back in the pot and set aside until ready to use.
Next, make the sauce. Heat olive oil in a medium pot on medium-high heat. Add onions, garlic and chili flakes and saute until golden, about 5 to 7 minutes. Add tomato paste and cook for another minute. Then add tomatoes, salt, and pepper, and oregano and simmer 10-15 minutes until thickened. Stir in basil and turn off heat.
While the sauce is simmering, steam the kale and asparagus in batches for a few minutes until bright green and tender then add to the pot with cooked pasta.
Pour tomato sauce into the pot with the cooked pasta and vegetables. Stir until well combined. Check for seasoning and adjust as needed. Pour mixture into a large casserole dish.
Dollop the ricotta over the top of the pasta. (Feel free to spread it in an even layer or leave it dolloped) Place in the oven and bake uncovered for 30 minutes until casserole is golden on the top with crispy edges
Remove from oven and let stand for a few minutes before serving and serve garnished with fresh basil.
Vegan Ricotta
Ingredients
4 cups medium-packed fresh spinach
2 small garlic cloves
¾ cup raw cashews
½ cup plus 2 tablespoons water
3 tablespoons fresh lemon juice
½ teaspoon sea salt, plus more to taste
Freshly ground black pepper
1 cup crumbled extra-firm tofu
1 teaspoon dreid oregano
½ teaspoon lemon zest
¼ teaspoon red pepper flakes
Add ½ tsp of dry harissa seasoning as optional
Directions
Fill a large pot with 1 inch of water and insert a steamer basket. Place the spinach and the garlic in the basket and bring to a boil. Cover and steam for 2 minutes, or until the spinach is wilted but still bright green. Remove the garlic and set aside. Scoop the spinach onto a kitchen towel or paper towels and squeeze out the excess water. Roughly chop.
In a blender, place the garlic, cashews, water, lemon juice, salt, and a few grinds of black pepper. Porcess until creamy.
In a medium bowl, mix together the tofu, steamed spinach, oregano, lemon zest, red pepper flakes, harissa (if using) and a few grinds of black pepper. Stir in the cashew. Taste and add more salt, if desired. Adapted from Very Well Fit and Love and Lemons