A Simple Way to Make Vegetable Soup
Not only is this hearty vegetable soup delicious but it's also so easy to make. It is full of fresh, wholesome flavours. It just takes some chopping and a bit of simmering until you've got a great soup everyone will love! This is my go to recipe for a nourishing vegetable loaded soup. I can think of so many reason to make this soup. It's the perfect way to warm up on a cold chilly day or if you are feeling a bit under the weather. During the summer when you have all the fresh veggies on hand definitely feel free to use all fresh ones making this the perfect garden vegetable soup. But when you are making it all other times of the year feel free to use fresh if available or frozen or canned where appropriate. This and some crusty bread and you have your self a comforting meal.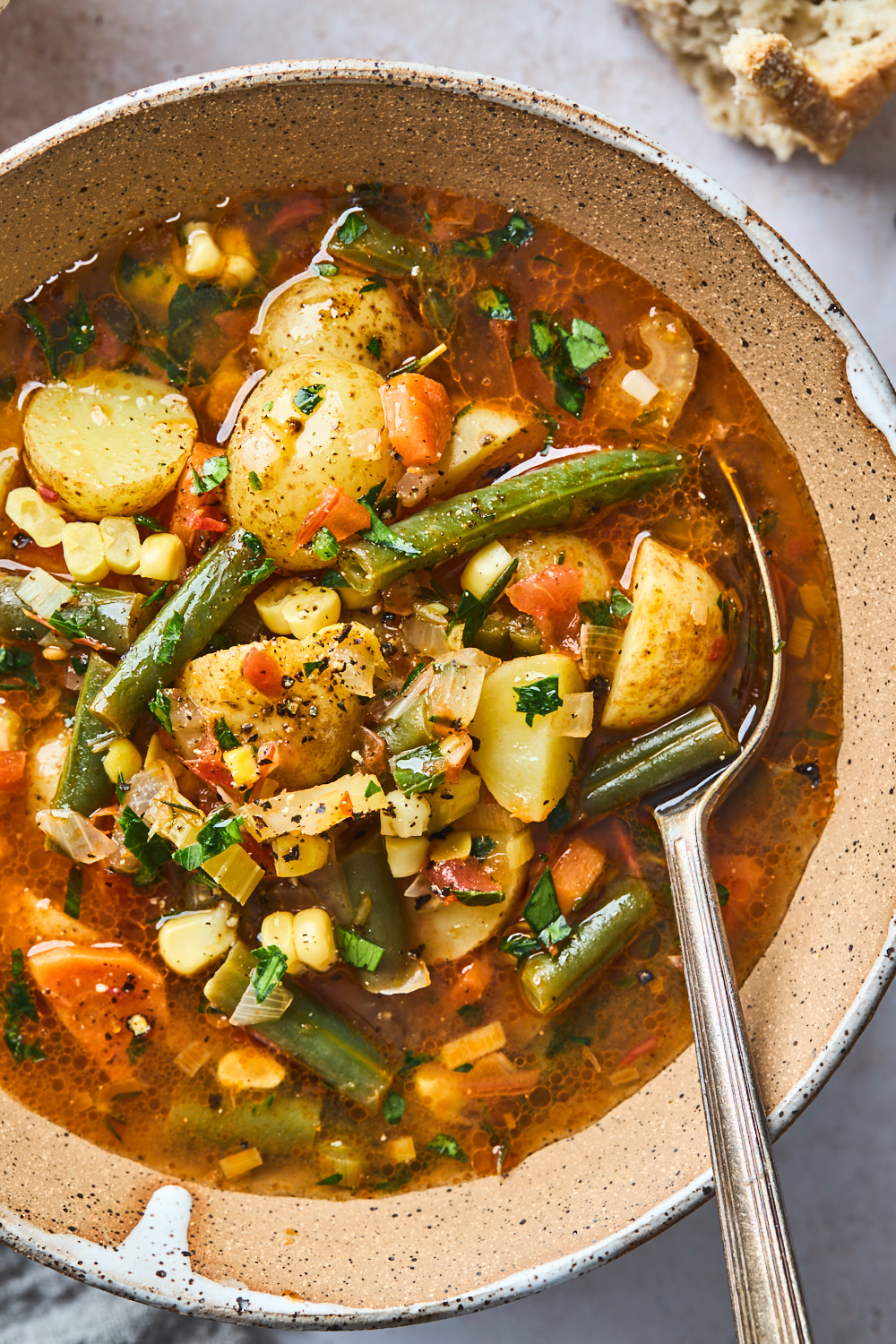 Why you are going to love this soup:
This soup recipe is cozy, healing, and warming- the perfect soup for a cold day, or when you're craving a healthy reset, or any time you're feeling a bit under the weather.
It is easy to whip up - it requires a bit of chopping but that is about the only time consuming part
It is loaded with vegetables in a light flavourful tomato broth
This recipe is adaptable - feel free to use any seasonal vegetables you have on hand. (It is a great way to clean out the crisper)
It is vegetarian, vegan and gluten free making it a great meal for just about everybody
It freezes well too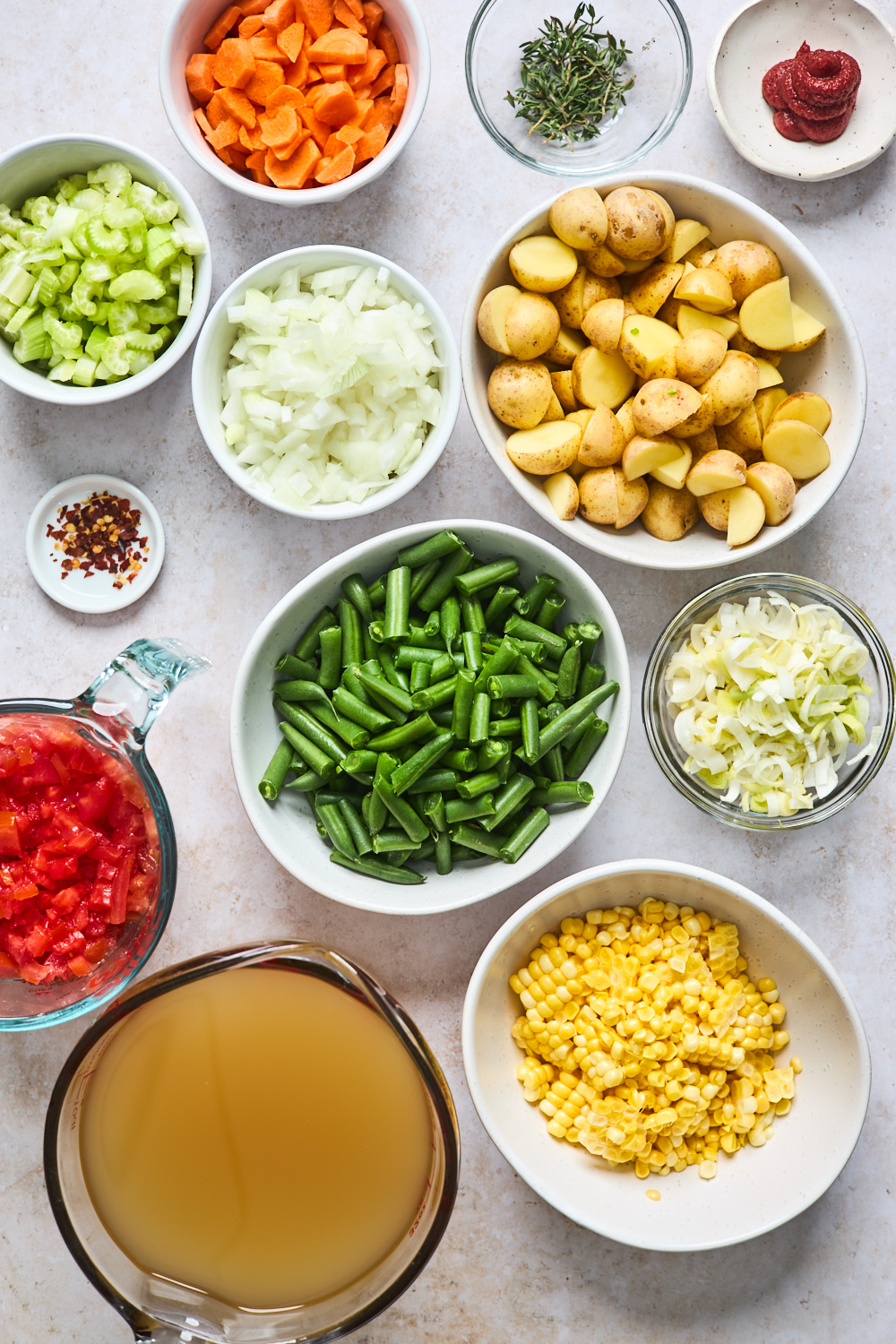 Vegetable soup Key Ingredients
Not only is this soup delicious but it's so easy to make. Here are the key ingredients in this soup:
Vegetables - I like to use carrots, celery, corn, green beans, and potatoes - but this soup is so versatile that you could swap out some of these for whatever you have on hand - more details on that below
Onion, Garlic & Leek -I love the three together in this recipe - the leeks add such a wonderful flavour but if you do not have any on had you could make it without them. Add as much or as little garlic as you like.
Broth - chicken or vegetable broth is what I use - and store-bought or homemade work great
Herbs & Spices - I used chili flakes, thyme and some fresh parsley - but feel free to switch these up according to taste
Tomatoes - I used fresh in this recipe because they were in season but you could use canned ones too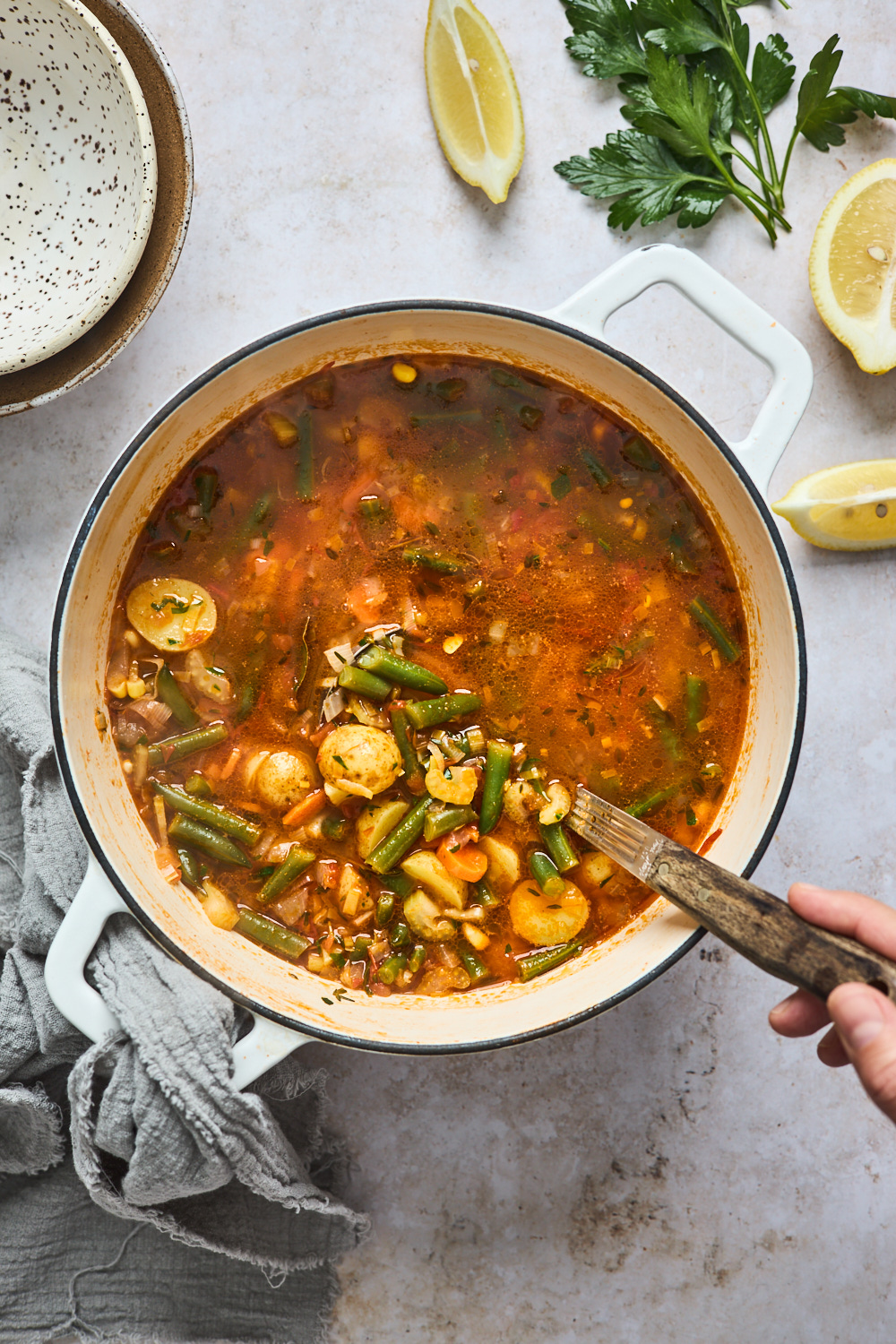 Vegetable Soup Recipe Variations
I call for a lot of vegetables in this soup, but use whatever you have on hand and/or skip what you don't have. Here are a few easy ways to change it up:
Use regular potatoes or sweet potato or a combination of both, or add butternut squash instead.
Toss in a few sliced cremini mushrooms when you add the carrot.
Swap the green beans with bell peppers or zucchini or even cauliflower or broccoli
Add in some leafy greens like spinach, chard, or kale.
Feel free to add even more veggie based protein by adding some chickpeas, white beans or green peas.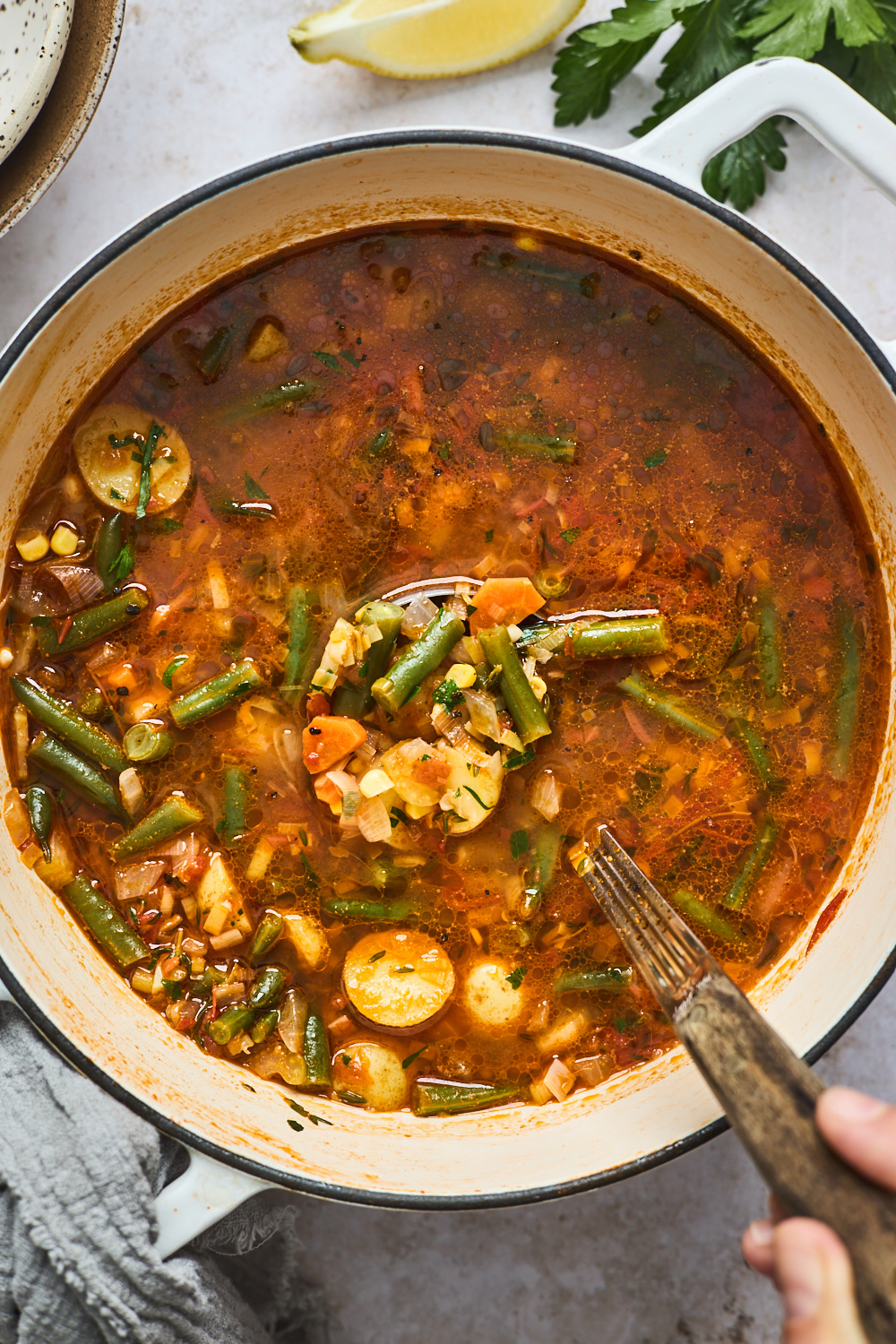 Adding Extra Flavor – Herbs And Spices To Add
This veggie soup recipe has a mild seasoning blend to it but you can definitely add more herb flavor or spices to taste. Here's a few ideas of what you could add:
For more flavor add in more dried herbs. Other good herbs to add include basil, oregano, rosemary, marjoram, or Italian seasoning.
Feel free to add a piece of by Parmesan cheese rind to soup while it simmers for extra flavour
Sauté chopped bacon/pancetta until golden and crisp then continue with recipe adding the onions leeks etc - just reduce olive oil to 2 tablespoons instead.
Finish off with a parsley garlic oil or pistou
Optionally you can finish servings with grated parmesan and a splash of extra virgin olive oil.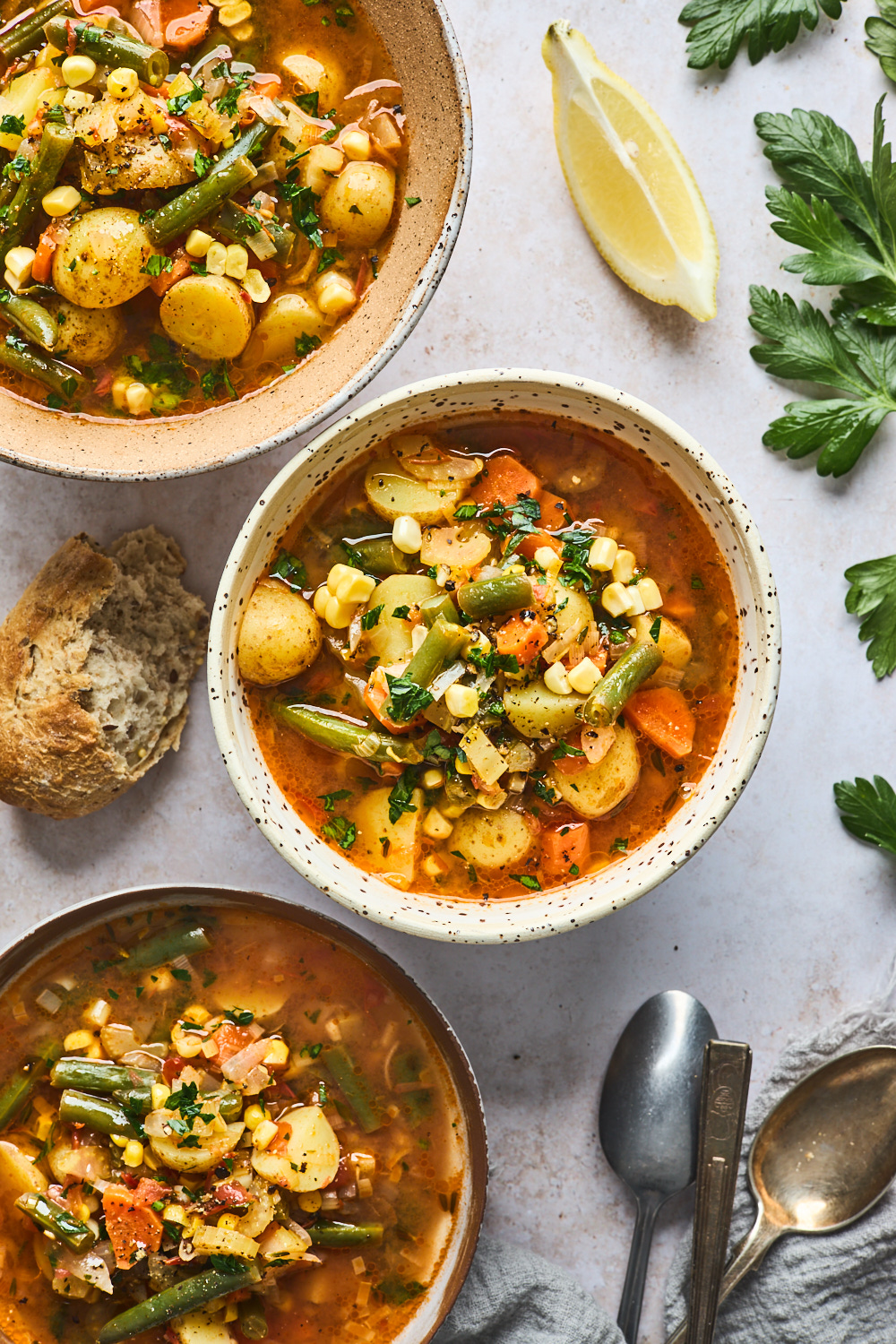 Can I Make This Soup in a Crockpot?
Yes. To make it in a crockpot saute leeks, onions, celery, carrots for a few minutes, add garlic saute 1 minute longer. Add to slow cooker along with potatoes, tomatoes, green beans, potatoes, herbs, broth, salt and pepper. Cook until veggies are tender on high heat about 3 hours or low heat about 6–7 hours. Add corn during the last 30 minutes.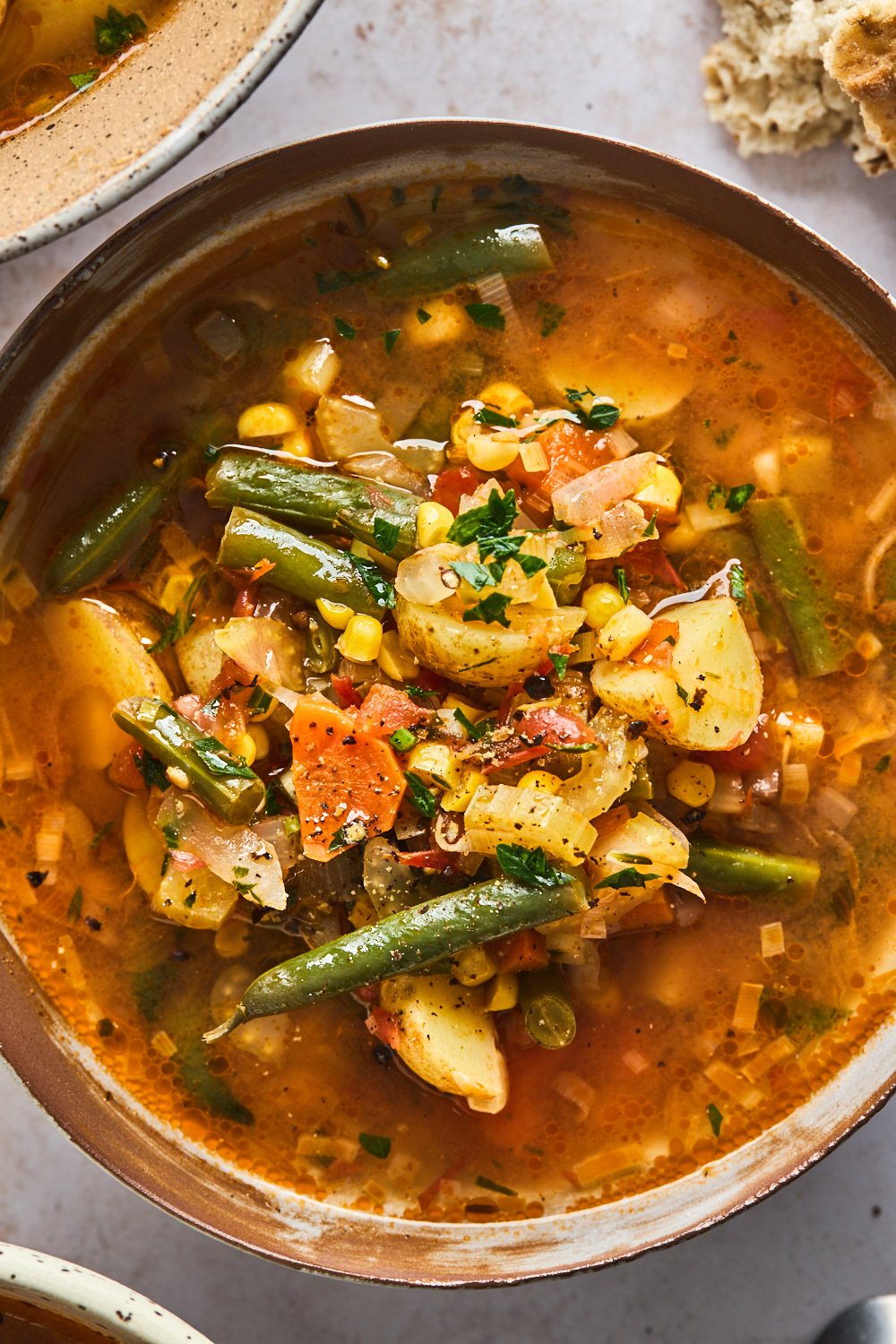 Can I Freeze Vegetable Soup?
Yes. This vegetable soup freezes really well and reheats well. Just make sure to cool fully before packing away in freezer friendly containers. Leave about an inch of space within the container to give the soup more room to expand as it freezes. After packing, get a marker and write the name of the soup and the freezing date before sticking the containers one by one in the deep freeze. The best way to defrost vegetable soup is to leave it to thaw overnight in the fridge. Just transfer the container from the freezer to the fridge and leave it to thaw on its own. Then reheat in microwave or stovetop.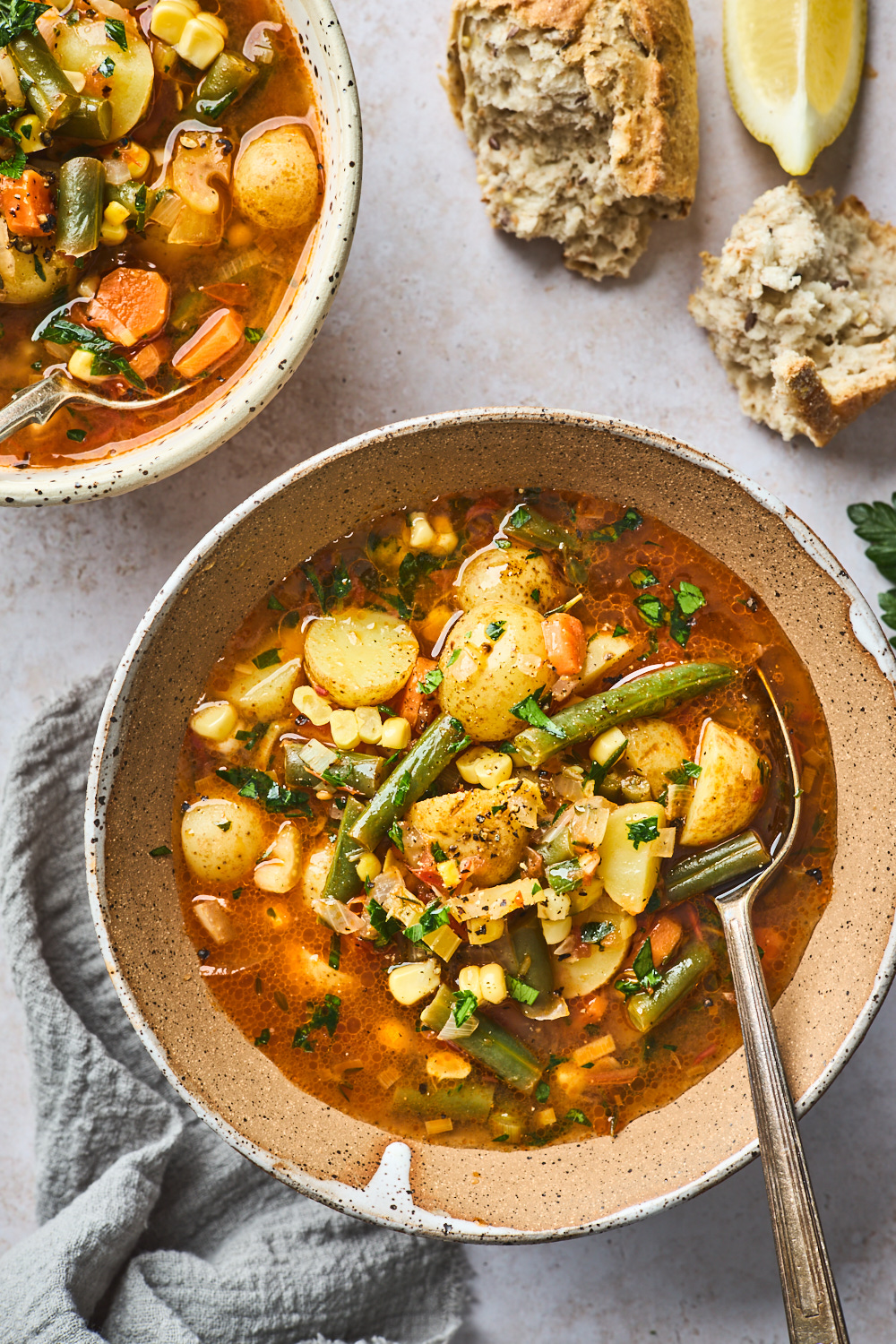 Check these out for more delicious soup options:
Recipe
Prep Time: 20 mins
Cook Time: 45 mins
Ingredients
4 Tbsp olive oil

1 yellow onion peeled and chopped

1 small leek, white part only sliced

2 Tablespoons finely minced garlic

Salt and pepper to taste

2 stalks of celery, sliced

2 medium size carrots, peeled and chopped into rounds

2 cups potatoes peeled and diced

2 cups chopped green beans, into ¾-inch pieces fresh or frozen

4-6 cups vegetable broth or chicken broth or chicken stock

2 bay leaves

½ teaspoon dried thyme or fresh thyme

¼ teaspoon dried chili flakes

4 cups chopped tomatoes or 2 (14.5 oz) cans diced tomatoes (undrained)

2 ears corn, kernels removed (fresh or frozen -approx 1-1½ cups)

½ tsp freshly ground black pepper

¼ cup packed, chopped fresh parsley

1-2 tsp freshly squeezed lemon juice
Directions
Heat olive oil in a large stock pot over medium-high heat. Add onions, leeks, carrots, and celery and saute 4 minutes then add garlic, thyme, chili flakes and tomatoes and saute until the tomatoes start to break down - another 4-5 minutes.
Add in broth, potatoes, bay leaves, and season with salt and pepper to taste. Bring to a boil, then add green beans.
Reduce heat to medium-low, cover and simmer until potatoes are almost fully tender, about 20 - 30 minutes.
Add corn and cook 5 minutes longer. Stir in the parsley and lemon juice and ladle into bowls and serve immediately with crusty bread.
Leftover vegetable soup will keep in a sealed container for 3 to 4 days in the refrigerator.