Almond Rhubarb Cake
The first sign of rhubarb at the grocery store or in your garden calls for a simple yet irresistible almond rhubarb tea cake. Really tender buttery crumb, crispy edges with just enough sweet and a nice tartness from the rhubarb. It's buttery but not too rich, the perfect spring time dessert to enjoy with tea or coffee and a dollop of whipped cream. It's a simple cake that requires just a few minutes of patient mixing to get the butter whipped and fluffy but apart from that it's so easy to whip up and I know you will enjoy it! Its also quite adaptable and you could easily use all-purpose flour in this cake instead of the almond flour and you could also swap out the rhubarb for other fruit too but I do hope some of your spring rhubarb finds it way into this cake. Enjoy!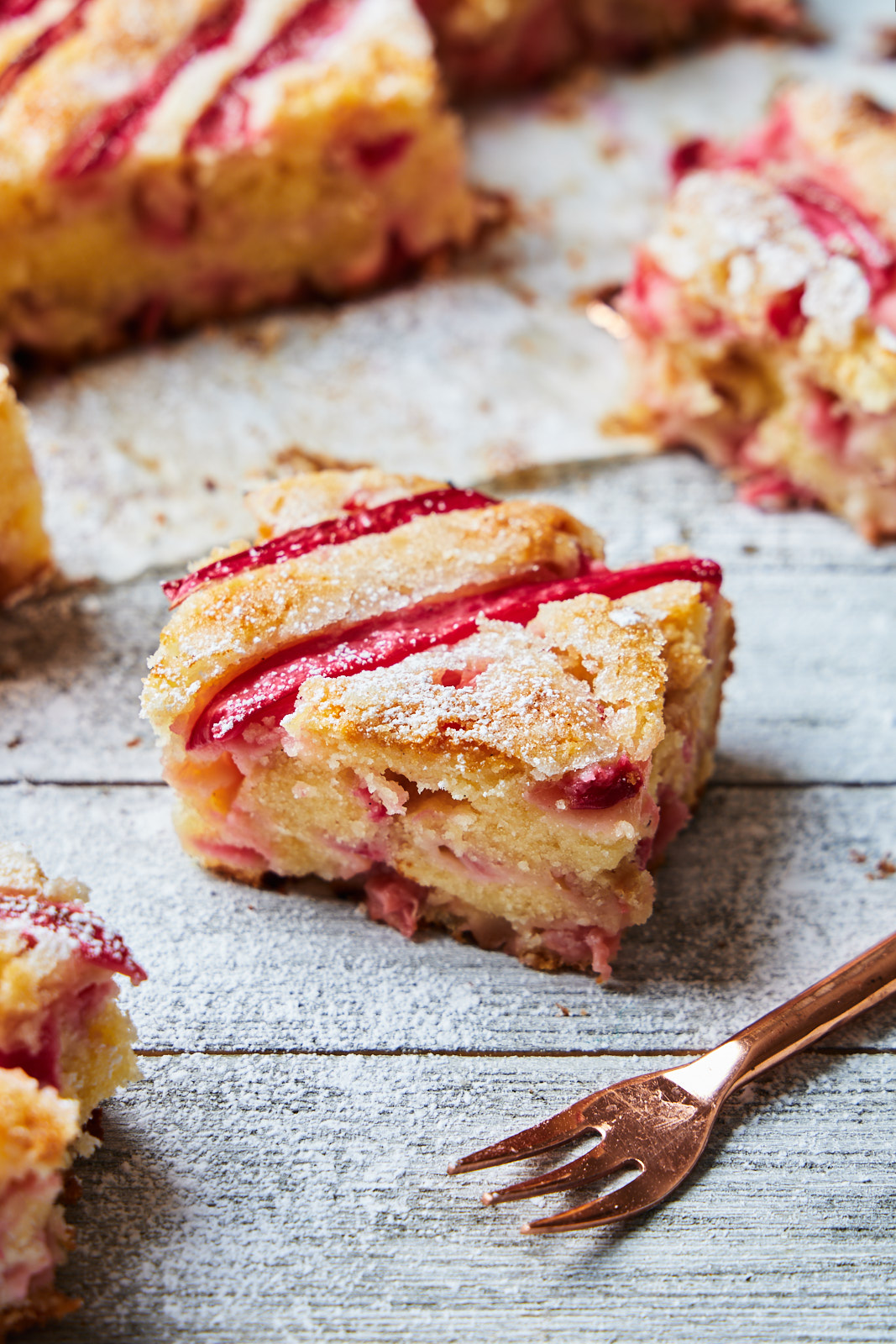 I love tea cakes like this with loads of almond flour or almond meal in them. I have a strawberry one on the blog that is also so delicious that I know you will love . It gives the cake a really delicious, distinct flavour and texture. This cake works really well with all purpose flour if you prefer to make this cake without the almond flour. Although it has some density to it, the crumb is still quite light and buttery and it's not too sweet which is actually quite dangerous - expect to eat a few slices at a time or be warned - either way. It more like a butter cake than a tea cake because of the amount of butter in the recipe which is beaten until super soft and super fluffy and also because of its dense but soft crumb.
Rhubarb Cake Ingredients:
Rhubarb: fresh or frozen can be used here. Do you have to peel rhubarb? No need to peel it just trim and discard leaves and all the tough ends.
All-purpose flour: I have made this cake fully with all purpose flour and with the combination of flour and almond flour - both work beautifully so feel free to use make as written in recipe or using all all purpose flour.
Almond Flour: I used super fine almond flour in this cake but its optional and you can substitute it with more all purpose flour if you wish - the almond flour gives it a nutty flavour and a nice texture
Sugar: I used granulated sugar for the cake itself and some for sprinkling The cake is not overly sweet and only needs ¾ cup sugar in the cake
Butter: Use unsalted butter since the amount of salt can vary between brands and also allow it to come to room temperature Theres 2 sticks of butter in this recipe - similar to a butter cake and its beaten until super fluffy giving this cake its distinct texture
Orange zest: I LOVE orange with Rhubarb. If you've never tried this pairing before, you will love it I'm sure. You could use lemon and zest but I like how the orange helps sweeten it with a lovely citrus scent.
Vanilla: Enhances and elevates the flavors of the fruit. I will sometimes add a ¼ teaspoon of almond extract as well for extra flavour, but I think substituting almond for vanilla extract is not a good idea. Almond extract is way too strong and better as a secondary flavour in this recipe.
Baking Powder & Salt: For leavening and salt for balancing the sweetness - no baking soda required in this recipe
Eggs: 2 Large ones and at room temperature
Yogurt: Or sour cream and at room temperature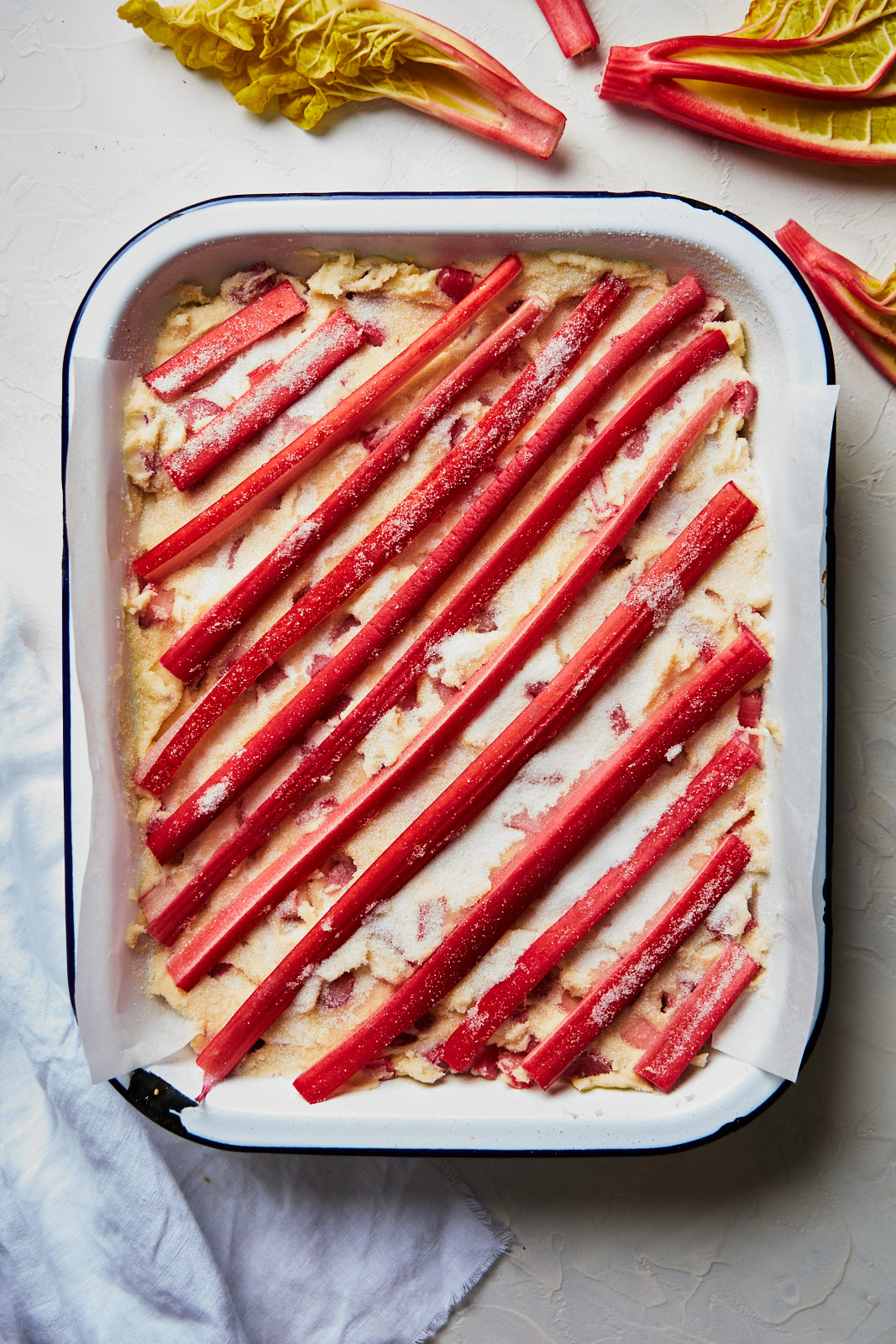 How to Make Rhubarb Cake
Chop rhubarb
Whisk together the flours, salt and baking powder
Cream Butter with sugar then add the eggs vanilla and orange zest
Add the dry ingredients and mix until mostly combined then add the yoghurt
Fold in the rhubarb
Transfer batter to baking pan, decorate top with rhubarb pieces and then sprinkle with sugar (streusel topping alternative below)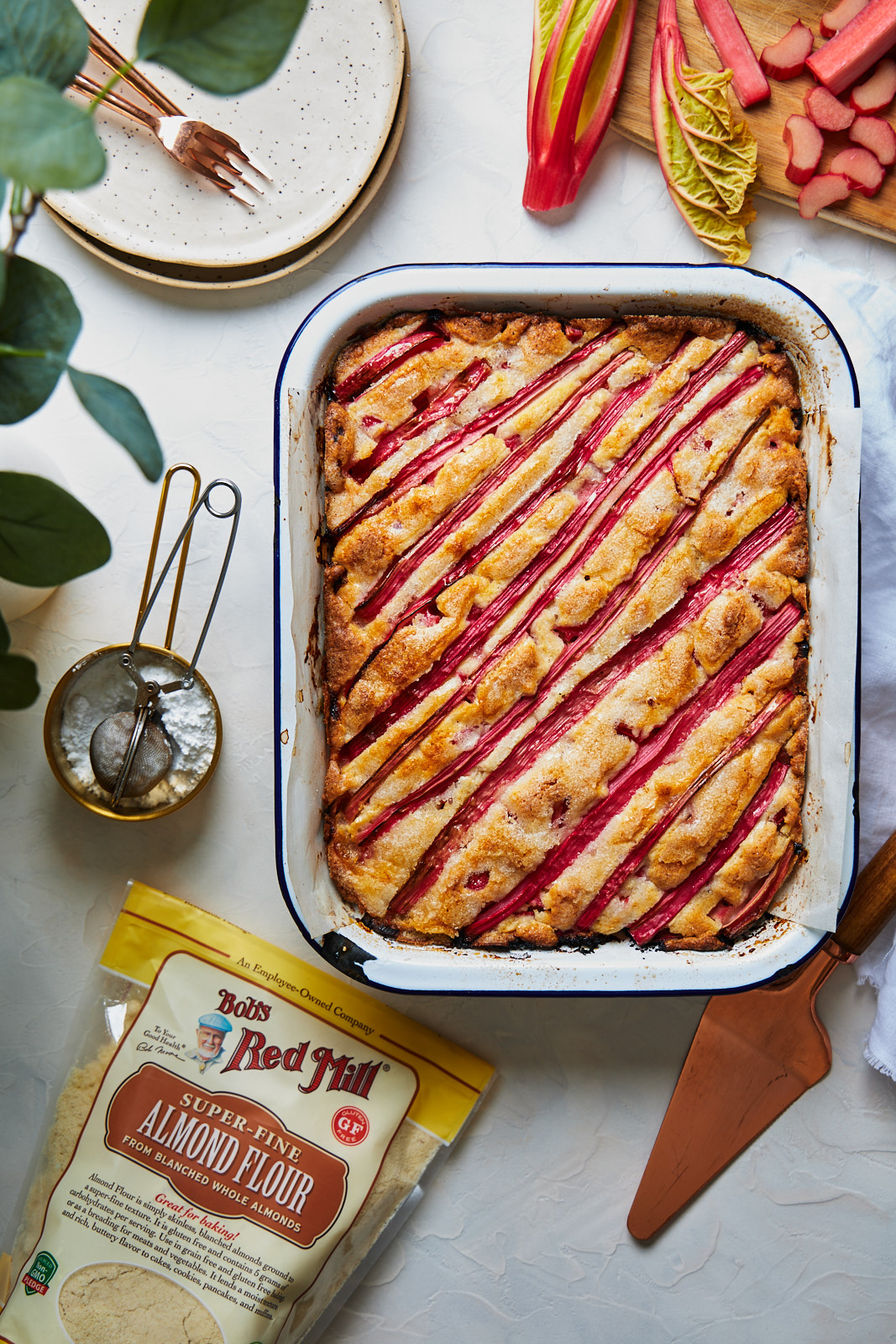 Can I Use Frozen Rhubarb in This Easy Rhubarb Cake?
Yes! I always prefer to use fresh but you can use frozen rhubarb in this rhubarb cake recipe. Frozen rhubarb is a great alternative when it is out of season or it isn't readily available. As long as you take these extra steps, your rhubarb cake recipe will turn out just as amazing!
Thaw the rhubarb
Drain and pat the rhubarb dry of any juices
Toss the rhubarb with a tablespoon of flour to account for any extra moisture
What Can I Top This Cake With?
The original recipe calls for topping this cake with decorative long thin slices of rhubarb and extra sugar fro sprinkling over the cake before baking. It is totally optional but it gives the top of the cake a golden crunchy crust and it caramelizes the rhubarb stalks as well. The recipe calls for using granulated sugar for sprinkling of you could use brown sugar or even coarse sugar for an even crunchier finish. Another option is to skip the sugar topping and do a streusel top which will gives this cake another layer of texture. For a quick streusel all you need is 1 cup white sugar, ¼ cup butter, softened, ¼ cup all-purpose flour, ¼ teaspoon ground cinnamon. Stir together sugar and butter in a medium bowl until smooth. Stir in flour until mixture is crumbly. Sprinkle mixture on top of cake, then dust lightly with cinnamon, then bake as directed in recipe. Make sure to tent with foil if the cake starts to brown too quickly.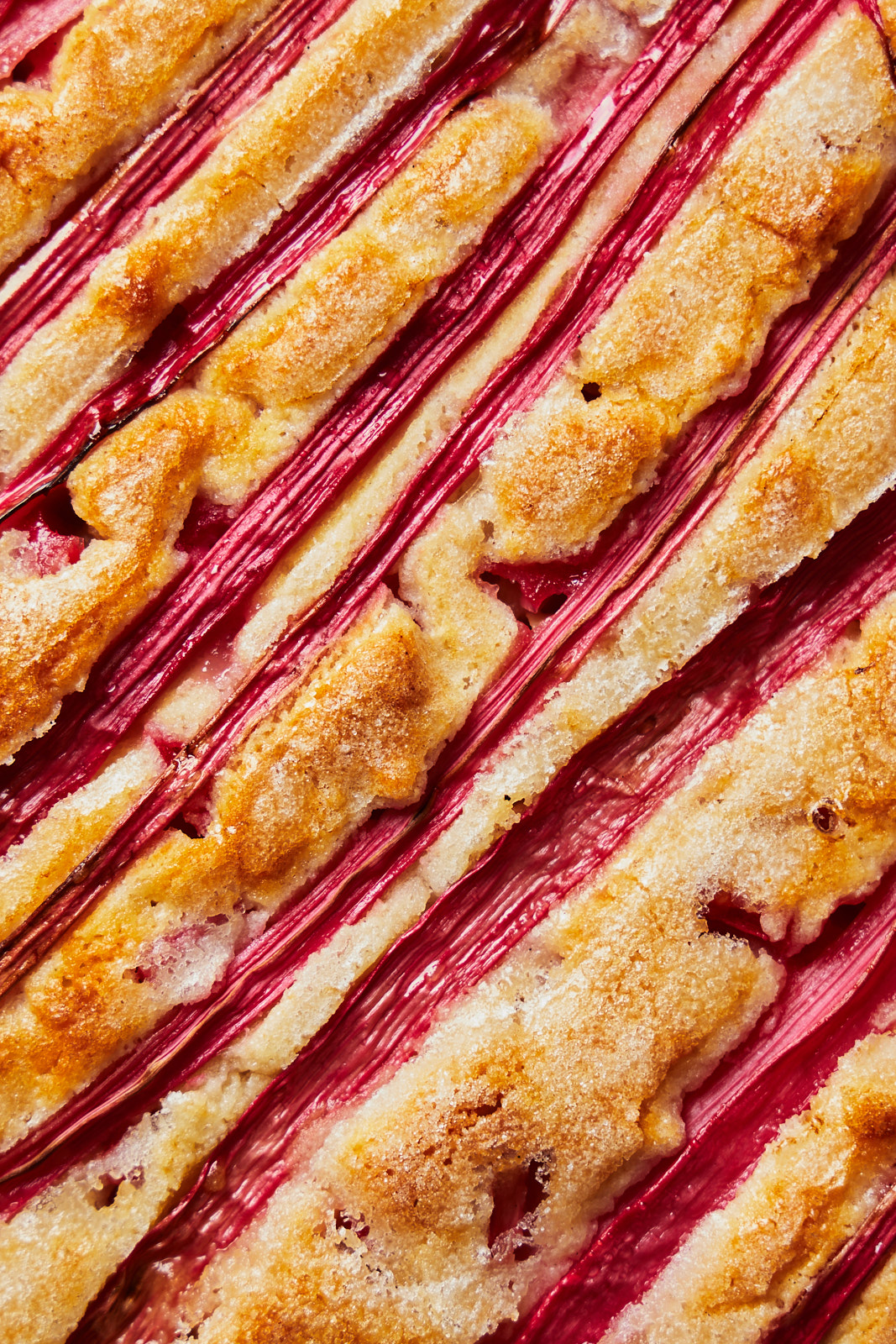 Can I Use Other Fruit Besides Rhubarb For This Easy Rhubarb Cake Recipe?
Yes! Which fruit goes well with rhubarb? Strawberry of course but you can use other fruit too. You can either swap out part of the rhubarb with another fruit (like strawberries, to make a strawberry rhubarb cake), or replace it completely. The texture of the cake works really well with blueberries, raspberries and strawberries and even cherries, peaches or nectarines too. Just be sure to keep the measurements of fruit the same.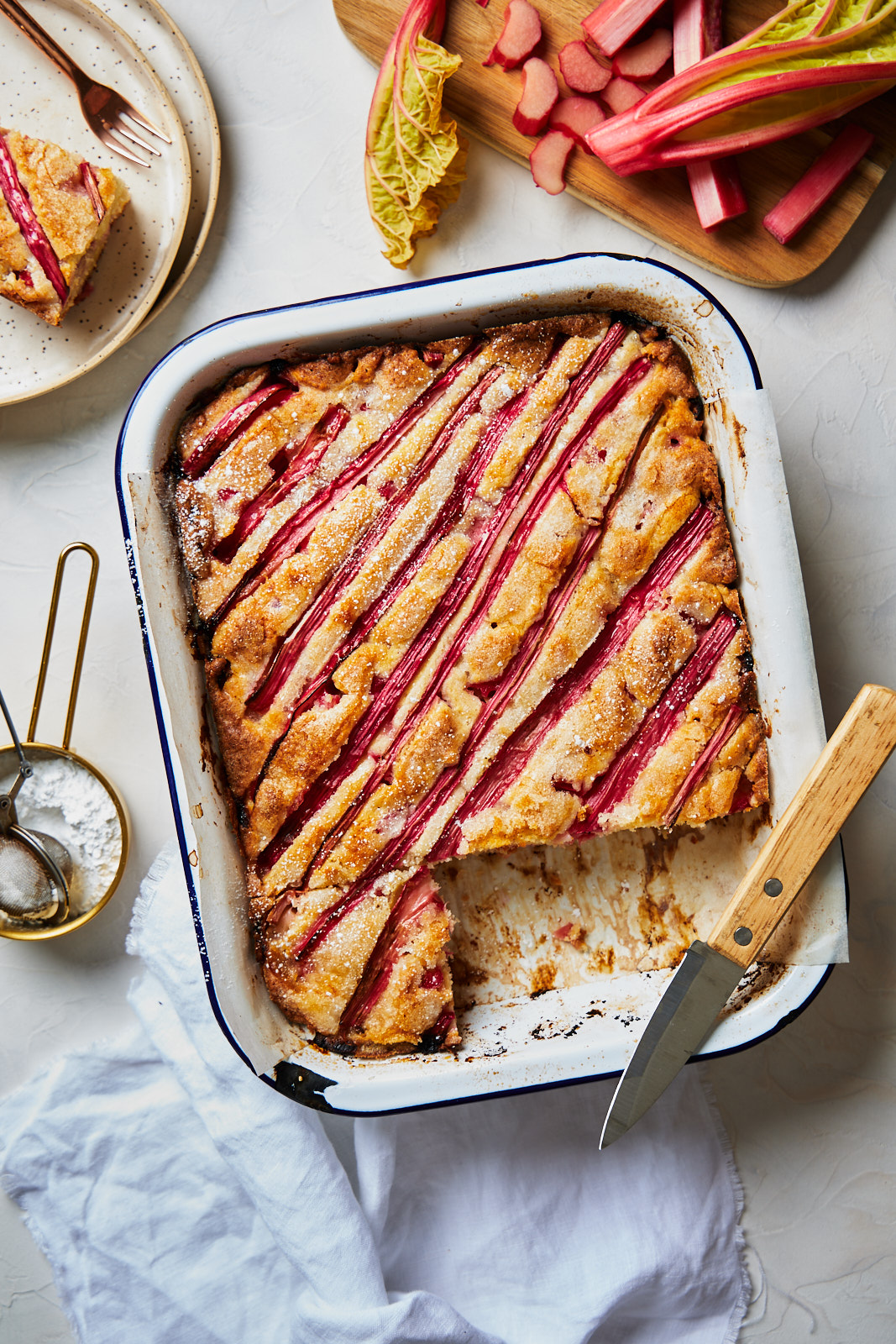 How Do You Store Rhubarb Cake?
Rhubarb Cake can be stored at room temperature for several days, loosely covered.
Freezer-Friendly Instructions: The cake can be frozen for up to 3 months. After it is completely cooled, cover it tightly with aluminum foil or freezer wrap. Thaw overnight on the countertop before serving.
What can I Do With A Lot of Rhubarb? I have you covered. If you love rhubarb recipes make sure to check these ones out:
Recipe
Yields: one 11x8" tart pan/baking pan or 10"diameter tart pan with removable bottom or 10" skillet
Prep Time: 15 mins
Cook Time: 50-60
Ingredients
1 cup (2 sticks) unsalted butter, room temperature

¾ cup plus 3 tablespoons granulated sugar, divided

1 pound rhubarb stalks, leaves discarded and ends trimmed (approx 2-2¼ cup chopped rhubarb and the rest for decorating top)

1¼ cups of All- Purpose Flour

1 cup Almond flour (or substitute with all purpose flour)

1½ teaspoons baking powder

¾ teaspoon salt

1 teaspoon vanilla extract

2 large eggs

1 teaspoon orange or lemon zest

¼ cup plain Greek yogurt or sour cream
Directions
Preheat oven to 350°F. Grease 11x8" tart pan/baking pan or baking dish or 10"-diameter tart pan with removable bottom or skillet (I lined my pan as well for easy removal of cake)
Slice rhubarb in half lengthwise (quarter if the pieces are very large). Set 8 of the prettiest ones aside to decorate the top of the cake; chop remaining rhubarb into ½" slices (should be approx 2-2¼ cups).
In a medium bowl whisk together the flour, almond flour if using, baking powder, and salt.
Place 1 cup butter and ¾ cup sugar in a large bowl along with the vanilla paste or vanilla extract. Using an electric mixer on high speed, or a stand mixer with paddle attachment, beat until light and fluffy, about 4 minutes.
Add eggs, one at a time, beating to blend first egg before adding second. Beat until mixture is pale and fluffy, about 4 minutes.
Reduce speed to medium speed or low and gradually add dry ingredients/ flour mixture, then the yogurt. Beat, just until combined, scraping down the sides of bowl once or twice (batter will be thick ).
Fold in chopped rhubarb and scrape batter into prepared pan (it will not pour). Smooth batter and arrange reserved rhubarb over top; sprinkle with remaining 3 Tbsp. sugar.
Place tart pan on a large baking sheet (if using one with removable bottom) and bake, rotating once, until cake is golden brown and rhubarb on top is soft and beginning to brown, 45-60 minutes. Tent with foil if its starting to brown too quickly.
Once done remove from oven and transfer to a wire rack and let cake cool for at least 10 minutes and then remove rim or lift out of pan with parchment paper and allow to cool completely
Slice and enjoy with whipping cream or a scoop of ice cream
Recipe adapted from Bon Appétit