Cherry Tomato Confit
Updated 24th August 2023
The cherry tomato confit is a recipe that requires just minutes of prep time and then just a little patience as they cook low and slow in (quite a lot) of olive oil, which preserves their texture and shape. These tomatoes are the perfect vegetable to store in your refrigerator after the days of summer are gone. The key to the dish is ripe cherry tomatoes but more importantly, the extra virgin olive oil. Luscious sweet tomatoes and creamy buttery garlic slowly cooked to perfection and packed with tons of flavor.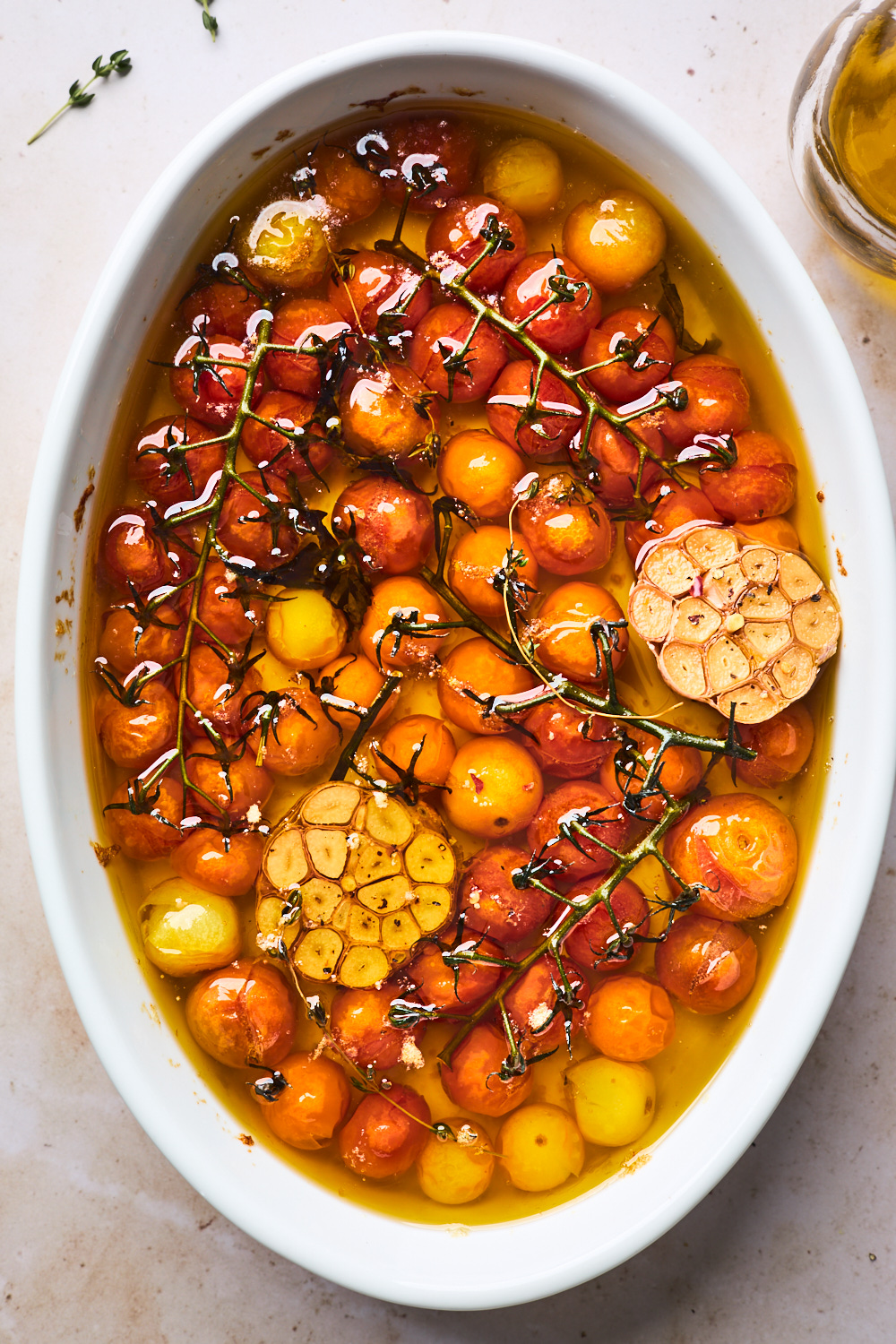 What is confit?
The word confit (pronounced con-fee) is a French word that means 'preserved' and describes more of a technique than a recipe. It's a popular food preservation method - the earliest recorded use of this cooking technique in 1859. It means to slow cook in fat. Often times when referring to confit you may naturally think of confit Duck. In this case we are cooking Cherry tomatoes and garlic along with fresh herbs. Baking them low and slow in extra virgin olive oil renders the garlic creamy, flavorful, and even spreadable. When tomatoes are made confit, they hold their shape well and retain their natural flavour, but ooze a sweet, complex and intense flavour within which adds to the delicious flavours in the oil. The oil is wonderful to dip into and even drizzled over just about anything. A super easy condiment /sauce (or side) that can jazz up any kind of meal, whether it is pasta, grain bowls, salads or grilled meat & fish.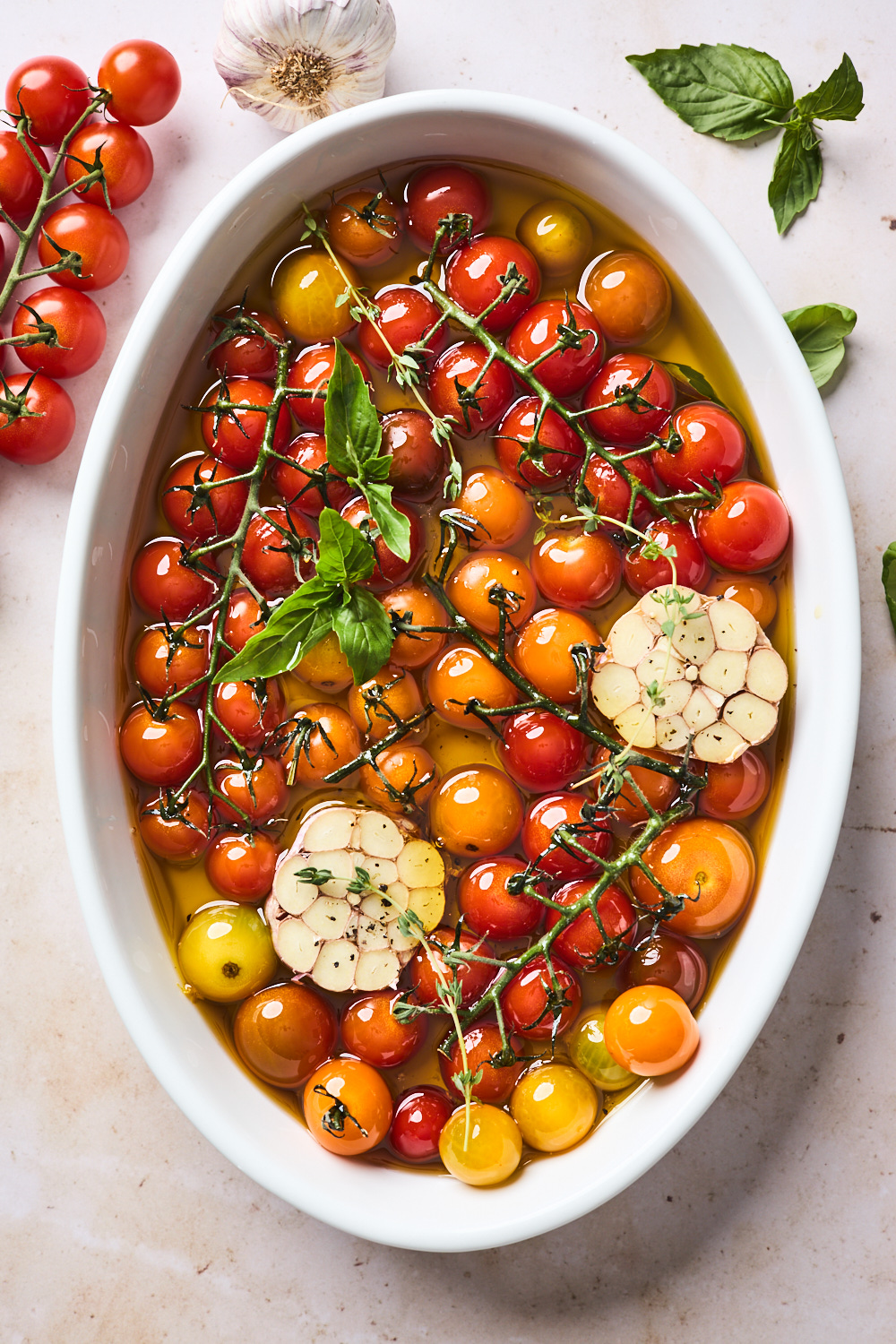 Ingredients to Make Cherry Tomato Confit Recipe:
TOMATOES: I prefer to use cherry tomatoes. The plumper the better. If you're using smaller cherry tomatoes, they'll cook faster, so you'll need to adjust the cooking time accordingly. Larger tomatoes will take longer to cook. Tomatoes are full of vitamin c and cooked in the olive oil (rich in monounsaturated fat/oleic acid and polyunsaturated fat) increases the absorption of lycopene, increasing the anti inflammatory benefits of this tasty combo.
GARLIC: I love garlic so I use a whole medium head of garlic in this recipe. This quantity is easily adjusted up or down to your garlic-loving preference. Once the garlic is roasted it literally slips out of it's skin and becomes creamy and spreadable
LEMON ZEST: This is optional but adds a really nice flavour and brightness to the confit
EXTRA VIRGIN OLIVE OIL: Use a nice quality oil, but you don't have to use the most expensive bottle on your shelf for this. I used Mina All Purpose, Single Origin, Moroccan Extra Virgin Olive Oil. It has Less than 0.2% acidity with a Light Smooth flavour, High in antioxidant rich polyphenols. This might look like a lot of oil, particularly after cooking, but remember that the tomatoes will need to be completely submerged in the oil for storage.
FRESH HERBS & SEASONINGS: Any fresh herbs you like can be added to the confit. A handful is plenty. Season generously with salt and pepper according to taste
VARIATIONS & SUBSTITUTIONS: If your tomatoes are very tart, you can add about 1-2 teaspoons of sugar to the dish when you season with salt and pepper to help. For a little heat, sprinkle the tomatoes with a few pinches of crushed red pepper flakes when seasoning. Feel free to add some balsamic vinegar for extra flavour
CAN I USE OTHER TOMATOES: Yes - cherry tomatoes and grape tomatoes are the easiest ones to use to make tomato confit but you can use plum tomatoes. You will need 6-8 plum tomatoes. Simply cut them into wedges and with your fingers remove the juice and seeds from the wedges. Then prepare as you would normally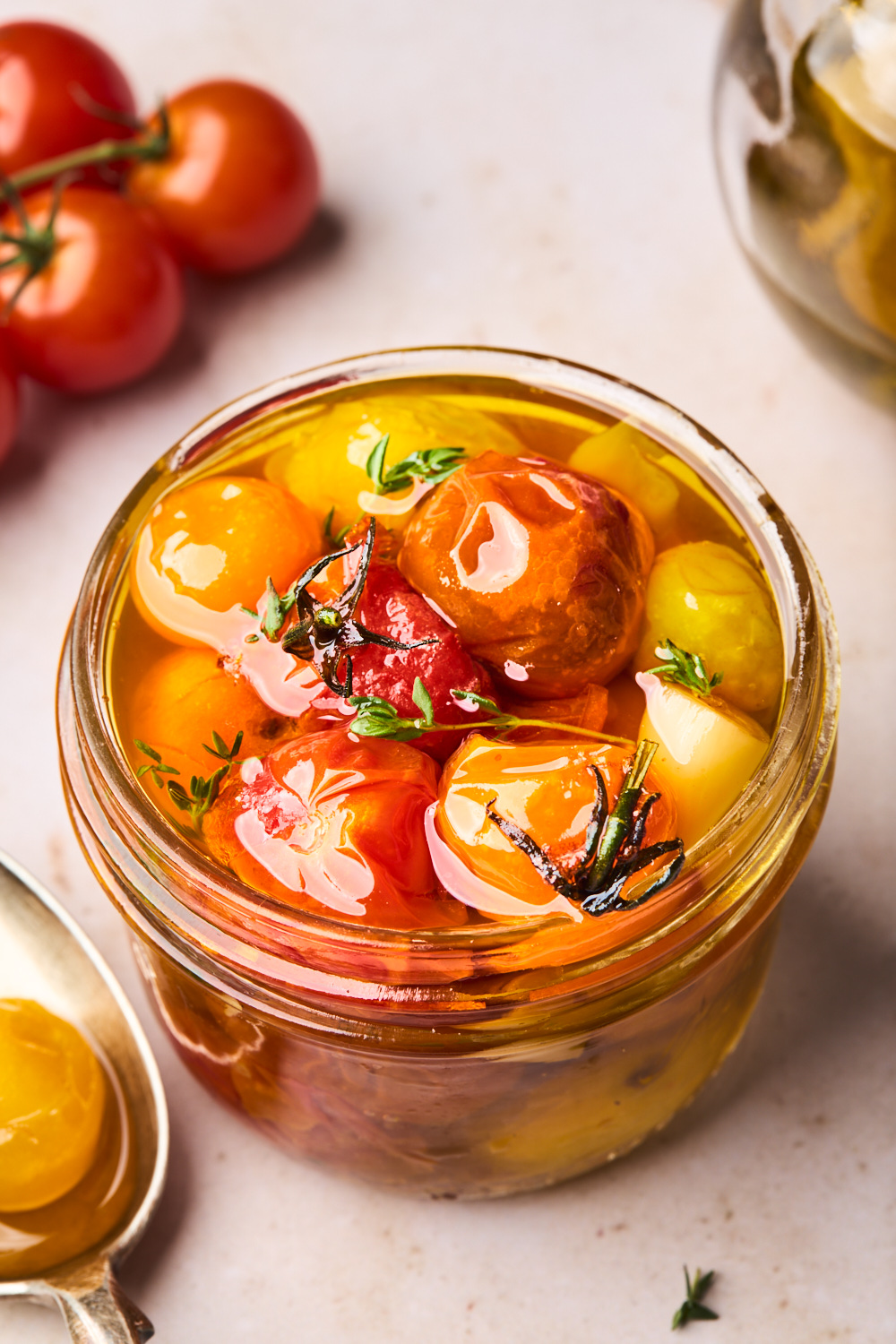 How to make tomato confit
Place the tomatoes into a baking dish
Pour enough olive oil into the dish to come halfway up the sides of the tomatoes.
Nestle the herbs and garlic into the tomatoes, and season everything with salt and pepper and sprinkling of lemon zest.
Cook until tomatoes are tender but not fully burst; they should be soft, but not falling apart.
Allow to cool then enjoy right away or place in jars and store in the refrigerator.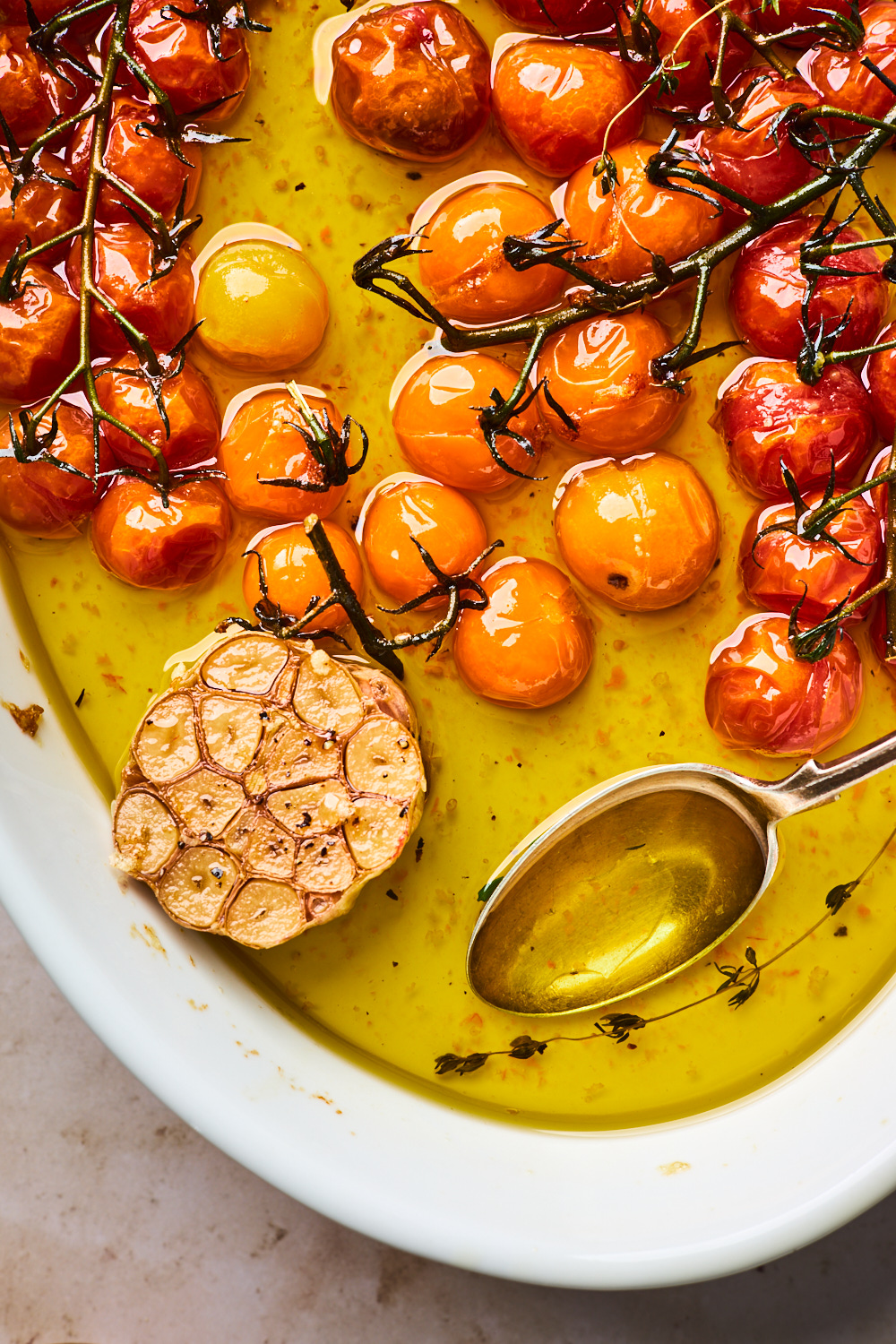 What to eat tomato confit with:
Swirled through pasta (gluten free or regular) risotto or polenta
Load them up on toasted bread/crostini spread with creamy ricotta, creamy whipped feta or cream cheese
Dress herby yoghurt with them or creamy hummus for a dairy-free spread
As a side or topping for protein like grilled meat, chicken or fish or for a vegan option top your grilled veggies or roasted vegetables with the confit
Perfect on your mezze platters
The flavourful oil from the confit can be used to drizzle over meat or even cook or sauté veggies in or even eggs and shrimp. As you can see the options are endless.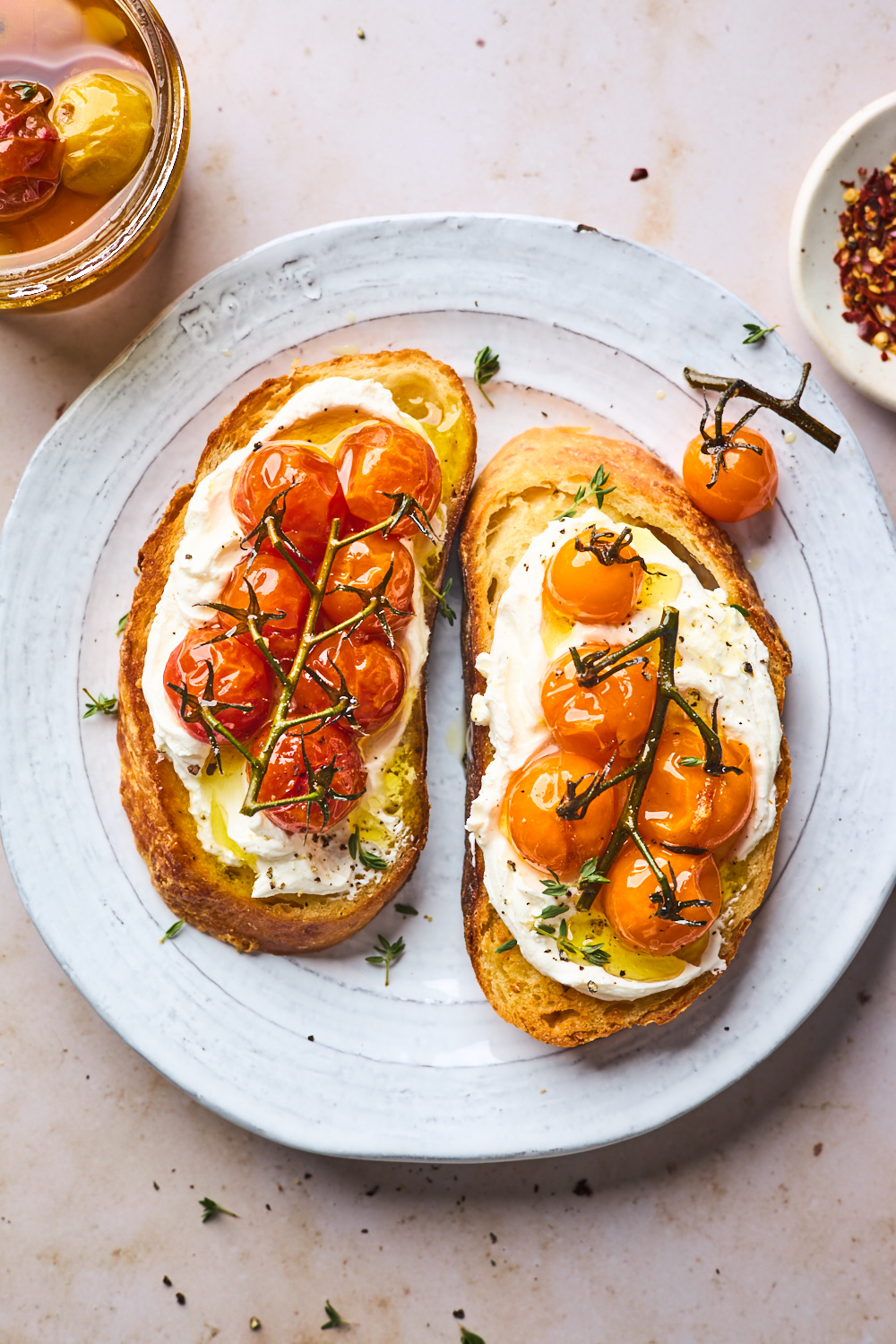 If you liked this recipe you will love these:
Recipe
Prep Time: 5 mins
Cook Time: 1½-2 hours
Ingredients
2½ lbs cherry tomatoes or grape tomatoes

1 medium head of garlic, sliced in half horizontally so garlic cloves are exposed

1-½ teaspoons finely grated lemon zest (optional but adds a really nice flavour to the confit)

1 cup extra virgin olive oil, plus more if needed - I used Mina Olive Oil

Salt and black pepper to taste

Handful of Fresh herbs of choice, I used fresh thyme sprigs and fresh basil (oregano and fresh rosemary are nice too)
Directions
Preheat oven to 250°F.
Place cherry tomatoes in a single layer in baking dish. Nestle the garlic between the tomatoes. (stems were left on purely for aesthetic purposes - so feel free to make your tomato confit without the stems)
Pour olive oil into the dish, so it comes about halfway up the sides of the tomatoes. Season generously with salt and pepper, and the lemon zest and add the fresh herbs to the baking dish.
Bake/slow roast, uncovered, for 1-½ to 2 hours (cooking time will depend on the size of the cherry tomatoes). Don't cook the tomatoes until they've fully burst; they should be soft, but not falling apart.
Cool tomatoes in the pan until they are room temperature, then place in airtight containers or jars. Pour enough of the cooking oil over the tomatoes to submerge them. Enjoy!
Recipe Notes
Storage: Tomato confit can be stored in a sealed container refrigerated for up to 1-2 weeks weeks. Store the tomatoes in a jar covered with the olive oil in the fridge. If you have leftover olive oil you can also store it in the refrigerator and use it in cooking or salad dressings.
Freezing: It can be frozen in freezer proof containers for up to 3 months. The olive oil with harden and solidify in the refrigerator or freezer so be sure to bring tomatoes to room temperature before serving