Chewy Pumpkin Molasses Cookies
Updated 2nd November 2023
These Soft and chewy pumpkin molasses cookies make for the perfect fall cookie. They are simple to make, chewy and deliciously soft molasses cookies with a touch of pumpkin pie spice. These Pumpkin Spice Cookies with Maple frosting are the perfect blend of flavours. This is a wonderful make-ahead recipe because the cookies stay seriously soft for days (if they last that long!). They are egg free and can easily be made vegan. I also used a great gluten free all purpose flour in them making them a great gluten free cookie too if you want them to be. I have made them with GF flour and regular all purpose flour and both work wonderfully in this recipe!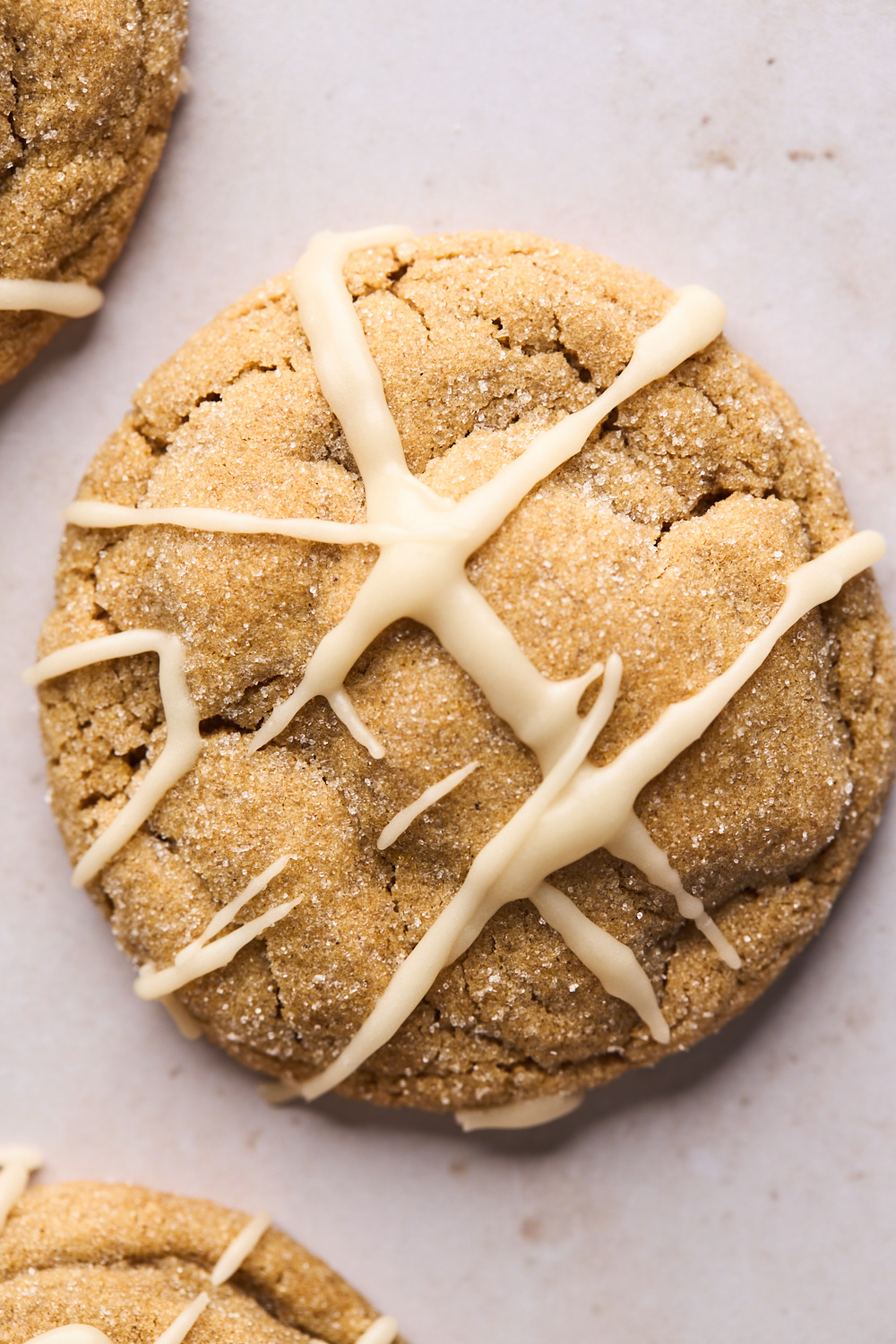 Nothing says fall like a chewy, spicy molasses cookies. Ginger molasses cookies are some of my favourite cookies around. The scream fall maybe as much as pumpkin spice lattes and pumpkin pie. I thought I would combine the flavours of ginger molasses cookies with pumpkin and these are my new favourite chewy cookie. I found that adding the pumpkin where an egg might have been, gave me a cookie that was crisp on the exterior and chewy on the interior. I also switched up the spices a bit to lean more towards pumpkin pie spice than a traditional ginger cookie. But don't worry, there is plenty of ginger in there and you can definitely increase the amount if you prefer. The pumpkin and molasses combine with warm spices for the perfect soft and chewy texture in this pumpkin cookie recipe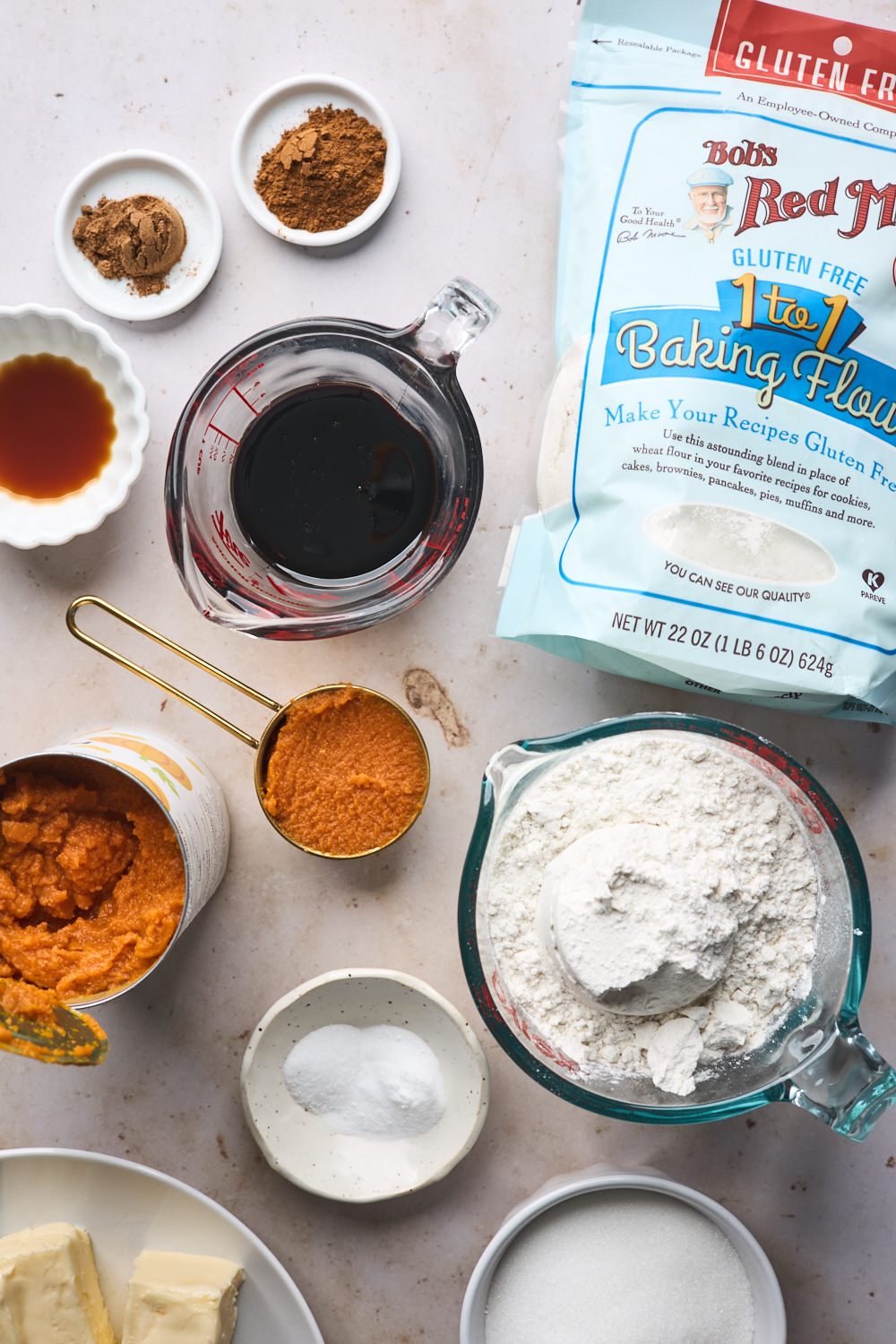 Pumpkin Molasses Cookie Ingredients:
BUTTER: Make sure it's room temperature and softened so it mixes well. I used unsalted. You can easily replace it with a vegan butter to make these cookies vegan. ROOM temperature means that the butter is soft and pliable, but not runny. If you are pushing your finger into it you shoudln't be able to sink right down the bottom of the stick - just make a nice indent. If it's runny or too soft your cookies will spread. Vegan butter tends to soften and get runny a lot quicker than butter so keep this in mind if you are substituting butter for it.
SUGAR: I used granulated sugar for the batter but feel free to swap it for brown sugar if you prefer. For rolling the dough in I would stick to granulated sugar. 1 cup for the cookie batter and ⅓ cup for rolling cookies in
MOLASSES: Molasses creates a moist consistency in baked goods. I like to use dark molasses also sold as "robust" molasses, but any molasses will work
PUMPKIN PUREE: Pure pumpkin purée is what I use - canned is best as it has less extra moisture than homemade. Just be sure that it's pure pumpkin and not pumpkin pie filling. The pumpkin helps keep these cookies wonderfully moist, even days after baking.
VANILLA EXTRACT: This always adds just the right kind of background flavour to most if not all baked goods - I always use pure vanilla extract.
SPICES: Pumpkin baked goods share the same blend of flavours - I love to use pumpkin pie spice + cinnamon + some ground ginger. Instead of prepared pumpkin pie spice, you can use ½ teaspoon each: ground nutmeg, ground cloves, ground allspice, and ground ginger.
FLOUR: Plain all purpose flour is great here but I made these gluten free by simply using Bob's Red Mill Gluten Free 1-1 all purpose flour in its place which is a really good quality GF 1-1 all purpose flour. Please use a good quality GF flour for this recipe to work otherwise stick to regular all purpose flour. This recipe has been tested with both flours and works beautifully with either.
BAKING SODA & SALT: For leavening and to balance out flavours. Please ensure your baking soda is still active and not expired otherwise you will get flat cookies.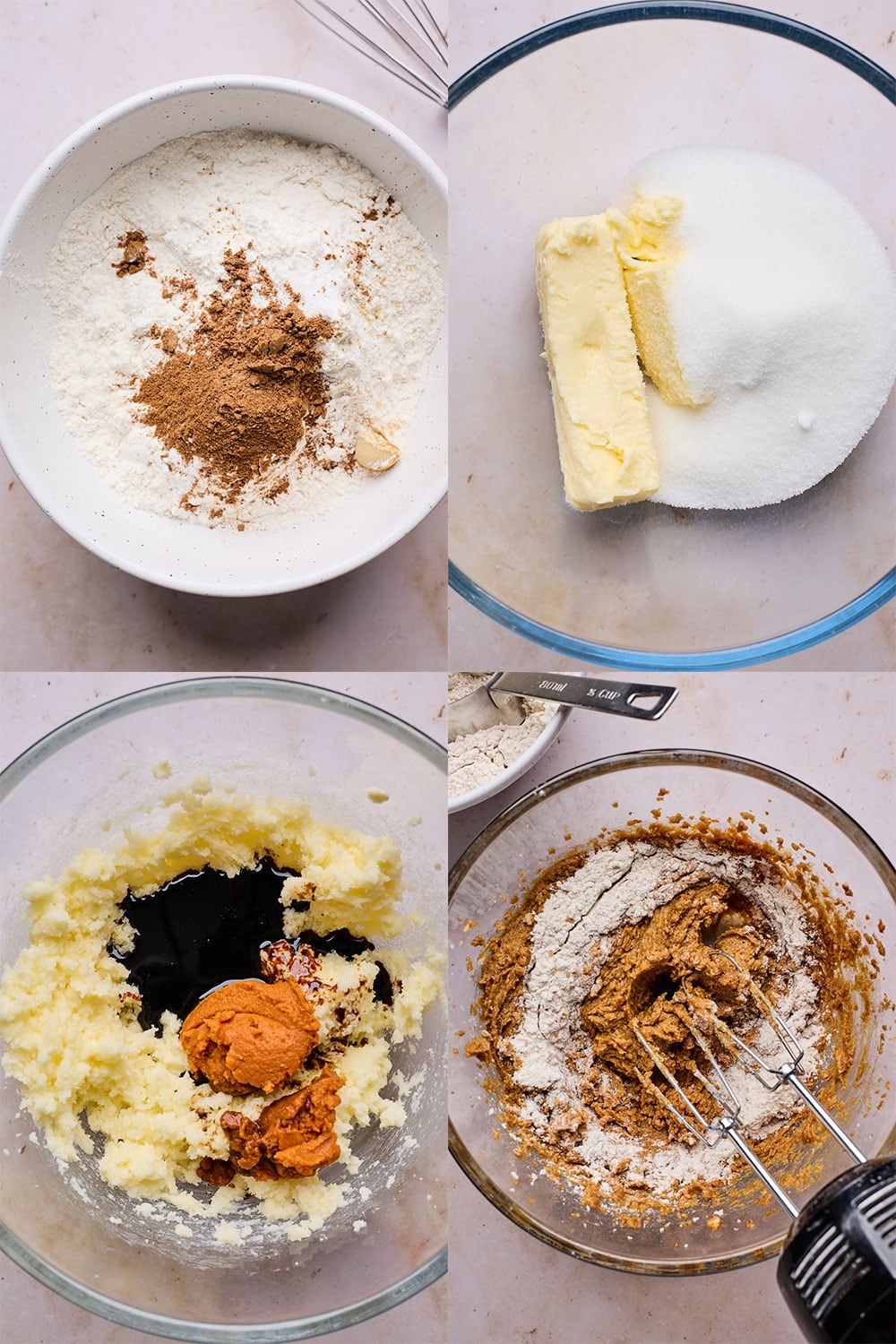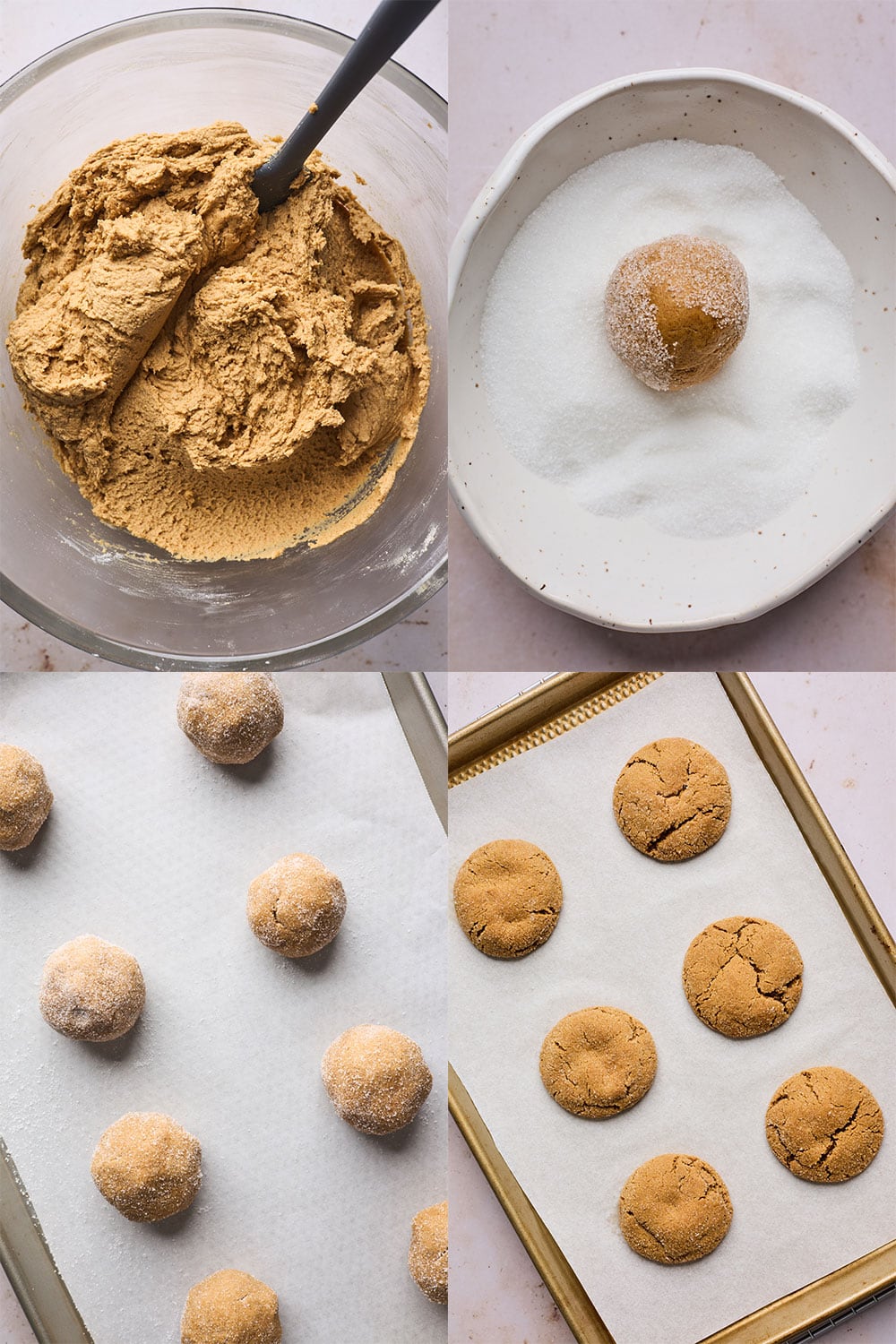 How to Make Chewy Pumpkin Molasses Cookies
Whisk the dry ingredients together.
Combine the wet ingredients together.
Mix the wet and dry ingredients together in a large bowl. Do not over mix and add the dry ingredients gradually. Once you have a few streaks of flour left in the batter you are done mixing - switch to a spatula and scrape the edges of the bowl and fold bater 1-2 times.
This dough does not need to be chilled to have good results but if you are in a hot kitchen or climate I recommend chilling dough for 15-20 minutes before scoping out and store dough in the fridge in between batches, otherwise the butter will soften in dough and will cause cookies to spread.
Use a cookie scoop to scoop out dough. Roll cookie dough into balls. (No need to chill dough unless it's too soft to handle - then feel free to chill the dough for 15-20 min)
Generously roll each cookie dough ball in granulated sugar.
Bake. The cookies will puff up as they bake then gently sink back down. This is what creates those familiar crinkles and crackles we love. If your cookies aren't cracking, gently bang the cookie sheet on the counter 2-3x which will help those warm cookies spread and crack on top.
Make the frosting/glaze while the cookies are cooling. Once cool drizzle it on, allow it to set then enjoy!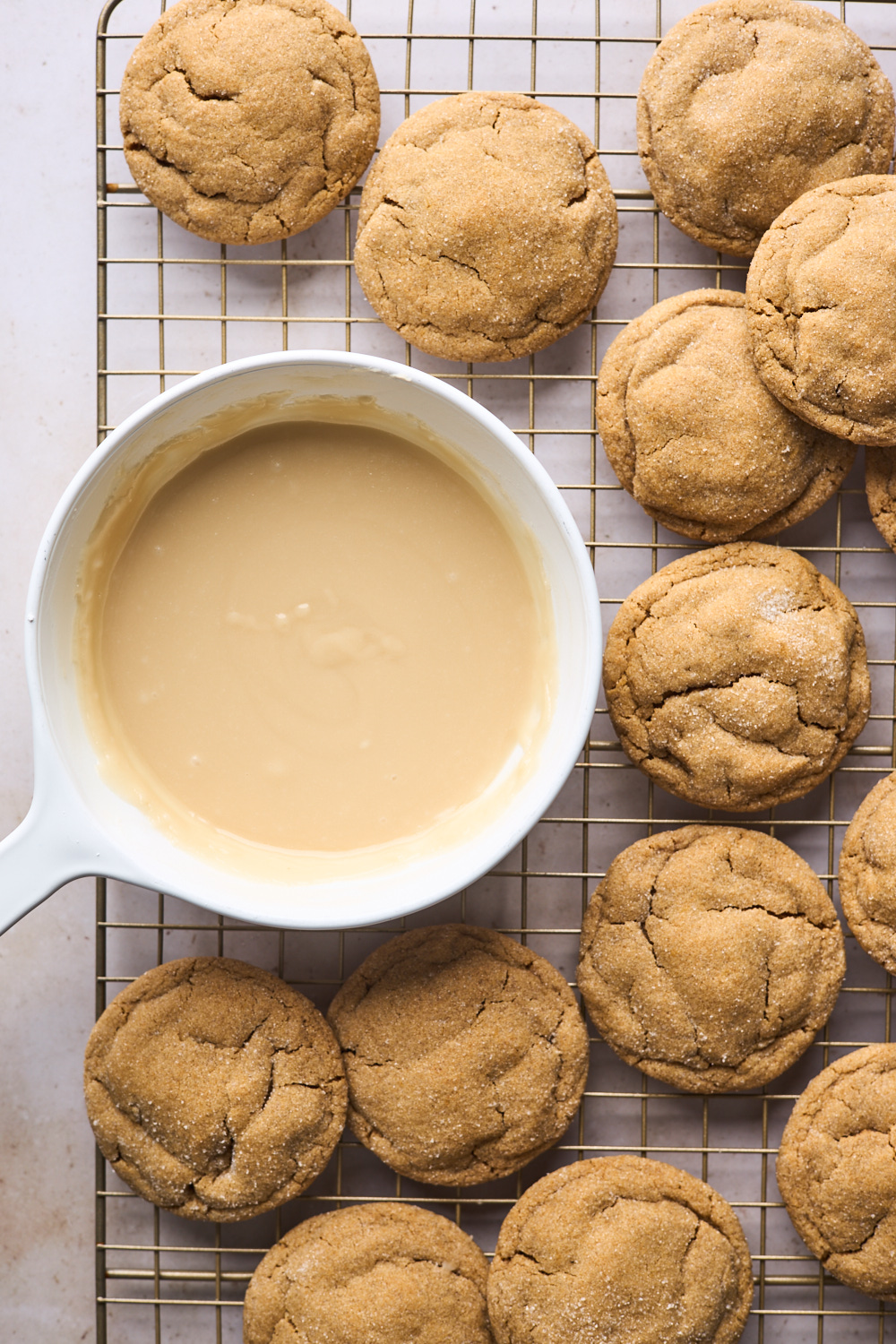 Tips to Make Great Cookies Every Time:
Ensure your butter is room temperature and not too warm - ROOM temperature means that the butter is soft and pliable, but not runny. If you are pushing your finger into it you should not be able to sink right down to the bottom of the stick - just make a nice indent. If it's runny or too soft your cookies will spread.
Make sure all your ingredients are fresh and not expired - not only the baking soda but also the GF all purpose flour.
Use good quality ingredients - that goes for the GF flour as well not all are equal. I try and use Bobs Red Mill 1-1 for great consistent baking and I have not had loads of experience using King Arthur 1-1 GF flour but you guys have mentioned that you love that one too.
Make sure your oven is preheated - use an oven thermometer to ensure oven is calibrated - boy does that make all the difference! Overly hot ovens can melt the butter in your cookies before the other ingredients have firmed up and cause them to spread.
Don't over mix the batter Once you have a few streaks of flour left in the batter you are done mixing - switch to a spatula and scrape the edges of the bowl and fold batter 1-2 times.
Take your time and measure your ingredients correctly - I always use standard Anchor Hocking Glass Measuring Cups - the ones most people have. I don't like the scoop kinds because I have found they allow for too much variance. Too much sugar gives you flat cookies. Too much Flour creates dry cookies etc… Also when removing butter from packages make sure to scrape off any remaining butter from package - sounds irrelevant but sometimes I have scraped off up to 1 tablespoon of extra butter from the paper covering. 1 tablespoon of butter means a lot in a cookie recipe
When it comes to your cookie sheet or sheet pan - make sure you are not using hot pans especially between batches. Allow them to cool completely before putting cookie dough on them. Also do NOT grease pans this will not only add more fat to the dough but allow the cookies to slide flat in essence. The same thing happens with non stick coated baking sheets. Use silicone baking mats or parchment paper only. They have enough surface texture for your cookies to grab on to so to speak (less spreading) but also prevent them from sticking
Don't try to bake the whole batch of cookies - at one time. Unless you have an industrial sized oven baking more than 1 tray of cookies at a time usually or almost always bakes cookies unevenly.
If you have a hot kitchen or live in a hot climate I recommend chilling dough for 15-20 minutes before scoping out and store dough in the fridge in between batches, otherwise the butter will soften in dough too much and will cause cookies to spread.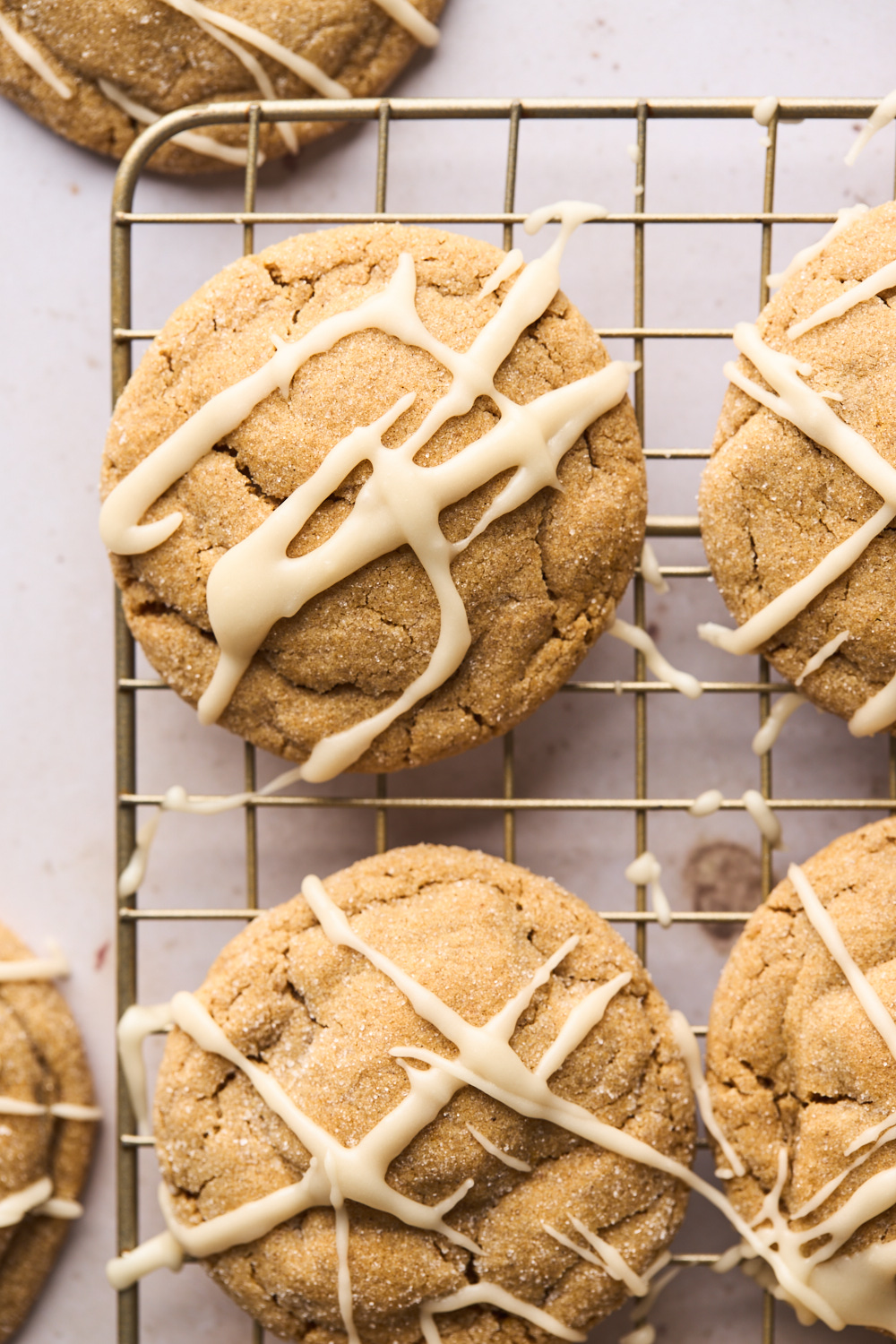 Check out these other Fall recipes: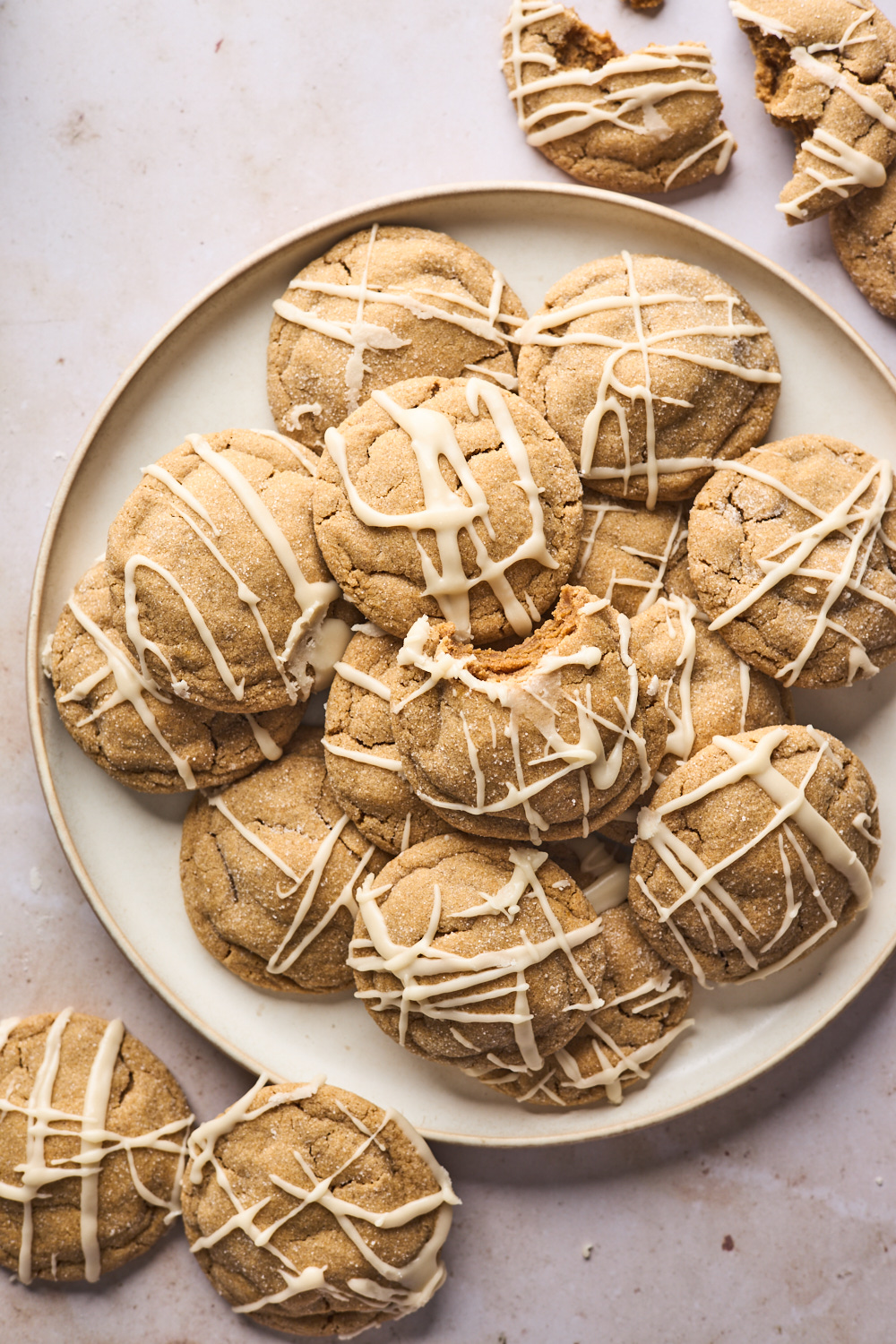 I have partnered up with Bob's Red Mill to bring you this fabulous recipe, but all opinions are my own. Thank you for supporting Olive & Mango.
Recipe
Prep Time: 10 mins
Cook Time: 9-12 mins
Ingredients
For the cookies
¾ cup butter, room temperature

1 cup sugar + ⅓ cup, divided for rolling cookies

¼ cup molasses

¼ cup pumpkin puree

1 teaspoon vanilla extract

1 teaspoon baking soda

1 teaspoon salt

1 teaspoon cinnamon

1 teaspoon pumpkin pie spice

¼ teaspoon ground ginger (plus more for extra flavour)

2¼ cups Bob's Red Mill Gluten Free 1-1 all purpose flour or All purpose Flour
For the Maple Icing
2 Tablespoons unsalted butter

⅓ cup pure maple syrup

1 cup sifted confectioners'/powdered sugar

pinch salt, to taste
Directions
Preheat oven to 350°F. Line a baking sheet with parchment paper and set aside.
Place ⅓ cup of sugar in a small shallow bowl and set aside.
Whisk together flour, spices, baking soda and salt in a medium size bowl.
In a separate bowl add the butter and remaining 1 cup of sugar and mix with a hand mixer (or paddle attachment if using stand mixer) on medium speed for 1-2 minutes or until fluffy and light.
Add in the molasses, pumpkin, and vanilla. Mix on low-med speed until combined and smooth, scraping the sides of the bowl as needed
Turn mixer to low and gradually add in the flour mixture mixing until just combined. Do not over mix.
Portion out the dough using a small 2' (5 cm) 1 tablespoon cookie scoop, scooping out 1 heaping tablespoon of dough and roll each into a ball.
Roll each ball in bowl of sugar
Then place the balls of dough onto the prepared baking sheet 2- inches apart.
Bake for 8-12 minutes or until edges are just barely browned–they may not seem like they are done, but grab them just before you think they are done. The cookies will puff up as they bake then gently sink back down. This is what creates those familiar crinkles and crackles we love. If your cookies aren't cracking, gently bang the cookie sheet on the counter 2-3x which will help those warm cookies spread little and crack on top
Transfer the cookies to a cooling rack on the baking sheet for 5 minutes before carefully transferring to a wire rack with a spatula to cool completely.
Make the icing: In a small saucepan over low heat, melt the butter and maple syrup together, whisking occasionally. Once the butter has melted, remove from heat and whisk in the sifted confectioners' sugar. Taste. Add a pinch of salt, if desired. Drizzle over cooled cookies. Allow to set then enjoy.
Cookies stay fresh covered at room temperature for up to 1 week in an airtight container.
Recipe Notes
PLEASE read istructions and measure out ingredients carefully to ensure you are making these cookies properly. If you need extra help refer to the TIPS above to ensure you get the best result every time!
Make Ahead Instructions: You can make the cookie dough and chill it in the refrigerator for up to 2-3 days. Baked cookies freeze well for up to 3 months. Thaw overnight in the refrigerator and bring to room temperature, if desired, before serving. Unbaked cookie dough balls (before rolling in sugar) will freeze well for up to 3 months. Let sit at room temperature for 30 minutes, pre-heat the oven, then roll in granulated sugar. Bake as directed
They'll seem soft when you remove them from the oven, but just let them cool for a few minutes on the baking sheet and then remove to a rack once you can handle them with a spatula. They firm right up. I love that cake-like consistency in the center. Sooooo delicious.
If you would like some extra ginger in these cookies feel free to add up to ½-¾ teaspoons more
Make them into cookie sandwiches with cream cheese frosting: 1 (8 ounce) package cream cheese, softened, 3½ cups confectioners' sugar, sifted, 1 teaspoon pure vanilla extract. In a medium bowl with an electric mixer, combine cream cheese and confectioners' sugar. Mix on low speed until the sugar is incorporated, increase speed to medium-high and mix for about one minute. Add in vanilla and continue mixing on low speed until vanilla in fully incorporated.To assemble the cookies, pipe or spread the filling on the bottom of one cookie. Top with another cookie and press together gently to create a sandwich cookie. Repeat with remaining cookies.