Chocolate Crinkle Cookies
These totally delicious chocolate crinkle cookies are fudgy on the inside with slightly caramelized edges on the outside - brownie-like little bites rich in chocolate flavor. They have a touch of espresso powder in them - something I love to add to my chocolate baked goods like chocolate cake and cookies which enhances the cocoa flavors and intensifies them, making these even more irresistible. Be WARNED - you will not be able to stop eating these! You will love how simple they are to make and how they only require simple pantry ingredients - enjoy!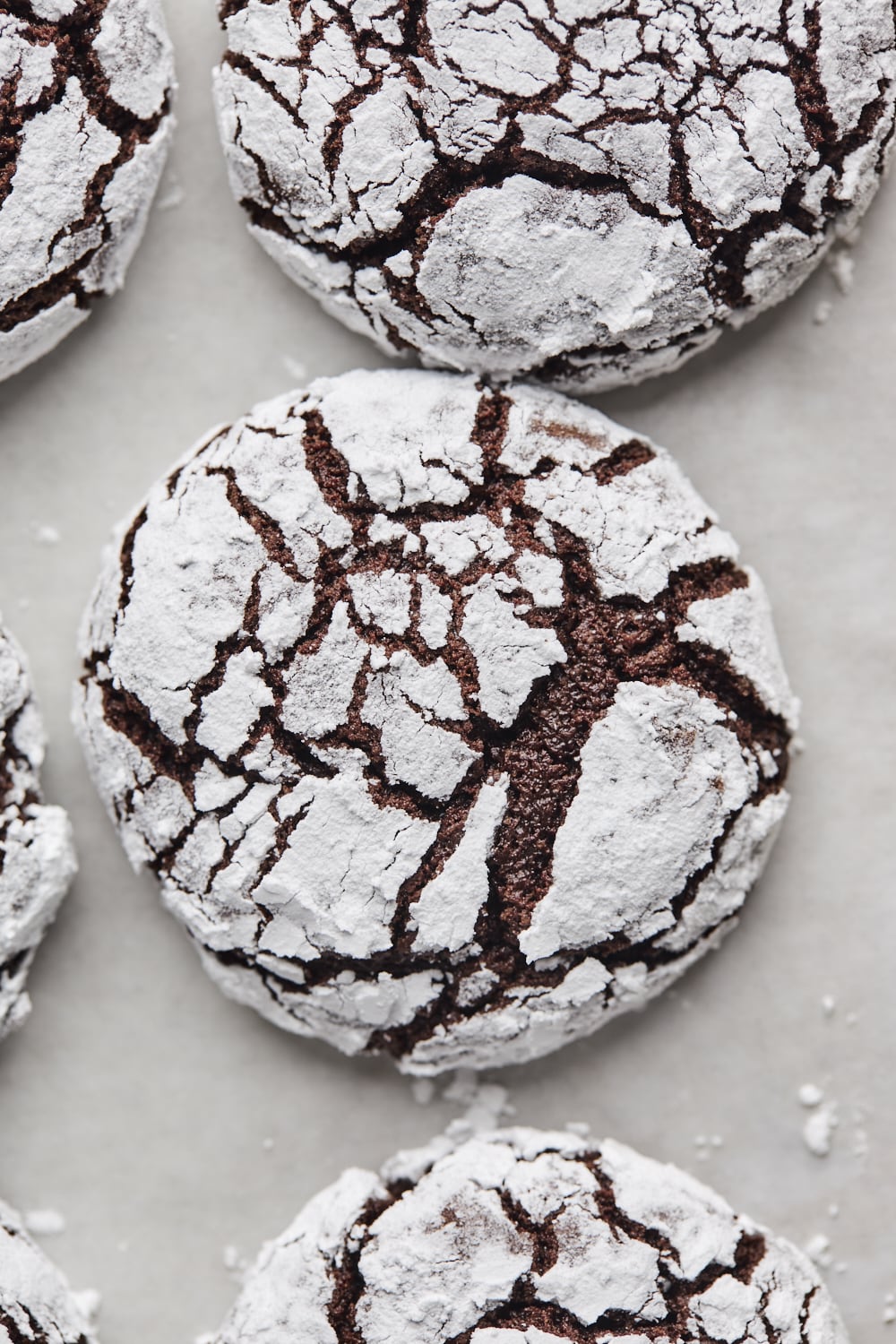 Chocolate Crinkle Cookie Recipe Ingredients:
Cocoa powder - I tend to stick to natural unsweetened cocoa powder but feel free to use dutch-processed cocoa powder if that is what you have (just be sure to use unsweetened) 
Flour - all purpose flour or a good gluten free all purpose 1-1 flour will work as well for a gluten free chocolate crinkle cookie 
Baking powder - no baking soda required for this recipe 
Salt - sea salt to balance the flavours
Vegetable oil - I like to use a neutral vegetable oil like canola oil but these can even be made with olive oil for a richer tasting version
Eggs - room temperature 
Sugar - I use granulated sugar in this recipe - no brown sugar in this version 
Vanilla extract - pure vanilla extract for best flavour 
Espresso Powder - totally optional but like I mentioned above I love to add it to my chocolate baked goods to enhance the cocoa flavour in these cookies 
Powdered sugar/ Confectioners sugar - feel free to use granulated sugar if you prefer less powdery fun mess when making or eating these little guys 
Variations: Chocolate Chips are a great add in - Stir in one cup of mini chocolate chips or regular chocolate chips. Or I have seen these made with a chocolate kisses pressed into each cookie as soon as they come out of the oven for a rich chocolate addition or even and andes mint would be great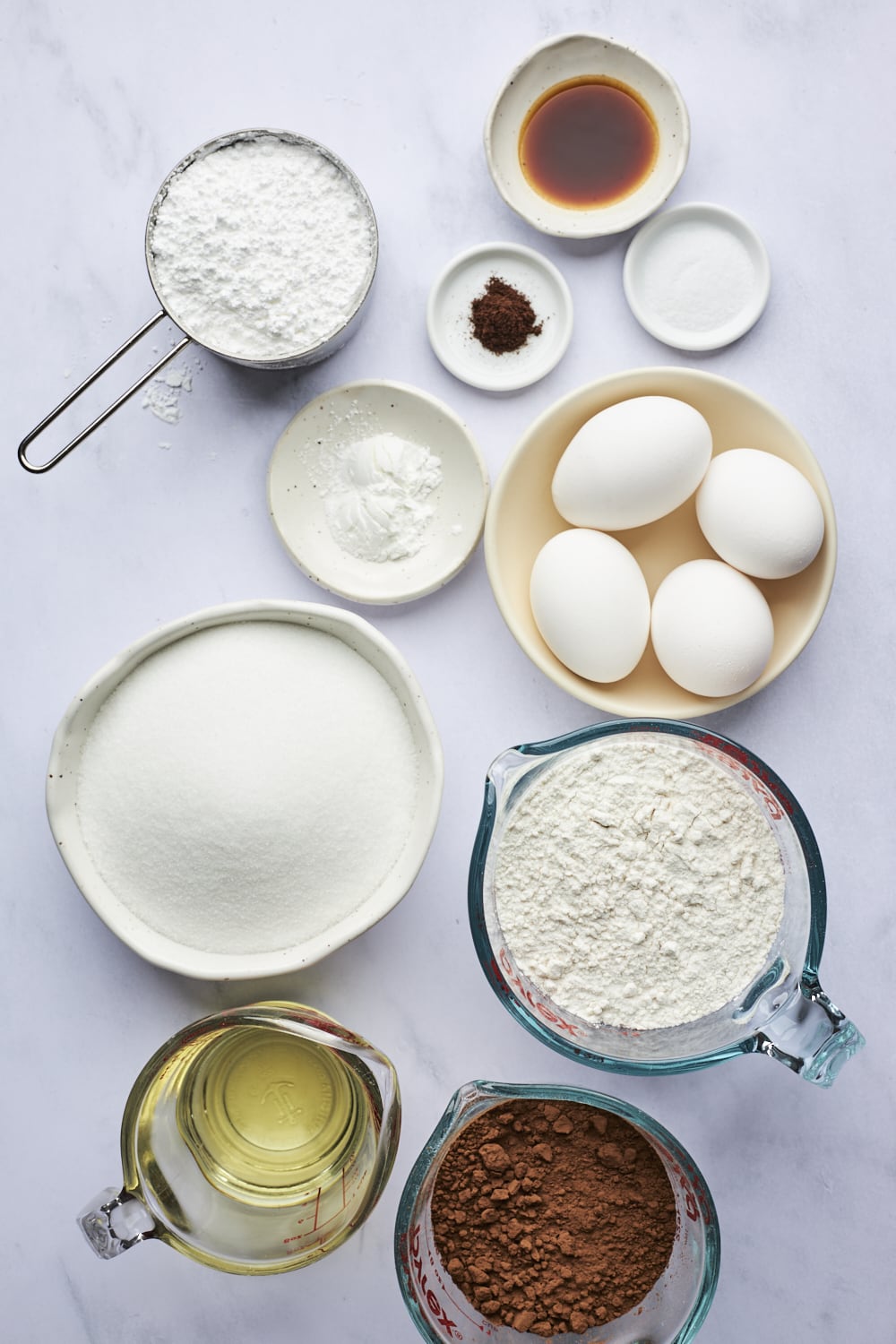 How to Make Chocolate Crinkle Cookies:
This recipe is very easy so it's a great one for the kiddos to help with! With simple pantry ingredients - you just can't go wrong with this recipe 
Combine dry ingredients: flour, baking powder, espresso powder if using - whisk together to combine 
Beat wet ingredients separately: cocoa powder, sugar, oil then eggs and vanilla 
Mix in the flour mixture a little at a time until combined 
Chill the dough at least 4 hours. Overnight for best results - for a less sticky dough to work with 
When ready to bake, simply roll the dough into balls gently pat to flatten a little and coat in powdered sugar. 
Bake for 10-12 minutes, allow to cool a few minutes on the Sheetpan and enjoy!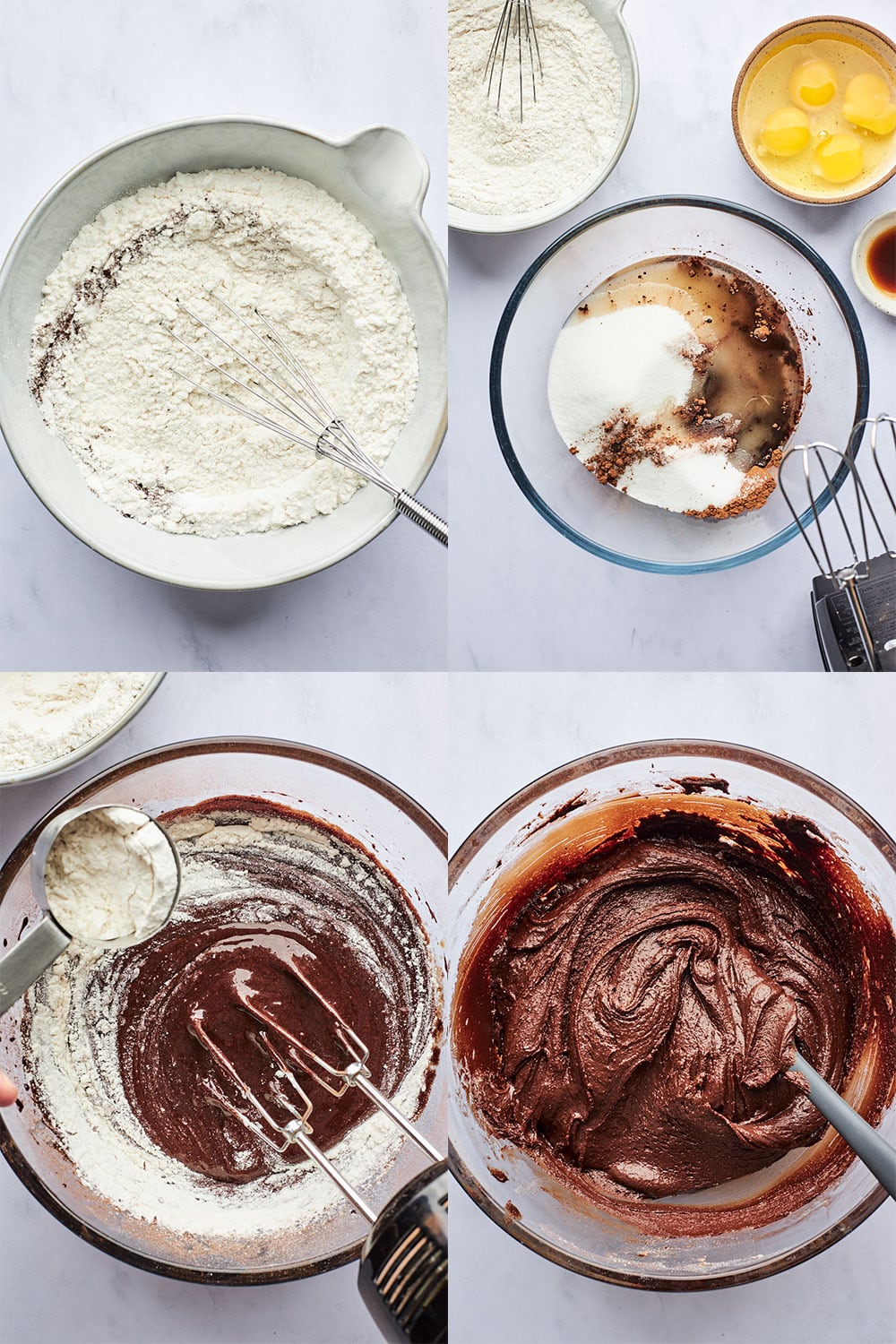 Tips For Best Chocolate Crinkle Cookie Results
You HAVE to chill the dough for at least 4 hours, preferably overnight. You can even freeze it for 1-2 hours for a quicker chill time. Chilling the dough is ideal so that the cookie dough is easier and less sticky to work with and to roll, and for the fudgiest crinkle cookies around. It the best kind of cookie to make ahead because the dough can be made the night before and you can bake these off in no time after that. 
Once you place the dough on the cookie sheet there you NEED to press down for the BEST CRINKLES otherwise I found they will not spread or crackle enough if left on their own (many recipes say to not push them down but I have tested multiple batches and they need to be patted flat a bit in order to spread a bit more and get those nice deep crags in them - not too much just a little. 
Be sure oven is thoroughly preheated to ensure they cook properly and are not doughy after baking.
If you want to prevent the confectioners' sugar from melting into the cookies, you can roll the cookie dough balls in granulated sugar before rolling them into confectioners' sugar as I mention in the blog post for my Chocolate mint crinkle cookies (The first layer ensures that the second one retains its snowy white appearance.)
A few things to keep in mind: Chilled cookies spread less so your cookies will take longer to spread so if you want thinner cookies with crispy edges you will have to bake them a couple minutes longer. if you prefer thick chocolate crinkle cookies and don't care about whether they have large crinkles or not then I suggest not pressing the dough balls to flatten a bit - keep them round and they will spread a little but not too much and you are left with nice thick chewier chocolate crinkle cookies - you may even want to under bake them 1 minute for an even chewier gooier centre.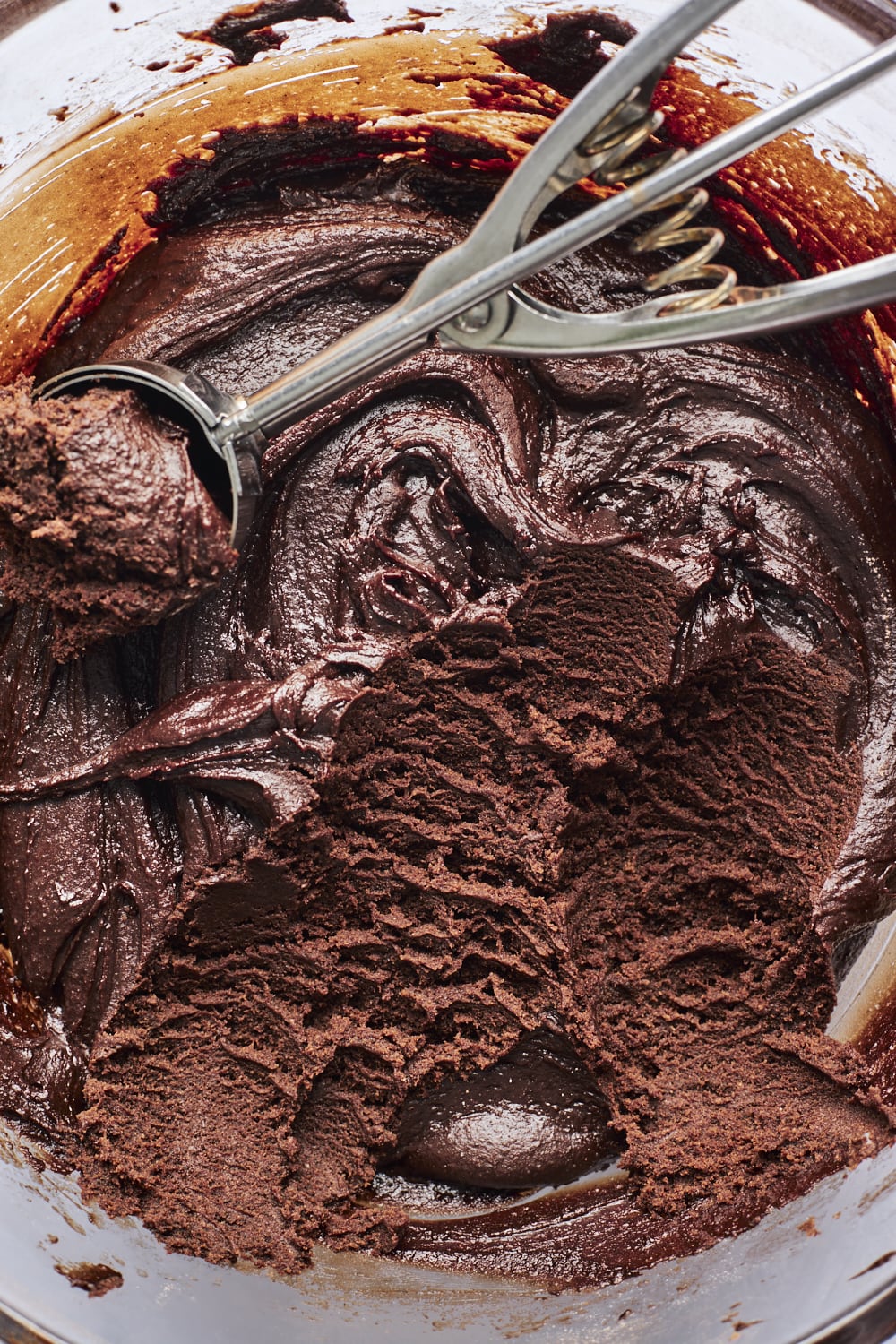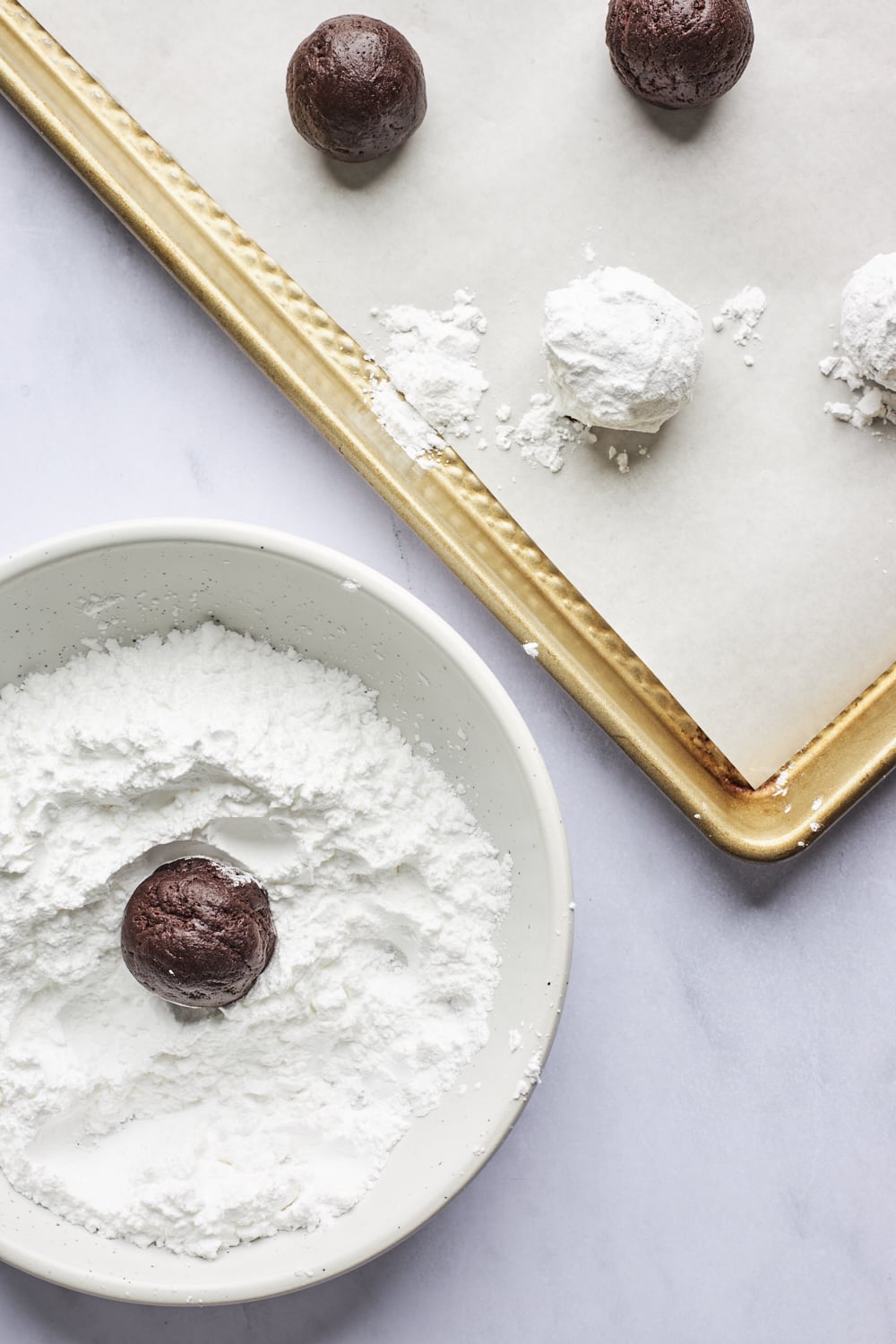 Storage & Freezing Chocolate Crinkle Cookies
Room Temperature – Place cooled cookies in airtight container and keep at room temperature for up to 5 days. Make sure cookies are completely cooled before placing in container. They are best enjoyed during days 1-2 but will keep up to 5 days - totally doubt they will last that long - these babies go fast in our house
Freezing Cookies – Place in airtight container or ziplock bag. Make sure cookies are completely cooled before placing in container. They will keep well in the freezer for 2-3 months. To thaw let them thaw on counter or warm in the microwave. They won't look as pretty though as the powdered sugar coating may sort of melt into the cookies - they will still be delicious. To help with this a little, simply place parchment paper between layers of cookies. 
Freezing Dough – Drop the cookie dough balls on a large sheet pan and flash freeze by putting the sheet pan in the freezer until dough is frozen solid. Transfer dough balls into an airtight container or freezer bag and freeze up to 2 months. To bake place on cookie sheet and add 1-3 minutes to cooking time.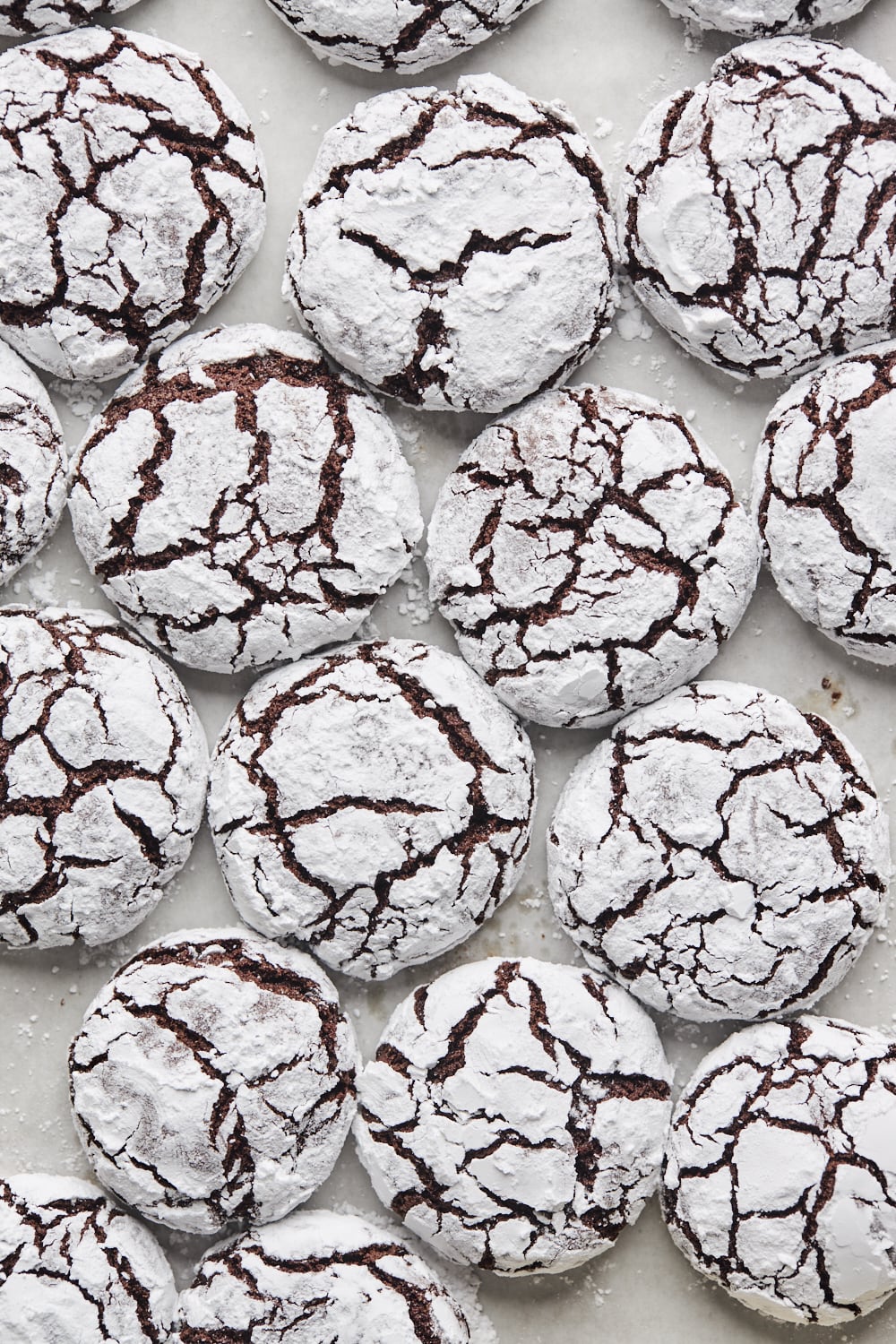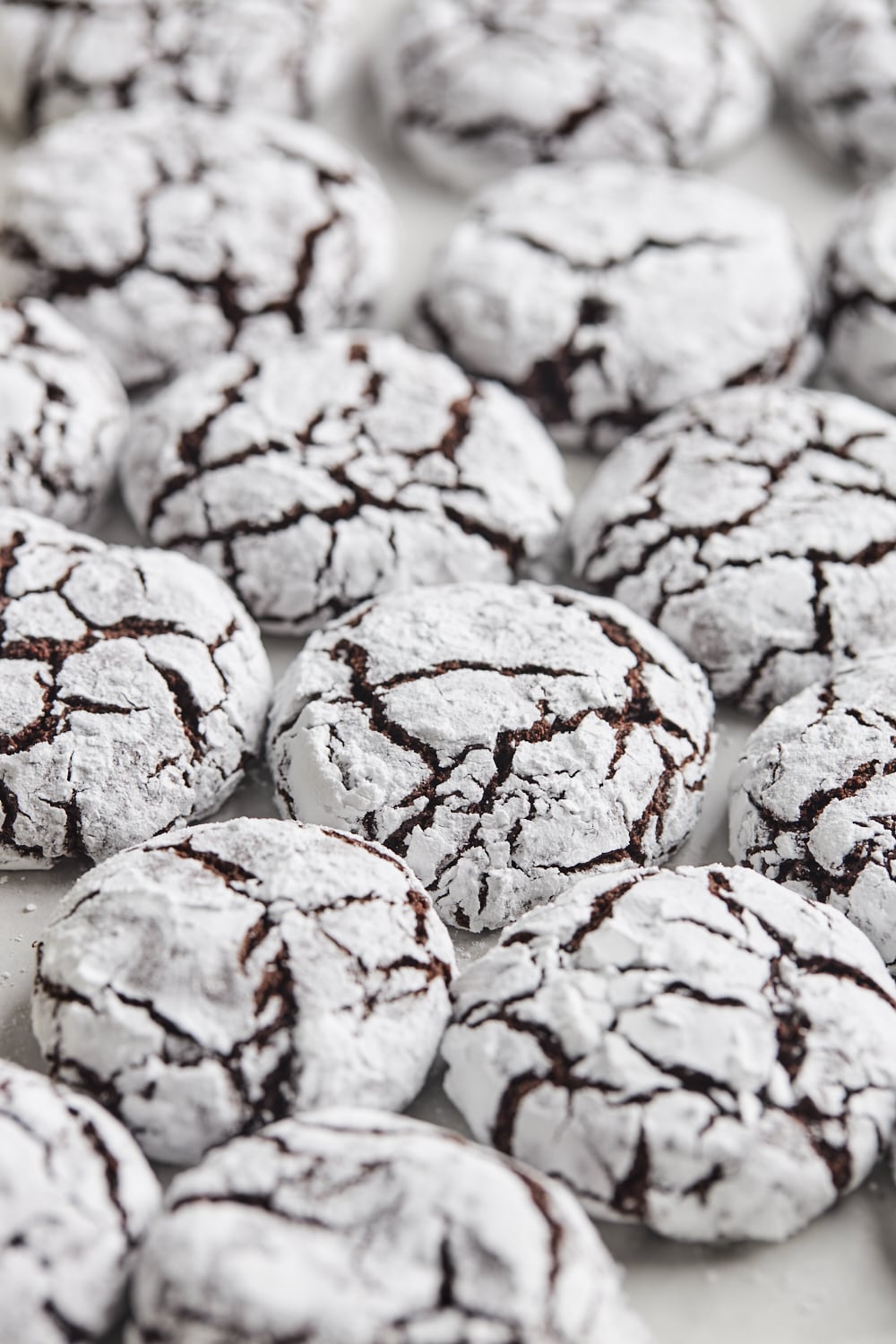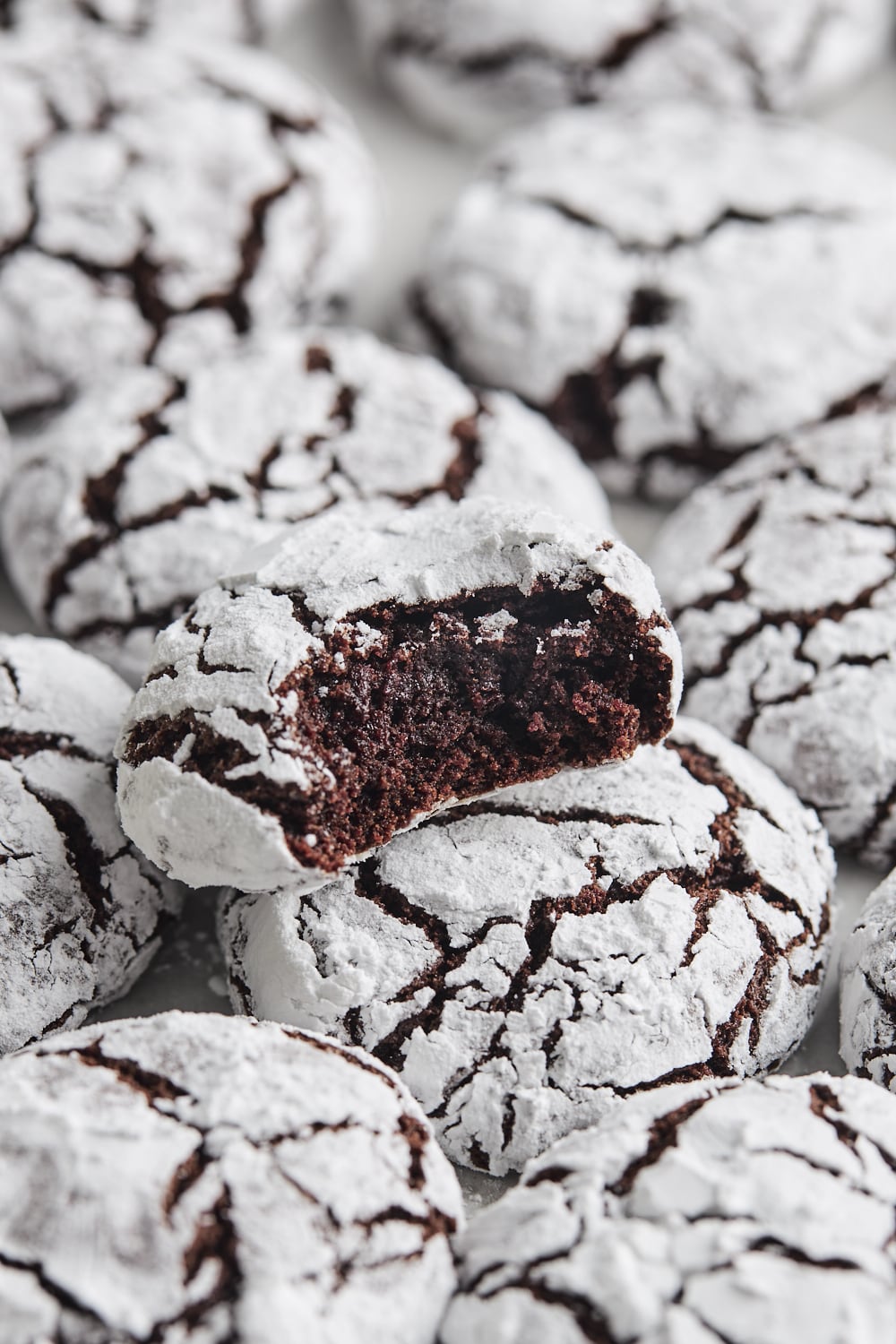 More Cookies Recipes You Will Love:
Recipe
Servings:
approx 36 cookies
Prep Time: 15 mins
Cook Time: 10-12 mins
Non Active Time: 4 hours-overnight for chilling dough 
Ingredients
1 cup natural unsweetened cocoa powder

1 1/2 cups granulated sugar

1/2 cup vegetable oil

4 large eggs

2 teaspoons vanilla extract

2 cups all-purpose flour

2 teaspoons baking powder

1 teaspoon espresso powder (optional)

1/2 teaspoon salt

1 cup powdered sugar
Directions
Whisk together the flour, baking powder, instant espresso powder, and salt in a medium bowl and set aside. 
In a large bowl of a stand mixer or using a bowl and hand mixer beat the sugar, cocoa, and oil together. Then Beat in eggs, one at a time, until combined then add in the vanilla extract. 
Gradually mix in the dry ingredients into the wet ingredients until thoroughly mixed. Cover dough with plastic wrap and refrigerator for at least 4 hours or overnight for best results. 
When ready to bake, preheat the oven to 350 degrees F and line two baking sheets with parchment paper or silicone mats
Roll or scoop chilled dough into 1-inch balls using small cookies scoop -approx 1 heaping tablespoon. Coat each ball in confectioners' sugar and place 1 inch apart on the prepared cookie sheets. Flatten them just a little (feel free to toss them in a bit more powdered sugar if needed) 
Bake in the preheated oven for 10-13 minutes. 
Let stand on the cookie sheet for 5 minutes minutes before transferring to wire rack to cool.
Baked cookies that have cooled can be stored in an airtight container on the counter for up to 4-5 days.
Recipe Notes
Why don't my cookies have cracks or crinkles? the most frustrating thing about this recipe can be making the batter and baking them off an don't getting any cracks - trust me I have been there and done that. The cookies will still taste fantastic but you want that signature crack in these crinkle cookies so here is what I have learned after making batch after batch of these - For the best crinkles (instagram or Pinterest worthy) - make sure to roll then flatten the balls a little for more distinct crinkles and for cookies to spread and have more distinct crinkles. Many recipes tell you not to do this but please flatten them a bit and if you have to roll them in some more powdered sugar after flattening them then please do so. 
A few things to keep in mind: Chilled cookies spread less so your cookies will take longer to spread so if you want thinner cookies with crispy edges you will have to bake them a couple minutes longer. if you prefer thick chocolate crinkle cookies and don't care about whether they have large crinkles or not then I suggest not pressing the dough balls to flatten a bit - keep them round and they will spread a little but not too much and you are left with nice thick chewier chocolate crinkle cookies - you may even want to under bake them 1 minute for an even chewier gooier centre.
If you want to prevent the confectioners' sugar from melting into the cookies, you can roll the cookie dough balls in granulated sugar before rolling them into confectioners' sugar as I mention in the blog post for my Chocolate mint crinkle cookies (The first layer ensures that the second one retains its snowy white appearance.)