Cinnamon Baked Apple Slices
These baked cinnamon apple slices have just the right amount of tenderness and bite and and a deliciously creamy apple caramel sauce that forms at the bottom of the pan or casserole dish. Enjoy this healthy dessert spooned over ice cream, with biscuits or chopped nuts or served over oats or yogurt with granola — the options are endless! These simple baked apples are less work than other fall apple desserts, yet taste like the real deal. The apples are tender, like the filling of warm apple pie. Deliciously sweet and quintessentially fall. When the apples are baked, their juices concentrate and become jammy without falling apart, making them ideal for scooping by the spoonful. The whole house smells amazing as they bake and you will not be able to resist eating them right out the oven and straight out of the pan!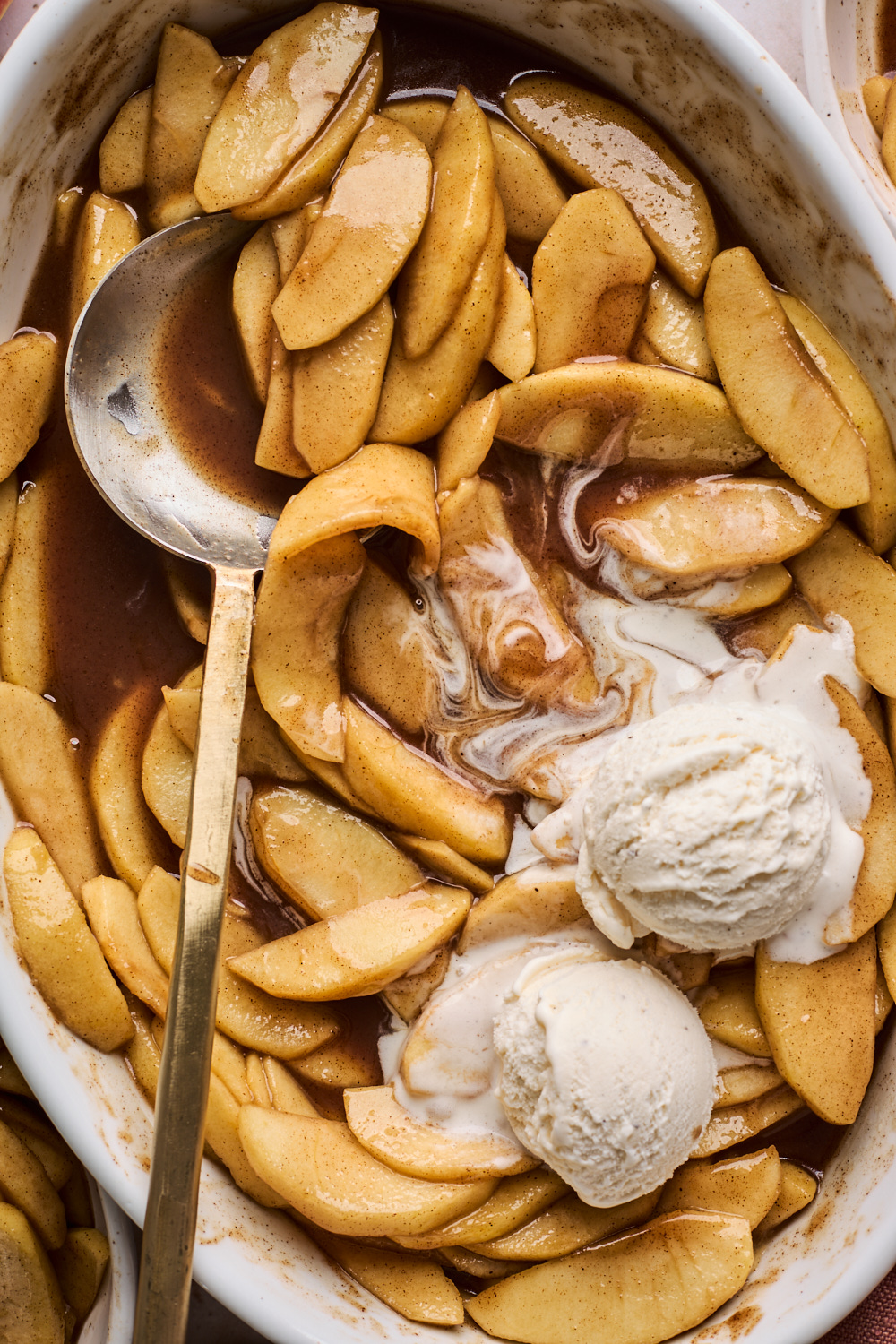 Why You will love these Cinnamon Baked Apple Slices:
They are so easy to make
They make a delicious snack or dessert - a real treat!
Use any apples you have on hand like gala, fuji, red or golden delicious… but I love a combo of honey crisp and Granny Smith which helps balance the tartness
The recipe is easy to double or pair down as well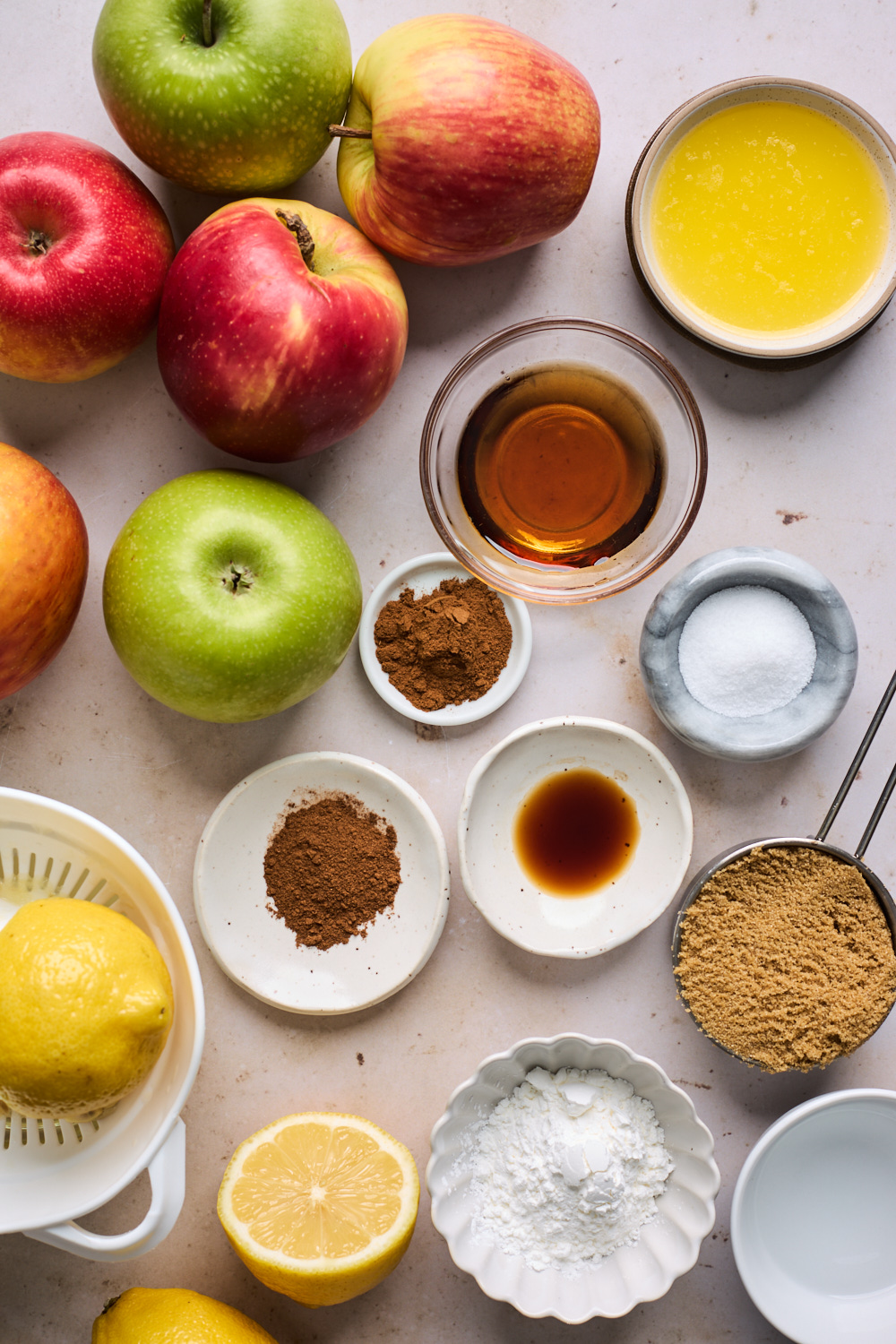 Ingredients You Need for This Cinnamon Spiced Baked Apple Recipe:
Apples - you can really use any variety of apples but I love to use honey crisp apples and granny smith apples for the perfect sweet and tangy flavour and the best apples for this recipe
Cornstarch - helps thicken the juices into a delicious almost caramel like sauce
Lemon Juice - adds some acidity to balance out the sweetness
Maple Syrup - maple syrup adds sweetness and a delicious flavour to the sauce and apples - feel free to substitute with honey - both add the perfect fall like flavor
Brown Sugar - adds sweetness and really caramalizes well
Water - used to create the sauce
Cinnamon - cinnamon and apples are the perfect pair so its definitely a must in this recipe
Apple Pie spice - if you don't have apple pie spice combine ¼ teaspoon or more of each spice: ground nutmeg, ground allspice, ground ginger, ground cardamom
Butter - helps create the richest most delicious caramel sauce for the apples with the help of the brown sugar, maple syrup and water
Vanilla Extract - for extra flavour - feel free to add a splash of bourbon or rum for a very slight boozy flavour
Serving options: whipped cream, vanilla ice cream, yoghurt, chopped toasted nuts like pecans, walnuts, or sliced almonds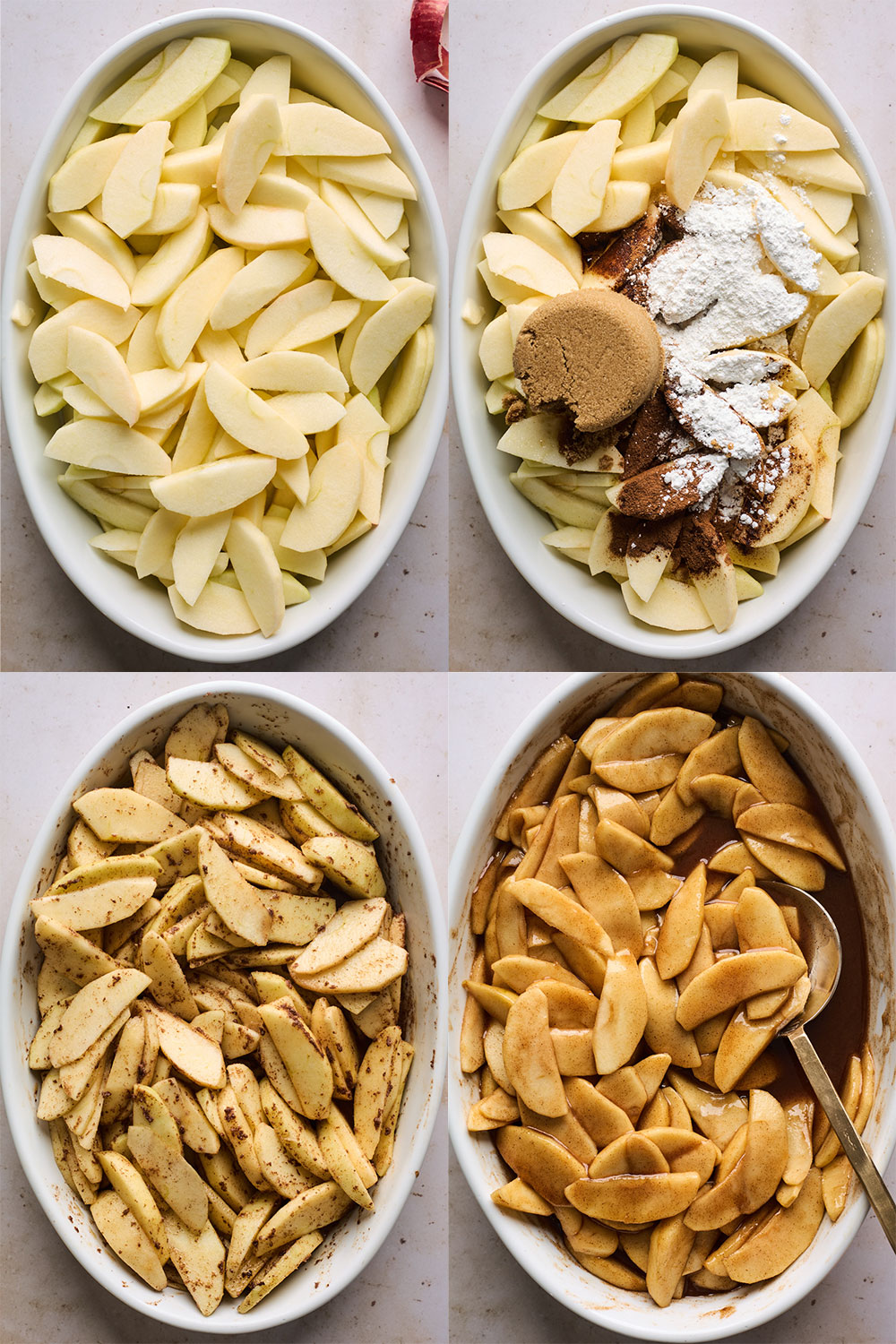 What to Serve T hese Baked Apples With
Greek Yogurt: Serve these for breakfast with a dollop of vanilla or plain Greek yogurt.
Oatmeal: Serve these warm apple slices with a bowl of wholesome warming oatmeal. pure comfort in a bowl
Granola: In addition to yogurt and oatmeal, a sprinkle of my favorite Simple Vanilla Almond Granola or even my Pumpkin Granola adds texture and crunch.
Ice Cream: Vanilla or vanilla bean is classic and perfect flavour with these healthy baked apple slices with maple syrup and cinnamon, but don't be afraid to with things up using whatever flavour ice cream you like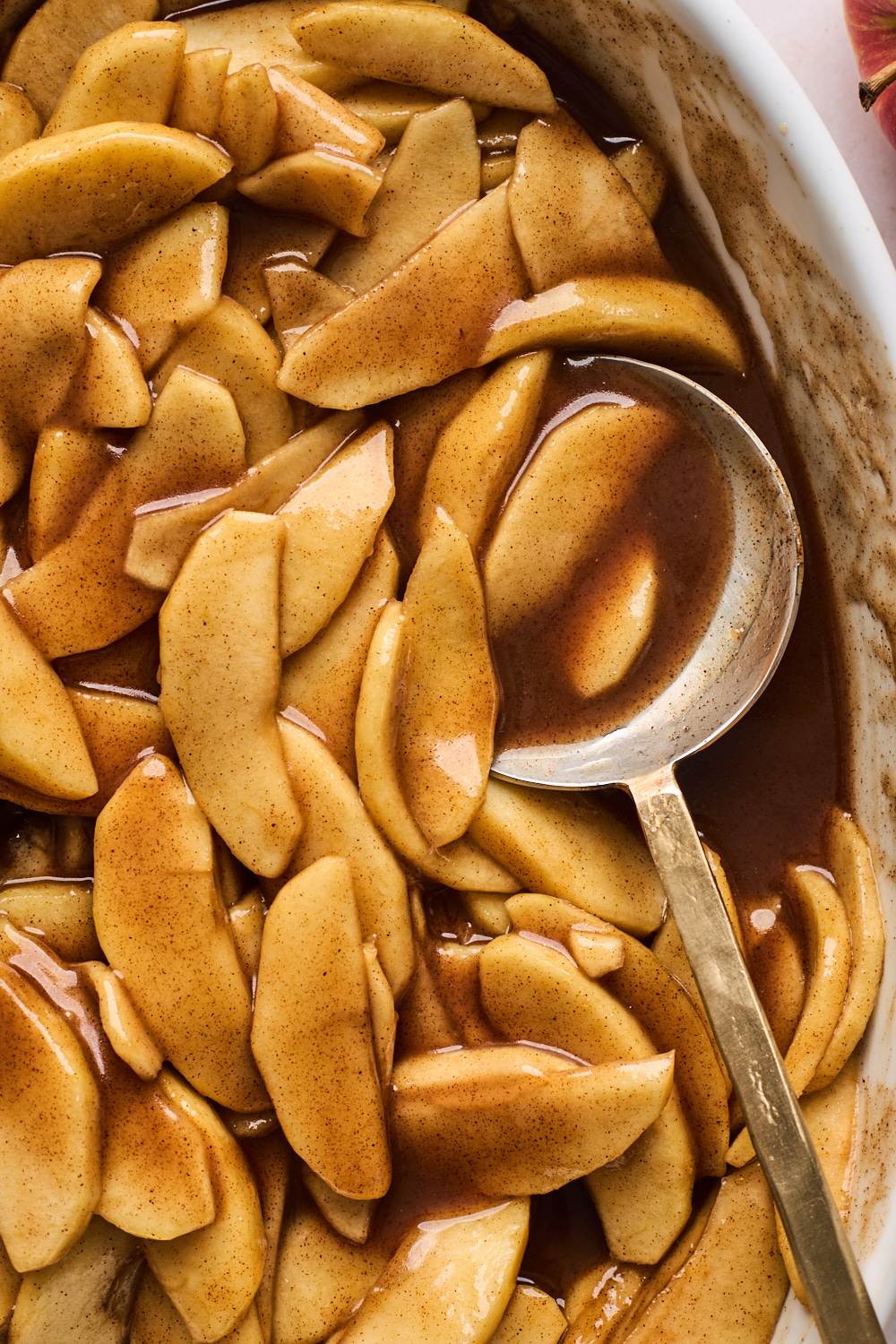 Storage & Freezing
To Store: Store leftover baked apples in an airtight storage container in the fridge for up to 4 days.
To Reheat: Gently rewarm baked apples in a baking dish in the oven at 350 ° F until hot or reheat gently in the microwave.
To Freeze: Leftover apples can be frozen in an airtight freezer-safe storage container for up to 1-3 months. Let thaw overnight in the refrigerator before reheating.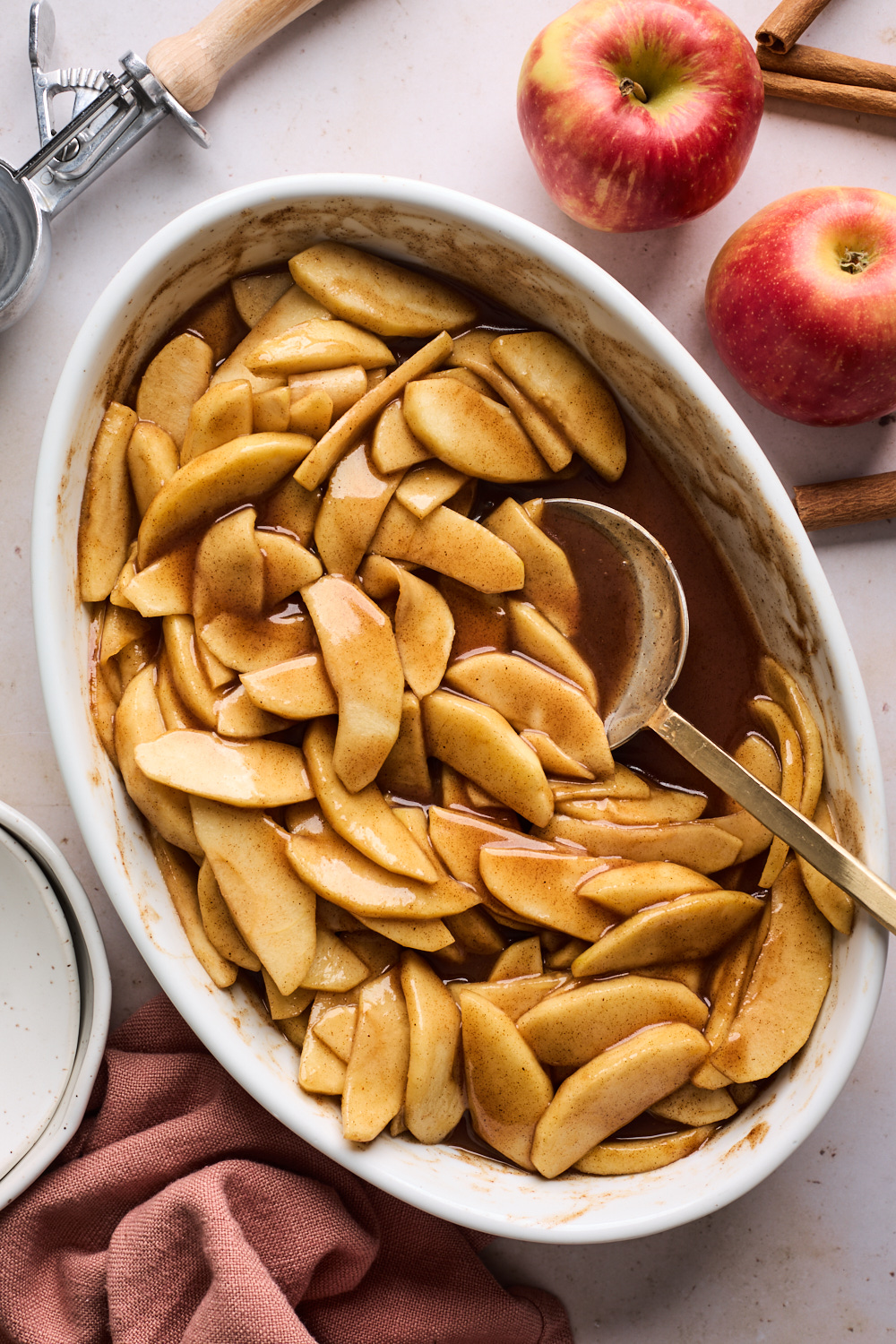 More Apple Recipes You Will Love
Recipe
Prep Time: 15 mins
Cook Time: 55-60 mins
Ingredients
4 medium Honeycrisp apples peeled, cored and sliced ¼ inch thick

2 medium Granny Smith apples peeled, cored and sliced ¼ inchthick

½ cup brown sugar or coconut sugar

3 tablespoons cornstarch

2-3 tablespoons water

1 teaspoon vanilla extract

2 tablespoons unsalted butter, melted

¼ cup maple syrup

2 tablespoons lemon juice

1 teaspoon ground cinnamon

1 teaspoon apple pie spice
Directions
Preheat oven to 350°F and grab a 9x13-inch (or similar size) baking dish.
Core and Slice your apples thinly, making sure they are evenly sliced so they can cook evenly. (Peeling is optional) Place apples in baking dish.
Top apples with cornstarch, cinnamon, lemon juice, vanilla extract, maple syrup, brown sugar, and cinnamon and apple pie spice mix. Toss together until well combined. Add 2-3 tbsp of water to thicken up the juices that the apples are now in.
Loosely cover baking dish with foil. Bake for 45 minutes covered. Then remove foil and bake for an additional 10-15 minutes or until the apples are fork tender and juices have reduced and have caramelized (pan juices will continue to thicken as apple slices cool)
Enjoy warm right out the oven with a scoop of vanilla ice cream or whipped cream or over yoghurt or oats.
These baked cinnamon apple slices are best eaten when freshly baked, or at room temperature, but leftovers will keep covered in and airtight container in the refrigerator up to 3-4 days or in the freezer up to 1-3 month. Reheat in the microwave or in a 350°F oven until warmed through. Add a splash of water if the sauce is too thick.