Cinnamon Roll Apple Pie
Updated 26th October 2023
This is a cinnamon-scented twist on an apple pie recipe which is fun to make and always wows. The same homemade or store bought pie dough forms both the base crust and the topping—the fun part happens when a sweetened cinnamon-butter is spread on half of the dough and rolled up like a log and chilled then sliced and fanned over the apples and baked until golden brown and bubbly.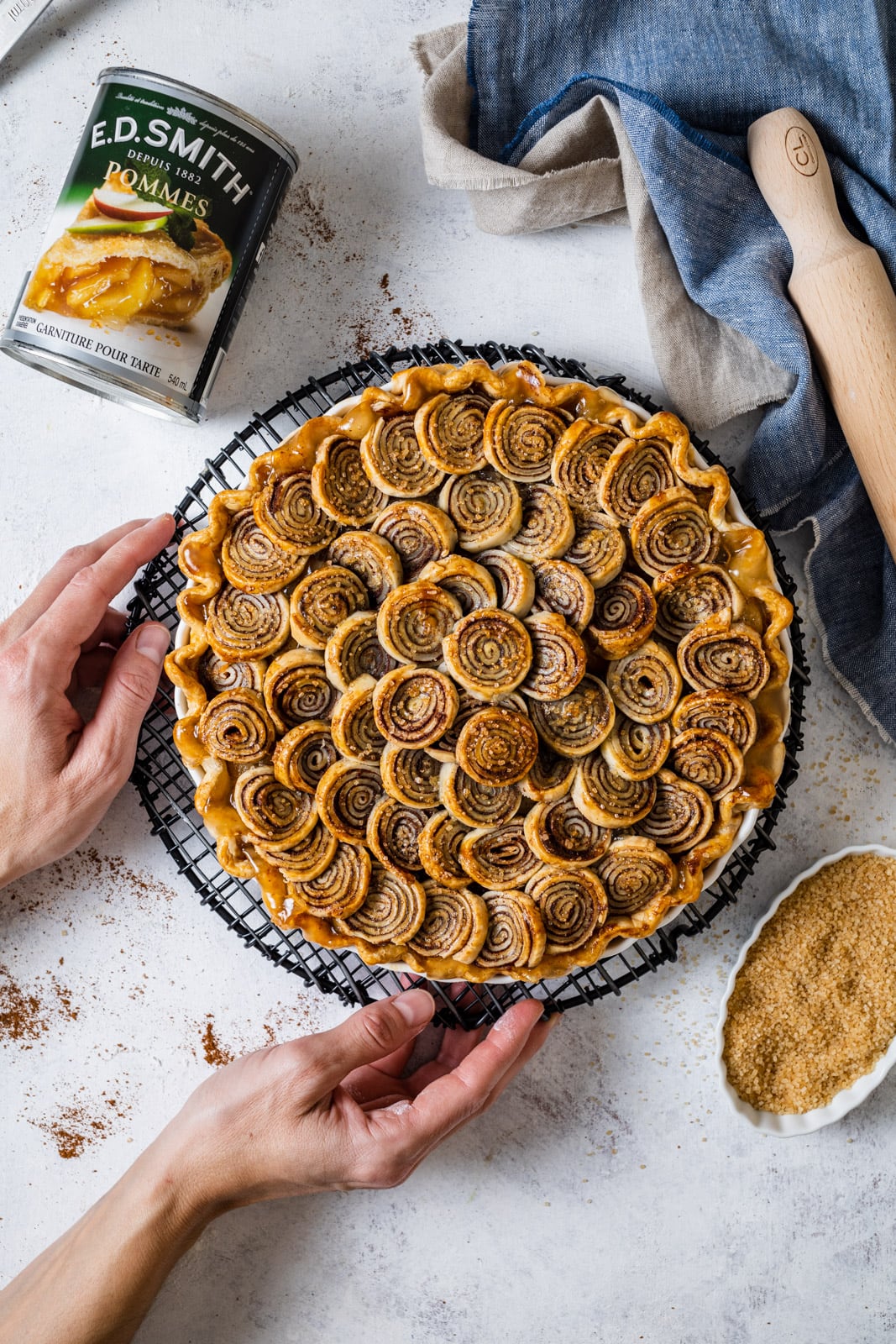 I was thrilled to partner up with E.D. Smith to make a fabulous pie using their apple pie filling. I wanted to make something that incorporates the classic flavours of an apple pie but with a very fun twist. Mission accomplished if you ask me. I have wanted to make this cinnamon twist/roll pie since last year. I'm late to the game - this isn't new - I have seen many versions of this all over the net but I found one I particularly liked via the one and only Martha Stewart. Her version makes a huge slab pie. I liked her version because the twists get super crispy and delicious as opposed to some recipes that use actual cinnamon bun dough that creates a fluffy pie crust. Not opposed too that idea at all and may have to try it as well in the future but I wanted a crispy edged crust for this pie.
I linked below my go to simple pie dough recipe but feel free to use a good quality store bought one too. When I mean store bought I mean the refrigerated pie dough that you roll out not the frozen ones. I also noted that it will take 2 pie doughs to cover the pie with all those cinnamon rolls depending on the size of your pie plate. I used approx 1 and a ½ because my twists were small. Larger twists with thicker pie dough will create larger ones which will cover more surface. So it all depends. Usually 30-40 twists will do the trick.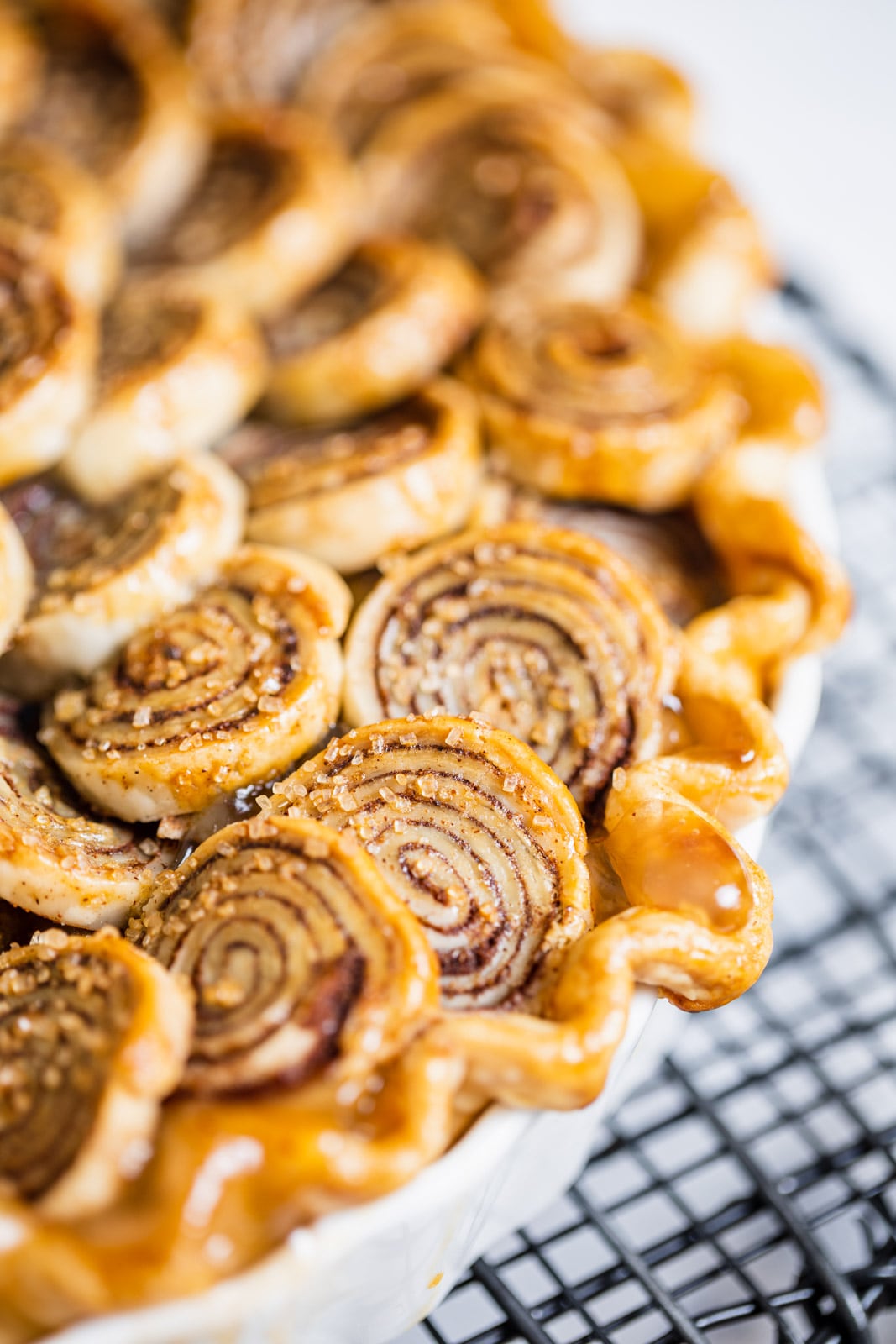 I have used both store bought and homemade crusts to make this and I have to say the store bought version makes for very good looking consistently shaped twist not to mention makes things super easy and saves you some time too. That goes for the same with this E.D. Smith pie filling. It helps keep this pie recipe streamlined and simple - both things I don't normally associate with pie making. This pie is definitely simple enough for a weekend bake up but still elegant enough for a special occasion.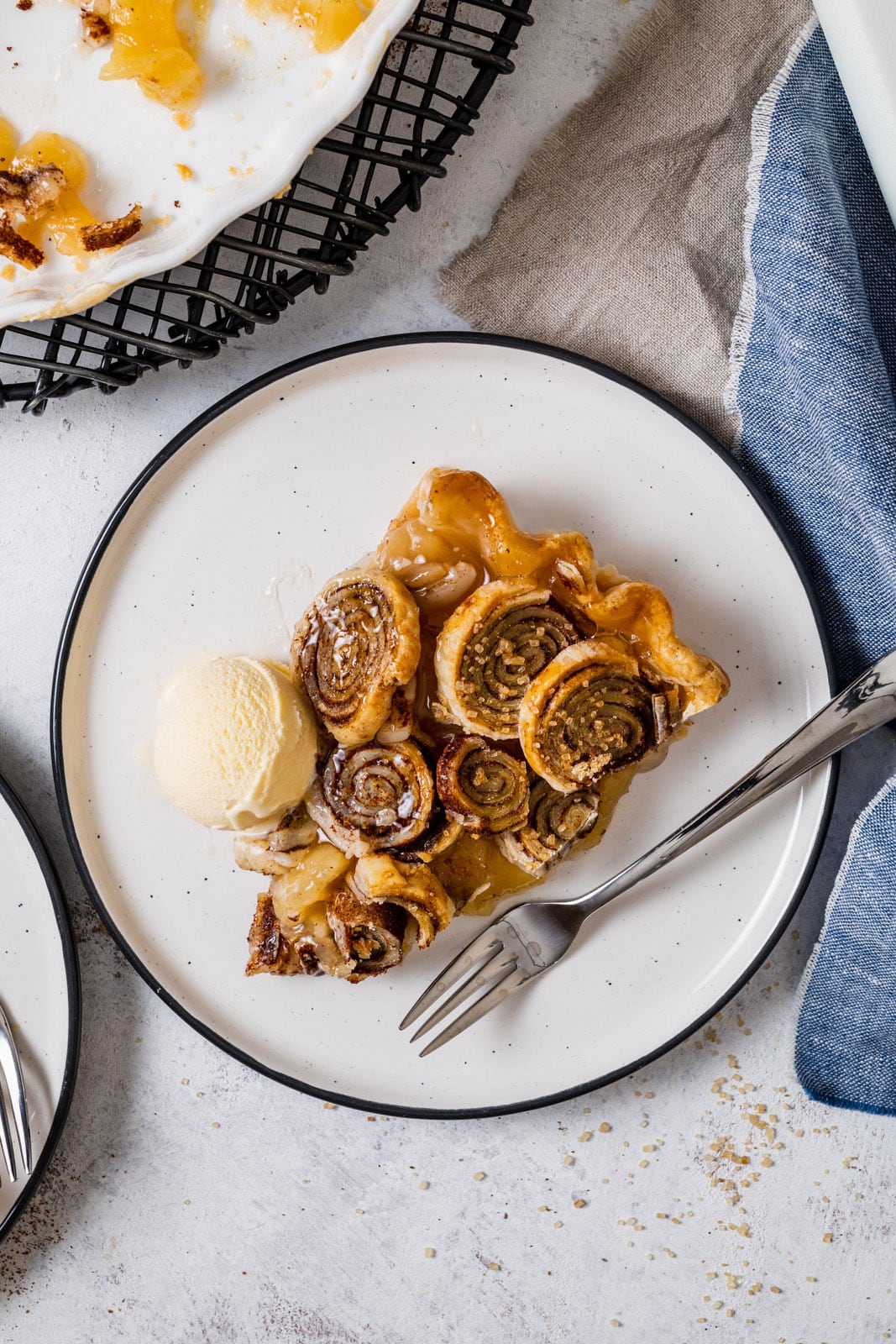 Cinnamon Roll Apple Pie Ingredients
PIE DOUGH: Feel Free to use store-bought or homemade pie crusts for this recipe. For the base you will need 1 standard 9 inch pie dough recipe or refrigerated store-bought pie dough. For the cinnamon roll topping you will need either 2 standard 9 inch pie dough recipes or 1 large slab pie dough recipe. So that means if you plan on using store bought pie dough you will need three - 2 for the top crust layer and one for the base.
APPLE PIE FILLING: Feel free to use homemade or store bought canned apple pie filling. If using store bought you will need two cans of apple pie filling. For homemade apple pie filling simply toss 7–8 cups of apples peeled, cored, and thinly sliced (Granny Smith or honey crisp) with 2 tablespoons flour, ¼ cup sugar, 1 teaspoon cinnamon and a squeeze of lemon juice. Pour apples into the crust as stated in recipe.
REMAINING INGREDIENTS: Butter, Cinnamon, Sugar and a pinch of salt for the cinnamon roll filling. 1 egg for egg wash and coarse sugar or turbinado sugar for sprinkling over pie before baking. If making the glaze you will need powdered sugar, vanilla extract, a little more cinnamon and some milk.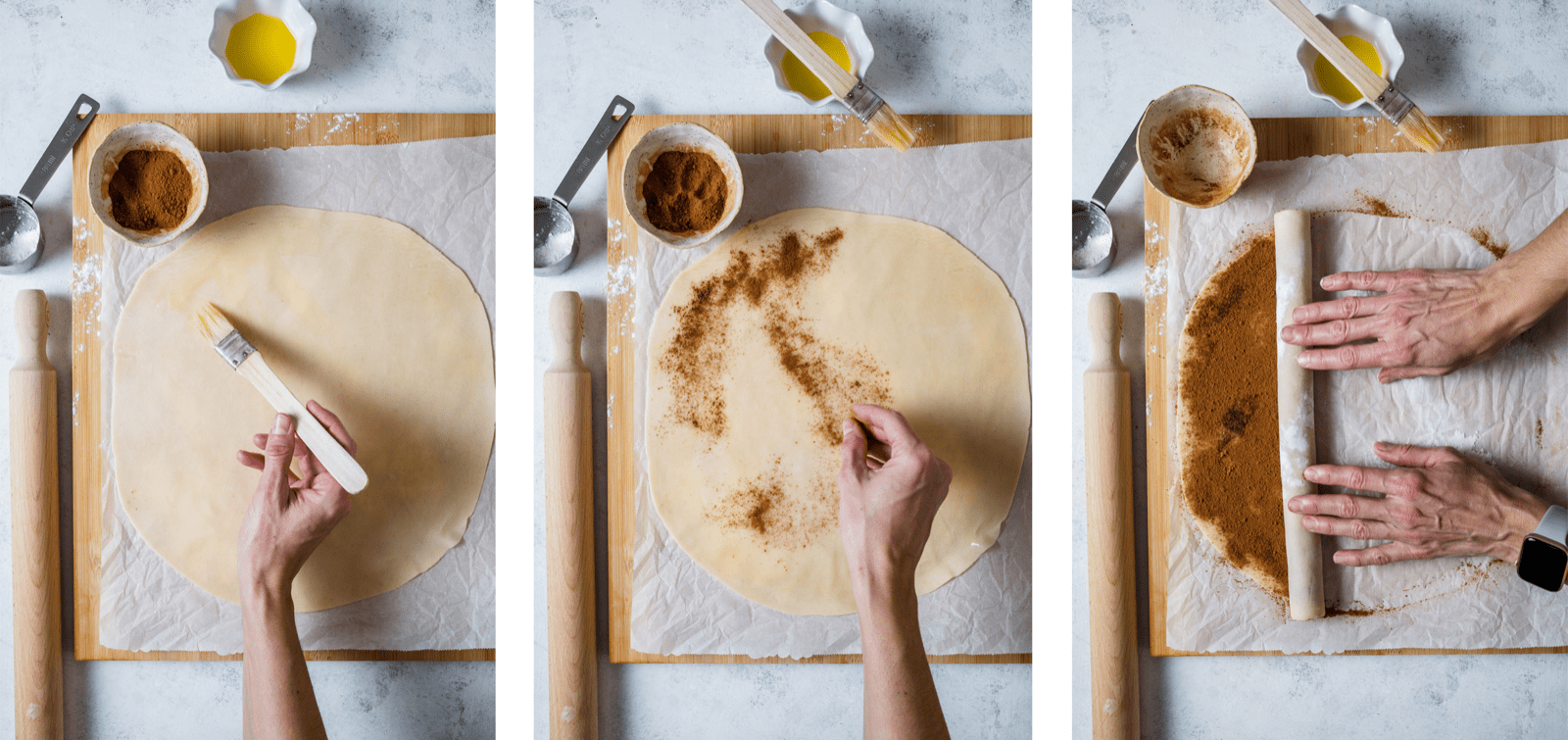 How To Make Cinnamon Roll Apple Pie
ROLL out dough for the base pie crust and for the cinnamon roll topping. Fit the base pie crust into pie plate and trim and crimp edges as desired
BRUSH cinnamon roll topping dough with butter and sprinkle over evenly with sugar and cinnamon. ROLL the dough up tightly and chill then slice into thin rounds
POUR apple pie filling into pie plate over crust
ARRANGE cinnamon roll pie crust rounds over top the filling
CHILL pie until topping is firm then brush with egg wash and sprinkle with coarse sugar if desired
BAKE until deeply golden and filling is bubbling then cool completely
SLICE and serve with glaze if desired or ice cream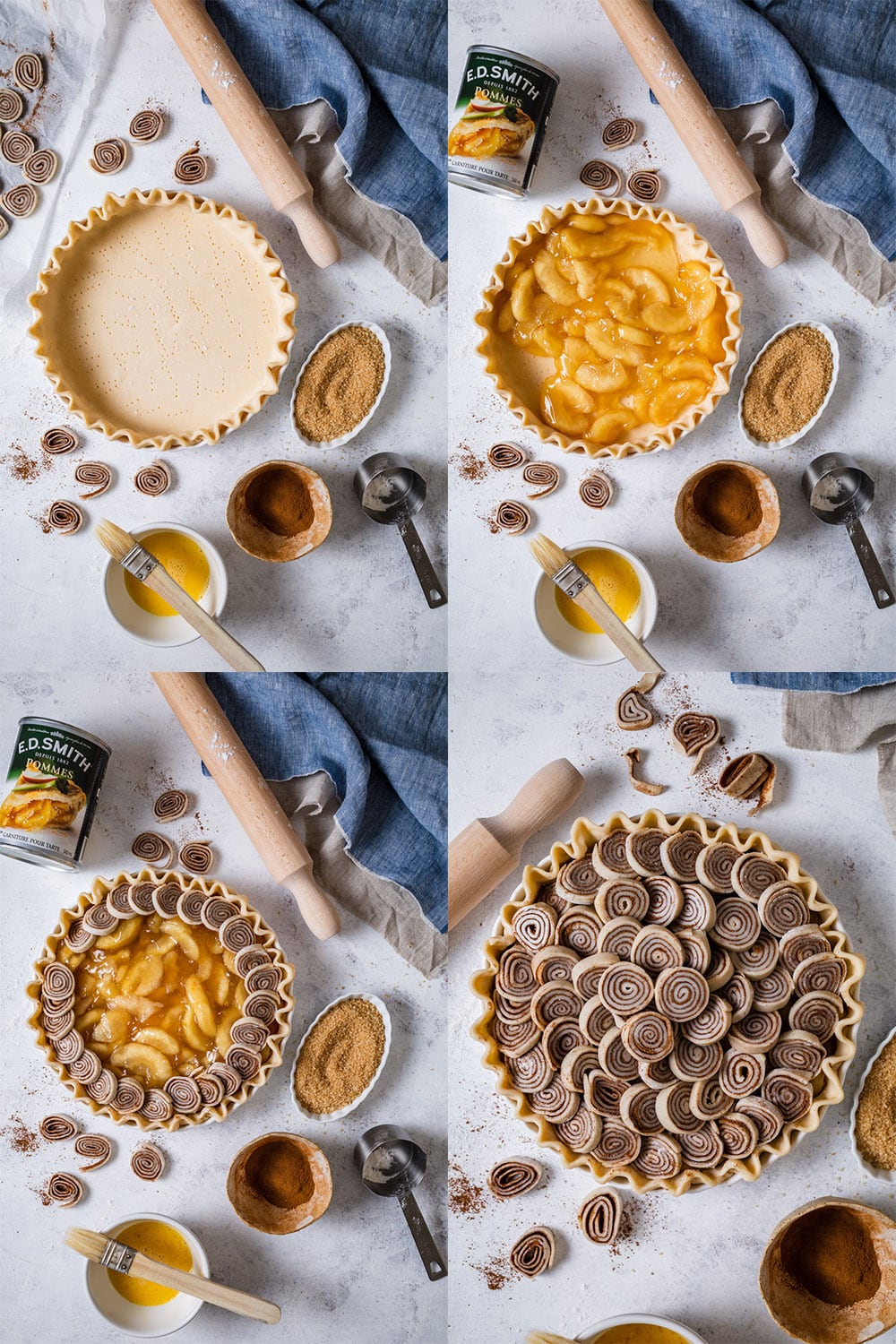 Make Ahead & Freezing Cinnamon Roll Apple Pie
MAKE AHEAD: Pie Dough - can be made in advance and stored wrapped in plastic wrap in the fridge for up to 3 days. It can also be wrapped and frozen for up to three months. Thaw in the fridge overnight and then rollout as directed. The apple pie cinnamon roll dough can be made and rolled and wrapped with plastic wrap and stored in the fridge up to 1 day in advance. Once ready to assemble pie, remove from fridge and slice and arrange over pie as directed in the recipe.
STORAGE: Wrapped in foil, leftover pie will keep up to 2-3 days at room temperature; and in the fridge for another 2 days, warm 10 minutes in a 350°F oven to revive crust before serving. I usually store mine wrapped tight in the fridge right off the bat as it keeps better and longer chilled.
FREEZING UNBAKED PIE: Prepare pie as directed up until you have to bake it. After it has chilled for half hour wrap the pie with a couple of layers of plastic wrap then a layer of foil. Place the wrapped pie into a freezer-safe storage bag, squeezing out any excess air. Use a permanent marker to label the kind of pie as well as the date. Store in the freezer (be careful not to set anything on top of the pie while it is freezing). It can be frozen for up to 3 months. Remove from freezer when ready to bake, unwrap and set on countertop while oven preheats. Bake from frozen same as directed in recipe.
FREEZING BAKED PIE: Bake and cool pie as directed. Place your pie into the freezer to allow it to initially freeze or flash freeze, for 1-2 hours. Then, wrap your frozen pie in a layer of plastic wrap, followed by a layer of aluminum foil. Place the wrapped pie into a freezer-safe storage bag, squeezing out any excess air. Store in the freezer for up to 4 months. Thaw it by moving it to the fridge overnight (or up to 24 hours). Remove wrappings and reheat your pie if you like! Once thawed, simply pop it in the oven at 350°F until the filling is bubbling. If your crust begins to brown, you can loosely place foil over the top.
I love apple pie served with vanilla bean triple churned vanilla ice cream but I think a really nice simple glaze drizzled over top of it would be perfect with it too (you know cinnamon bun style) - recipe for the glaze included below. As this crust is free formed and not attached to the bottom crust expect it to be a little on the messy side when serving and that is ok. Embrace it like you would a crisp or a crumble. It's absolutely a delicious dessert and really fun to bring to the dinner table.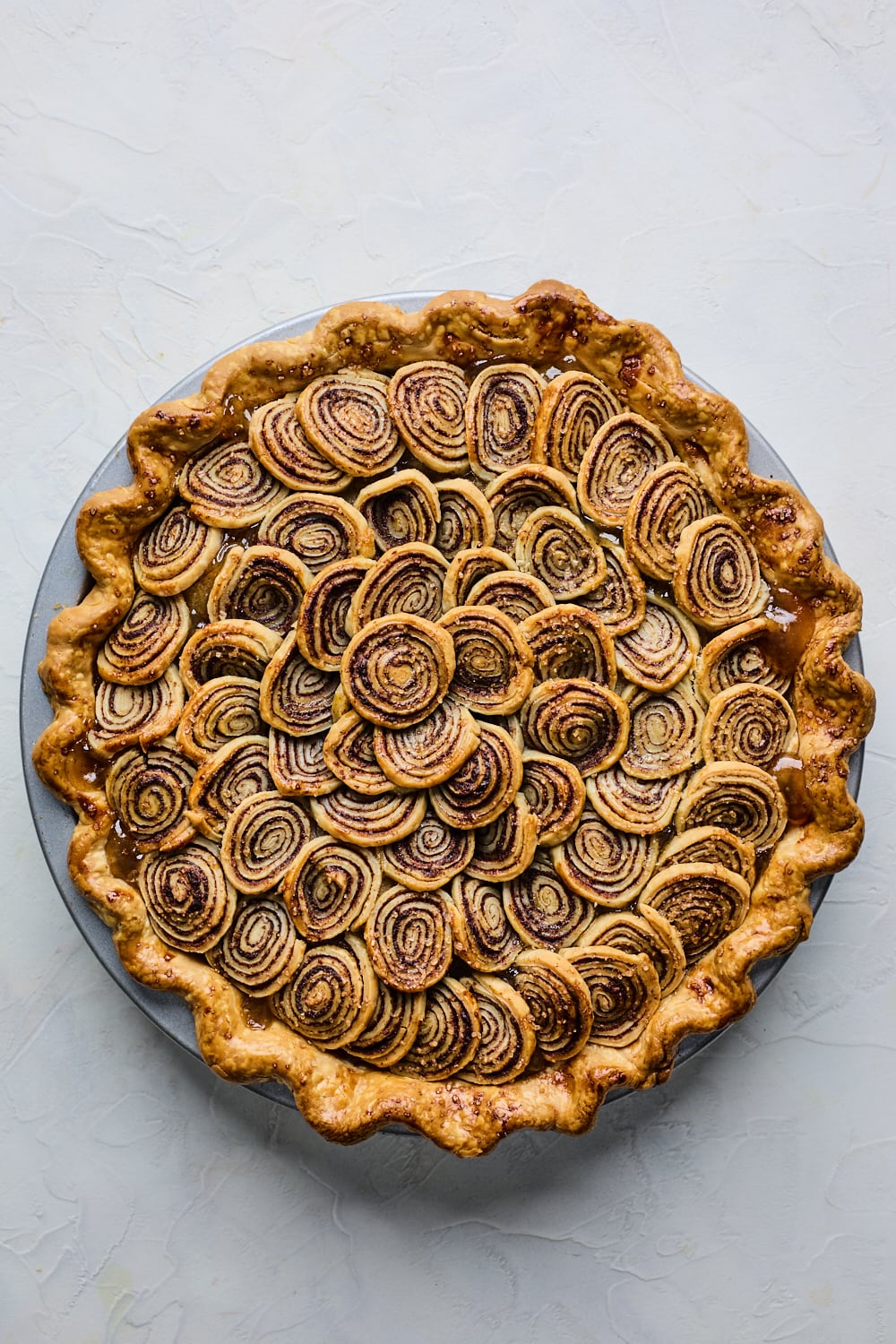 I have partnered up with E.D. Smith to bring you this fabulous recipe, but all opinions are my own. Thank you for supporting Olive & Mango.
More Recipes You Will Love
Recipe
Prep Time: 1 hour (plus more if chilling pie before baking)
Bake Time: 60-80 mins
Non-active Time: 3-4 hours for chilling pie and cooling
Ingredients
For the Cinnamon Roll Pie Crust Topping
2 nine inch pie crusts or 1 large slab pie crust, store bought frozen or refrigerated or homemade.

4 tablespoons unsalted butter, melted

½ cup packed light-brown sugar or granulated

2 teaspoons ground cinnamon

½ teaspoon salt

1 egg whisked for egg wash

2 tablespoons of turbinado sugar for sprinkling (optional)
For the Filling
2 cans (540 ml/18.9 oz each) of E.D.SMITH® Apple Pie Filling (see recipe notes for homemade Apple filling)
For the Pie Crust (Base)
For Icing (optional)
½ cup powdered sugar
¼ teaspoon pure vanilla extract
¼ teaspoon ground cinnamon
2-3 teaspoons milk
Directions
For the Pie Crust Base
On a lightly floured surface, roll out 1 standard pie crust into 12 inch circle, and place in a greased 9 inch glass/ceramic pie plate/pie pan.
Press firmly against side and bottom of pie plate folding extra crust edges underneath and pressing on top of rim of pie plate. Crimp edges or leave flat.
Use a fork to pierce the crust gently all over the bottom and up the sides of the pie and then refrigerate.
For the Cinnamon Roll Crust Topping
On lightly floured surface roll pie crust (or pie crusts if using two standard store bought ones) into an oblong shape or as close to a rectangle as possible approx 12x16 inches.
Brush with the melted butter and sprinkle with the sugar and the cinnamon to the edges.
Starting at the longest edge tightly roll into a log, pressing seam together. Refrigerate until firm, about 15-30 minutes so it's easier to slice.
Remove dough log from fridge and trim ends if needed then cut dough log into ¼-inch (or thinner) slices, rotating with each slice to keep slices as round as possible. (You'll need approximately 40-50 mini rolls.)
Assemble Pie
Remove pie and pie plate from the fridge and fill with the apple pie filling.
Arrange slices over apple mixture slightly overlapping. Refrigerate until firm, about 30 minutes.
In the meantime, preheat the oven to 400°F.
Brush the pie crust edges and the cinnamon roll slices with egg wash and sprinkle with turbinado sugar.
Bake Pie
Bake in a preheated oven for 20 minutes then reduce the temperature to 350°F and bake for another 45-60 minutes or until filling is bubbling and crust is deeply golden brown. If the edges or the top of the pie begin to brown too quickly, cover edges or whole pie loosely with aluminum foil. (I usually do so after the 30 minute mark because my oven runs hot - keep an eye on it)
Remove from oven once done and place on cooling rack and cool completely before slicing and serving. Make glaze if using by whisking all glaze ingredients together and serving it on the side or drizzle all over the pie before slicing.
Recipe Notes
If you have extra cinnamon-swirl dough slices leftover, you can bake them on a parchment-lined baking sheet at 400°F until they become golden and crisp, about 12 minutes.
For homemade apple pie filling simply toss 7–8 cups of apples peeled, cored, and thinly sliced (Granny Smith or honeycrisp) with 2 tablespoons all purpose flour or cornstarch, ¼ cup sugar, 1 teaspoon cinnamon and a squeeze of lemon juice. Pour apples into the crust as stated in recipe.
Storage, Make ahead and freezing info above in post.