Classic Black Bean Soup
Updated 12th Jan 2023
This super hearty and filling black bean soup is simple to make on the stove top or in the instant pot. This soup can easily be made vegan-friendly and so warming and comforting! This black bean soup is delicious on its own but we know that a big part of it is all the toppings. I have mine loaded with fresh toppings. I love mine served with some rice and hubby loves his with tortilla chips. I usually prepare and chop all the toppings and load them up taco-night style. I serve the soup out in bowls and then everyone gets to choose the toppings they want on theirs. This is our favourite black bean soup recipe and know that it will become yours too.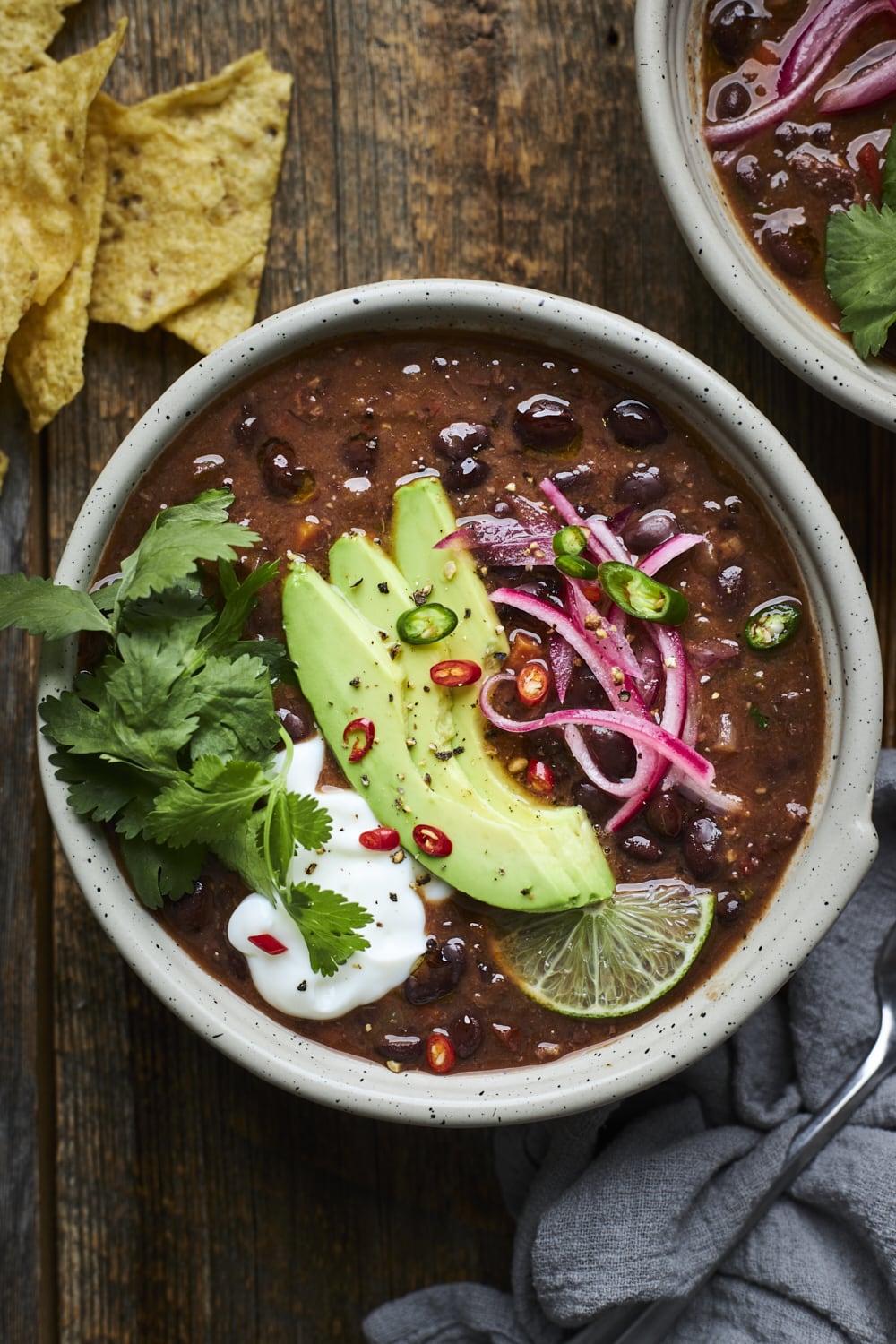 You know how much I love soups and one soup that I didn't have on the blog yet was a classic bean black bean soup. A soup that I totally love so I had to get it on here. I like black bean soup that has some smokiness to it, is rich in flavour not just beans, and it must have a slight bit of heat. I have combined 3 recipes to create the one below and it is super tasty friends, and had my kitchen smelling amazing while it cooked. One sample bite after I took the lid off and I knew this was the version going on the blog.
What Kind Of Beans Can I Use For This Soup
Let's talk black beans. We all know that using dry beans to cook is always better than canned but lets be real we (more specifically I) don't always remember to soak beans overnight nor do we always feel up to pulling out the slow cooker or instant pot - so a delicious simple to make, flavor loaded black bean soup with canned beans is essential. Originally I made this recipe using Bob's Red Mill Premium Quality Black Turtle Beans for this soup because I love them. They cook up predictably delicious every time. Perfectly tender, mild and subtlety sweet. They end up cooking a lot darker than the canned ones - if you look carefully at some of the updated photos you will see that. The canned ones end up looking more brown than a darker brown but the results are both delicious. Now the post has two ways of making this tasty soup - with dry beans or canned and they both work wonderfully. Ok lets talk a little more about the ingredients below.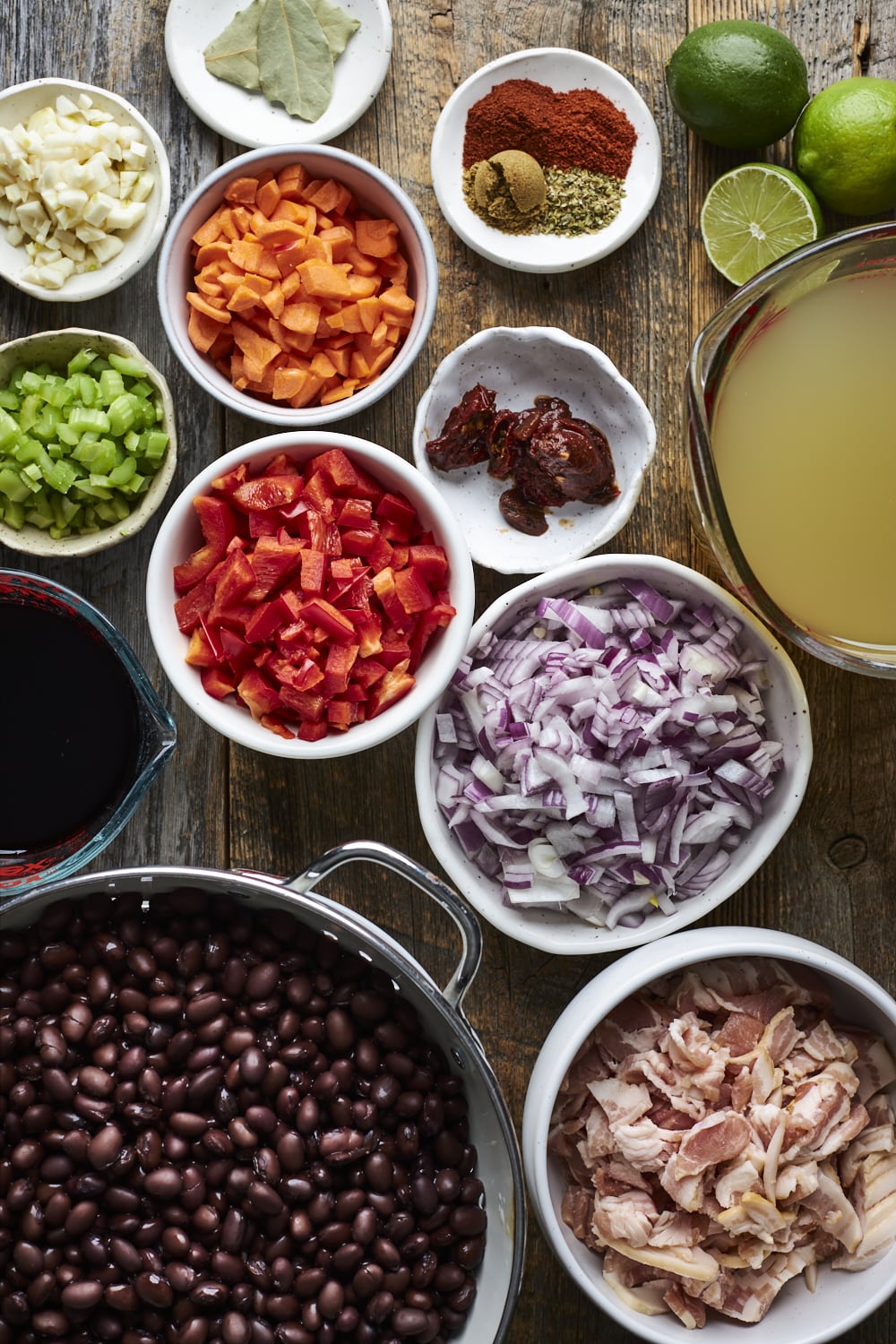 Ingredients for This Black Bean Soup
Black Beans - you can make this soup with either canned black beans or dry black beans as I mentioned above - 1lb of dry beans that you must soak overnight for the instant pot version or 4 cans black beans drained and rinsed for the quicker stove top version 
Bacon - the bacon adds loads of flavour to this soup and I recommend it but if you want to make this a vegan black bean soup feel free to just omit the bacon 
Veggies - I like to add carrots, celery and a bell pepper to my black bean soup and thought it was a great combo 
Onion & Garlic - I use a large red onion but a yellow onion will work just as well and use as little or as much garlic as you like - I like mine garlicky 
Spices - I season with salt (kosher salt or sea salt), black pepper, dried oregano, chili powder or cayenne, ground cumin, bay leaves and some smoked paprika - feel free to add a pinch of ground coriander - and feel free to adjust amounts to taste 
Broth/Stock - feel free to use chicken or vegetable 
Wine - the wine adds a nice depth of flavour to the soup - feel free to omit or even use your fav beer in its place 
Chipotle Peppers in Adobo - this is optional to add to the soup but adds a wonderful smoky heat to the soup that I love 
Tomato Paste - this too is optional but I thought it added some richness to the soup 
Lime Juice - it balances out the sweet smokiness but you can also use red wine vinegar in its place too and feel free to adjust amounts to taste 
Cilantro - chopped fresh cilantro stirred in the soup and for garnish - optional but a delicious add in if you like cilantro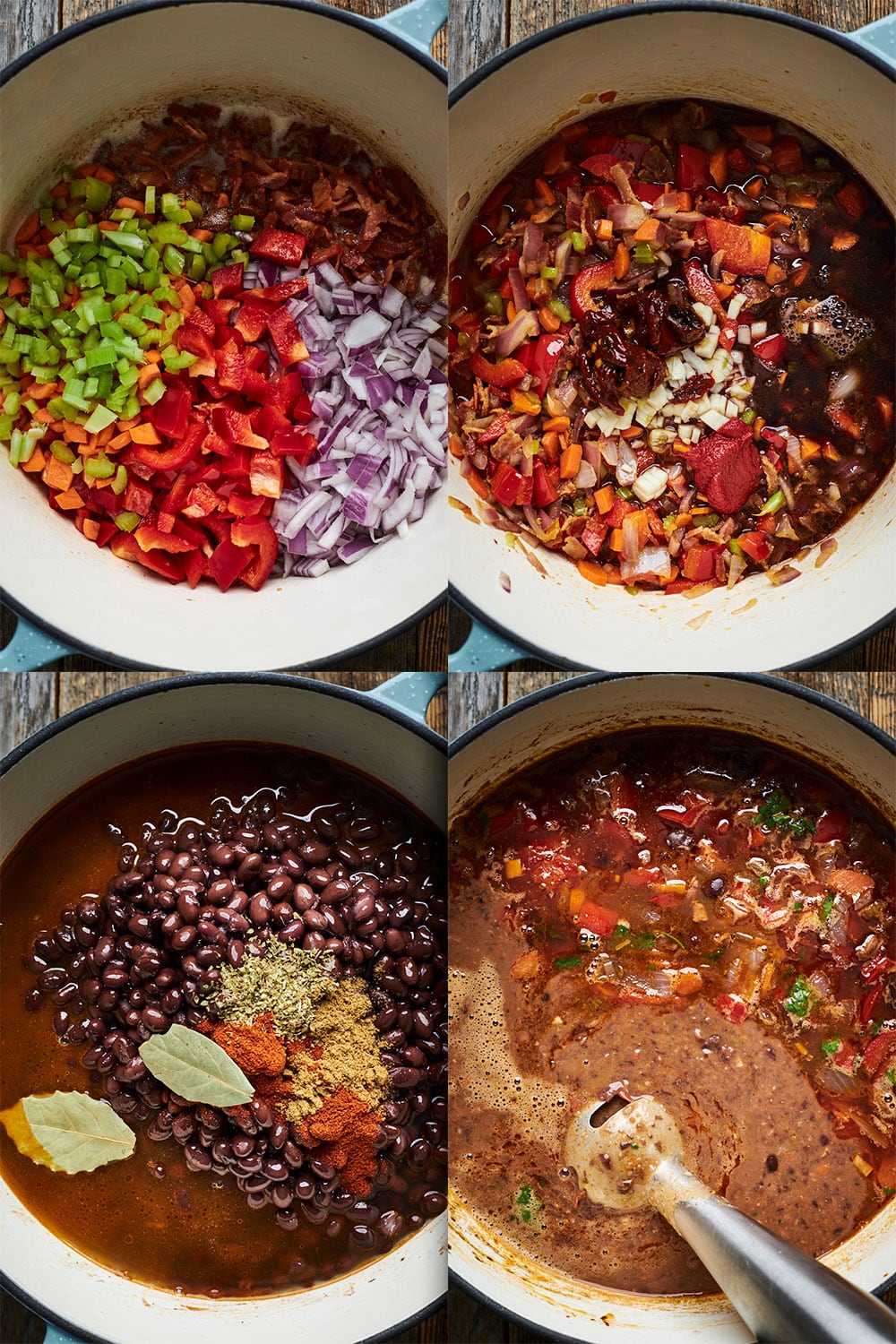 How To Make Black Bean Soup
COOK bacon until golden and fat has rendered 
Add the veggies and SAUTE 
Add the garlic, chipotle peppers, tomato paste and wine and cook until REDUCED
Add beans, broth, spices and bay leaf and SIMMER 25-30 min 
Remove bay leaf and PUREE some of the soup using an immersion blender or in small batches in a regular blender - don't puree the whole thing allow half of it or more intact for texture 
SERVE with tortilla chips, or rice and with whatever toppings you like 
The directions are slightly different if you are using dry beans and the instant pot - see full details below for that version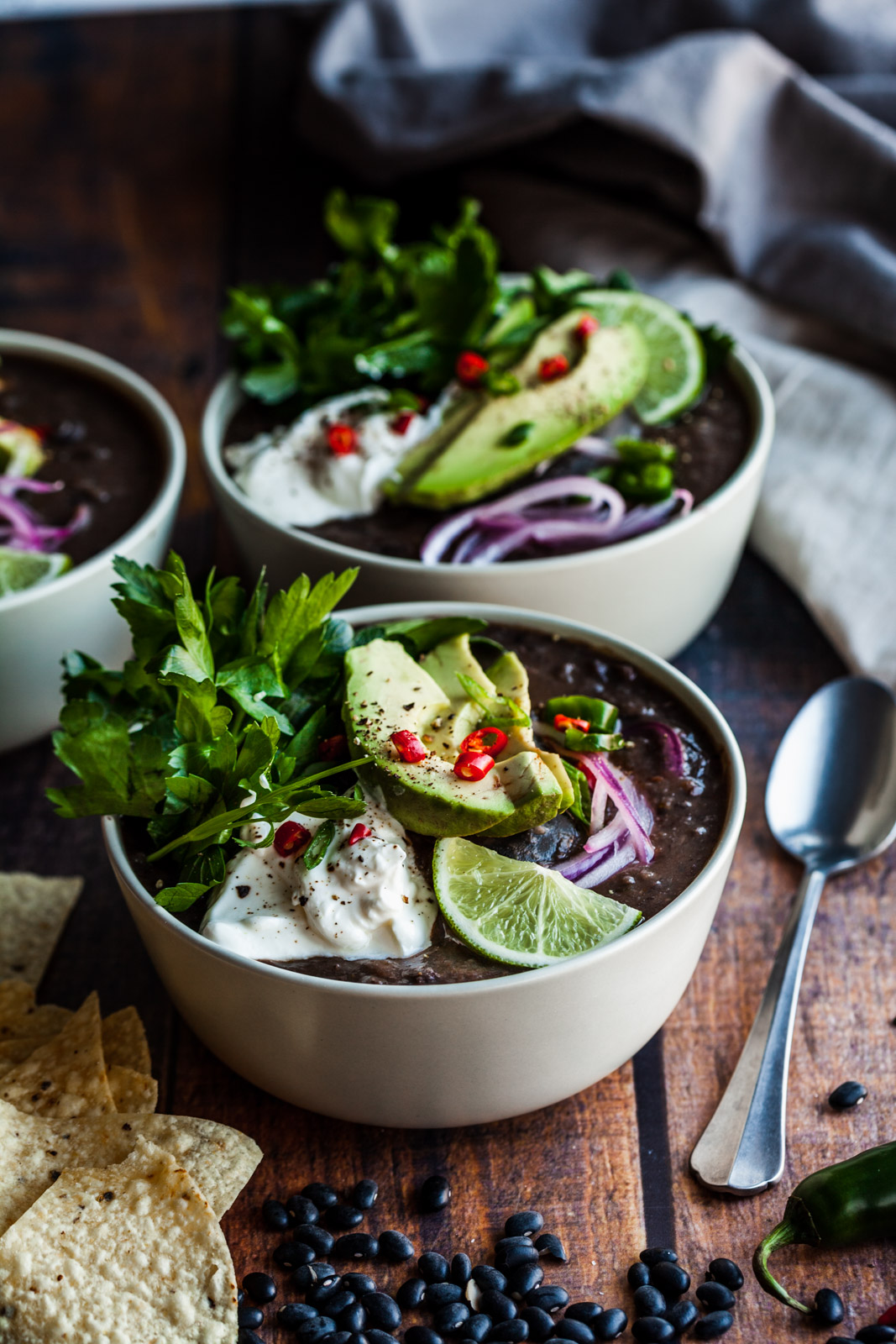 Make Ahead, Storage & Freezing
MAKE AHEAD - If you are making this black bean soup with dry beans you must soak them the night before or the day before you plan on using them. You can actually soak and cook your beans days in advance. Cooked beans can be stored in a covered container that is not made from metal in the refrigerator for estimate of 3 to 4 days or in the freezer for up to 6 months. Also try storing cooked beans in smaller one to two cup portions, for ease of use in recipes.
STORAGE - Leftovers can be stored in an airtight container for up to 3-4 days in the refrigerator. Allow your leftovers to cool to room temperature, then store them in an airtight container in the fridge. Reheat stovetop or in the microwave adding more broth or water if needed 
FREEZING - You can freeze soup recipes with black beans for up to 3 months in the freezer. In fact, it's an excellent make-ahead meal. Thaw in the fridge overnight and reheat stovetop or in the microwave adding more broth or water if needed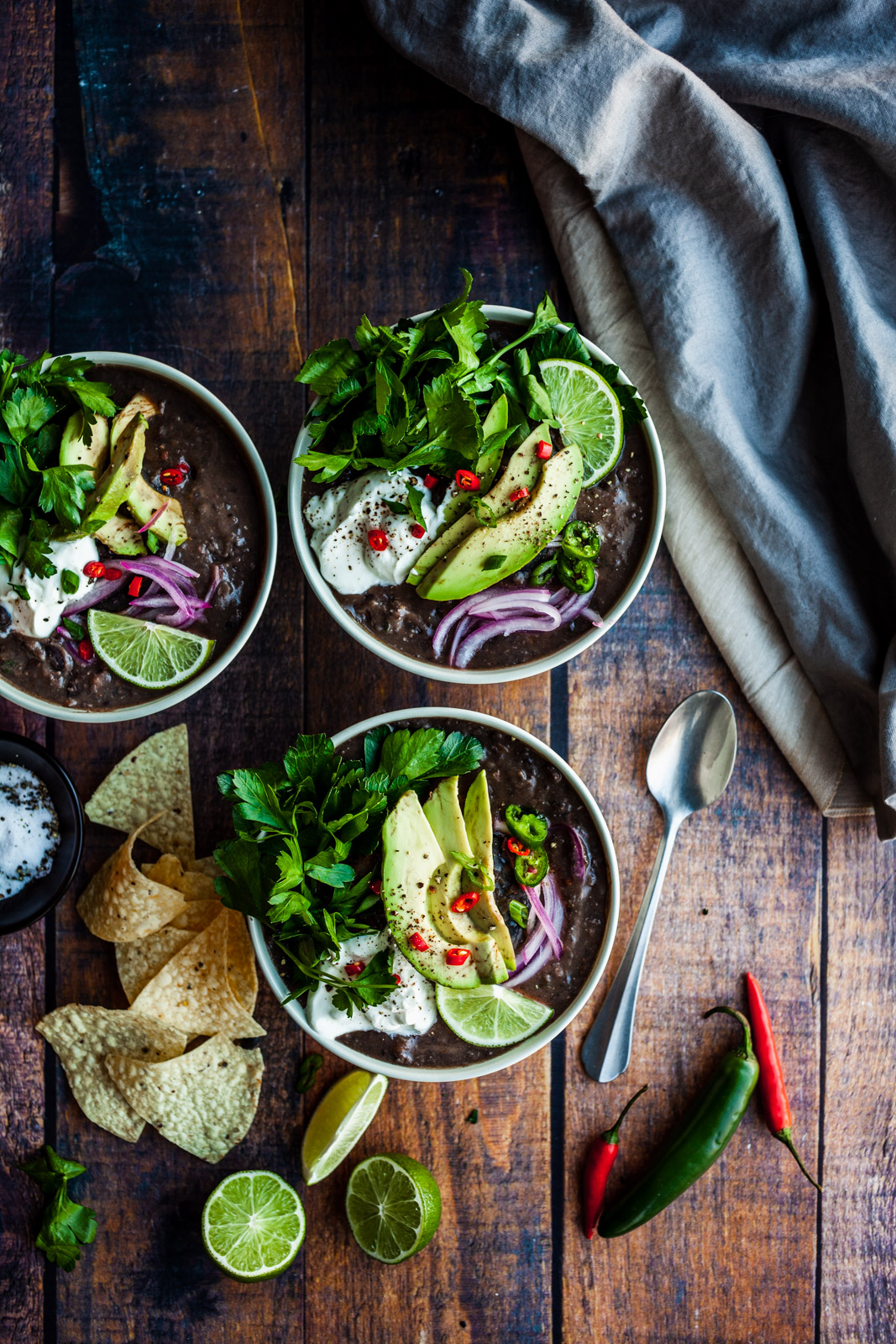 More Stews & Soup Recipes You Will Love:
Recipe
Prep Time: 10-15 mins
Cook Time: 50-55 mins
Non Active Time: Soak dried beans overnight if making with dried beans
Ingredients
1 tbsp olive oil

4-6 oz. slab or slices of thick-cut bacon, cut into ¼ inch pieces

1 large red onion diced (plus an extra ½ of a red onion for pickled onions if making)

2 medium carrots, peeled and chopped

2 stalks of celery, chopped

1 red bell pepper, seeds and stems removed and diced 

6 garlic cloves, peeled and chopped

Salt and Black Pepper to taste 

1 tablespoon tomato paste 

3 chipotle peppers in adobo sauce, sliced plus any liquid/paste from them

1 cup of red wine

2 teaspoons dried oregano

1 teaspoon ground cumin

½ teaspoon smoked paprika

½ teaspoon chili powder or cayenne pepper 

2 bay leaves

4 (15 oz each) cans of black beans, drained and rinsed - or 1 lb. dried black beans, picked over, rinsed and soaked overnight or (see below for the instant pot dry beans recipe) or use 6 cups cooked black beans

4 cups chicken broth/chicken stock or vegetable broth/vegetable stock, plus more if needed (more if using instant pot version)

2 tablespoons fresh lime juice, or red wine vinegar 
For Topping (optional)
Sour cream, corn chips, cilantro leaves, lime wedges, avocado, and fresh chilli's (for serving)
Directions
Heat olive oil in a large dutch oven or large pot stovetop on medium heat and then sauté bacon, stirring occasionally, until browned and fat is rendered, 6–8 minutes.
Add the onion, carrot, celery, and red pepper. Cook until vegetables are tender, stirring occasionally, about 6-8 minutes.
Stir in the garlic, chipotles, tomato paste, wine and cook and cook until reduced 5 min 
Stir in the black beans, vegetable broth, spices and bay leaf. Bring to a boil then reduce heat to low cover partially and let simmer for 25-30 minutes.
Remove the bay leaf. Using an immersion blender, purée a portion of the soup in pot until it's partially smooth so that some is smooth and the rest is left intact leaving some texture. If you don't have an immersion blender, you can carefully transfer 2 to 3 cups of the soup to a blender and blend until smooth then return to pot. I don't recommend pureeing the whole soup though. 
Stir in lemon juice and chopped cilantro and serve with whatever toppings you like 
Make black bean soup with an Instant Pot or pressure cooker
One of the favourite ways to cook bean soup is to use a pressure cooker or any of the multi-cookers out there with the pressure cooker feature in them. What usually takes two hours of simmering takes 20 minutes. A pressure cooker is a life saver and brings this soup to the table in no time. For Instant Pot Dry Beans - and pressure cooker 
Make sure to pick over and rinse your 1 lb. dried black beans, then soak in large bowl filled with water and covered with lid or a plate and allow to soak overnight
After soaking the beans, and draining them you are ready to cook them. Heat olive oil in a stove top pressure cooker on medium-high heat and then sauté bacon, stirring occasionally, until browned and most of the fat is released, 6–8 minutes. (If using a multi-cooker use Sauté setting)
Add chopped onion, carrots, celery and garlic to pot, season with a big pinch of salt, and continue to sauté stirring occasionally and scraping bottom of pot, until vegetables are softened but haven't taken on colour, 6–8 minutes.
Add the wine and allow to simmer for a couple minutes until reduced
Add chiles along with their liquid, oregano, bay leaves, smoked paprika and cumin to pot and cook, stirring, until fragrant, about 1 minute.
Add beans, 2 tsp. salt, and 8 cups of water or broth.
Lock lid on pressure cooker or multi-cooker and cook soup at high pressure 20 minutes. Release pressure manually. Taste soup and season with more salt if needed.
Meanwhile make your pickled red onions. Thinly slice ½ of a red onion and transfer to a small bowl.
Add lime juice and remaining ½ tsp. salt.
Let sit, tossing occasionally, until ready to use.
Using an immersion blender, purée soup a portion of the soup in pot until it's partially smooth so that some is smooth and the rest is left intact leaving some texture, purée it all until smooth working in batches with a regular blender
Divide soup among bowls.
Top with sour cream, cilantro, avocado, sliced chilli's and drained pickled onions.
Serve with lime wedges for squeezing over and serve with corn/tortilla chips or rice.
Recipe Notes
If you do not have a multi-cooker or pressure cooker and you still want to use dried beans - no problem. Cook the soup in a regular heavy bottom soup pot the same way as directions outline and allow the simmer until tender 1½-2 or 3 hours adding more water or broth if needed while the beans cook stirring occasionally.
To make it meatless just omit the bacon and amp up the smokiness with some extra smoked paprika if desired 
To make it non alcoholic just omit the wine and substitute with more broth or water
This soup freezes well. Allow to cool completely and then transfer to plastic freezer bags, mason jars, or plastic container, leaving a least 1-2 inches of space from seal for expansion. It can keep frozen for up to 3 months. Defrost it overnight in the fridge and reheat on the stove top.
If you prefer not to have the bacon in the soup when it gets puréed - no problem - once you have it cooked at the start of the recipe remove it from pot with a slotted spoon into a paper towel lined plate and add it back into the soup after you have blended the soup. Otherwise leave it in and you don't get any weird textures or flavours by leaving it in.