French Onion Dip
This homemade from scratch French onion Dip recipe has some deep and delicious caramelized onion flavor. This recipe takes the flavours of French onion soup and transforms them into a creamy dip. It may be a bit unassuming when you look at it and very often it gets overlooked until one person tastes it and realizes what it is -then just watch it disappear! It's just the best chip dip or veggie dip or sandwich or burger spread ever. It makes a great appetizer or even a base for crostini - even better for game day or as a party snack served with ruffled chips, kettle chips, pita or crackers and veggies which really and truly are just a vessel to get more of this creamy dip into your mouth and belly. The Dip itself is easy to make - it just requires time and patience to allow the onions time to caramelize. It's so worth the time as it sweetens and deepens the favour of the onions and makes a huge difference in the flavour of this dip - no onion soup mix here - all the flavours are natural thanks to the melt in your mouth caramelized onions.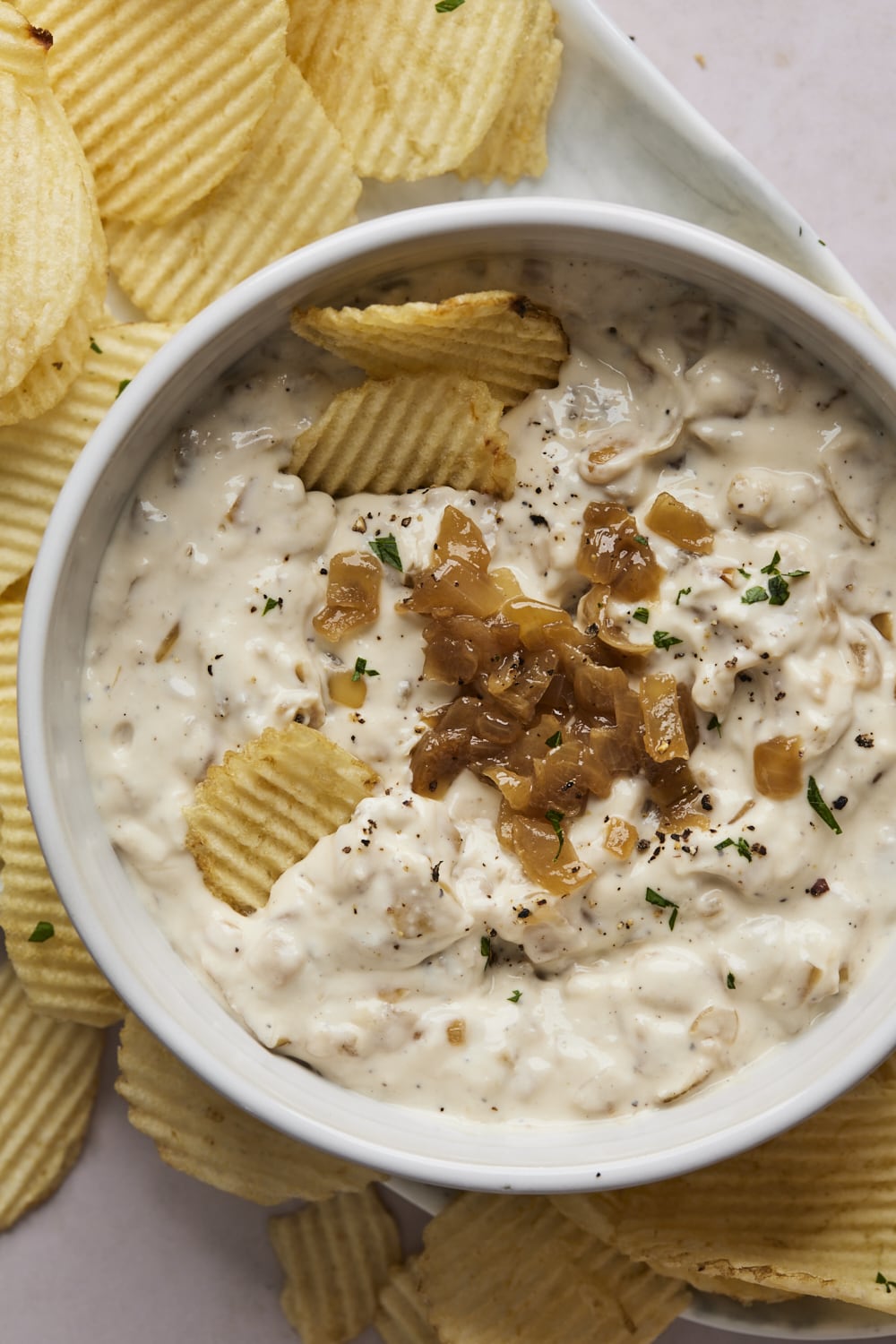 Caramelized Onion Dip Ingredients
White onions - I use 3 medium ones. White onions yellow or Vidalia is fine to use. Feel free to use fresh onions or frozen diced onion. Slice the onions very thin or chop them (more about this below in caramelizing onions paragraph) 
Olive oil
Unsalted butter
Salt & Black Pepper to taste - kosher salt or sea salt 
Brown sugar - for a little extra sweetness 
Low-sodium soy sauce or Worcestershire sauce - for loads of flavour (optional but recommended) 
Sour cream - or substitute with greek yogurt 
Cream cheese - for extra richness 
Mayonnaise - I like to use an olive oil based one 
Garlic powder
Onion Powder - I know we already have loads of onion flavour but this little extra bit from the powder gives it some more intensity
Fresh herbs for garish - fresh parsley and fresh chives are my favourite 
Extra Add ins - chili flakes or cayenne pepper for some heat, toss in some herbs while the onions are cooking like thyme or rosemary for extra flavour. You can add even more flavour to these onions by adding a splash of marsala wine or any wine - white or red or even some sherry, port wine, beer or even bourbon or cider. add a splash of one of them in when you add the soy sauce use it to deglaze the pan and simmer until totally reduced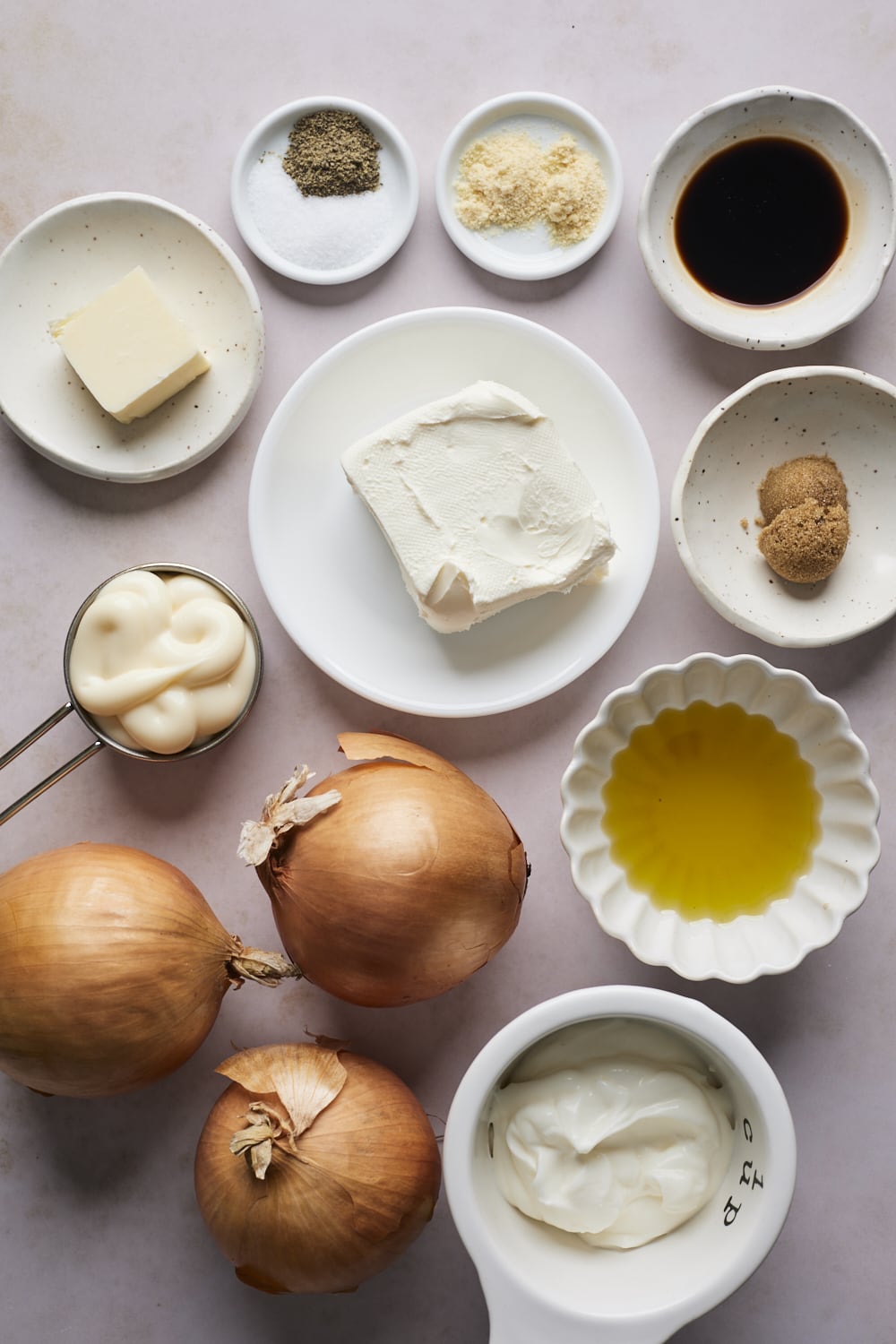 Simple Instructions For Making this Homemade French Onion Dip Recipe:
This recipe is super easy - it's basically caramelizing onions and then mixing them into the remaining ingredients - here is a closer look at how to make it.
Start by heating up olive oil in a non-stick skillet 
Add chopped onions and salt and cook until onions are tender and just start to turn golden. (10-15 min)
Add butter and let it melt, stirring often. Continue to cook until browned (10-15 min) 
Stir in the brown sugar and soy sauce or W sauce and allow mixture to simmer for 2 minutes or medium-low heat. 
Once done remove onions from the heat and allow to cool while you assemble the remaining dip ingredients.
In a mixing bowl, whisk together sour cream, softened cream cheese, mayo, pepper, garlic powder and onion powder. The onions are salted so hold off with adding any more until you taste the dip.
Next, add the caramelized onions and stir in. Serve immediately or cover with plastic wrap and chill until ready.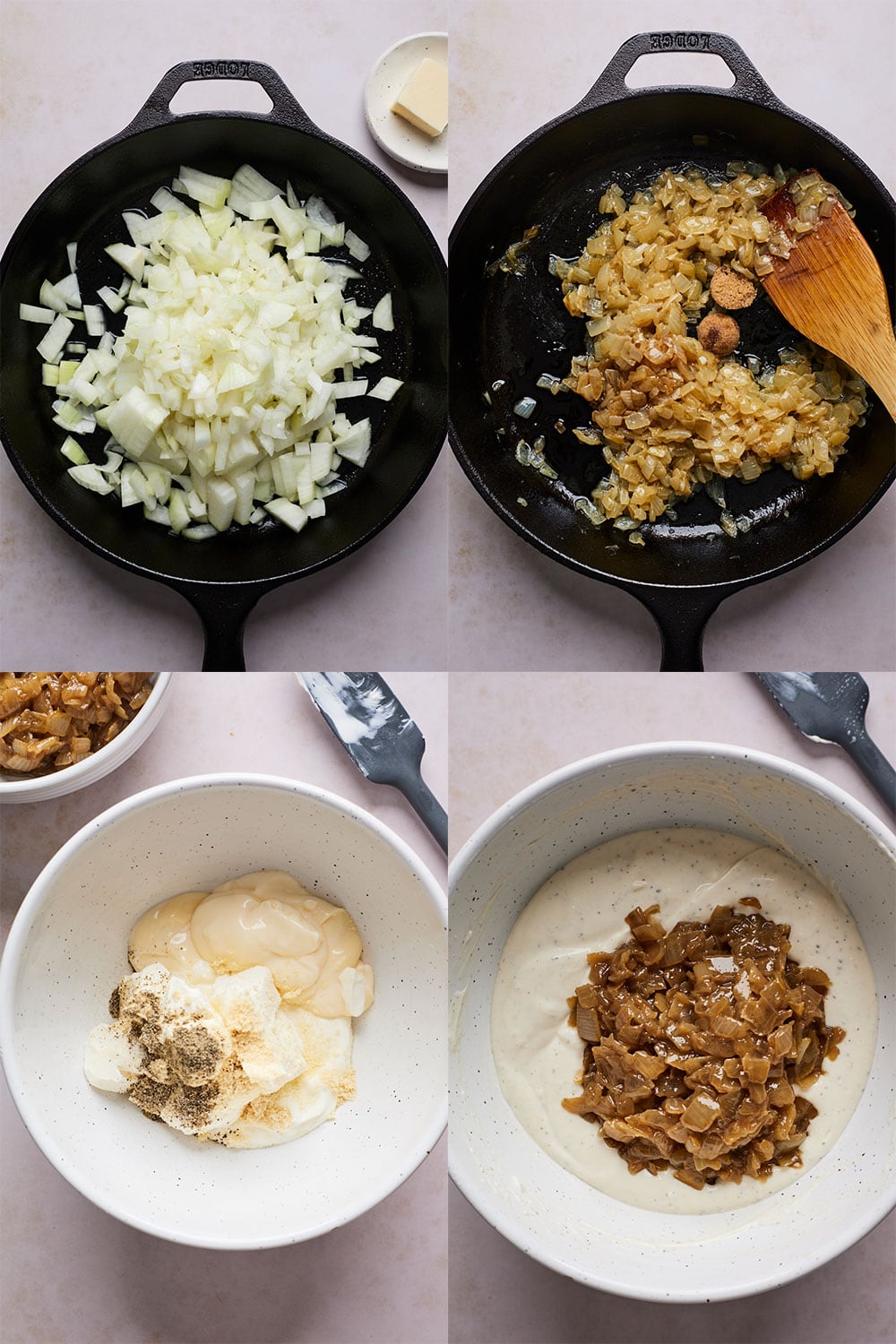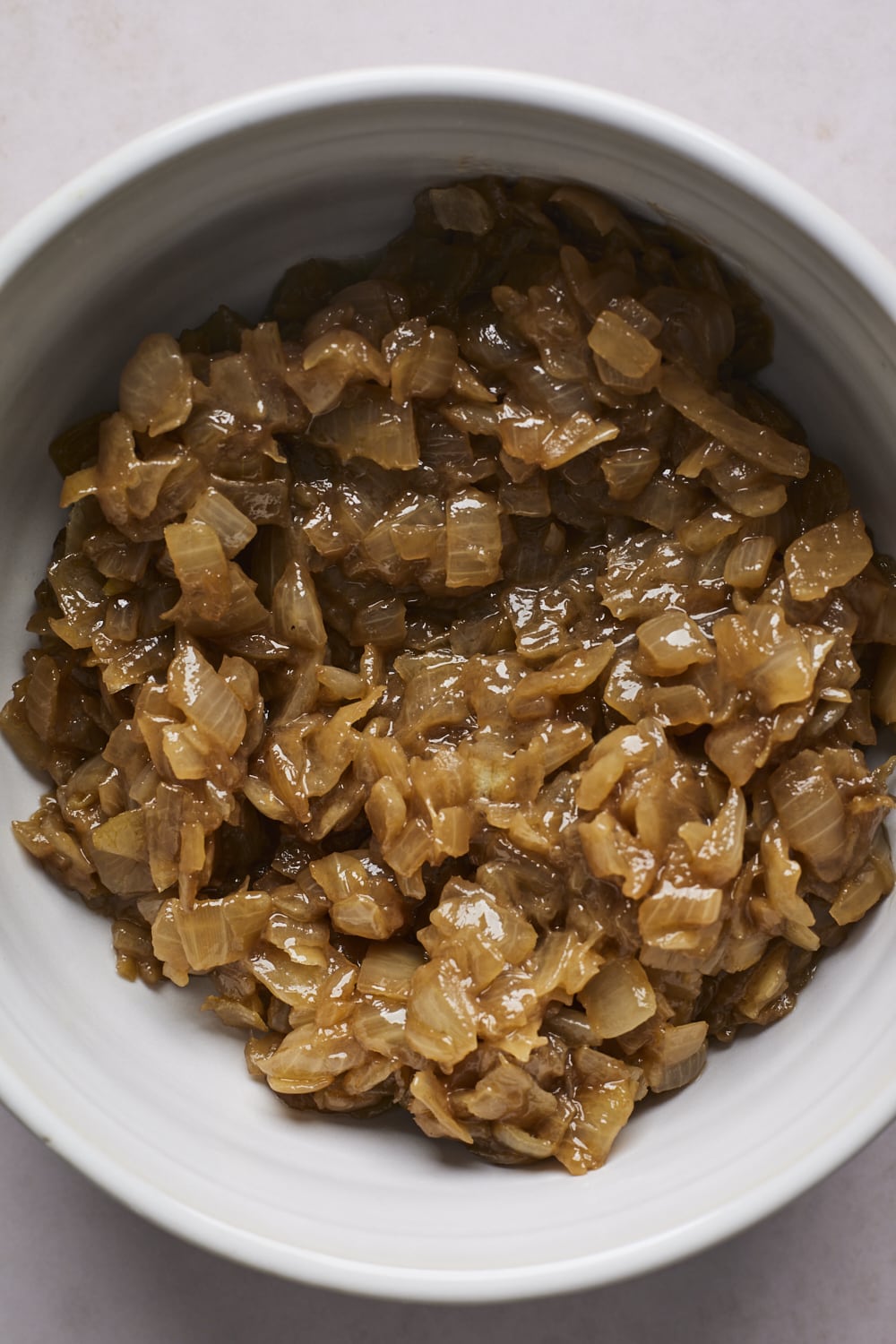 Caramelizing Onions 
Be patient with the onions, it's worth the time I guarantee it This is the longest portion of the recipe but onions always need time to caramelize. They do this all at different rates. Slowly cooking the onions over an extended period of time, allows the natural sugars in the onions to caramelize. Feel free to slice the onions fine or chop them. I have made this recipe both ways but prefer the onions chopped. One reason why is that slicing them makes them sort of string like and sometimes you don't want that kind of stringy texture in a dip. another reason I prefer them chopped over sliced is that when the onions are chopped into smaller uniform pieces they caramelize and cook more evenly and quickly. Also as directed in the recipe - Start off with higher heat to kick the caramelization process off and then turn heat to low and I always recommend using a non stick pan or a very well seasoned skillet for best results. Stir often and then all you need is a bit of time - they can caramelize between 20 min to 60 min - I usually find mine take about 30 minutes or so. The end result will be golden brown, very soft, and jammy sweet caramelized onions. The good news is that the onions can be made ahead of time see how below.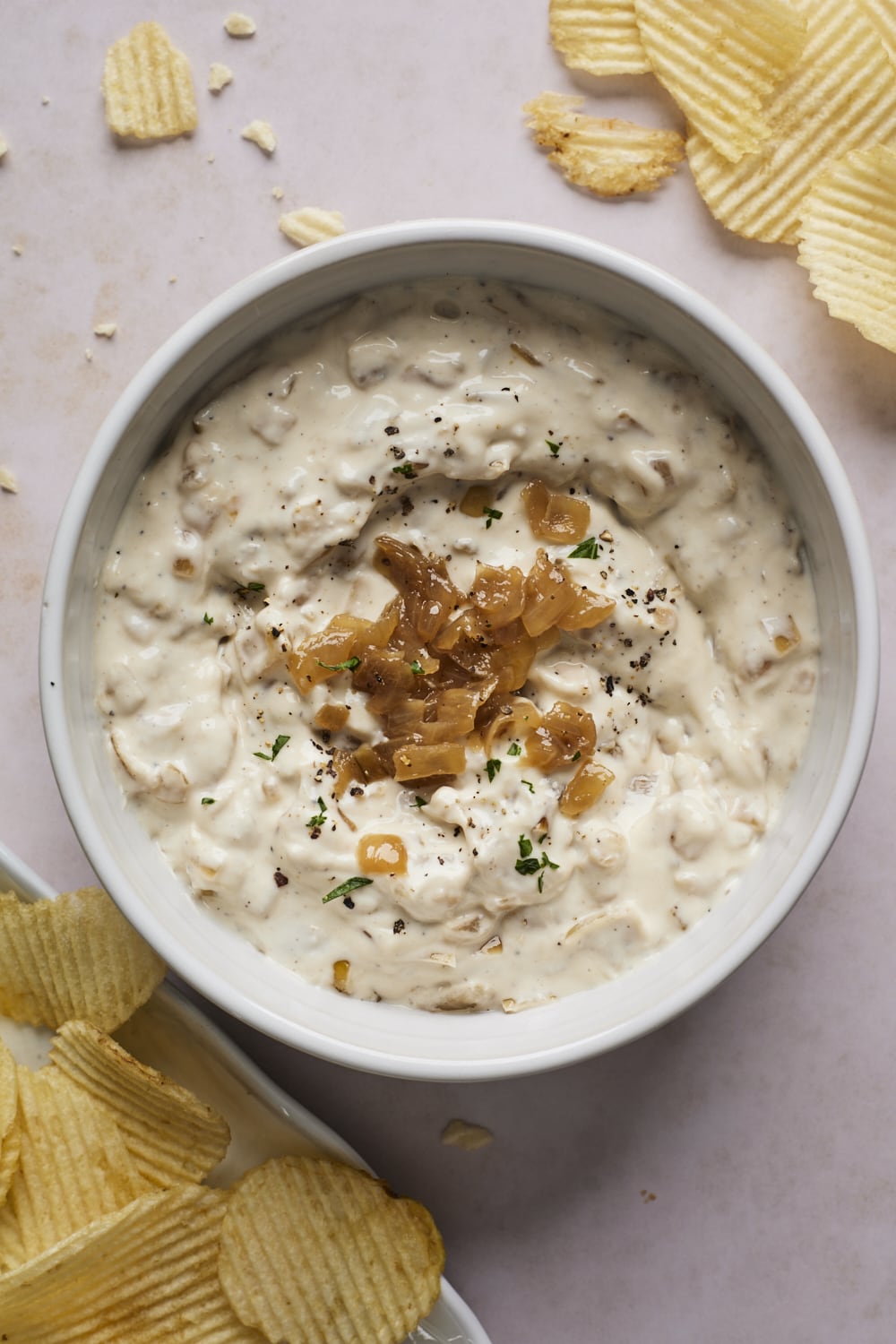 Make Ahead, Storage & Freezing 
Leftovers can be stored in the fridge in an airtight container for up to 5-7 days.
The DIP itself can be made up to a day ahead of time stored in the fridge - making it the perfect make ahead dip for a party, potluck, barbecue or gathering. Making it ahead is actually ideal became it allows all the flavours to meld together and develop - its so good!!
The ONIONS can also be made ahead and either refrigerated or frozen. REFRIGERATE caramelized onions in a tightly covered container for up to 1 week. Use as directed the recipe when ready to make it. FREEZE caramelized onions in a freezer safe zip top bag or a freezer safe container for up to 3 months. Thaw in the fridge overnight and use as directed in the recipe when ready to make it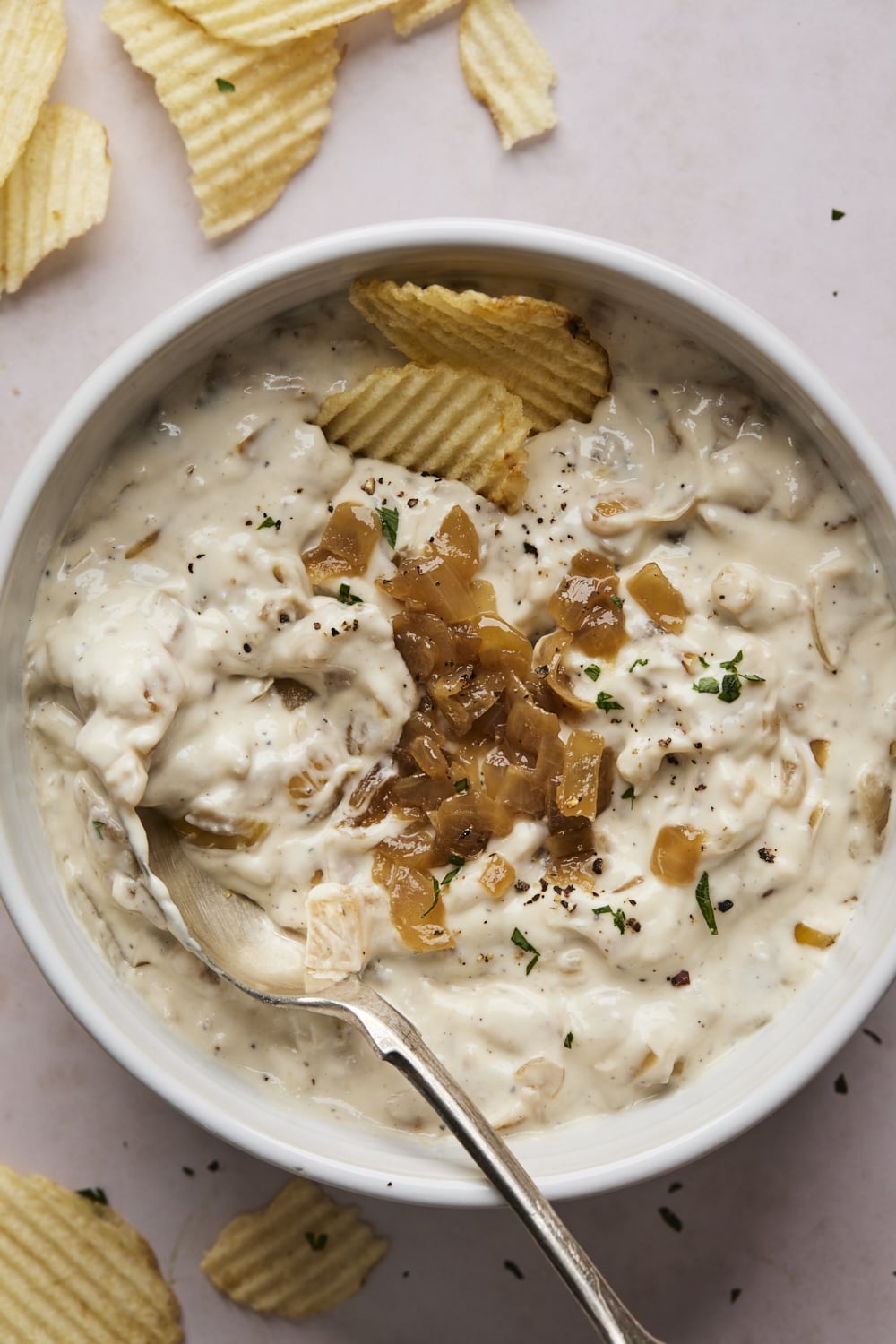 More Dips & Appetizers You Will Love:
Recipe
Prep Time: 10 mins
Cook Time: 30-45 mins
Ingredients
3 medium yellow sweet onions, peeled and chopped (approx 2-2 ½ cups) 

1 tablespoon olive oil

1 tablespoon unsalted butter

½ teaspoon salt

2 teaspoons packed brown sugar

1 teaspoon low-sodium soy sauce or Worcestershire sauce (or a splash of both) 

¼ teaspoon black pepper, plus more to taste 

½ cup sour cream

4 oz cream cheese, softened or use all sour cream 

¼ cup mayonnaise

¼ teaspoon garlic powder

¼ teaspoon onion powder 

Fresh chopped chives or fresh chopped parsley for garnish 
Directions
Heat olive oil in non-stick large skillet/ pan over medium heat to medium-high heat. Add chopped onions and salt and cook 3-5 min then reduce temperature to medium low and cook for 10- 15 min until the onions just start to turn gold.
Add butter and let it melt, stirring often. Continue cooking until onions are deep golden, almost brown, (5-10 min more) 
Stir in brown sugar and soy sauce and let the whole mixture simmer for 2 minutes over medium-low heat.
Remove onions from the heat and allow to cool while you assemble the remaining dip ingredients.
In a mixing bowl, whisk or mix together sour cream, mayo, cream cheese, pepper, garlic powder and onion powder. The onions are salted so hold off on adding any more until you taste the dip. (use microwave in 10 sec bursts if needed to assist in mixing)
Next, stir in the caramelized onions. 
Taste the dip and adjust flavor by adding more salt and pepper if needed. 
Serve immediately but for best flavour cover with a plastic wrap and chill 1-2 hours or over night (overnight is even better) until ready to serve. The extra time allows the flavors to meld and develop 
Serve at room temperature, garnish with chopped fresh chives if desired. Best served with crinkle cut plain potato chips or I also love them with Miss Vickies Salt and Black pepper Kettle chips or its great over crostini, with crackers or even veggies like carrot or celery sticks which make the perfect dippers
Leftovers will keep in the refrigerator in an airtight container for up to 5-7 days