Garlic Butter Chicken Bites
These seared Garlic Butter Chicken bites are cubes of tender chicken cooked to perfection in a tasty rich garlic butter sauce. An easy meal for meal prep or party snack that's ready in just minutes! If you've got meat lovers in your life, picky eaters or need something quick, easy and delicious for dinner, you HAVE to try these garlic butter chicken bites. They're amazing simply eaten out of the pan with toothpicks, or serve them over my garlicky kale pasta (Spaghetti Aglio e olio) and seared tomatoes for easy meal prep (recipe below) or over mashed potatoes for a hearty dinner option. They have so much flavor and are so easy to throw together! The best part? They're ready in 15 minutes! The ultimate winner chicken dinner!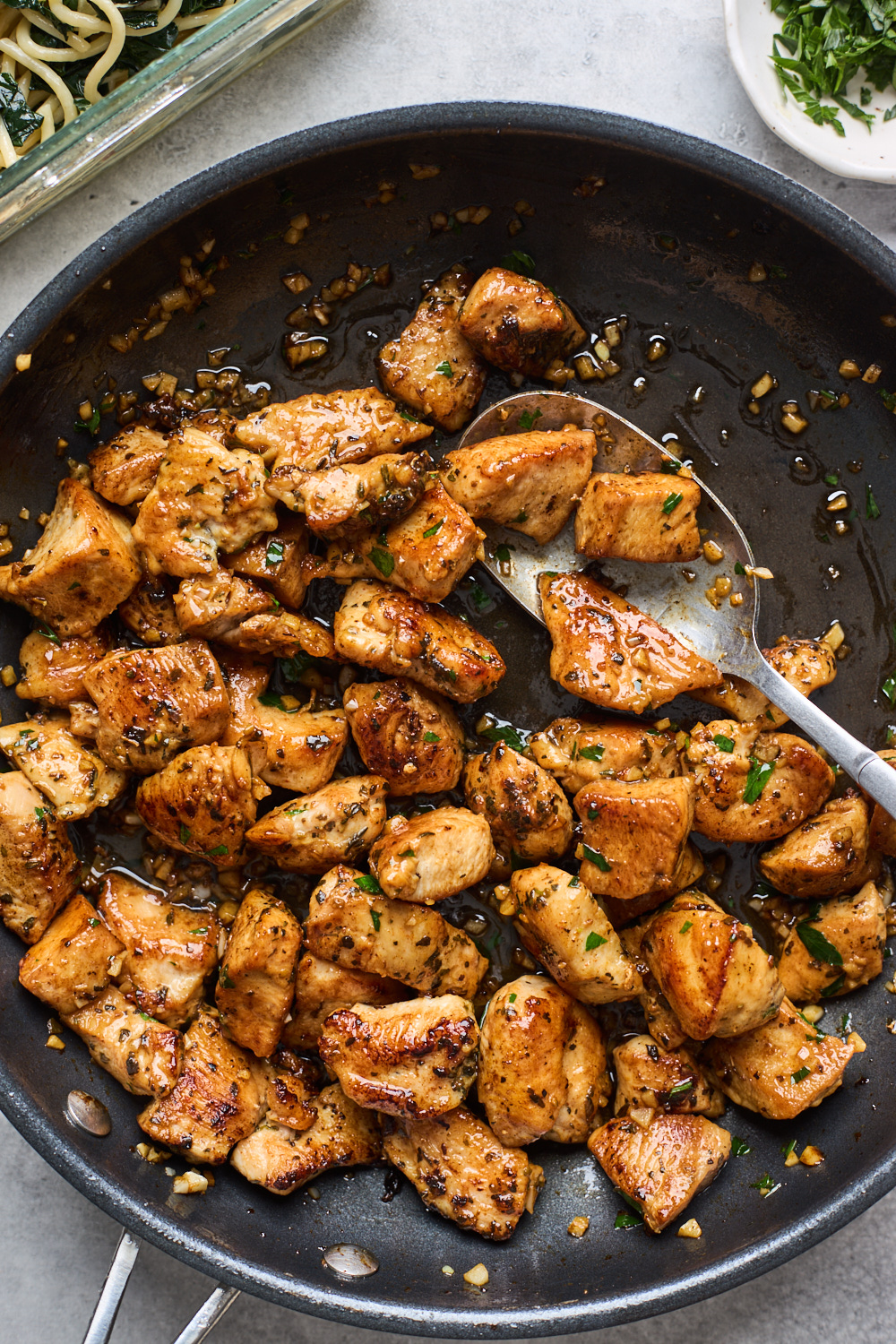 What Ingredients Do You Need For this Garlic Butter Chicken Bites Recipe
If the name doesn't say it all for you, here's what you'll need:
Garlic – the more the better. If you know me you know I love my garlic so adjust amount according to taste
Butter – I always use unsalted because this way I can control the salt in all my recipes.
Chicken – I love using skinless boneless chicken breasts in this recipe and cut it into small pieces, but you most definitely can use skinless boneless chicken thighs too
Olive Oil – extra virgin.
Salt & Pepper – to season to your liking.
Spices – paprika, and Italian seasoning for extra flavour or use your favourite spice blend
Parsley – I always love to garnish everything with a little bit of parsley because it makes the dish look so much better.
Optional ingredients: Red chili flakes or hot sauce for a hint of heat, a pinch of onion powder for extra flavour, a splash of lemon juice or chicken broth to thin out pan butter sauce or lemon wedges or slices for serving. Some like to toss the chicken bites with a bit of all purpose flour before pan frying them but I usually don't.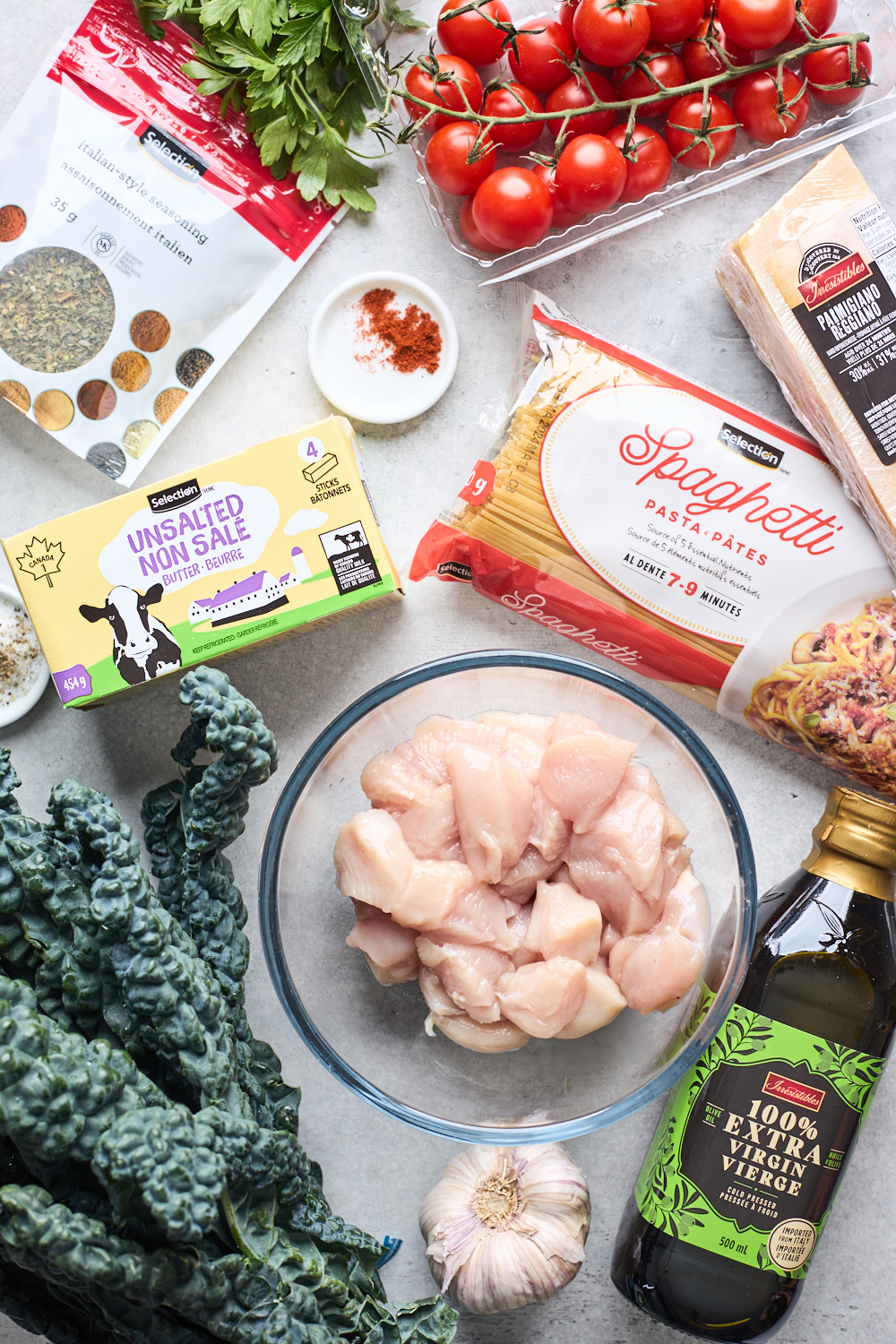 How to Make Garlic Butter Chicken Bites
This recipe uses chicken breast cut into small pieces. The chicken pieces are seasoned then seared cooked with olive oil, butter, garlic, salt, pepper and sprinkled with parsley. That's it!
The key to this recipe is a very hot pan so that you get a nice crust and sear on your meat. Butter can burn at high temperatures, so I typically start the meat in a little olive oil butter mix for the browning factor, then add remaining butter for flavor. A cast iron skillet is a great choice for these steak bites as that type of pan can get REALLY hot but its important that its a well seasoned skillet and non stick to make it easier to sear theses little guys

The chicken only needs to cook for a few minutes, and the garlic gets added at the end so it doesn't burn. Add a little parsley for flavor and color, and you've got an amazingly delicious appetizer or main course.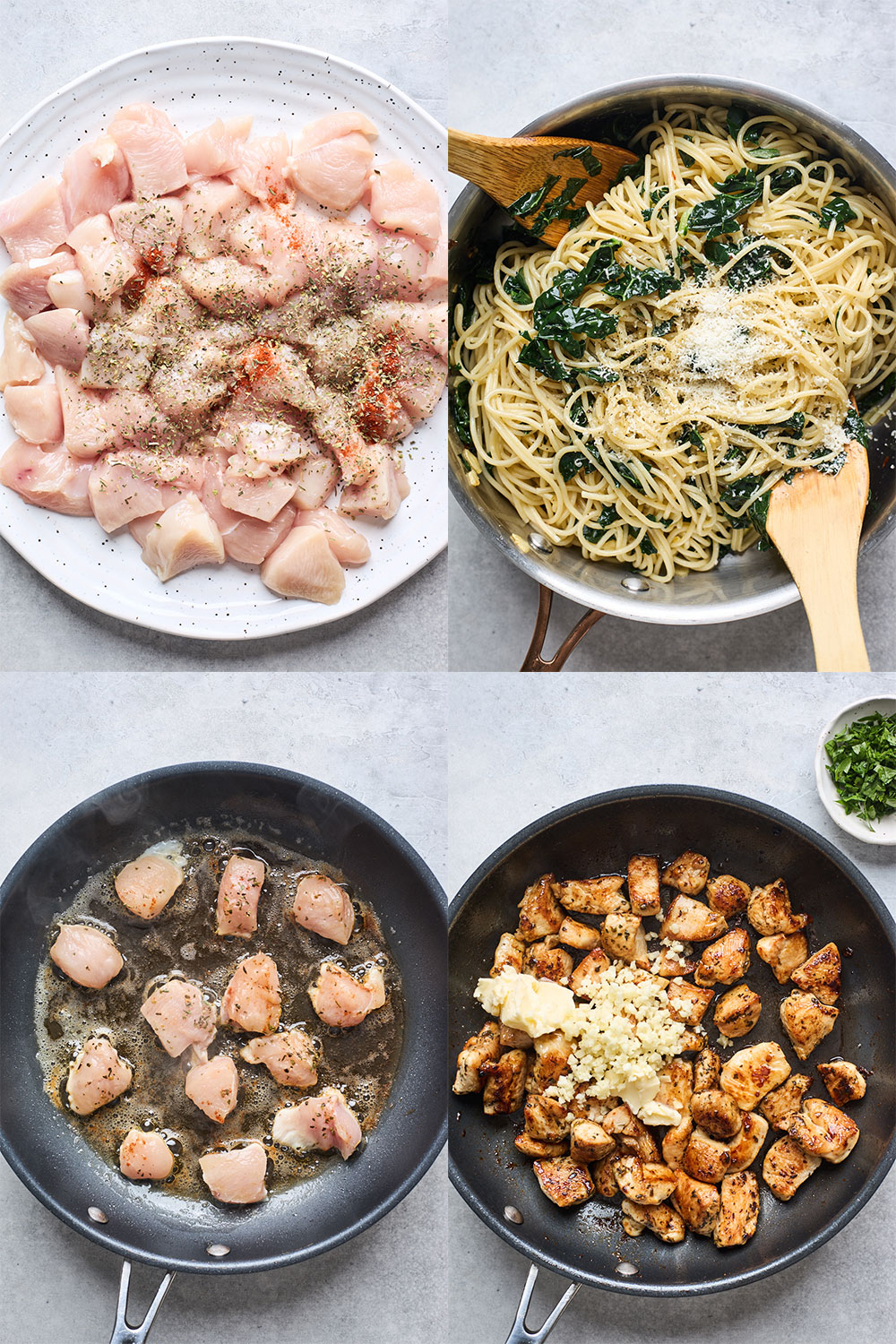 Tips For Making these Easy Garlic Butter Chicken Bites
Do not overcrowd the pan when cooking the chicken bites. You want them well seared not steamed. The overcrowded garlic butter chicken bites start releasing water which results in steamed chicken rather than crispy bites. Cook in batches, so each chicken bite has this delicious crisp golden crust! Refrain from stirring the chicken bites constantly. Let them sit in the pan, then turn from time to time so the chicken gets that nice golden sear on every side.
For a variant of the chicken recipe, you can use whole chicken tenders instead. They're delicious, and you don't have to cut them
The secret to super tender and crispy garlic butter chicken bites is to ensure that the pan is hot before adding the chicken bites to the pan.
Make sure the garlic isn't overcooked! Garlic doesn't need to be cooked for significant periods. Burned garlic could ruin the flavour of the dish.
If there are certain seasonings that you prefer feel free to switch it up!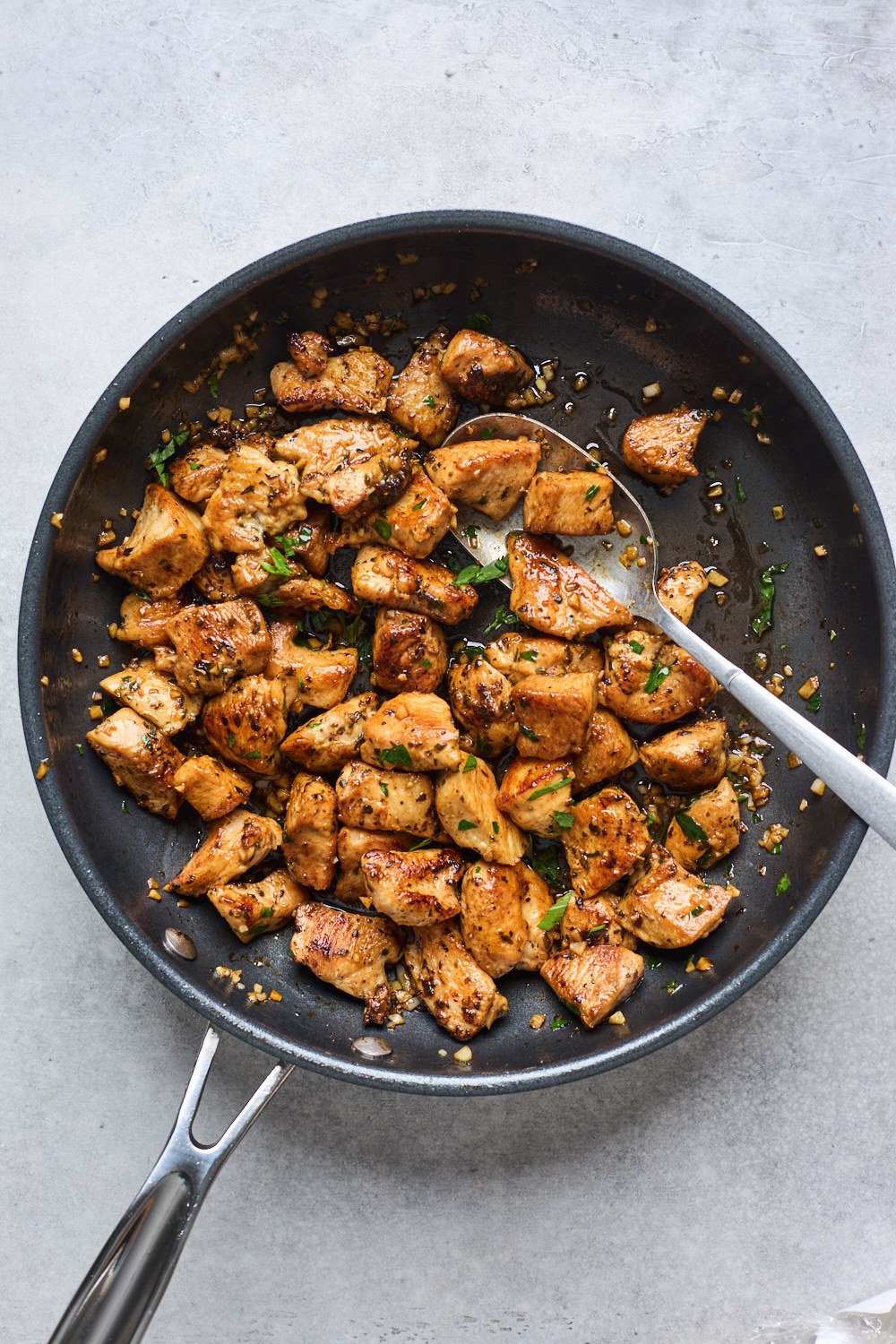 What To Serve Steak Bites With
Serve these with your favorite sides, such as mashed potatoes, roasted veggies like asparagus, zucchini, green beans, or broccoli, over rice or with cauliflower rice, or just with some crusty bread to soak up that garlic butter. I love them with my kale garlic olive oil pasta (Spaghetti Aglio e olio) and pan seared tomatoes for the perfect meal prep. However, they also make the perfect appetizer. Stick some toothpicks in them and watch them disappear!!
Garlic Butter Chicken Bite Make Ahead, Storage & Freezing
MAKE AHEAD: If you would like to make these chicken bites ahead of time - feel free to slice the chicken into cubes and season the pieces of chicken with the spices - place in an air tight container and refrigerate for up to a day ahead. Allow the chicken to come to room temperature before cooking them.
STORAGE: Leftover garlic butter chicken bites will keep in the fridge for 3 days stored in an airtight container.
FREEZING: Go ahead and make a double batch of these chicken bites, I recommend freezing half of them for later. Transfer the chicken to an airtight container or in a freezer bag and place in the freezer. Properly stored, it will last 4-6 months frozen.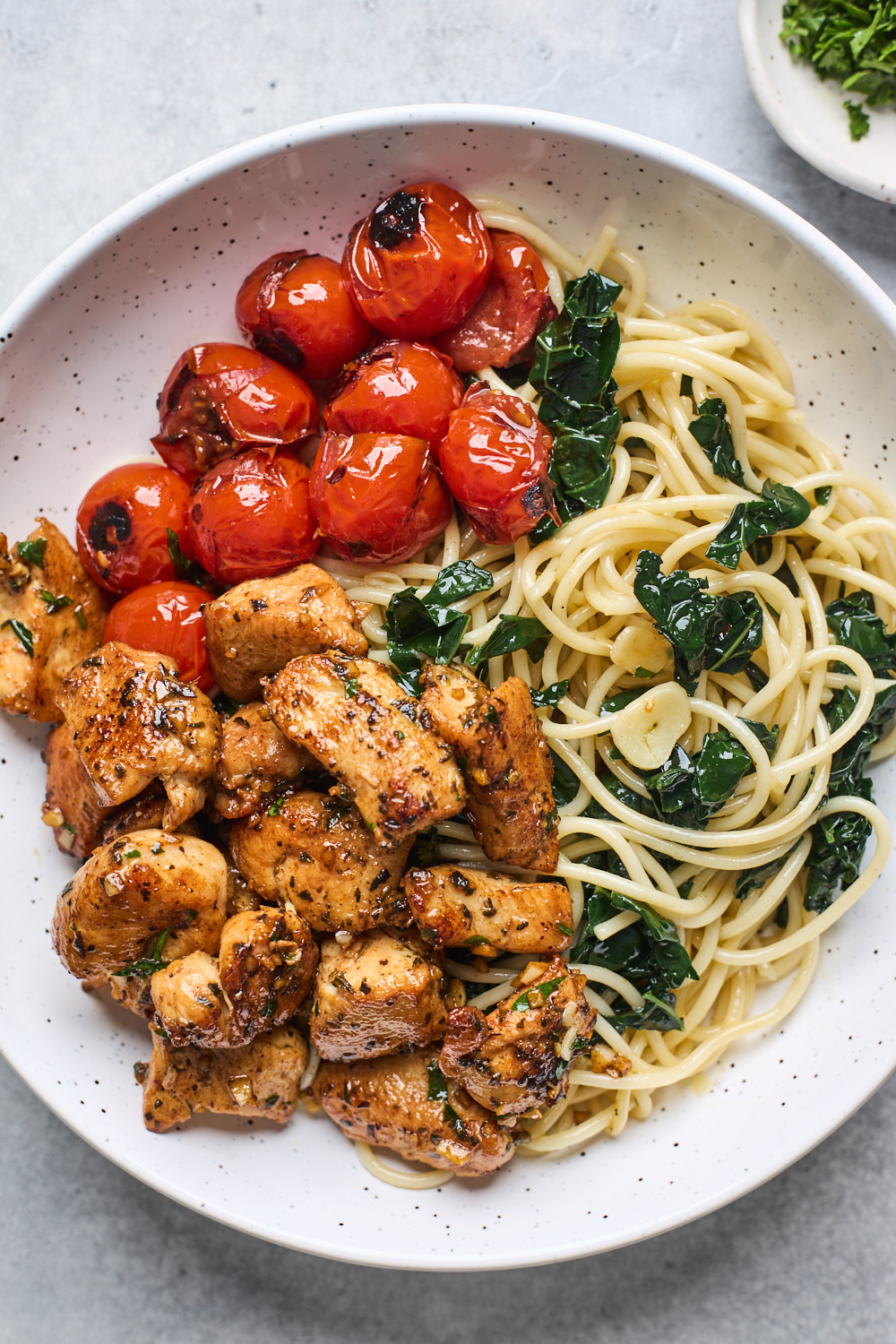 More Chicken Recipes You Will Love:
Recipe
Prep Time: 5 mins
Cook Time: 10 mins
Ingredients
1¼ lb boneless skinless chicken breasts, or chicken thighs, cut into bite sized pieces

1 teaspoon Italian seasoning

¼ teaspoon Salt

¼ teaspoon freshly ground black pepper

⅛ teaspoon paprika

1 tablespoon olive oil

3 tablespoons unsalted butter, divided

1½ Tablespoons minced fresh garlic (4 cloves)

2 Tablespoons finely chopped fresh parsley
Directions
Preheat a large non-stick skillet over medium-high heat.
Toss chicken with Italian seasoning, salt, pepper and paprika to evenly coat
Add 1 Tbsp olive oil and 1 Tbsp butter to skillet. Tilt pan to evenly coat.
Add chicken in an even single layer, do not crowd pieces so they brown rather than steam.
Cook until nicely golden brown on bottom, about 3 minutes then flip to opposite side and cook 2 minutes longer, or until nearly cooked through. You may have to cook the pieces in batches.
Add remaining butter along with garlic and parsley. Cook and simmer chicken bites for 1 minute longer or until cooked through, scraping the bottom of the skillet to release and brown bits
Serve right away with Spaghetti Aglio e Olio With Kale and blistered tomatoes
Spaghetti Aglio e Olio With Kale (spaghetti with garlic and olive oil) and Blistered Tomatoes
Prep Time: 5 mins
Cook Time: 20 mins
Ingredients
12 oz spaghetti
1 large bunch lacinato kale de-stemmed and chopped
5 cloves garlic thinly sliced
1 teaspoon red pepper flakes
¼ cup extra virgin olive oil +1 tablespoon
1 cup reserved pasta water
Parmesan for serving
1 pint cherry or grape tomatoes
Directions
Bring large pot of salted water to boil. Add spaghetti and cook according to package to Al Dante. Add kale to pot with the pasta the last 2 min of cooking. Once done remove one-cup of water from the pasta pot and set aside. Remove the pasta and kale from the heat, and drain well.
Return the same pot to medium heat. Add oil, thinly sliced garlic, red pepper flakes, and ¼ cup olive oil to the pot. Stir well to combine. Let the garlic oil cook for 2-4 minutes, until the garlic is just beginning to turn golden.
Add the pasta and kale, and stir well to coat. Stir in the ¼ cup of the reserved pasta water to loosen it up plus more as needed
Serve immediately with freshly grated Parmesan.
While pasta is cooking add cherry tomatoes to skillet with remaining 1 tablespoon olive oil and cook on medium until tomatoes start to blister and pop. You can use a wooden spoon to pop the tomatoes open as they cook to release some of their juices, but don't mash. Serve with garlic butter chicken bites and spaghetti.