Greek Cucumber Salad
This zesty and refreshing cucumber salad is the perfect salad recipe for Summer. A great side dish for all the things off the grill or even just to snack on or it's a salad to build on if you prefer to load it up with other veggies. Crispy fresh cucumbers in a lemony dressing with loads of fresh herbs. This Greek Cucumber salad is quite similar in herbiness and flavor to my maroulosalta one of many traditional Greek Salads out there loaded with fresh produce and herbiness. I could eat cucumbers all day so this is one of my favourites salads - deliciously lemony and light and on repeat all summer long!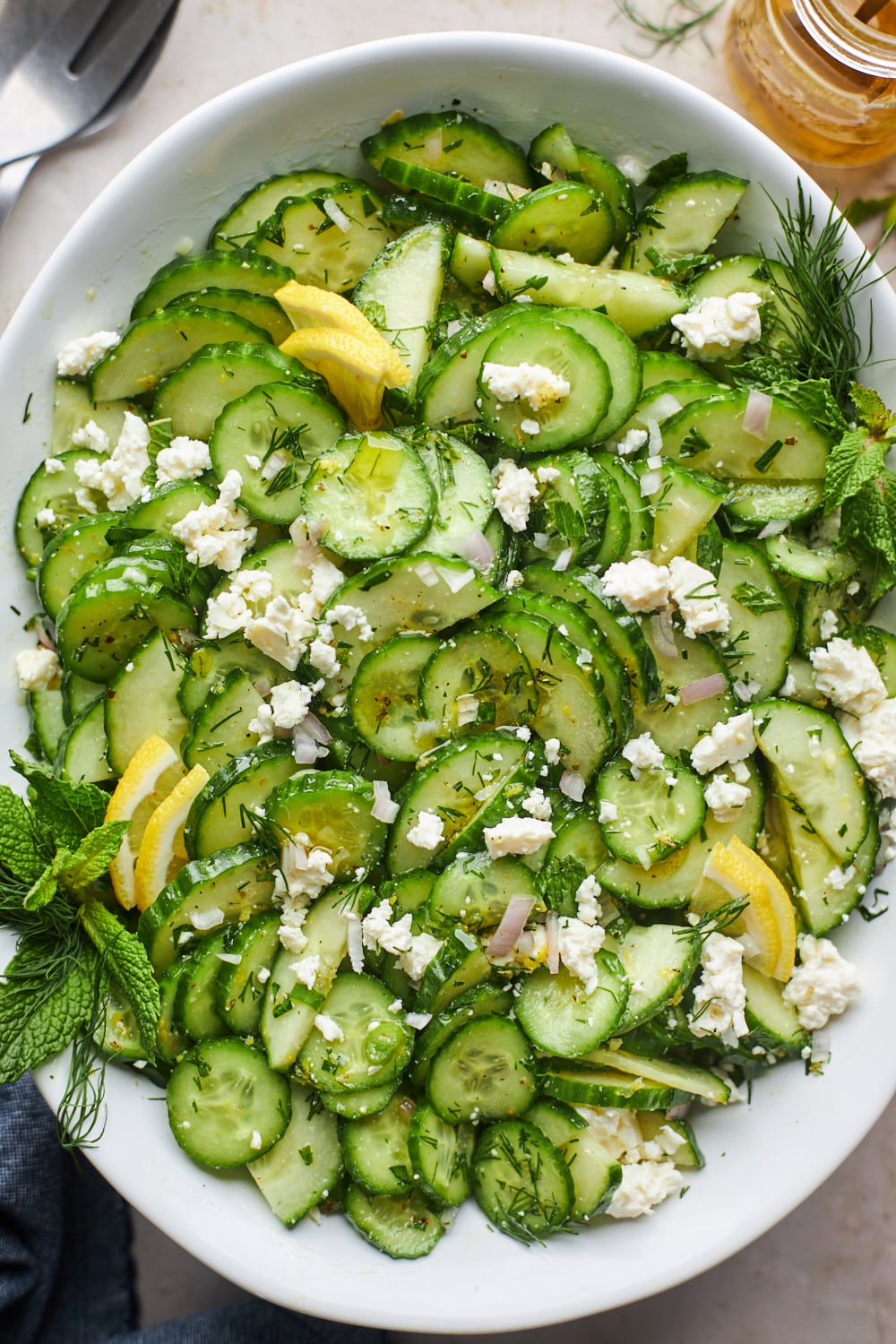 Greek cucumber Salad Recipe Ingredients
Cucumbers: feel free to use English cucumber, garden cucumbers or baby cucumbers or Persian cucumbers - a variety of them makes for a fun salad as they all have a slightly different texture. Peeling them is optional and so is removing the seeds. Chopping and slicing them into different sizes and thicknesses adds to the variety of textures too so feel free to do that.
Fresh Herbs: I love to use the combination of fresh dill, mint and parsley but feel free to use your favourite fresh herbs
Lemons: fresh lemons for best flavor, fresh lemon juice and lemon zest. If you prefer to use vinegar I recommend a white or red wine vinegar
Shallot: I love the more subtle sweet flavour of shallots but feel free to use red onion in stead
Green Onion: adds a tasty fresh flavour to the salad - feel free to sub with fresh chopped chives
Feta: feta is a must for this Greek salad but if you are keeping things dairy free feel free to leave it out or add any cheese you prefer
Olive Oil: for the dressing
Garlic: feel free to use fresh garlic for the dressing or for a mellower flavor use garlic powder
Oregano: dried oregano is what I use but you are welcome to use fresh if you prefer for the dressing
Mustard: I like to use dijon mustard for my dressing for extra flavour - feel free to use any mustard you like - a honey one would work well too or a grainy one too
Honey: just a little to balance the tanginess or acidity but feel free to use sugar or even maple syrup instead - this is optional
Salt and Pepper: to taste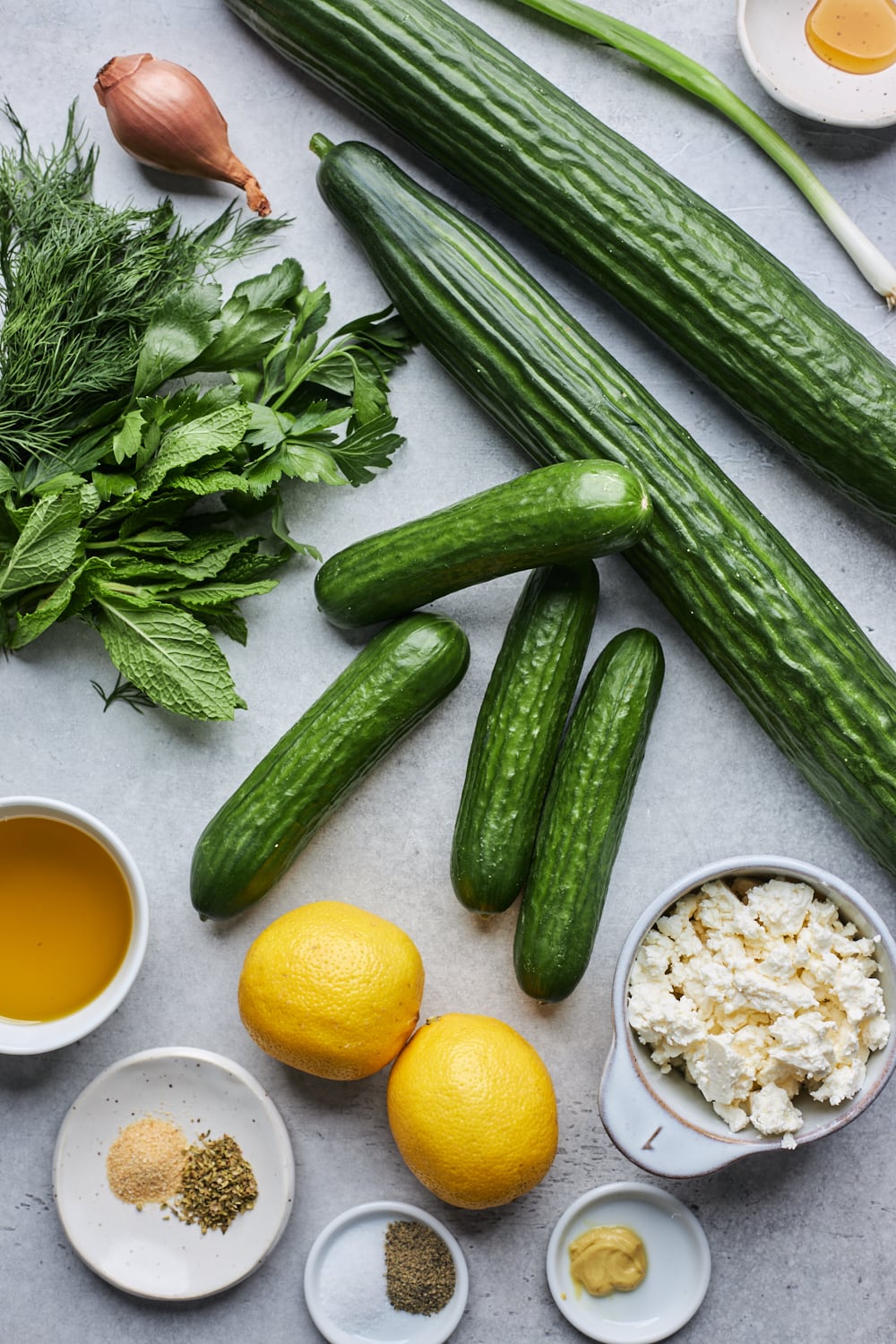 Greek Cucumber Salad Variations:
Feel free to add in other veggies like tomatoes regular diced tomatoes or cherry tomatoes, chopped bell peppers, blanched asparagus etc…
Add in some capers or Kalamata olives for more briny flavour.
You could also throw in some protein like poached or grilled shrimp or greek chicken.
For a creamy version of this greek cucumber salad feel free to stir in some greek yogurt or for more intense flavour a few dollops of tzatztiki
Add some white beans or chickpeas or even green peas for extra plant protein
Toss in a grain like cooked orzo, or other pasta, quinoa or even rice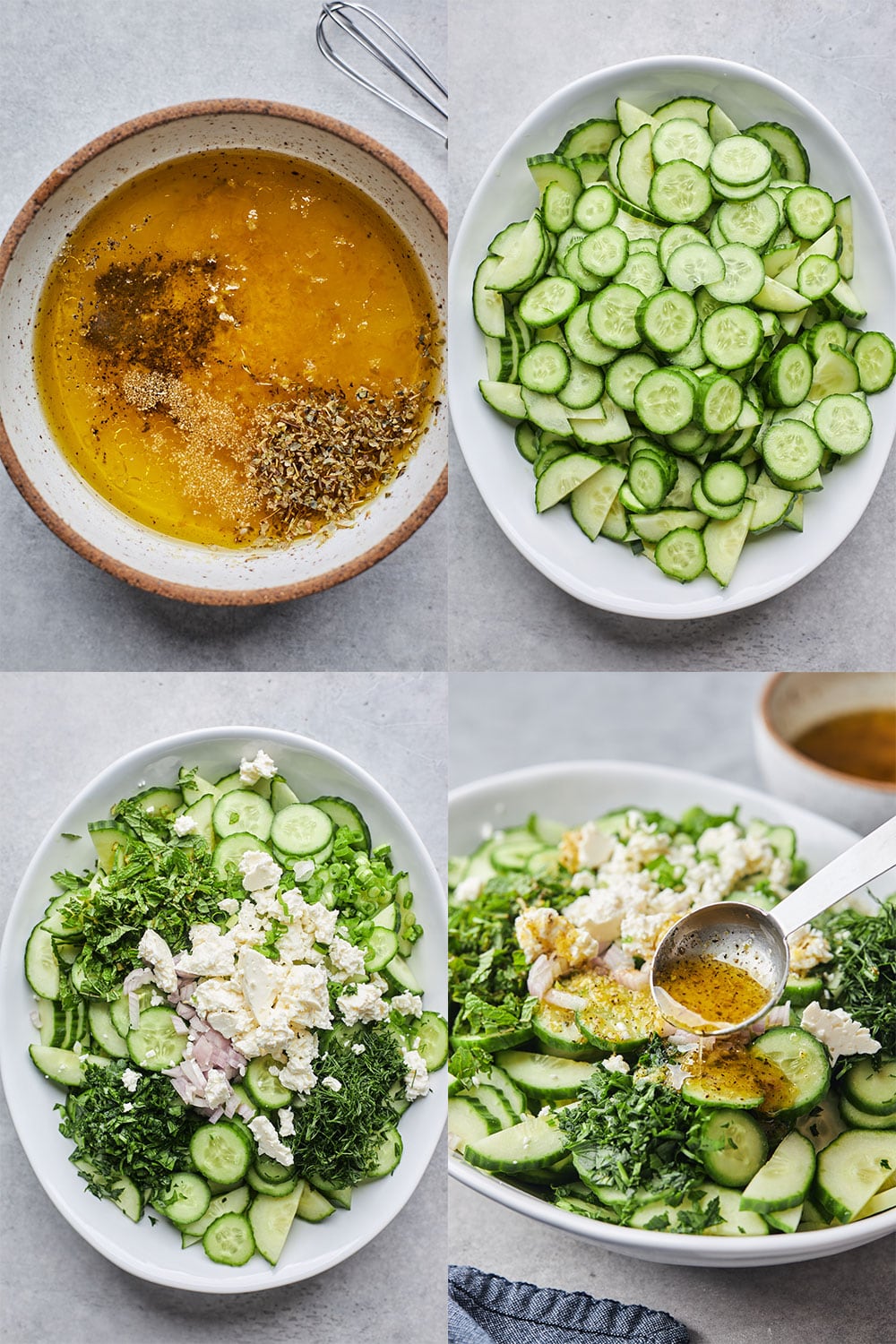 How To Make This Greek Cucumber Salad
Whisk together the dressing ingredients
Wash and slice or chop your cucumbers
Toss cucumbers with dressing
Serve
What To Serve Cucumber Salad With
Do I Need To Salt The Cucumbers?
Some cucumber salad recipes call for salting rinsing and squeezing the moisture out of the cucumbers before making the salad. The salt makes the cucumbers taste better and draws out and removes excess water from them before tossing the cucumbers with the dressing. This helps prevent the excess water from the cucumbers from diluting the dressing, therefore intensifying their flavor. I can fully appreciate the reason behind adding this step to this recipe but since this cucumber salad is best eaten once prepared the cucumbers don't usually have time to sit and release all of their natural juices. That being said if you are making this a couple of hours before serving and want to dress the salad then it might be a good idea to salt your cucumbers - otherwise I wouldn't bother. How do you salt your cucumber? Easy - toss the cucumber slices with a generous amount of salt, then let them sit in a colander over bowl or sink for 20-30 minutes then rinse the cucumbers with cold water, removing excess salt. Squeeze them dry by adding them to a clean dishcloth and squeezing then they are ready to dress.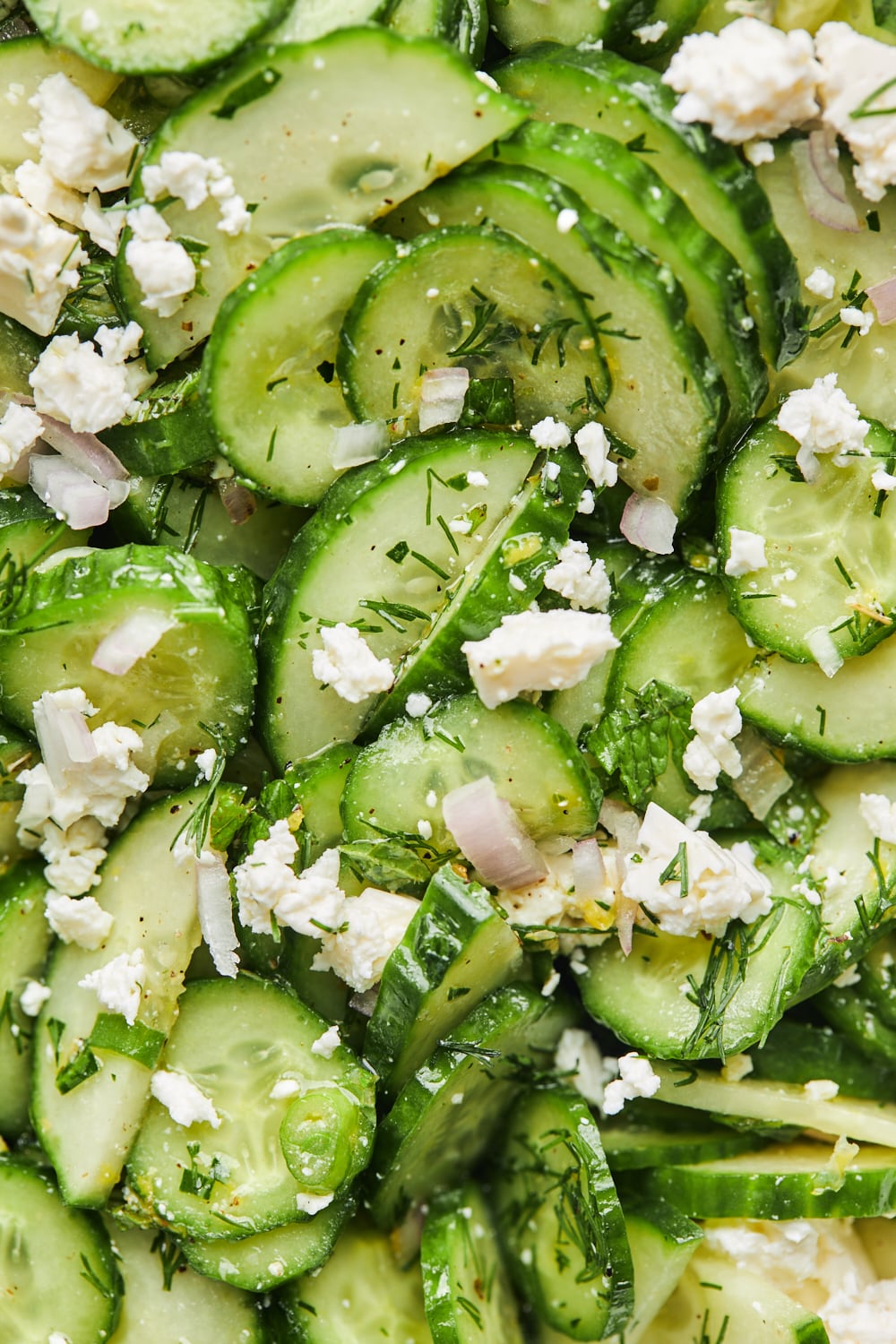 Cucumber Salad Make Ahead and Storage
STORAGE: This salad is best served chilled the day it's made but technically it will last in the fridge for 2-3 days although I don't recommend it. I think it is best to serve it as soon as your have made it for best results without it getting waterlogged or soggy.
MAKE AHEAD: As mentioned above for best flavour and texture I recommend eating this salad when it's prepared but if you would like to make some parts of it ahead of time you can. The dressing can be made a couple of days ahead and stored in a sealed container in the fridge until ready to dress salad. Cut or sliced cucumbers should be placed in an airtight container and eaten within 48 hours. I like to layer the top of them with a wet paper towel to keep them crisp. Then dress the cucumbers right before serving.
More Salads You Will Love
Recipe
Prep Time: 10-15 mins
Ingredients
1½-2 lbs cucumbers (like English cucumbers, cocktail cucumbers, and garden cucumbers), sliced into ¼ inch rounds

1 shallot or ½ small red onion, peeled and minced

½ cup fresh mint chopped

½ cup fresh dill chopped

¼ cups fresh parsley chopped

1 green onion sliced

1 cup crumbled feta cheese
For the Dressing
Zest and juice of two small lemons

3 tablespoons extra virgin olive oil

¼ teaspoons garlic powder or 1 garlic clove , minced or grated

½ teaspoon Dijon mustard

¼ teaspoon dried oregano

¼ teaspoon each salt and black pepper

½ teaspoon honey (optional)
Directions
Shake Dressing in a jar or whisk together dressing ingredients in a small bowl
Cucumber: Trim ends then slice about 3 mm/ 1/8" thick.
Place in large bowl with shallot, mint, dill, parsley, green onions and feta
Pour over Dressing, toss gently and serve immediately. Taste and test for seasoning and adjust accordingly