Grilled Peach and Blueberry Yoghurt Parfaits
Our favourite quick and easy, healthy and delicious breakfast: Parfait! This simple breakfast is made of layers of homemade or storebought granola, Greek yogurt, blueberries and caramelized grilled peaches. Fresh peaches are in season and are especially sweet this summer. And what's better than using up those fresh and juicy peaches from the farm stand than in these parfaits. I used my homemade granola added dark chocolate Bark with Peach Chunks for a little added texture and some extra protein - more on that below. Parfaits can be prepped ahead of time and enjoyed as a healthy quick and delicious breakfasts or can be made in 10 minutes or less. Perfect for busy mornings but they can also double as a light dessert.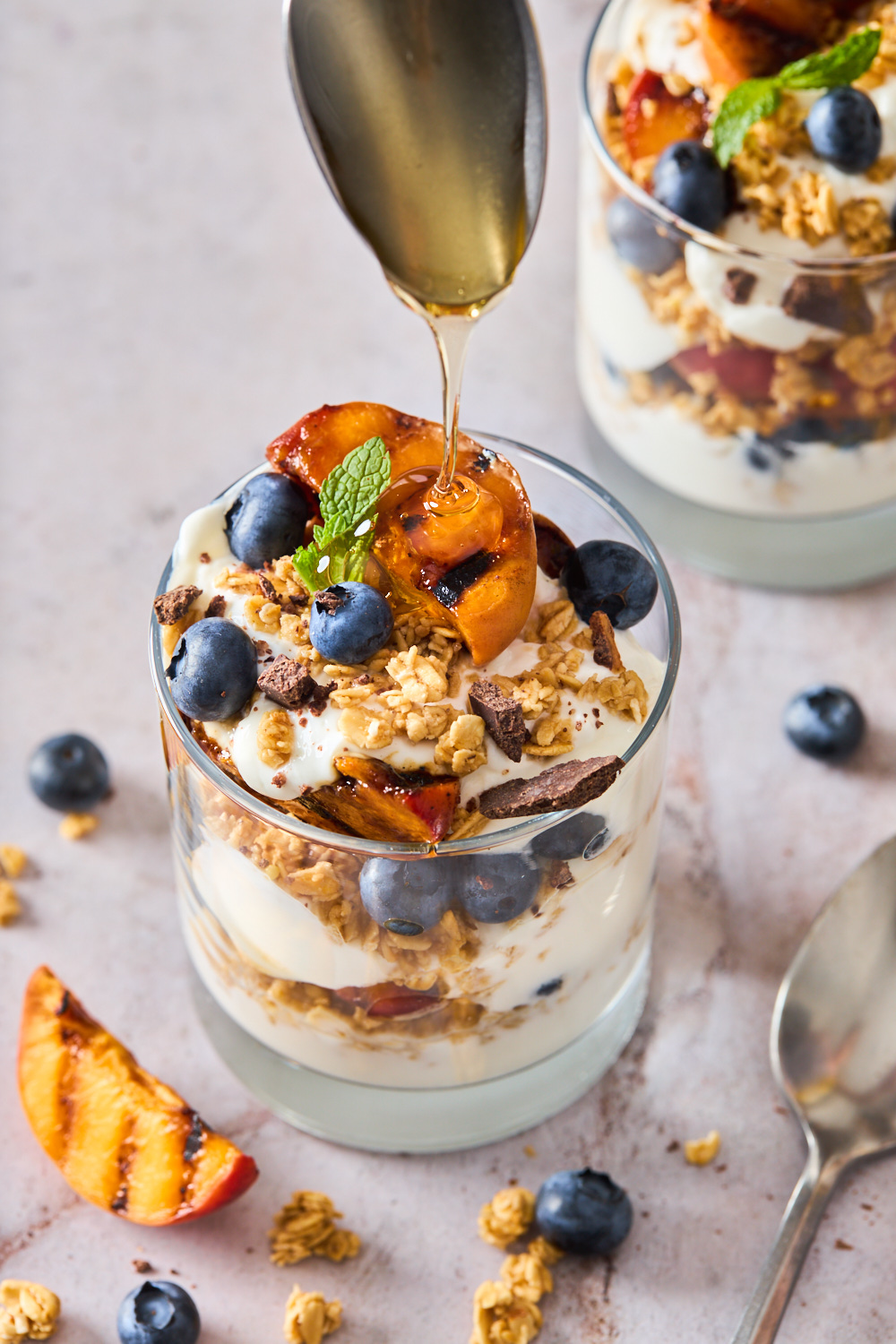 What Is A Parfait Made Of?
This fresh fruit Parfait is made from Greek yogurt, fresh berries, caramelized grilled peaches, granola, and a drizzle of honey with some of the dark chocolate I mentioned earlier. I crumbled Remix Snacks Dark Chocolate Bark with Peach Chunks. It's a actually bean bark - a vegan dark chocolate treat that is quite addictive and a great addition to this parfait.  I partnered up with Metro Ontario as part of their Locally Sourced Program for this recipe to shine some light on local vendors from the GTA. Remix Snacks is a local, woman-founded snack company created by two dietitians that are committed to making simple delicious & healthy snacks that are not only delicious and good for you but also good for the environment too. I was happy to be snacking on them and also to include them in my granola and this tasty parfait.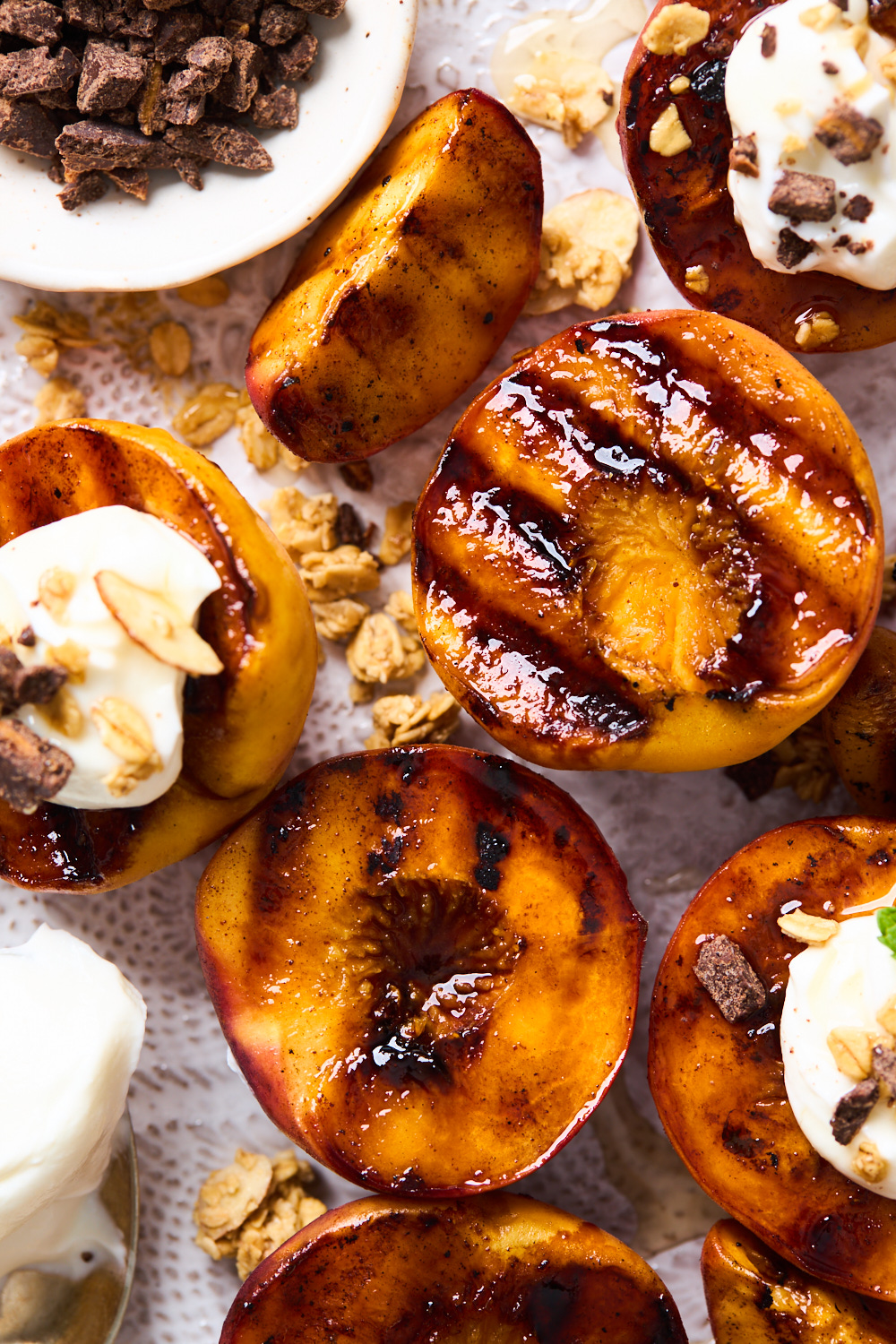 Ingredients for this blueberry peach parfait:
Peaches & Blueberries - fresh is always best especially when they are in season and at their best
Granulated sugar and brown sugar - these don't qualify as healthy but they are the perfect things to coat your peaches with  before they hit the grill - it helps them develop the most delicious caramelized sweet layer. If you prefer doing this sugar free - no problem just grill the peaches as is.
Rich and creamy Greek Yoghurt - I love a rich and creamy one that is nice and thick too. It tends to be less weepy and holds up better especially if you are making these overnight. For a plant based option I love to use a coconut yogurt but any plant based yoghurt will work here. You can even whip up some coconut cream and make these with creamy coconut whip. I like to use unsweetened and unflavored but you can use whatever you like in your parfait.
Honey - for drizzling - optional but a nice touch especially if you are using unsweetened Greek yogurt. For a plant based sweet drizzle I recommend maple syrup. It's always a nice treat.
Mint - fresh mint is purely for garnish and adds a nice look to the finished parfait. It's optional but a nice touch.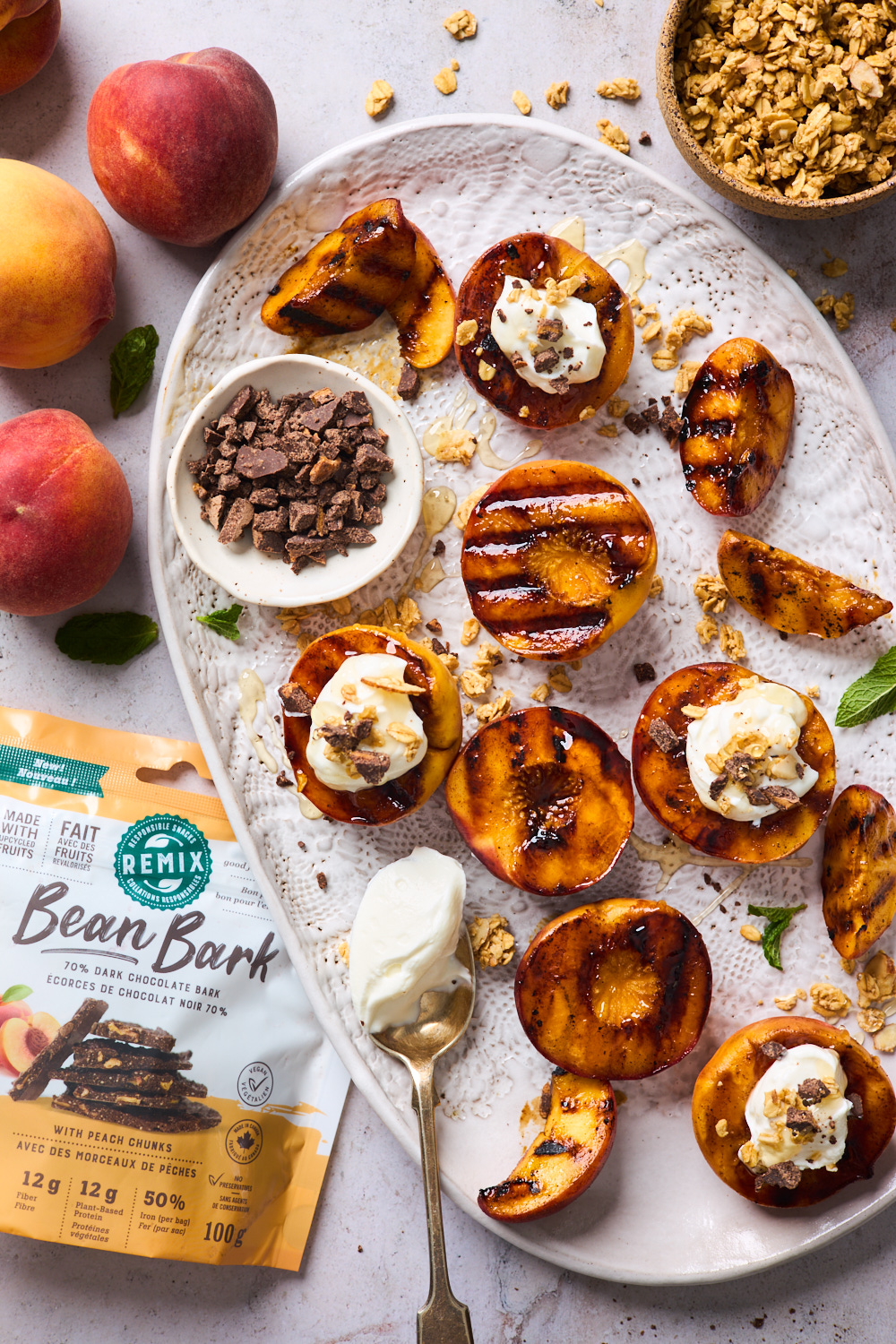 I'm pretty sure these parfaits would taste delicious with any type of berry or stone fruit. Change up your Greek yogurt and experiment with flavors. Here are some other mix-in suggestions:
Sliced bananas
Fresh melons (honeydew or cantaloupe)
Chopped kiwi
Mandarin oranges
Coconut
Chopped nuts such as pistachios, walnuts, almonds, pecans, etc.
Chia seeds
Mini chocolate chips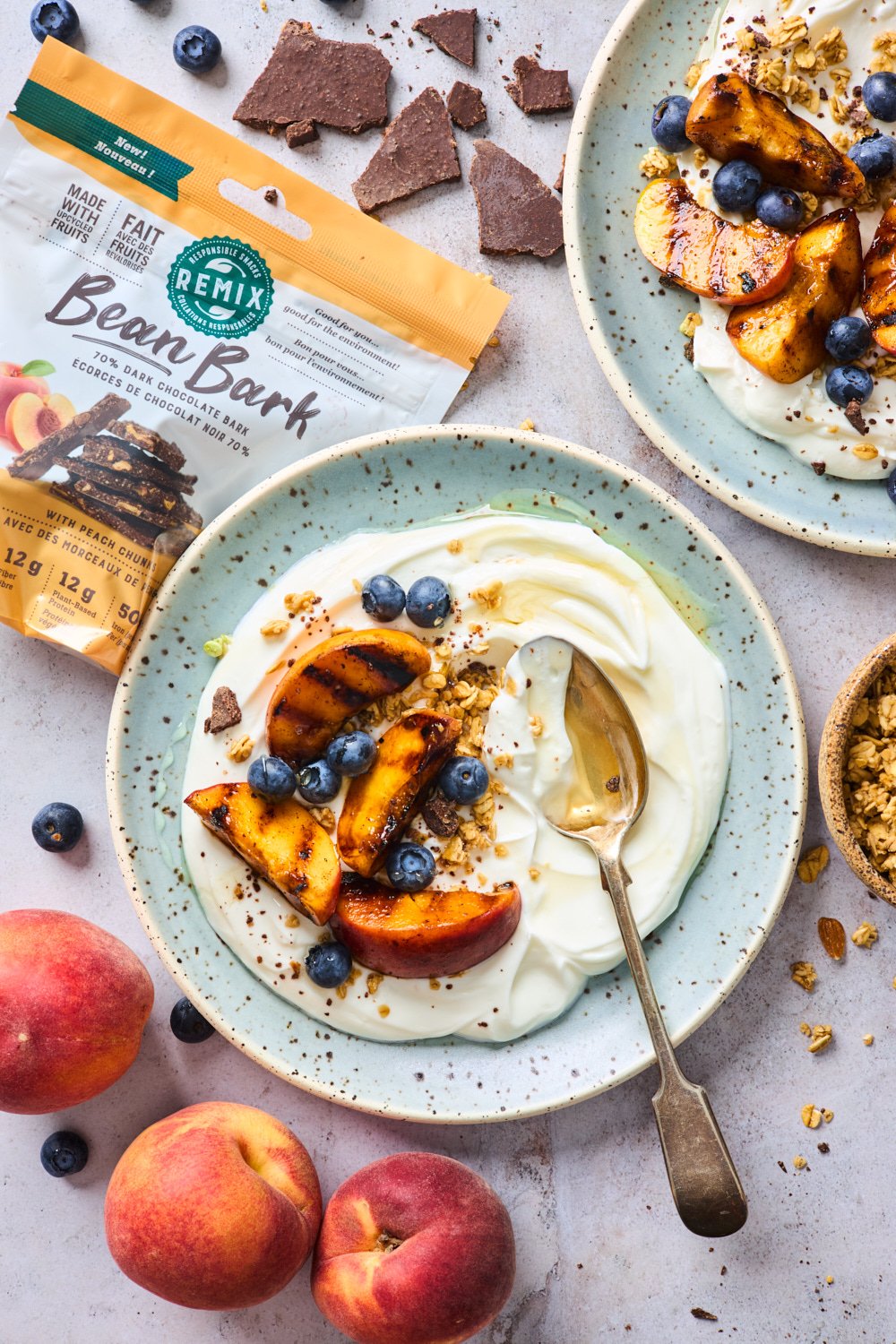 Are fruit Parfaits healthy?
Parfaits can range from very healthy to not so healthy depending on what you add to your parfait. Similar to smoothies - people add all sorts of things to smoothies thinking they are healthy. The key is to be mindful of what you put into them. Keep in mind that the granola and yogurt you use can widely vary — some are healthier than others (usually depending on the sugars added and fat content) Some offer plenty of nutrition with minimal fat and sugar; others, not so much! These healthy granola parfaits are a simple way to add the protein and calcium you need throughout your day. Better than a bowl of cereal and are quite fun to make. Please free to adjust the type of granola and yoghurt in them to suit your dietary needs.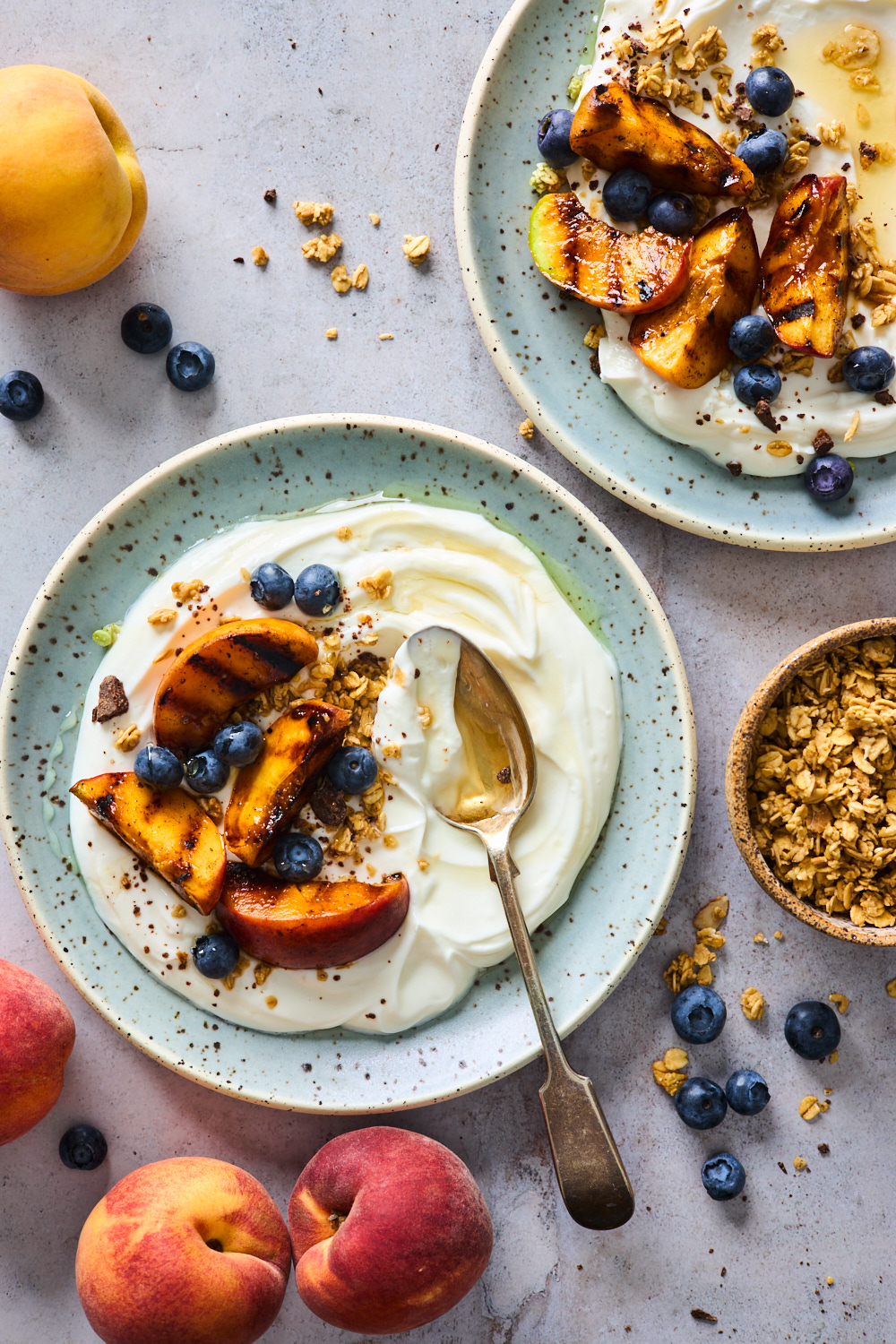 How to make grilled peach parfaits:
Toss sliced peaches in the cinnamon sugar (this is optional but it helps caramelize the peaches)
Heat grill or grill pan and grill peaches a couple of minutes per side until softened with grill marks - remove them from heat and allow to cool slightly
Chose your favourite vessel to build your parfait - from mason jar to a glass or a bowl
Start layering the ingredients (yoghurt, granola, grilled peaches and blueberries - in any order you prefer ) between each jar then drizzle with some honey and enjoy.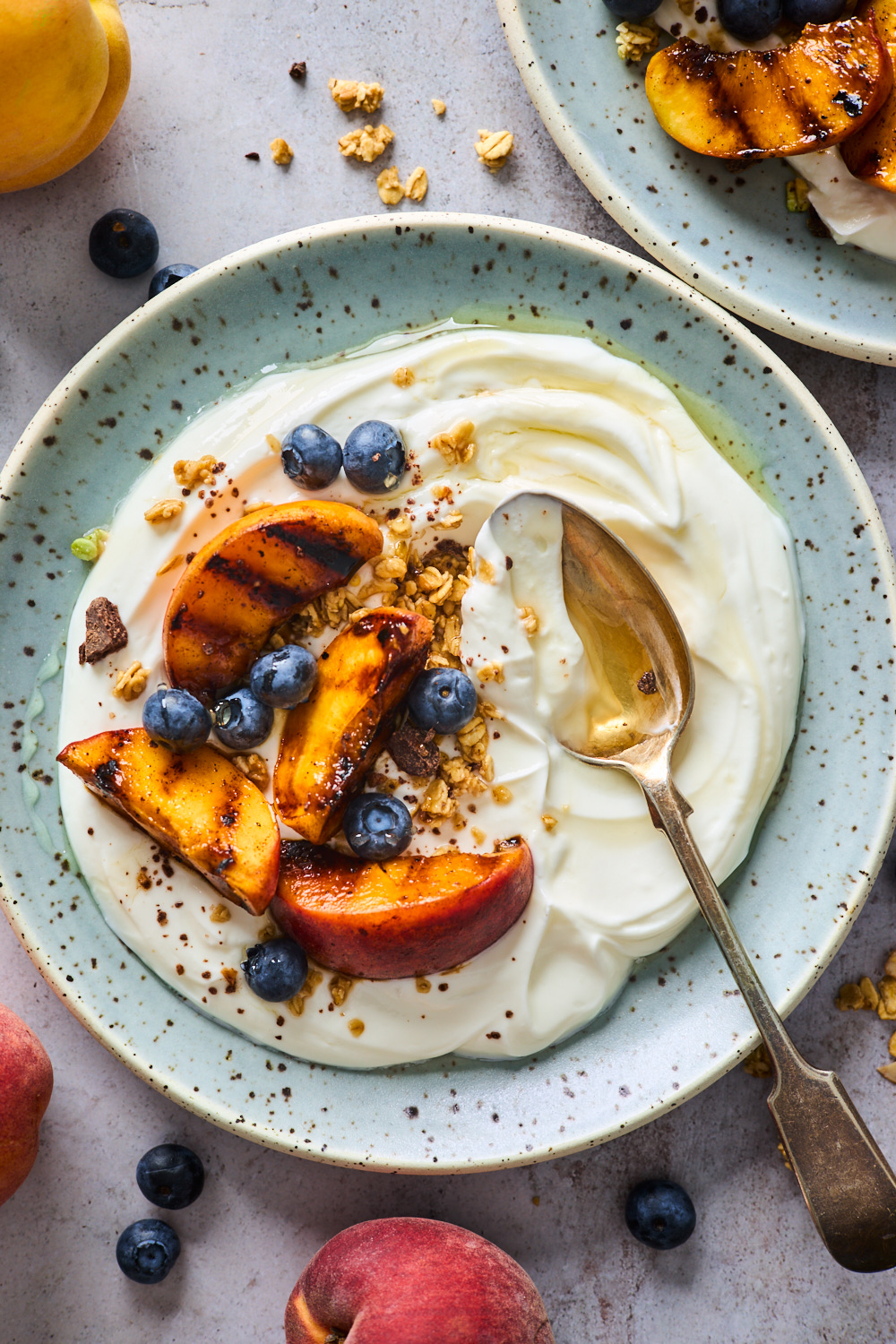 If you like this tasty recipe, you will love these:
Recipe
Prep Time: 5 mins
Cook Time: 10-15 mins
Ingredients
4 ripe peaches

1 tablespoon granulated sugar

1 tablespoon brown sugar or coconut sugar

½ teaspoon ground cinnamon

Vegetable oil, for brushing or spraying grill

2 cups greek yoghurt or plant based yoghurt, for serving

2-4 tablespoons honey or maple syrup for serving

1 cup granola, for serving (my go to homemade one if perfect for these)

½ cup blueberries

¼ cup Remix Snacks Chocolate Bean Bark with peach chunks, chopped for serving

Fresh mint leaf, for garnish (optional)
Directions
Set grill to medium-high. Or Spray a cast-iron grill pan with cooking spray. Heat pan over medium/heat.
Halve and pit the peaches. Cut each half into 3 wedges.
In a small bowl mix together the sugars and cinnamon. Press cut side of peaches into mixture to coat.
Place peaches cut side down on grill pan and cook until grill marks form and peaches are slightly softened, 2 to 3 minutes per side.
Remove from grill and let cool. Cut fruit into smaller wedges if desired.
Divide the yogurt among 4 small bowls, cups or jars. Divide peaches, blueberries and granola among bowls. Drizzle with honey and sprinkle with chocolate bark.
Recipe Notes
You can assemble the parfaits the night before, although this will make the granola a little more soft and chewy (but still tasty).
You can grill the peaches 2-3 days before. They keep well in a sealed container in the fridge and perfect for the parfait, over ice cream or as a snack.