Peach Clafoutis
Clafoutis is one of those desserts that sounds fancy and hard to make but its actually so simple. Its basically crepe batter poured over fruit and baked in the oven until puffy and browned. All you need is a blender or a whisk, a baking dish, and some fresh or frozen fruit to make it. It makes for the perfect brunch item or dessert. I love mine dusted with powdered sugar, with a dollop of whip cream but it's also equally delicious with a scoop of ice-cream. It's a great summer dessert that can be baked up or even made on the grill.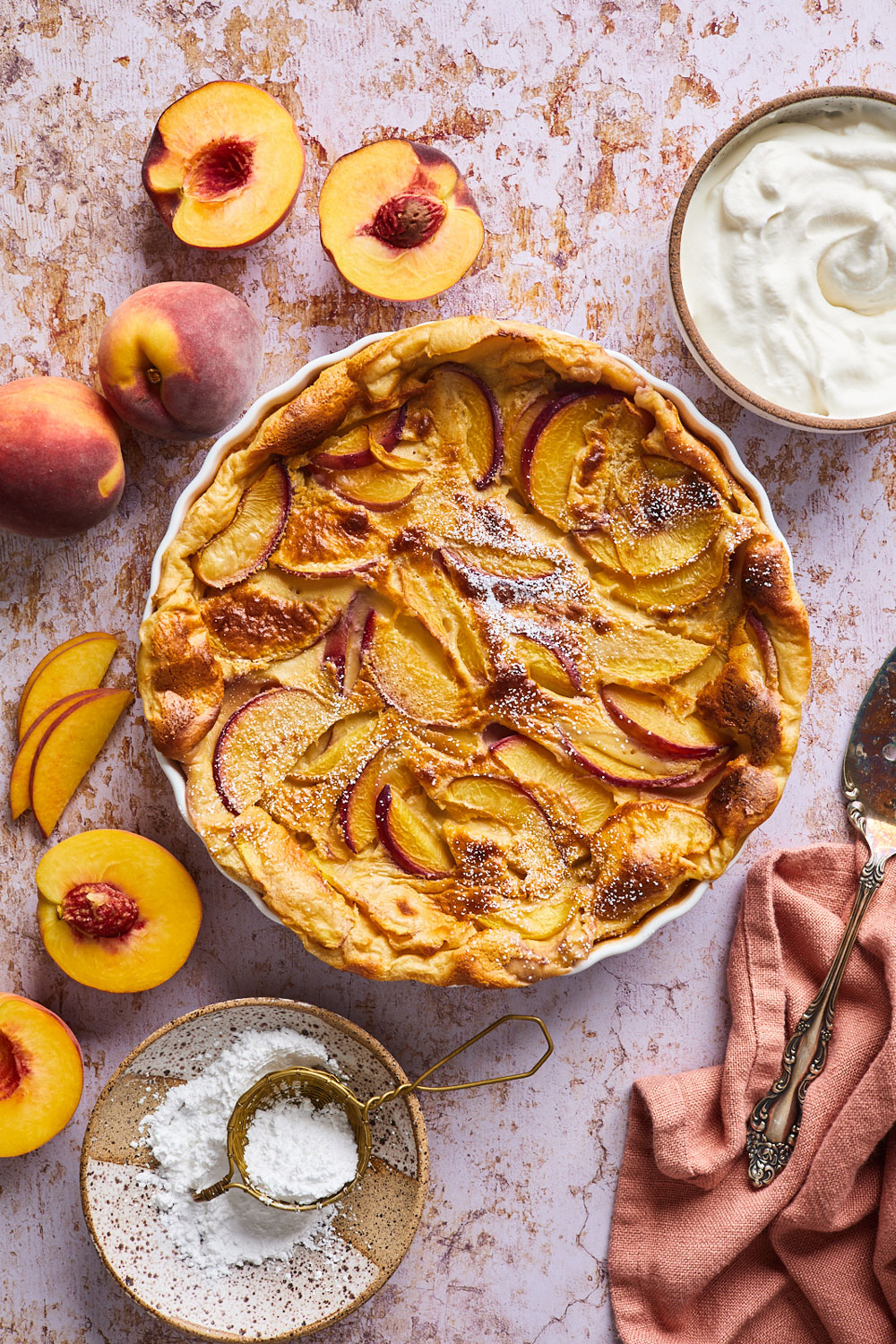 What is a clafoutis?
A clafoutis is a French baked dessert made from a thin, eggy batter which traditionally uses cherries. Funny enough I have yet to make it with cherries. I have a tasty plum version on the blog and an apple one too but no cherry yet. I thought I would make a peach version as I had loads of peaches left after a client shoot. As you can see it's great with all sorts of stone fruit but not limited to just stone fruit - you can use any fruit you like. The result - a firm custard- like dessert that puffs up beautifully while baking and then settles into a tender smooth texture with morsels of sweet fruit in every bite.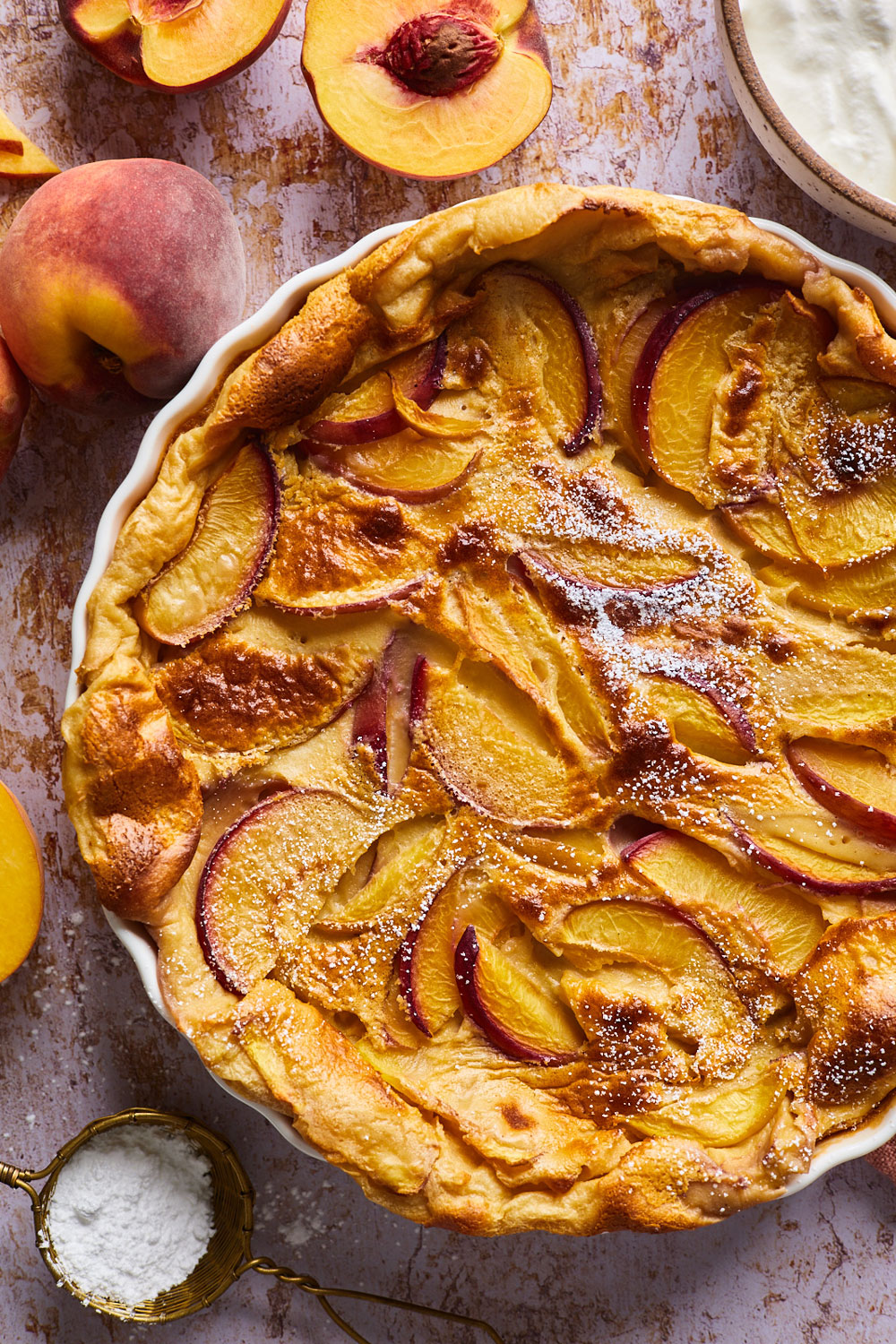 Tips for making a great clafoutis:
Be sure to butter or grease the bottom of the pan well so your clafoutis slices easily  and you can remove it from pan easily.
Let the clafoutis batter rest! Let it rest for 30 minutes. This resting period is key to making the most tender clafoutis. The gluten in the flour is tight after a run through the blender and needs the time to relax so the resulting custard won't be too rubbery. The resting period is not as crucial if you use a more-gentle whisk to combine the ingredients.
Clafoutis is best warm from the oven just like a dutch baby so plan to bake it close to when you want to serve it. Although weirdly I enjoy a cold slice as well (I love cold custard) so I guess it's according to taste.
If you want to get fancy -  save back half or at least some of the fruit to lay on top of the batter after you've poured it in to the pan juices to create a pattern - this is totally optional.
To help your clafoutis puff up faster and higher, heat up your skillet or baking dish while the oven preheats (similar to how you would when you make a dutch baby). Pouring the batter and fruit in the hot pan will start the cooking process right away ensuring a really puffy clafoutis.
To help get the top extra golden brown and a bit crunchy, I like to sprinkle some sugar across the top.
No blender no problem. Simply whisk the batter by hand until frothy in a bowl instead.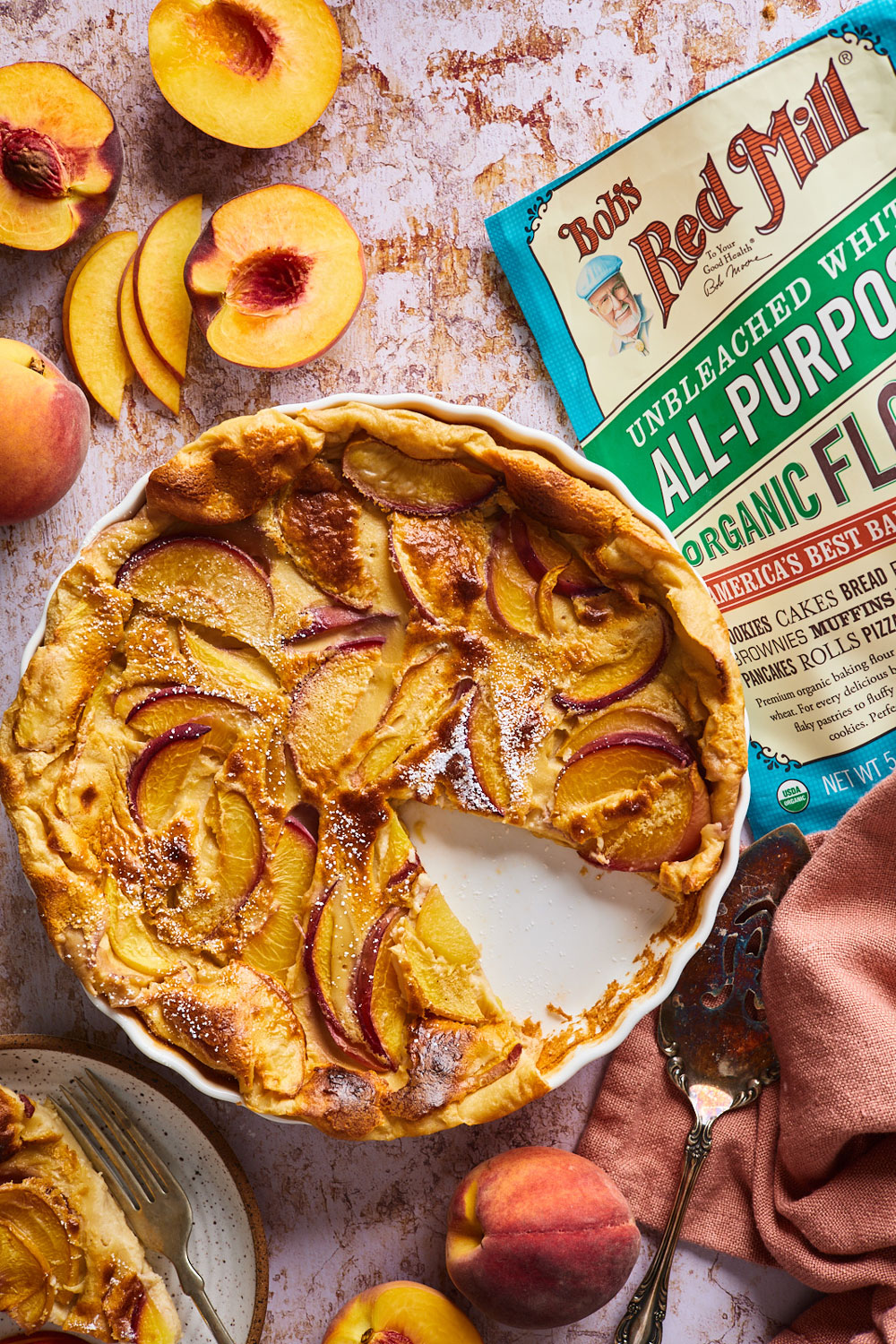 Peach Clafoutis ingredients:
Simple ingredient go into making a Clafoutis. Some substitutions can be made and I bet you have most of the ingredients in your pantry already.
Eggs - essential for this Clafoutis - they are the one ingredient that is key in making the sliceable custard magic happen. I haven't experimented with a vegan version but I'm sure there are ways to get around the egg thing if you really wanted too but not in this version.
Whole milk - some recipes use cream and others 2 % - either works but ofcourse heavy cream would yield a richer creamier  texture.  I like to go somewhere in between. You can even go half and half too if you would like. To make it dairy-free, I swap in a favorite alternative milk and use coconut oil or a vegetable oil for greasing the baking dish instead of butter.
Brown sugar - I love brown sugar with peaches - they just seem to go hand in hand. Feel free to use granulated or coconut sugar alternatively. I haven't experimented with liquid sweeteners
Flavour add ins - cinnamon and vanilla extract are a must and depending on the fruit I use I like using lemon zest and almond extract too. A splash of booze never hurt nobody either. The brandy or bourbon are optional in this recipe - feel free to leave it out and just slice your peaches when you are ready to use them.
All-purpose flour - I usually use my go to  by Bob's Red Mill - it's always stocked  in my pantry. They have all my baking needs covered always. If you wanted a gluten free option my favourite one is Bob's Red Mill Gluten Free 1-1 All purpose flour. It's also a staple in my pantry. It's the perfect simple reliable gluten free alternative.
Peaches - it can't be a peach clafoutis without them - that being said you can use any fruit just keep it to approx 2 cups. If using frozen fruit I recommend tossing it frozen in a little flour before adding it to pan or allowing it to thaw fully and draining any excess juice from it so that the texture and the way the clafoutis sets  is not compromised. If you are using canned I would again recommend draining them completely before adding them.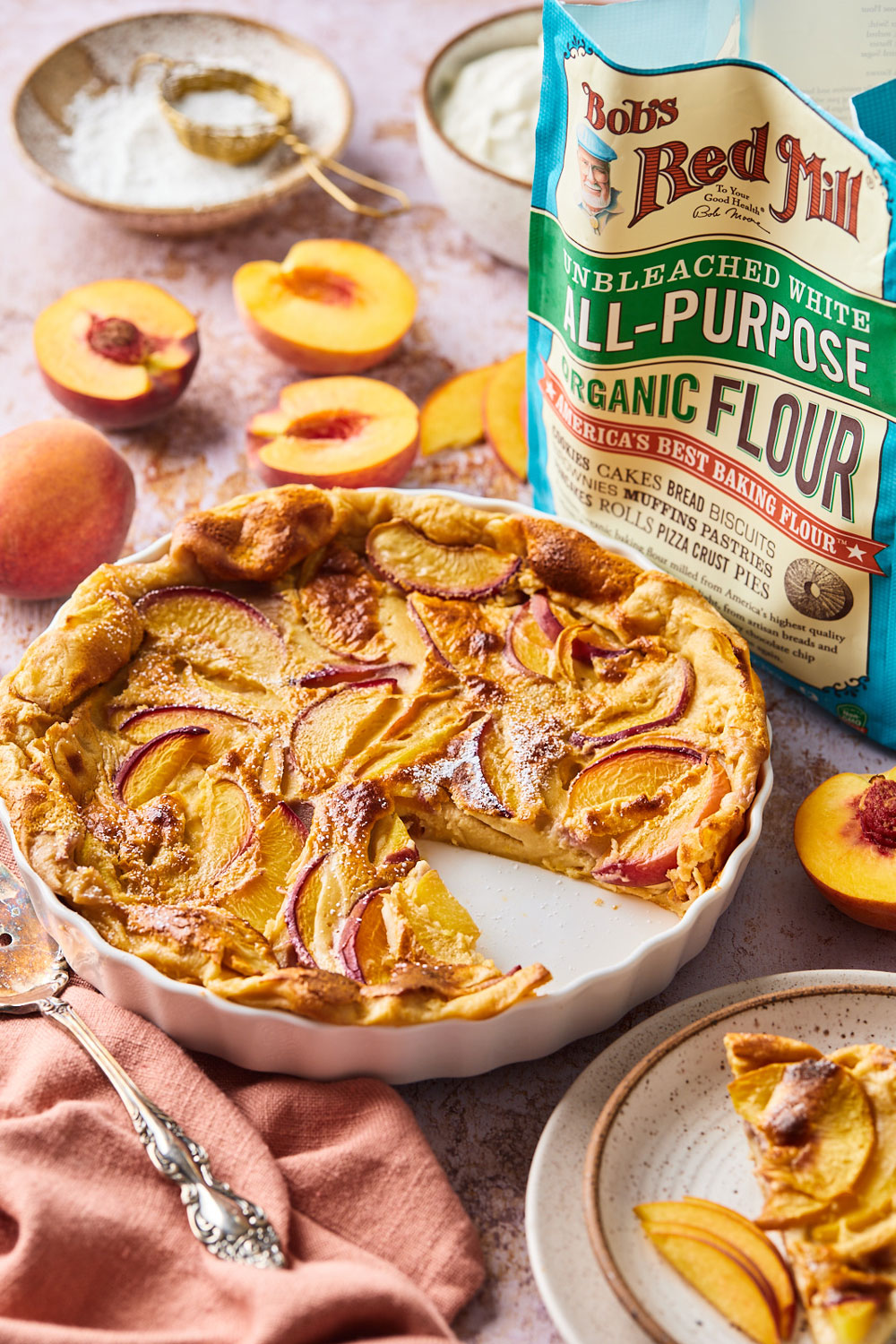 How to make Peach clafoutis:
This is a really easy dessert to make with just a few simple steps:
Blend your batter ingredients using a blender or you could use a whisk to blend by hand. Allow batter to REST for approx 30 minutes in the fridge.
Prepare the fruit - in this case slice your peaches and toss them with the brandy or bourbon - allow them to sit while the batter is resting.
Preheat oven with skillet or baking dish in it while it preheats
Carefully remove hot pan from oven - place fruit and batter in pan and carefully place back into the oven to bake
Bake until puffed up, golden brown and cooked through - it's magical to watch this baby rise.
Allow to cool a few minutes then slice or serve right out of the pan with a dusting of powdered sugar and a dollop of whip or a scoop of ice cream  
If you like this recipe you will love these:
I have partnered up with Bob's Red Mill to bring you this fabulous recipe, but all opinions are my own. Thank you for supporting Olive & Mango.
Recipe
Prep Time: 5-10 mins
Non Active Time: 30 min for resting batter
Bake Time: 40-45 mins
Ingredients
3 large eggs

1½ cups whole milk

⅓ cup packed light brown sugar +1 tablespoon for sprinkling

½ tsp vanilla

¼ tsp cinnamon

Pinch of salt

½ teaspoon lemon zest

2-3 Large peaches, ripe but firm sliced (approx 2 cups when sliced)

2 tablespoons bourbon or brandy

butter for greasing baking dish
Directions
Place eggs, milk, sugar, vanilla, cinnamon, lemon zest, and salt into a blender. Pulse a few times to combine. Add the flour and pulse until the mixture is smooth. Transfer the batter to the refrigerator and let it rest for at least 30 minutes.
In the meantime cut peaches in half and slice them ¼ inch thick. Toss the peach slices with the bourbon or brandy and let them hang out while your batter rests and up to 30 minutes.
Preheat the oven to 350°F. Butter a 10 inch round skillet or ceramic casserole or quiche dish and place in the oven while it preheats
Remove peaches from brandy mixture using a slotted spoon and set aside. Pour remaining bourbon brandy mixture into the blender and swirl it to combine. Do NOT blend again
Remove hot pan from oven carefully. Pour in the batter. Arrange peach slices over the top. Or you could place peaches in pan first then pour over batter - either works. Sprinkle with some coarse sugar.
Careful place pan back in the oven and bake for 40-45 minutes. Or until the top is browned and puffed and the custard is set. Let cool slightly, then sprinkle the top with powdered sugar and serve. Vanilla ice cream or whipped cream make great topping options.
Recipe Notes
To make this Clafoutis on the grill: Prepare the barbecue for baking (in-direct method) over medium heat. I recommend using a grill proof tin or cast iron skillet. Place on grill while it preheats then prepare fruit and batter as stated above - spoon and pour both carefully into skillet on grill - shut the grill hood and grill until golden and puffy or until toothpick inserted in center comes out clean. Approx 30-45 min.