Roasted Red Pepper And Feta Dip
Updated 17th August 2023
This Roasted red pepper and feta dip is a family favourite and one I make a lot. I have been making this dip for years - ask my friends it's totally true. It's the famous orange dip! Always a crowd pleaser. I didn't ever think that I would have to measure everything to share the recipe but here we are. This flavorful combo of feta and roasted red peppers is based on one of my favourite Greek dips made of basically feta and some yoghurt and hot peppers called tirokafteri with the addition of roasted red peppers. Roast your own peppers or use store-bought ones or if you are fortunate enough to have a dad who grills bushels of peppers every season and freezes them - then definitely use those! The Greek Name for this dip is Htipiti or Ktipiti or sometimes Kopanisti - spicy whipped feta, which literally means "beaten" or 'whipped" in Greek which is appropriate for the way it is made. Traditionally it was made or "beaten" using a pestle and mortar. Today we are using our mini chopper or food processor. It is super versatile - I usually start with 5 ingredients: Roasted Red Peppers, Feta Cheese, Chili flakes, Garlic and Olive Oil and add in extras as I please but those 5 ingredients are the staple ones in this super tasty recipe and dip that don't change.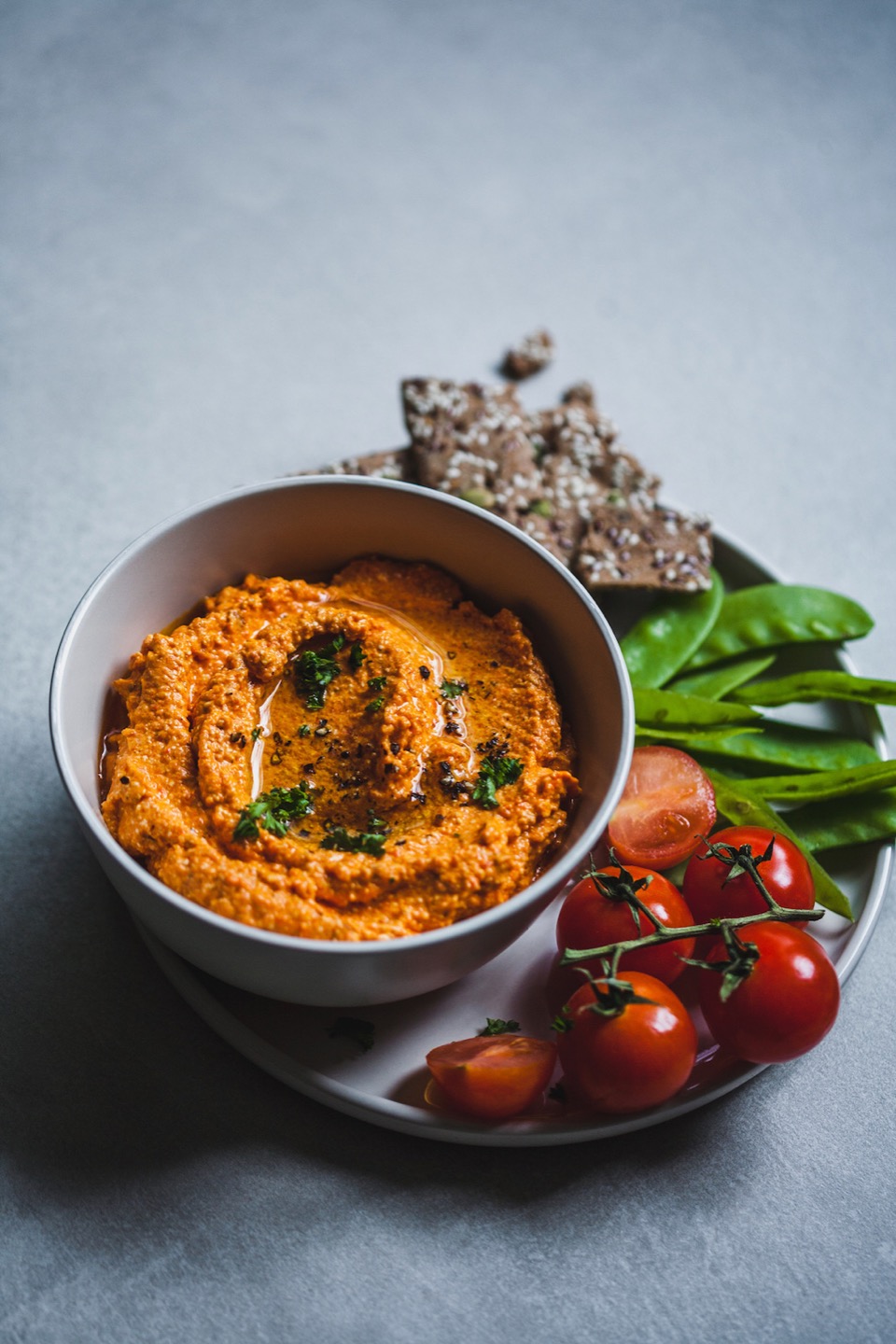 I love roasted red peppers and decided to do a sweeter version of tirokafteri with only a hint of heat by adding some chili flakes. I think I made a few watery batches before nailing the texture (we definitely still ate the watery batches - no feta will be wasted on my clock). There's no rocket science involved in making it though. It is a really easy dip with only a handful of ingredients. I make sure to drain off any excess liquid from the roasted red peppers if using jarred or canned and only add as much olive oil to achieve the texture you like. Roasting your own peppers will amp the flavour of course but I rarely have time to do that especially if I have company coming and little time to fuss with dips. It's just as delicious using canned or jarred so don't fret if you don't roast your own. If you do I have the method to do so below in recipe notes.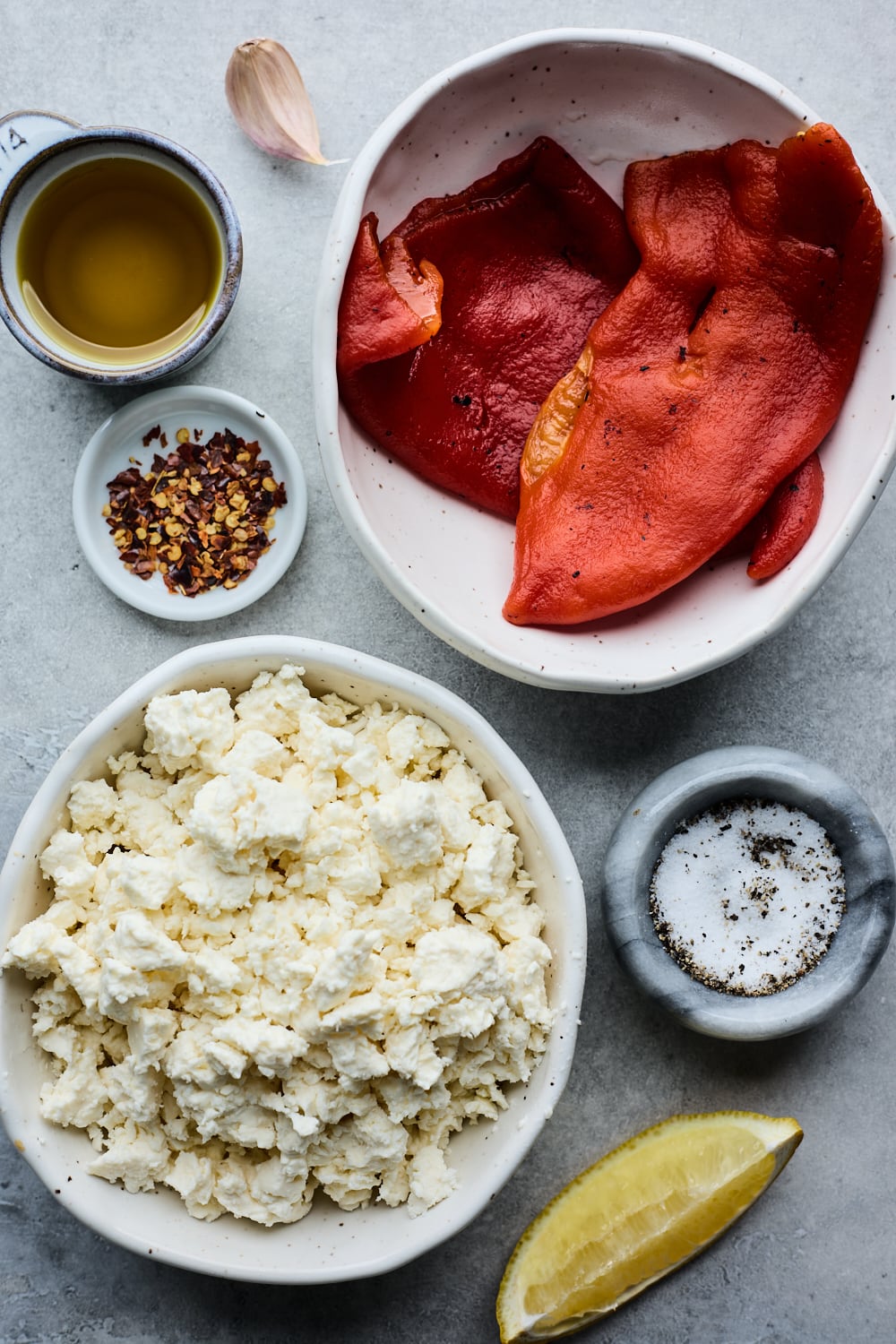 Roasted Red Pepper & Feta Dip Recipe (Ktipit or Htipiti) Recipe Ingredients
Feta: Greek feta is best for this dip which is made with sheep milk or a mix of sheep and goat milk to get this recipe's rich and creamy texture and flavor. Make sure its room temperature as it will blend a lot smoother and better
Roasted Red Peppers: Red bell peppers that have been roasted and peeled or jarred or canned storebought roasted red bell peppers. Typically the dip is made with Greek florina peppers from the norther parts of Greece, but if you can't locate those use regular red bell peppers. For a much spicier version you could use fresh red chili peppers/hot peppers too which I use in my triokafteri. If you prefer to roast your peppers no problem see recipe note below for more details
Spices: I usually keep things simple with chili pepper flakes, salt and black pepper, but feel free to add a pinch of oregano and paprika or cayenne as well. Adjust amounts to taste
Garlic: I use one clove of garlic and find this amount of it is just right but if you prefer yours extra garlicky feel free to add more. Adding roasted garlic is really great too - it not only adds flavour but also some sweetness when roasted. I add the garlic raw and grated but if you are roasting your peppers you might as well roast the garlic as well.
Olive Oil: Adds richness to the dip and helps get it going in the food processor too - feel free to add a little extra as needed - I also like to drizzle some over top the dip before serving too but that is optional
Lemon Juice: Freshly squeezed lemon juice adds just a hint of tang but is optional and you can swap it out for white or red wine vinegar
Optional Add Ins: Fresh herbs like parsley, mint, dill, 1-2 of tablespoons greek yogurt for a richer creamier dip or even 1-2 tablespoons of cream cheese or ricotta cheese or even some Greek Anthotyro for extra richness and creaminess, sun-dried tomatoes for blending, olives for blending tapenade style or for garnish.
How to Make Ktipiti Htipiti?
This roasted red pepper and feta dip is so easy to make - here is a breakdown of the instructions (full details in recipe below)
Place all your ingredients in a food processor and pulse and process until nice and creamy adding more olive oil to taste and to achieve desired texture - YES that is it. Assemble ingredients and blend!
Roasting your peppers: If you have the time and you want to roast your peppers that is great -it will take longer to make this dip but it will be delicious. To roast the red peppers yourself do so by charring them on the BBQ, stovetop grill or broil them until charred in the oven all over, or if roasting slice in half and place on baking sheet and roast at 400°F for 20 minutes or until skin is charred. Allow peppers to rest covered with foil in a bowl until cool enough to handle and then peel them remove the stems and seeds and use as directed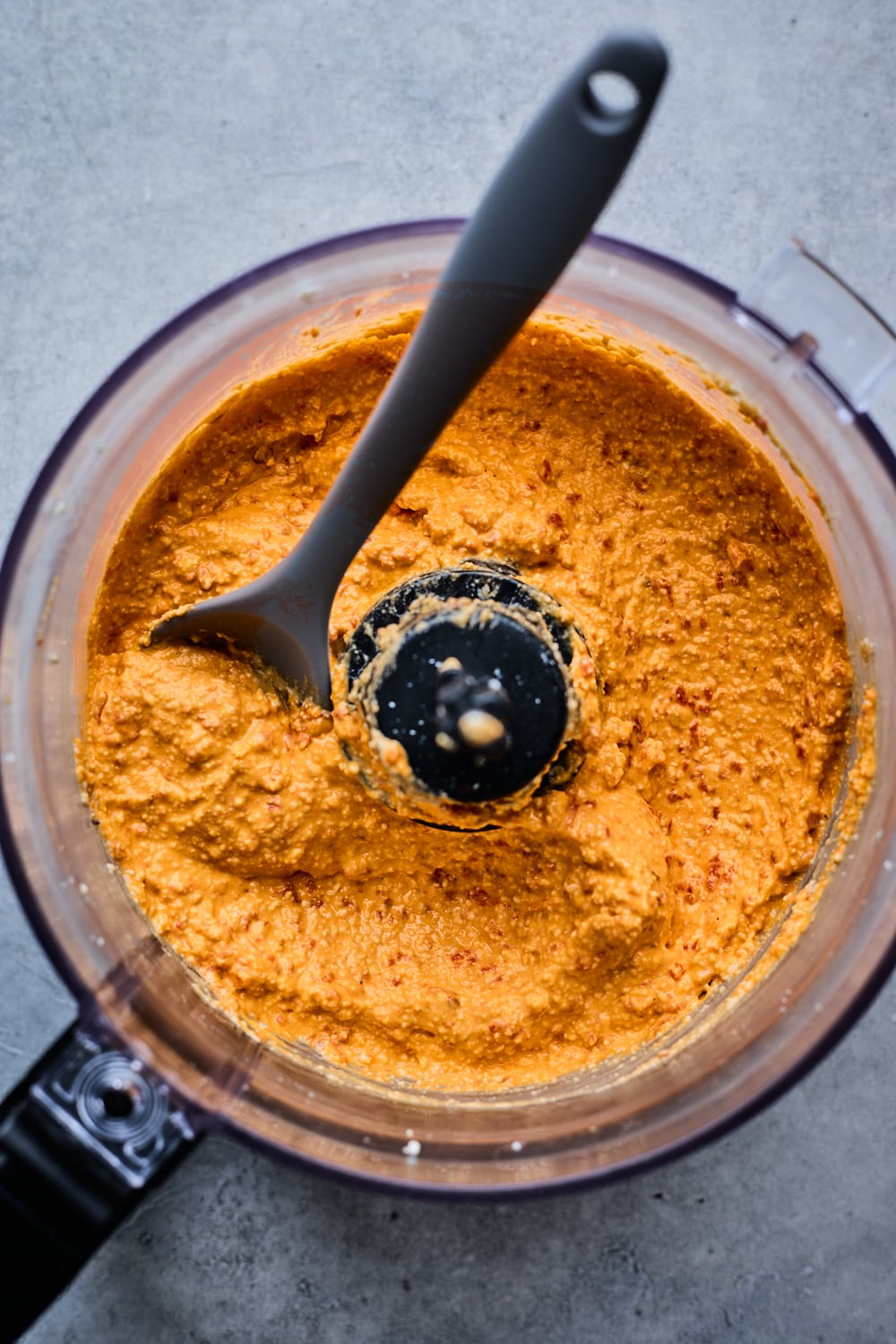 Tips On Making the Best Roasted Red Pepper & Feta Dip
Pat your feta and red peppers dry with a paper towel - too much excess moisture added from either the feta or the red peppers especially if they are jarred or canned can make your dip watery
Do add a touch extra olive oil at a time while processing feta and other ingredients to adjust the consistency of the dip - olive oil will add a nice rich texture to the dip while it also adds moisture to help loosen the dip up if needed without making it too watery.
Do adjust seasoning and spices according to taste - feel free to add more chili flakes for a spicier dip
Do make this dip ahead 1-2 hours prior to serving and store in the fridge in an airtight container as this will help all the flavours come together and intensify
At times especially if the dip has been in the fridge a couple days, moisture will release from the peppers and the feta while it's sitting in the fridge and collect on top or around the dip - that is normal just drain it off, stir dip and enjoy.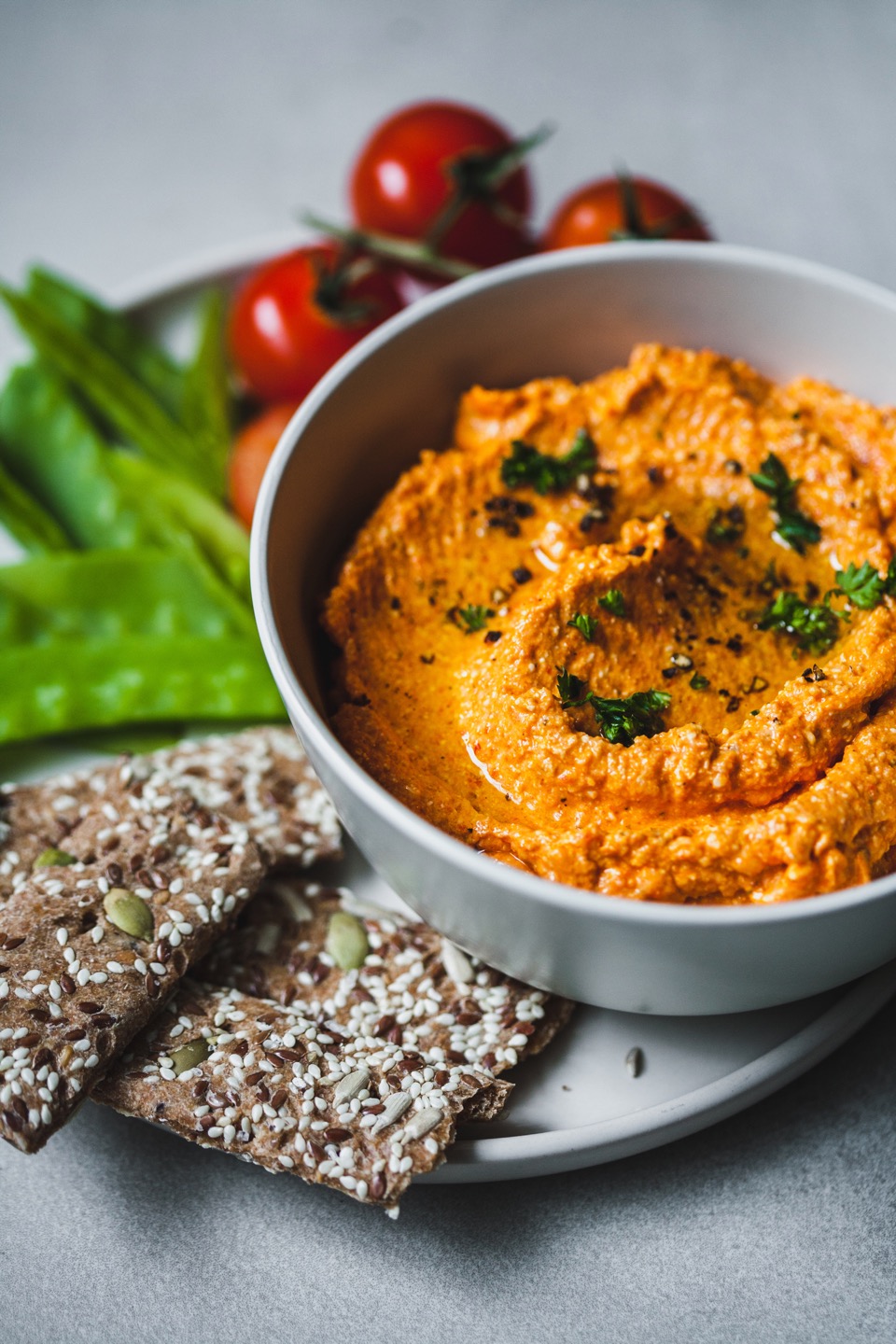 What To Serve With Your Roasted Red Pepper Dip:
Fresh pita or pita chips
Veggies raw cut or grilled vegetables
Sliced baguette or toasted crostini
Crackers & Crisps
Serve as a spread for sandwiches, wraps or burgers, avocado toast, falafel etc
It's great served wth grilled meats as well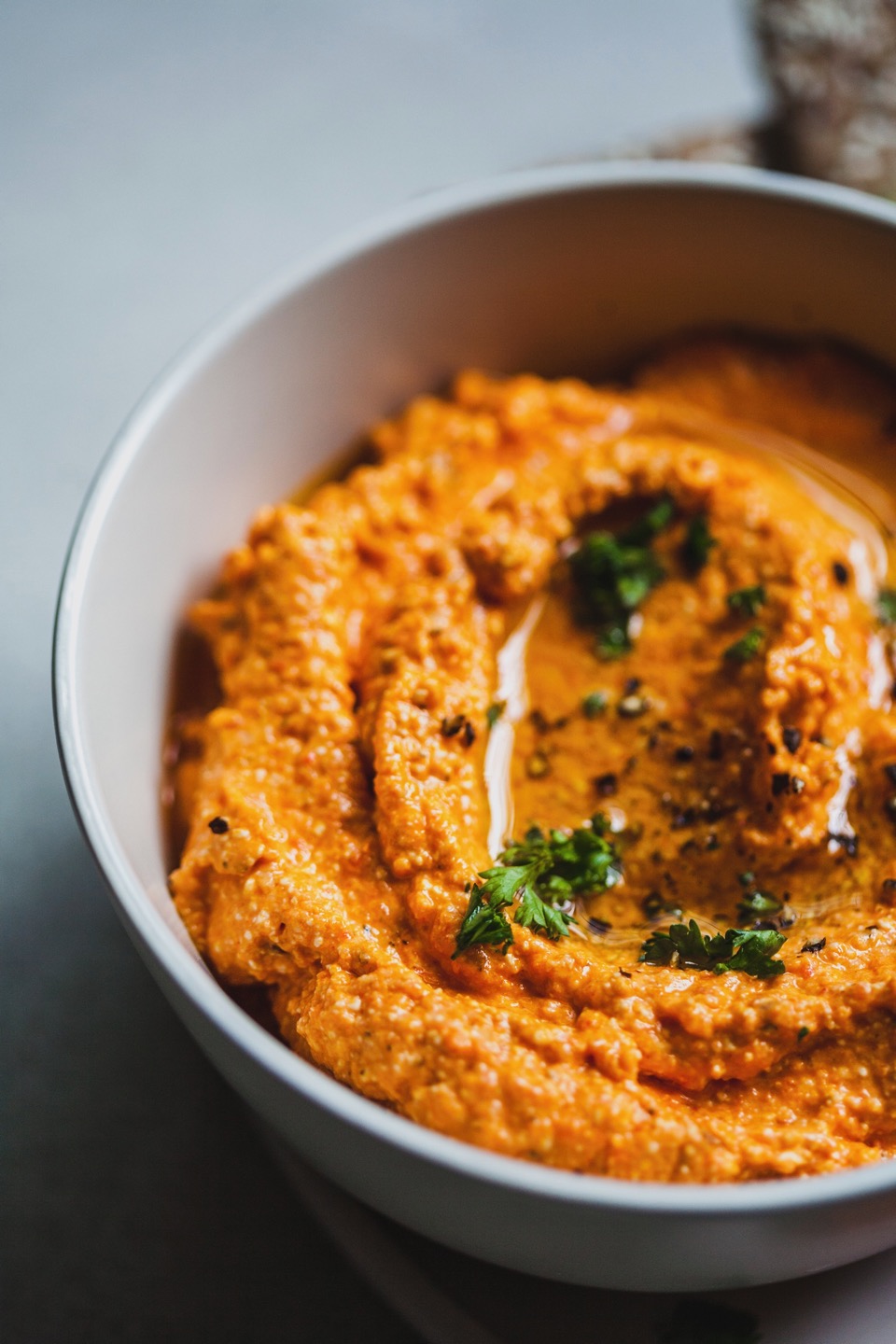 I'm very glad that I made it again for the workshop that we had recently because it has always been a great dip, a loved dip but I never warranted it important enough to get a recipe down on paper for it and on the blog. It seems it was a huge hit at both workshops and there were lots of questions about the recipe so here it is!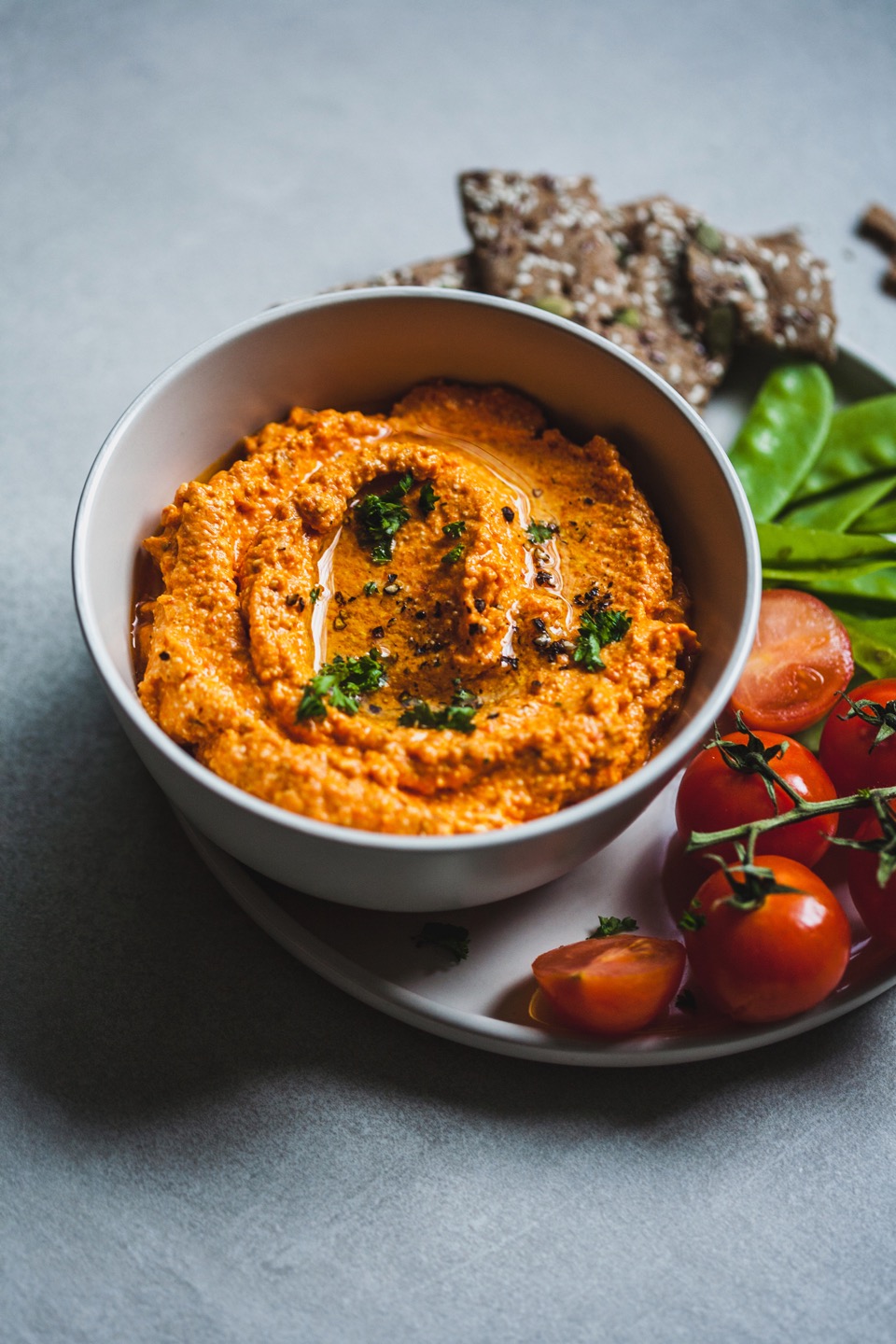 More Great Dips You Will Love
Recipe
Prep Time: 10 mins
Bake Time: 20-25 min if roasting your own peppers
Ingredients
8 oz feta cheese or 1⅔ cups crumbled or crumbled Greek feta Cheese, room temperature and pat dry with paper towel, and crumbled or coarsely chopped

½ cup of approx 2 roasted red peppers, drained and pat dry with paper towels (I used canned or in a jar, strained and seeds removed -check notes for roasting peppers, sliced or coarsely chopped

¼ cup olive oil plus more if needed

1 tablespoon freshly squeezed lemon juice or white wine vinegar or red wine vinegar (optional)

½-1tsp of chili flakes (adjust to taste)

1 small clove of garlic, peeled and rough chopped

Salt and pepper to taste
Directions
Place all ingredients into a food processor and pulse until well combined and smooth.
Drizzle in more olive oil a little at a time while processing if needed until you achieve preferred consistency.
Serve immediately or refrigerate in a sealed container until ready to serve, best if made and chilled for 1-2 hours before serving so the flavours really come together and intensify.
Serve with pita chips veggies, crusty bread, crackers or crisps of choice or as a spread for sandwiches, wraps burgers or just about anything.
Leftovers will keep in the fridge in and air tight container for up to 1 week if it lasts that long!
Recipe Note
HOW TO ROAST RED PEPPERS: To roast the red peppers yourself do so by charring them on the BBQ, stovetop grill or broil them until charred in the oven all over, or if roasting slice in half and place on baking sheet and roast at 400°F for 20 minutes or until skin is charred. Allow peppers to rest covered with foil in a bowl until cool enough to handle and then peel them remove the stems and seeds, and use as directed