Grilled Vegetable Platter
This grilled vegetable platter is the perfect side dish for all of your cookouts and BBQs and also great for meal prep. These grilled veggies have loads of flavor thanks to the simple vegetable marinade that doubles as a dressing and we like to serve ours with an herby chimichurri sauce that is great for drizzling over or for dipping into. We served ours with grilled bread and fresh ricotta cheese to spread over the crispy bread. Topped with the tasty grilled veggies then drizzled with the sauce and you have yourself a winner of a platter. Grilled vegetables recipes don't need to be boring or complex - they are super easy to make and we love to grill vegetables all summer long this way! Any leftovers are great tossed in with pasta or delicious in sandwiches, wraps whether you make them veggie loaded or with chicken or any other protein, they are also great in salads too. Its a great vegetable recipe we make all the time because you really cannot have enough veggies in your life!!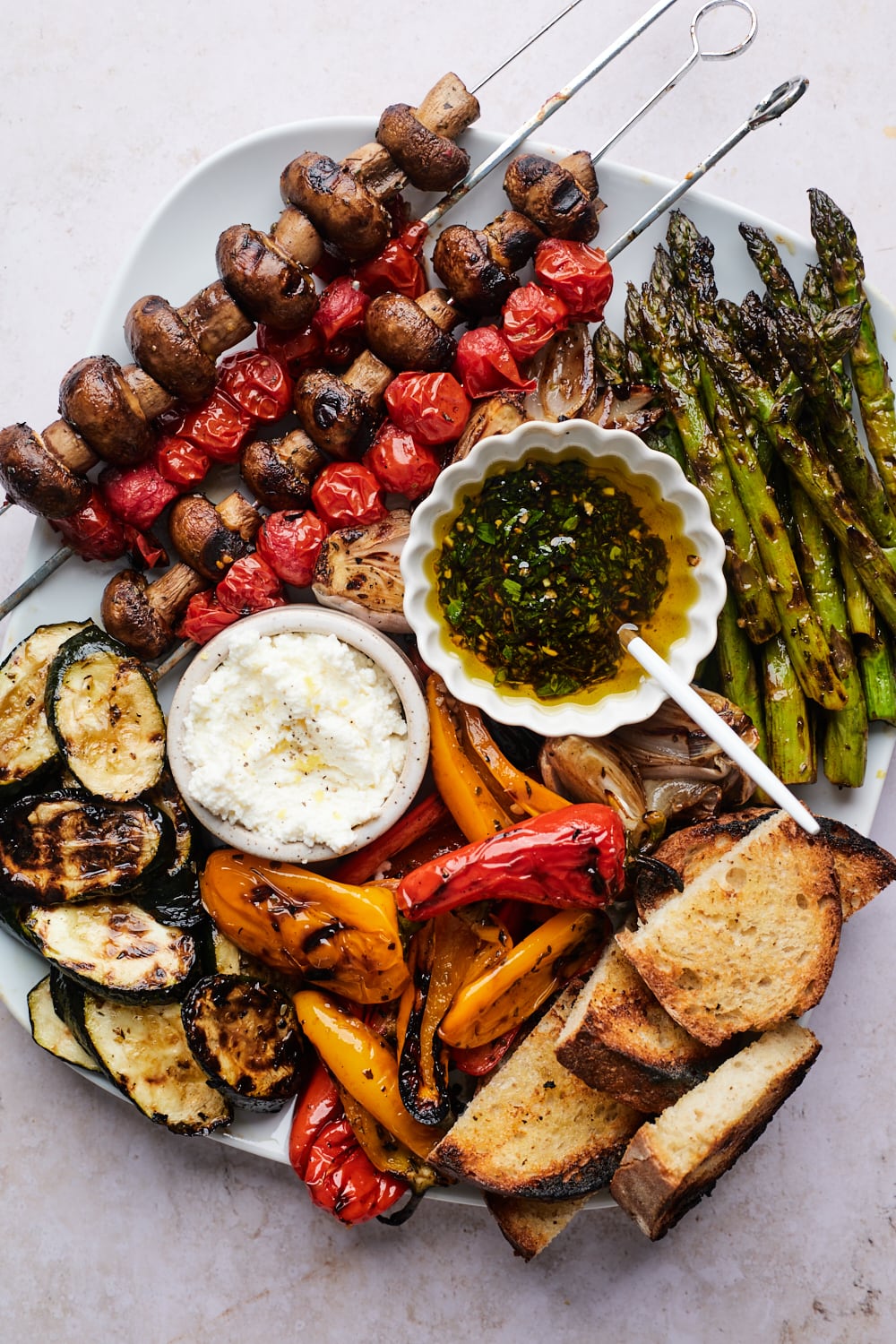 Grilled Vegetables Recipe Ingredients
Zucchini: or yellow squash - you can either slice them or quarter them whatever makes it easier to grill them without losing them threw the grates of the grill
Mushrooms: feel free to use whatever mushrooms you like - I used cremini mushrooms but white button mushrooms are great or any mushroom you prefer - I usually skewer
Bell Peppers: I used baby bells and I didn't skewer them but you can if yours are super small. You can also use regular size bell peppers cut into large sized flat planks so that the grill easier
Tomatoes: feel free to use grape tomatoes or cherry tomatoes - I prefer to skewer mine so that the grill up easily
Shallots: or red onions or even yellow onions but red ones naturally have a little extra sweetness - I also like to char green onions too if you would like to add those as well. Cut onions into thick slices through the root, so that there is a piece of root holding each slice together or in to large rings that are easy to flip
Asparagus: I really love to grill asparagus especially our local Ontario asparagus which tends to be a little thicker and easier to grill - trim tough ends and they grill up beautifully
More Veggie Options: may include sliced eggplant, cauliflower, Brussel sprouts (I would skewer them), grilled corn on the cob, carrots, just be sure to time veggies like potatoes, carrots and corn correctly and then may need to be placed in a lower temperature part of the grill for longer grilling times.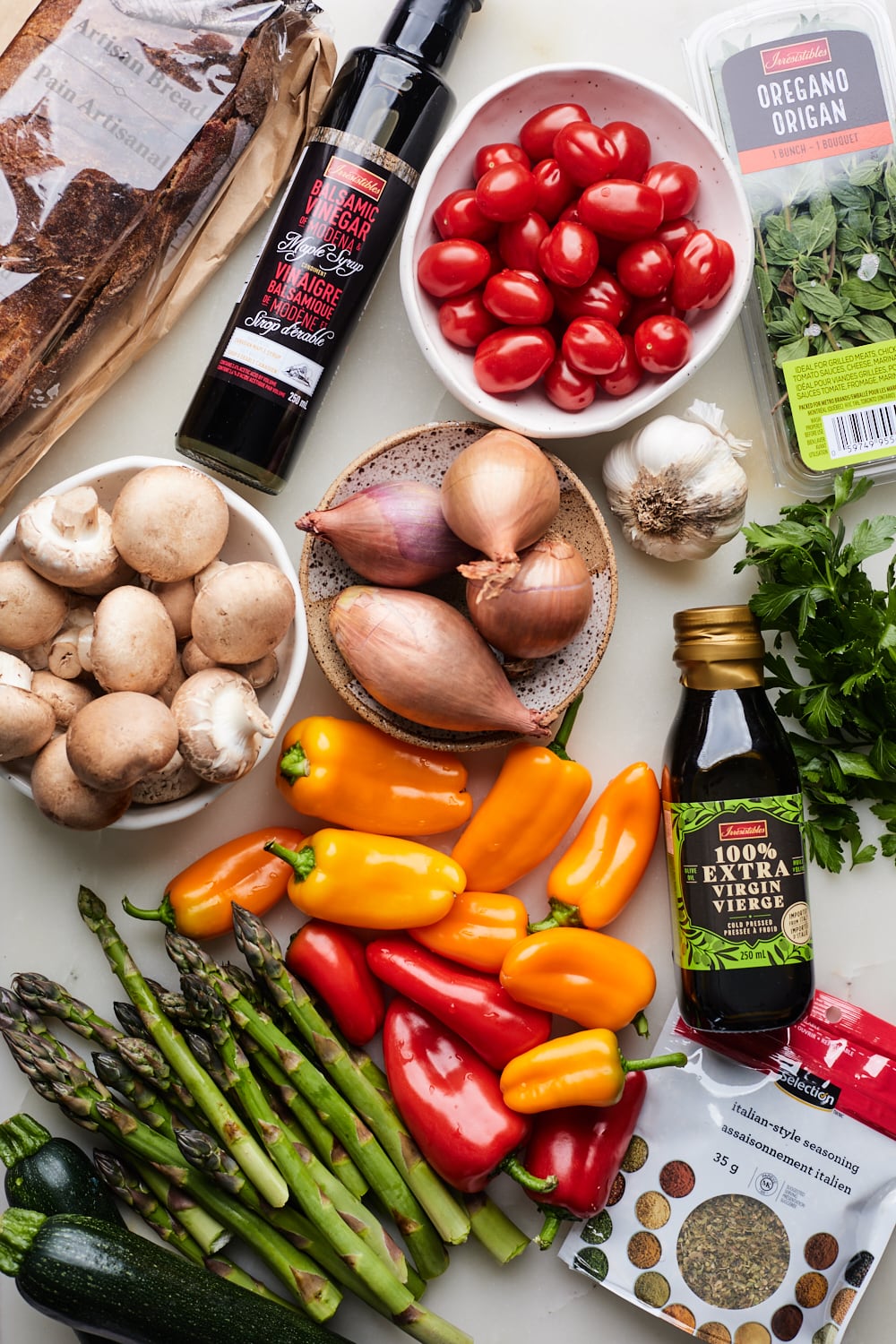 For The Marinade/Dressing and Chimichurri Sauce
Olive Oil: for the marinade and the sauce
Balsamic Vinegar: for some acidity and sweetness - feel free to sub with fresh lemon juice
Fresh Herbs: I used fresh parsley and fresh oregano but feel free to do any fresh herbs you might like to pair the veggies with like basil, thyme, rosemary etc
Garlic: use a much or as little as you like and if your prefer using garlic powder use that instead but fresh garlic for best flavour
Herbs & Seasonings: I like to do a little Italian seasoning for the marinade but feel free to use any herb blend you like and for the sauce I used chili flakes and for both a generous seasoning of salt and pepper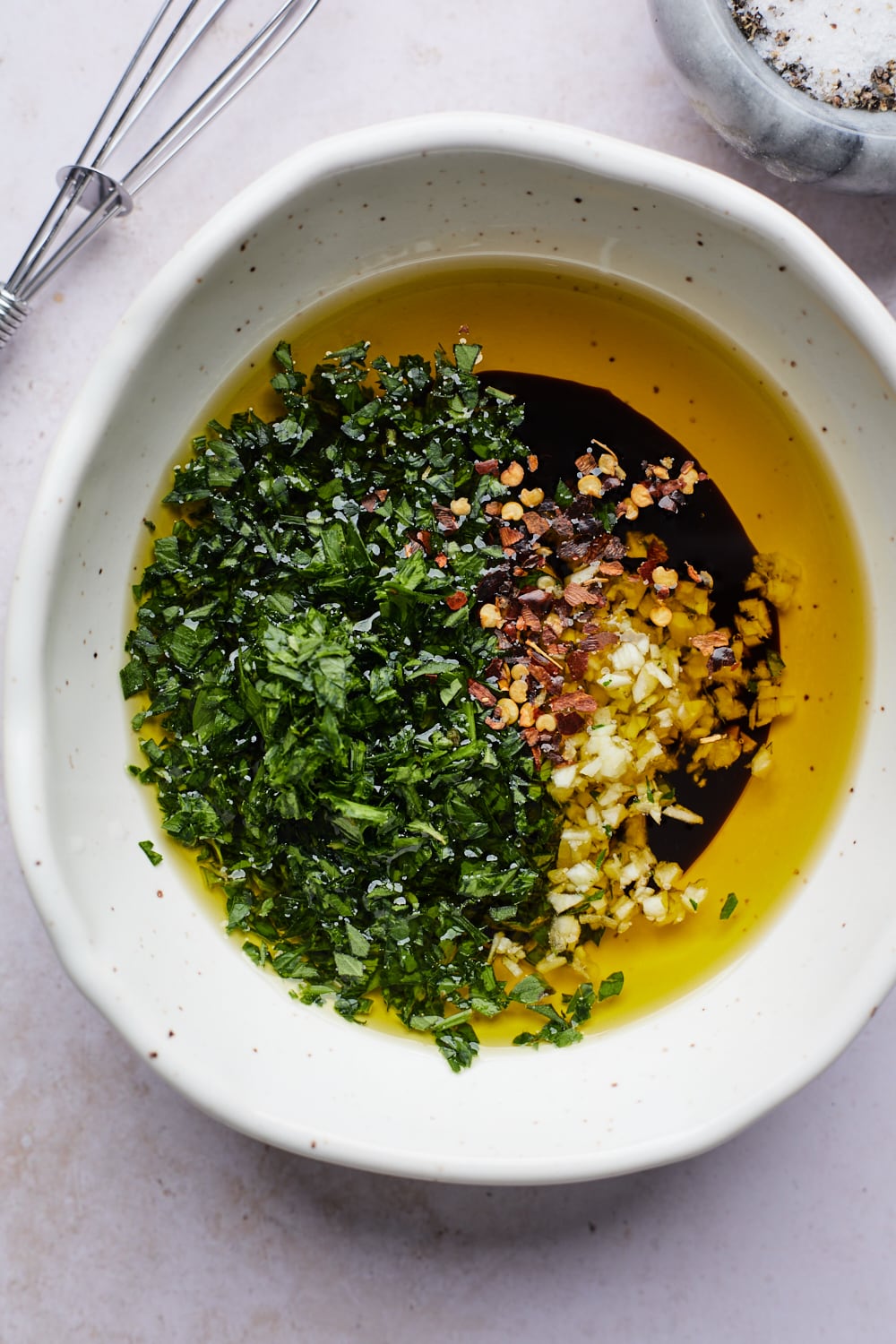 How To Grill Vegetables
Grilling vegetables is quite easy, but to maximize the flavors I like to make a little marinade or dressing for them - there are different ways to approach this part. A lot of people feel really strongly about dressing their vegetables after they are grilled and that is totally fine - simply toss your veggies in olive oil, grill then toss veggies with the dressing. Personally I prefer to toss them in the marinade first and let them all hang out while I'm prepping the rest of the things I will be grilling or at least while I preheat the grill. In fact they are to make ahead and marinate for up to hours ahead of grilling them. After grilling them I toss the veggies back in the same marinade before plating or arranging on a platter for maximin flavour! The Chimichurri is extra but I love to serve my veggies with it for extra drizzles and flavour. Here are the simple steps involved in grilling great veggies:
Make the grilled vegetables Marinade/dressing
Toss vegetables in marinade, Preheat grill (Preheat the grill to medium-high heat, about 350-400°F), and soak wooden skewers in water if using
Skewer any veggies that require skewering - any small veggies like baby tomatoes, mushrooms or baby bell peppers
Grease grill grates and Grill veggies over medium high heat until tender with a little char
Serve veggies with the chimichurri sauce arranged on a platter or as is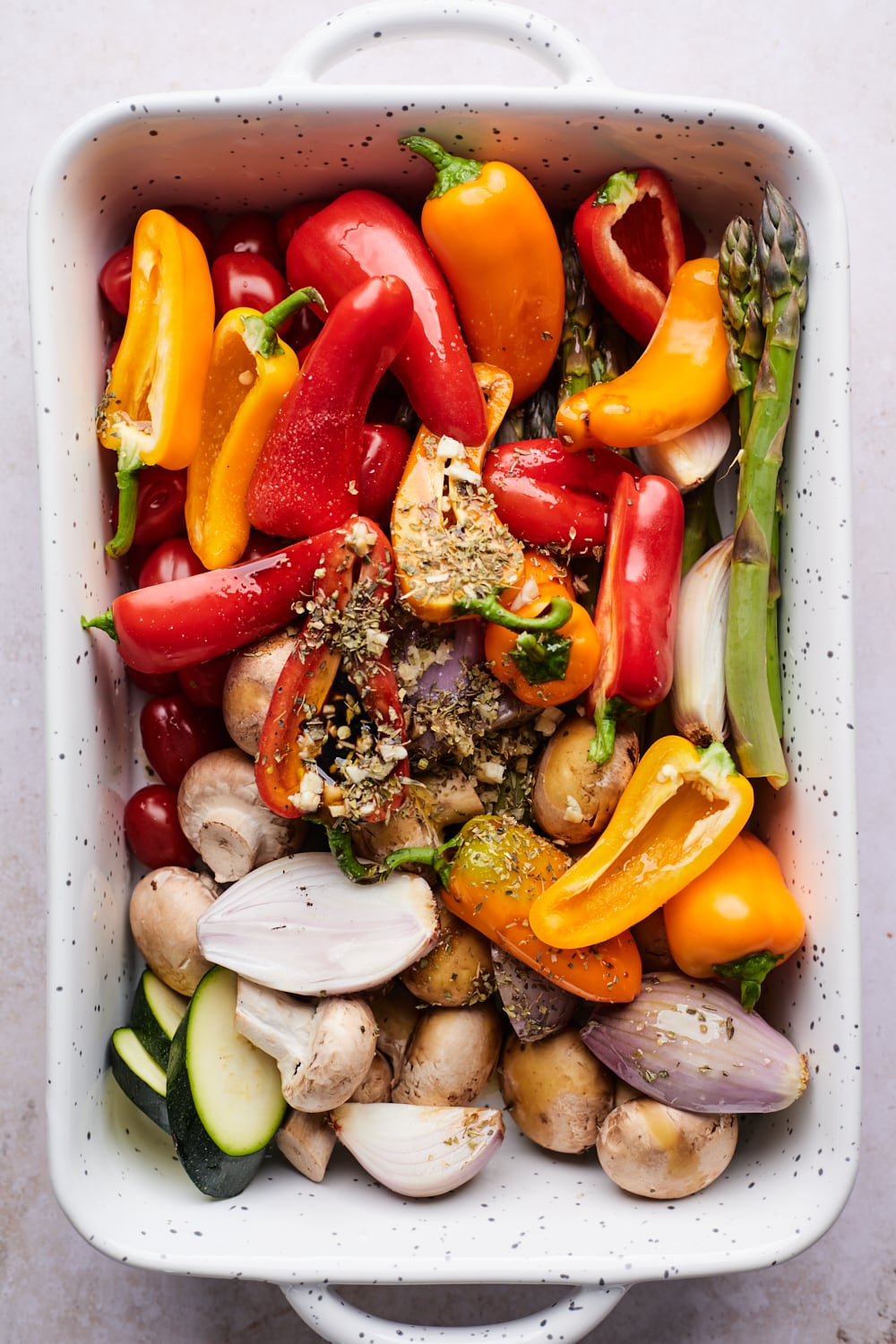 Tips For Grilling Vegetables:
Try to chop or slice your veggies as evenly as possible when it comes to size so that they cook at a similar time frame
Keep pieces of your veggies large for easy handling on the BBQ so you don't have to turn all those pieces, and so they don't fall through the grates.
Do skewer smaller veggies so they don't slip away in between the grates on your grill or use a grilling basket if you have one
If skewering some of your veggies make sure to soak your bamboo or wooden skewers in water while marinating veggies so that they don't completely burn out on you while grilling/skip if using stainless steel ones
If you notice your veggies getting charred too quickly simply move your veggies to the top rack of grill or to a lower heat zone - If the vegetables are charred but still need to cook a bit longer to be tender throughout, move them around to a more gentle heat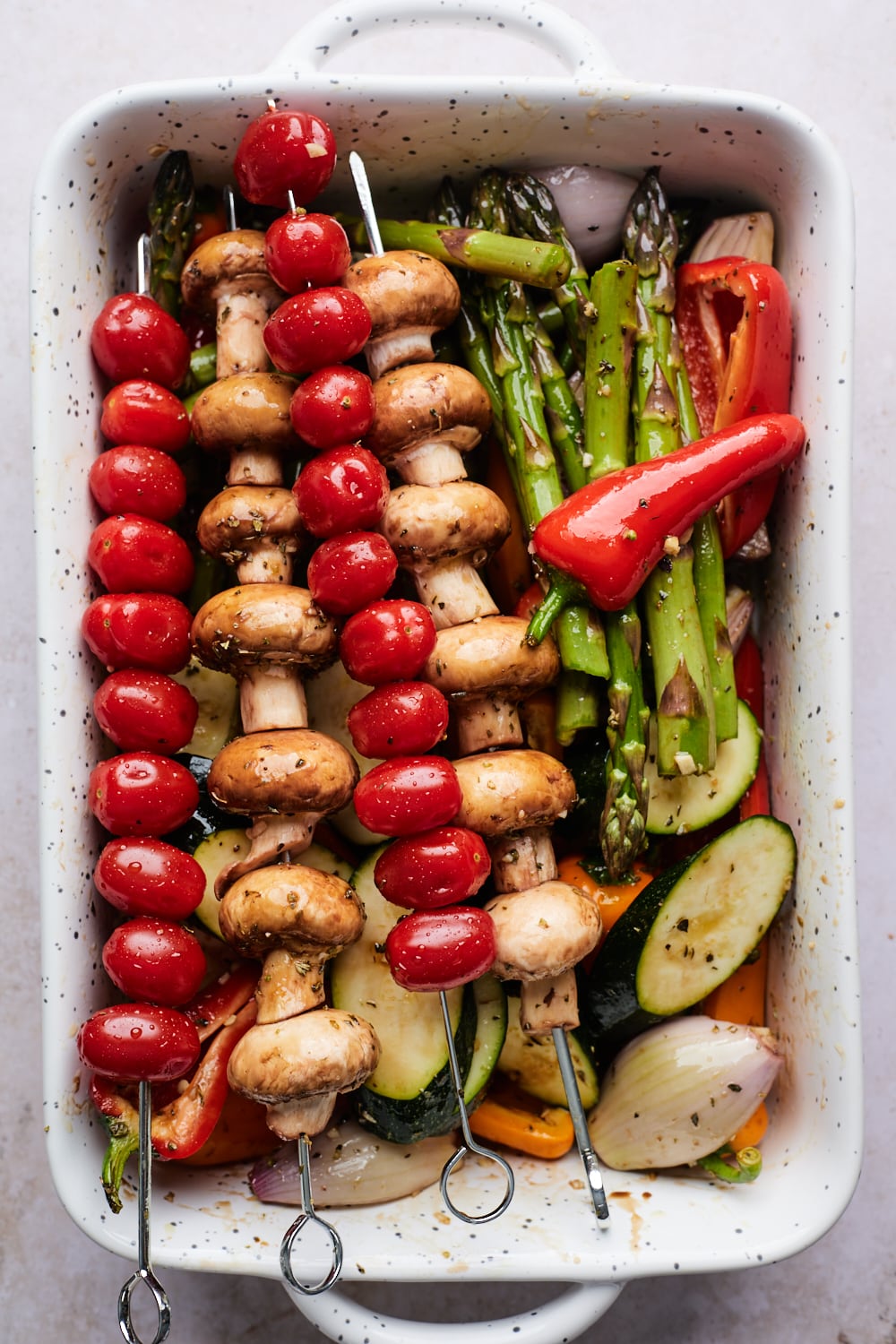 What If I Don't Have a Grill?
If you don't have a grill this recipe is great using a grill pan too - depending on the size of it though it will take a little longer to grill all the veggies in it
You can also roast your veggies on a large sheet lined with aluminum foil at 400°F until tender, approx 20 min then broil them to give them a nice bit of char.
Do I Need A Grilling Basket?
You do not need a grilling basket to grill your vegetables but a grilling basket is handy in that it will help prevent you from losing any of your smaller veggies through the grates - skewering them helps but if you have a grilling basket feel free to grill your smaller veggies in it. I personally don't use a grill basket. I feel like you get a nice char when you place the vegetables directly on the grill grate.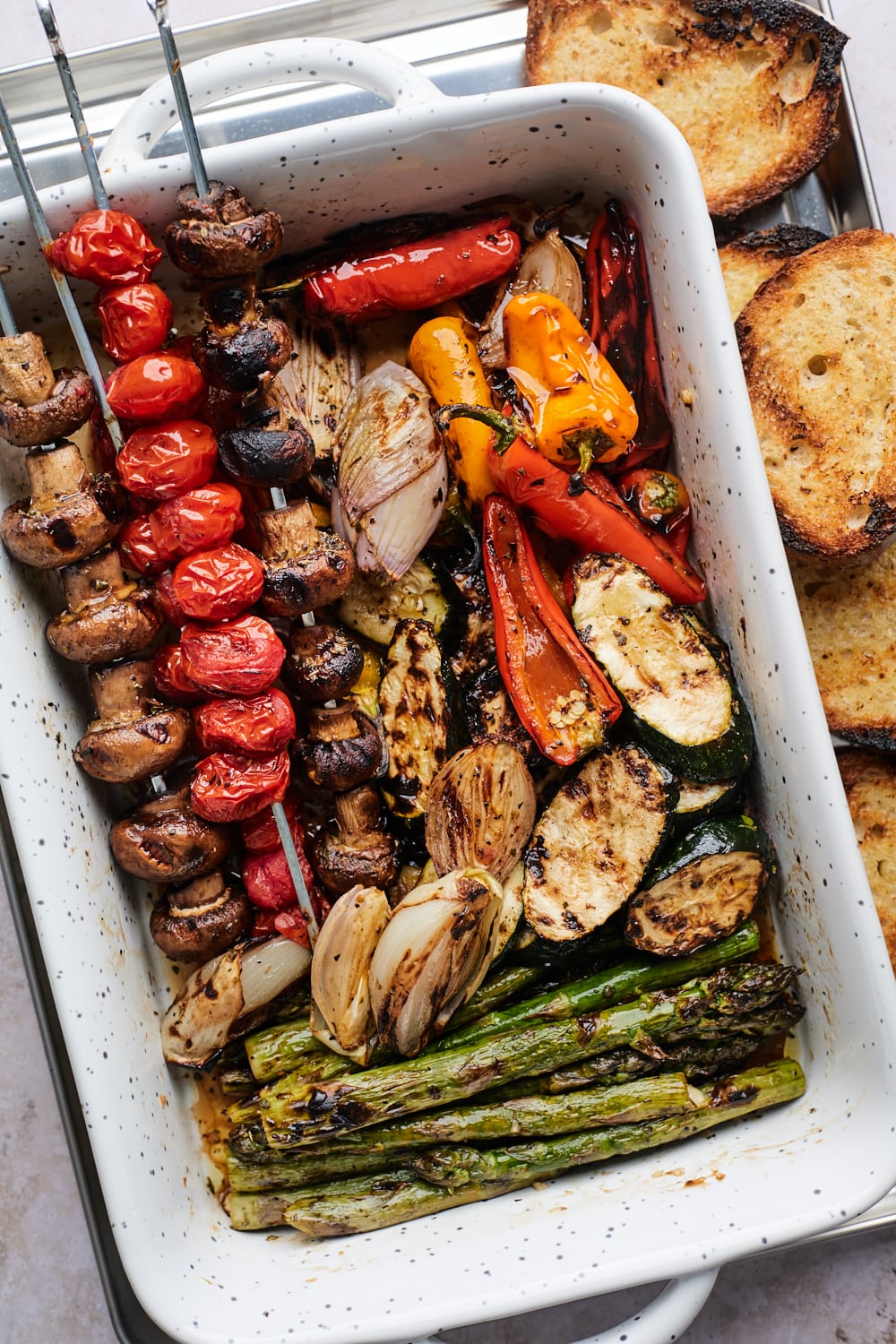 What to Serve With Your Grilled Vegetables?
For this platter I served the veggies with grilled bread and ricotta but feel free to do burrata or Boursin or even feta cheese (my whipped feta recipe is so good). Here are some others:
These grilled veggies are also great for topping your burgers with.
Great in sandwiches or warps or flatbreads
How To Store Grilled Vegetables
Grilled Vegetables are great to make for meal prep. They keep in an airtight container in the fridge for 2-4 days. Enjoy them cold, or at room temperature to reheated the microwave or stove.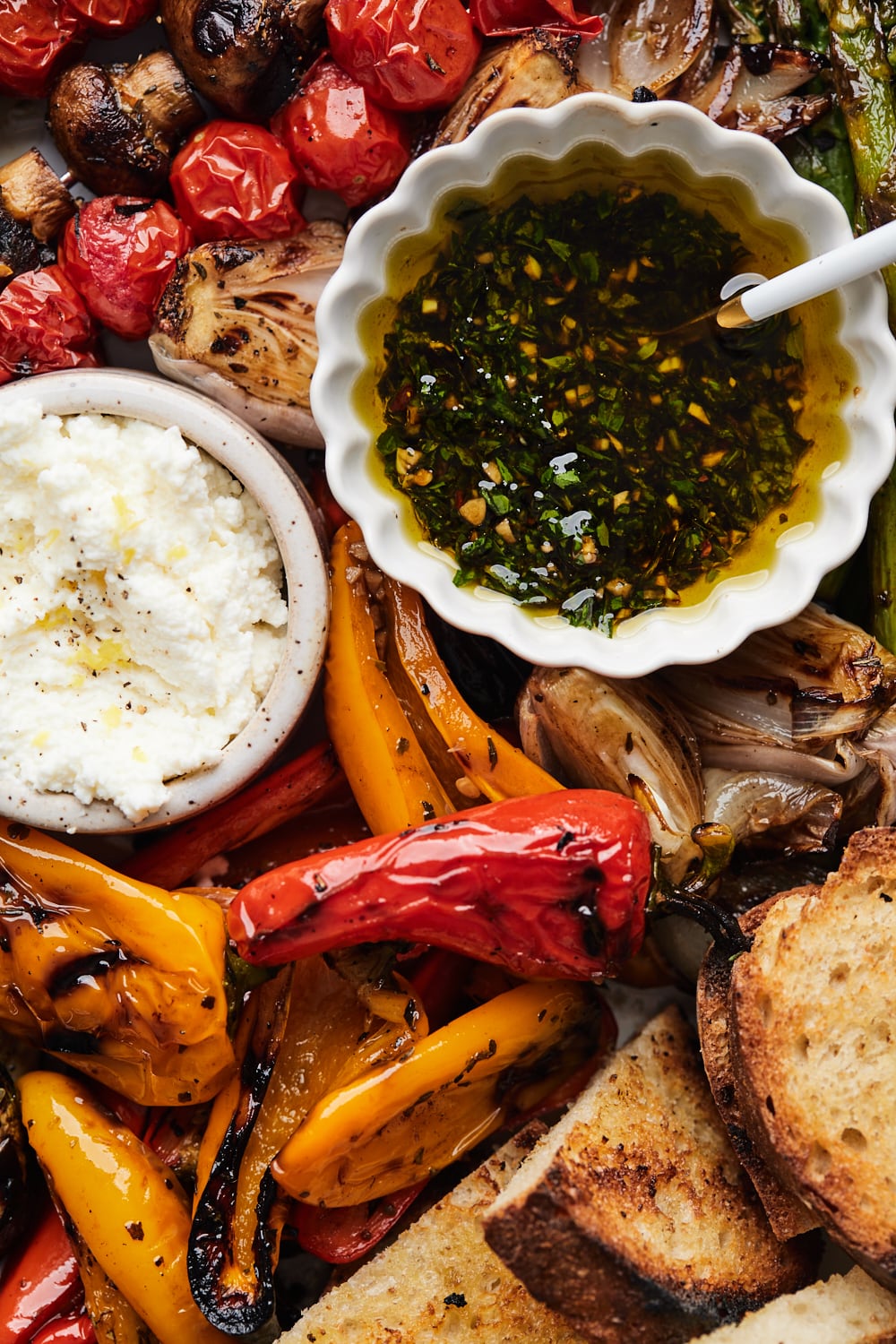 More Side Dishes You Will Love
Recipe
Prep Time: 25 mins
Cook Time: 15 mins
Total Time: 40 minutes
Ingredients
For the Grilled Vegetables
2 zucchini sliced ½-1 inch slices

8 ounces cremini mushrooms (skewered for grilling)

8–10 mini bell peppers left whole (or 2 medium bell pepper, sliced into 4–5 flat planks)

8 ounces grape tomatoes left whole (skewered for grilling)

4 shallots peeled and halved lengthwise with ends in tact

½-1 lbs asparagus spears woody ends trimmed

5 tablespoons olive oil

2 tablespoons balsamic

1 teaspoon salt

¼ teaspoon pepper

1 ½ teaspoons dried Italian seasoning

2 cloves of garlic peeled and minced
For the Chimichurri Sauce
¼ cup packed parsley leaves & tender stems, Finely chopped

1 heaping tablespoon packed fresh oregano leaves, finely chopped

2 cloves garlic, peeled and minced

5 tablespoons extra virgin olive oil

1 tablespoons balsamic vinegar

½ teaspoon crushed red pepper flake

½ teaspoon each salt and ground black pepper or to taste
For Serving (optional)
Grilled bread
Ricotta or burrata
Directions
For the chimichurri sauce: combine all the ingredients in a jar or container with a tight lid and shake well. Refrigerate until ready to use
Place the olive oil, balsamic vinegar, salt, pepper, Italian seasoning and minced garlic in a large bowl. Whisk to combine.
Add the vegetables to the bowl and toss to coat. Cover and refrigerate for at least 20 minutes to 2 hours.
Preheat a grill or grill pan to medium high heat. Grease grill grates
Add the vegetables to grill and cook the for 3-5 minutes per side or until browned and tender.
Serve the vegetables on a serving platter with the sauce, grilled bread and ricotta cheese if desired. Serve the vegetables, warm or at room temperature.
Leftovers vegetables will keep in an airtight container in the fridge up to 2-4 days