Spiced Roasted Carrots With Sumac Whipped Feta
Updated 19th September 2023
A simple and incredibly tasty appetizer, snack or side. Spicy sweet carrots over a bed of creamy whipped feta. These Moroccan Spiced roasted carrots with warm spices combine the sweetness of roasted carrots and honey along with salty feta, tangy sumac and lemon juice, crunchy pistachios and antioxidant packed sweet-tart pomegranate arils. Carrots get even sweeter when they are roasted because their abundant natural sugars concentrate and caramelize. The honey adds to this sweetness and adding the aromatic spices enhances their flavor even more. Using multicolored carrots always make this an even more beautiful dish but feel free to use any carrots you have on hand even baby carrots. These pair well with chicken or fish or lamb but also a great addition to any vegetarian meal.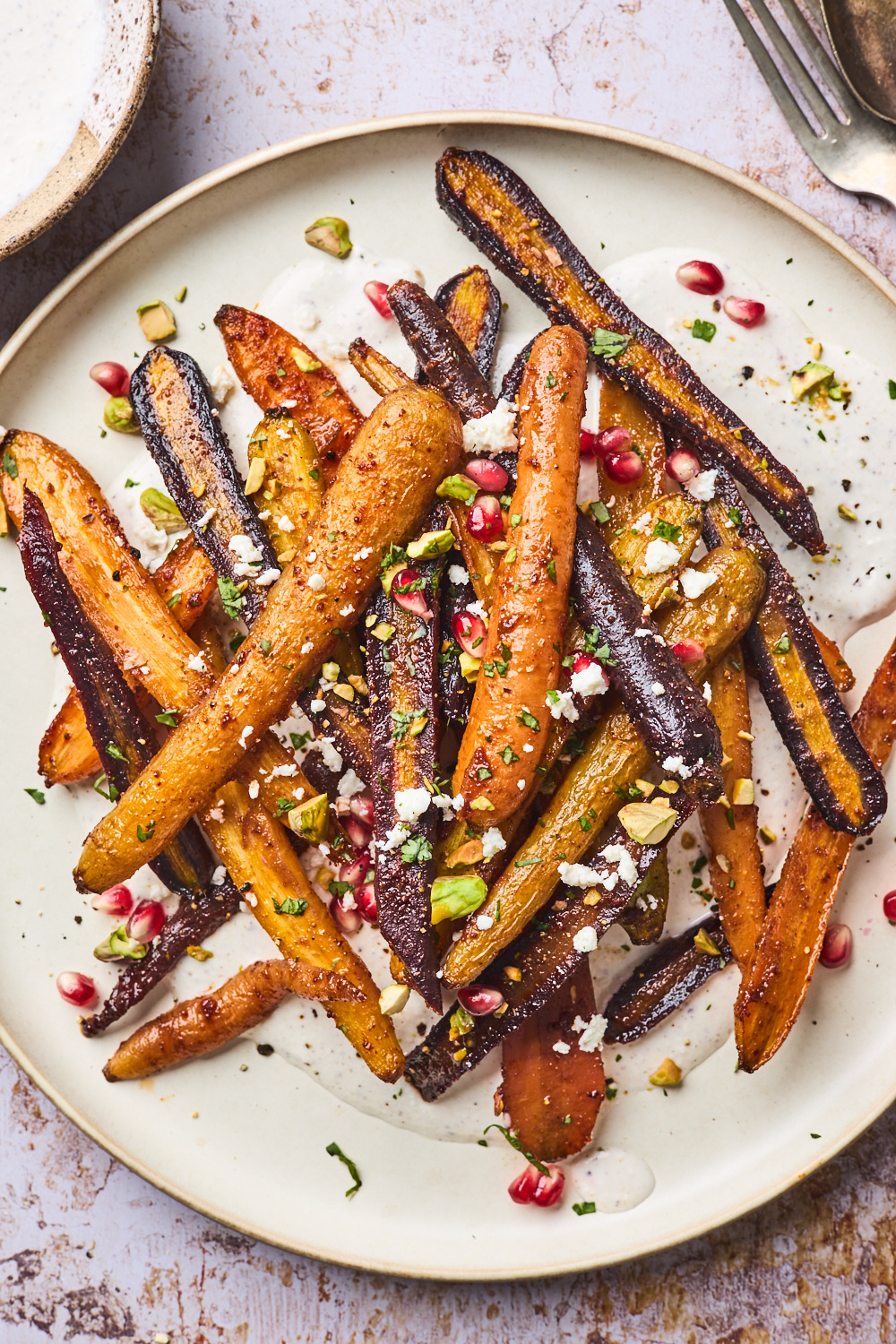 What is Sumac?
Sumac is made from drying the berries of a certain variety of the plant and grinding them into a fine powder. It is beautifully bright red and mouth-puckeringly tangy. In this particular recipe, it is used as a seasoning to brighten up the natural sweetness of roasted carrots. If you do not have access to sumac powder, you can substitute more lemon juice and zest instead, although it will not have quite the same flavor. I love sumac sprinkled over my Mediterranean dips and spreads and also my fried sunny side up eggs and it's also delicious in my Sheet Pan Sumac Spiced Chicken With Plums. Let's breakdown the rest of the recipe ingredients.
Roasted Carrots With Whipped Feta Ingredients
CARROTS: I usually use small to medium size carrots - rainbow carrots are super pretty but not necessary. I trim carrot tops then slice carrots in half lengthwise keeping them generally the same thickness so that they roast evenly
SPICES: I use warm spices for this recipe - Aleppo pepper or chili flakes for a little smokiness/heat, ground cumin, Paprika, ground cinnamon and Salt and pepper to taste.
OLIVE OIL: The olive oil is to toss the carrots with and help distribute the spices over them
HONEY: The honey not only adds a touch of sweetness but helps the carrots caramelize. Feel free to substitute the honey with brown sugar or maple syrup if you prefer.
FETA: Full fat feta is what I use - the creamier the better but really any feta will work with this recipe
GREEK YOGURT: Full fat is what I use for the Greek yogurt too for best flavor and texture. For an alternative you could use sour cream or even softened cream cheese or Boursin which will help with the creaminess of the whipped feta
Sumac: A bright red spice that adds tang. Substitute with lemon zest to get a little more tangy flavour in the whipped feta. Nothing truly substitutes it though.
LEMON JUICE: Adds a little tang and brightness to the whipped feta
ALTERNATIVES: Change up the spices if you prefer to use other spice blends feel free to do so - or add some zaatar to the existing blend for a little more depth of flavor or toss the carrots in some harissa paste for even more flavor. Toss the carrots with some chickpeas and roast them together for some extra fiber and protein and further texture to this dish.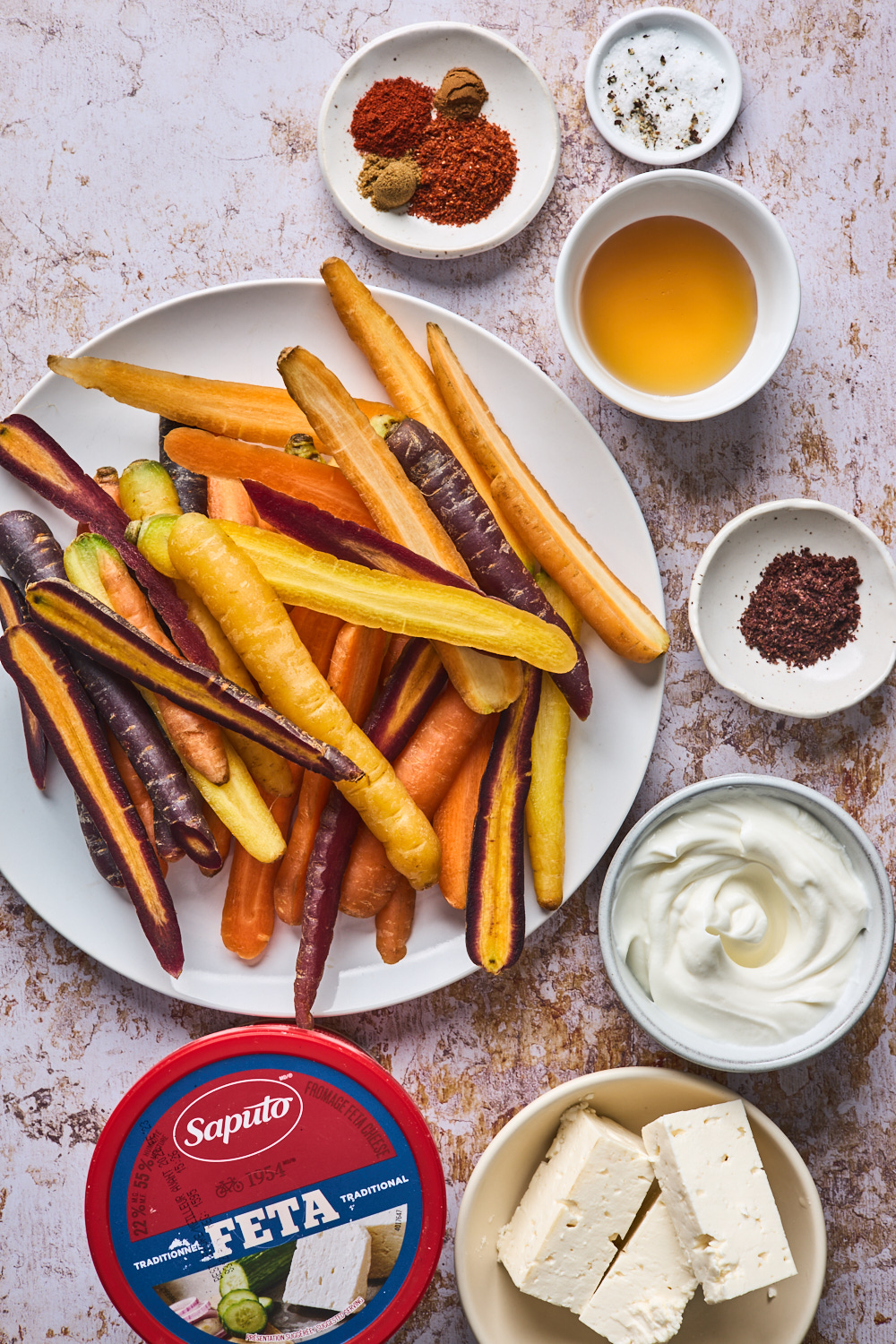 How to Make Whipped Feta
Once you make this delicious whipped feta, you'll be making it all the time! Not only is it super tasty with these roasted carrots, it's also delicious in omelettes and on sandwiches, wraps, and crudités platters. It's so easy to make. You will need a food processor, or blender although I find the food processor works better for me. The processor blades are necessary to get the feta small enough to incorporate with the rest of the ingredients. This recipe uses yoghurt in it along with the feta but I have also used cream cheese in its place and both are fabulous. The cream cheese creates a creamier richer feta dip but I like the yoghurt in this particular recipe because it's a bit lighter, still creamy with a little extra tang from the yoghurt. Simply add the feta and the rest of the ingredients to the bowl of the processor. Process until smooth and creamy. Taste and season with salt and pepper as needed. Add a little extra yoghurt if needed to thin it out to your desired texture. Put into an airtight container and place in the refrigerator for at least an hour to firm up or serve immediately. Whipped feta can be made up to a week in advance.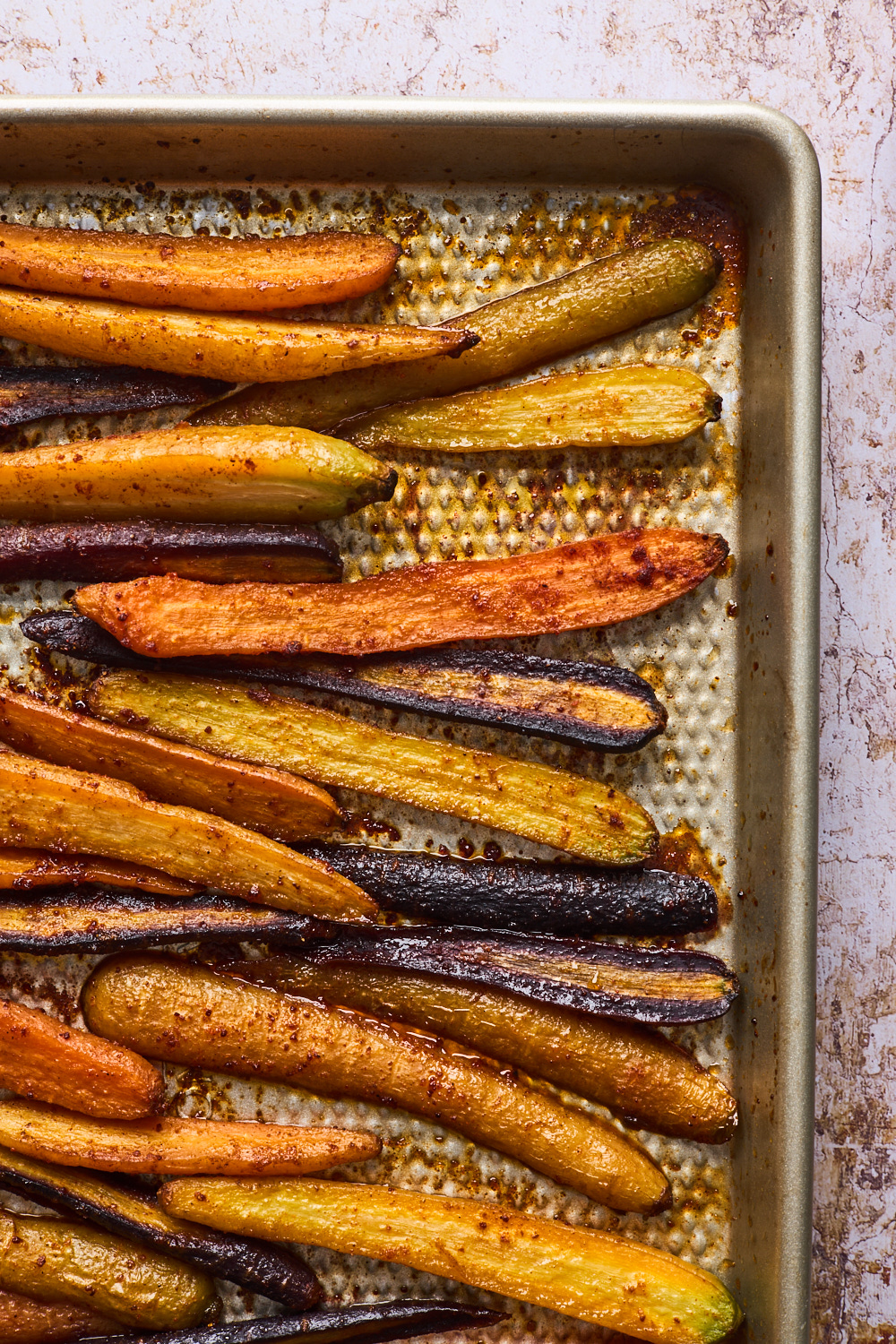 How to Perfectly Roast Carrots
The best way to ensure that your vegetables roast evenly is to make sure that they are the same size. Wash and scrub your carrots, peeling them if you wish. I usually don't but that is up to you. If they are on the large size feel free to slice them. I sliced mine down the middle lengthwise because my carrots were a bit on the thick side. Whatever size they are just make sure they are all as uniform in size as possible so that they all cook evenly. Let's breakdown the simple steps.
Roasted Carrots With Whipped Feta Instructions
TOSS carrots with olive oil, honey and all the spices.
SPREAD carrots in a single layer on a lined or greased baking tray
ROAST at 425°F for about 20-30 minutes, or until fork tender with caramelized edges, tossing halfway through.
BLEND the feta, yogurt, oil, lemon juice and sumac in food processor, until smooth
SERVE carrots with all the fixings over bed of whipped feta or on the side for dipping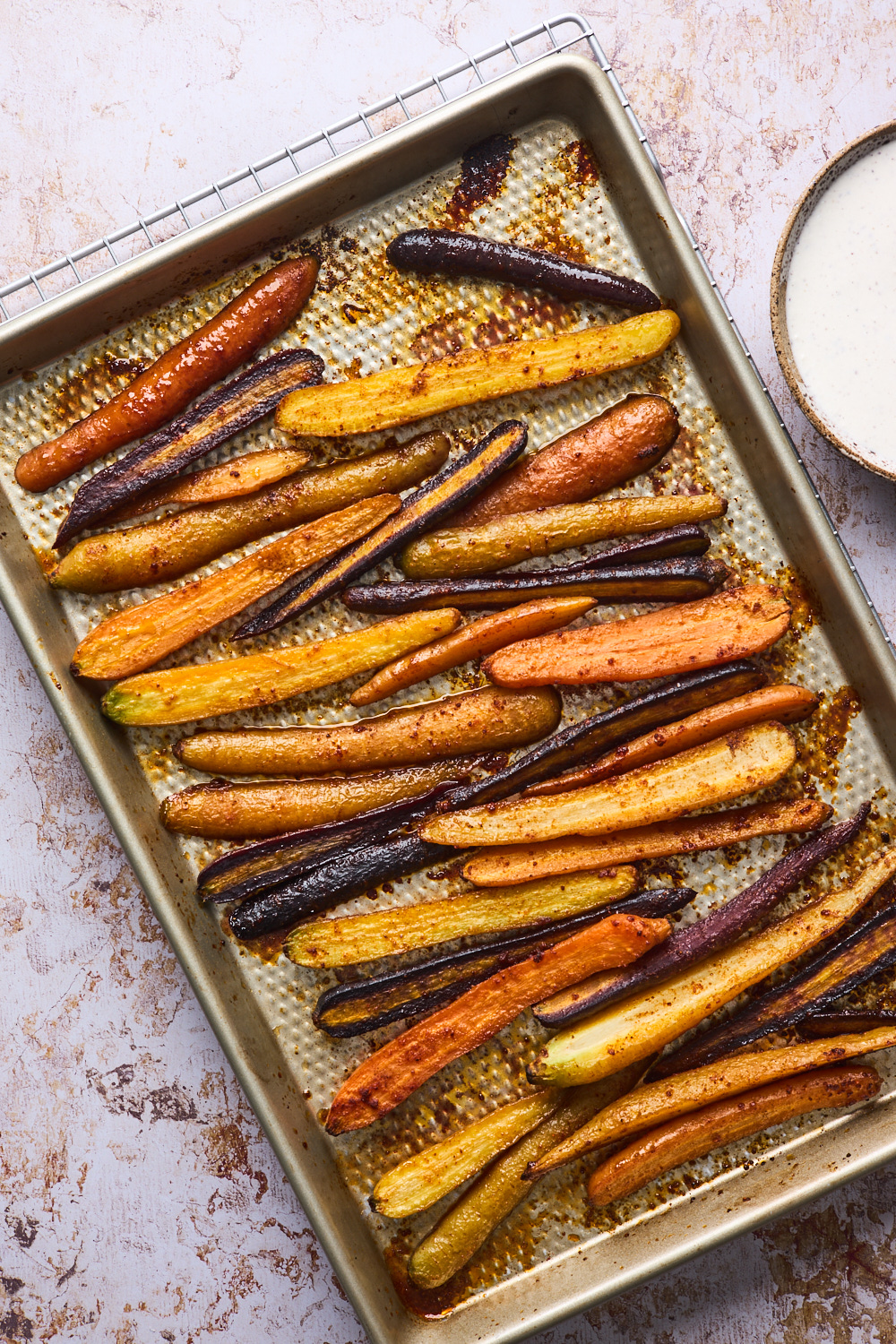 How to Assemble this Delicious Side Dish
I personally served this side on a family style platter so everyone could help themselves. But feel free to serve the carrots separately with the dip on the side. Simply dollop and swipe the whipped feta on the bottom of your serving plate. If you're serving it on a serving platter, make a big pillowy cloud of it as your base.Top with roasted carrot. Sprinkle with chopped pistachios, pomegranate arils, fresh chopped parsley and some more crumbled feta for good measure if you would like. Then dig in!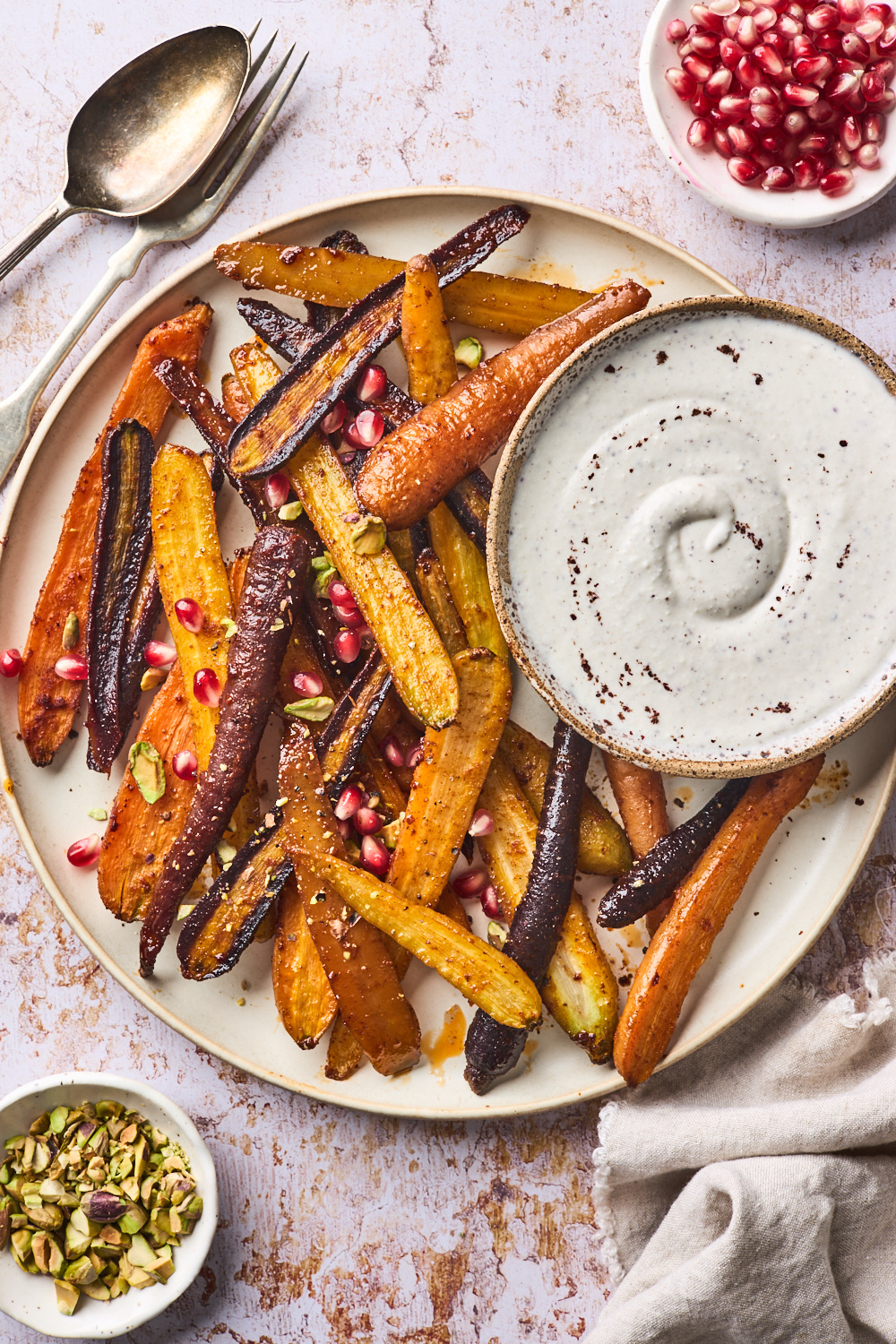 Serving ideas for spice roasted carrots and whipped feta:
Arrange roasted carrots on an appetizer or mezze platter along with toasted flatbread or pita.
Add some toasted pistachios crumble, almonds or walnuts over top the carrots for extra crunch. I also like to add some pomegranate arils for a pop of tangy sweetness.
The whipped sumac feta dip is fantastic alongside other sliced vegetables like radishes, celery or cucumber or even blistered shishitos.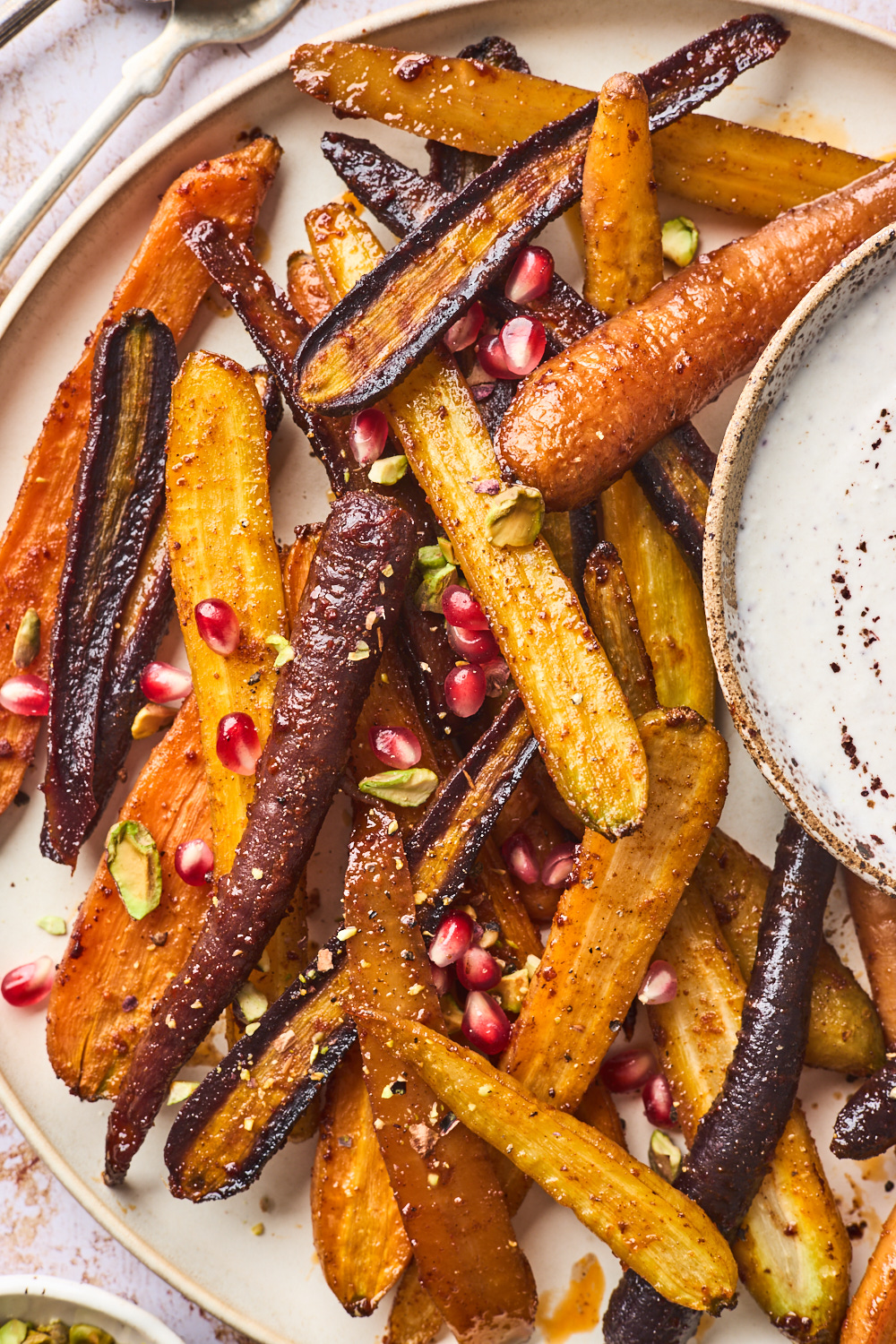 Recipe Tips
If you like a little heat, add ¼ teaspoon of cayenne powder or more chili flakes to the seasoning blend for the carrots. The cool tangy feta sauce will cool you down.
Use whole carrots and if possible ones that still have the tops on. It just makes everything look prettier on a plate! I like using heirloom or rainbow carrots but any ones will work.
Ensure your carrots are similar thickness and size - feel free to slice them if needed so that they roast evenly.
Need more delicious vegetable side ideas? Check out these recipes:
Recipe
Servings:
4-6 (as side or appetizer)
Prep Time: 10-15 mins
Cook Time: 20-35 mins
Ingredients
For the spiced Carrots
3 tablespoons extra virgin olive oil

2 tablespoons honey or brown sugar

½-1 teaspoon Aleppo pepper or chili flakes

¼ teaspoon cumin

¼ teaspoon Paprika

⅛ teaspoon cinnamon

Salt and pepper to taste

8-10 small to medium-sized carrots (I used rainbow or heirloom carrots), left whole if small or sliced in half if needed.
For the sumac whipped feta
4 ounces feta cheese

½ cup whole fat Greek yogurt

1 tablespoon extra-virgin olive oil plus more if needed

1 teaspoon sumac plus more for garnish

1 teaspoon fresh lemon juice
For topping (all optional)
¼ cup pomegranate seeds
¼ cup pistachios, rough chopped
Chopped fresh parsley or any fresh herbs like fresh mint or cilantro
Crumbled feta
Directions
For the carrots
Preheat oven to 425°F. Grease sheet pan/ roasting tray lightly or line with parchment paper
Scrub carrots and, depending on size, cut them in half lengthwise.
Place carrots on Sheetpan
Drizzle with olive oil, honey and spices; toss well to coat and season well with salt and pepper.
Roast in the oven for anywhere from 18-30 minutes, depending on the size of your carrots tossing them halfway through. They should be fork tender and caramelized on the outside.
For the sumac whipped feta
In a food processor, blend the feta, yogurt, oil, lemon juice and sumac until smooth
Assembly
Dollop and spread whipped feta on the bottom of a serving plate and top with your carrots
Sprinkle over pistachios, pomegranate arils, fresh chopped parsley or coriander and more crumbled feta if you desire.
Recipe Notes
Make ahead: feel free to make the whipped feta up to a week in advance. Keep in an airtight container in the fridge. The hard part is not eating it before serving it.