Strawberry Icebox Cake
An easy no-bake strawberry dessert with layers of whipped cream cheese, strawberries, and graham crackers. This Strawberry Icebox Cake recipe takes just a handful of simple ingredients and minutes to create an easy and delicious no-bake dessert that has been loved for generations. Fluffy vanilla whipped cream is layered with fresh strawberries and graham crackers, chocolate or vanilla wafers, or ladyfingers. This Strawberry Icebox Cake comes together beautifully, making for an impressive looking dessert for get-togethers. 1 pound of fresh strawberries, go into this cake along with freshly whipped cream, and graham crackers that soften into an airy, cake-like texture as it rests overnight in the fridge. You guys love my Philadelphia No Bake Cheesecake so this delicious strawberry ice box cake just had to happen.
Why you are going to love this icebox cake recipe:
It's the perfect make-ahead dessert
It's so simple and easy and fun to make
Its always a crowd pleaser
Its versatile - you can use any kind of biscuits you like or any kind of fruit you like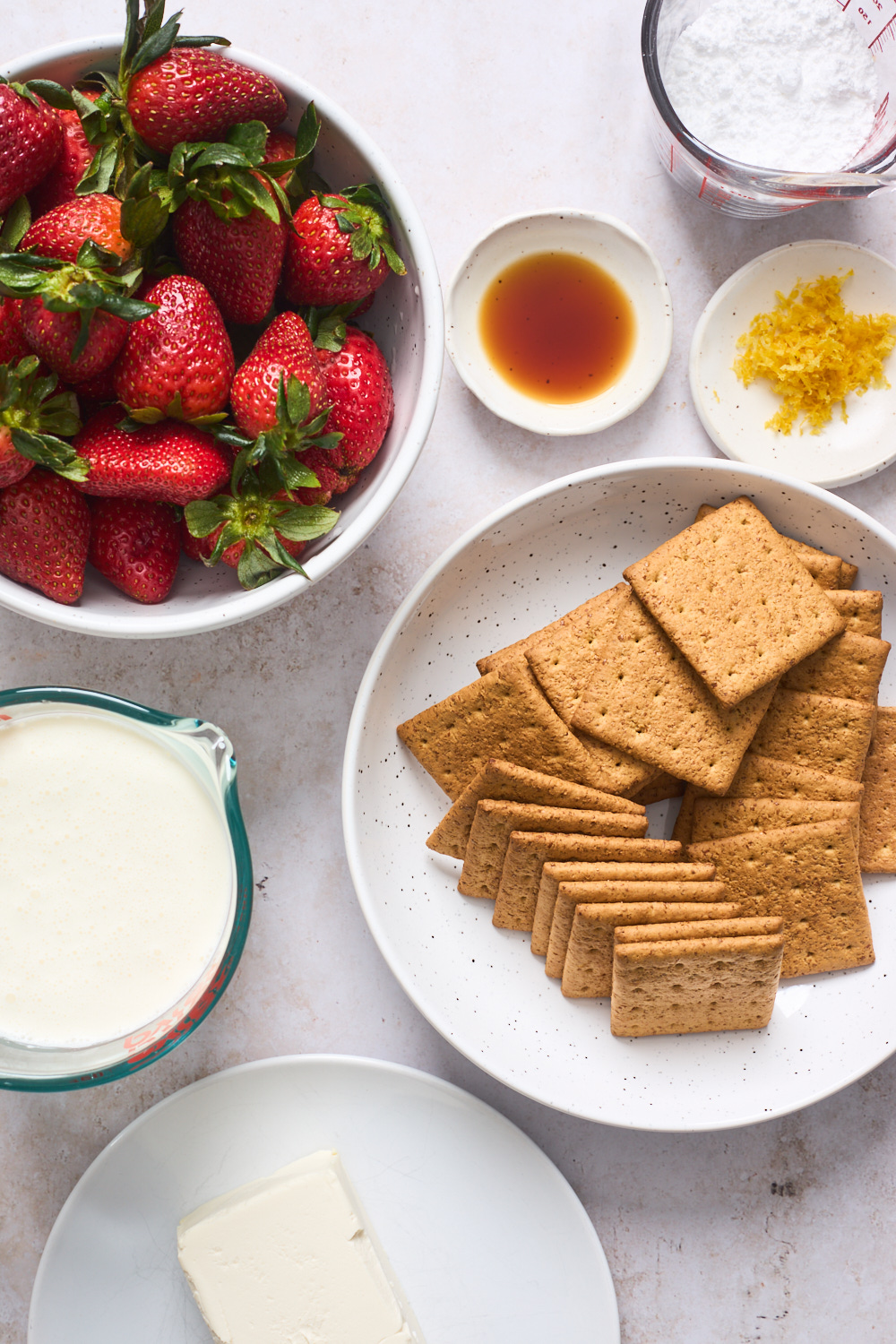 What is an icebox cake?
An Old-Fashioned Icebox Cake is a dessert that's typically made by layering cream, fruit, nuts and wafers, and then set in the refrigerator. There's no baking required! The classic Icebox Cake became popular in the 1920's and 1930's, as housewives began using the "icebox" (a compact, non-mechanical refrigerator) as a kitchen appliance. As the cake set in the refrigerator (or icebox) overnight, the wafers absorbed the moisture from the whipped cream and could then be served in slices. There are so many variations out there to this no bake dessert. This one uses strawberries and graham crackers. I call this my strawberry shortcake version because it has all the flavours of classic strawberry shortcake but made simple and with no baking required.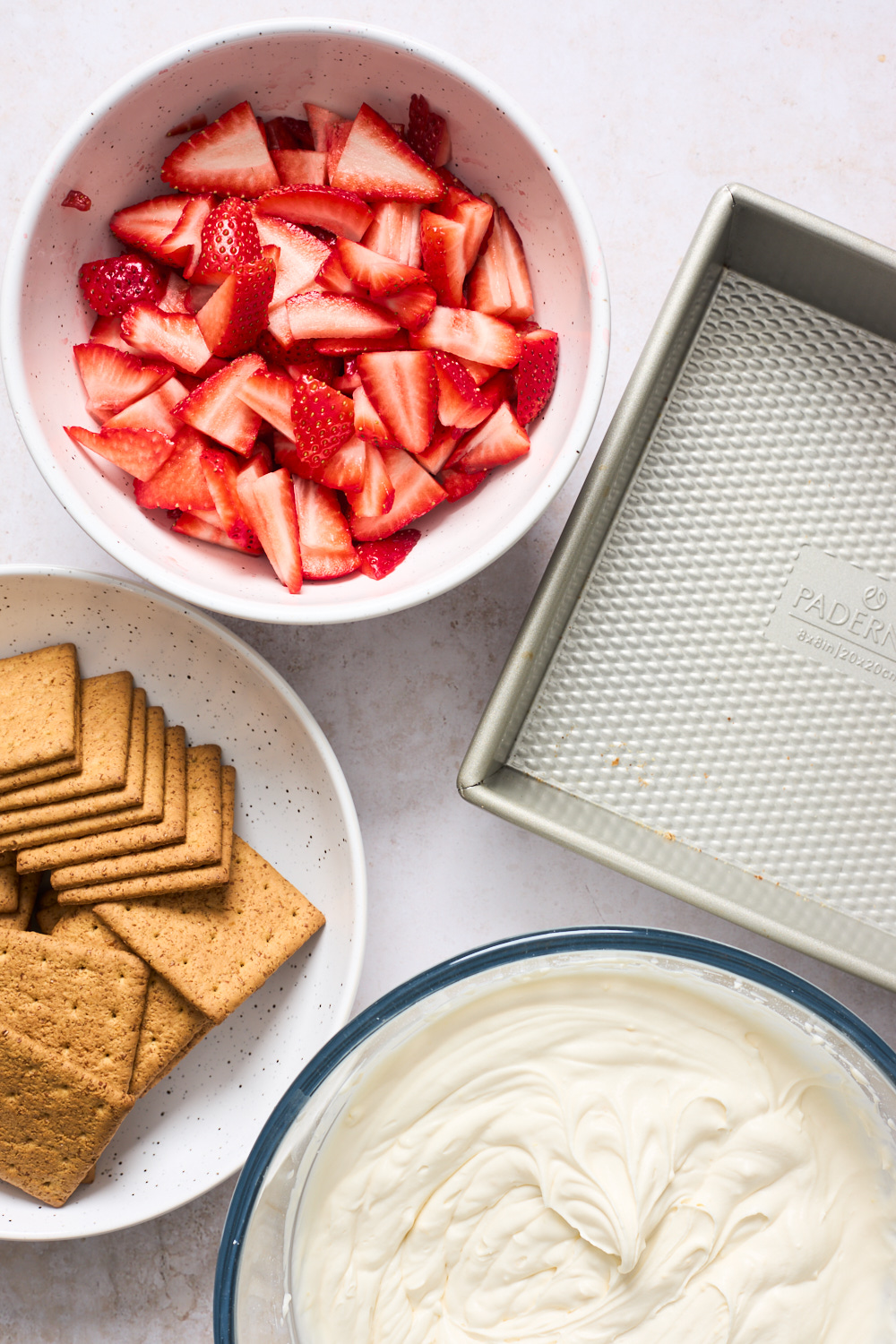 No bake Strawberry icebox cake Ingredients
Strawberries - fresh is the way to go here. Frozen berries will add too much water and turn mushy.
Heavy Cream - I always use heavy whipping cream. Cream varies according to what country you're in, but using full-fat rarely fails. I use one that has between 42-44% fat content. You can substitute homemade whipped cream with Cool Whip whipped topping
Cream cheese - softened at room temperature. This adds richness to the cream part of this dessert and a slight bit if delicious tang. It is optional if you prefer a lighter dessert but I always add it
Powdered sugar - it's used to sweeten the whipped cream.
Biscuits/Cookies - I use Graham crackers biscuits but vanilla cookies or chocolate wafers work really well too or even lady fingers
Zest - add some lemon, orange or lime zest adds some really delicious flavour to this icebox cake
Vanilla extract - always adds delicious flavour to desserts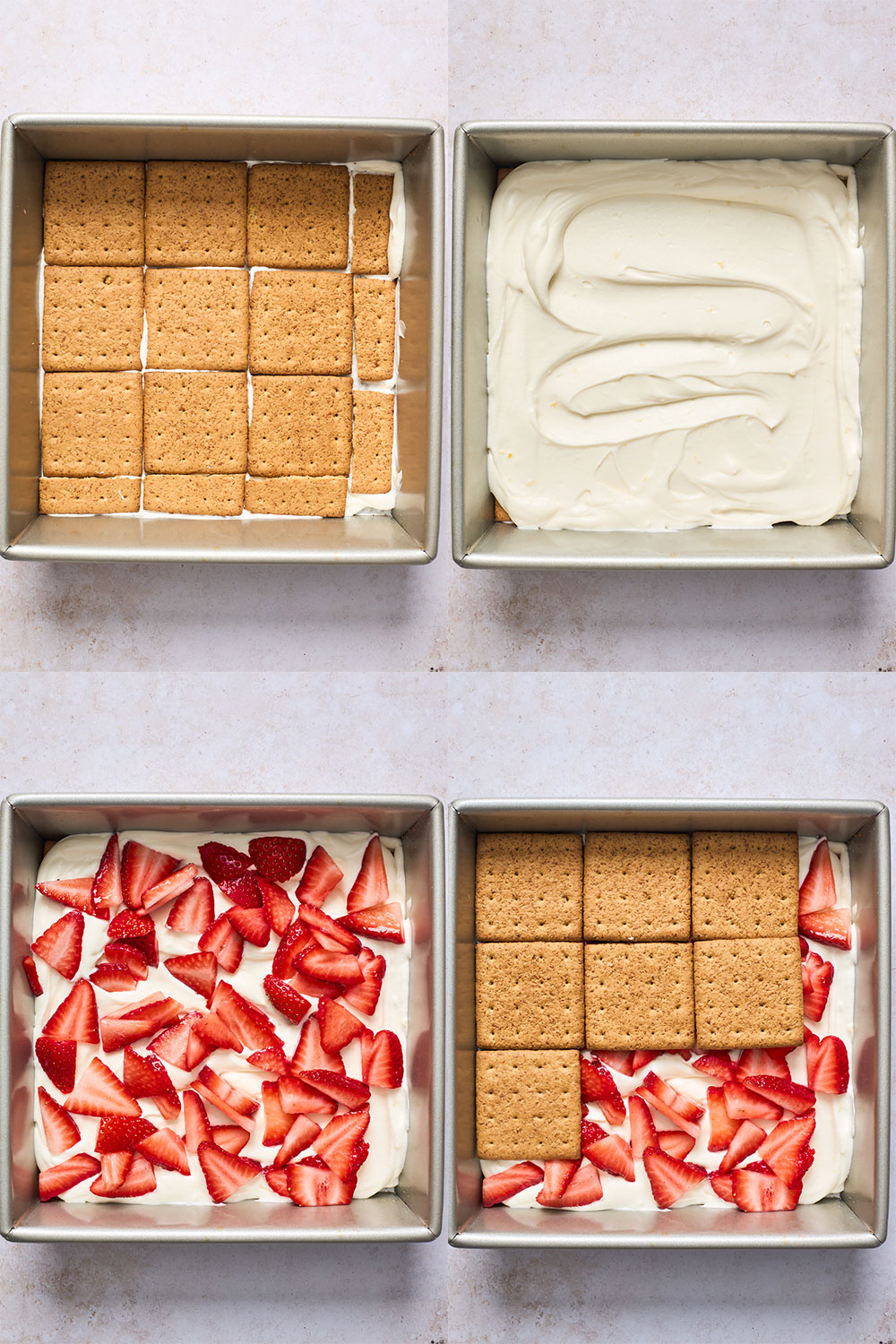 Icebox cake Variations
There are so many! Below you have some of my favorites.
Peaches - sub them, fresh of course, for the strawberries. Nectarines work well too.
Other berries - like blueberries, blackberries or raspberries
Bananas - with or instead of the strawberries, it's a magic combination together with the dulce de leche.
Cookies - use coconut cookies or even chocolate wafer cookies, ginger snaps, Nila wafers, or even lady fingers
Lemon curd - this would be a delicious addition to the whipped cream for more flavour or even as an extra layer over the whipped cream
Adding Chocolate: Add cocoa powder into your whipped cream mixture for a delicious chocolate variation. Or even drizzling the desert with Hot Fudge Sauce or chocolate ganache drizzle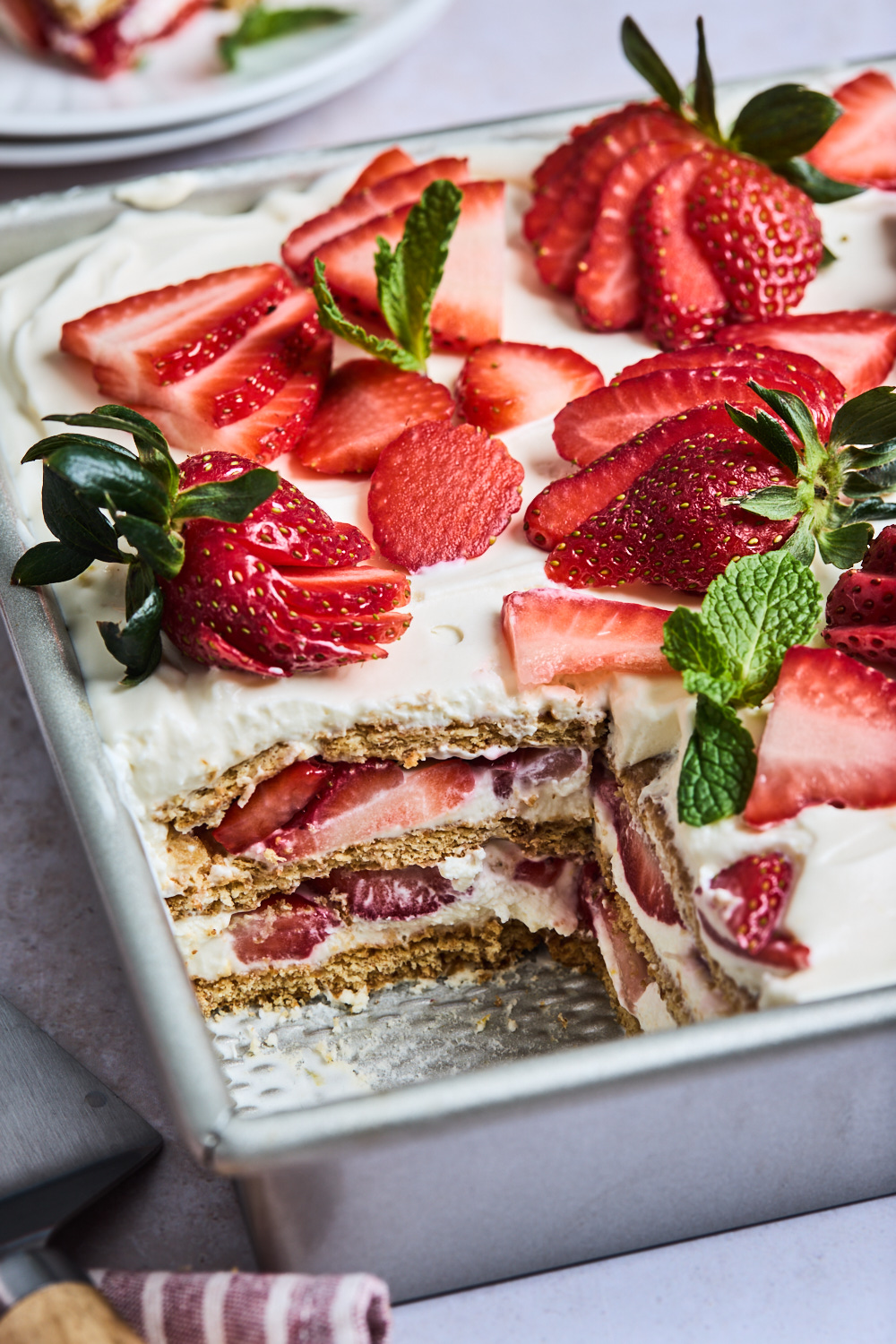 How to make strawberry icebox cake:
Just a few simple steps or instructions are required to make this make this no-bake wonder
Hull and slice strawberries
Beat the softened cream cheese with the sugar, then mix in the vanilla, lemon zest and heavy whipping cream until stiff peaks form
When you're ready to assemble:
Start with a very thin layer of cream mixture at the base of pan to help stabilize the biscuit layer then place a layer of graham crackers over, cutting the cookies as needed to make them fit.
Then evenly spread whipped cream on top of the graham crackers
Top with sliced strawberries
Repeat twice more
Then chill overnight.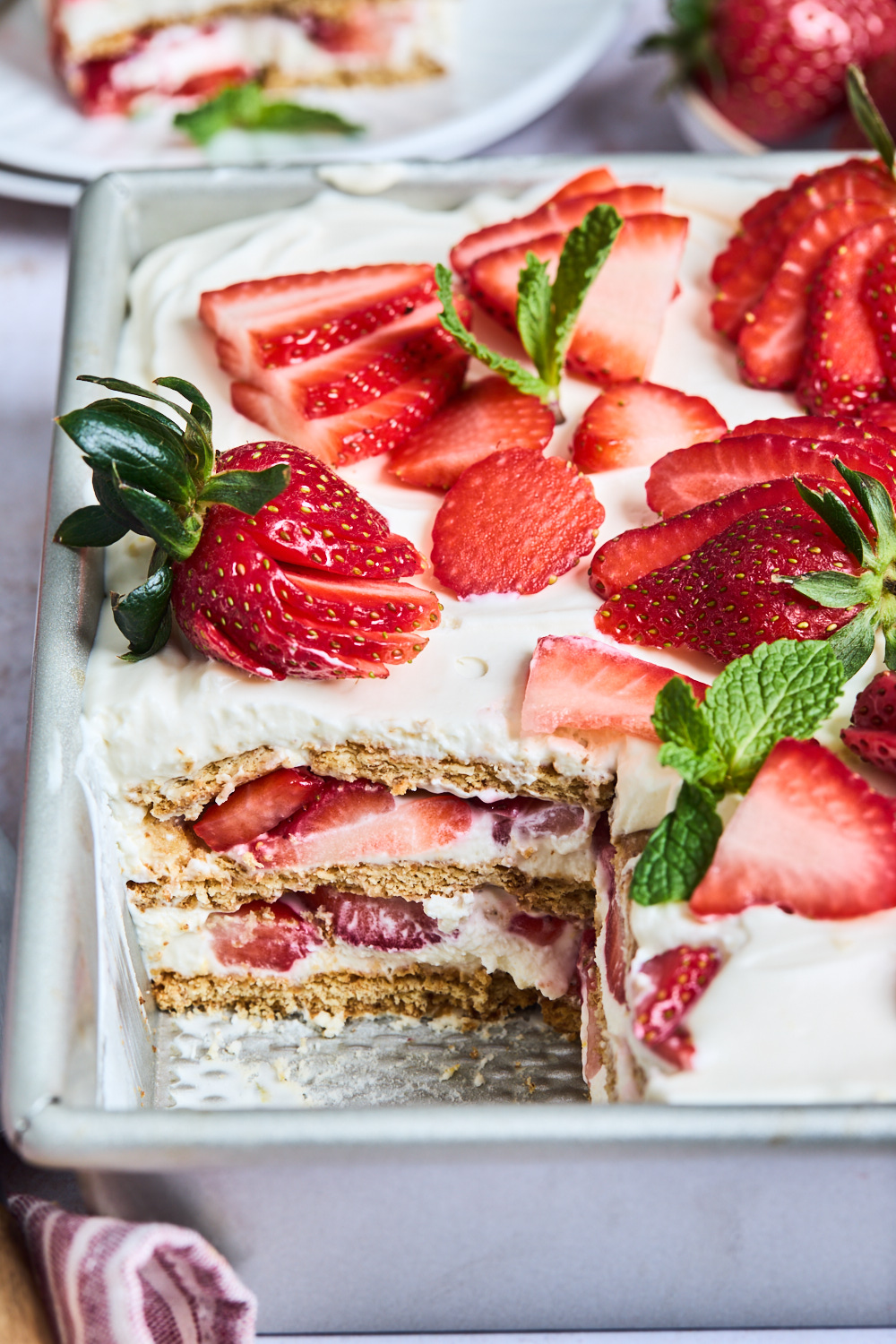 The Best Icebox Cake Tips
Upgrade and customize your Icebox Cake with these easy tips! Add strawberries for the ultimate flavor and summertime dessert! This strawberry icebox cake will impress and feed a crowd.
Let Your Cake Rest: Allow at least 3 hours for your cake to rest in the fridge to allow cookie layers to absorb moisture and become softer. Keep well covered in the refrigerator.
Strawberries: for the top layer, cut them at the last minute for best results.
Serving: you can make it as a no-bake cake like you see in the images here, or you can make it as a large or individual trifles in cups
Creating Your Cream Base: Whipped cream and any whisks or mixer attachments should be cold before using. This helps your whipped cream to thicken properly.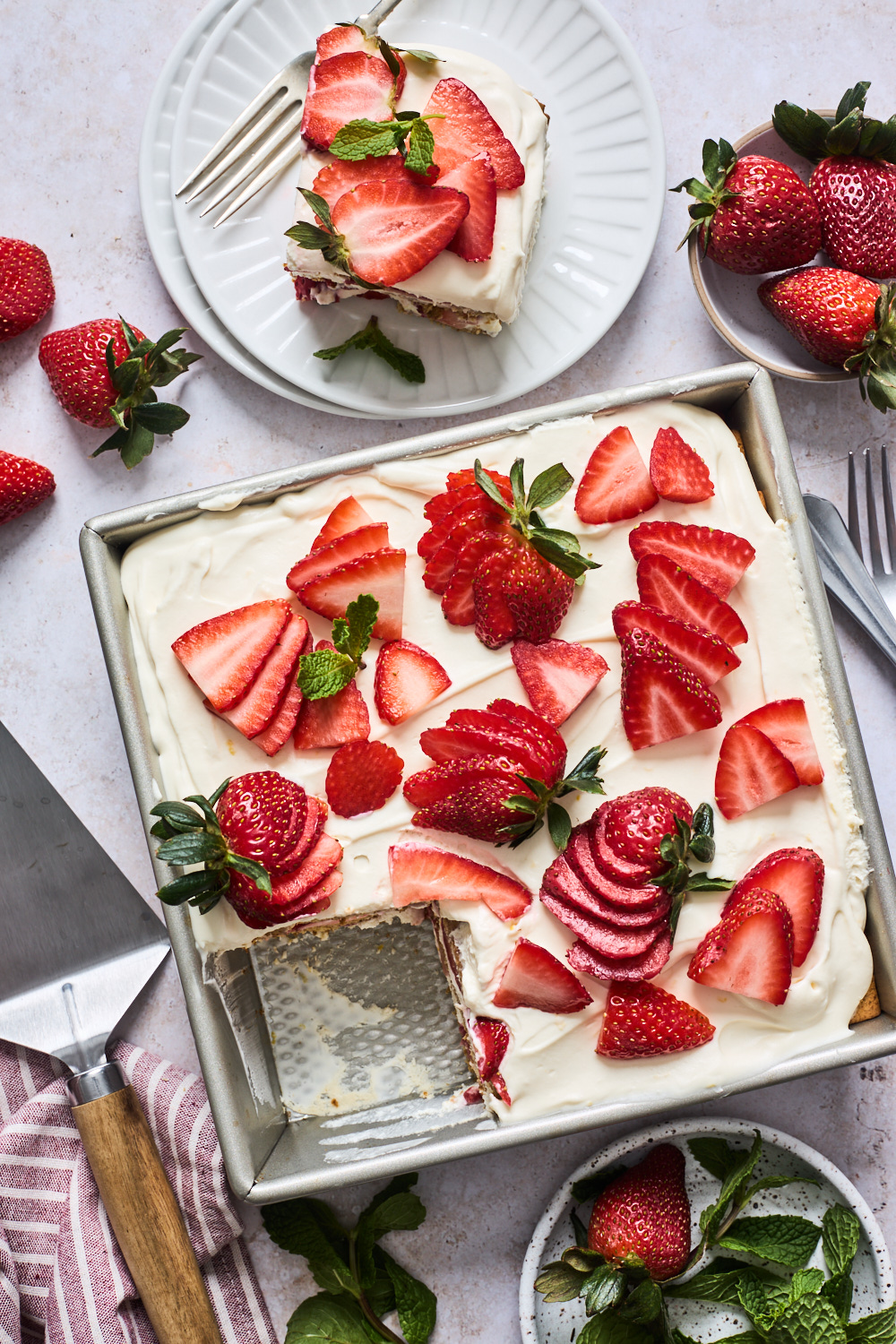 Storing Your Old Fashioned Icebox Cake
In the Refrigerator: Covered with plastic wrap, your icebox cake will keep in the fridge for up to 2-3 days.
In the Freezer: Your icebox cake will keep for up to 1 month in the freezer when covered with aluminum foil. Thaw for a few hours in the fridge before serving.
Other strawberry desserts you will love:
More icebox cakes you need to try:
Recipe
Prep Time: 15-20 mins
Non-active Time: 2-4 hours for chilling
Ingredients
2 packages graham crackers (1 used approx 36 square ones) *

2 cup heavy whipping cream

One 8 ounce package cream cheese, room temperature light or regular

½ cup powdered sugar

2 teaspoons vanilla extract

1 teaspoon lemon or orange zest

1 lb fresh strawberries leave several uncut for garnish if desired, sliced
Directions
In a large bowl beat the cream cheese and powdered sugar with an electric mixer or stand mixer with whisk attachment until soft and no lumps remain.
Add the cream, lemon zest and vanilla, and beat until it just holds stiff peaks.
Place 1-2 tablespoons of the whip cream mixture into an 8x8 pan and spread evenly creating a thin layer at the bottom to keep the Graham crackers in place
Line thin layer of cream with one layer of graham crackers, fitting in as many as possible without overlapping, snapping them in half if needed.
Spread a third of the cream mixture on top of the crackers. Top with sliced berries and repeat two more times.
Top with remaining berries cover with plastic wrap and chill for at least 2-4 hours to soften the graham crackers. Best if overnight. NOTE: if making several days in advance do not add the berries on top until a couple hours before serving to keep them fresh.
When ready to serve, slice with a sharp knife and serve
Recipe Notes
Storing Your Old Fashioned Icebox Cake
In the Refrigerator: Covered with plastic wrap, your icebox cake will keep in the fridge for up to 2-3 days.
In the Freezer: Your icebox cake will keep for up to 1 month in the freezer when covered with aluminum foil. Thaw for a few hours in the fridge before serving.