Bacon Wrapped Goat Cheese Stuffed Dates
These Bacon Wrapped Dates with Goat Cheese and maple syrup require only 5 ingredients and are so easy to make for an appetizer or snack. They're a sweet and salty finger food that is so addictive and one that everyone seems to love. Enjoy with a crowd of friends and watch them disappear! These were a very popular appetizer in the 70's known as Devils on Horseback (not too clear why) - not known by that name any more and back on trend as are all things dates. They were commonly made with prunes and steeped in brandy or some sort of liqueur. I did these with dates and steeped mine in some maple syrup for maximum caramelization while they bake. There are plenty of variations out there and I have included many options and variations below for each component of these. Hope you enjoy these sweet, salty, smoky bacon wrapped stuffed dates!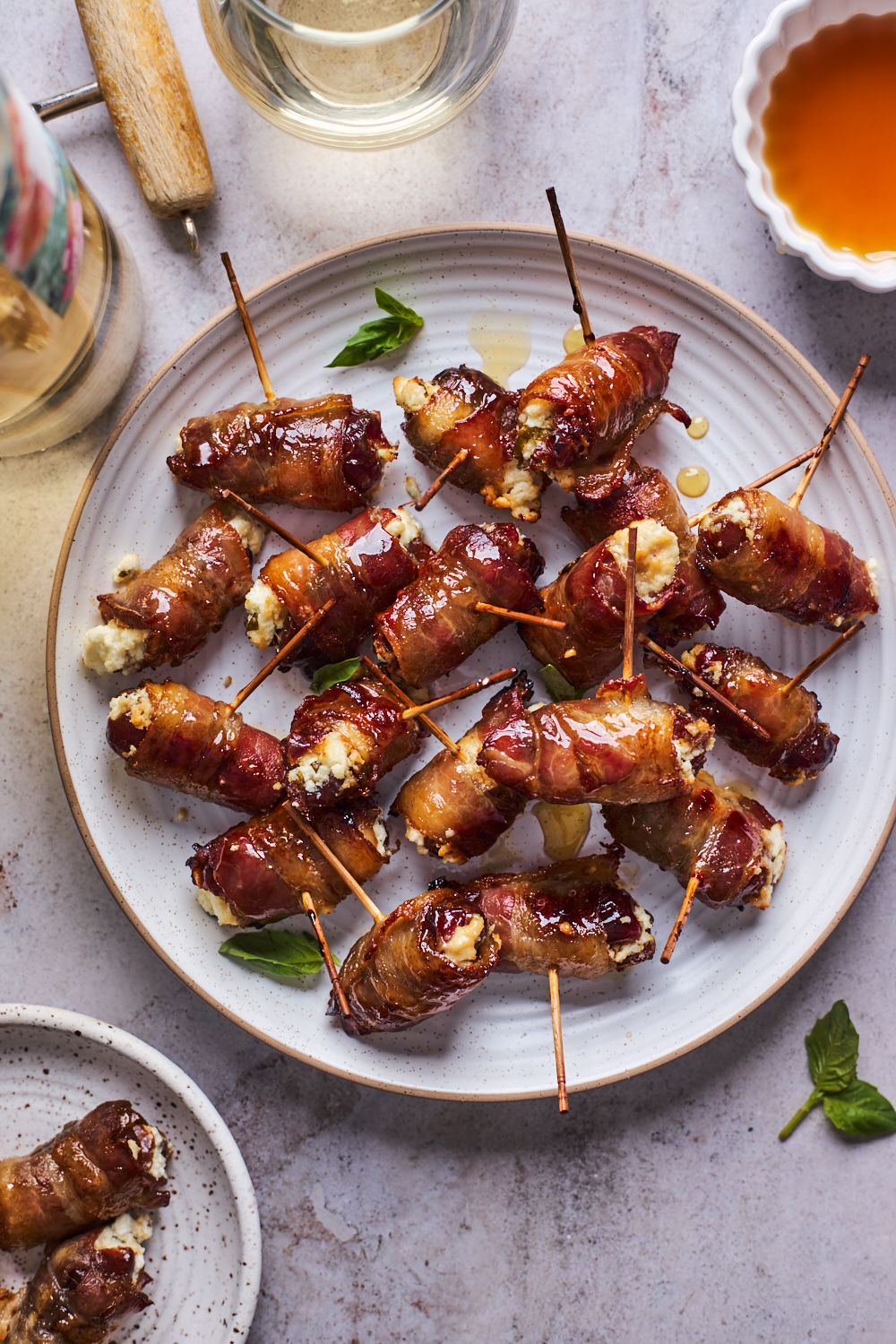 Simple Ingredients to make these stuffed dates:
Medjool dates: Make sure to use large soft and sweet dates. Smaller drier baking dates that need to be soaked will not work with this recipe. I always use pitted ones to make this recipe so it's faster and easier to make.
Goat cheese: I used plain but feel free to use an herbed one too - or any kind you like. You can also use other cheeses - make sure to look at the variations section below for more options.
Bacon: thin cut works best because it cooks evenly and faster.
Basil: I used fresh. I like to add some chopped herbs to the goat cheese for extra flavour. This is optional. Feel free to use any herb you like.
Maple syrup: The goal is to coat the bacon in maple syrup so that it caramelizes in the oven. You could also use honey or even sprinkle them or even dip them in brown sugar before baking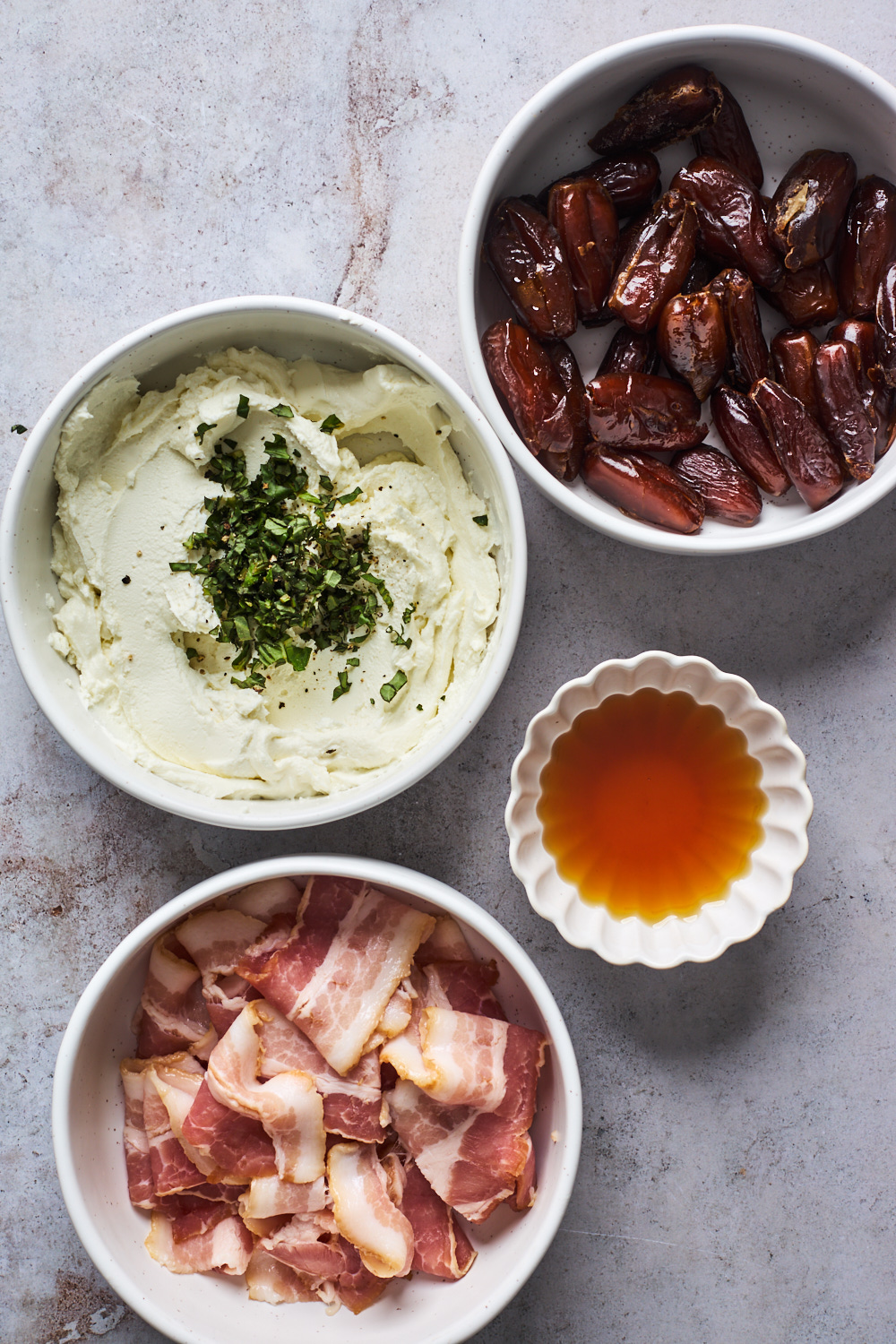 How to make bacon wrapped stuffed dates:
Mix the goat cheese and fresh basil together
Stuff dates with goat cheese mixture - I use a small spoon but you can pipe it in too
Wrap each date with bacon and use a toothpick to secure
Drizzle or brush with maple syrup
Bake until golden and crisp
Remove and place on paper towel lined plate - let rest 5 min
Serve with extra drizzles of maple syrup
Enjoy and watch them disappear!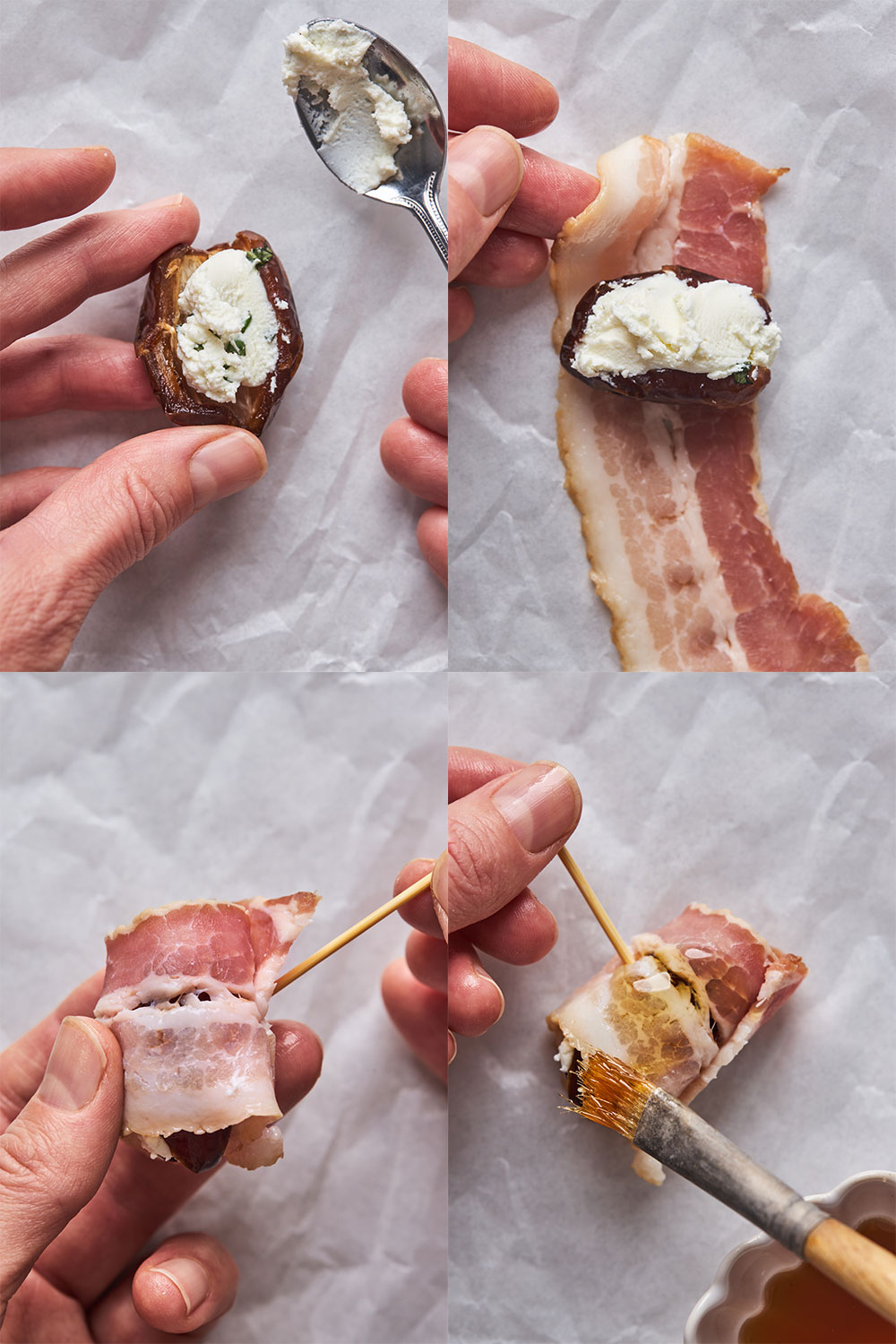 Tips for making delicious bacon wrapped stuffed dates every time:
A key factor is finding super fresh, juicy dates (not dried dates).
Use pitted dates to make this recipe even easier and quicker.
Make sure the goat cheese is room temperature so it's easy to mix and fill the dates with.
Use a sheet-pan fitted with a rack for even crispier edges - I used both methods when making these and both yield delicious stuffed dates but I found that they get golden brown all over and cook more evenly when done on a rack. This is because they don't cook sitting in their oils when the bacon fat renders.
Use thin cut bacon not thick cut as it cooks faster and more evenly
If you are worried about cheese leaking out of them (clearly I was not worried about that) - just make sure to not overfill your dates and squeeze edges to seal the cheese in. I personally don't care and actually like mine loaded with cheese and like the crispy edges on the cheese that has leaked out as well
I use a little spoon to fill the dates - no need to use a piping tip although you can if that makes things easier for you.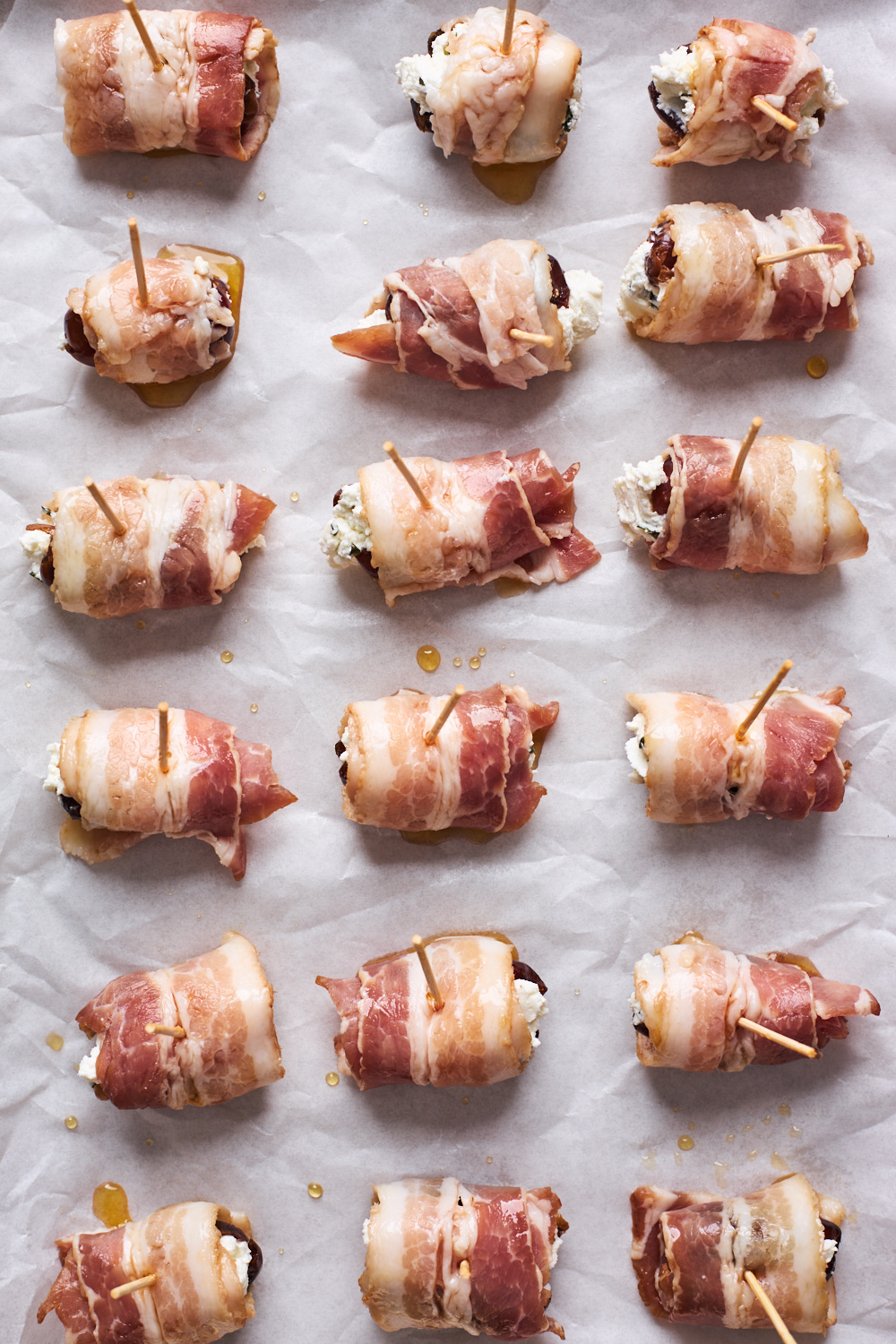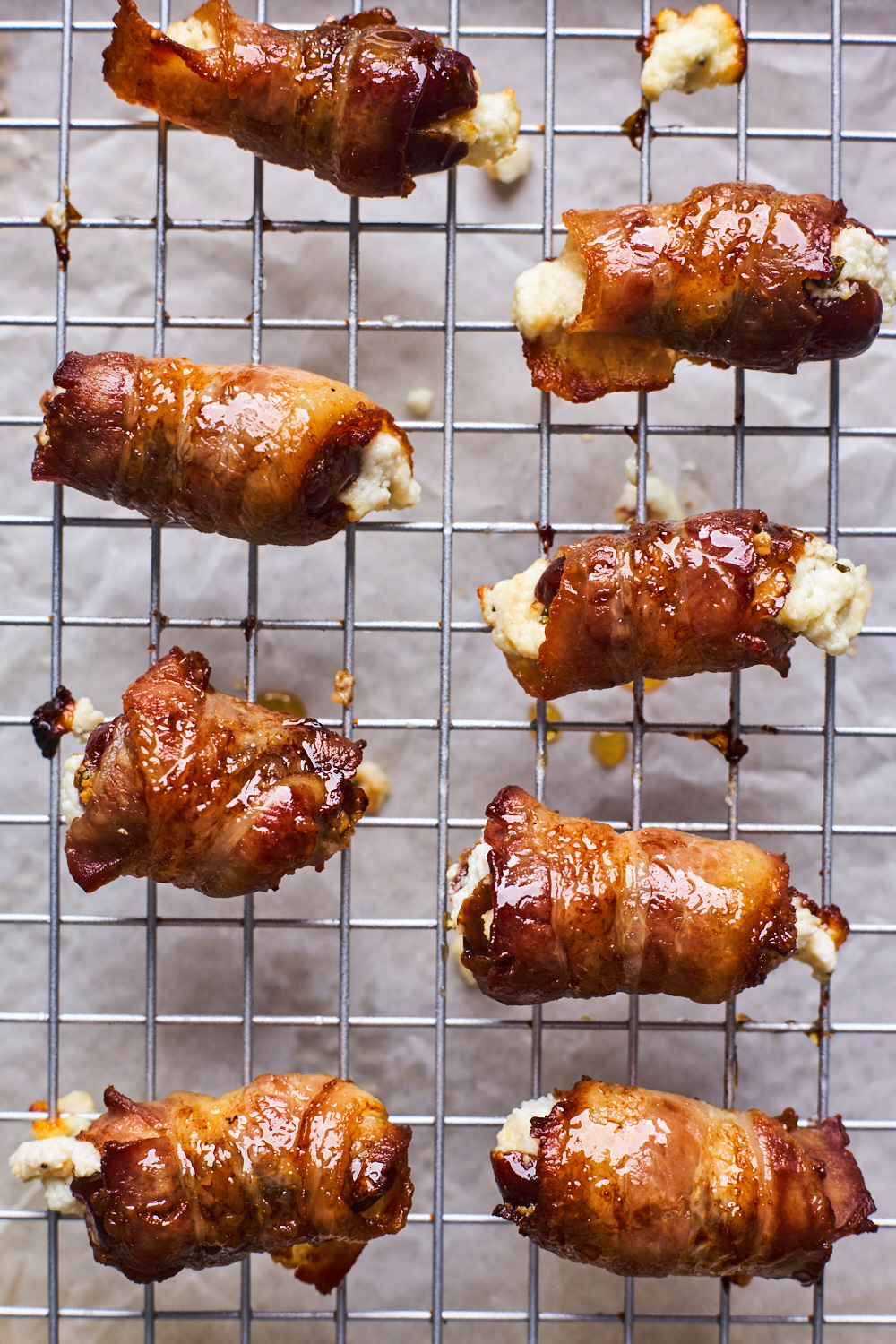 Different Variations for these stuffed dates:
Use honey instead of maple syrup or sprinkle or dip them on brown sugar
Season the goat cheese with other spices or herbs
Use a different cheese to stuff the dates like Boursin, blue cheese, machengo cheese, herb and garlic cream cheese, an almond in each date, stuff it with feta or even halloumi
Spice up the dates - I like to sprinkle them with some cayenne or chili powder or spice up the maple syrup with some chili flakes or even fresh herbs.
Wrap with prosciutto instead - remember that prosciutto will cook and get nice and crisp a lot faster than bacon so decrease cooking time by half if using prosciutto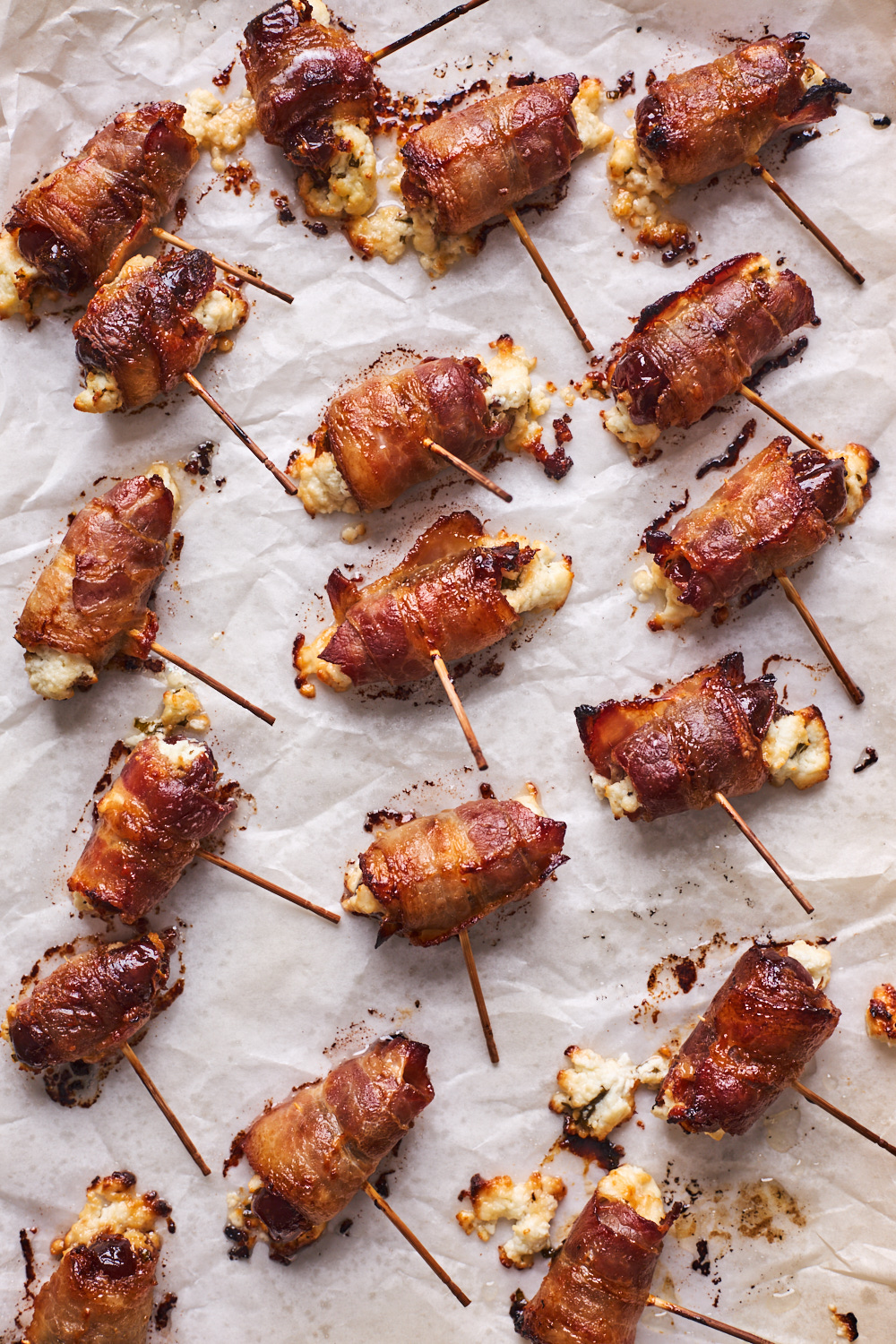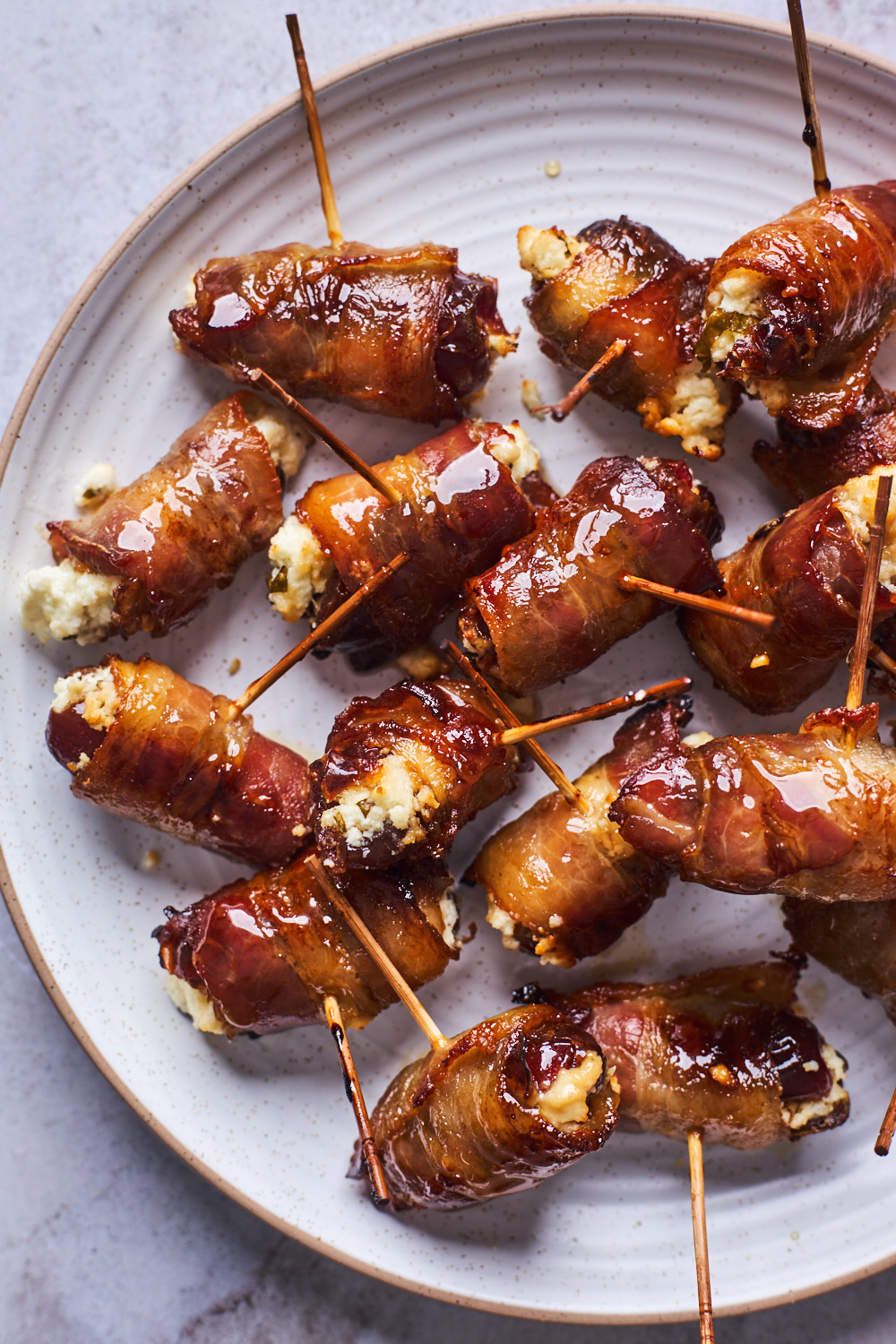 Make ahead and storage instructions:
These can definitely be made ahead. Stuff dates and warp with bacon then cover them tightly and refrigerate until you're ready to bake them.
To freeze: Fill the dates with cheese, wrap in bacon, secure with a toothpick, then freeze on a baking sheet. Once frozen, transfer the dates to a freezer storage bag and freeze for up to a month. Thaw overnight in the fridge, then bake them as directed.
Refrigerate leftovers for up to 2-3 days. Reheat In oven on baking sheet at 350°F. for 10 - 12 minutes or until bacon is crisp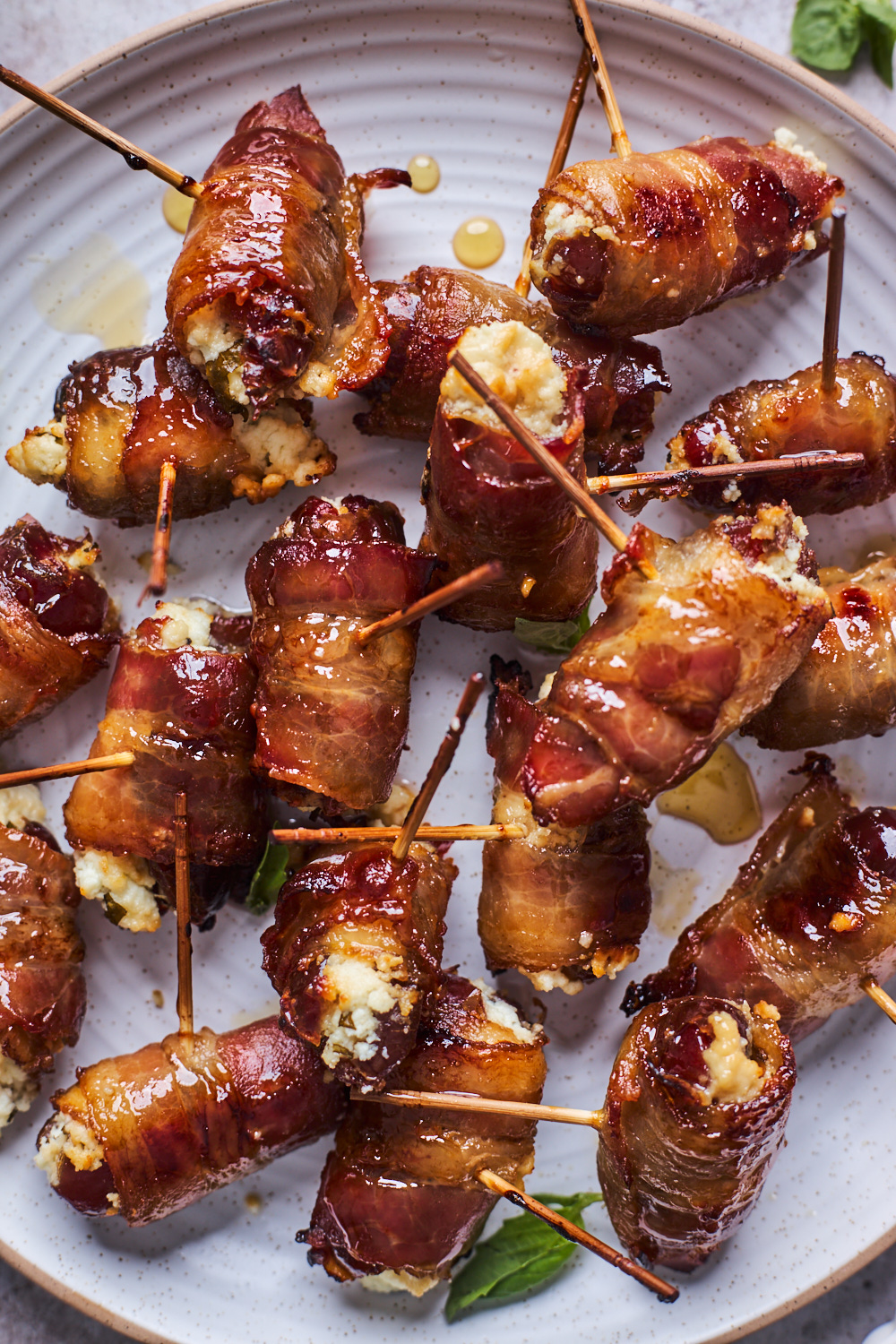 More fun appetizer recipes:
Recipe
Servings:
20 portions (serves 10 at 2 each)
Prep Time: 15 mins
Cook Time: 20-25 mins
Ingredients
10 slices bacon, sliced in half (I find that thin cut bacon works better)

20 pitted dates

6-8 ounces goat cheese, room temperature

2 tablespoons chopped fresh basil

2-3 tablespoons of maple syrup plus more for serving

toothpicks
Directions
Preheat oven to 400°F. Line a baking sheet with parchment paper. Or spray a rack and fit over Sheet pan.
In a small bowl stir together the goat cheese with the basil and season with salt and pepper if you wish.
Split the dates in half lengthwise, but don't cut the date all the way through. Remove the pit if there is one and discard. Stuff each date with goat cheese, then gently squeeze to seal.
Wrap each date with bacon and place seam side down on the prepared baking sheet or rack fitted over baking sheet. Or use a toothpick to secure. Repeat with the remaining dates.
Evenly drizzle or brush each date with maple syrup. The goal is to coat the bacon in maple syrup so that it caramelizes in the oven.
Transfer to the oven and bake 20-25 minutes, or until the bacon is crisp and golden. I like to turn them once or twice in between for even cooking.
Remove from the oven, place on a paper towel lined plate, and let stand for 5 minutes before serving. Serve warm or room temperature with extra maple syrup drizzles.
Refrigerate leftovers for up to 2-3 days. Reheat In oven on baking sheet at 350°F. for 10-12 minutes or until bacon is crisp
Recipe Notes
Oven temperatures may vary. Cooking times may vary according to your oven and also the thickness of your bacon. Monitor them closely after the 15 minute mark to avoid overcooking or burning. Make ahead and storage instructions:
These can def be made ahead. Stuff dates and warp with bacon then cover them tightly and refrigerate until you're ready to bake them.
To freeze: Fill the dates with cheese, wrap in bacon, secure with a toothpick, then freeze on a baking sheet. Once frozen, transfer the dates to a freezer storage bag and freeze for up to a month. Thaw overnight in the fridge, then bake them as directed.
Refrigerate leftovers for up to 2-3 days. Reheat In oven on baking sheet at 350°F. for 10-12 minutes or until bacon is crisp