Fig Prosciutto Gorgonzola and Arugula Pizza With Hot Honey
Updated 4th December 2023
Thin crust Pizza with fig jam or fig preserves, caramelized shallots, Prosciutto di Parma, Gorgonzola and Arugula - a simple easy recipe for thin crust pizza with the perfect combination of flavours!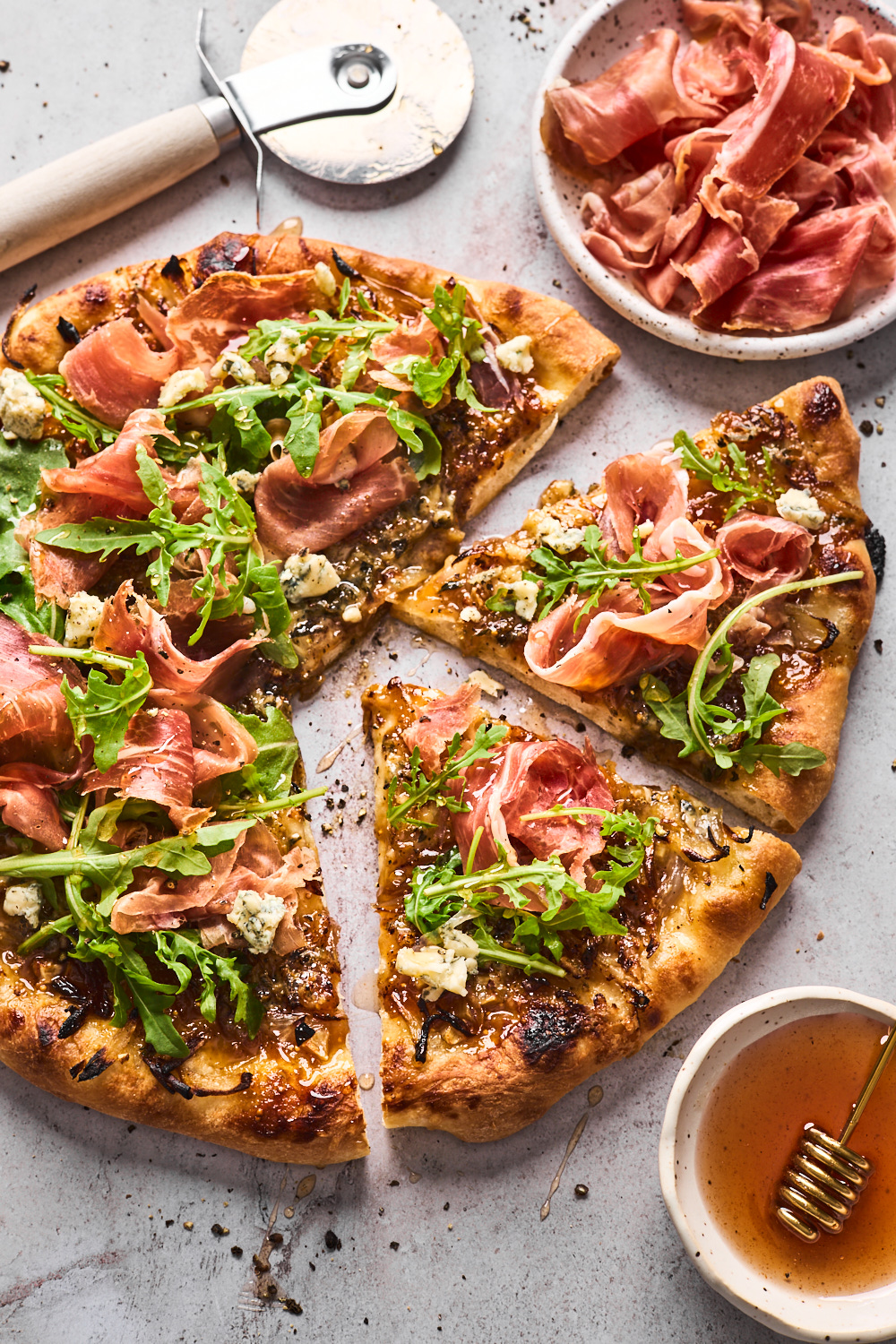 This fig pizza is incredibly easy to make and tastes like something out of your favourite restaurant. Grab some fig jam, a little Gorgonzola cheese and Prosciutto di Parma and enjoy one of the best pizzas. I'm usually a sucker for classic pepperoni as you guys know or a Margherita with prosciutto and arugula, but there are times when I want to switch it up a little, and that's where this pizza with Prosciutto di Parma, Gorgonzola, fig jam, and lemony arugula comes into the picture. I love this salty-slightly tangy-sweet pizza that is great for a quick weeknight meal or a fancy-ish appetizer for your next party. I partnered up with Prosciutto di Parma to share this fabulous recipe with you guys that includes their delicious prosciutto.
What is Prosciutto di Parma PDO?
Prosciutto di Parma is an air-cured ham from Italy that is prized around the world. It Prosciutto di Parma is produced in the countryside, surrounding the city of Parma in North-Central Italy where the dry, sweet air creates the perfect conditions for the natural curing of the hams. It is 100% natural, gluten free, and free of added nitrites and nitrates - it is made with only 4 ingredients: pork, sea salt, air and time. It's totally free of preservatives, additives and hormones. It is served thinly sliced with enough fat that it almost melts in your mouth. It's perfect when eaten on a charcuterie at room temperature and on this pizza but it's also wonderful cooked in pastas, and wrapped around fish or chicken.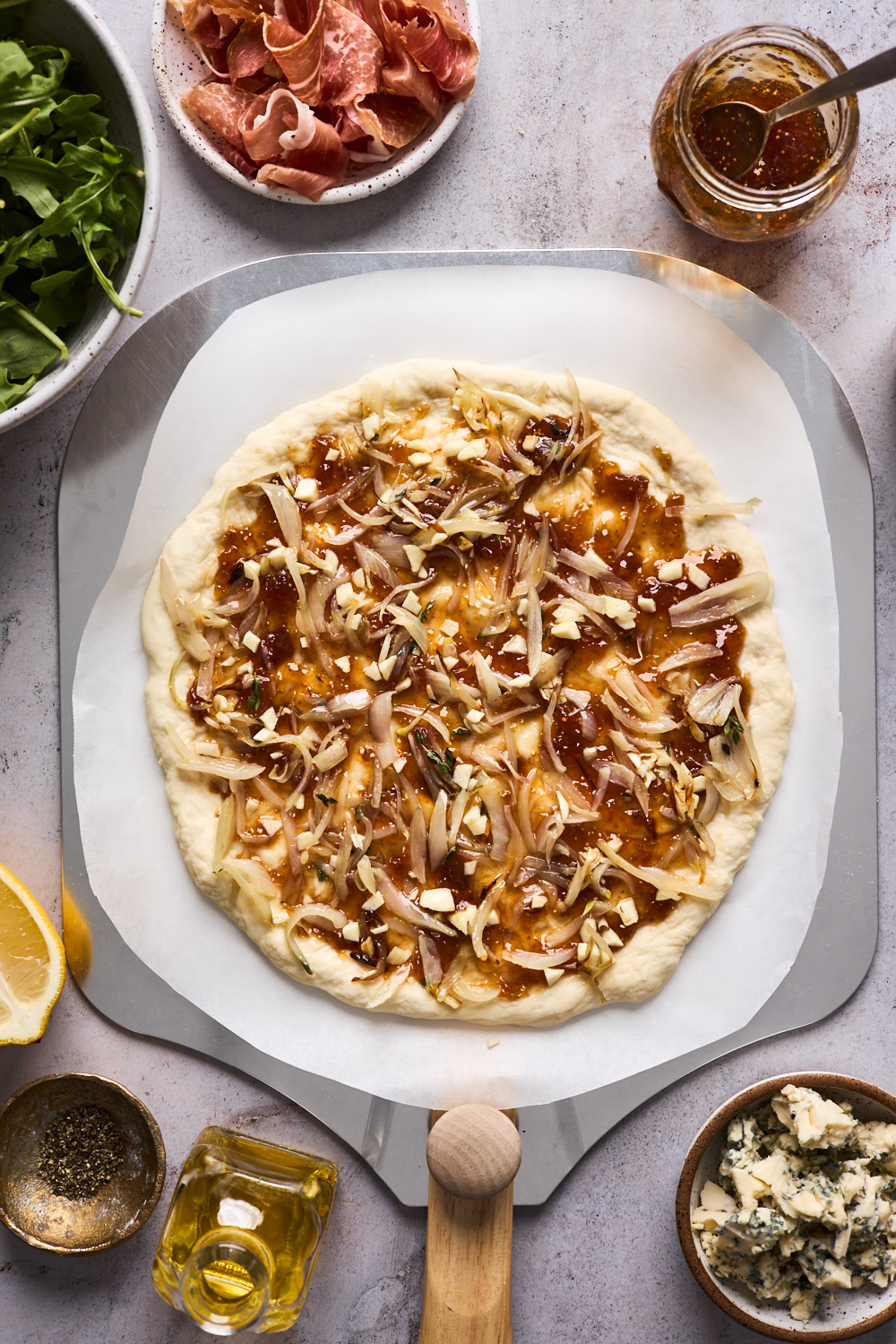 What pizza dough to use?
Who doesn't love a homemade pizza. You can make your own homemade pizza dough from scratch for this recipe or get a ball of fresh pizza dough from your favourite local pizzeria, or from the grocery store. Store bought definitely makes it possible to have homemade pizza on the table 30 minutes or less.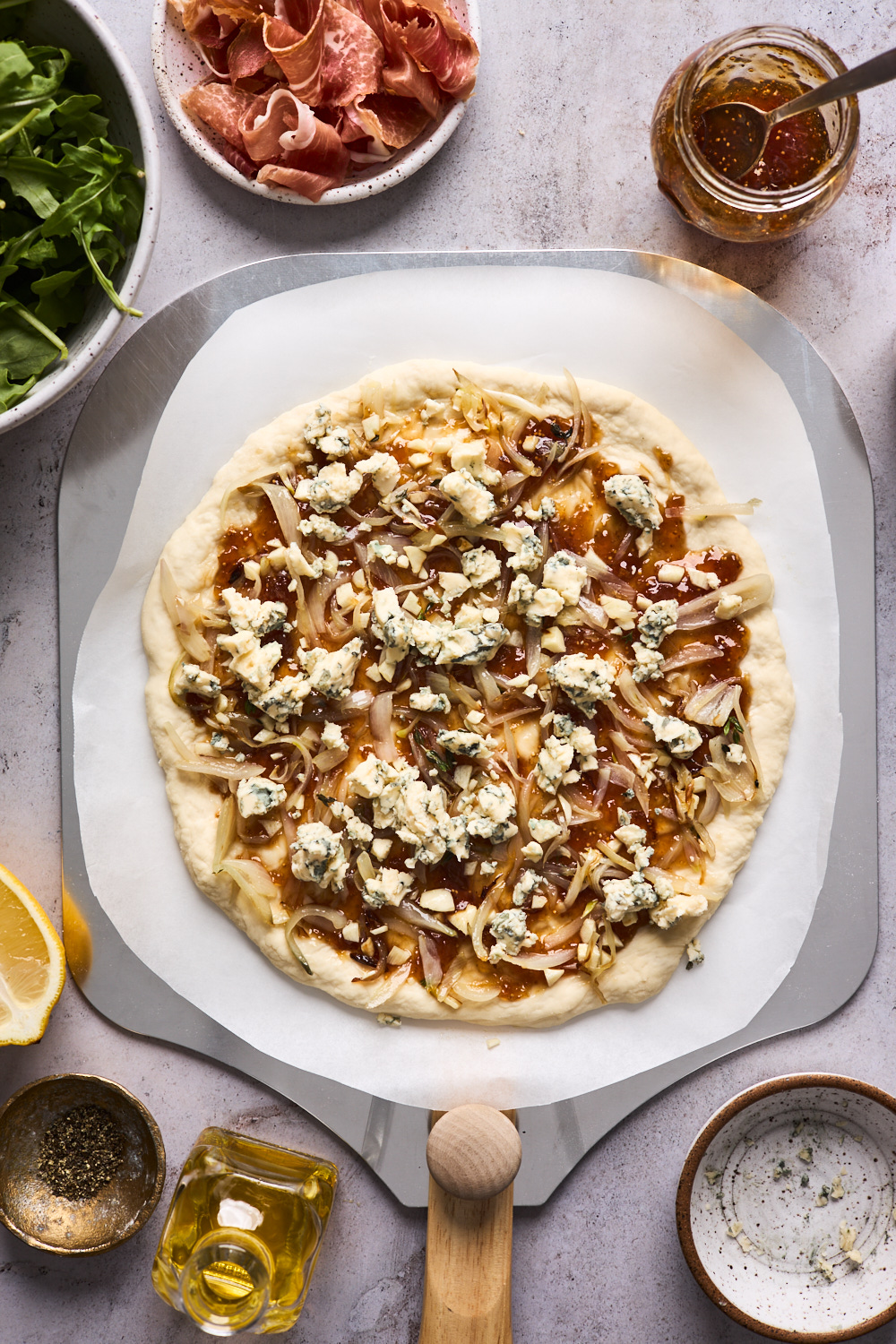 Thin Crust Pizza
Thin crust pizza is innately Italian, and most people who think of thin-crust pizza think of New York style or Neopolitano. This is the pizza that is thin in the centre with a thick fluffy crust around the outside. This is the style of pizza we are talking about here in this recipe. I strongly recommend making this on your pizza stone if you have one to get a really good crispy crust that's chewy in the middle - and perfect! If you don't have a pizza stone, you can put a cookie sheet in the oven upside-down and let it pre-heat with the oven so you have a nice hot surface to put your pizza on to get that really good crust.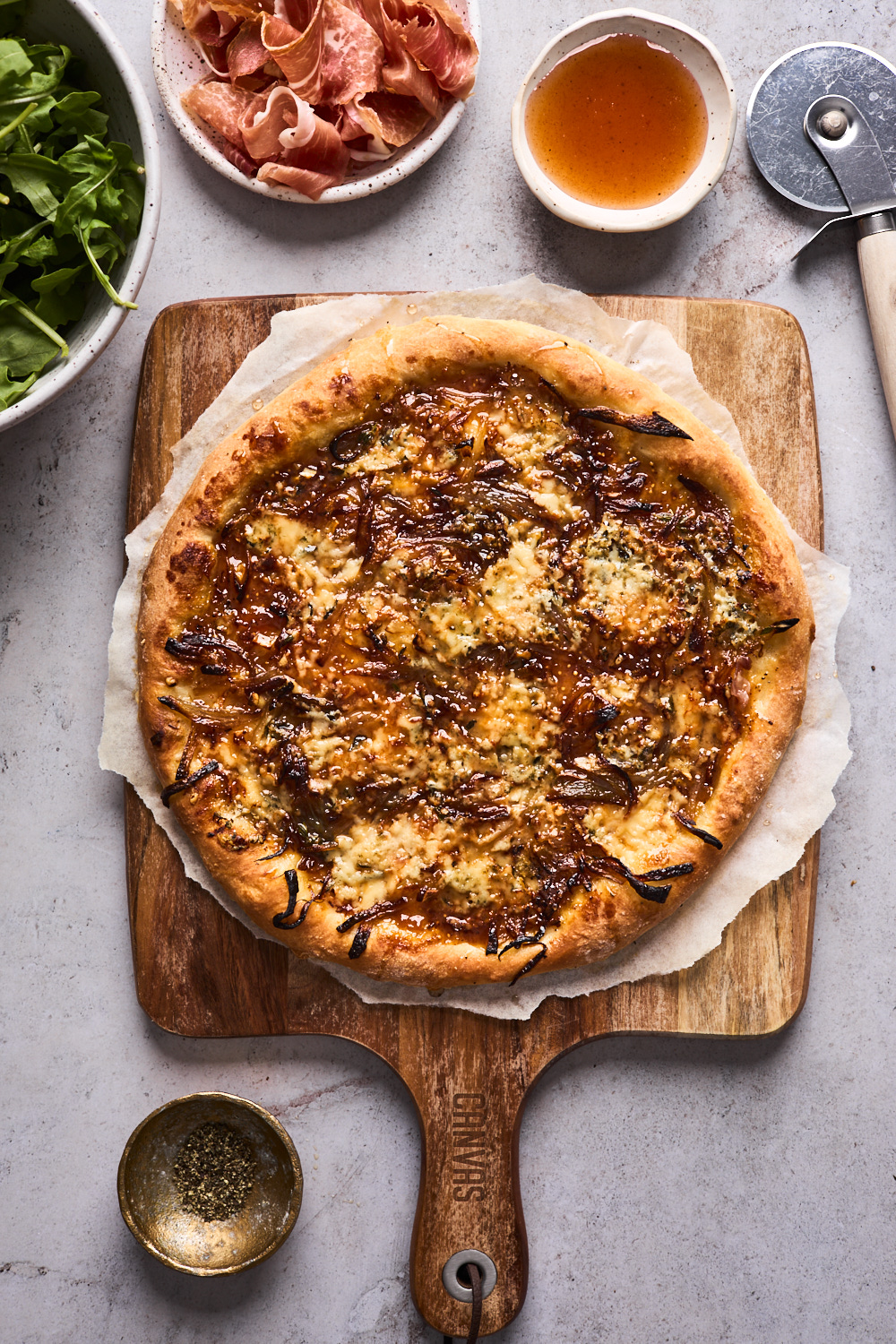 Ingredients in this Fig & Prosciutto di Parma pizza:
PIZZA DOUGH: Homemade or store bought is just fine for making this pizza
FIG JAM/PRESERVES: Either homemade or store bought is great in this pizza. Feel free to add fresh figs in the mix either before or after the pizza is baked - they bake up into jammy sweet morsels. Or they add a beautiful texture when added fresh with the arugula.
SHALLOTS: Feel free to use red onions in place of the shallots. I like shallots for their subtler sweeter flavour and how quickly they soften and cook but even yellow onions work here too. You may have to cook the onions longer though.
THYME: I love the flavour of fresh thyme with the figs but feel free to use your favourite fresh herb in its place - rosemary works beautifully here too.
GORGONZOLA: Feel free to use any blue cheese in its place or if you want a milder flavour you could use any other cheese you prefer on your pizza. Goat cheese works well here too. If you prefer fresh mozzarella cheese that is fine too or finish it off with creamy burrata or salty finish with grated parmesan cheese
PROSCIUTTO DI PARMA: I definitely recommend this buttery, melt in your mouth prosciutto. It adds just the right amount of savoury saltiness you want with the sweet jam and tangy cheese.
ARUGULA: Any fresh green would work here like spring mix or even baby kale but I love the peppery flavour of arugula. The fresh greens add a nice flavour and texture to this pizza. They are lovely tossed in the lemon olive oil vinaigrette - go easy on it though. You just what the greens lightly coated not overly, otherwise they will get soggy.
HOT HONEY: Hot honey is simply honey with hot sauce. Its not everyone's favourite so if you prefer to drizzle something else over the pizza balsamic glaze or reduced balsamic vinegar is a good alternative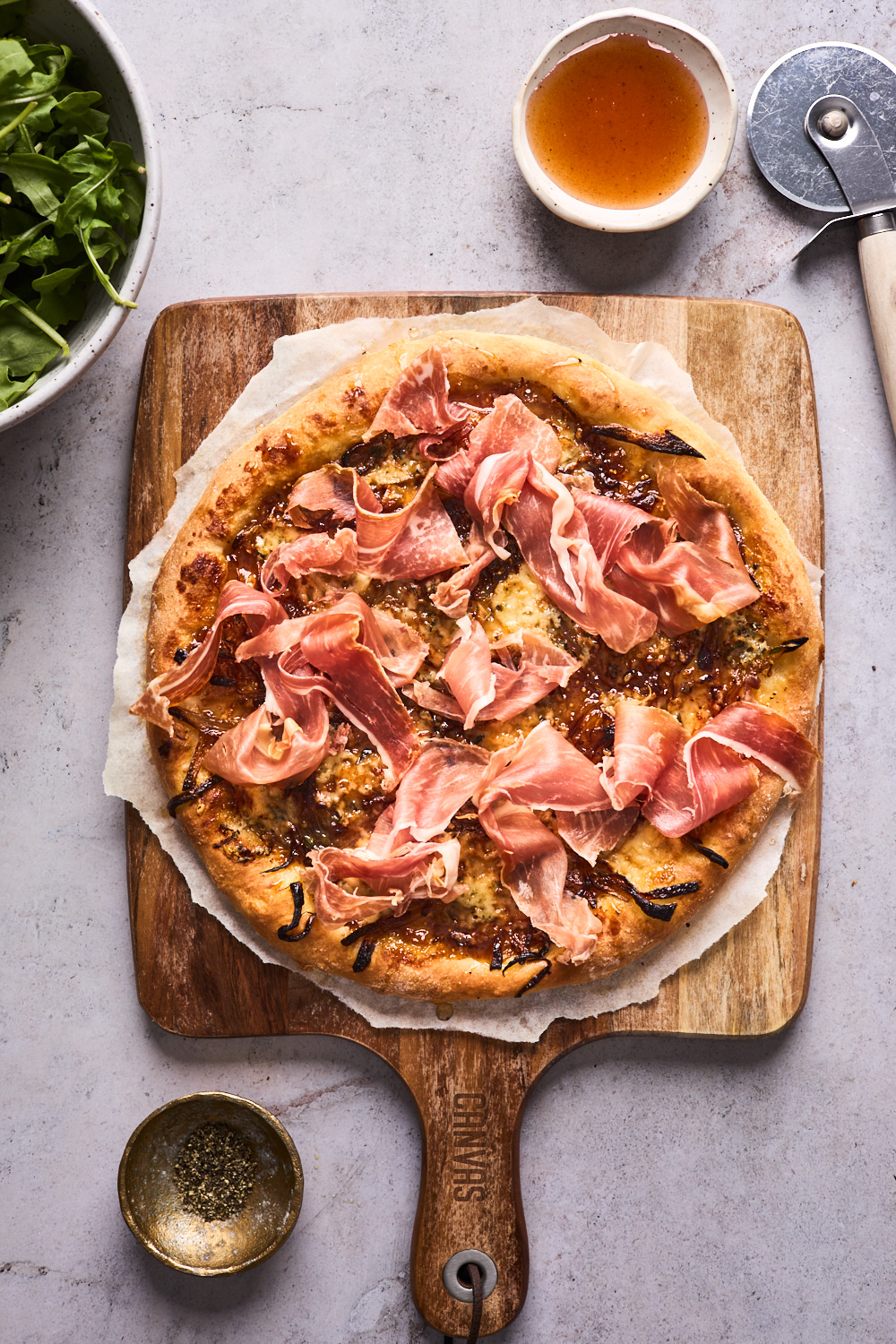 How to make this Fig and Prosciutto pizza (detailed instructions in recipe below):
Pan fry the shallots until softened with caramelized edges.
Prepare dough. Stretch or roll dough with rolling pin into a 10-12 inch round.
Spread dough with the fig jam and then sprinkle over the caramelized shallots and the Gorgonzola cheese
Bake until cheese is bubbly and pizza is golden
Toss arugula with olive oil and lemon juice
Make your hot honey If using
Remove pizza and top with Prosciutto di Parma, along with the tossed arugula. Drizzle with hot honey then slice and serve. Enjoy!
More Recipes You Will Love
Recipe
Yields: One 10 inch pizza
Prep Time: 10-15 mins
Cook Time: 20 mins
Ingredients
For the pizza
½ lb homemade or store-bought pizza dough

1 tablespoon + 1 teaspoon olive oil

2 shallots, peeled and thinly sliced

1 clove of garlic peeled and minced

1 teaspoon chopped fresh thyme

½ teaspoon salt

⅓ cup fig jam

1-½ oz. Gorgonzola or your favourite blue cheese, crumbled (approx ⅓ cup); more to taste

1 teaspoon fresh lemon juice

2 oz. baby arugula (approx ½ cup)

2 oz. thinly sliced Prosciutto Di Parma (approx 6-8 slices)

Freshly ground black pepper
For the hot honey
¼ cup honey

2 teaspoons hot sauce (Cholula or Tabasco work great)
Directions
For the Pizza
Set a pizza stone (see note below for alternatives) in the oven and preheat the oven to 500°F. Do this 30 minutes prior to cooking the pizza.
Heat 1 tablespoon of the oil in a medium skillet. Add the shallots, sprinkle with a pinch of salt, and cook over medium-low heat, stirring occasionally, until very soft and browned, approx 8-10 minutes. Stir in the garlic and the thyme cook for 30 more seconds then remove from heat.
Make the pizza dough or if using store bought remove from fridge and let rest on a lightly floured surface while you prepare the toppings.
Line pizza peel with parchment paper or sprinkle a little semolina or regular flour on it. If you don't have a pizza peel, you can use the back of a rimmed baking sheet or a rimless baking sheet.
With your fingers gently stretch press the dough into a circle stretching it as needed so that it's 10-12 inches. Put it on the peel.
Use the back of a spoon to spread the jam over the dough, leaving about a ½-inch border. Sprinkle the shallot garlic thyme mixture over the dough. Sprinkle the blue cheese over that.
Transfer the pizza to the hot pizza stone (with the parchment, if using), and bake until the crust is golden brown and the cheese and jam are bubbling and hot, approx 6-8 minutes.
Meanwhile, in a medium bowl, combine remaining oil and the lemon juice. And toss the arugula with it.
For the hot honey
Place the honey and hot sauce in a microwave-safe container and microwave for 30 seconds. (Alternatively, heat the mixture for a few minutes over low heat on the stovetop in a small saucepan until combined.) Serve warm. Store in a sealed container in the refrigerator for up to 3 months.
Remove the cooked pizza from the oven. Lay the Prosciutto di Parma over it, and then top with the arugula. Drizzle with hot honey, and crumble on more cheese if you would like, slice, and serve.
Recipe Notes
What can you use instead of a pizza stone? One of the best alternatives for a pizza stone is the inverted baking sheet because every kitchen has them. Other alternatives include a hot grill, cast iron pan and baking steel.
To grill the pizza: Heat a gas grill on high heat, and oil the grate. Carefully place the dough directly onto hot grill. Close the grill, and cook until grill marks appear and the dough puffs up, 1 to 3 minutes. Using tongs, transfer the dough to a floured peel or baking sheet, cooked side up. Top the cooked side with the fig jam, onion mixture and cheese, and return to the grill, uncooked side down. Grill until the other side is cooked through and the cheese has melted, 1 to 3 minutes. Top with the Prosciutto di Parma and arugula as the recipe directs.