Greek Stuffed Pepper Soup
This easy stuffed pepper soup recipe done Greek style is Just like my Greek classic stuffed peppers but in soup form - tomato base soup that is quick to make (and less prep work than traditional stuffed peppers) but still has tons of flavor! This hearty One-Pot Stuffed Pepper Soup is easy, healthy, and delicious. It's the perfect busy weeknight meal. If you are like me one of my favorite things about stuffed peppers is the filling, so this soup is basically the filling with a bit more liquid which is great for dipping some crusty bread into to sop up the delicious broth. This and some crusty bread or garlic bread and a side salad and you have a hearty and fabulous dinner on the table in no time.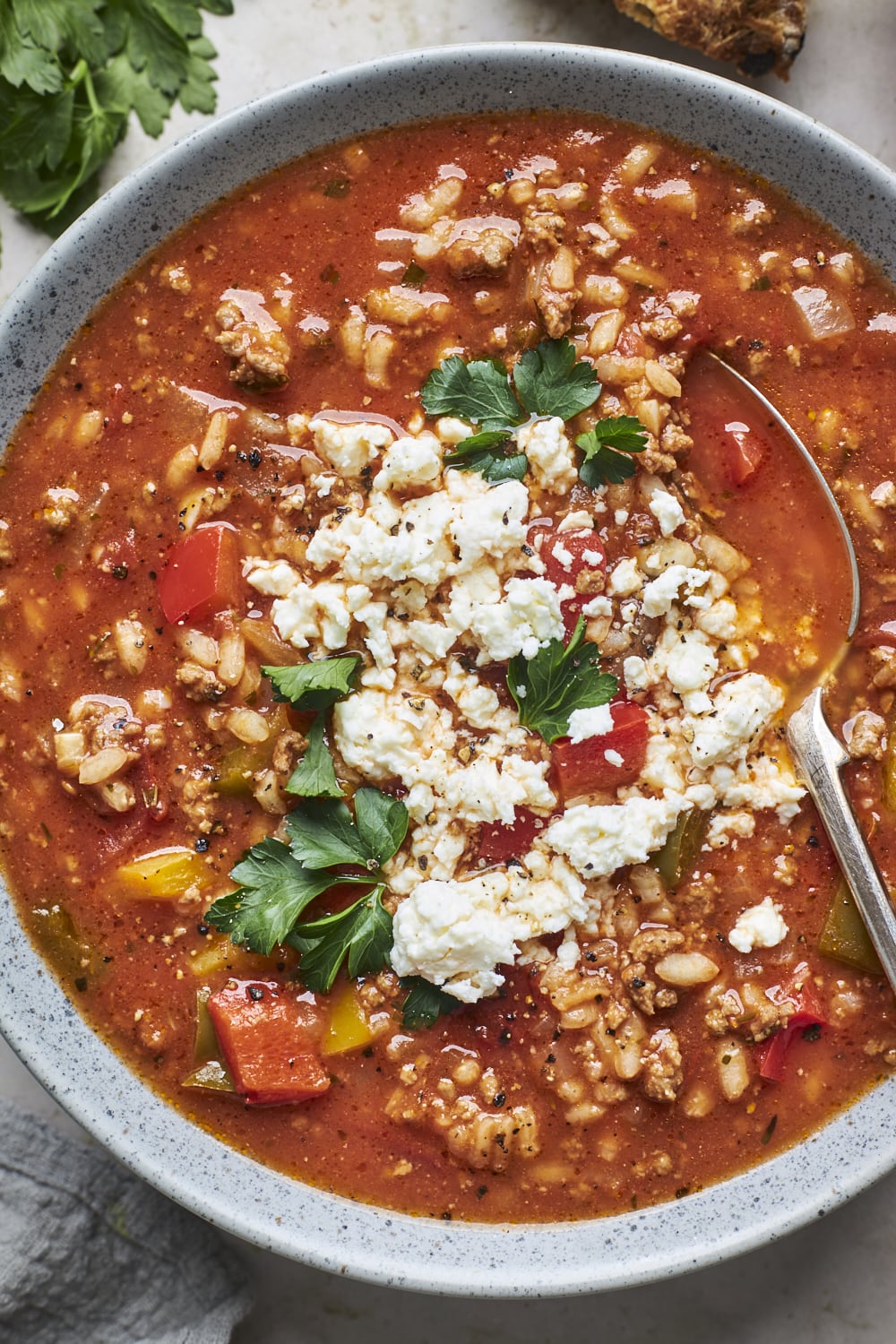 Stuffed Pepper Soup Recipe Ingredients 
Ground Beef - I like to use lean ground beef but you can also use ground turkey or even ground Italian sausage or a blend of ground beef and sausage for extra flavour 
Peppers - I like to use a variety of bell peppers - so you chose which ones you like and use those remembering that red, yellow and orange peppers tend to be sweeter while green peppers are a bit more zesty. Feel free to add some jalapeños for some heat or even some poblanos if you are doing a tex mex version 
Onion & Garlic - use red or yellow onion and as much or little garlic as you like - I love garlic so I do the full 6 cloves 
Spices - I use chili flakes, dried thyme, dried oregano and a pinch of paprika but feel free to switch things up like using Italian seasoning or for a tex mex version use a tex mex spice blend etc
Herbs - typically I use fresh mint and parsley for this greek version but feel free to switch up the flavors with some chopped basil or cilantro for a tex mex version
Tomatoes - I use a blend of fire roasted chopped tomatoes and crushed tomatoes - feel free to use a thick tomato sauce or passata if you prefer 
Broth/Stock - I typically use chicken broth/chicken stock because that is what I usually have but feel free to use beef broth for extra rich flavour 
Rice - I love to use arborio rice in mine because that is my fav rice to use in my stuffed peppers but feel free to substitute the arborio rice for long grain rice. Brown rice can also be used but it usually needs 30-40 min of simmering so I would recommend not adding the peppers in to the soup until the last 10-15 minutes of cooking and you may need to add more broth 
Cheese - crumbled feta is what I love to top and garnish my soup with and I like to also use grated mizithra or grated Parmesan or Romano cheese to stir into the soup or top to garnish with as well. Feel free to stir in some shredded cheddar cheese or mozzarella cheese or any shredded cheese of your liking 
Optional Add Ins - use cooked shredded chicken instead of ground beef, use extra vegetables like chopped celery and carrots in the base or even add some chopped greens like spinach or kale, add some extra protein and fiber by adding beans or swap the meat for vegan mince or chopped mushrooms or beans. If desired, add 1-2 TB sugar to taste, as it offsets the tang of tomatoes
Alternatives - Can I use cooked rice in stead? Yes you def can. Use 2-2¼ cups of cooked rice or leftover cooked rice and stir it into he soup after simmering it stirring it through just enough to warm it. I would reduce the amount of broth but 1-2 cups beau you aren't cooking the rice in it. Add more as needed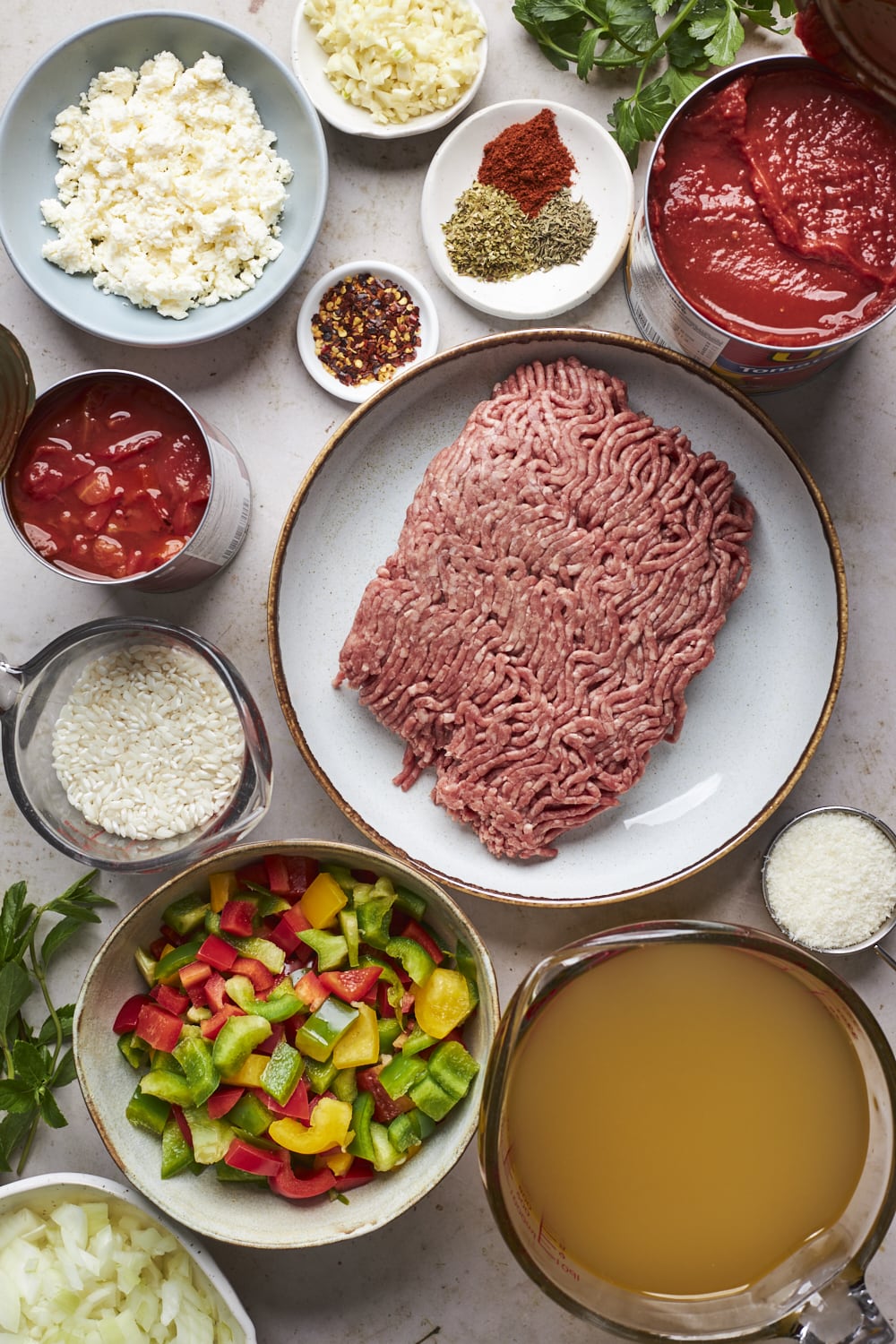 How to Amp Up The Flavours in Your Stuffed Red Pepper Soup
Ok so this is the kind of soup that can be made different every time depending on all your add ins. I do usually add a few extra things to mine to amp up the flavours similar to the way I like to amp up the flavours in the filling for my stuffed peppers. 
Tomato Paste - this always adds richness to any sauce or soup and deepens the flavour - I usually add 1 tablespoon of it after I have cooked the peppers and garlic and stir it in and allow it to cook for 1 minute 
Wine - adds so much flavour to soups stews and sauces always - I like to de-glaze the pot with it after I have cooked the tomato paste and I usually only add ¼ cup of either white or red wine depending on what I have opened at the time 
Spices - yes extra spices - I usually add a pinch of cinnamon and pinch of clove - usually what I add to my greek style meat sauce - this really amps up the flavours and all you need is literally a pinch no more - it should not overpower just add some indistinct warmth in the background of this soup 
Herbs - in my vegetarian stuffed tomatoes I add dill to the blend of fresh herbs - I love dill but its not everyones fav and I don't always add it to the meat version of my stuffed peppers but if you are a fan feel free to add some in to the soup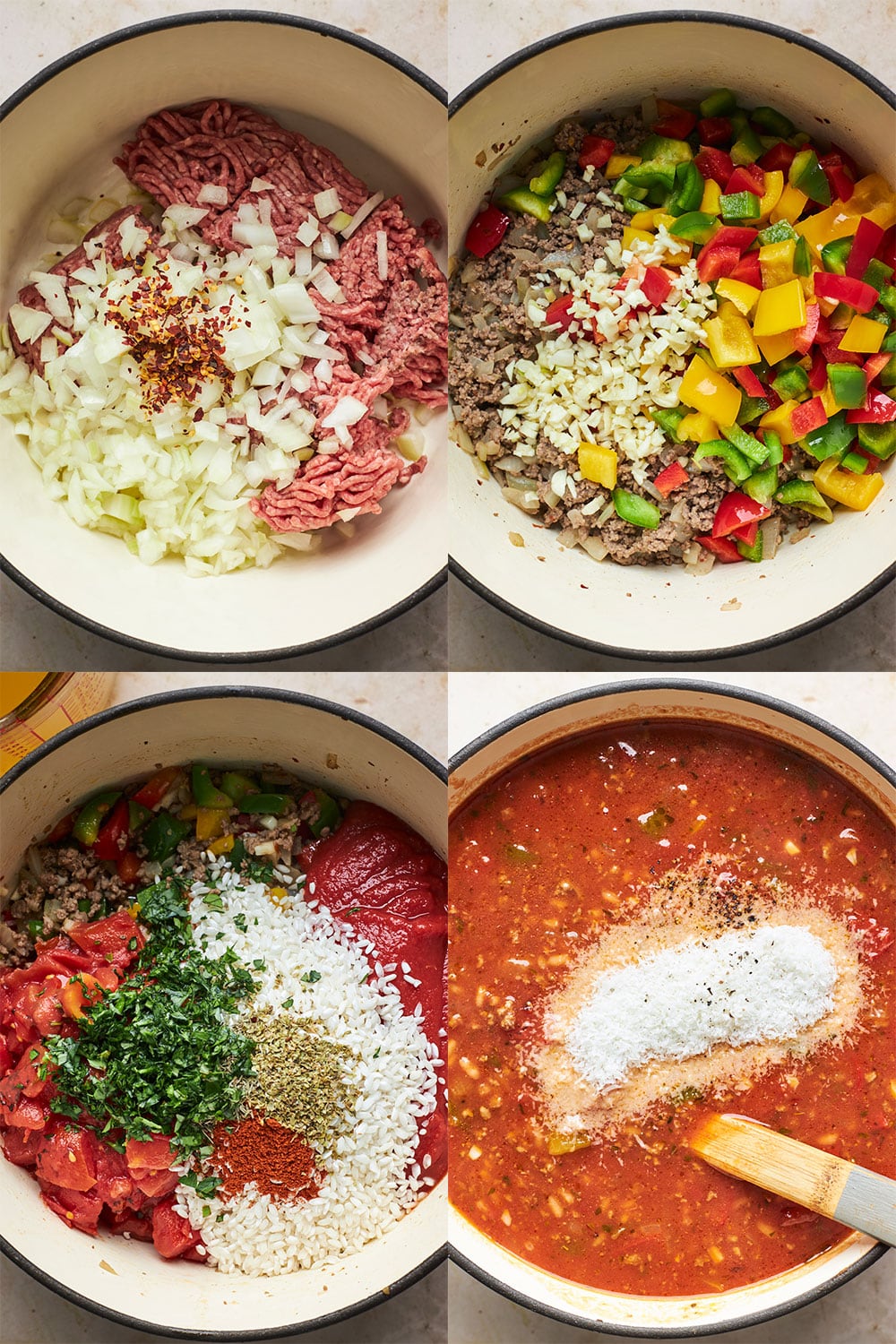 How to Make Stuffed Pepper Soup:
Once you have all your veggies and herbs chopped this soup comes together within 30 minutes - got to love that. Here are the basic steps to making this Greekstyle classic stuffed pepper soup. The full details are in recipe card below. 
SAUTE and brown the beef with the onions and chili flakes (drain off any excess grease if needed) 
Add the peppers and garlic and COOK until softened 
STIR in the rice, tomatoes, broth, spices and herbs 
SIMMER until rice is cooked through - then stir in grate mizithra cheese or parmesan cheese 
Serve GARNISHED with crumbled feta and fresh chopped parsley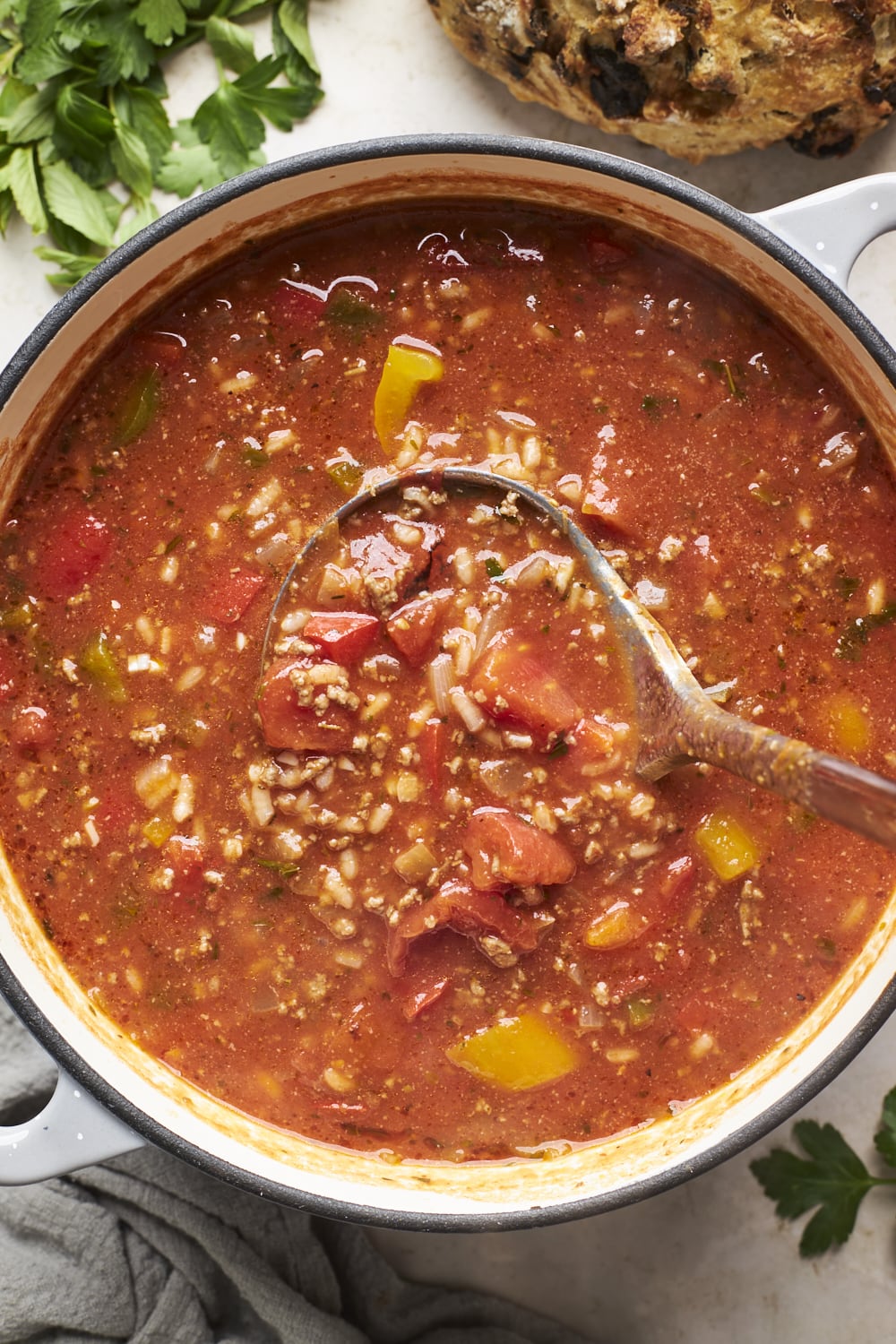 Storage, Freezing & Reheating 
STORAGE - Leftovers can be stored in an airtight container in the refrigerator, reheating stove top or in the microwave 
FREEZING - Stuffed pepper soup can be frozen but rice doesn't freeze well to it's a good idea to omit the rice if you plan on freezing this soup. Store the cooled soup without the rice in an air tight freezer friendly container for up to 3 months. Thaw overnight in the fridge then reheat stovetop and stir in cooked rice when reheating. The bell peppers will be quite softened in texture.
REHEATING - The rice will absorb much of the liquid as it's stored and the soup will thicken quite a bit (for some that is a good thing as they like it thick), so be prepared to add additional broth or water as needed while reheating stove top or in the microwave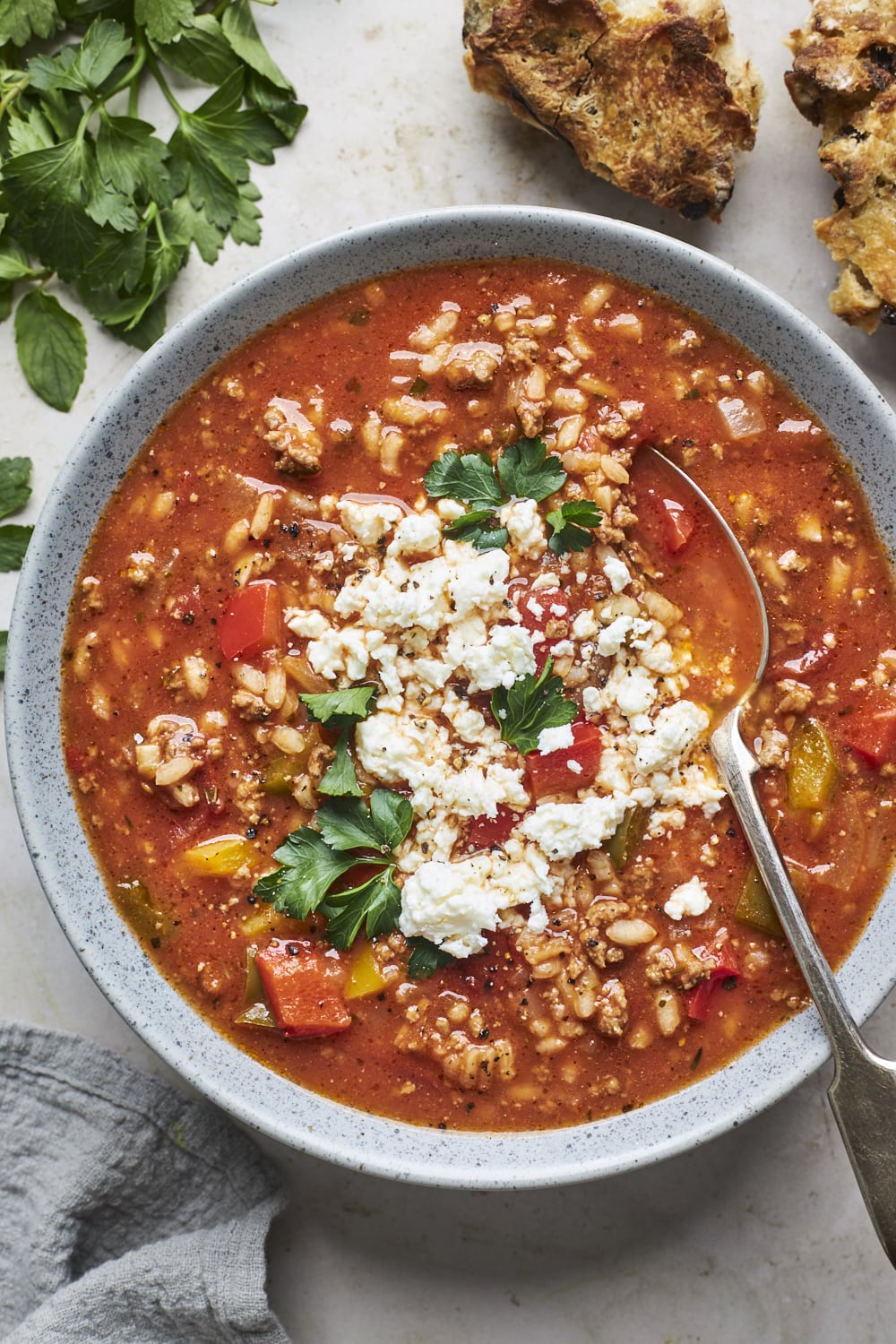 More Cozy & Hearty Soups You Will Love
Recipe
Prep Time: 15 mins
Cook Time: 30 mins
Ingredients
1 tablespoon olive oil 

1 lb. lean ground beef

1 yellow or red onion, peeled and chopped 

1 red or yellow bell pepper, seeds and stems removed and chopped into ½-inch pieces 

1 green bell pepper, seeds and stems removed and chopped into ½-inch pieces 

4-6 garlic cloves, peeled and minced

¼ teaspoon red pepper flakes, more or less to taste 

One 28 oz. can crushed tomatoes

One 14.5 oz. can fire roasted diced tomatoes (not drained)

¾ cup uncooked arborio rice or long grain white rice

1 tablespoon fresh chopped parsley 

1 tablespoon fresh chopped mint 

½ teaspoon dried thyme

1 teaspoon dried oregano 

¼-½ teaspoon of paprika 

1 bay leaf 

6 cups low sodium beef broth

Salt and black pepper to taste 
Toppings
Crumbled feta cheese
Freshly grated Parmesan cheese or mizithra cheese 
Fresh parsley   
Directions
Heat oil in a large pot or Dutch oven over medium high heat. 
Add the ground beef, onions and chili flakes and cook until browned and cooked through breaking it up with a wooden spoon.
Add the bell peppers, garlic and sauté until softened. Drain off excess grease if needed. 
Add all the spices, herbs, bay leaf, tomatoes, broth and rice and bring to a boil 
Once boiling, reduce heat to low and continue to cook at a simmer, stirring occasionally until rice is cooked though, approx 8-15 minutes. Times will vary depend on rice and rice brand you use. Check if done periodically and stir in additional broth if needed for a thinner soup or to your desired thickness keeping in mind that the soup will get thicker as it cools. 
Stir in grated mizithra or Parmesan cheese and season with salt and pepper to taste 
Ladle soup into bowls and top garnish with crumbled feta cheese or more grated mizithra or parmesan cheese and fresh chopped parsley 
Recipe Notes
STORAGE - Leftovers can be stored in an airtight container in the refrigerator, reheating stove top or in the microwave 
FREEZING - Stuffed pepper soup can be frozen but rice doesn't freeze well to its a good idea to omit the rice if you plan on freezing this soup. Store the cooled soup without the rice in an air tight freezer friendly container for up to 3 months. Thaw overnight in the fridge then reheat stovetop and stir in cooked rice when reheating. The bell peppers will be quite softened in texture.
REHEATING - The rice will absorb much of the liquid as it's stored and the soup will thicken white a bit (for some that is a good thing as they like it thick), so be prepared to add additional broth or water as needed while reheating stove top or in the microwave