Honey And Fig Pavlova
My husband cannot ever get enough of meringue or as Trinbagobian's call it – soupees. That is why I decided to make the meringue cake. I have made pavlova or meringue before with a cookbook challenge held by Deborah and her Rainy Day Bites cookbook club and it was pretty straightforward. The recipe was from Dennis Prescott and was a very descriptive one with very good instructions. The thing about his recipe though is that in the end you smashed it to serve. So even if there were cracks in it you didn't have to worry about it or worrying about it collapsing on you. Ever since making that one, Johann has literally been asking for meringue non-stop.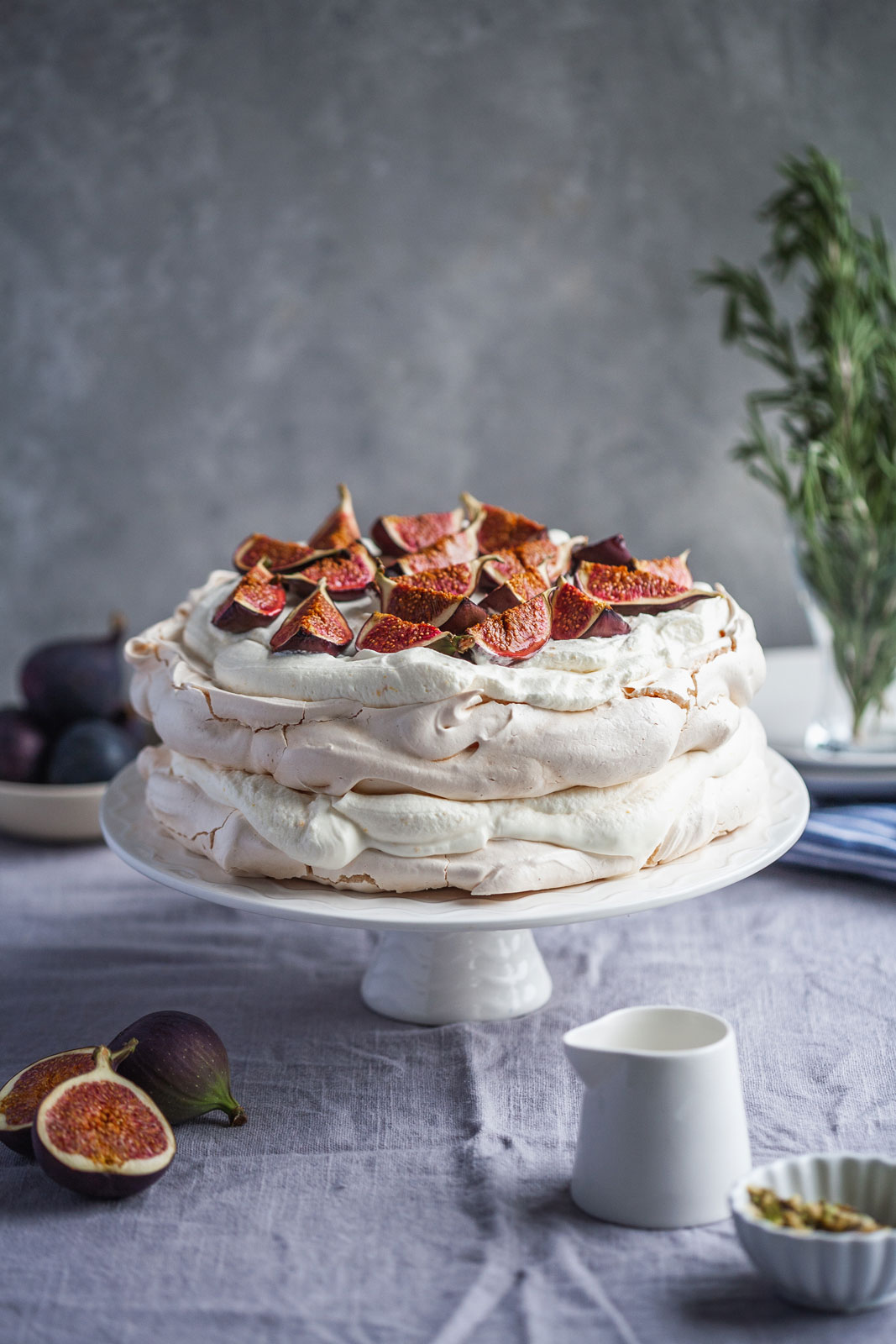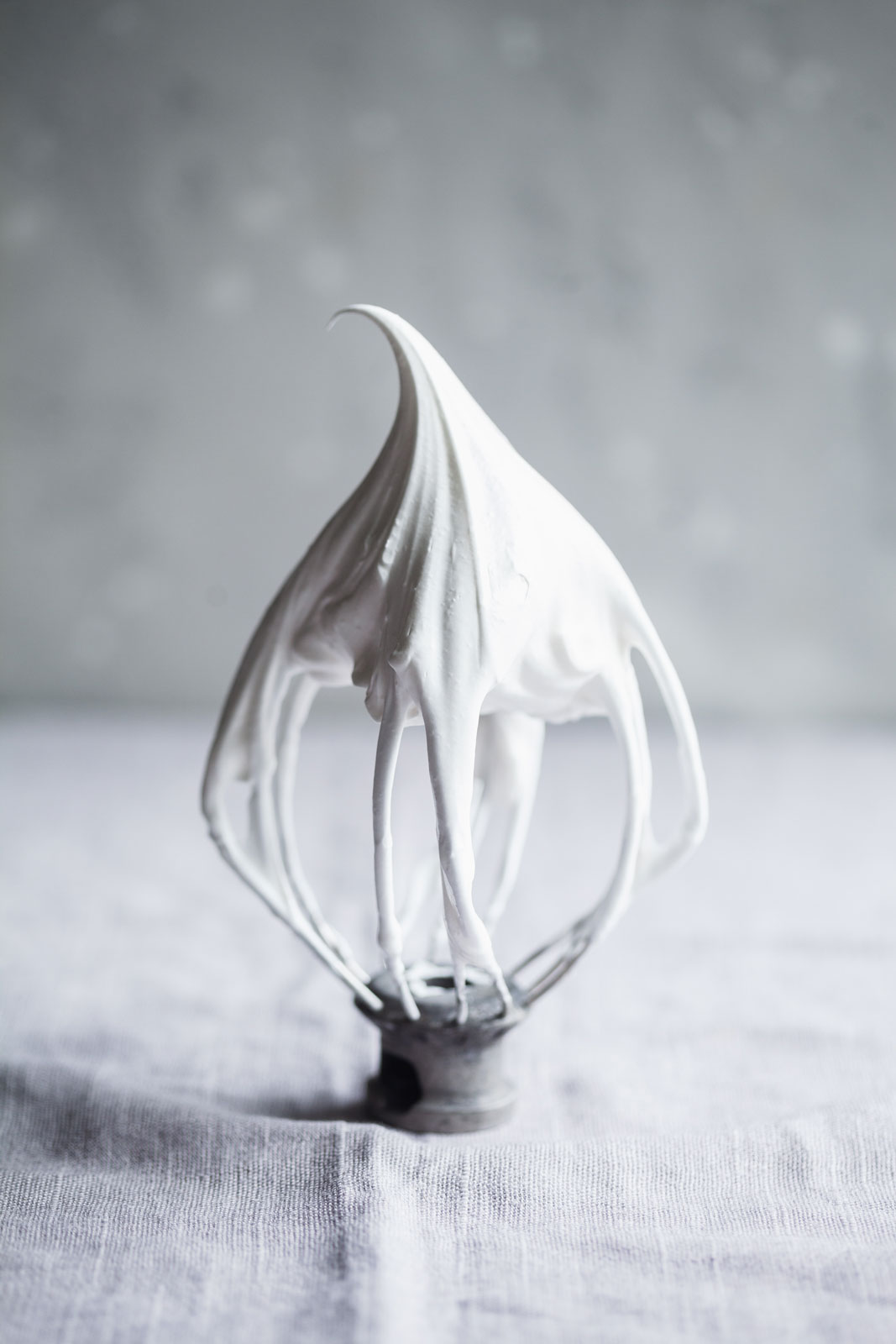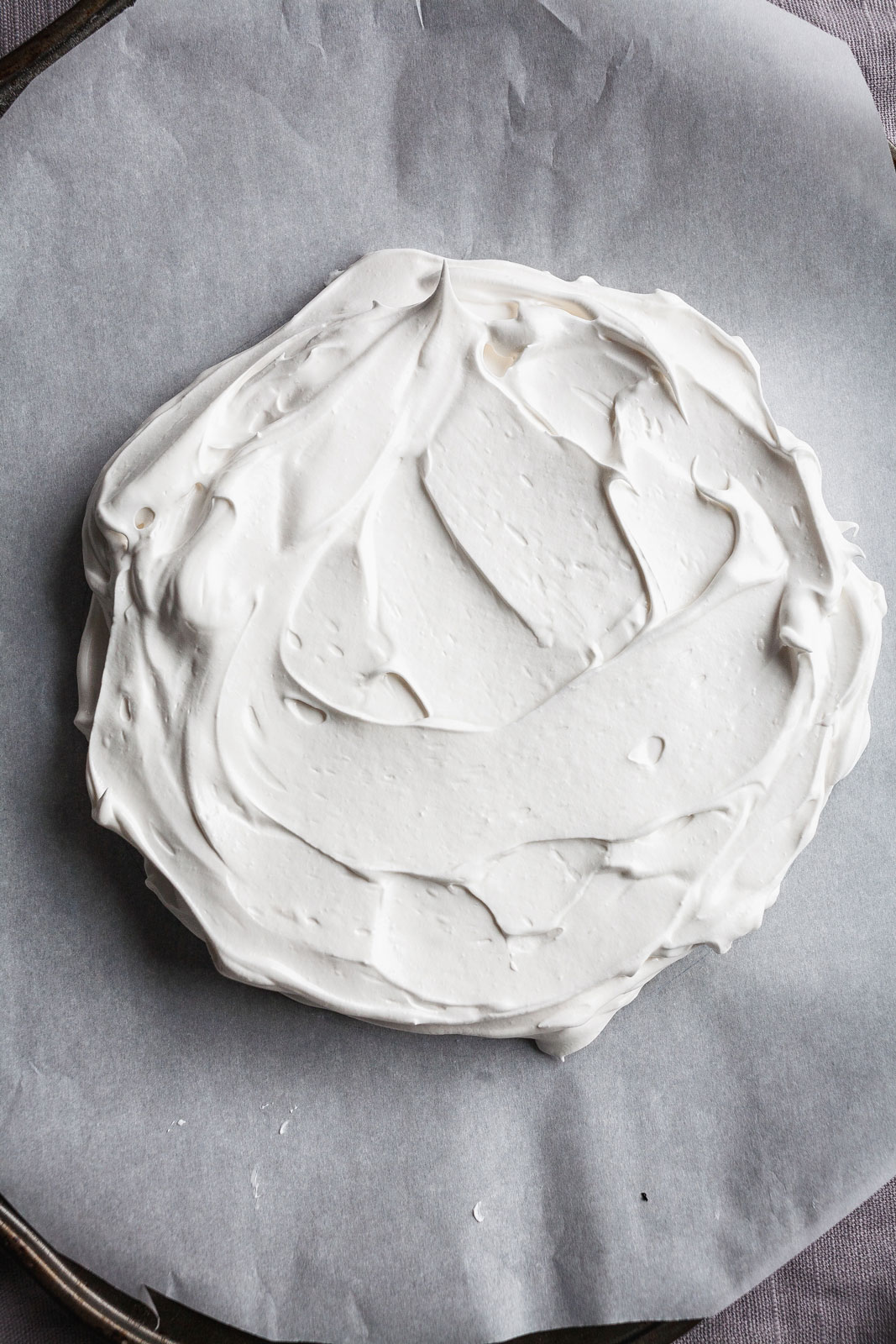 I thought I would be adventurous and make two pavlovas and layer them with a delicious fragrant cream between the layers. I also thought what better time to make the pavlova cake then when figs are in season and readily found. They are delicious and perfectly sweet when roasted and also make the perfect pavlova toppers.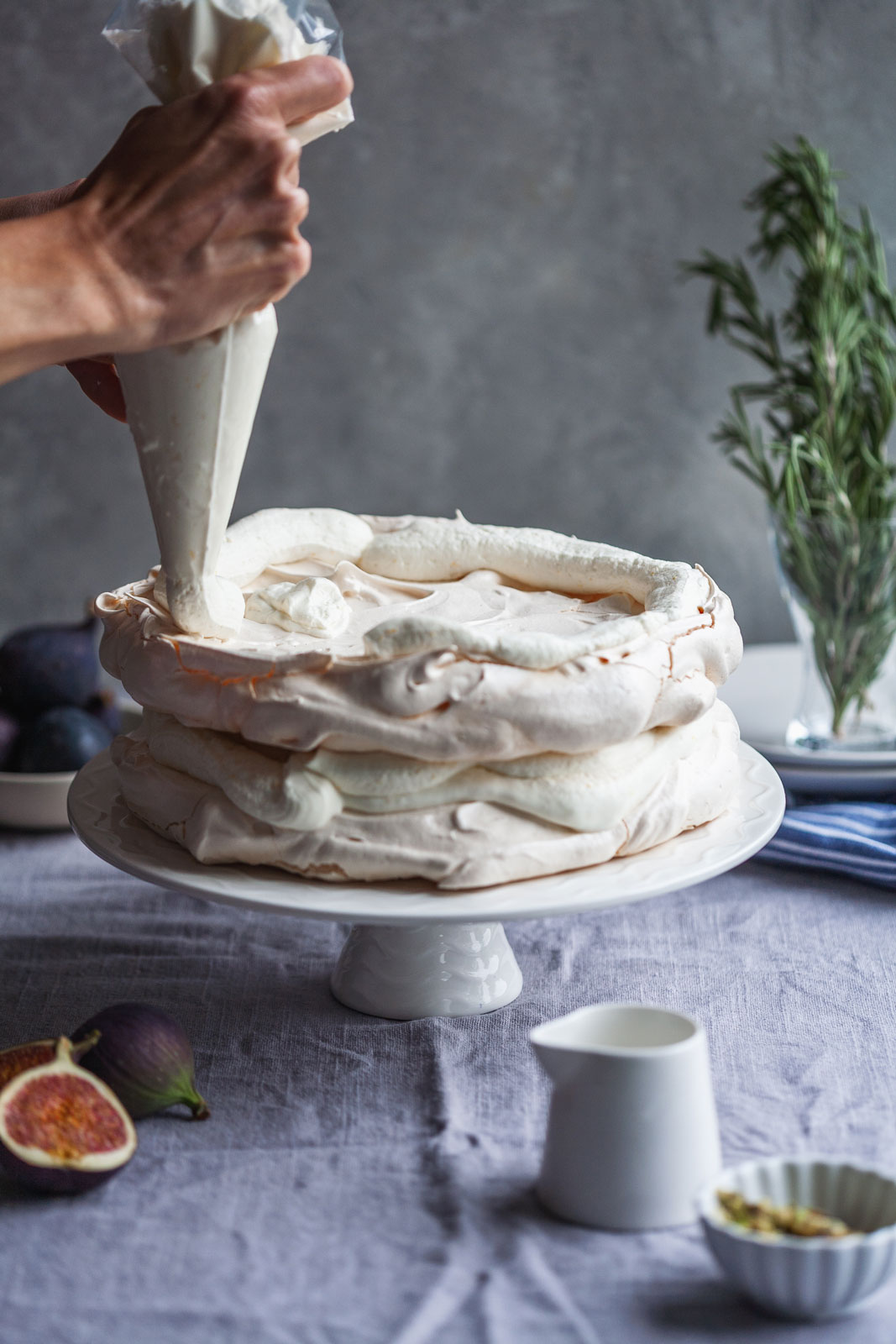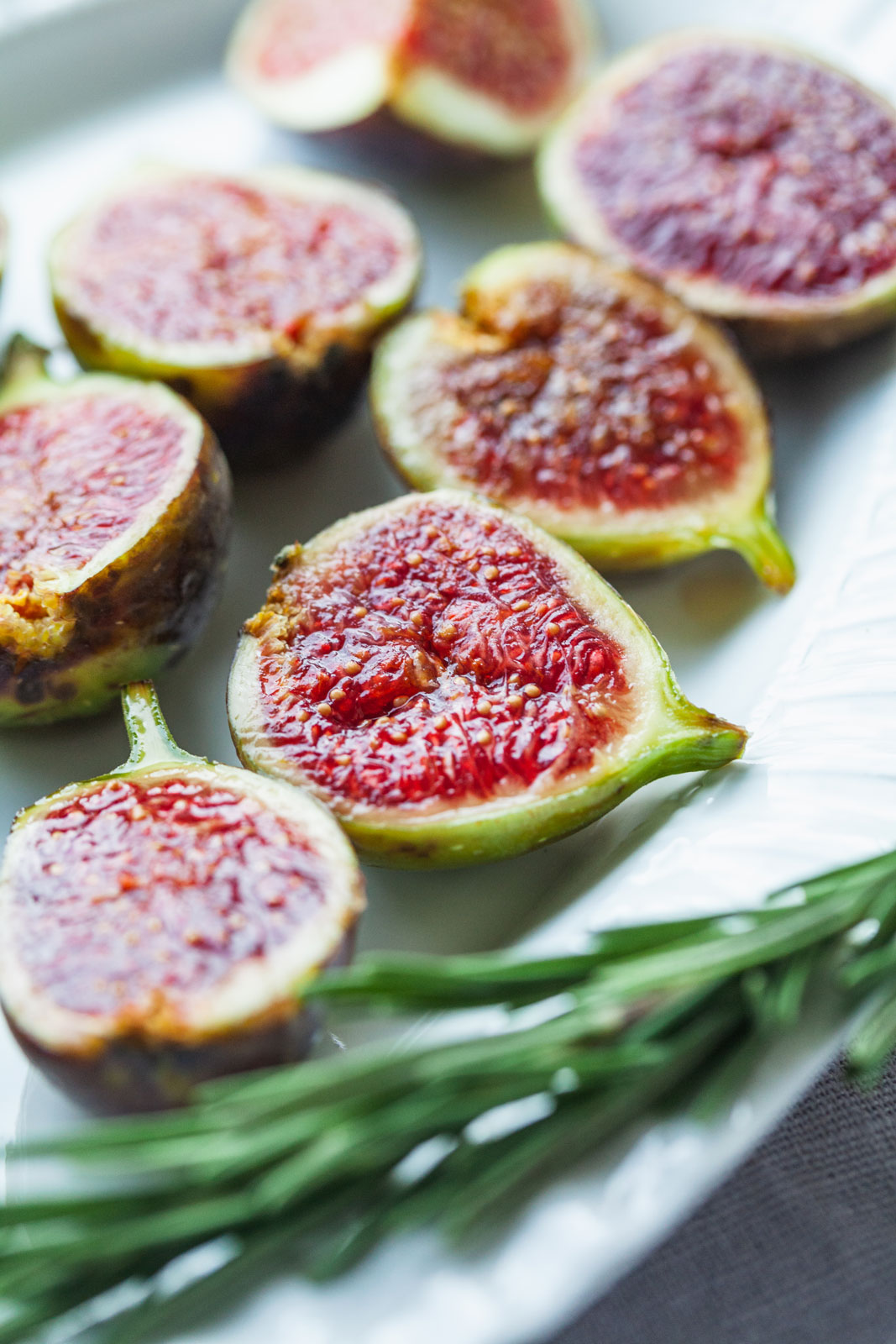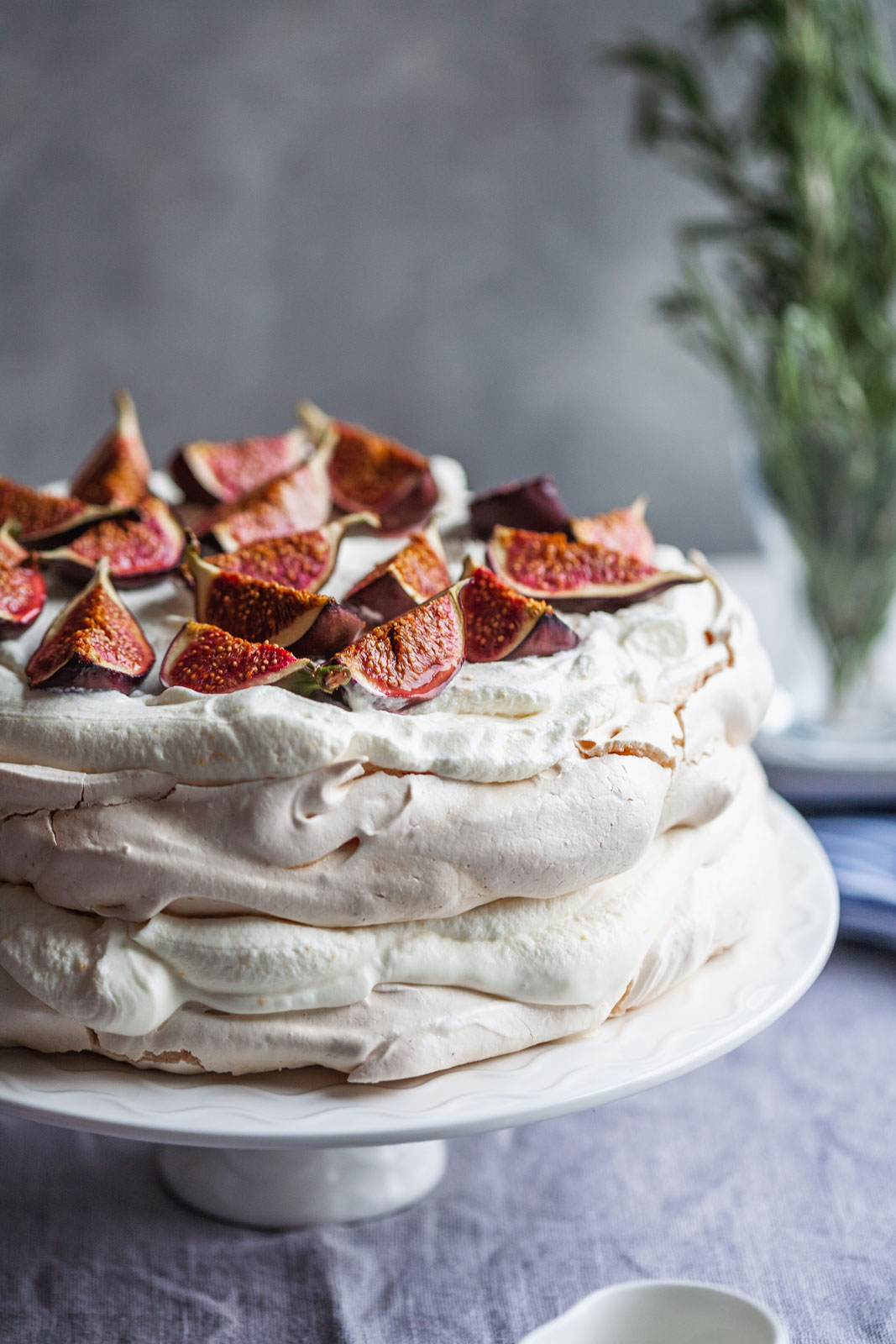 Sounds easy enough and it was pretty easy except when I went to put it together it basically sunk into itself. The pavlova was way too soft and had obviously not had enough time to fully cool and along with that it was super hot outside at the time and the humidity was also high. Two very important things to keep in mind when making this cake and can have a very detrimental effect on how your pavlova holds up.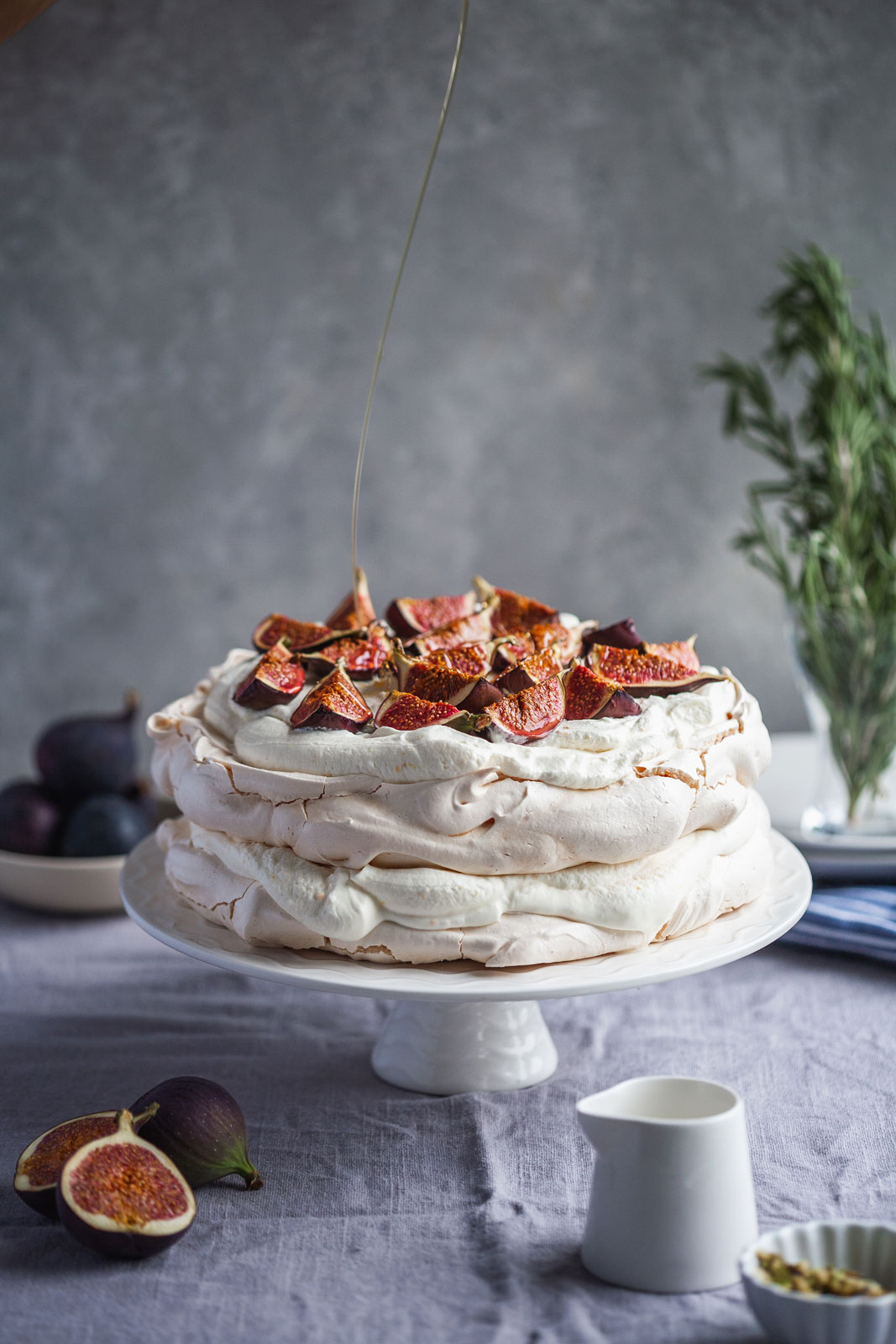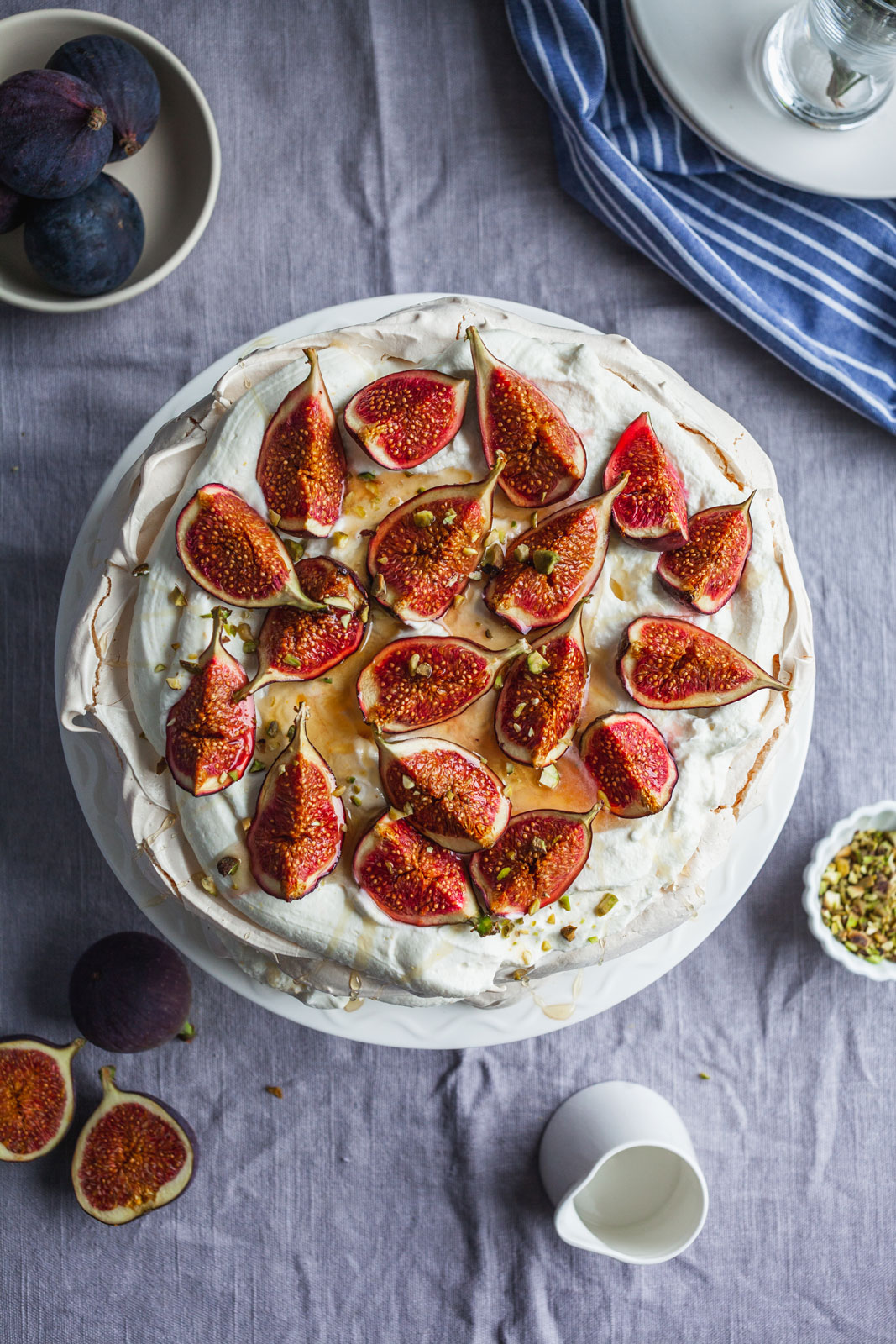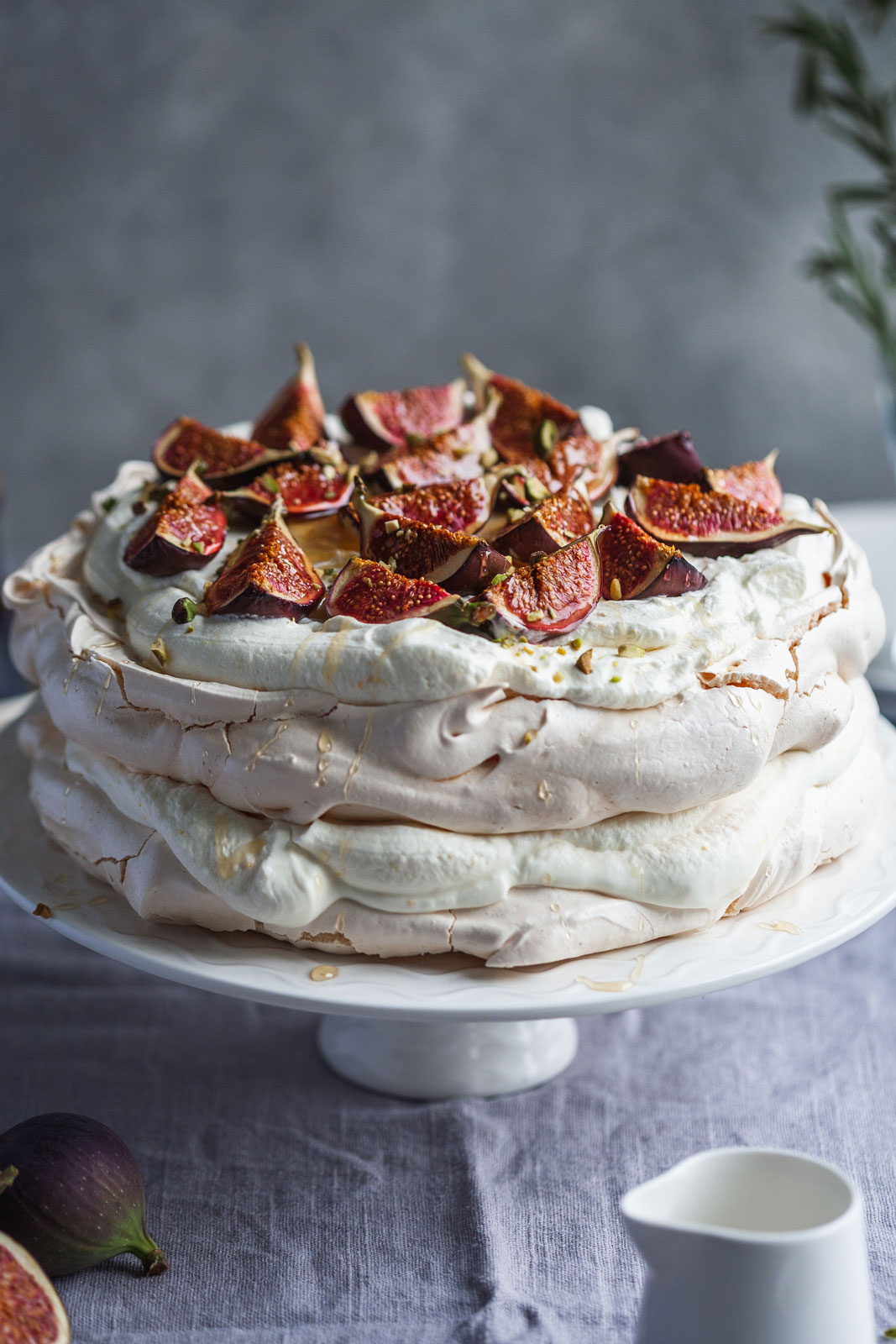 The first pavlova did not go to waste. Just because it doesn't hold up doesn't mean it's not darn delicious. We ate it and it was delicious. So if this happens to you when you're trying to serve it, just own it and serve it messy. It will be just as delicious.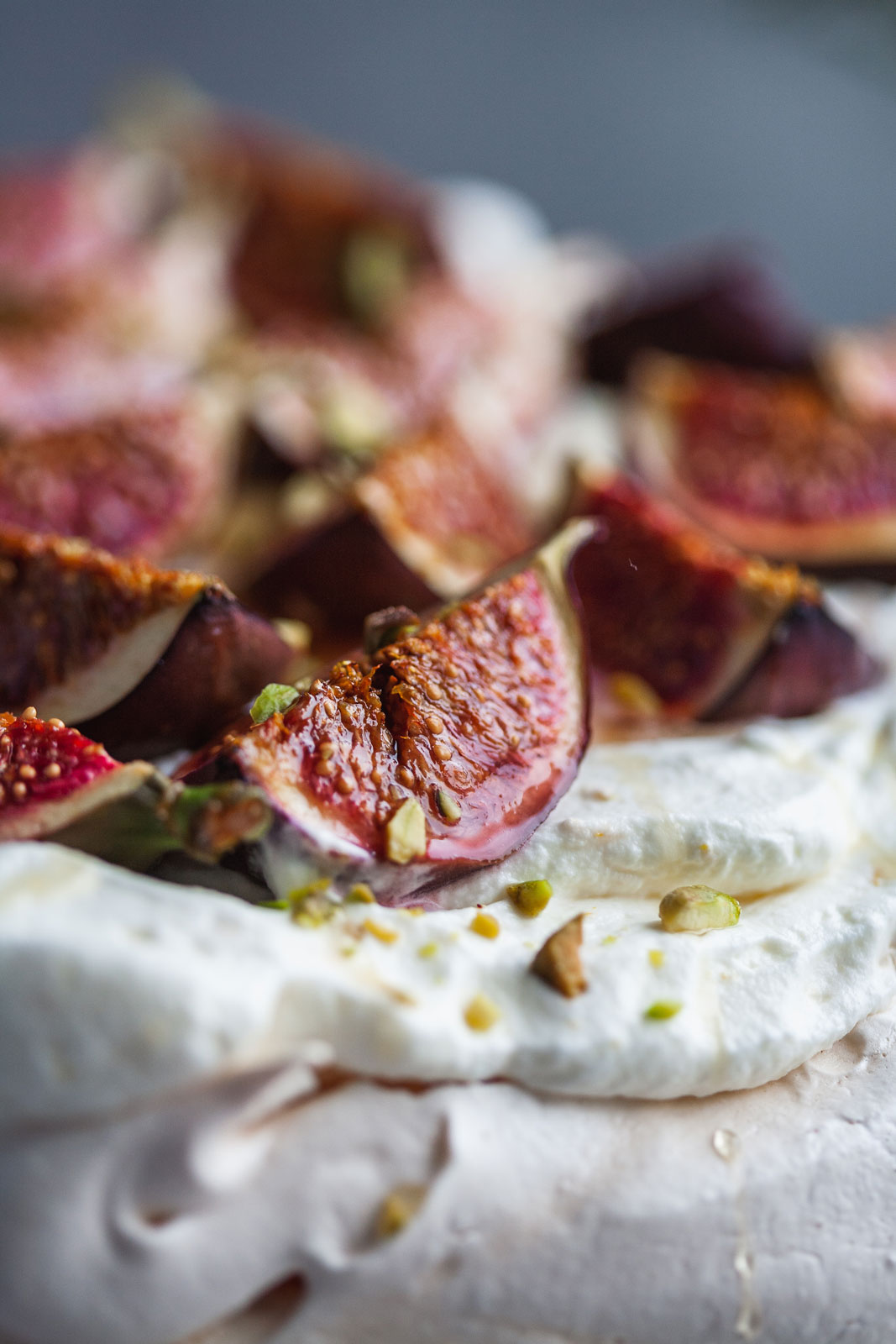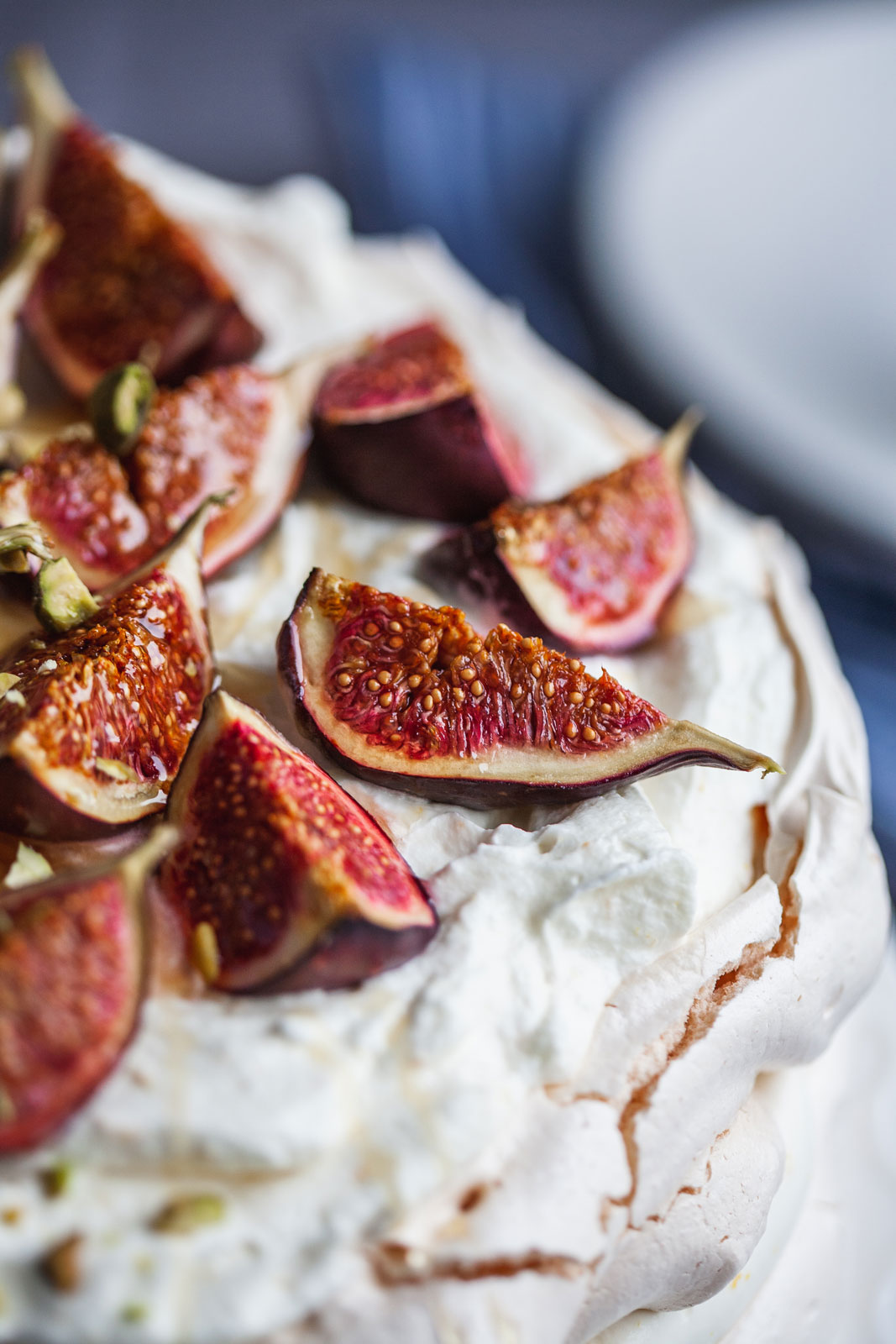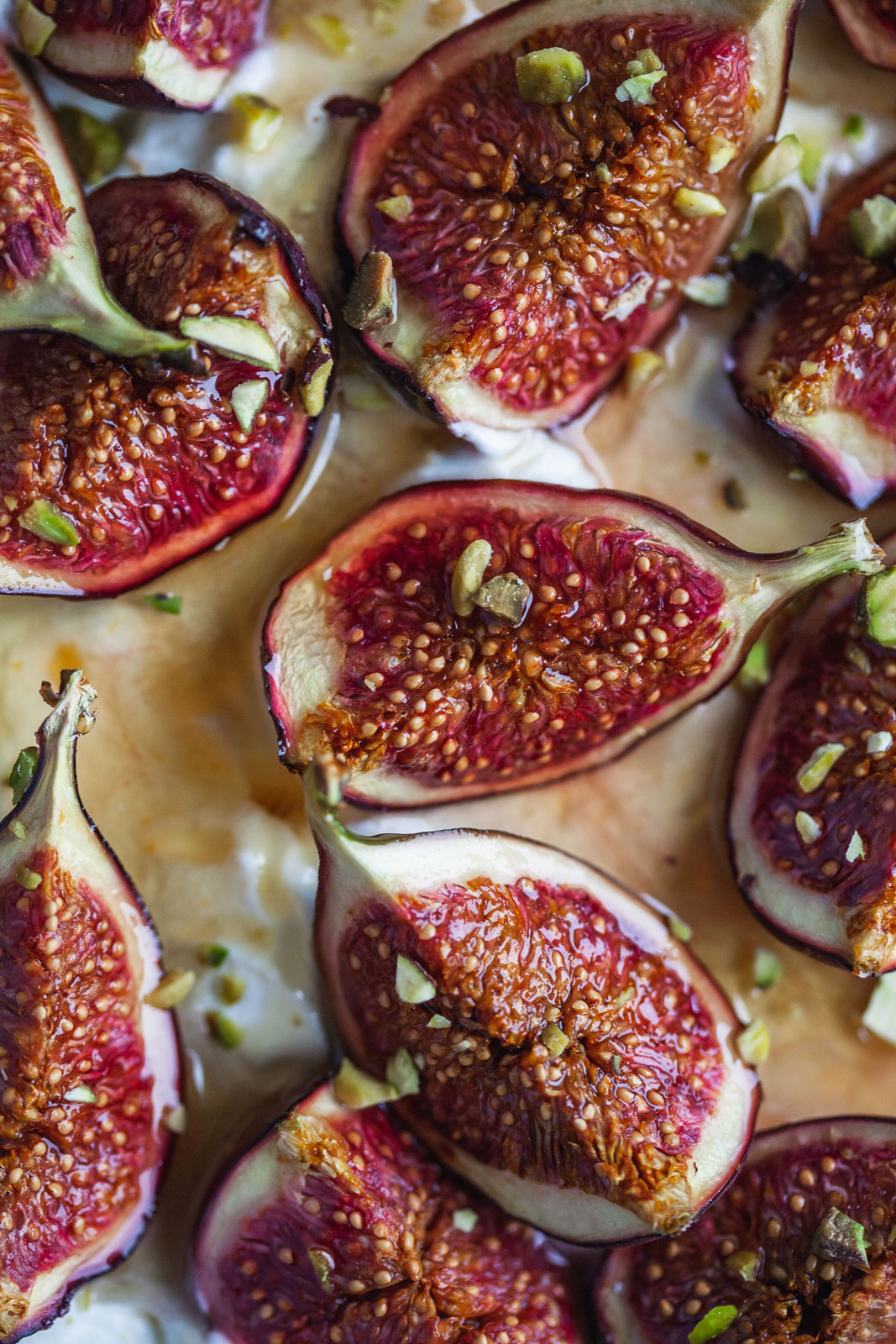 After my first try at the cake I got some fabulous advice from two talented Instagram friends who are pavlova queens. Betty from Stems and Forks on IG and Sonia from Salt n Pepper Here on IG as well. I also did a little research myself. I learned that the key making a good pavlova is making sure the egg whites are at room temperature. Make sure the sugar is well incorporated, and make sure to allow the pavlovas to cool completely and at a very gradual rate. I have also learned that leaving the pavlovas in the oven to cool with the oven door slightly open is the best way. I do this overnight and plan on it when making this recipe.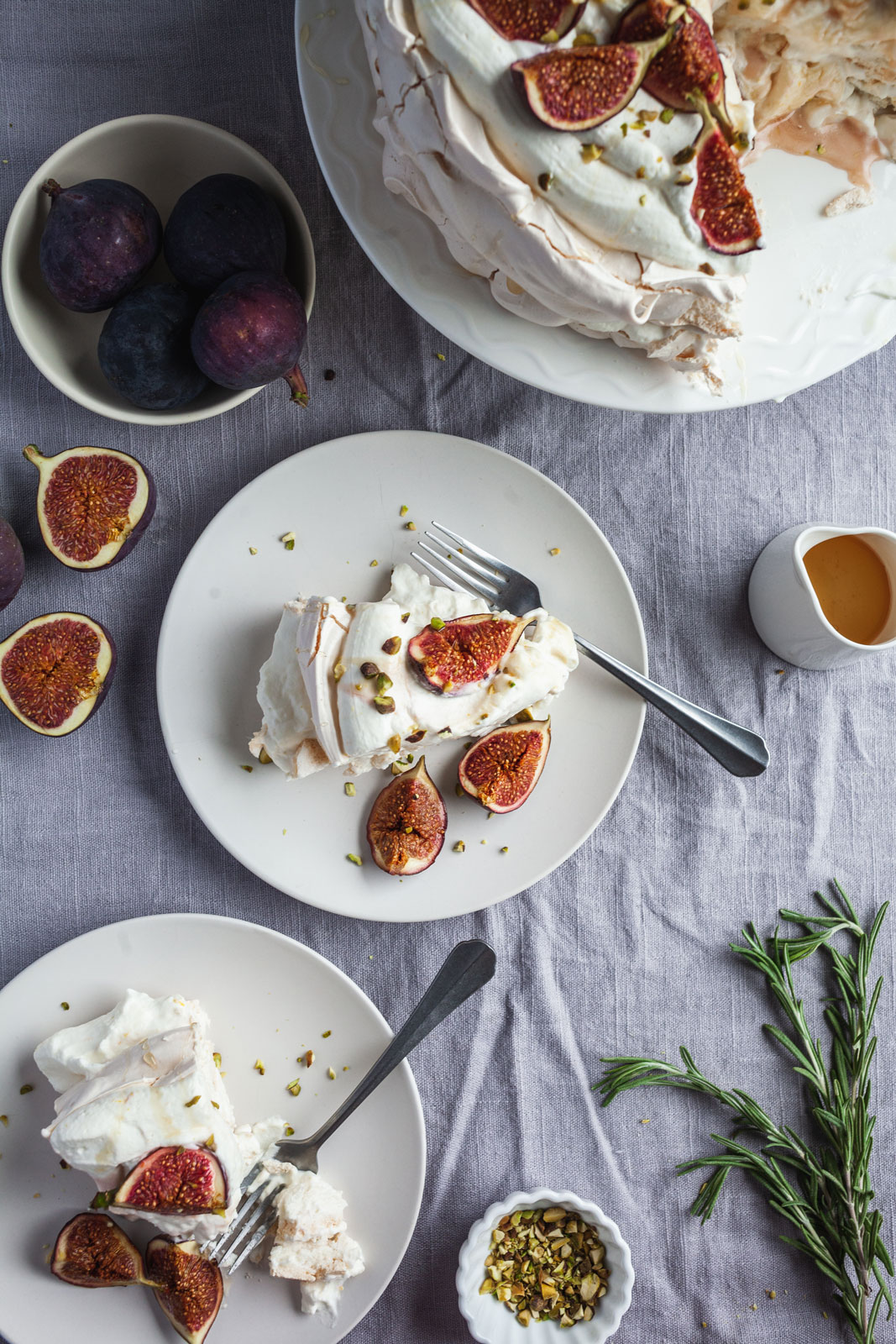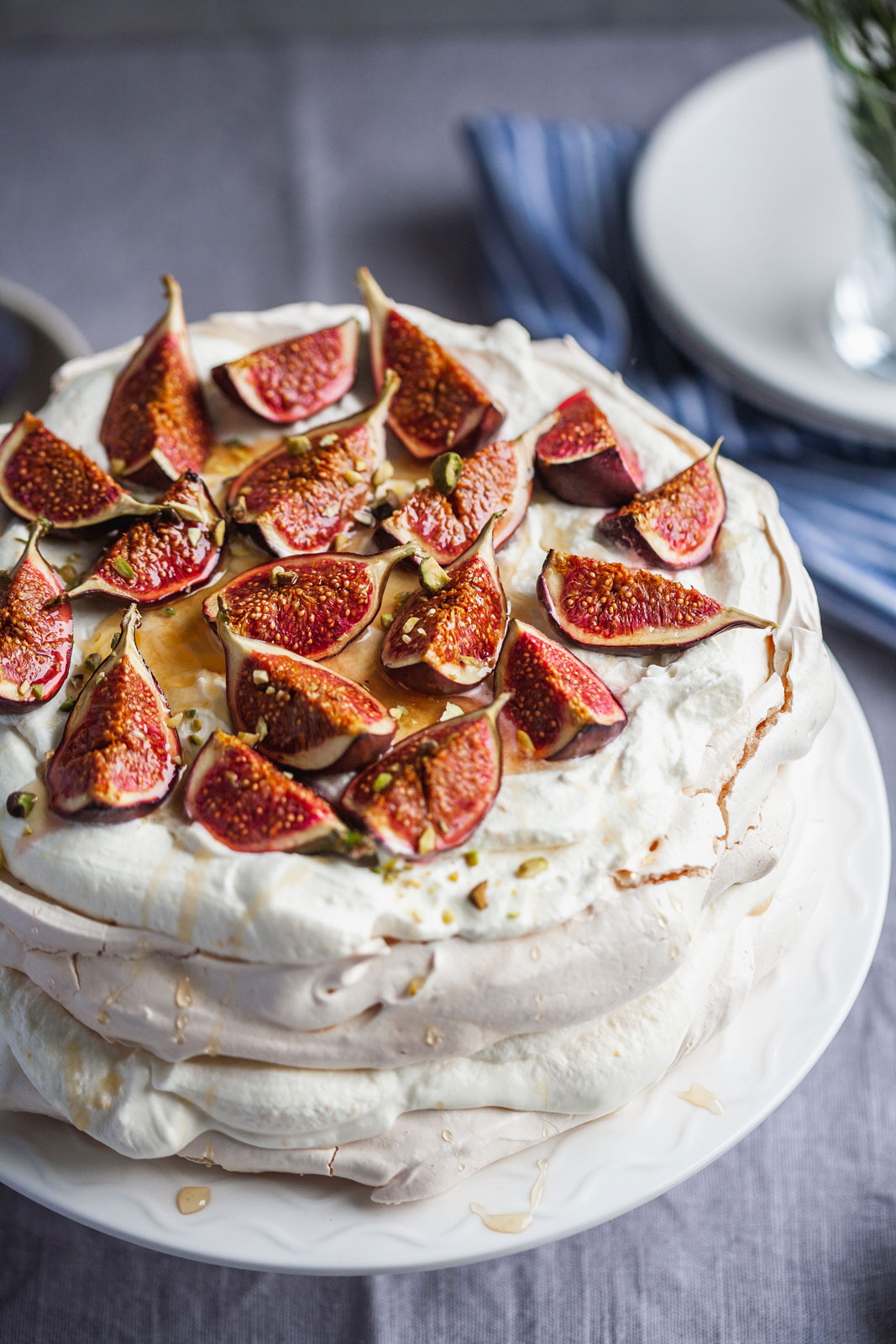 After I followed those simple and effective tips, my pavlovas were cooled properly and were easy to pick up and transfer to the serving dish, something that I couldn't do too easily the first time as they were falling apart just on lifting off the baking sheet. I also piped the cream onto the pavlova instead of dumping it on and spreading it like you would on a cake (which I did the first time and it completely started to sink and fall apart). I learned a few lessons, made a few tweaks and all was well.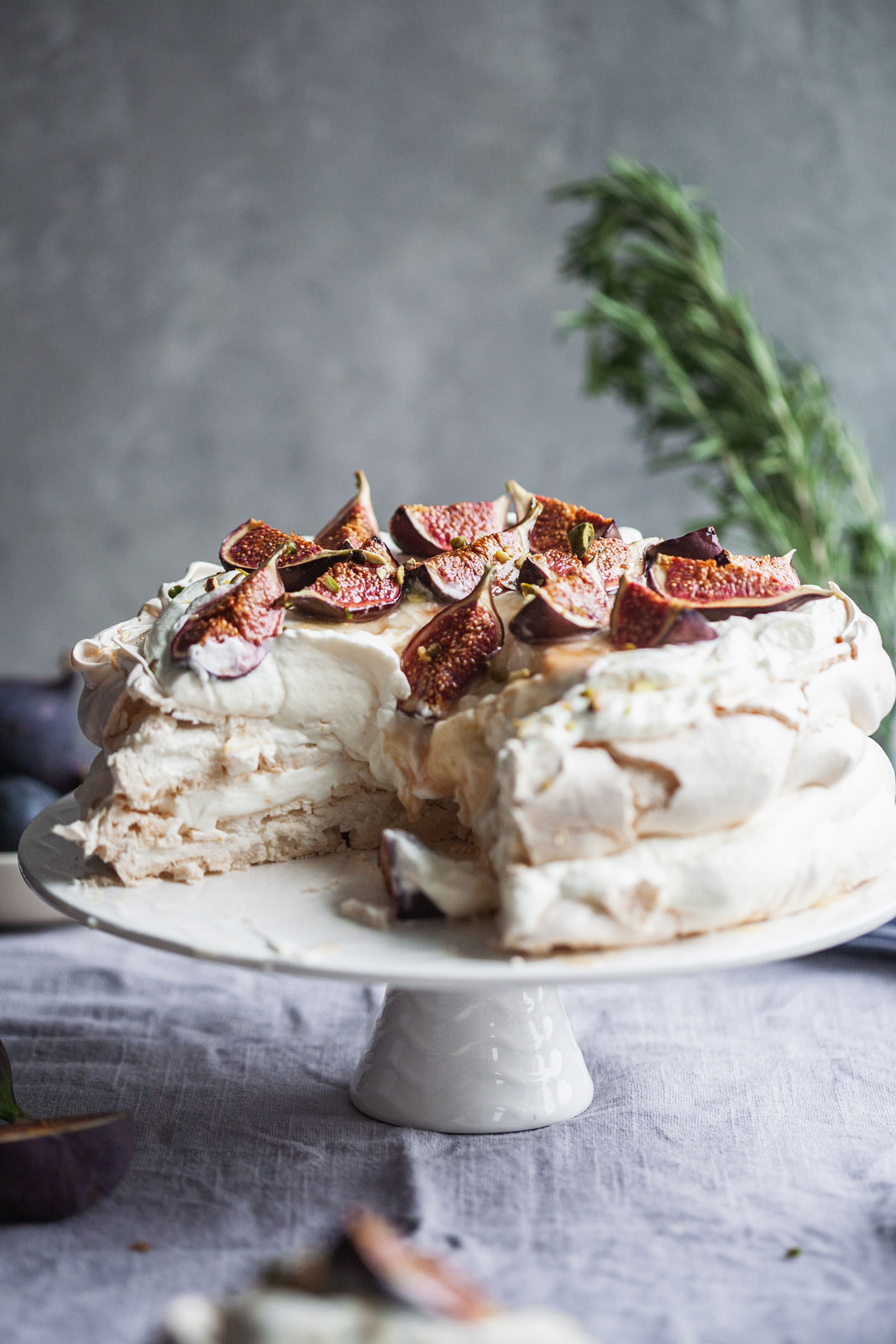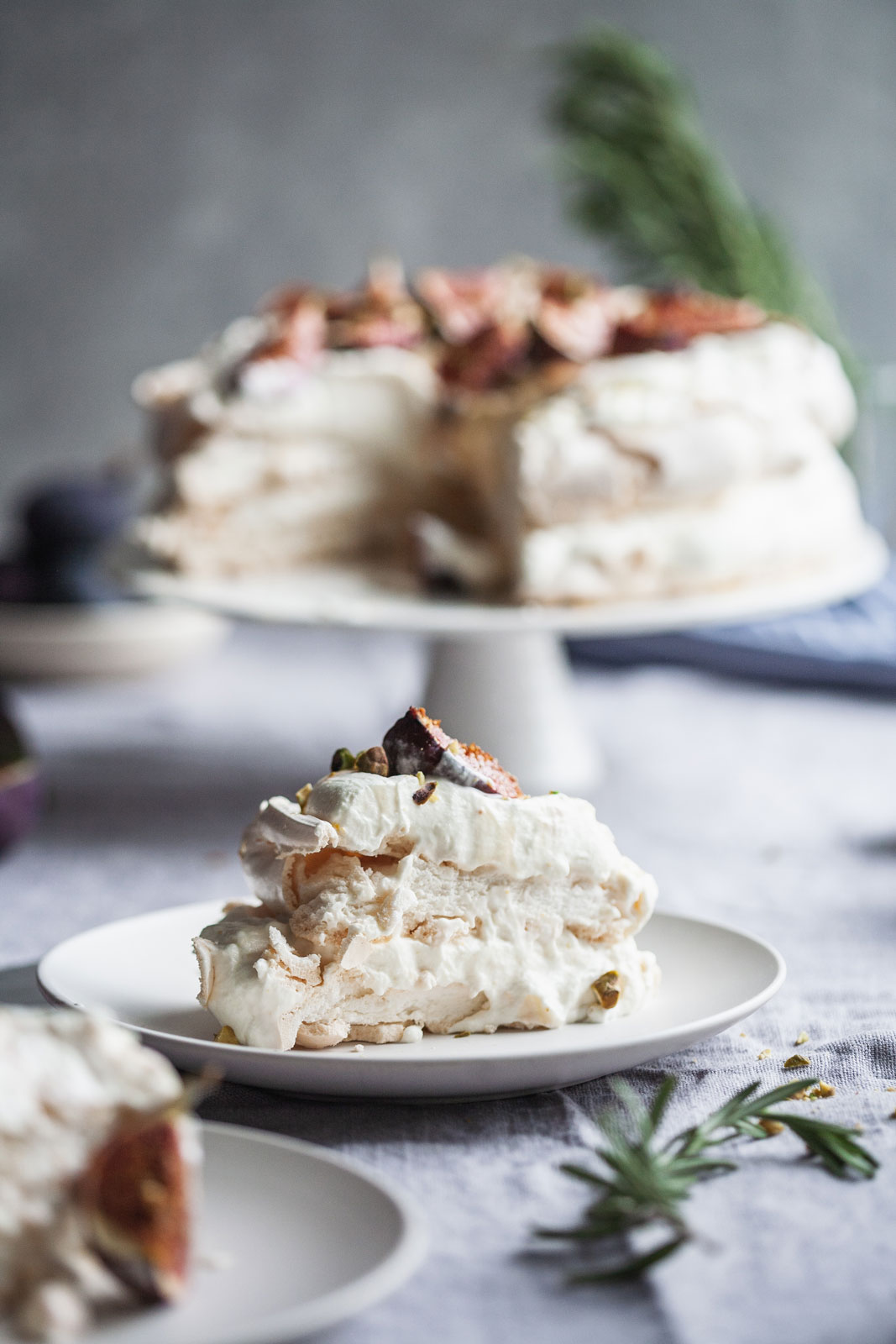 What you should get is two crispy edged pavlovas that are light and super airy but chewy in the center. Layered with light and airy cream that's citrusy and sweetened with honey and the pan drippings from the roasted figs. Sounds pretty heavenly doesn't it? It truly was. It's a beautiful and a show stopping desert that doesn't requires tons of effort but only a little time and patience. Well worth it after your first bite, which tastes like you're biting into a sweet cloud. It melts in your mouth and you won't be able to get enough. The figs are so fragrant and delicious and look so beautiful on the cake. The perfect addition to it. You will love it and if you haven't made a pavlova before, have no fear if I can – you can. Just follow the tips above and also listed below and you will be totally fine and so will your pavlovas. Enjoy!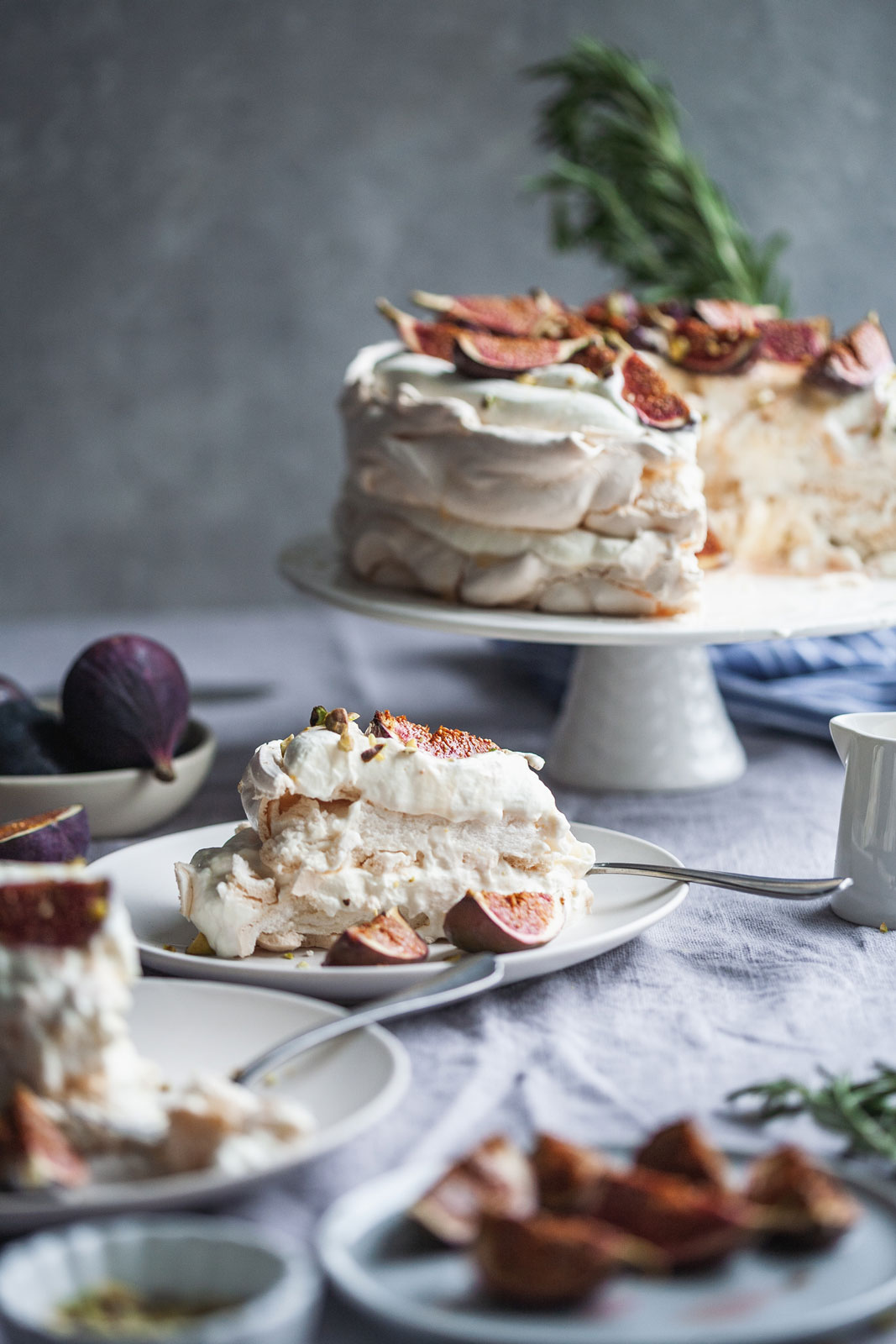 Recipe
Servings: Two 9 inch pavlovas
Ingredients
8 figs, halved (or quartered if large)

3 tbsp honey

2 small sprigs of rosemary

2 tbsp lemon juice

600 ml whipping cream

400 ml Greek yogurt

2 oranges, zested

2 pavlovas (recipe below)

1 tbsp pistachios, roughly chopped

Extra honey fro drizzling
For the meringue layers
2 cup granulated sugar

3 teaspoons cornstarch

2 teaspoon vanilla extract

2 teaspoon distilled white vinegar

8 large egg whites at room temperature
Directions
For the pavlovas
Preheat oven to 350°F. Line two baking sheets with parchment paper. Trace two 9" circles on the parchment using a cake pan or dinner plate as a guide. Flip each of the parchment papers over and set aside

Mix the sugar and cornstarch together in a small bowl

Mix the vanilla and vinegar together in a separate small bowl.

Place the egg whites in the bowl of a stand mixer fitted with the whisk attachment. (Alternatively, use an electric hand mixer and large bowl.) Make sure your bowl and beaters are very clean with no residual fat or grease. Start beating them on low speed, then gradually increase the speed to medium.

When the egg whites have reached soft peak consistency and the beaters leave trails in the whipped whites, begin adding the sugar mixture a few tablespoons at a time, waiting a few seconds between each addition. While doing this, gradually increase the speed so that you are at maximum speed once all the sugar has been added.

Once all the sugar has been mixed in, continue beating until the meringue is super glossy and holds stiff peaks and all the sugar has been incorporated. You can test this by dipping your finger into the mixture and rubbing the foamy egg mixture between fingers. If it's quite grainy from the sugar still continue mixing, it not you are done.

Stop the mixer and sprinkle the vanilla and vinegar over the meringue. Beat for another 20 seconds to fully combine.

Use a spatula to scrape half of the meringue onto the center of the one of the large parchment circles, doing the same with the rest on the other sheet. Working from the center out, spread the meringue to fill the circle. Smooth the sides if desired or leave it in billowy lumps. (You can also pipe it onto the paper using a piping bag with any tip for a fancier edged pavlova)

Reduce temp to 250°F before putting both pavlovas in the oven then Bake the meringue for 1.5 hours. The pavlovas are done when the outsides are dry to the touch. The interior of a properly cooked pavlova should be marshmallowy. It's fine if cracks form in the crust.

Once done turn oven off and take a wooden spoon and slide it between the stove door and stove to keep it slightly ajar and leave the meringue in to cool for a few hours and even up to over night which is what I prefer.

Remove the meringue when ready to assemble or if you are trying to make ahead, the pavlova can be wrapped in plastic or sealed in an airtight container and kept for several days unless your house gets very humid (in which case, eat your pavlova right away - trust me on that)
For the filling and the figs
Preheat the oven to 400°F. Put the figs in a roasting pan, drizzle over the honey and scatter rosemary over figs. Bake for 10 mins. Use a slotted spoon to transfer the figs to a bowl, then stir the lemon juice into the syrup in the pan and set aside to cool. Must be completely cool before topping pavlova cake.

Just before you're ready to serve, make the whipped cream: In a large bowl, mix the cream with a mixer to stiff peaks. Fold through the yogurt, the orange zest and all the strained fig syrup.

To assemble, put a meringue pavlova on a serving plate. Very gently top with half the cream, using a spatula or you can pipe on the cream as well which helps you have a lighter touch on the pavlova. Repeat with the remaining meringue and cream. Arrange the figs on top, then scatter over the pistachios and drizzle with some honey to serve and serve within 1 to 2 hours. (Do not refrigerate; the meringue as it will quickly soften.)
Recipe Notes
For best results make sure your egg whites are at room temperature as they will have more lift.

Definitely allow enough time for pavlovas to cool in the oven so plan accordingly when making them. When baking the figs, remove the pavlovas and set them aside while you make the filling and roast the figs.

Bake the meringues as soon as you're finished whipping the egg whites. If you let the egg whites stand for too long, they start to collapse and make a meringue that's less wonderfully airy.

Make ahead: The meringue layer can be made several days ahead and kept tightly wrapped in plastic or in an airtight container until you're ready to assemble the pavlova. However, meringue does not keep well in humid weather. Assemble the pavlova right before eating.

I make my pavlovas when there is very little humidity and heat otherwise your pavlova cake will sink in before you even get your second layer on.
Adapted from the The Kitchn