Peach Cobbler
Fresh juicy sweet warmly spiced peaches in a brown sugar sauce, under flaky buttery sweet biscuits all made in a skillet - the ultimate summer dessert. I love to make mine in a cast-iron skillet because it means oven-to-table presentation, and I love any recipe that saves me dishes while looking both rustic and elegant - this peach cobbler recipe can be made in a casserole or baking dish too. Serve it up hot and covered in vanilla ice cream or some whipped cream right out of the pan or served out and enjoy!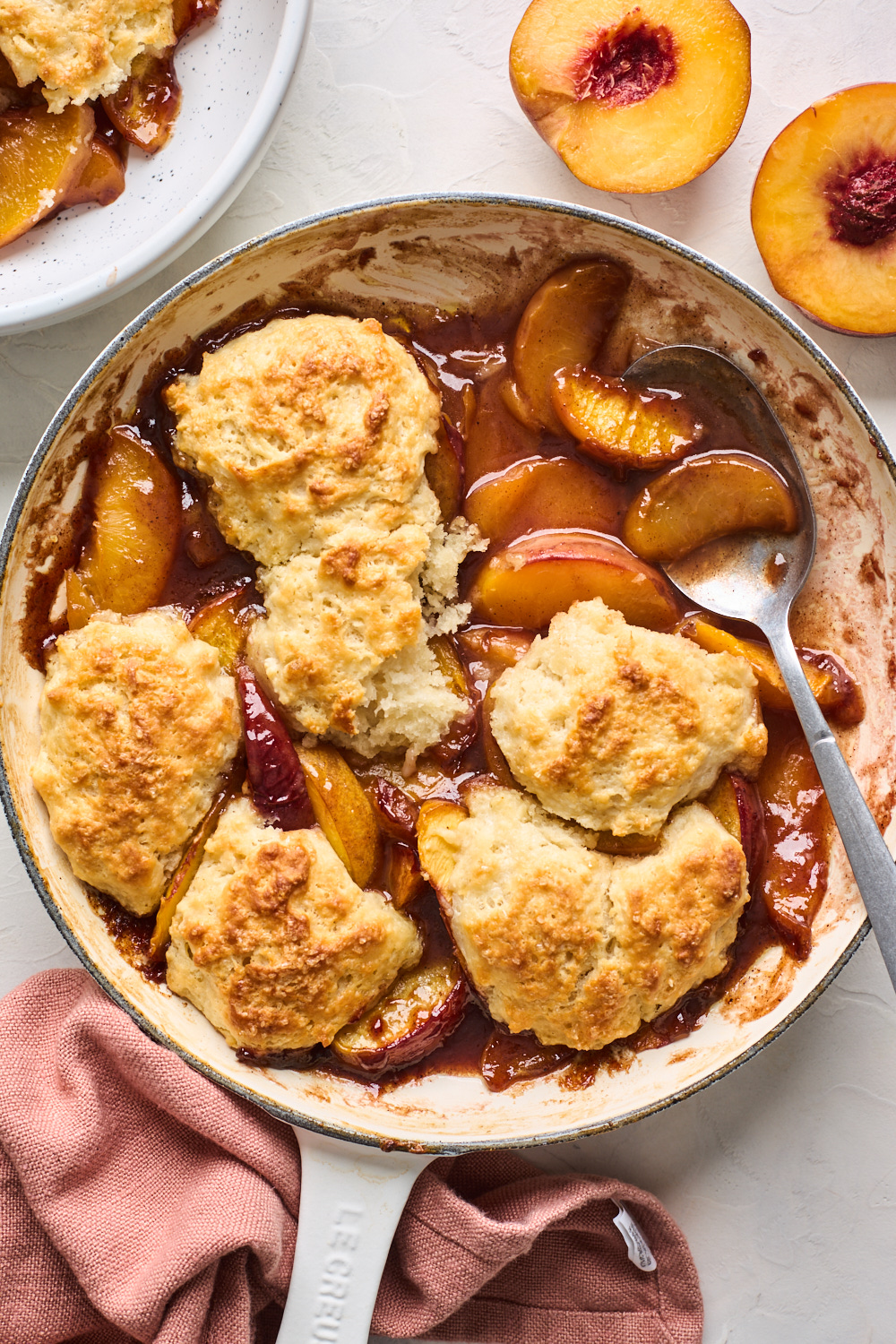 Why You Will Love This Peach Cobbler
Warmly spiced
Buttery, Tender and Flaky biscuits
Juicy fruit
Fresh flavours
Easily made with fresh peaches, frozen peaches or canned peaches (fresh peaches for best flavor)
Perfect for potlucks, family dinner or just because you are in the mood
This is a one pan dessert - apart for making your biscuits the whole recipe gets made in a skillet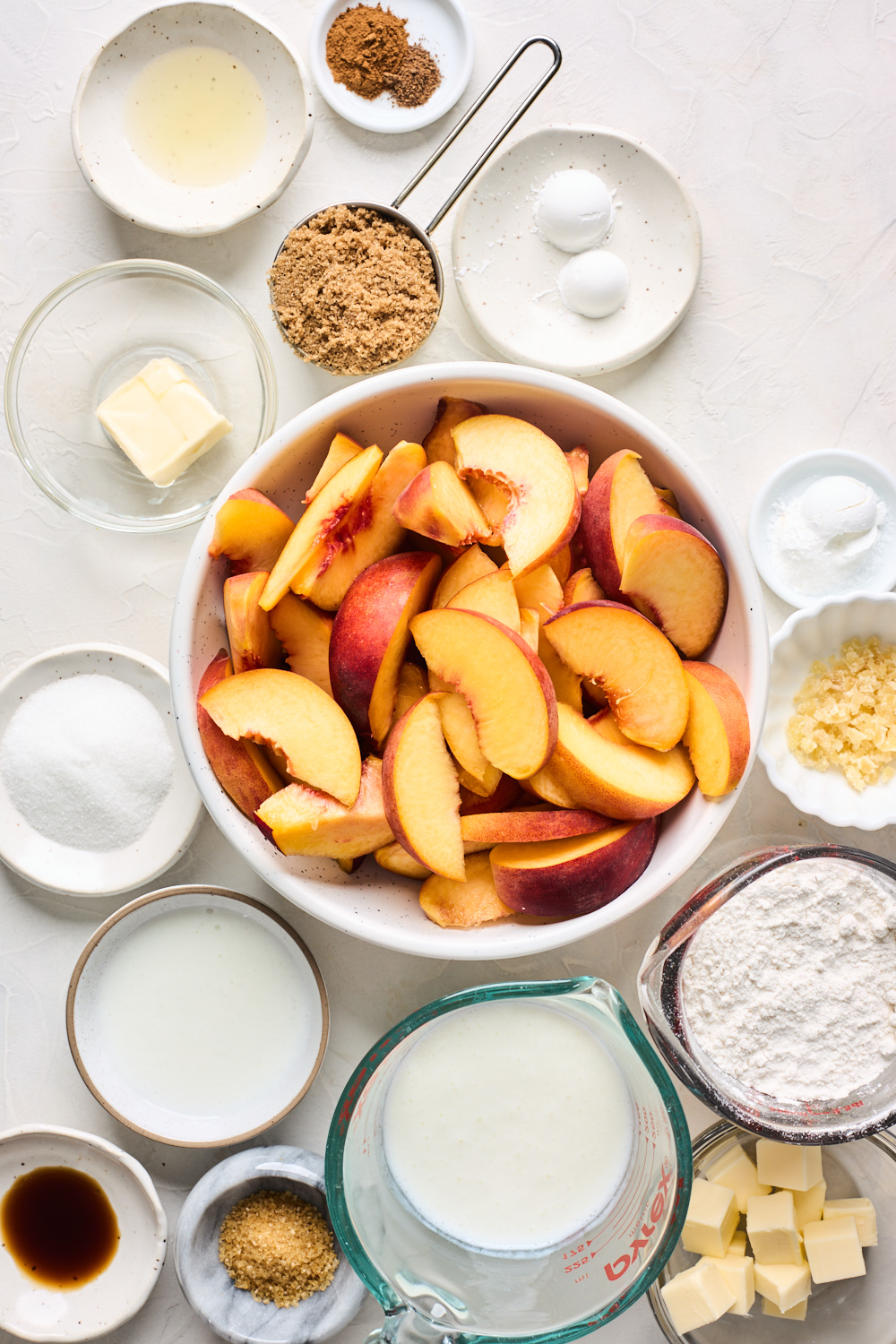 How is Cobbler Different from Crisp?
Cobbler is different from crisp in that it is tops with a sweet buttery biscuit dough. Crisps and crumbles are usually an oat, butter, nuts, and spice mixture that serves as a crisped topping for the fruit below, similar to another German fave, streudel. Both cobblers and crisps are a great intro to baking and an easy way to serve baked fruit for dessert. They are easy to make and their rustic appearance is just part of their charm. Typically baked casserole-style in a large baking dish, both are an easy way to serve a crowd, although they're so flexible they can be made into individual portions too. I decided to go ahead and make mine in a skillet this time but it works in a baking dish or casserole dish too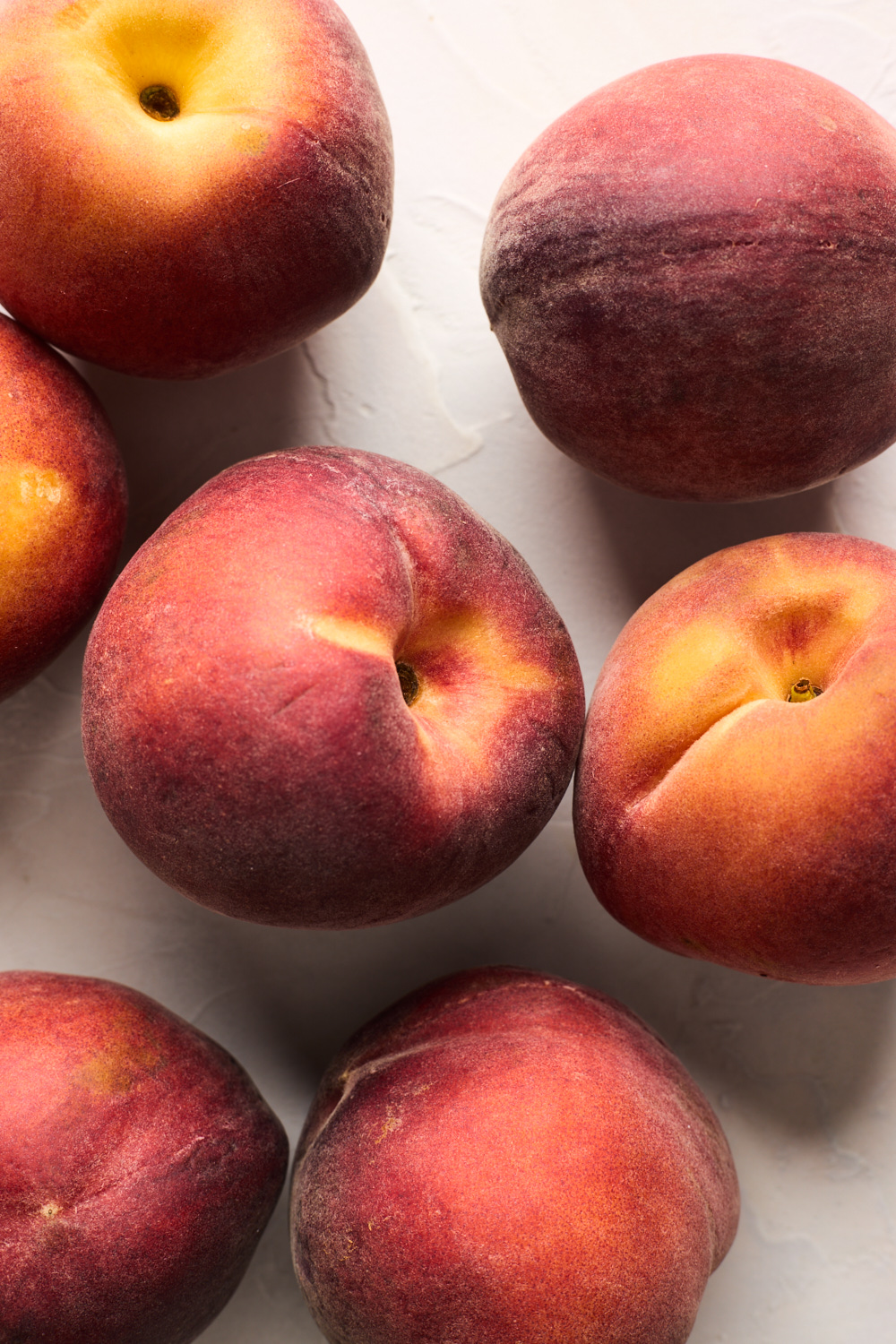 What Fruit to Use in This Cobbler?
Any fruit will do in a cobbler or crisp, with plums, apples, and berries as popular choices to create the bottom layer of this easy dessert. But today we are going peaches all the way.The star of this recipe show is peaches, so find the best ones you can get your hands on, or just go for some good quality frozen peaches! Make sure to thaw and drain them before adding to recipe. We're also going full-on homemade because there's really no need for shortcuts like using a baking mix ala Bisquick or cake mix in this peach cobbler dessert. What type of peaches are best for peach cobbler? I used fresh, height of season peaches (and even into September) in this cobbler but because you'll be craving this recipe all year long, feel free to use frozen peaches or canned peaches instead. Use equal amounts frozen or canned peaches instead fresh peaches in this cobbler. Substitute frozen peaches that are thawed and drained, or high-quality, canned peaches that are well drained. Either way, you want to choose peaches that are semi ripe. Not so ripe that they are all juice when you cut them, but enough that they're sweet and succulent when you bite into them.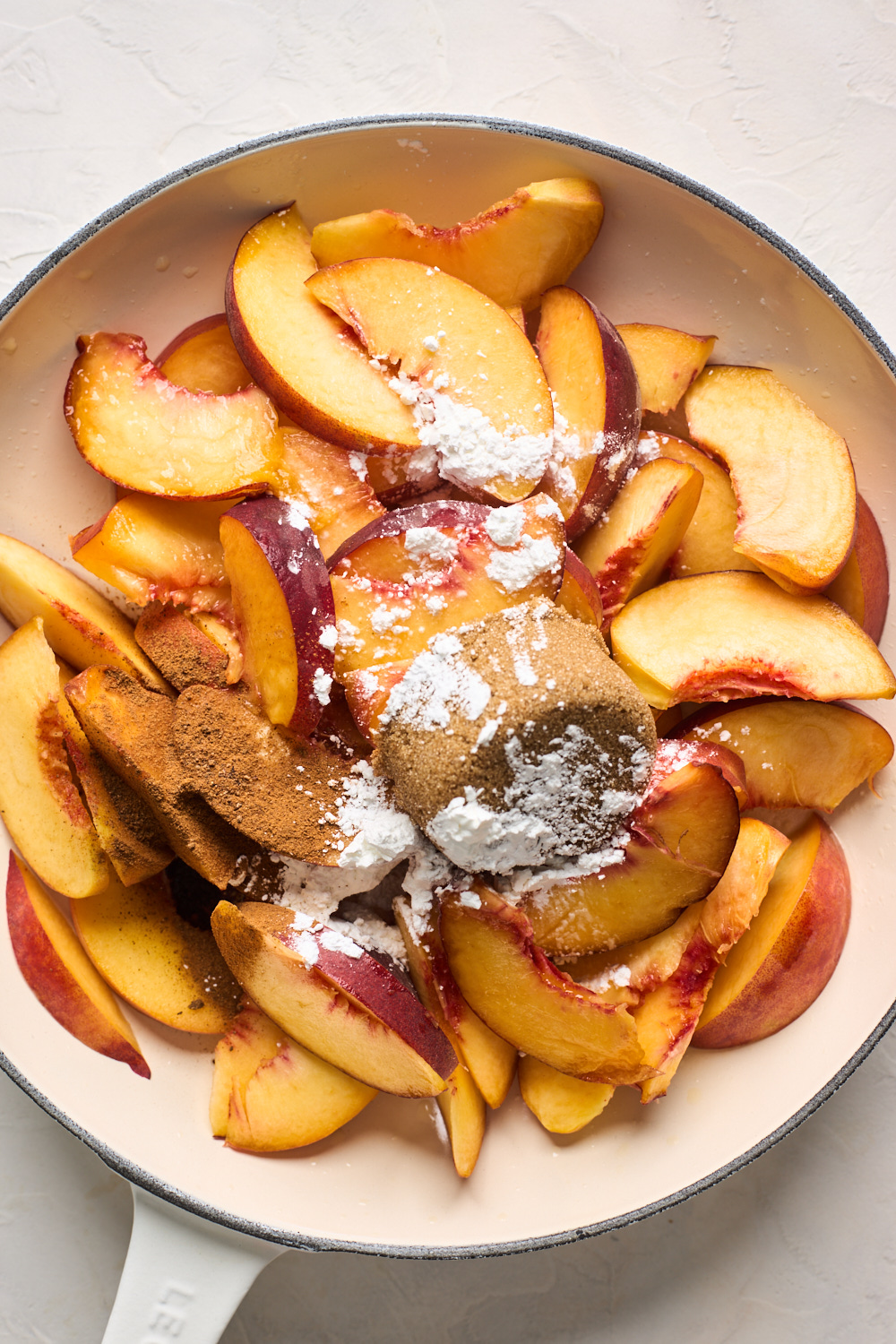 What You Need for This Peach Cobbler (ingredients):
Peaches - I use fresh in my recipe but scroll below for how to use frozen or canned peaches instead. Choose firm fruit so the cobbler doesn't become watery as it cooks.
Brown sugar and Granulated sugar - I used brown for the peaches and granulated sugar for the biscuits - you can substitute the brown for the white easily
Cinnamon
Nutmeg
All-purpose flour - feel free to use a good gluten free 1-1 all purpose flour for a gluten free version of this cobbler
Butter - I used unsalted for the recipe. You will need some for the peaches and the biscuits - feel free to use a non dairy butter for a vegan version
Baking powder - for leavening
Salt - kosher salt o regular sea salt
Vanilla Extract
Lemon juice - freshly squeezed is best
Candied ginger - this is totally optional but adds the nicest flavour to the biscuits
Milk - your choice x regular 2%, full fat or buttermilk work well but so does a non dairy milk to keep this recipe vegan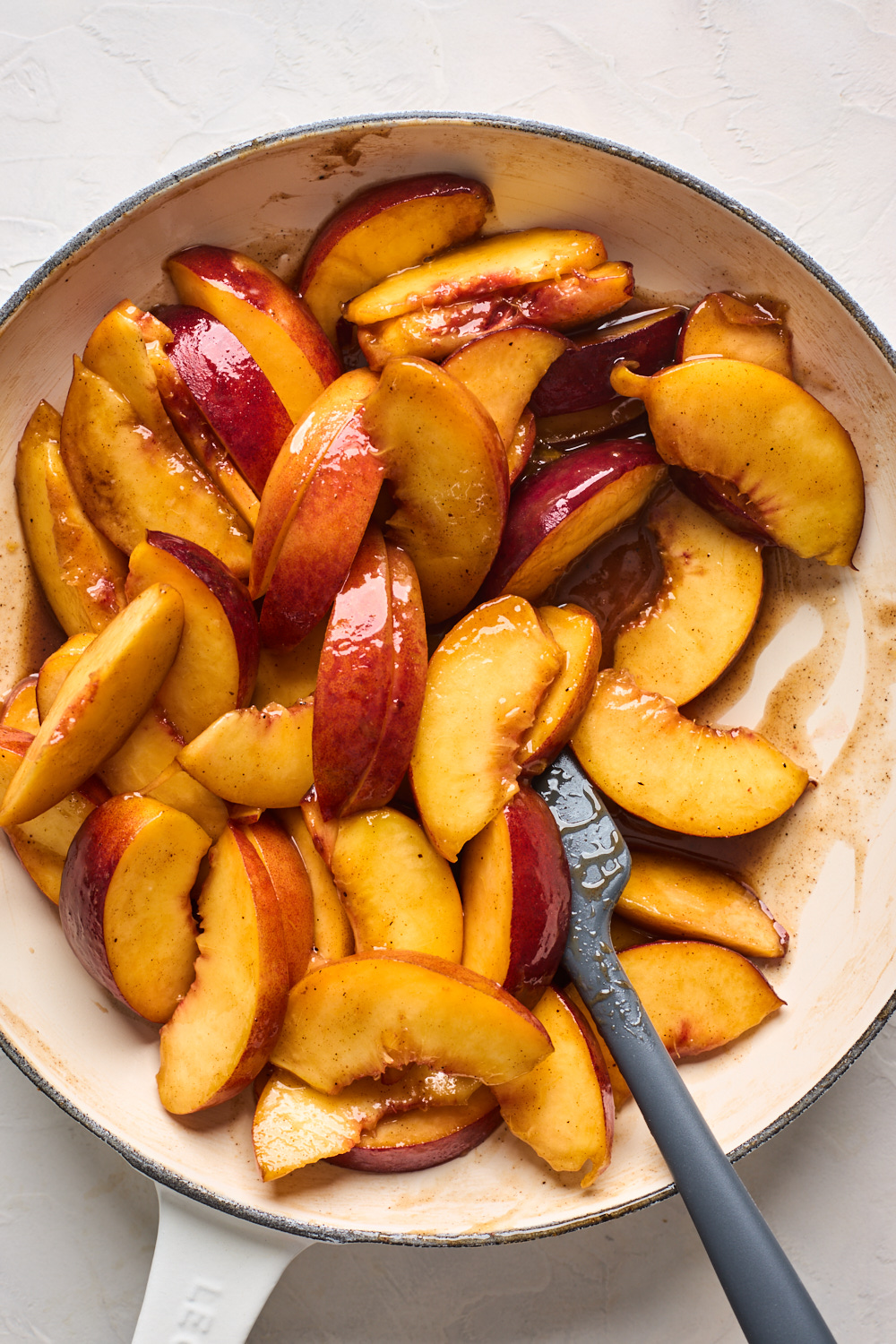 How to Make this Homemade Peach Cobbler (step by step instructions)
Prepare the peaches: Peel (optional) and slice the peaches, and add to a Skillet along with butter cornstarch, sugar spices and lemon juice. Stir well and allow to simmer a couple of minutes until syrupy. Remove from heat and preheat oven
Prepare the biscuit topping: Mix the topping ingredients – flour, sugar, baking powder, and salt. Use a pastry cutter (or use your hands) to cut in the cold butter. Add the milk and vanilla and stir, then dollop over the peaches. Brush biscuits with milk and sprinkle with coarse sugar if desired
Bake: until biscuit toppings is golden and peaches are bubbling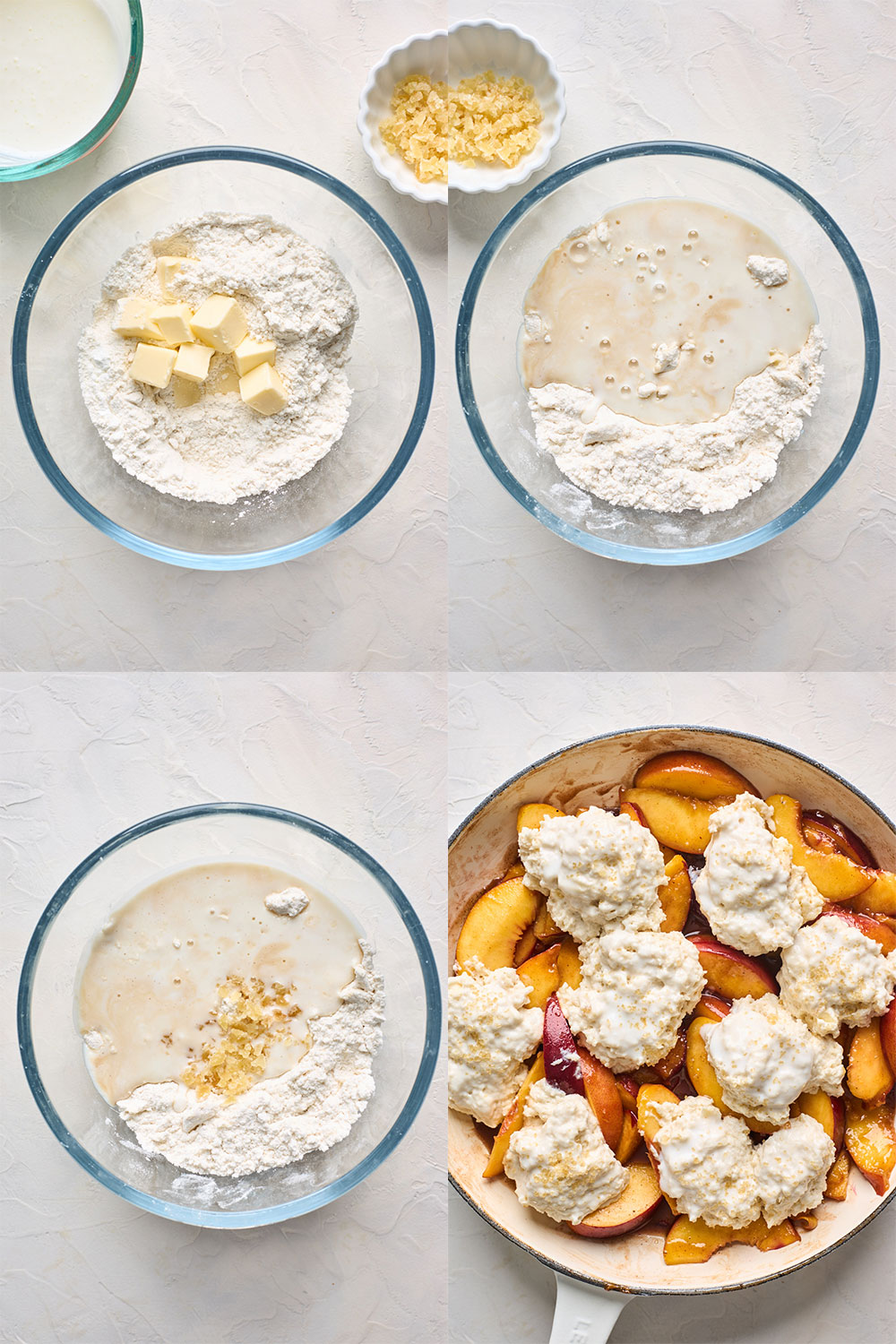 Do I Need to Peel Peaches for This Peach Cobbler?
Do you leave skins on for peach cobbler? Peeling the peaches is totally optional for this recipe. I can be very lazy when it comes to peeling peaches because I really don't mind the skins on them even if half of them are floating around in the filling. If you want to peel them you can either use a peeler like you would peel an apple or score bottom of peaches with x mark, blanch the peaches for a couple of minutes then place them in an ice water bath to cool and the skins should peel and slide right off . Then slice as normal for this recipe. Feel free to chop your peaches instead of slicing them too if you prefer bite size pieces of peaches instead of long slices.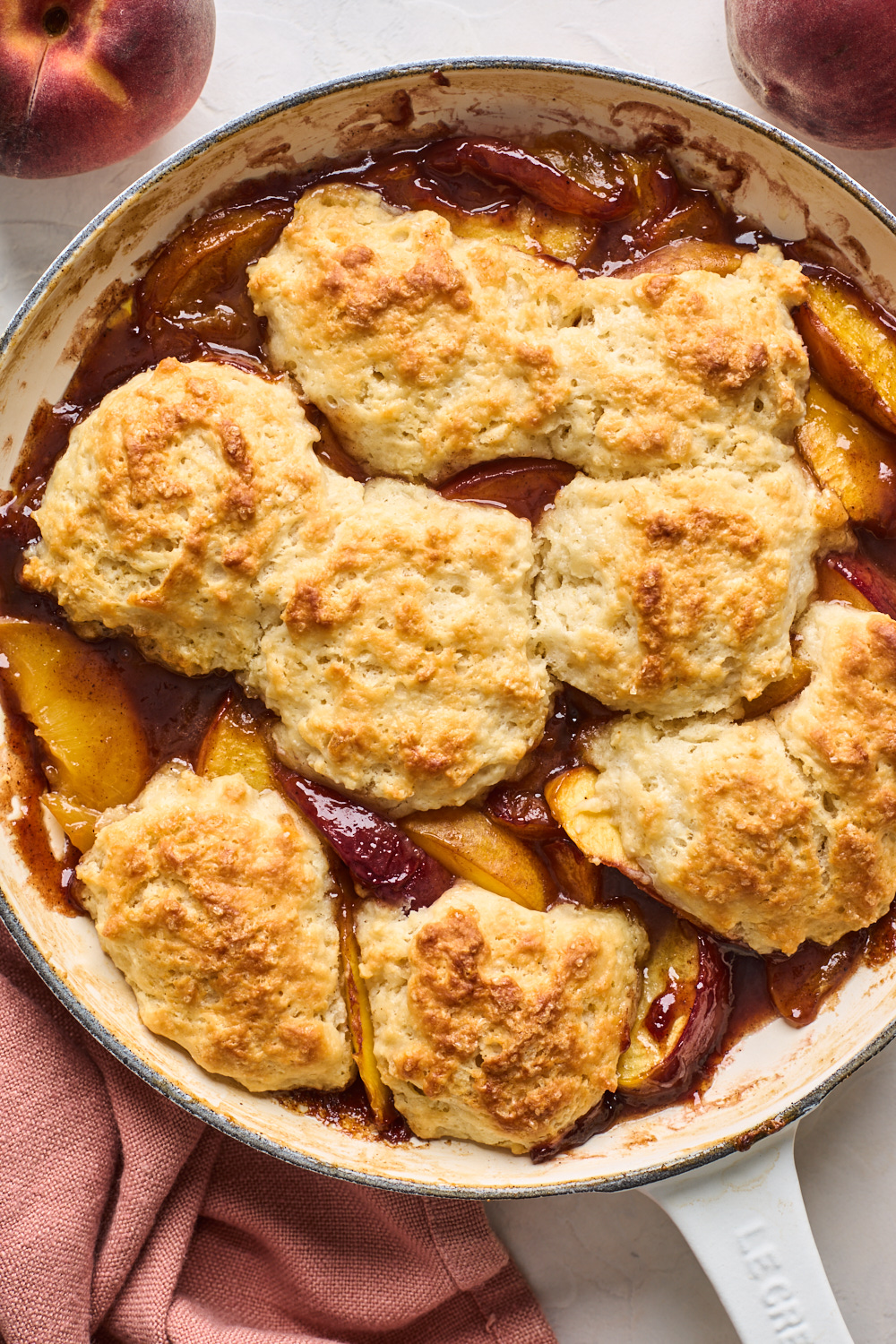 Can you Make This Cobbler Recipe in a Baking pan or Casserole Dish Instead of a cast-iron skillet?
Yes, you definitely can. If you don't have a cast-iron skillet you can bake this cobbler in a baking pan. Just simmer your peaches, sugar, and spices as directed but in a large non-stick skillet and then pour them into a greased 8 x 13" baking pan or 9x9 square pan before dropping the biscuits on. Bake the cobbler for 30-35 minutes, or until the biscuits are golden brown.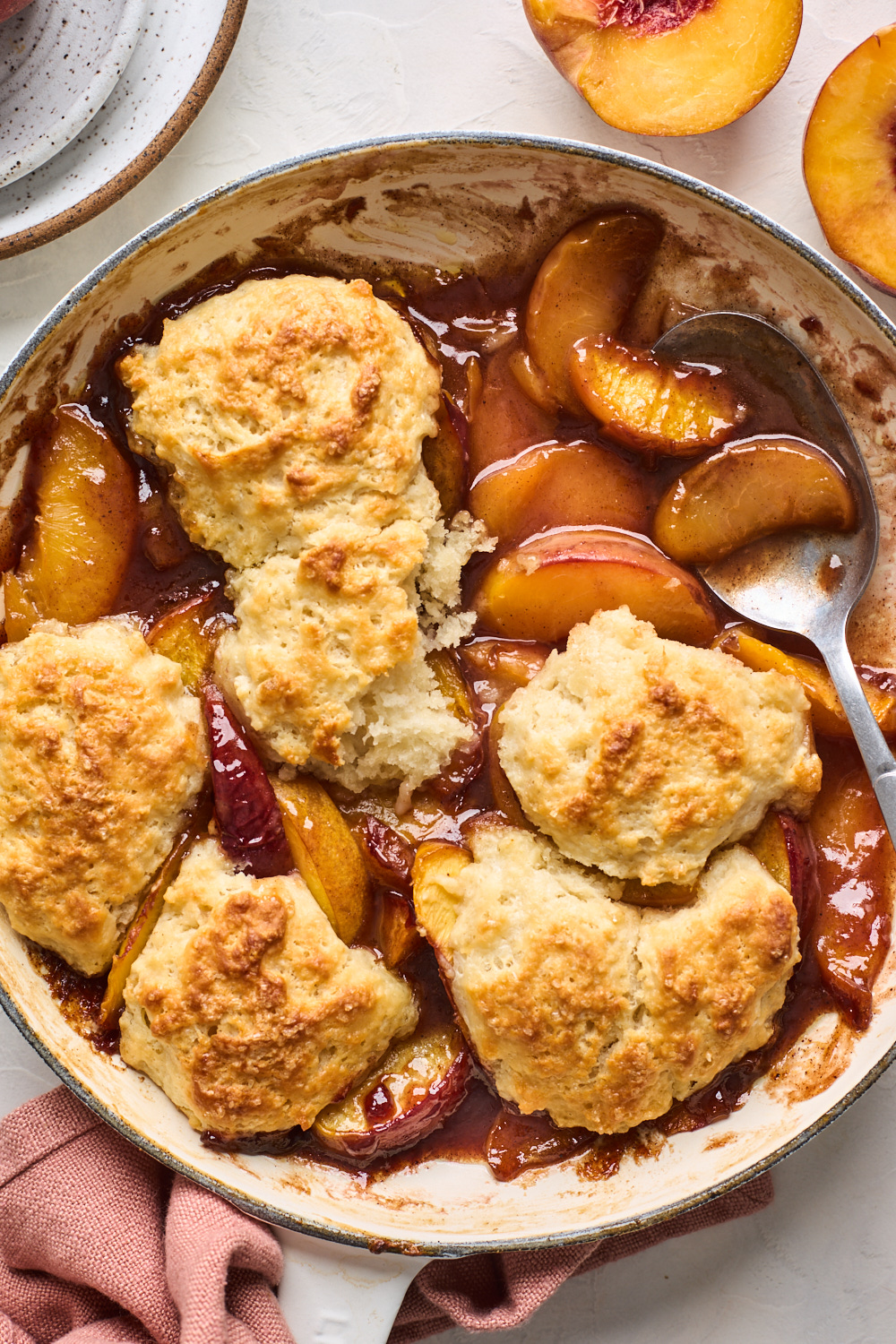 Make Ahead, Storage & Freezing
Storage: Leftover peach cobbler should be stored covered in the refrigerator. It will help keep the cobbler topping from getting too mushy. It will keep in the refrigerator for 2 or 3 days. To Make Ahead: This is one of those recipes that should be prepared and baked right away but the cobbler can be baked up to 2 days ahead and kept chilled - warm in the oven before serving Freezing: You can also freeze the baked cobbler for up to 3 months. Thaw overnight in the refrigerator and warm in the oven before serving.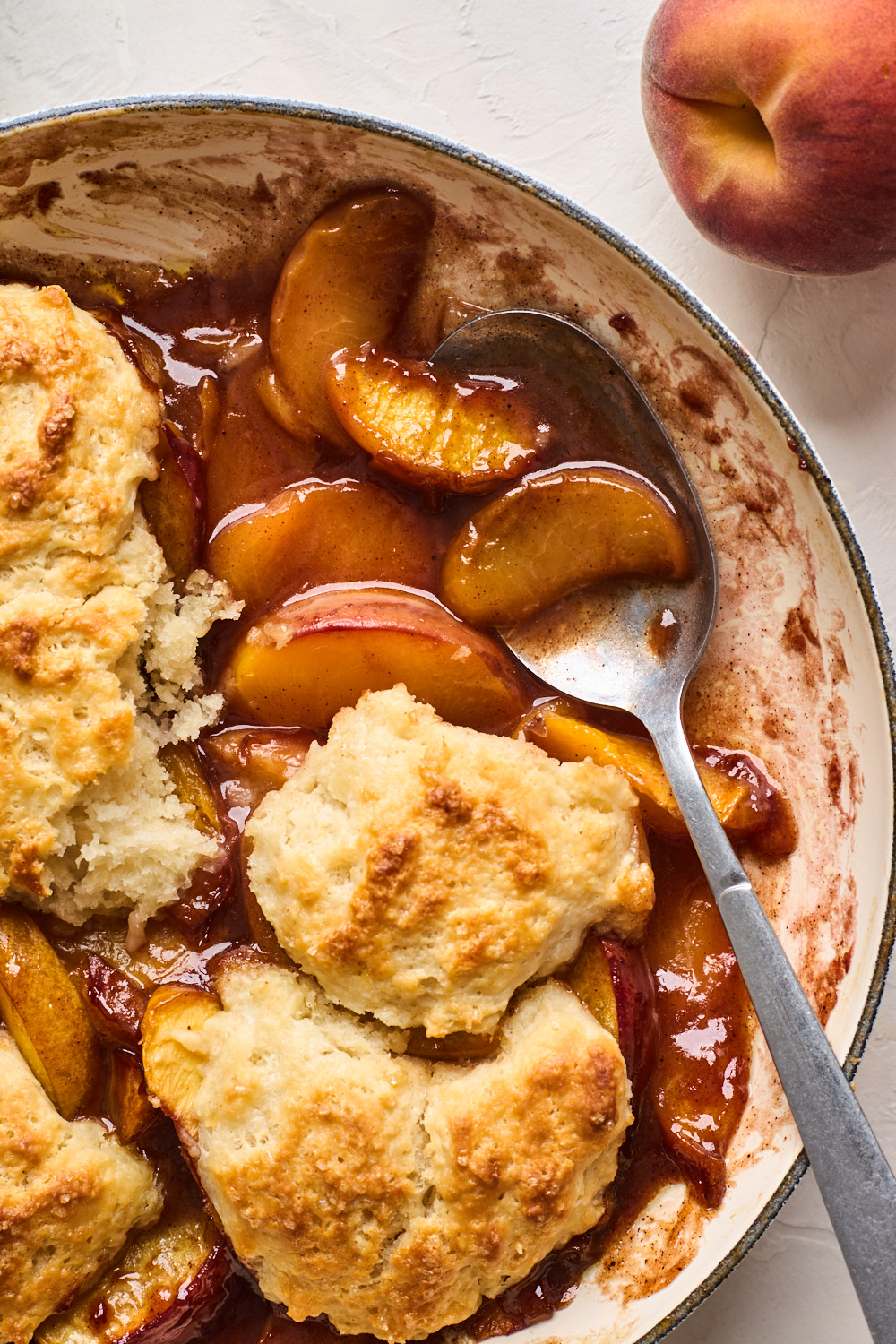 More Peachy Recipes You Will Love:
Recipe
Prep Time: 30 mins
Cook Time: 30 mins
Ingredients
For the fresh peach filling
1 tablespoon unsalted butter

1½ lbs peaches, pit removed and sliced (Approx 4-5 medium or 4 cups sliced fresh peaches) peeling is optional

¼ cup brown sugar or granulated sugar

1½ teaspoons cornstarch plus more if peaches are very ripe and juicy

½ teaspoon cinnamon

¼ teaspoon ground nutmeg

1 tablespoon lemon juice
For the biscuit topping
1 cup all-purpose flour

1 tablespoon granulated sugar

1½ teaspoons baking powder

½ teaspoon salt

3 Tablespoons cold unsalted butter, cubed

½ cup milk (I used buttermilk but any milk will work) plus more for brushing tops of biscuits

½ teaspoon vanilla extract

1-2 tablespoons minced Candied Ginger (optional)

1 Tablespoon turbinado or coarse sugar (for sprinkling over biscuits -optional)
Directions
Preheat the oven to 375°F.
Prepare Peach Filling: Melt butter (1 Tablespoon) in a cast iron skillet over medium heat on the stove top. Add the sliced peaches, cornstarch, sugar, lemon juice and spices to a 9-10 inch skillet. Gently toss and stir the peaches until the sugar and spices are evenly distributed. Bring the peaches to a boil then reduce to a simmer simmer and cook for 2-4 minutes, stirring often, until juices are thickened and syrupy. Remove the skillet from the heat and set aside. (If not using a skillet, pour peach mixture into a 8 x 13" baking pan/ baking dish or 9x9 square pan /casserole dish)
Make Biscuit Topping: In a large bowl, stir or whisk together flour, sugar, baking powder, and salt to combine. Add cold butter to dry ingredients and cut it in using a fork, knife, pastry blender, or your fingers until the mixture resembles coarse meal. Add milk, vanilla and ginger pieces if using and stir with a fork until you have a combined dough. Be sure not to over-mix, as this will cause the butter to melt
Assemble: Drop spoonfuls of dough/batter topping over the hot peach mixture in the skillet or baking pan. Brush the tops of biscuits with the milk, then sprinkle with turbinado sugar or coarse sugar over the dough.
Bake: Transfer skillet or baking dish to pre heated oven and bake for 25-30 minutes, or until the biscuits are golden brown and the peaches and their juices are bubbling
Serve: Enjoy peach cobbler hot out the oven served right from the skillet - carefully of course, or let it cool for 30 minutes to 1 hour before serving. Serve it with vanilla ice cream, or whipped cream or a dusting of powdered sugar