Roasted Hasselback Sweet Potatoes With Bacon Maple Brown Butter
Savoury hasselback sweet potatoes featuring creamy, buttery insides, crispy skins, and loads of flavour thanks to the maple bacon brown butter. These are simple, stunning and make for the perfect side dish during the fall and winter season. A delicious addition to any roast or special dinner. These hasselback sweet potatoes are an attractive fun and delicious way to serve potatoes. They have caramelized and crispy edges and are drizzled with a maple bacon brown butter that you won't be able to resist. These are so easy to make even though they may look daunting at first glance. But with some careful and patient knife work you can impress your friends and family by making this delicious and beautiful dish. All the tips on how to make these delicious sweet potatoes are all below. They are finished off with a sprinkling of feta, toasted pecans and some pomegranate arils for a pop of sweetness, a bit of tart and some extra crunch.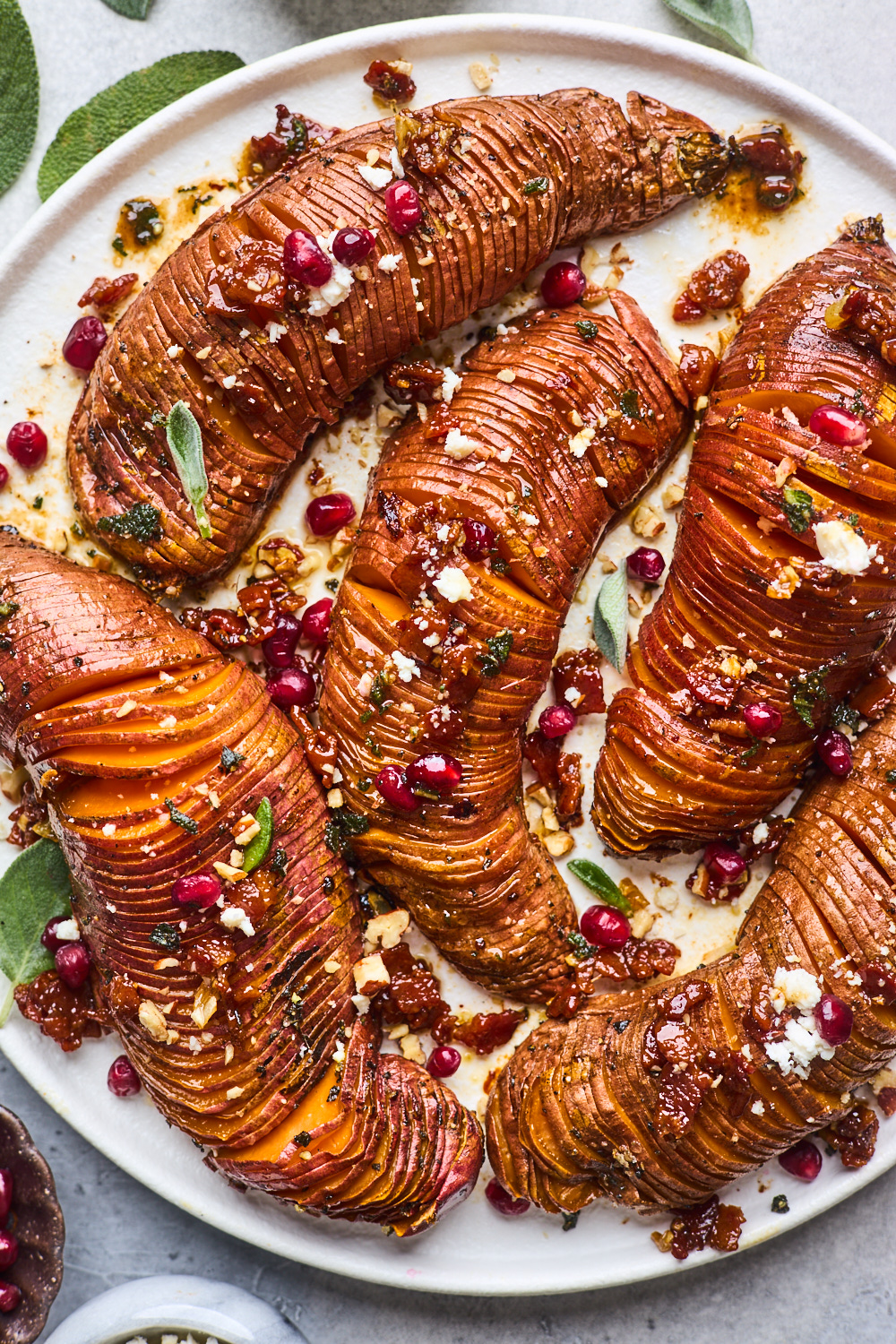 What are hasselback potatoes?
Hasselbacking is a cooking method in which potatoes or other items are sliced not-quite-all-the-way through in thin, even layers, which can be stuffed or topped with additional flavorings then baked giving them a crispy exterior and soft, creamy center. It's a way of creating more surface area for flavors and creating additional texture. This technique has been around many years and seems to be a flavoured technique for potatoes and squash.
Ingredients for these hasselback sweet potatoes:
Sweet potatoes -are the star of the show. Look for medium sweet potatoes that are fairly similar in portions and not overly bulbus.
Fresh winter herb such as sage. Fresh sage is so delicious here but thyme or rosemary are also work great. Use what you like or already have on hand. Due to the high baking temperature, I do not recommend using dried herbs.
Olive oil - Olive oil is used to coat the skillet and to brush over the potatoes
Smoked pancetta or bacon - it is so good in the brown butter maple sauce and over the potatoes. Skip it and go straight to the maple brown butter sauce if you want to keep this meatless.
Aromatics/seasonings - You'll only need a few of these to just enhance everything; make sure you have garlic powder, garlic cloves, fresh sage, salt and pepper.
Butter - brown butter is integral to making this a special dish; you'll need unsalted or salted butter for this. The brown butter gives these such a wonderful nutty flavour to the hasselback potatoes. If using salted butter reduce salt in the rest of the recipe.
Flavour Variations - Cinnamon and sugar. this pretty much tastes likes dessert or the classic sweet potato casserole. Garlic herb butter. Instead of using plain butter, try adding crushed garlic and finely chopped herbs like chives, rosemary or thyme; and whip together with the butter. Cheese and herbs. In between the sweet potato slices, try adding cheese like parmesan, gouda or cheddar along with a complementary herb like sage or rosemary. Use very thin slices of cheese or shredded cheese in each layer for best results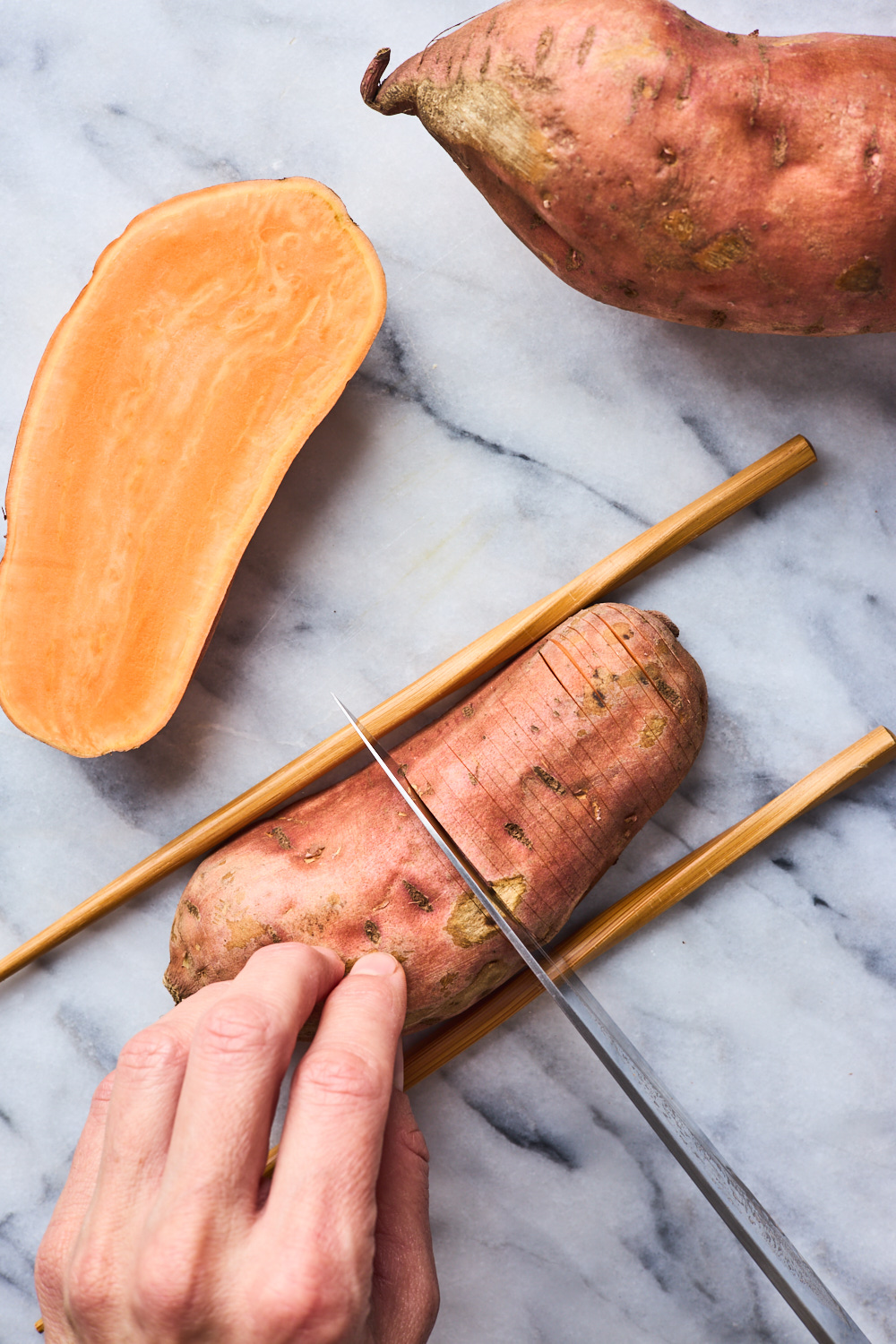 Tools you'll need to successfully hasselback
A sharp knife - you'll need a sharp knife to cut perfect slices into your potatoes. Depending on how firm and hard your vegetable is, you might use one of a variety of knives but I would recommend a chef's knife and a good utility knife for the finer slices.
Chopsticks or skewers - Chopsticks help you to get perfect slices without cutting all the way through your potatoes. They act like little bumpers.
Chopping board - I like to make sure mine is stable and doesn't slip around easily for safer slicing.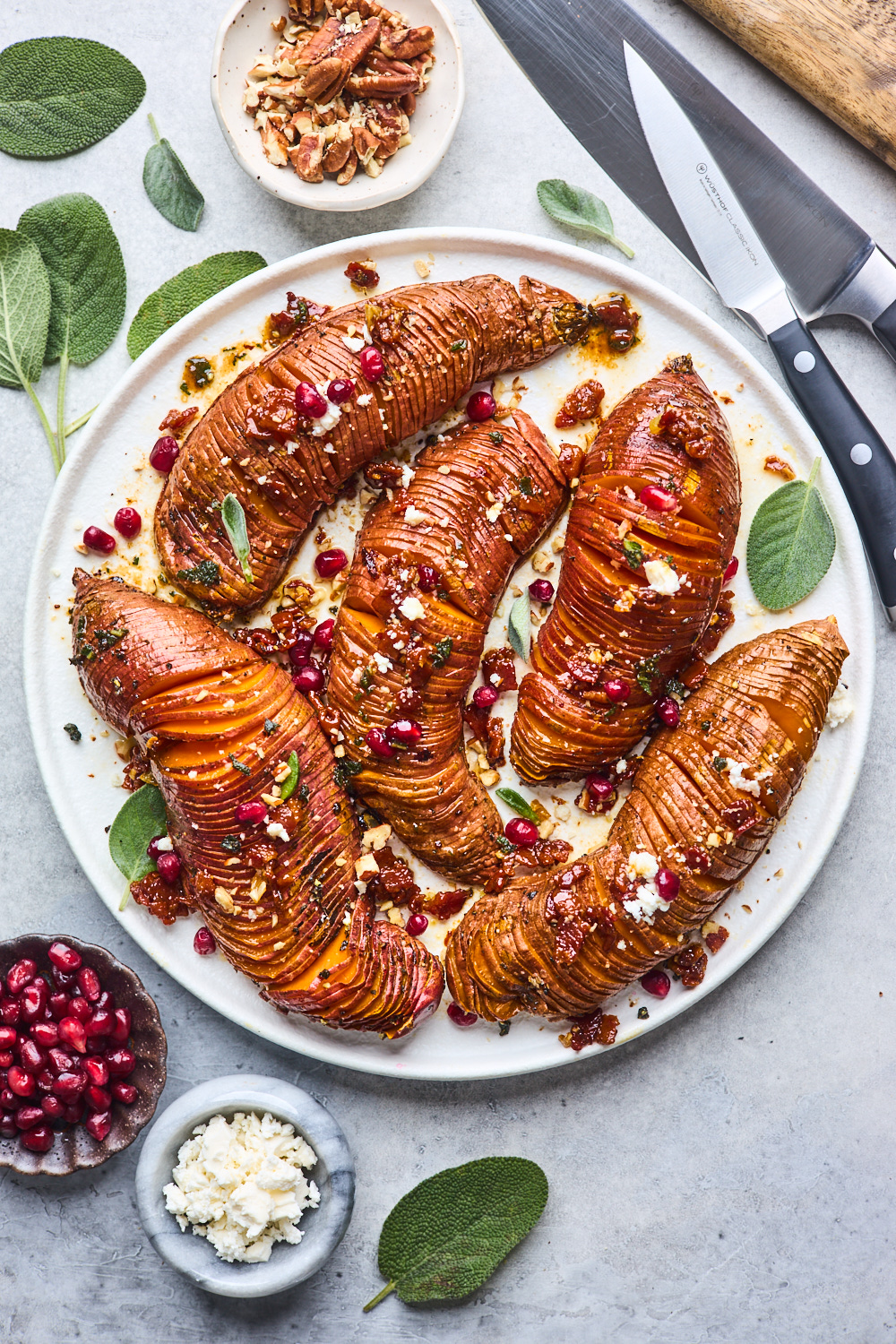 How to make hasselback sweet potatoes
Wash and scrub the sweet potatoes then dry them well. Make sure they are dried well so the exterior can get nice and golden crisp. Slice the sweet potatoes in half lengthwise. Place the sweet potato halves, cut side down, on a cutting board. Arrange two wooden skewers or chop sticks along the length of the sweet potato and then slice  ⅛-inch thick slices almost all the way through to the bottom of potato.
Brush the potatoes with the herb oil and carefully transfer them to the preheated and oiled cast-iron skillet. Bake for 30-40 minutes 
Crisp up the bacon and the garlic if using. Then brown the butter and add the bacon, garlic, sage and maple syrup.
Remove potatoes from oven when done  and serve immediately pouring over the maple bacon brown butter and garnish with extra sage and enjoy!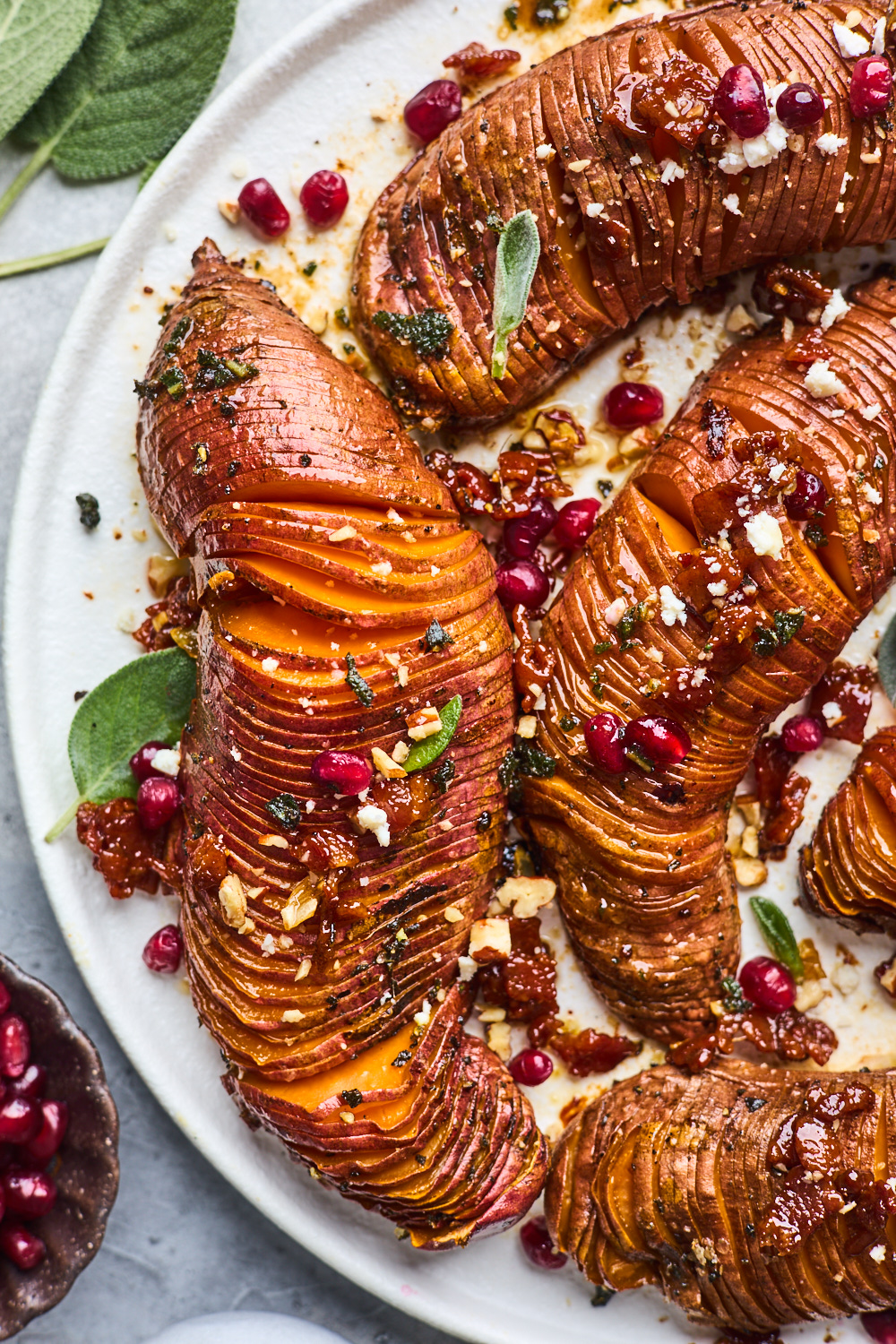 Tips for the best hasselback sweet potatoes
Slow and steady - careful patience is key when slicing.  Practice makes perfect, so by the 2-3rd half, you'll be a lot quicker and better at hasselbacking.
Cut the potatoes in half lengthwise first. I don't like using whole potatoes - it's so much more stable to slice through the halves as they will give you a flat edge to work with which means you won't be dealing with a rolling potatoes. They roast up a lot faster and cook through more evenly too this way.
Use the skewers or chopsticks as your bumpers
Use your best and sharpest knife - but not a serrated one.
Carefully transfer the cut sweet potatoes to the cast-iron skillet using a spatula and remove them with it too to prevent them from falling apart.
More potato recipes
Recipe
Prep Time: 10 mins
Cook Time: 40-50 mins
Ingredients
For the hasselback sweet potatoes
1 tablespoon + 2 tablespoons olive oil

2 to 3 medium sweet potatoes (about 10–12 ounces each), scrubbed and dried

1 teaspoon garlic powder

1 teaspoon finely chopped sage

½ teaspoon salt

¼ teaspoon black pepper
For the bacon brown butter sauce
5 ounces diced pancetta, or bacon

2 garlic cloves, peeled and chopped

¼ cup unsalted butter, cubed

1 teaspoon finely chopped sage, plus extra for garnish

2-3 tablespoons maple syrup or honey
Serve with (optional)
crumbled feta
pomegranate
Chopped toasted pecans
Extra chopped sage for garnish
Directions
Preheat oven to 425°F. Place a large cast iron skillet in the oven while it preheats.
Hassleback the sweet potatoes:
Slice potatoes in half lengthwise then place cut side down on a cutting board. Lay two chopsticks or skewers either side of the sweet potato halves (the wood skewers should act like bumpers and keep your knife from slicing all the way through).
Use a sharp knife to cut ⅛ inch slices widthways along the potato nearly all the way through the potato (about 80% of the way through), stopping before you cut through the bottom. Take your time and be careful, you will get faster at doing it once you have done the first one. Repeat for the rest of the sweet potato halves.
Dress and bake the potatoes:
In a small bowl, mix together the 2 tablespoons olive oil, garlic powder, finely chopped sage, salt and pepper. Use a pastry brush to brush this mixture over all over the "hasselback" potato halves.
Carefully remove skillet from oven and drizzle remaining 1 tablespoon oil in pan; swirl to coat. Gently arrange sweet potato halves, cut side down, in a single layer. Drizzle on any remaining herby olive oil.
Return skillet to oven and bake sweet potatoes 30-40 minutes or until cooked through with golden crisp edges. Feel free to put the broiler on for the last 1-2 minutes of cooking for crispier edges.
Make the Bacon maple brown butter sauce
When you're almost ready to serve, add the pancetta or bacon to a small pan (preferably a light coloured one so you can see when the butter browns) and cook over medium heat until golden and crispy and the fat has rendered out, about 6-8 minutes. Add garlic and cook 1 min then drain onto a paper towel. Wipe the skillet clean, then set back over heat.
Add the butter to the pan you cooked the pancetta in and brown: heat the butter over medium heat and whisk continuously until the butter begins to foam and darkens and smells nutty. Add the pancetta and garlic to the brown butter with the chopped sage and cook for a further 10-30 seconds. Stir in the maple syrup. Drizzle this over the baked sweet potatoes. Garnish with extra herbs and serve immediately.
Recipe Notes
How long do hasselback sweet potatoes last? - Store any leftovers in an airtight container. They will last about 5 days in the fridge. To reheat, just place in the oven at 350°F for 5-7 minutes or in a toaster oven. You can also reheat in the microwave, but the potatoes won't retain a crispy texture that way.
Do I have to use a cast iron skillet to make these Hassleback Potatoes? - No. You can definitely make these on a sheet pan lined with parchment paper. The bottom of the potatoes may not caramelize ad much or crisp up as much but they will be just as delicious. You make need to bake them an extra 3-5 min.
How do I know if my potatoes are down baking? - use a cake tester or a knife and it should penetrate with ease when cooked, if there is some resistance, cook the hasselback potatoes for a bit longer.
Can I make these potatoes ahead? You can prepare most of this recipe ahead of time. You can precook the bacon and garlic and store it in a sealed container in the fridge. Make the brown butter and let it cool in a bowl, when ready to use just heat in a skillet then add in the pre cooked bacon, garlic and chopped rosemary before serving. The actual potatoes can be cut in half and hasselback prepared ahead of time (2-3 days in advance) just ensure to store them in a sealed bag or container with an airtight lid in the refrigerator
To peel or not to peel your potatoes? - I'm always team unpeeled because the skin gives them extra texture and it crisps up nicely. Just make sure to scrub the potatoes well and allow them to dry. You can definitely make this recipe with peeled potatoes too - it's totally your choice.