Tom Kha Soup
This tom kha soup is a meatless vegan version (or vegan friendly) of the more classic Tom Kha Gai soup traditionally made with chicken or commonly known as Thai coconut chicken soup and second in popularity to the famous Tom Yum Soup. This tom kha soup is so full of flavor and it is totally on repeat. It has the perfect balance of spice or heat and sourness and loads of umami flavor. It is the perfect comforting soup loaded with veggies and you can easily add chicken to it if you like or even some rice noodles but we like this recipe as is and served with a side of rice or a scoop of rice right into the bowl. We can't get enough of it and know you will love it too. This wonderful recipe comes from More Mandy's Cook Book by Mandy Wolfe, Rebecca Wolfe, and Meredith Erickson. I was sent the book as a gift and it was really hard to choose which recipe to share with you guys because they are all amazing just like their first book Mandy's Gourmet Salads which I featured when it came out.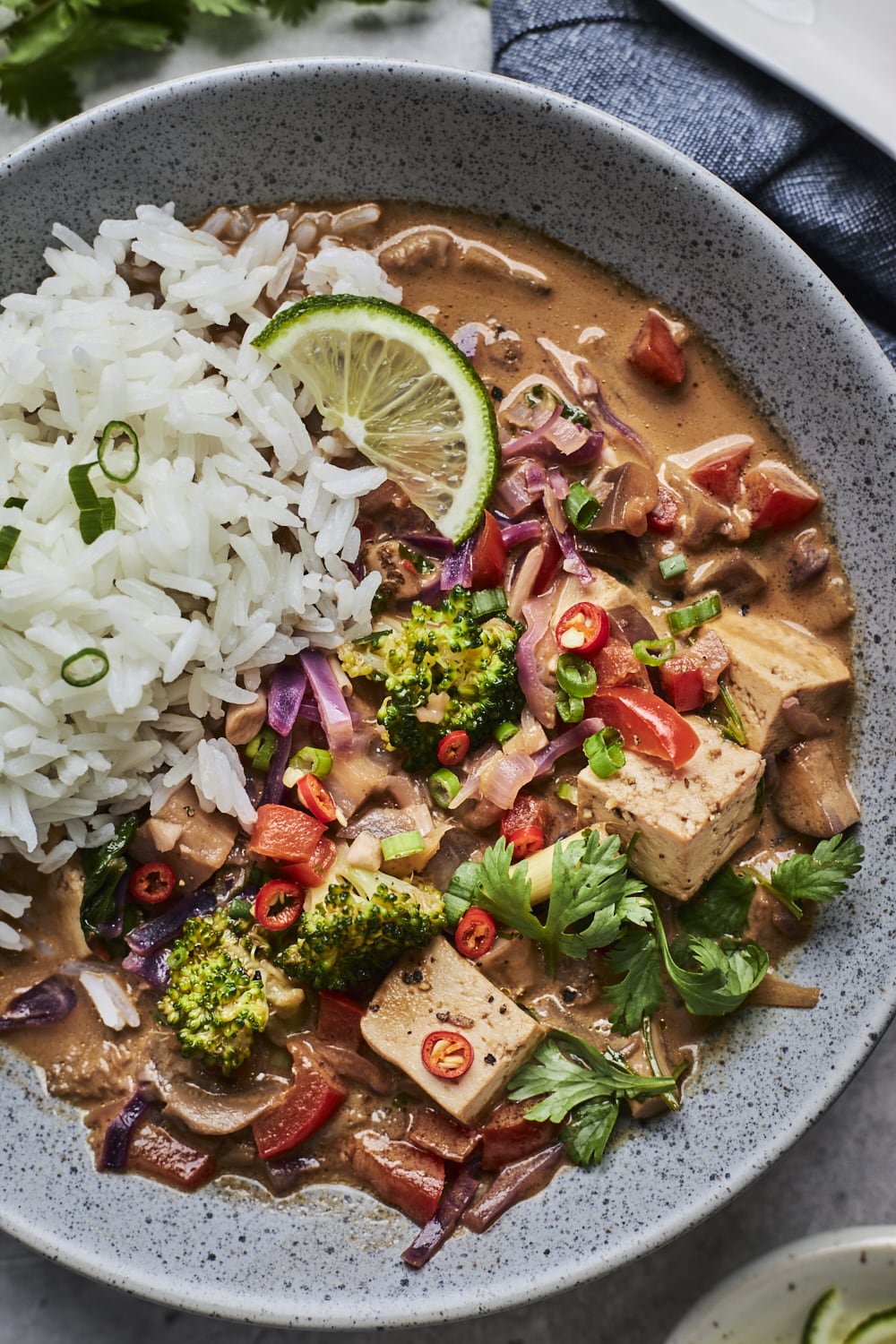 More About Mandy's and The Book More Mandy's
If you don't already know Mandy's Salad Gourmandes is a fabulous Montreal-born salad chain that has finally come to Toronto and I couldn't be happier about it. In 2004 Mandy and Rebecca Wolfe (the Salad Sisters) opened up Montreal's first create-your-own salad bar in the back of a women's clothing store. Since then that have expanded into a chain and not only do they feature signature salads but you can also shop accessories, apparel, health and wellness products, lifestyle and home products and of course their very own salad dressings and marinades and even olive oil. They have 2 cook books and they are both fabulous. The first one they came out with is Mandy's Gourmet Salads: Recipes For Lettuce And Life and it is all about their signature salads and snacks. Their second book is More Mandy's with more recipes they love and want to share. It includes more salad recipes to add to our repertoire but it's also more focused on celebrating seasonal flavours particularly from September to May here in Canada. Apart from salads it features close to 20 soups and some amazing desserts and snack. It also features a theme of international flavours as the ladies have traveled quite a lot, lived in different parts of the world and have loads of international influences. This book like the previous one is beautiful and features sections named: Morning Fuel, Salads, Dressings, Soups, and Sweets. There are just too many great recipes for me to start listing and I have so many book marked to make. I chose a soup to share from the book because you all know how much I love soup and I always love a veggie loaded one. They always have fun flavours, delicious recipes, beautiful photos in the books and this one even has a fun feature of scanning their playlist so you can listen to some of their favorite tracks while you cook! Grab a copy of the book here.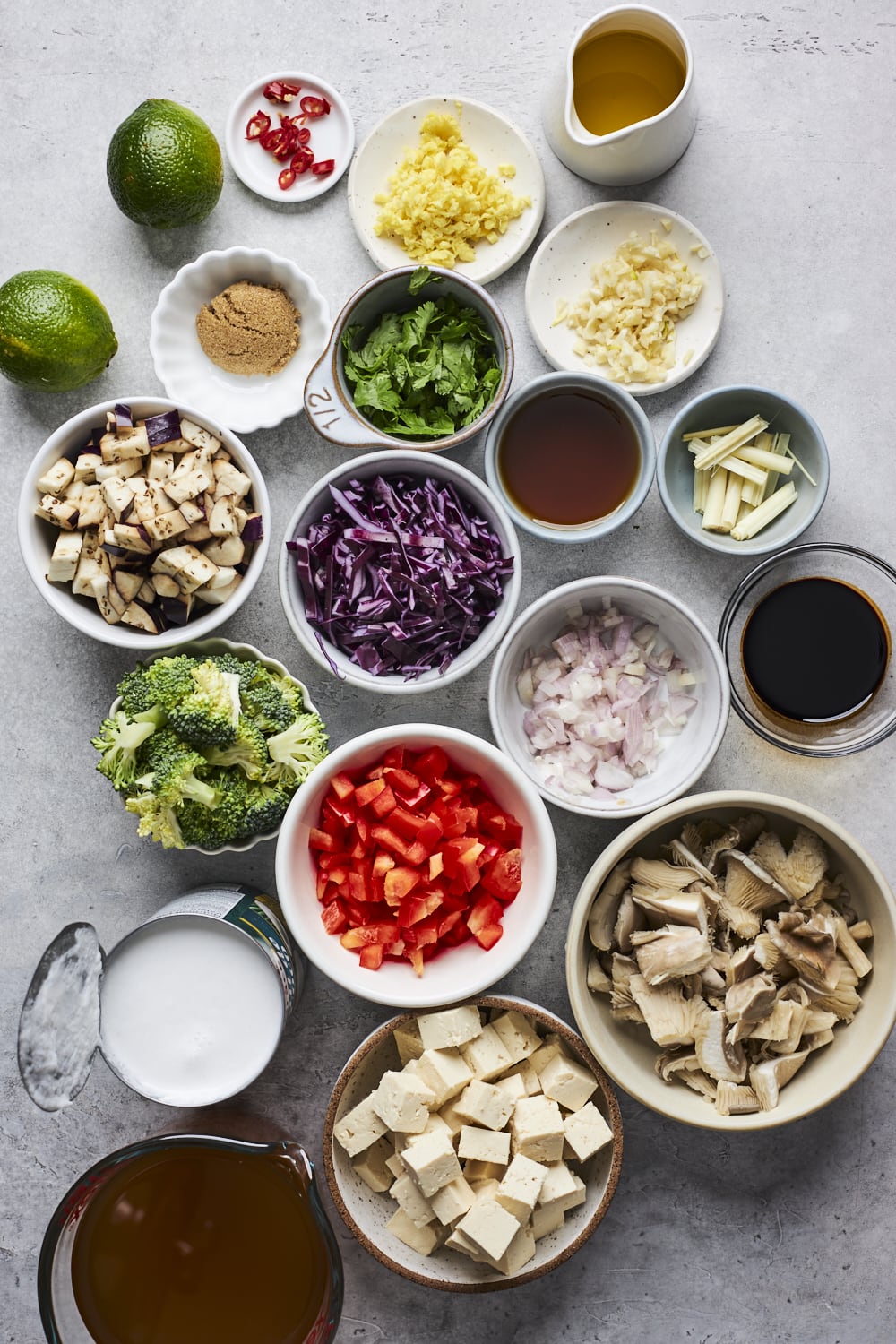 What is Tom Kha soup?
Tom Kha soup is a very well known Thai coconut soup made by using coconut milk, herbs, fish sauce, and lime juice. It is a creamy light soup that is not only delicious but also full of fresh herbs and is very comforting and nourishing all at the same time. The most popular version of this soup is Tom Kha Gai which is made with chicken but this version is a vegetable version. The soup has a combination of delicious flavors - tastes spicy, sweet, and sour. TOM means SOUP or BOILED/COOKED, KHA means galangal root - a root that is not easily found sometimes so unfortunately you may have to make it without its most authentic ingredient but the soup is still wonderfully flavourful and tasty. This recipe from More Mandy's is made without galangal root but it is made to incorporate the same flavours of Tom Kha soup and you will not be disappointed. That being said feel free to include it if you have access to it. Tom Kha soup is very healthy. It is gluten and dairy free, and is vegan adaptable and friendly and it is very low in carbohydrates. The coconut milk typically used in this soup may add some extra calories, but coconut milk has loads of the good fats and I wouldn't change adding it to this wonderful soup. Tom Kha soup is often served garnished with cilantro and with steamed rice and extra lime wedges on the side. Rice noodles, although not authentic here, would also make a great addition!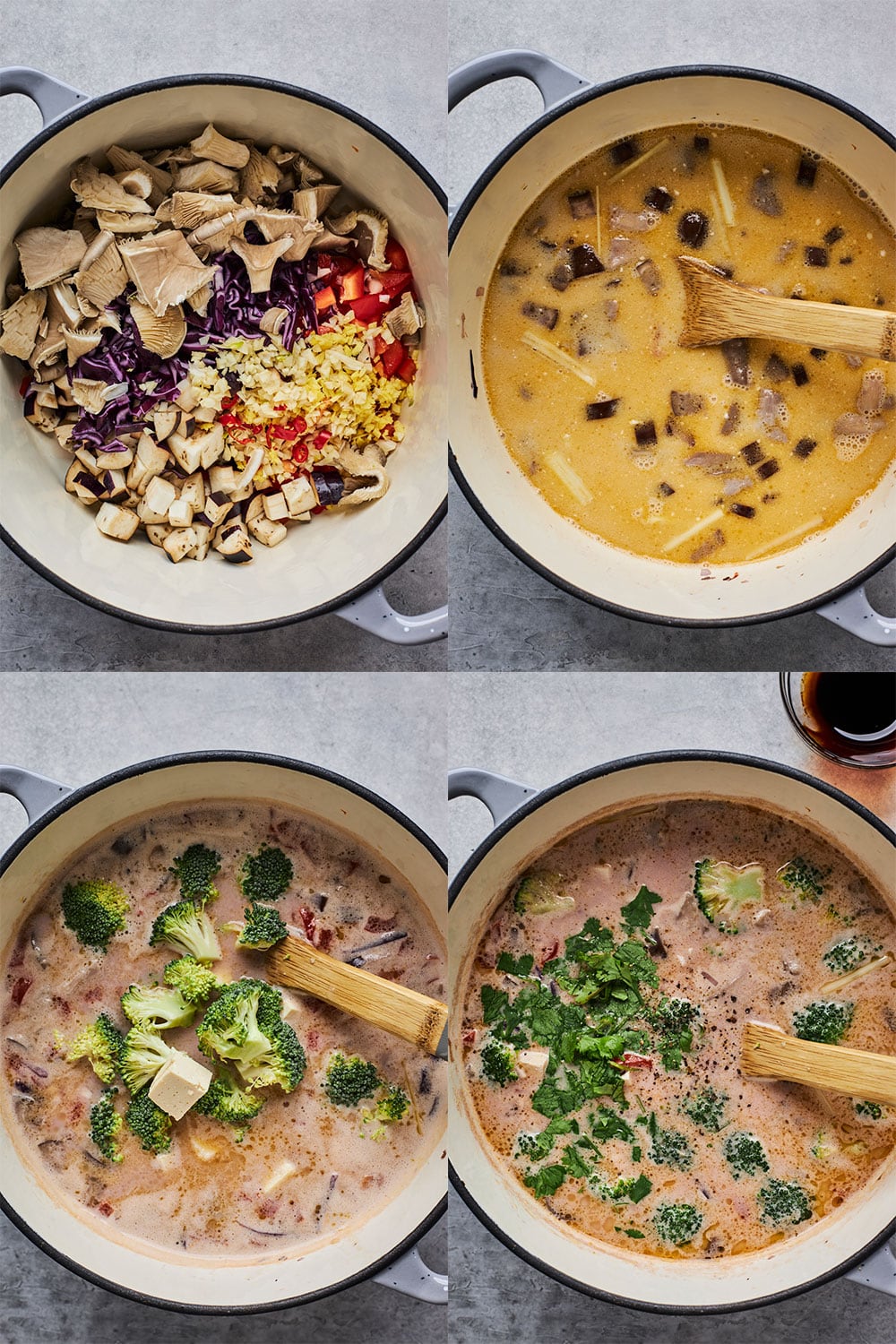 Recipe Ingredients
As I mentioned above I love this recipe from More Mandy's book as it requires very easy and accessible ingredients to make this very delicious Thai soup. To make this with more traditional ingredients / add ins you will likely have to visit your local Asian market if you have any in your area. This Tom Kha soup recipe from More Mandy's only requires pantry ingredients that most of us have on hand that is what I love most about their recipes but feel free to go ahead and add the extra add ins if you have access to them. Here is a list of what you will need
Coconut oil - or olive oil
Chicken stock - or vegetable broth
Red Onion & Garlic - or yellow onion
Bell Pepper - I love to use red bell pepper
Japanese eggplant - or a very small regular eggplant
Ginger - this is not a true replacement for galangal the traditional ingredient for a classic Tom Kha soup recipe but it will have to do when you can't get your hands on some
Tofu - firm tofu preferably drained and gently pressed
Broccoli
Red Cabbage
Soy Sauce - or Tamari - gluten-free soy sauce for a gluten free version
Coconut milk
Mushrooms - I like to use shiitake or oyster mushrooms
Sugar - coconut sugar or brown sugar
Cilantro
Fish sauce - this is optional- omit if you are making a vegan version of this Tom Kha soup
Lime juice
Fresh Thai chilis (optional) but add a really nice bit of heat - adjust amount to taste
Scallions - or Green Onions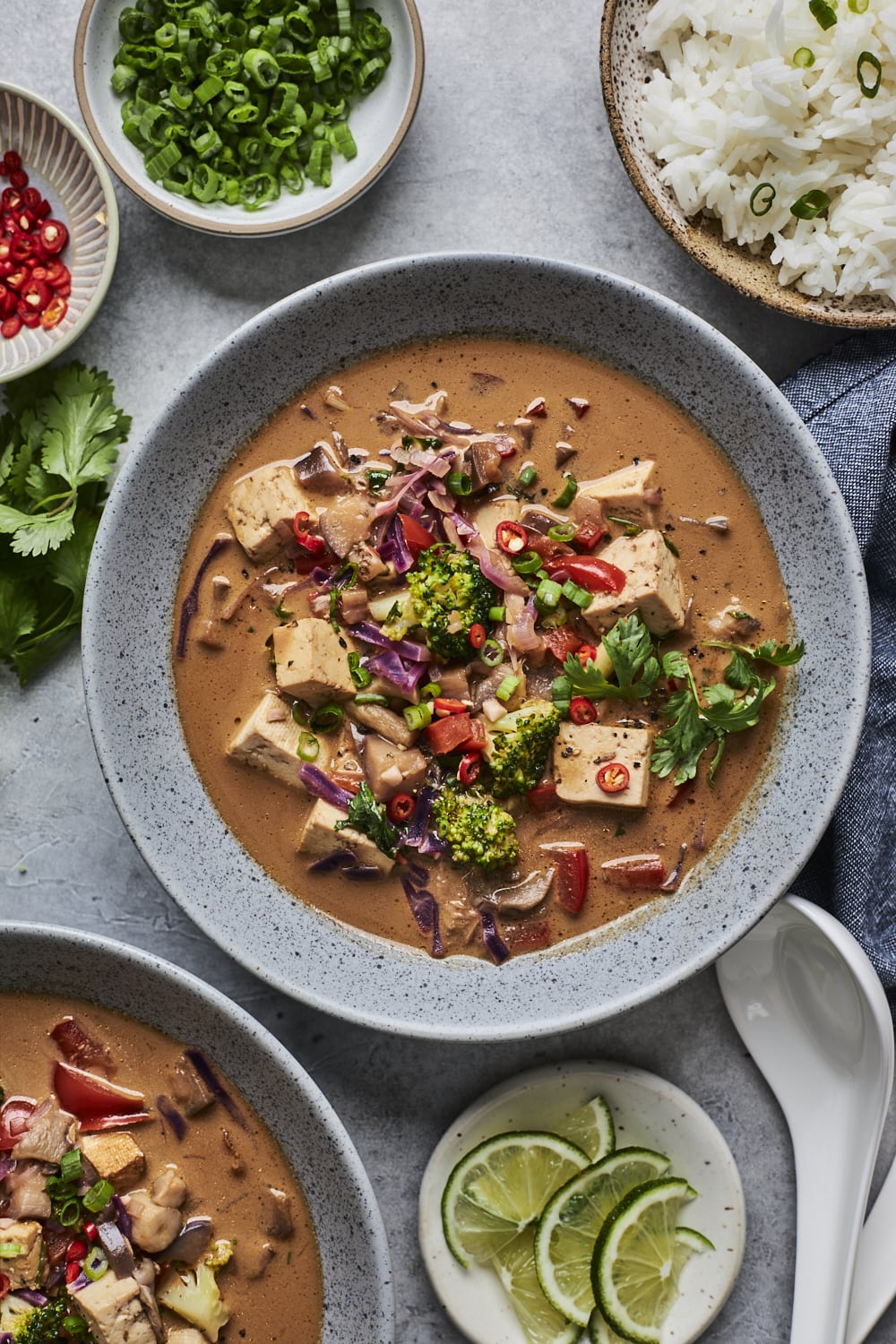 Additional Add Ins:
Kaffir lime leaves or makrut lime leaves are optional and a great addition of flavour if you can get
Lemongrass - use only the rounded bottom part of the lemongrass for cooking. Cut the stalk around 3-5 inches long and make sure to bruise them with a heavy kitchen tool to help release the flavor and fragrant
12 thin slices galangal, can be added to the soup if you have it and you can get your hands on it
Add a Protein - simmer chicken breasts or chicken thighs in the broth then remove shred and place back into the soup. Or you can even add shrimp too
Add some rice noodles or serve broth over cooked noodles for a heartier version
Stir in some red curry paste for even more flavour in the broth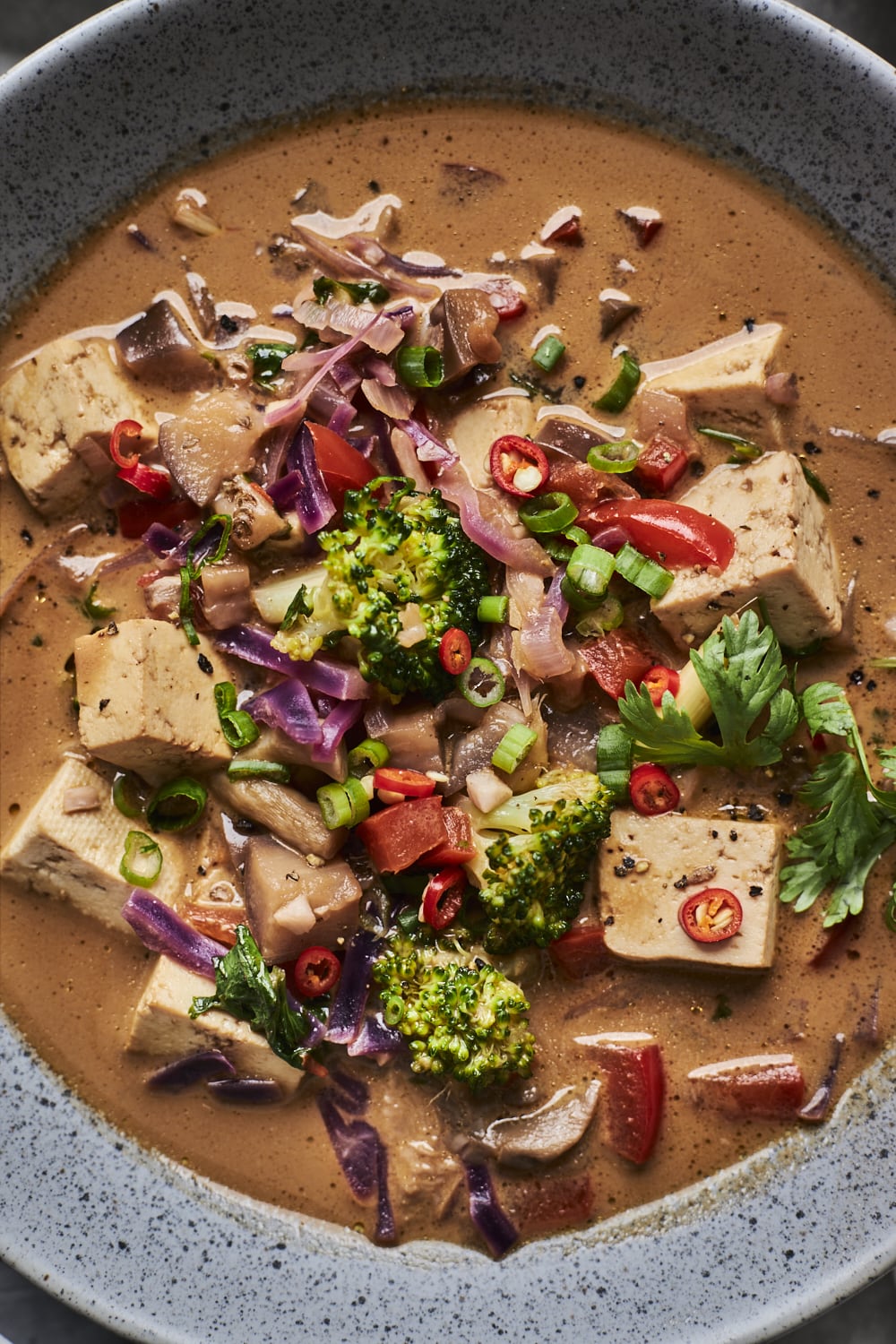 How to Make This Delicious Tom Kha Soup
SAUTE the veggies: onion, peppers, garlic, mushrooms, red cabbage, ginger, and chili in a large soup pot in oil
STIR in sugar and season lightly with salt
Add the broth and coconut milk and lemon grass and bring to a SIMMER and simmer for 5 min
Add the tofu and broccoli florets and continue to COOK for another 5 minutes.
Remove from the heat and FINISH OFF the soup by stirring in fish sauce, tamari, fresh lime juice, and cilantro.
SERVE topped with sliced scallions and cilantro leaves.
Storage & Freezing
STORAGE - store cooled leftovers in the fridge in an airtight container for up to 7 days. Reheat stove top of in the microwave
FREEZING - This soup can be refrigerated in an frozen for up to 6 months. Transfer cooled soup to airtight freezer safe container or bag and place in freezer. Thaw in fridge overnight and reheat stove top or in the microwave.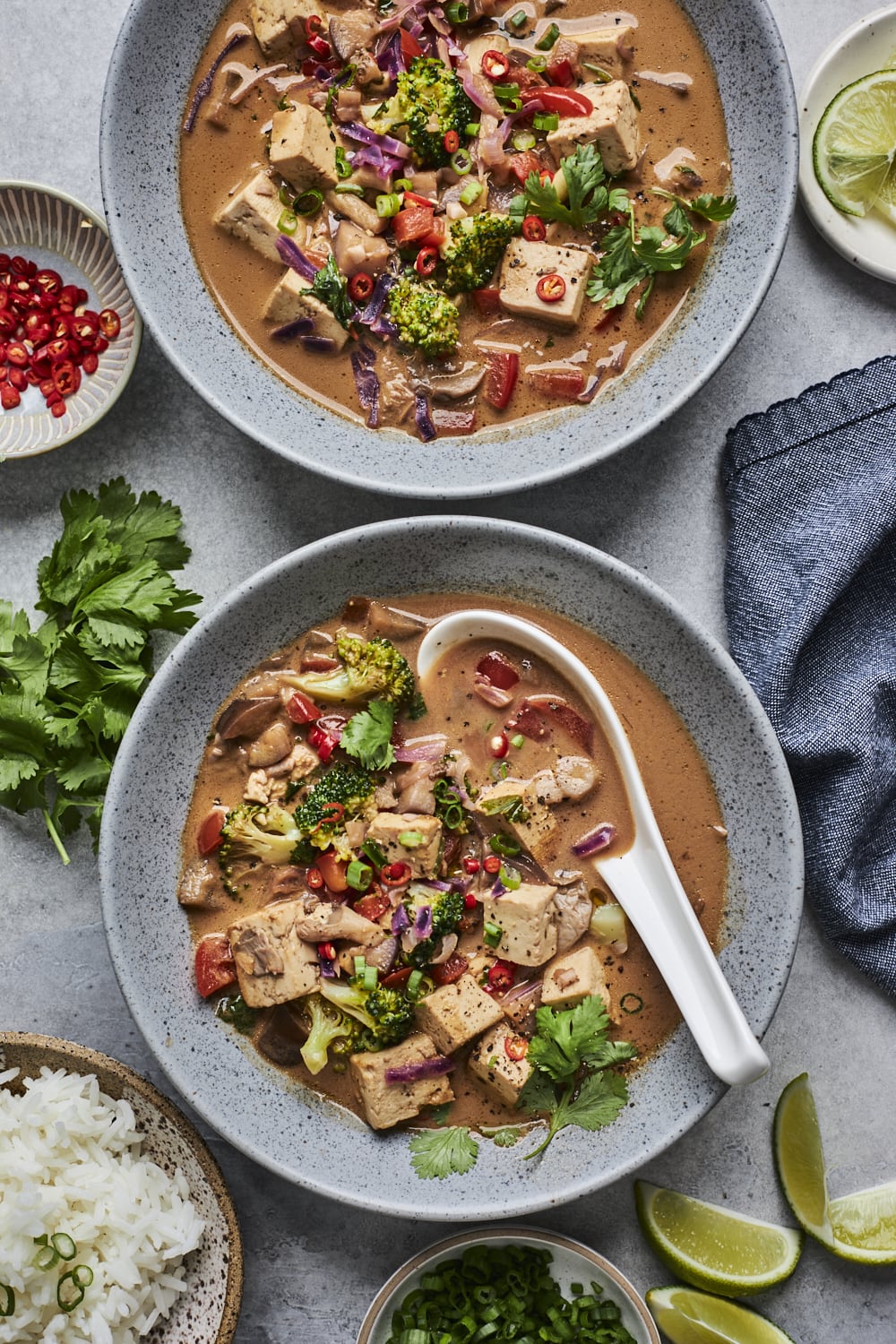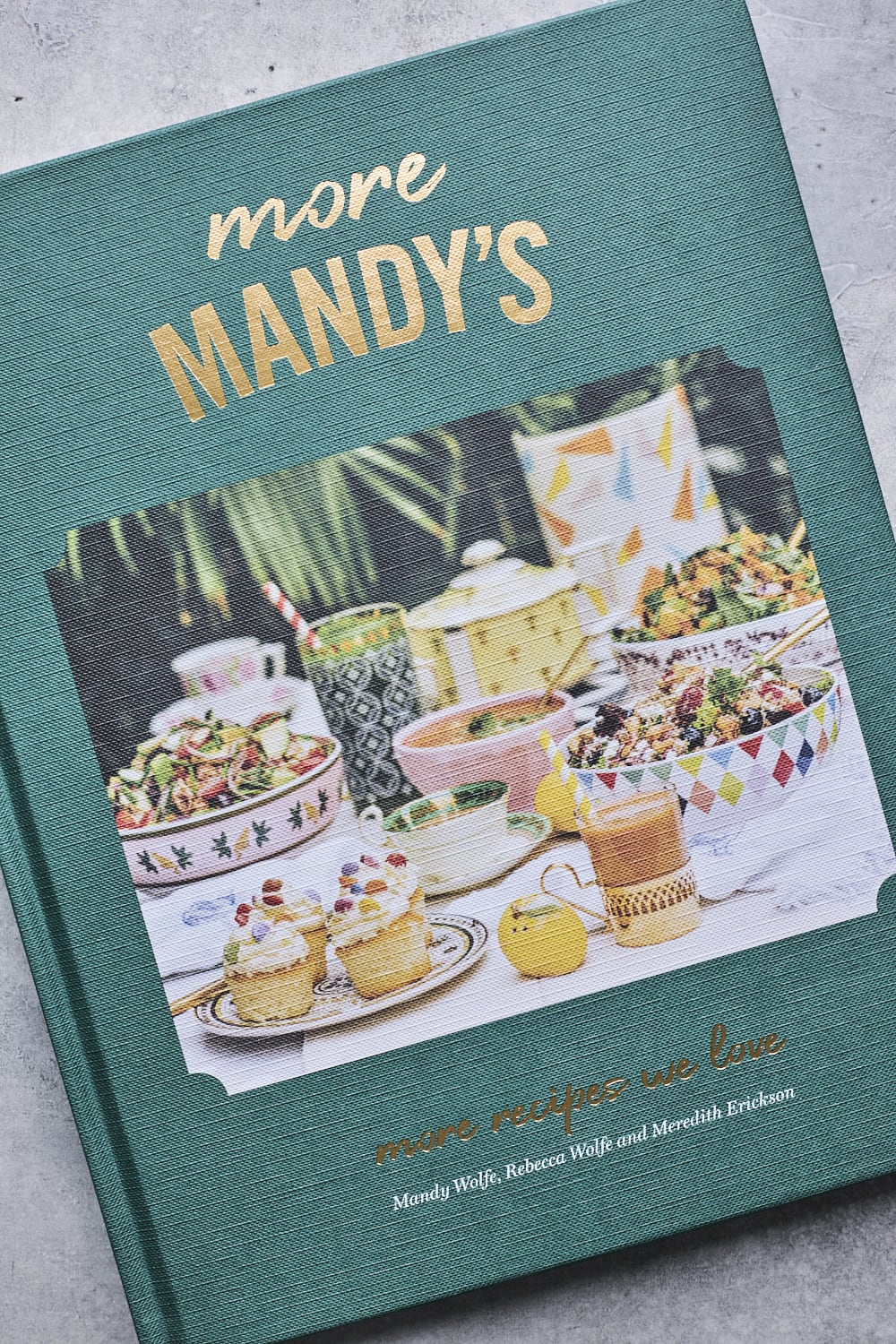 More Cozy Soups You Will Love:
Recipe
Servings:
6 cups (4 portions)
Prep Time: 10-15 mins
Cook Time: 25-30 mins
Ingredients
3 tablespoons coconut oil or olive oil

1 cup small-diced red onion

1 cup small-diced red bell pepper

1 cup small-diced Japanese eggplant

½ cup thinly shredded red cabbage

2 garlic cloves, minced

2 tablespoons minced ginger

1 Thai chili, finely chopped

5-6 oz shiitake mushrooms or oyster mushrooms, chopped

1 tablespoon coconut sugar (or brown, granulated sugar, chopped palm sugar or cane sugar)

Salt to taste

2 cups low-sodium vegetable broth, chicken broth or water

One14-ounce (398 ml) can coconut milk

1 stalk lemongrass, bottom half only, smashed and cut into 2-inch pieces

2 cups cubed firm tofu

1 cup cut-small broccoli florets

2 tablespoons fish sauce (optional)

1 tablespoon tamari or soy sauce, plus more to taste

2 tablespoons lime juice, plus more to taste

¼ cup coarsely chopped cilantro

¼ cup thinly sliced scallions

Cilantro leaves, for garnish
Directions
In a Dutch oven or large pot, warm the coconut oil over medium-low heat. Add the onion, red pepper, eggplant, red cabbage, mushrooms, garlic, ginger, and chili and cook, stirring occasionally, until the vegetables soften, 5 to 7 minutes.
Stir in the sugar and season lightly with salt. Add the broth and coconut milk and lemon grass. Increase heat to medium heat or medium high heat and bring to a boil, then lower the heat and simmer for 5 minutes.
Stir in the tofu and broccoli florets and continue to cook for another 5 minutes.
Remove from the heat and stir in the fish sauce, tamari, fresh lime juice, and cilantro.
Check the seasoning and adjust with salt and pepper and more lemon juice to taste. Ladle into bowls and serve topped with sliced scallions and cilantro leaves.
This soup and any leftovers can be refrigerated in an airtight container for up to 7 days or frozen for up to 6 months.
Recipe Notes
The lemongrass, galangal and makrut lime leaves are meant for infusion only and not meant to be eaten. Please inform your guests or remove them before serving.
Serve with jasmine rice as part of a larger Thai meal, or you can put rice in the soup and enjoy on its own.